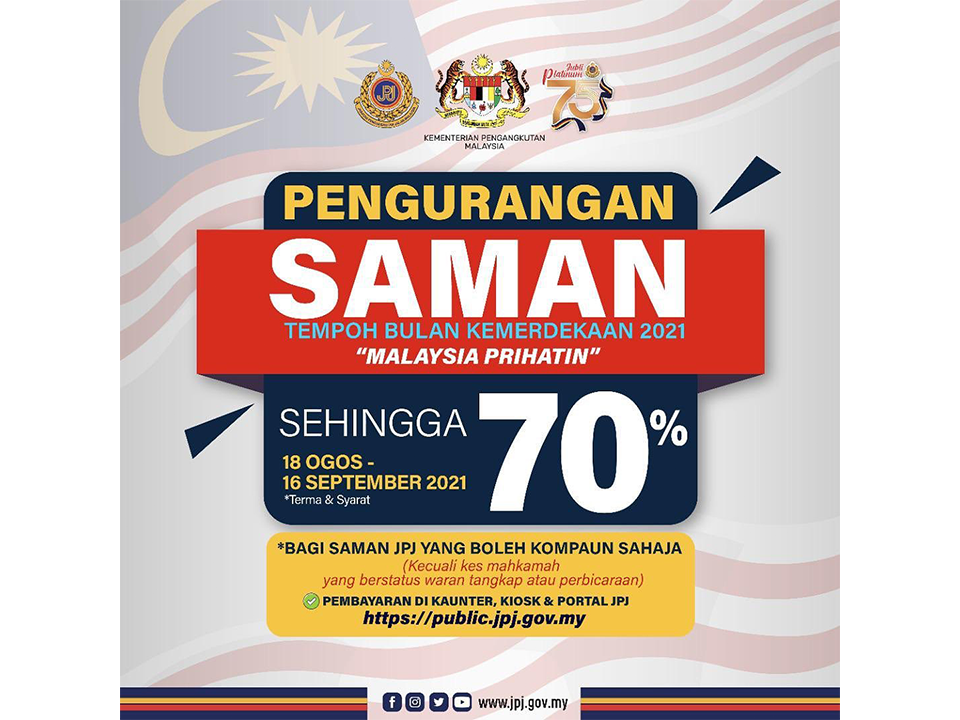 The Malaysian Road Transport Department (JPJ) is offering up to a 70% reduction in summons payment from 18 August until 16 September 2021. The department is introducing the reduction in conjunction with the celebration of Malaysia's 64th Merdeka Day-themed "Malaysia Prihatin" for 2021.
According to JPJ in a statement, they will give discounts to all summons notices issued for offences under the Road Transport Act 1987 (Act 333), the Commercial Vehicle Licensing Board Act (Act 334), as well as the Rules and Orders under it. This includes cases that are in blacklist action. 
In addition, the discount applies to all summonses that are still active and compound period is still in effect, given that the payment is made within the specified period, which is until 16 September.
However, the offer does not apply to cases that are still under consideration by the Court. This includes those with warrant status, arrest or trial.
Where to make payment:
The reduction on the summons notice is based on the current compound rate. You can make the payment of these summons notice at all State JPJ offices, Branches and UTC, and kiosks.
Alternatively, you may also pay it online through the JPJ mySIKAP portal.
For offenders in the blacklist, you will have to visit the JPJ office (Branch or State), for re-documentation first before making any payment.
According to JPJ, the offer of this summons notice was made to alleviate the burden of the people in line with the economic crisis that hit all walks of life in the country as a result of the covid-19 pandemic.
For more information, please visit the JPJ mySIKAP portal or contact the JPJ hotline at 03 8000 8000.
Tap here for more automotive news.
(Source: JPJ)