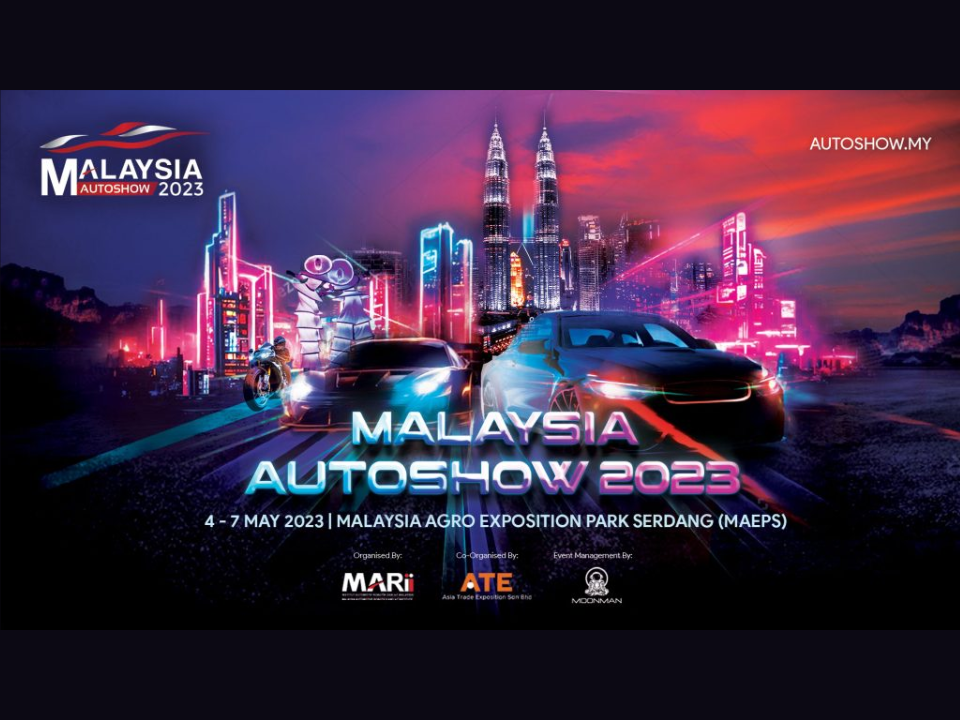 After 3 years, The Malaysia Autoshow is finally making a comeback! With some exciting new features aimed at showcasing the latest offerings from the country's automotive industry.
The event will take place at MAEPS from the 4th – 7th May. If you're a car enthusiast, here are some reasons why you should be excited about attending the Malaysia Autoshow 2023.
The Malaysia Autoshow 2023 Exhibition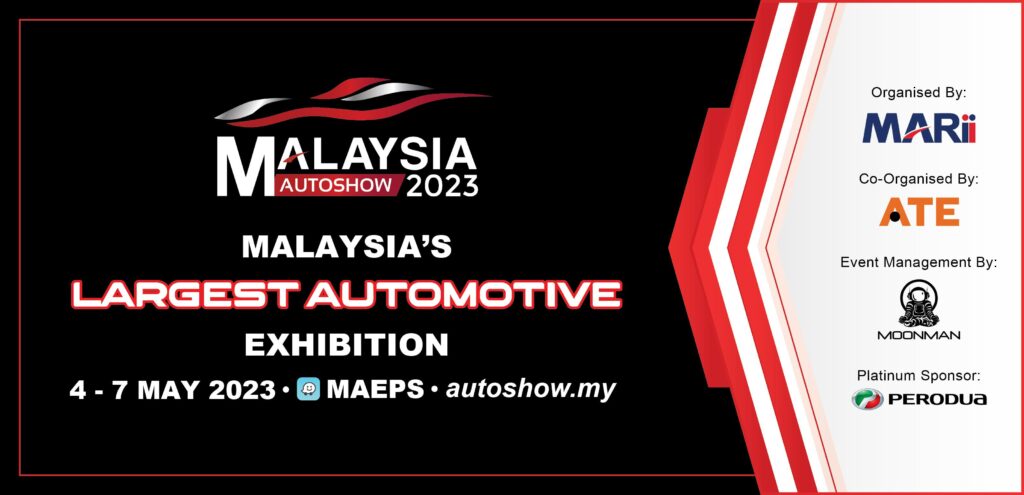 Image via Ticket2u
The Malaysia Autoshow 2023 is set to showcase an impressive lineup from various local and international automotive brands. The sixth edition of this year's Autoshow organized by the Malaysia Automotive, Robotics and IoT Institute (MARii). But for this year, they will offer us with the new twists to continuously bring back the latest offerings to this year exhibition.
Entrance Fees
Ticket Type
Price
Malaysian Citizen
(10 – 59 years old)
RM15
Non-Malaysian
(10 -59 years old)
RM25
Children
(below 10 years old)
Free
Senior Citizen
(60 years old)
Free
Person with Disabilities
Free
You can head on to Ticket2u to purchase the ticket.
List Of Exhibitors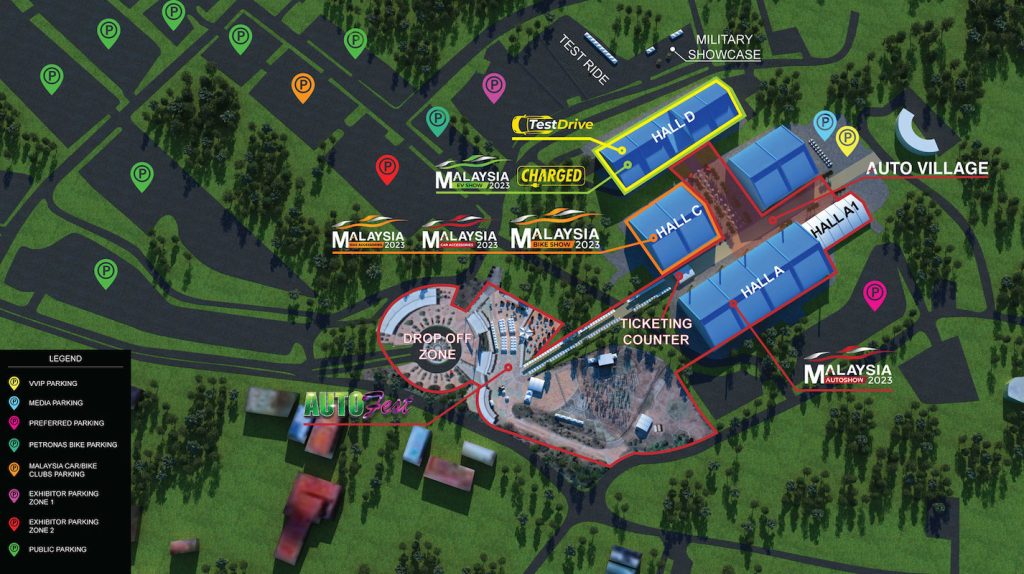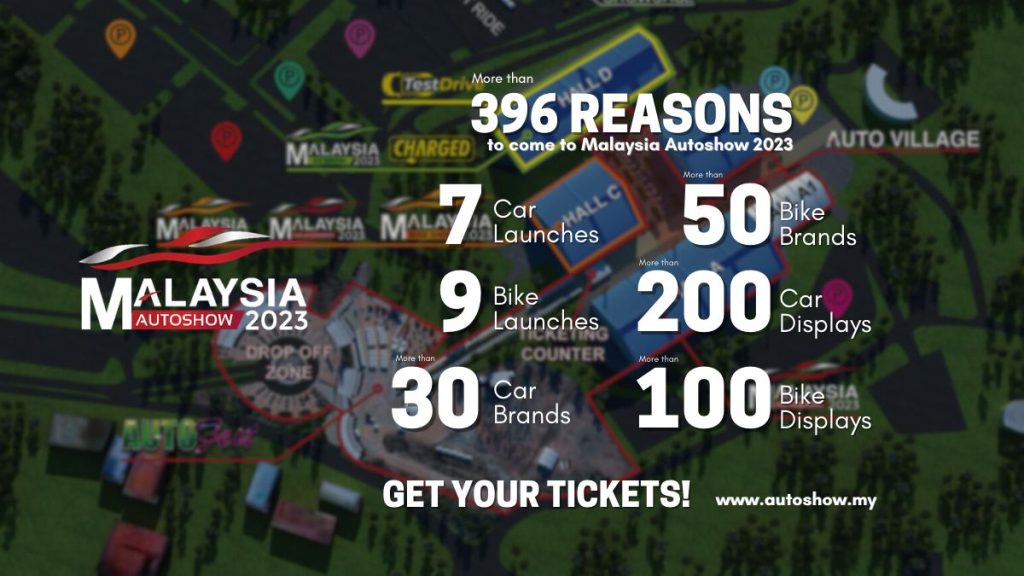 Images via Malaysia Autoshow 2023
For the Malaysia Autoshow 2023, there are a total of 90 exhibitors to fill all the 5 main exhibition halls of MAEPS, including Malaysia EV Show and Charged, Malaysia Bike Show and Premium Hall.
For your information, the Malaysian Autoshow 2023 expected to have 7 Car and 9 bike launches. They also will provide the showcase for visitors with 30 car brands, 50 bike brands and 100 bike displays during the exhibition.
Hall A and Premium Hall: Car models and variants from Malaysian OEMs
Mercedes Benz
BMW
Mini
BMW Motorrad
Bufori
Lotus
Perodua
Proton
PETRONAS
Touch 'n Go
Great Wall Motors
Ora Good Cat
Haval
Honda
Toyota
Chery
Nissan
EON
CIMB Bank
Mitsubishi
Isuzu
Volkswagen
Audi
Kia
Hyundai
Ford
Subaru
AmBank
Artiscally Siti
Hall C: Motorcycles, accessories and lifestyles exhibits
KTM
CFMoto
Royal Enfield
Aprilia
Vespa
Champion
Mannol
Grantt Lubricants
Saiko
HJC
Shima
Kawasaki
Modenas
Suzuki
Giant
Porsche
Shad
Maxtag
WMOTO
WrapXpert
Aveta
70mai
GTmax
Soundstream
BHP Petrol
JPJ
Rugga
Trapo
Autobots
Little Joe
Kommu
AmBank Group
Carega
Weldmart
Goinsuran.com
GPSiN
Hall D: Electric vehicles and mobility related to service and technology
MARii
Great Wall Motors
YADEA
BMW
Mercedes Benz by Cycle & Carriage
SCS
Volvo
Hertz
Superlux
Peugeot
Go Auto and Higer
NETA
Ambank Group
Chargepoint
Chargesini
Feiran Technologies
M'sia Singapore Vintage Car Register
Outdoor Activities For Visitors
Check out the video below:
There are a lot of activities for visitors during the exhibition. The Autoshow exhibition will also take full advantage of The MAEPS outdoor areas and will feature various automotive and lifestyles activities, such as:
Two 4.5km test drive routes (extended from last Autoshow's 3km route) to further allow show visitors to fully experience the cars tested.
A test ride circuit to test latest 2-wheeler models.
A dedicated Premium Hall to showcase and highlight the best technology the market has to offer from the premium segment. The Premium Hall will also host the Auto Fashion showcase for invited guests.
More than 100 models and variants of energy efficient vehicles, motorcycles, and electric vehicles on display at the exhibition halls.
Food trucks at the Malaysia Autoshow Auto Village.
Fun-filled activities for the entire family at the AutoFest, including a concert featuring top artists, international dance invitationals, cosplay activities and many more.
A dedicated vehicle accessories showcase in Hall B.
For more info about the exhibition, kindly visit Instagram, Facebook and Website.
Neta V Debuts In Malaysia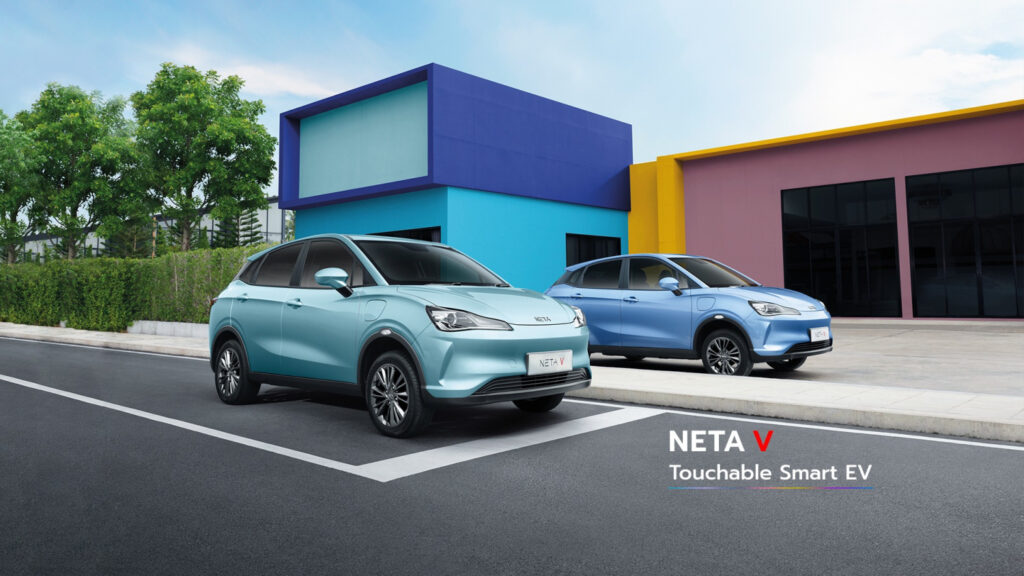 Images via Neta.my
Neta plans to introduce its affordable and environmentally friendly electrics vehicles to the Malaysian market at the Malaysia Autoshow 2023. After expanding its market presence in China, Neta now sets its sights on the Southeast Asian market and Malaysia is one of its target.
GoAuto announced that they will soft launch the Neta V at the Malaysia Autoshow with hopes of attracting visitors. The GoAuto press release also states that visitors who are interested in buying the car can take advantage of early bird prices during the exhibition.
The Malaysia Autoshow 2023 will provide Neta with an opportunity to showcase its latest electric vehicles and technologies to the Malaysians. It will help to position itself as an alternative to established brands in the country.
Good News For The Visitors!
If you are interested to buy a car or trying to find your dream cars during the exhibition, we have some good news for you! When you buy a car at the Malaysia Autoshow 2023 with loan applications from the participating banks, you will get to enjoy the lowest interest rates.
First of all, make sure you have all of these documents during the exhibition:
Copy of NRIC/passport.
Copy of driving license.
Copy of 3 months' salary slip/income statement.
Latest EPF/income tax statement.
Latest 3/6 months saving/current account reflecting your income (Subject to terms and conditions from participating banks).
In conclusion, the Malaysia Autoshow 2023 is set to be an exciting and unique event that showcases the best of the country's automotive sector. Check out this new Toyota Vios 2023 for more info! Whether you're a car enthusiast, an industry professional, or just looking for a fun day out, there is something for everyone at this year's event.
So, mark your calendars for May 4–7, 2023! Get ready to experience the future of the automotive industry in Malaysia. Check out the website now to book the tickets and experience this amazing exhibition!