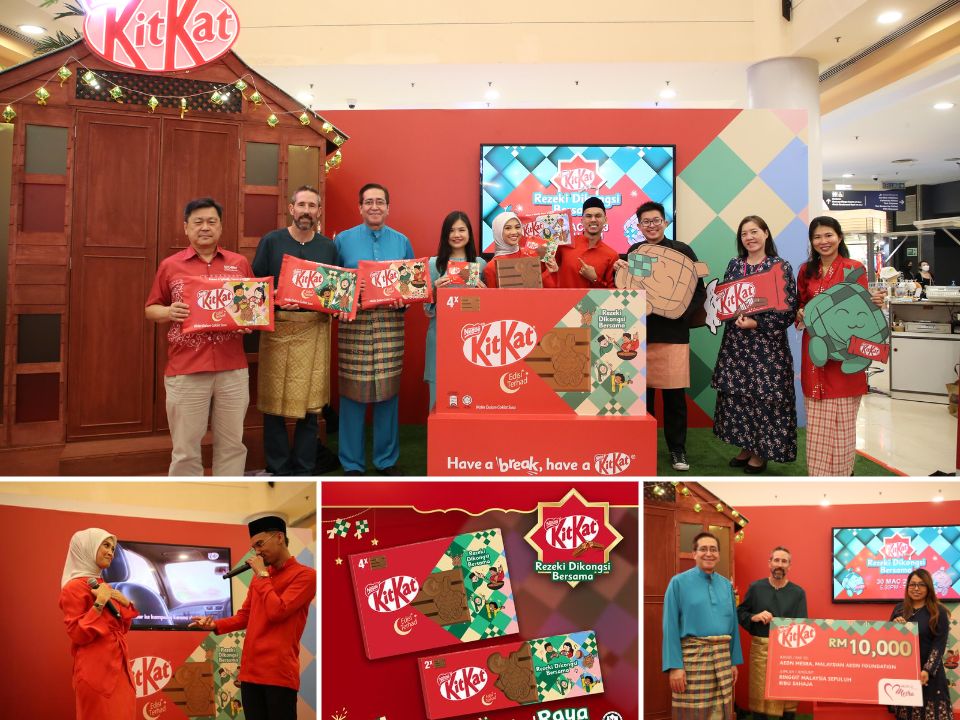 Earlier this year, Nestlé's KitKat® has launched its festive "Share The Love, Share The Golden Break" campaign @ Sunway Pyramid. Now KitKat is back with the "Rezeki Dikongsi Bersama" campaign to celebrate the month of Ramadan and the upcoming Hari Raya festivities! The campaign highlights the Malaysian values of sharing and unity, and includes limited-edition Raya products, a KitKat® Raya animated music video, and exclusive collaborations.
'Rezeki Dikongsi Bersama' Campaign With KitKat's Ketupat-Stamped Chocolate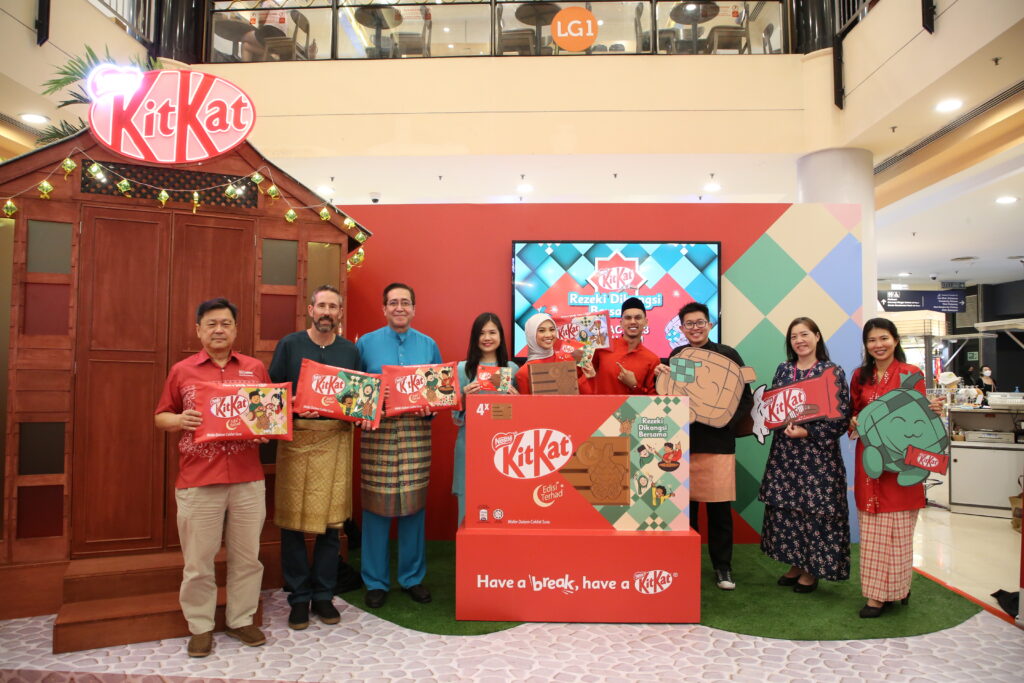 KitKat® is releasing the Raya limited-edition KitKat® Ketupat, which features a delicious blend of milk chocolate and crispy wafer with a unique 'Ketupat' motif stamped onto the KitKat® 4-Fingers bars.
This pays homage to the iconic Ketupat delicacy and represents Silaturrahim, a concept of good relationships and friendship celebrated in Malaysian culture and Islamic traditions. The KitKat® Ketupat aims to spread love, joy, and togetherness during Raya and encourage Malaysians to share their blessings with others.
Four Unique Designs Of KitKat® Ketupat Limited-Edition Chocolate Bars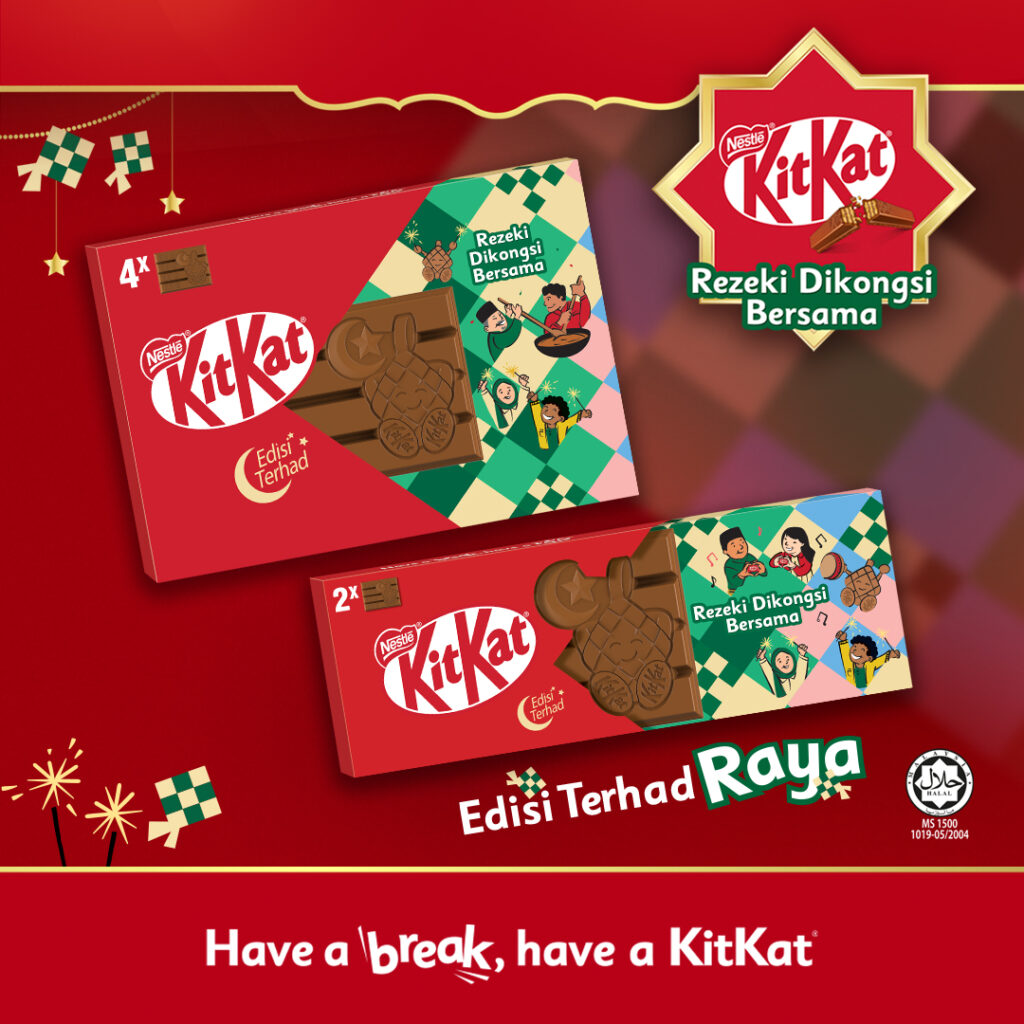 The Raya limited-edition KitKat Ketupat brings a burst of excitement to the upcoming festive season with its beautiful designs and mouth-watering flavor. Each collectible design represents a cherished moment of Raya traditions, making it not only a delightful treat but also a meaningful gift to share with loved ones.
With the KitKat® Ketupat available in two pack formats, it's easy to grab a multipack of 4 or 2 and indulge in the perfect balance of smooth milk chocolate and crispy wafer.
Local Celebrities Perform KitKat®'s "Rezeki Dikongsi Bersama" Theme Song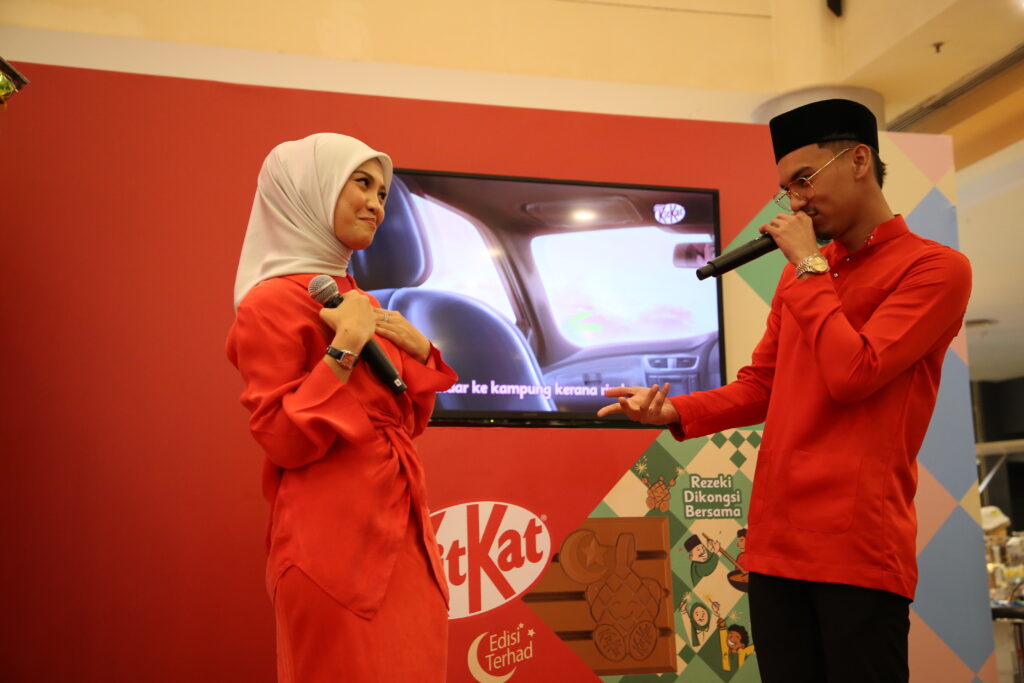 KitKat® launched its "Rezeki Dikongsi Bersama" Raya campaign with a special event featuring local celebrities MK K-Clique and Nabila Razali, who performed the campaign's theme song.
The campaign, which is inspired by the values of Ramadan and Raya, celebrates the meaningful moments that bring people together during the festive season through an animated music video featuring the diverse characters showcased on the KitKat® Ketupat's packaging.
According to MK K-Clique, the Ramadan and Hari Raya festivities become even more significant when you spread your blessings with those around you, despite the fact that food is an important aspect of the celebrations.
He added:
I am honoured to be back again and be part of the KitKat® "Rezeki Dikongsi Bersama" campaign together with Nabila Razali this year. We hope this song will liven up the spirit of Ramadan and Hari Raya for everyone this year.

MK K-Clique, Malaysian Celebrity
In the meantime, check out the video!
KitKat® x Mimpikita Collaboration: Limited-Edition Luminarc Drinking Glass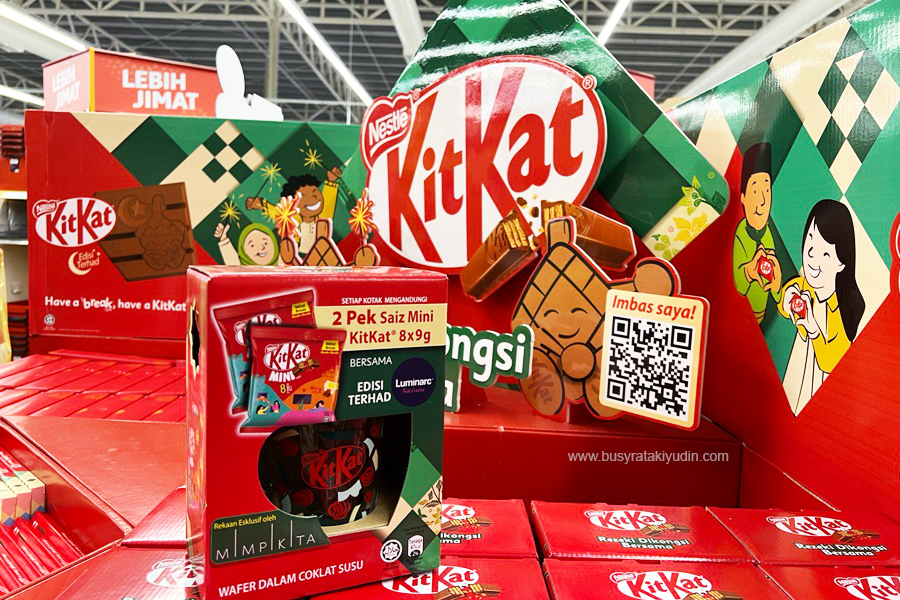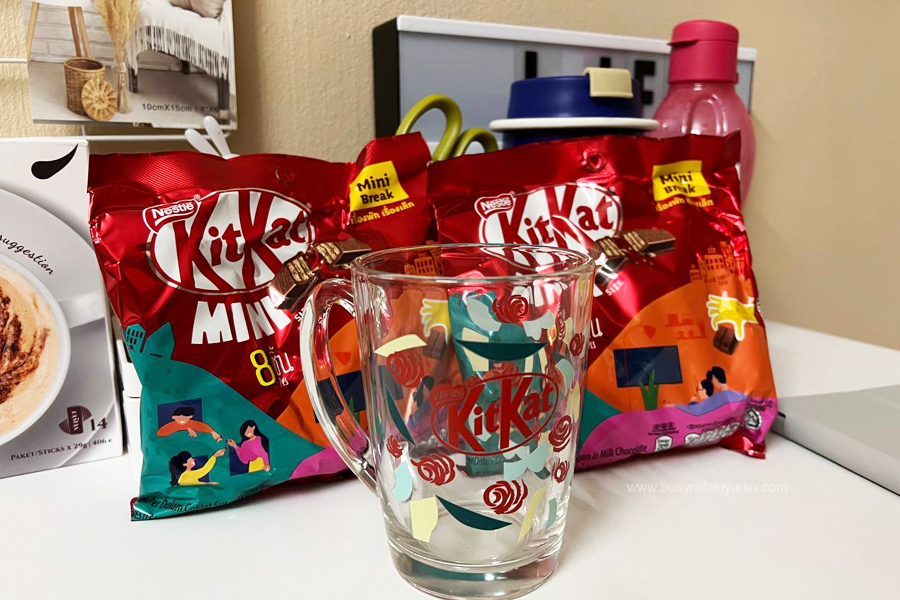 As the festive season approaches, KitKat and Mimpikita have joined hands to bring a touch of elegance to your Raya celebrations.
The KitKat® x Mimpikita Raya Edition pack is the perfect blend of fashion and flavor, featuring a specially designed Luminarc drinking glass and two packs of delicious KitKat® Mini 9g Sharebags. These chic glass mugs come in three exclusive designs, each one an exquisite piece of art that you'll love to collect and showcase on your dining table.
Connecting Malaysians Through Memorable KitKat® Moments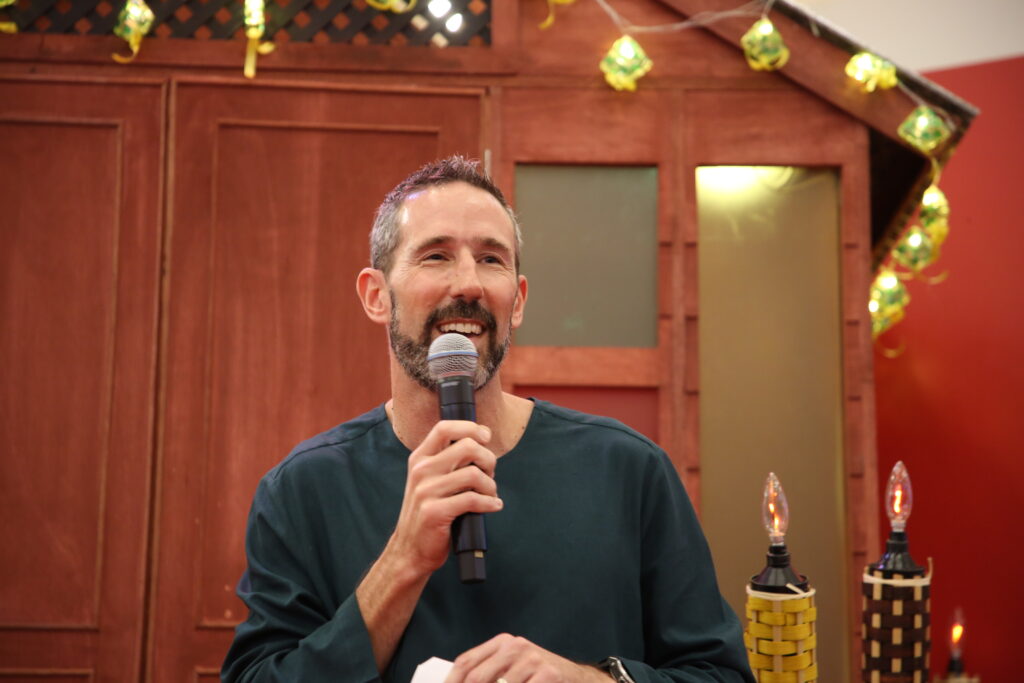 Frederic Porchet, the Executive Officer of Nestlé's Confectionery business, stated that the objective of the KitKat® "Rezeki Dikongsi Bersama" Raya campaign is to unite individuals through delicious and unforgettable KitKat® experiences.
He further explained:
The month of Ramadan and the upcoming Hari Raya celebration are equally meaningful times of the year for many Malaysians, regardless of race or background. It is a fantastic time to gather with families, neighbours and friends to cele-break all the joy and festivities of the season. Just like our catchphrase – "Have a Break, Have a KitKat", it's all about enjoying a break, having a wonderful time together and sharing 'rezeki' all around.

Frederic Porchet, Executive Officer of Nestlé's Confectionery Business
KitKat® Supports AEON Mesra To Spread Joy Among Underprivileged Children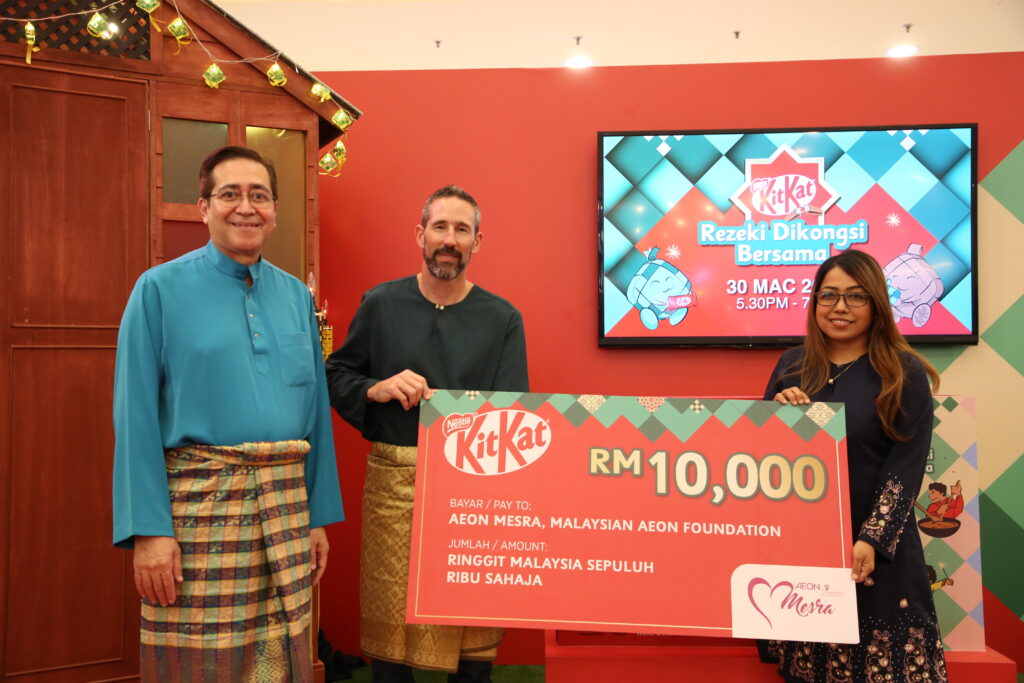 With a heartwarming gesture, KitKat® demonstrated its commitment to giving back to the community by donating RM10,000 to AEON Mesra, a noble initiative aimed at spreading happiness and cheer among underprivileged children.
Through this outreach program, these children can indulge in shopping sprees at AEON outlets during the Ramadan season, an experience that is sure to bring them immense joy and delight in anticipation of the upcoming Hari Raya celebration.
Share Your 'Rezeki' With KitKat®'s "LIKE for Charity" Campaign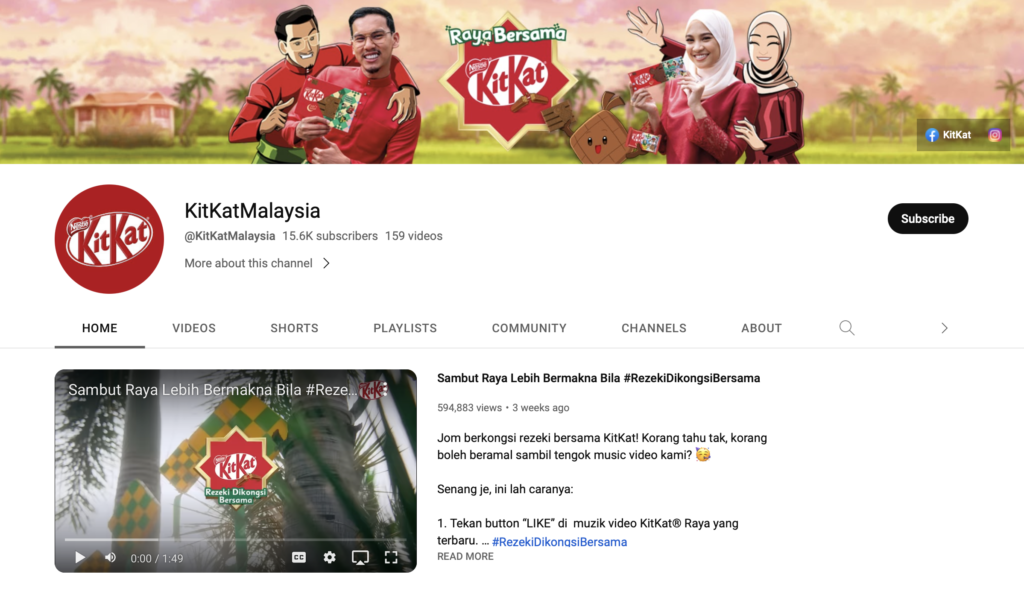 Not only can Malaysians enjoy the sweet taste of KitKat®, but they can also spread the spirit of giving by visiting the brand's social media channels and showing their appreciation for the KitKat® Raya music video featuring MK K-Clique and Nabila Razali.
With every "LIKE," KitKat® will donate RM2 to selected charity organizations, up to a generous total of RM100,000. By supporting this initiative, Malaysians can take pride in sharing their 'rezeki' and making a positive impact on their community.
For more information, please visit Nestlé's Official Website, Facebook page and Instagram page.