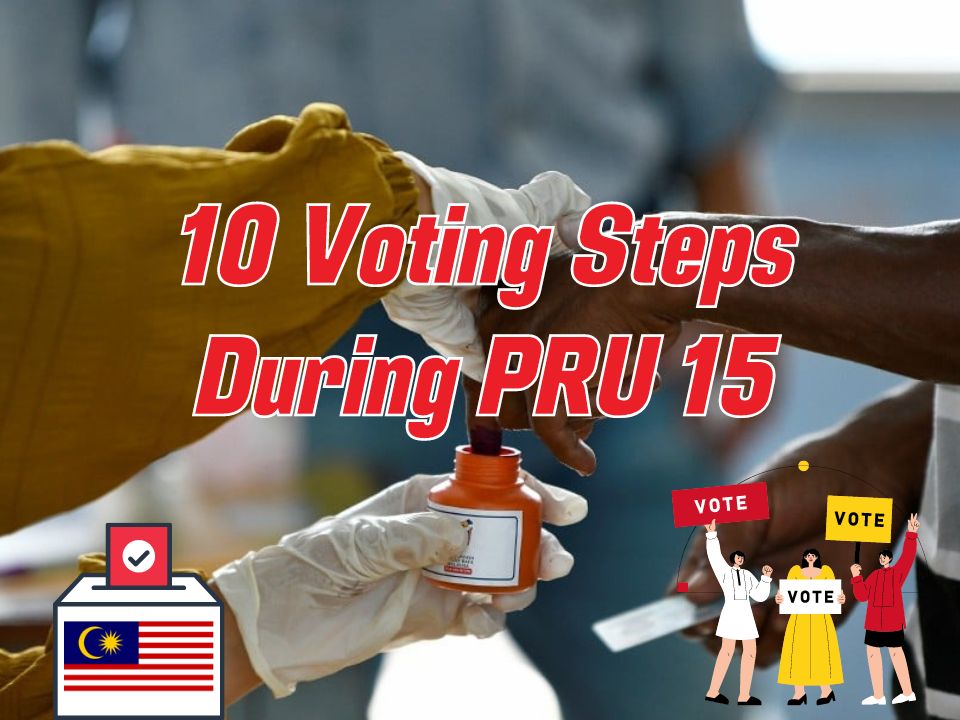 Malaysia, aren't you excited about PRU15 2022? If you are excited as we are, here are essential voting steps during PRU15 to follow.
10 Voting Steps During PRU15
1. Only Enter Once Told
You are only allowed to enter the voting channel when the police officer controlling the entrance allowed you to do so.
2. Show Your IC And Hands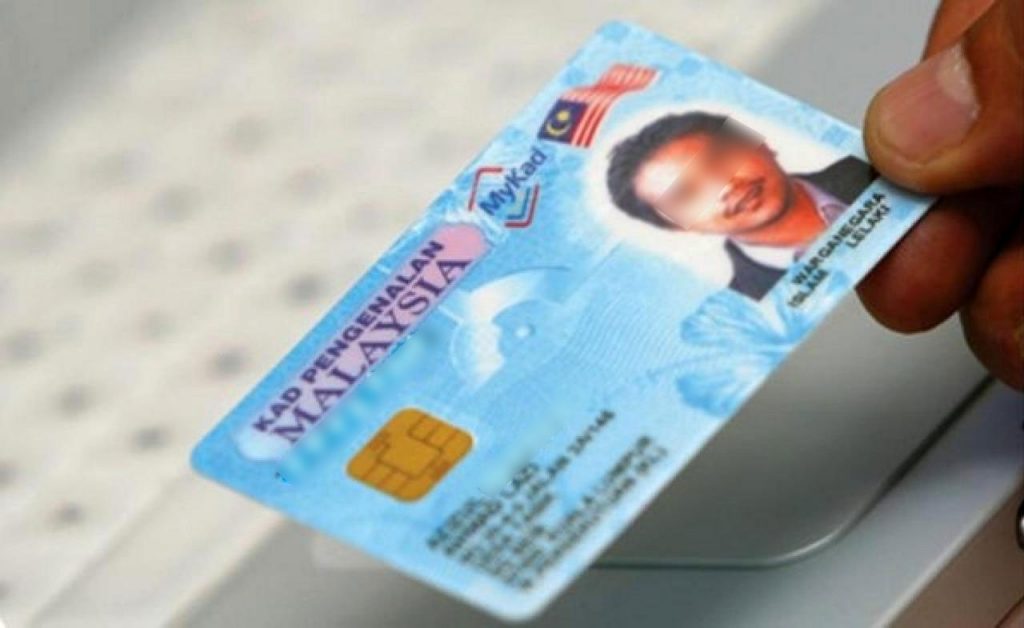 Present your IC or any personal identification document and Information Slip/ Slip Semakan (if there is one) to the First Polling Clerk (Kerani Pengundian Pertama). Proceed to show both hands to the clerk so they could check for any sign of the blue ink.
3. Listen Closely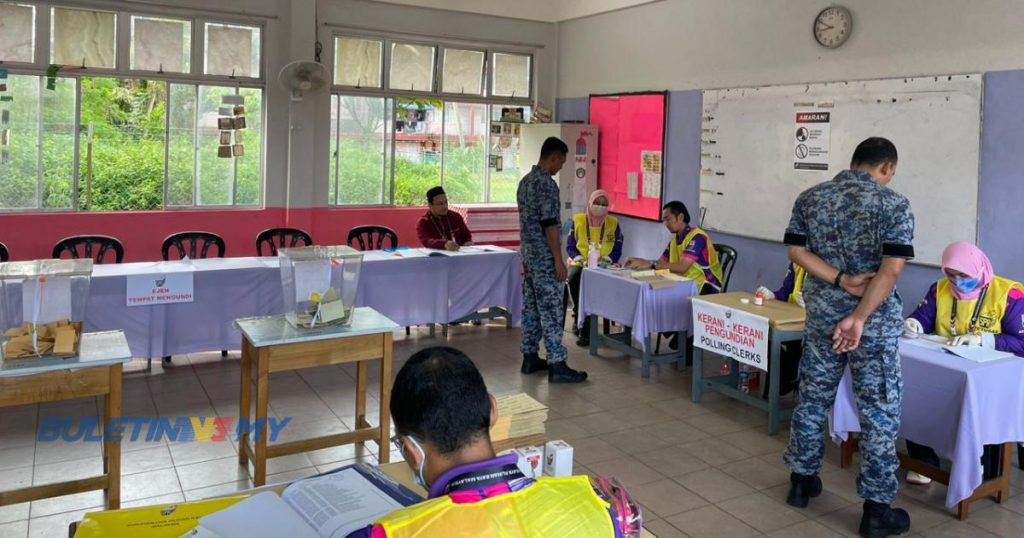 Your IC will be passed to the Second Polling Clerk (Kerani Pengundian Kedua) for confirmation while the First Polling Clerk will read out loud your name and IC number. Now, you must make sure the information stated is correct.
4. Dip Your Left Index Finger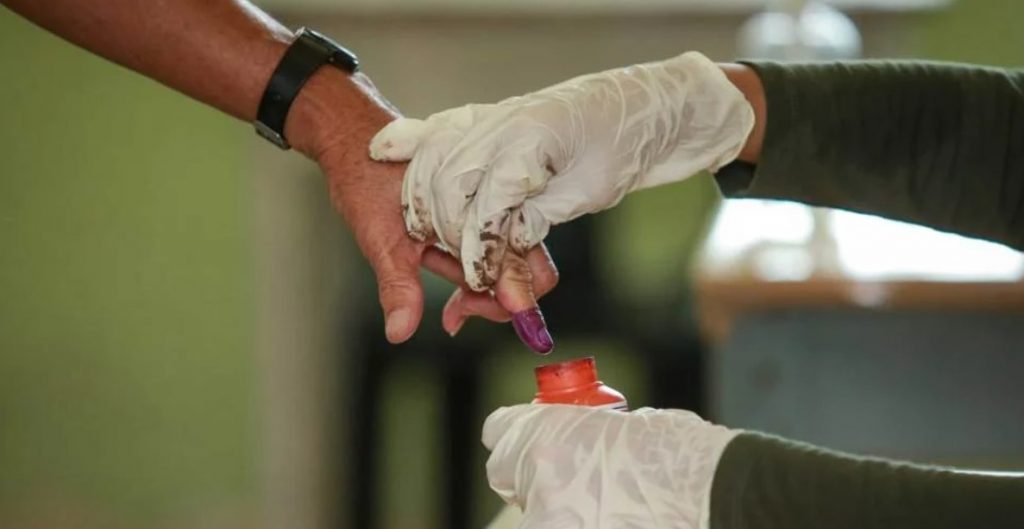 Next, move to the Second Polling Clerk. They will return back your IC and ask you to dip your left index finger in the ink bottle.
5. Receive Your Ballot Papers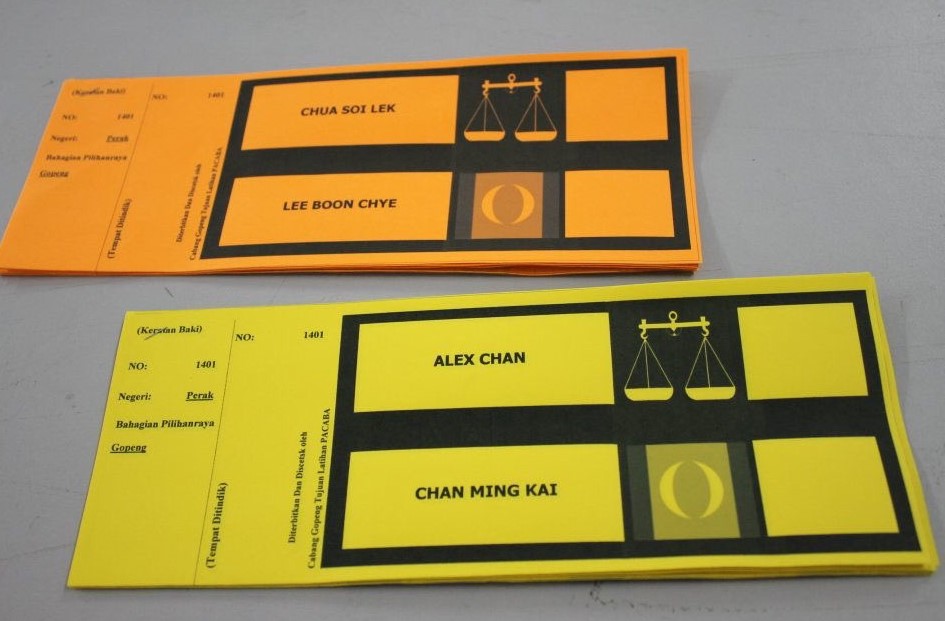 You will receive the ballot paper from the Third Polling Clerk (Kerani Pengundian Ketiga) and meanwhile, the First Polling Clerk will mark your name in Daftar Pemilih Pilihan Raya book as soon as your finger has been dipped.
6. No Phones Allowed During Voting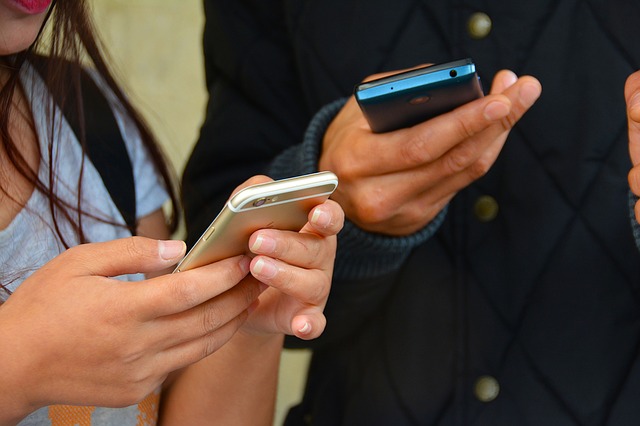 You will move to the Head Officer's (Ketua Tempat Mengundi) table to leave your phone before heading to Petak Undi.
7. Mark Your Ballot Paper With 'X'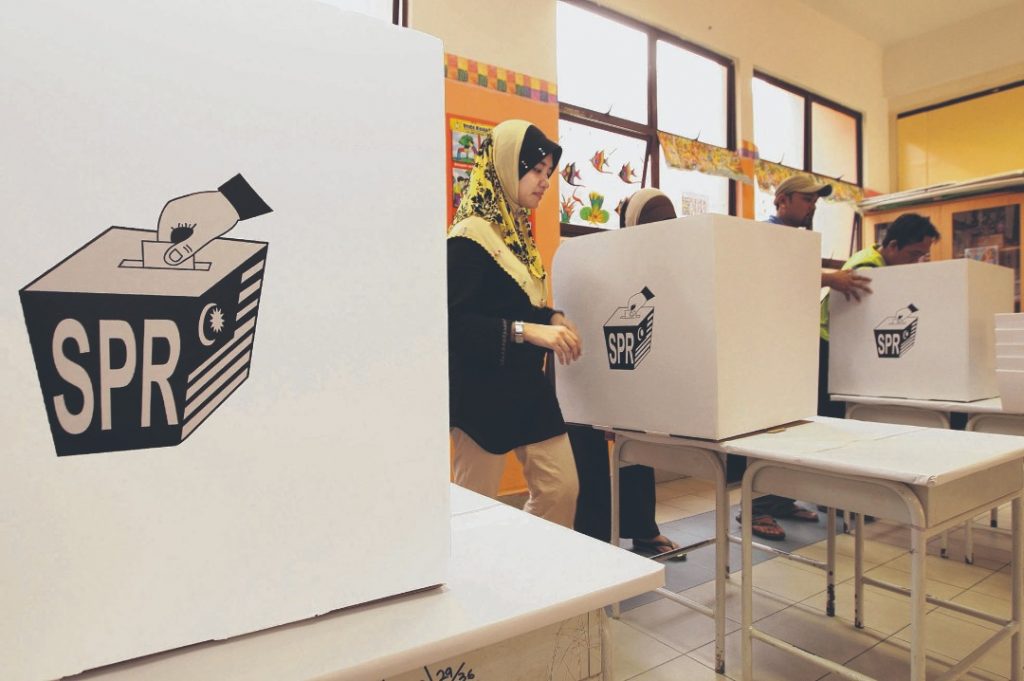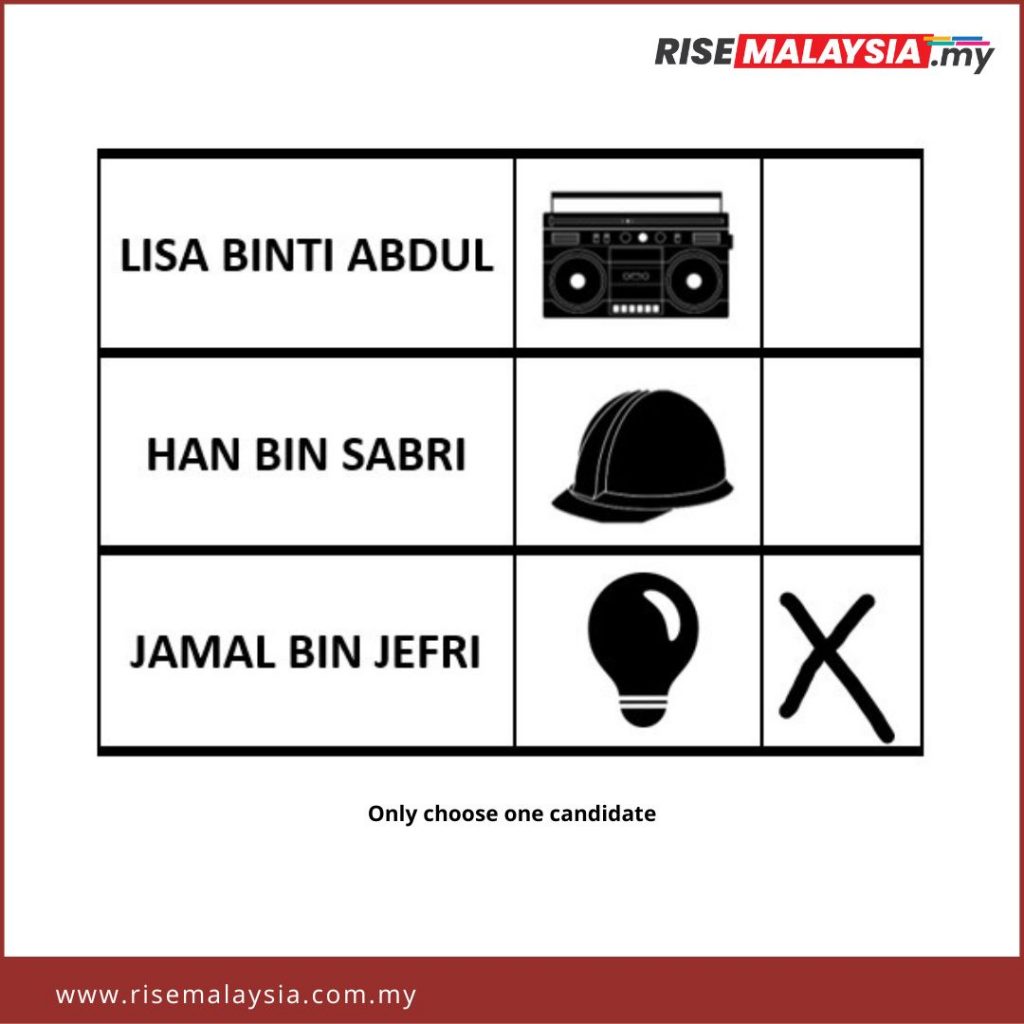 Head to the Petak Undi and mark your ballot paper with an 'X' beside the choice of your candidate name and symbol using a pen. Do remember you are only allowed to choose one candidate.
8. Insert Ballot Papers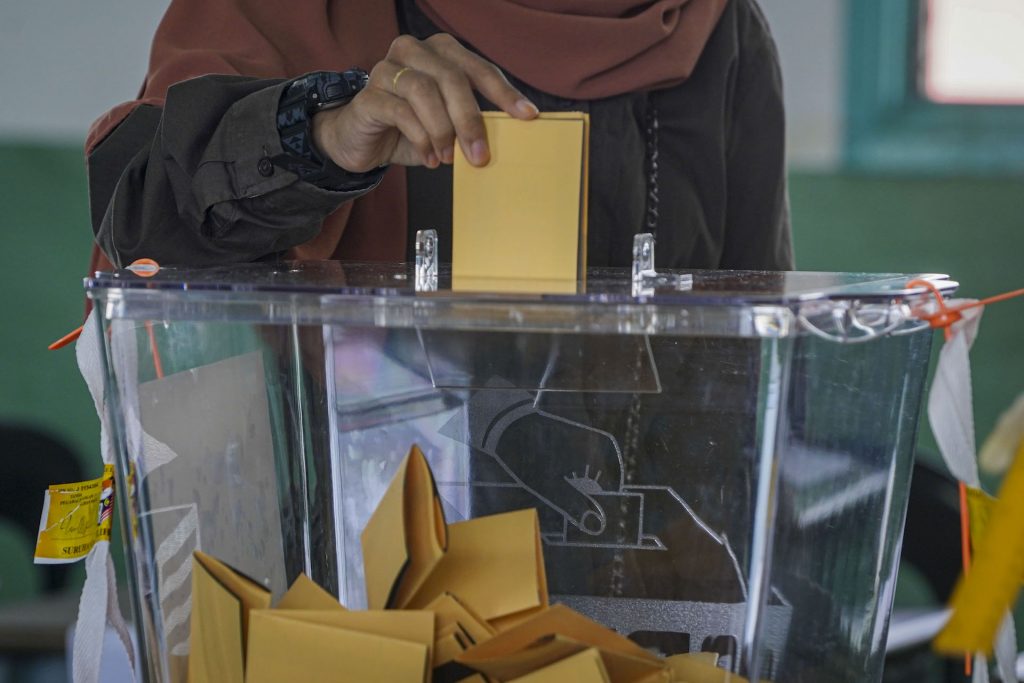 Make sure to insert your ballot papers in the correct ballot box.
9. Do Not Forget To Take Your Phone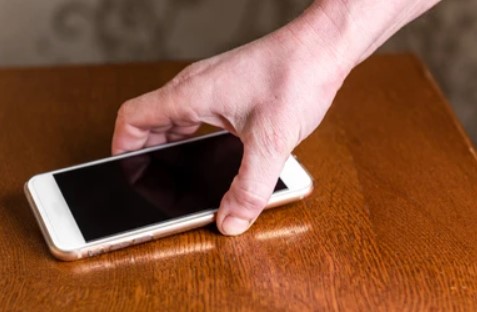 Head back to the Head Officers' table to collect your handphone.
10. Congratulations, You Are Officially Voted For PRU 15
Immediately leave the polling centre after you have finished voting.
For a better understanding, watch this voting simulation video:
How To Know Your Voting Channel
Before voting, you need to know your Voting Channel because it determines the room you will be voting in. There are a few ways to know your voting channel for PRU15 2022:
1. Use MySPRSemak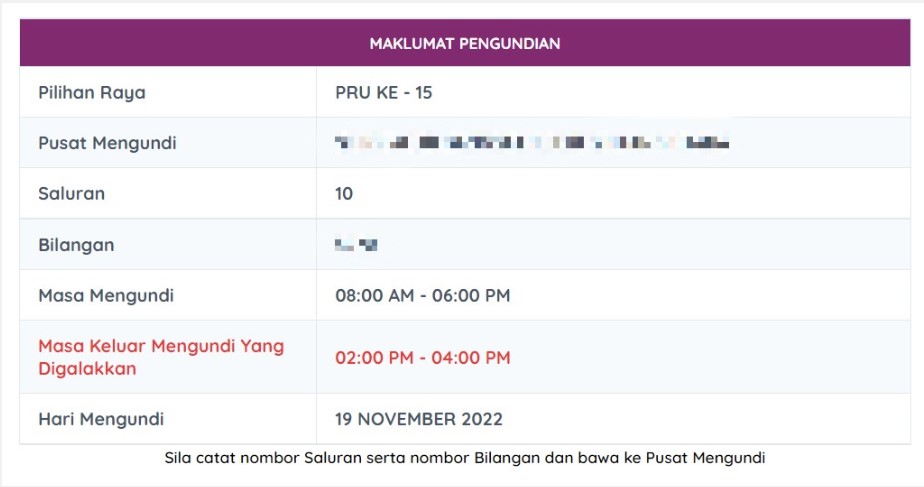 You can check your information through MySPRSemak where all the details are listed including your voting channel. It is recommended to screenshot your voting information so that you won't forget.
2. Find Kerani Penyemak Daftar Pemilih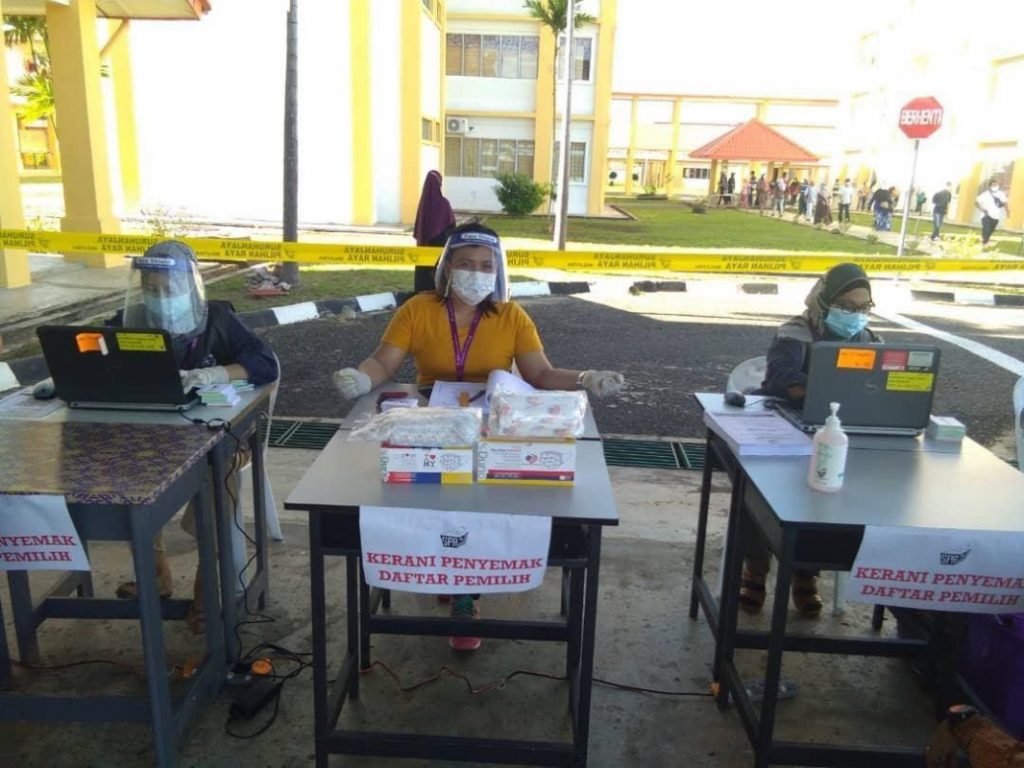 If you do forget and don't have a screenshot of your channel, please do not panic. This is because as soon as you enter the polling centre, you will encounter a station where an officer will check your IC and give a slip that stated your voting channel.
So PRU15 day is almost there, so we're hoping all Malaysian to come and vote for their own future.
(Source: Jabatan Penerangan Malaysia, Suruhanjaya Pilihan Raya Malaysia-SPR)
Articles related to PRU 15 2022: