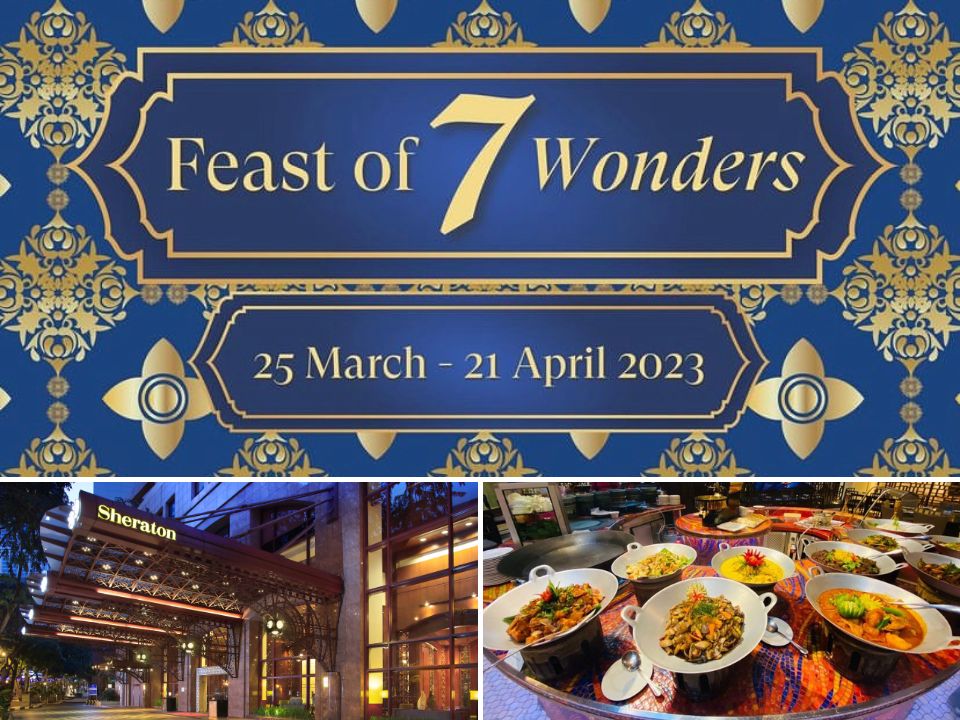 Sheraton Imperial Kuala Lumpur hotel's "Feast of 7 Wonders" buffet dinner, led by new avid culinary expert Executive Chef Ewald Gonsalves, will lead you on a gastronomic journey this upcoming holy month.
Sheraton Ramadan Buffet: Feast Of 7 Wonders Debut
7 Wonders Of Tasteful Spreads Around The Globe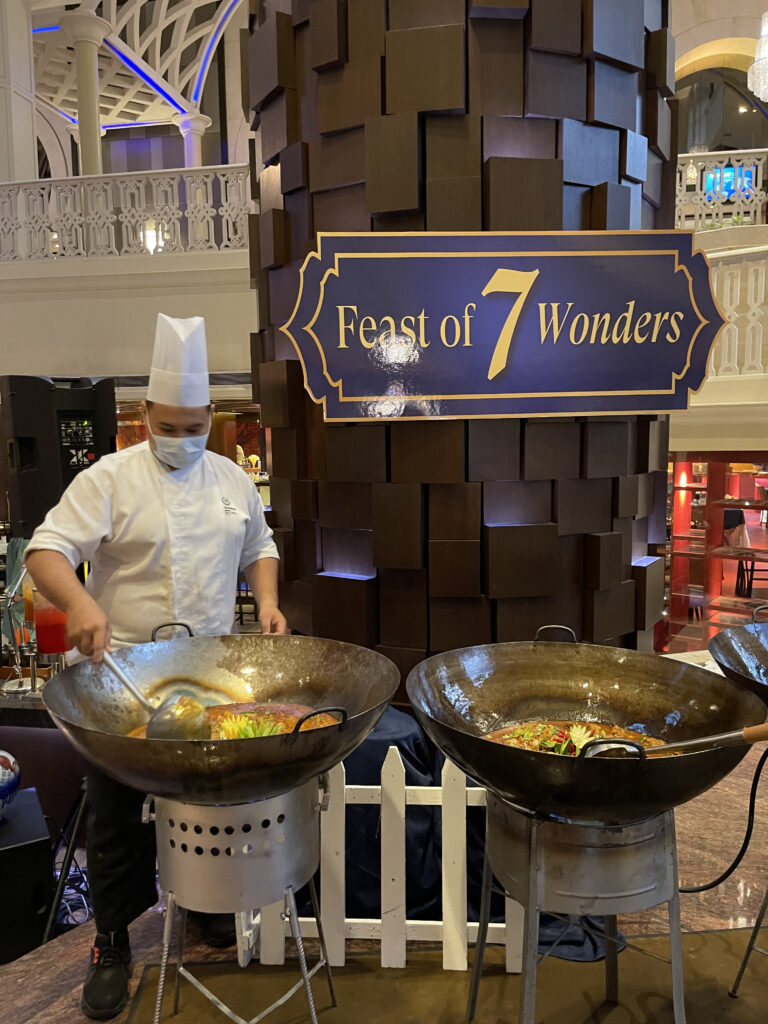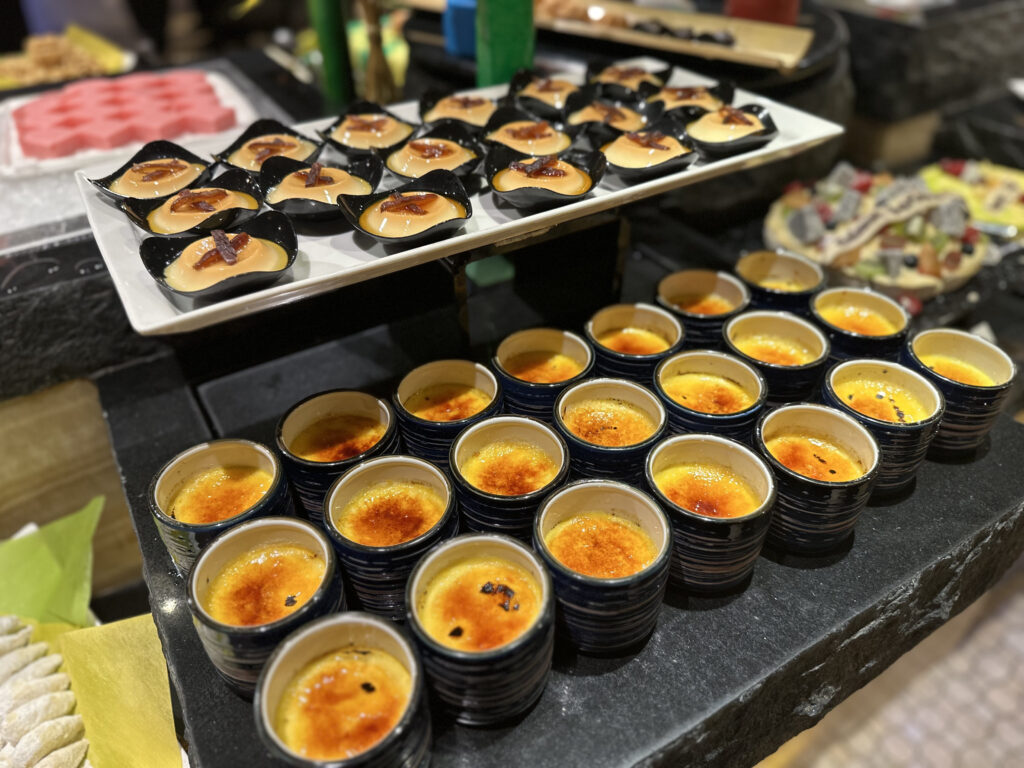 Beginning on March 25th, the hotel's Essence Restaurant, Sheraton Imperial, will offer a sundown feast with a global flavour and a satisfying experience. The feast features a live carving station, mouthwatering sweets, and an extensive array of dishes from around the world.
Together, Ramadan buffet at Sheraton with the hotel's talented and experienced chefs offer seven culinary wonders from around the world that will take your taste buds to a whole new level, to name a few:
| | |
| --- | --- |
| Country | Menu Descriptions |
| Syria | Arabic spiced marinated chicken |
| Italy | Variety of live pasta selections as you can see the chefs make the delicacies in front of you |
| Indonesia | Classical Angus Beef Bakso made with succulent meatballs from our neighbour country |
| Morocco | Braised Moroccan Lamb Stew with Chick Pea and Tomato |
| India | Kufil Flood as main dessert from India |
| Qatar | 48 hours marinated with 14 spices Roasted Whole Lamb Kuzi at the Carving Station |
| Afghanistan | Chicken Malai Kebab with Fenugreek Leaves |
Ramadan Packages At Sheraton Imperial KL
The hotel also extended an attractive early bird offer vouchers, Sheraton Imperial stuffed cookies as well as group reservations for dining and meetings along with special deals on rooms, as well as a sahur buffet during this upcoming festive month.
Feast Of 7 Wonders Buffet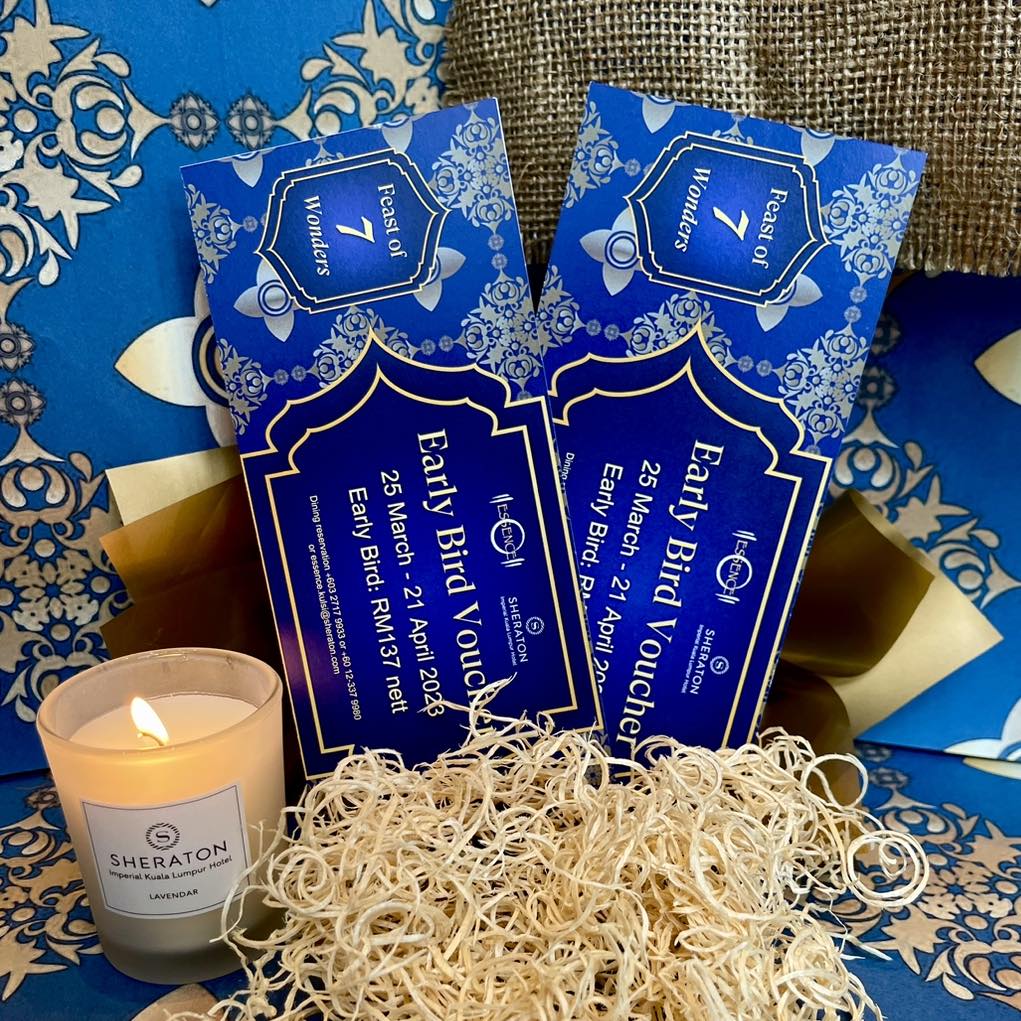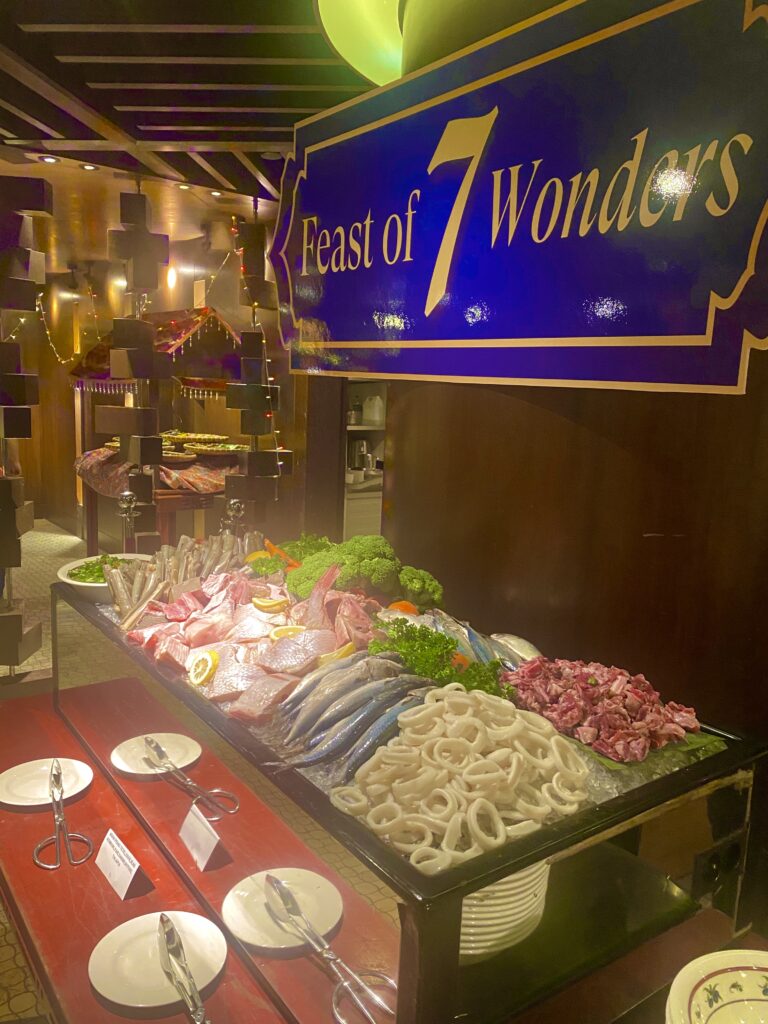 You can't go wrong with the Sheraton Imperial Kuala Lumpur's Ramadan buffet (Feast of 7 Wonders) if that's all you're interested in.
Prices are as follows:
| | |
| --- | --- |
| Category | Price |
| Adult | RM197 |
| Child | RM97 |
*Early Bird Promotions at RM137 nett per voucher, available from 23 February till 24 March 2023.
For more dining reservations or information, please email [email protected] or call 03 2717 9933 or 012 337 9980.
Wonderful Stay At Sheraton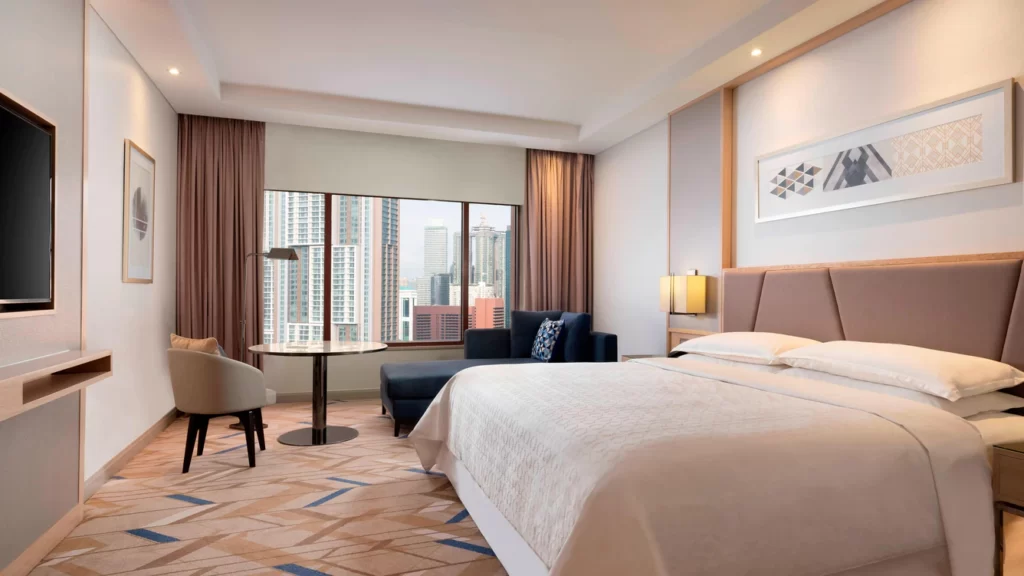 With the Sheraton Imperial's special two-day, one-night room deal, guests can relax in the lap of luxury while taking in the evening's festivities. Sahur Buffet Breakfast at Essence and FEAST OF 7 WONDERS Buffet Dinner for Two (2) are included in the luxurious luxury room stay.
Price: RM660 nett
Stay Date: 25 March – 23 April 2023
For room reservation or inquiry, please email [email protected] or call 03 2717 9900
Wonderful Meeting At Sheraton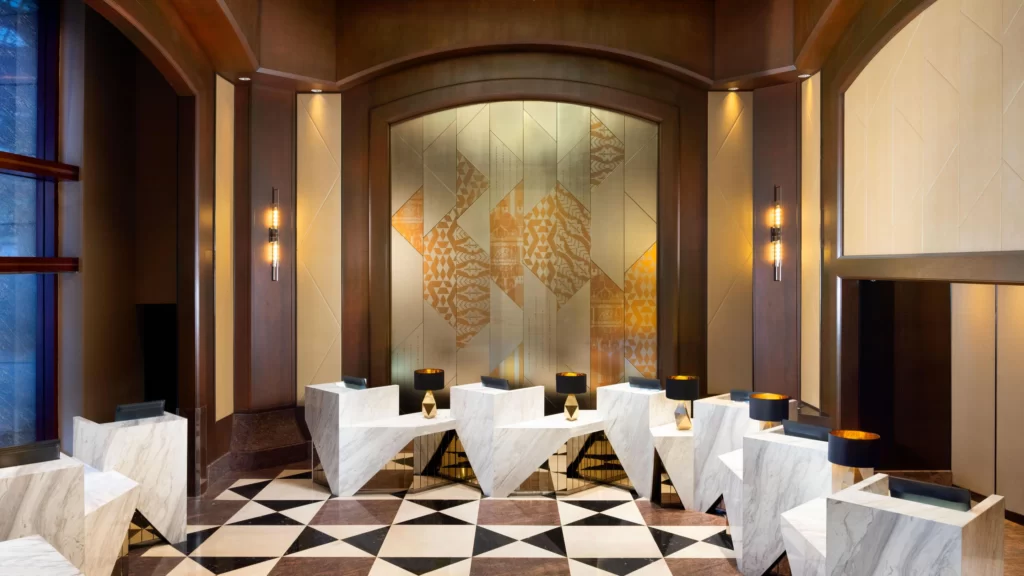 During the festive season, you can also reserve your meeting plan for a minimum of 10 people.
| | | |
| --- | --- | --- |
| Category | Time | Price |
| Full-day meeting | 9.00am – 6.00pm | RM180 per person |
| Half-day meeting | 8.00am – 1.00pm | RM150 per person |
If you opt to have full-day meeting with an inclusive buffet dinner, Sheraton Imperial's FEAST OF 7 WONDERS, the price will be available at RM300 net per person per day (for minimum of 10 persons)
Note: meeting package comes with the usage of meeting room usage and 2 tea breaks with 4 types of snacks.
Sheraton Imperial's Stuff Cookies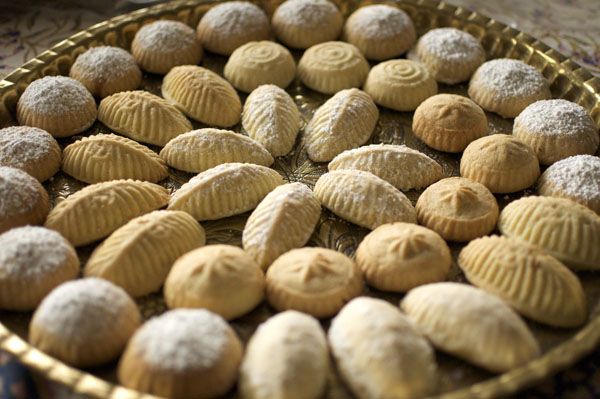 Sweets are a necessary component of any good feast especially when you have yourself a ramadan buffet at Sheraton. Chef Ewald Gonsalves, the hotel's executive chef, has created a special batch of his famous Stuff Cookies, also known as Lebanese maamoul filled butter biscuits made with semolina.
Special Performances From Saujana 25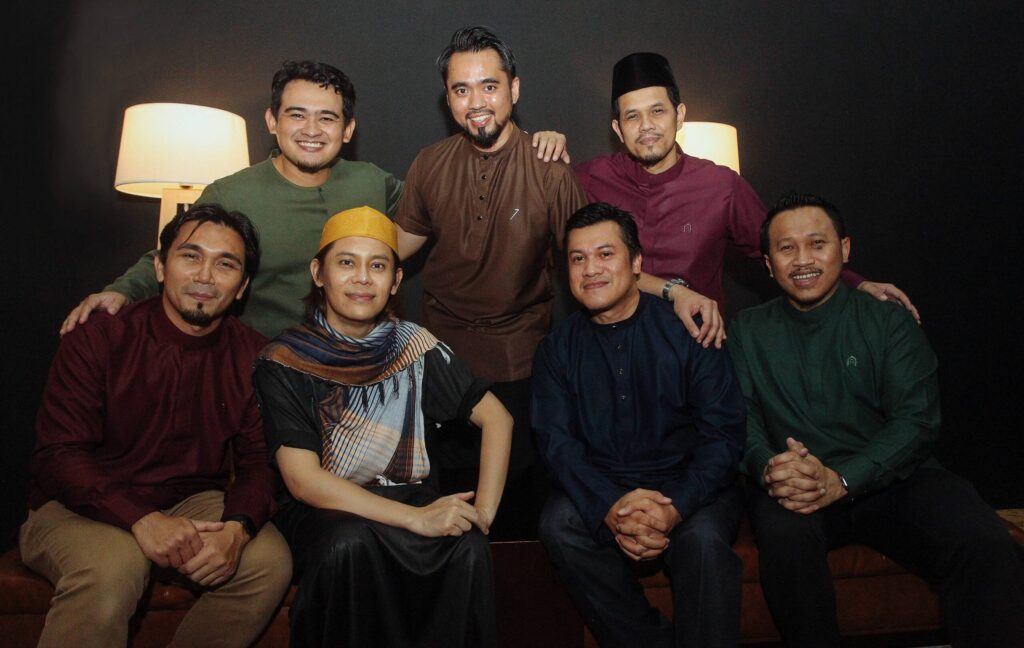 In addition to commemorating its 25th year in business, besides providing ramadan buffet, special deals on rooms, as well as a sahur buffet, Sheraton Imperial Kuala Lumpur Hotel is providing guests with The Saujana 25 Group, which will also enliven this holy month with an exclusive performance at Essence Restaurant on April 1, April 8, and April 15, 2023
For further information, please make sure to check out their website at www.sheratonimperialkualalumpur.com and follow them on both Facebook and Instagram.