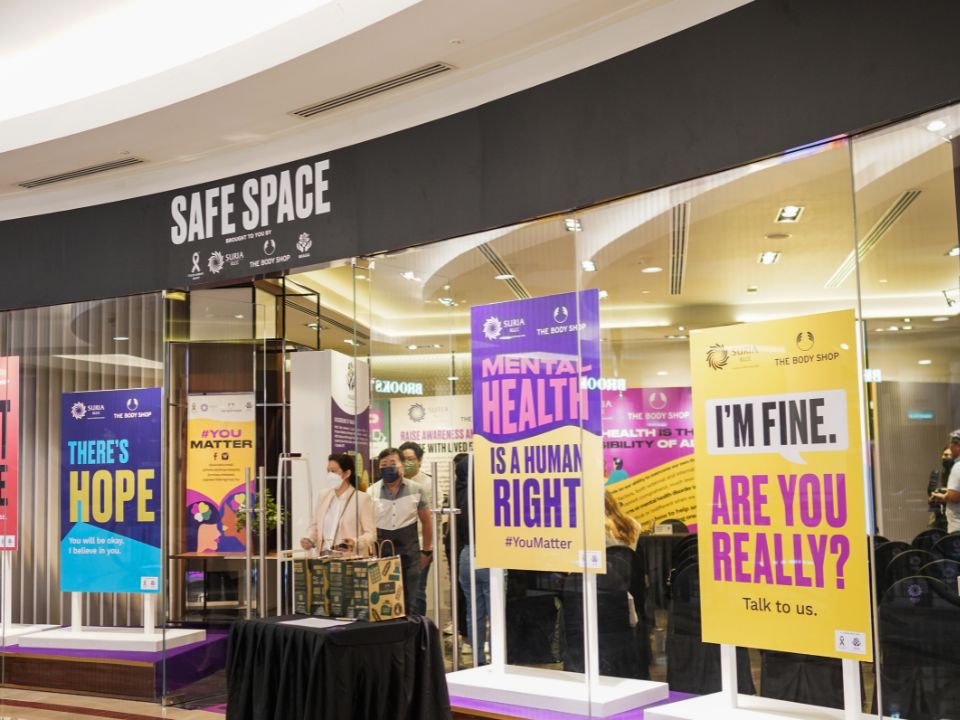 Because October is recognised as World Mental Health Month, Safe Space KLCC and The Body Shop have collaborated on a campaign that will run throughout the month of October to make it more acceptable to discuss about mental health. The social movement known as #YouMatter has officially kicked off today and will run through November 10, 2022.
Brand New Looks Of Safe Space @ Suria KLCC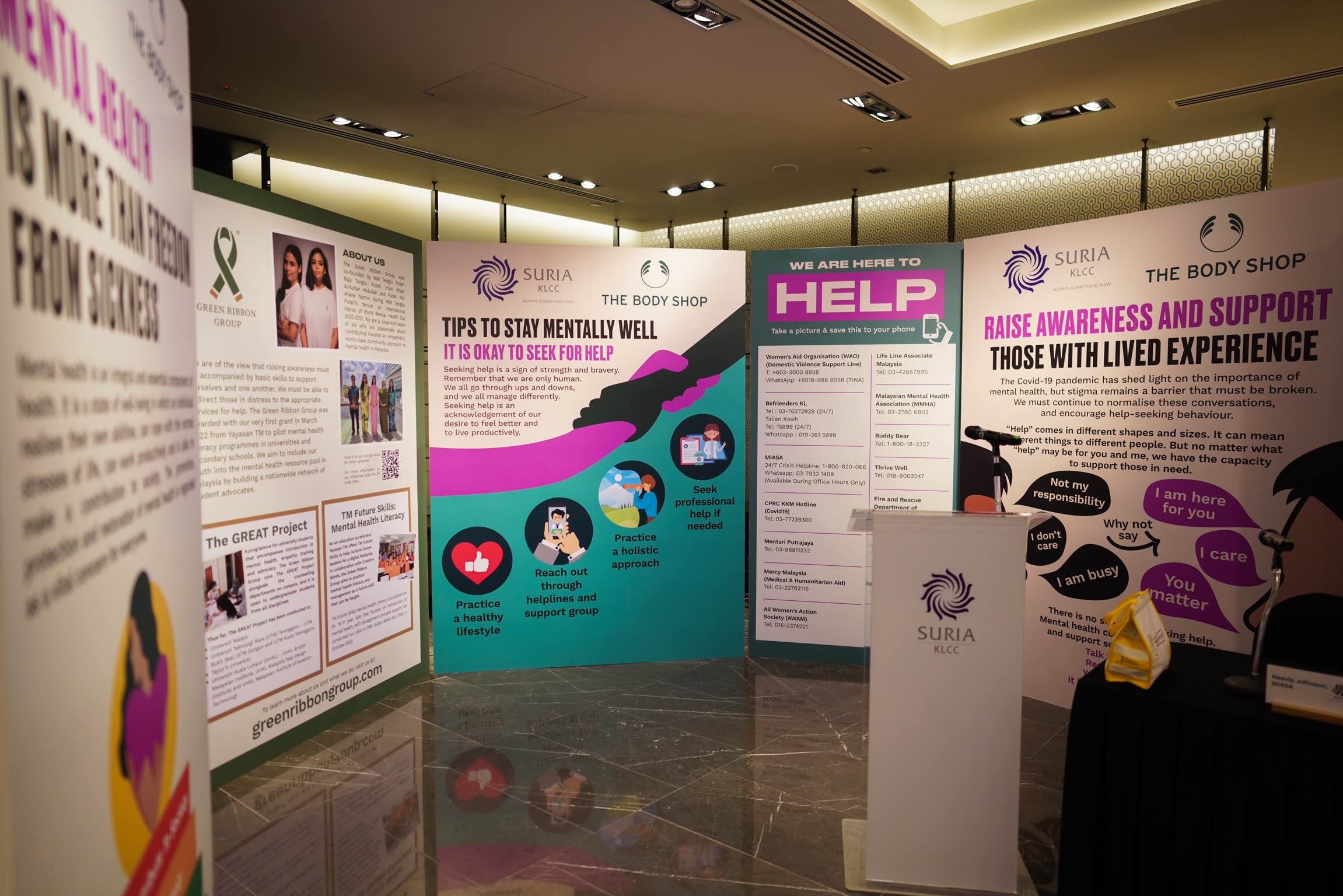 Suria KLCC is the first and only shopping centre in Malaysia to implement a community safe space as part of a mental health awareness campaign, elevating the campaign to a higher level by providing a secure environment for the community. Those who are concerned about their mental health are encouraged to attend the Safe Space KLCC @ Suria KLCC, which is a designated location that has been set aside for the express purpose of supporting anyone in need of such assistance.
The Event Emphasizes On #YouMatter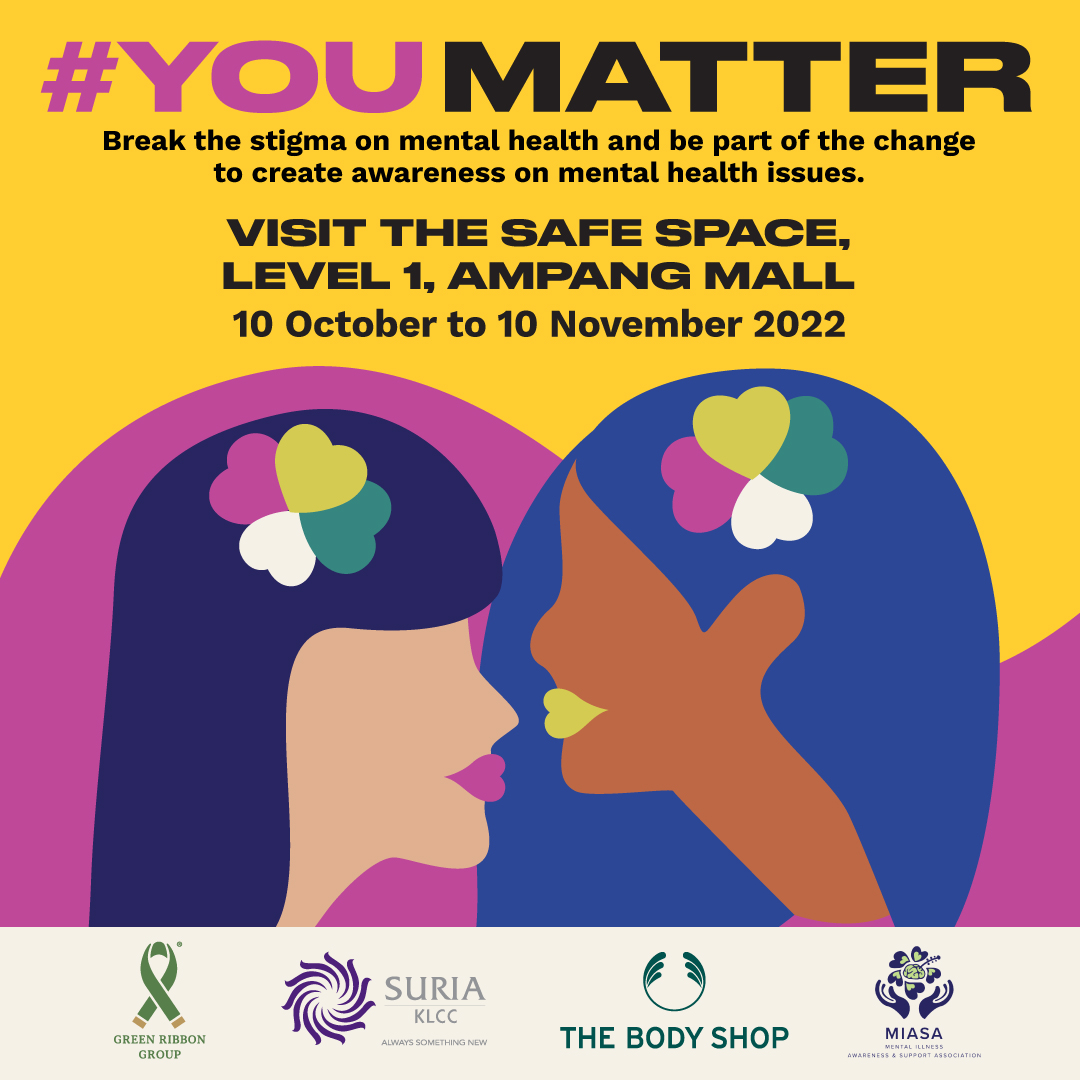 You are welcome to stop by the Safe Space At Suria KLCC located on Level 1 of Ampang Mall at any point during the course of the programme. The centre will be open every day of the week from 10 a.m. to 10 p.m., and it will play host to a wide range of fascinating events, such as seminars, speeches, and panel discussions presented by professionals in the field of mental health. A volunteer who works in the field of mental health is also available to guests to provide further resources and answer concerns.
The Green Ribbon Group is a non-governmental organisation (NGO) is an advocate for a community-based approach to mental health. The fruitful outcome of the campaign to raise awareness about mental health that took place the year before served as the impetus for this relationship. Mental Illness Awareness & Support Association (MIASA) is yet another organisation that has come together to participate in this year's effort.
The Highlights Of The Launch Of Safe Space KLCC 2022:
1. Executive Director/CEO Of KLCC And His Welcoming Speech Of Safe Space KLCC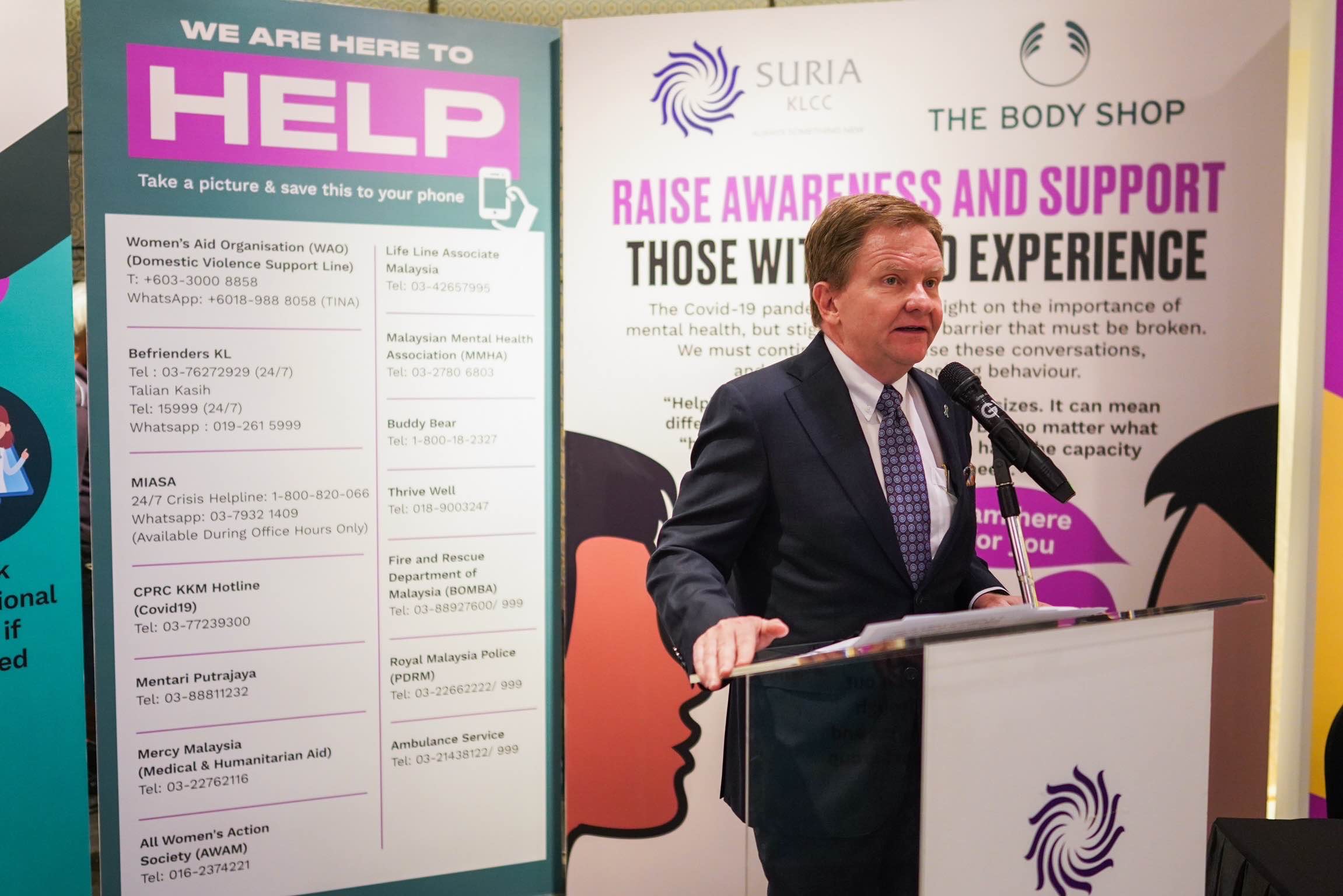 In part of the opening speech, Andrew Brien, Executive Director/CEO of Suria KLCC clarified the purpose of Safe Space:
The Safe Space @ Suria KLCC is a welcoming space where the community can come together to share and learn. After all, a problem shared is a problem halved – we want people to leave the space feeling better and with more insight about themselves or others.

Andrew Brien, Executive Director/CEO of Suria KLCC
2. Tengku Puteri Iman Afzan Partnering With Suria KLCC For The Second Time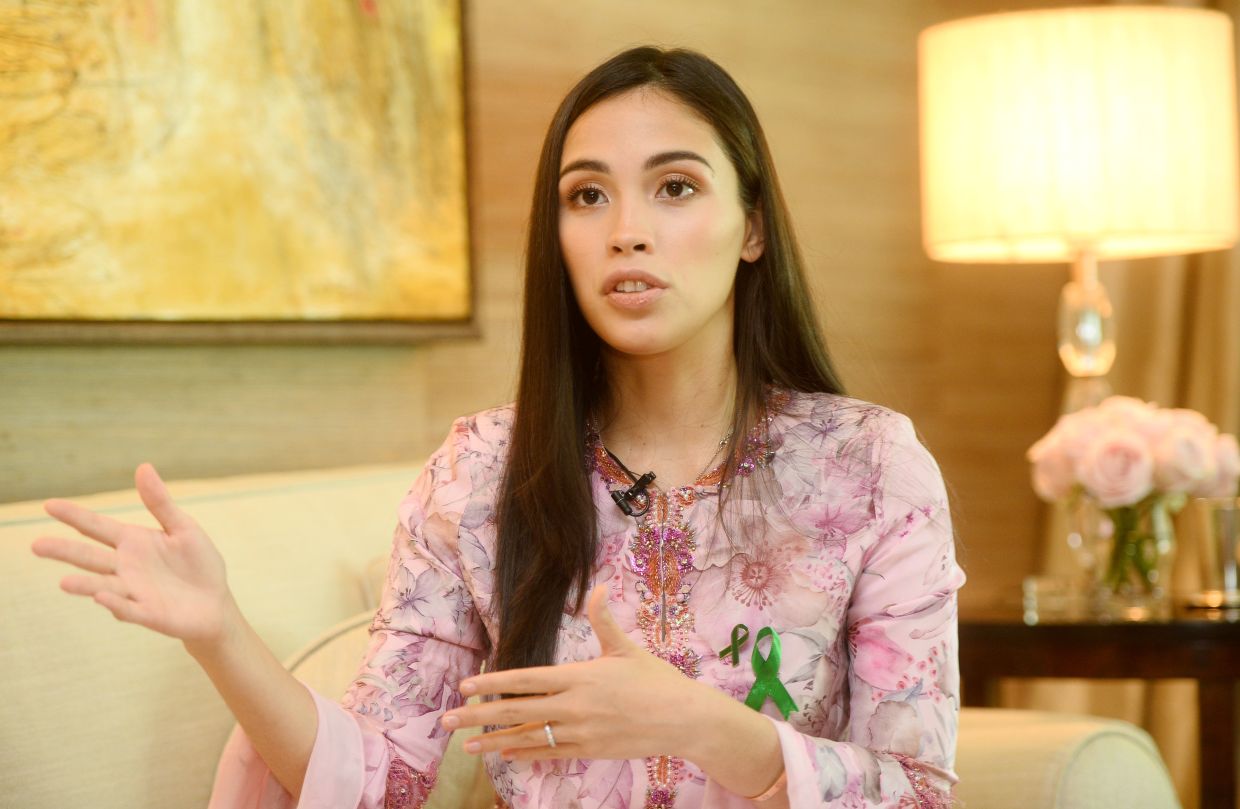 Expressing her elation to be working with Suria KLCC for a second year running, Green Ribbon Group Founder and President, YAM Tengku Puteri Raja Tengku Puteri Iman Afzan Al-Sultan Abdullah said:
Efforts like the Safe Space must continue to not only show our support for those with mental health problems, but to also highlight our ongoing commitment towards doing more for the cause. The focus on youth mental health this year is especially timely for the Green Ribbon Group. We are very fortunate to be able to pilot programmes in secondary schools and universities that focus on mental health literacy, self-management and peer support. This has always been a dream of mine – to reach out to our youth and empower them to prioritise their mental health. MIASA was where I began my advocacy and outreach. It is fantastic that we are now partners alongside Suria KLCC and The Body Shop for the Safe Space. Mental health knows no boundaries. Together we can always do more

Tengku Puteri Iman Afzan, Green Ribbon Group Founder and President
3. Anita Bakar On Why Mental Health Care Is A Collective Responsibility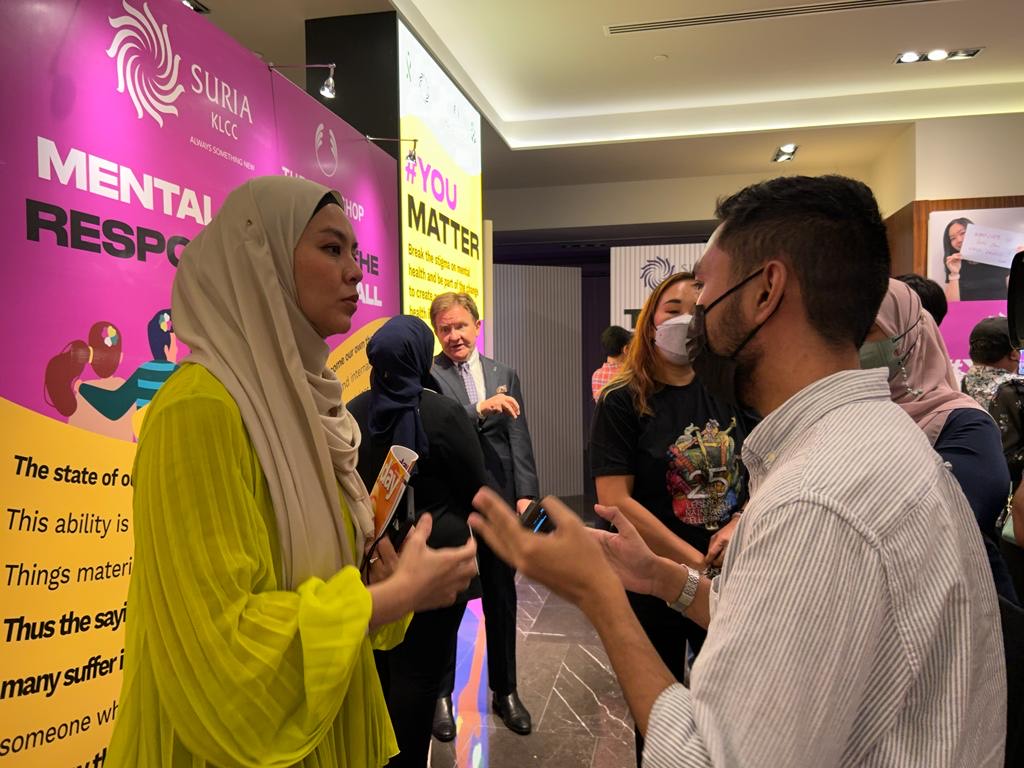 One of the panelists at the event, Anita Abu Bakar, the Founder and President of MIASA explained:
Looking after each other should be everyone's responsibility and not just the health sector alone. This is why we should strive to prioritise community-based mental health support – so that the burden of care can be shifted from being shouldered solely by our incredible frontliners to being shouldered by all of us. Through efforts like this, it is our sincere hope that the scale of our response to the issues surrounding community mental health can begin to match the scale of the challenge itself. This collaboration with the Safe Space sets an example of how collective effort can create a big impact and spur action in the community. MIASA is honoured to be part of this initiative and would like to welcome everyone, especially the youth, to enjoy this space

Anita Abu Bakar, Founder and President of MIASA
When asked by Rise Malaysia regarding the correlation of someone's bad behavior to mental health, she responded:
I'll give you a good example, let's say you are struggling with severe symptoms of Covid 19 and then somebody comes up to you questioning "Why are you not at work?" or "Why are you sleeping for such a long time?", and obviously you are in so much pain, so this pain that you were not able to show it in a form of a wound or a broken leg, it'd manifest into anger, because you are in constant and continuous pain. And then, of top that, you are being stigmatised and discriminated, added with not being able to manage or overcome it well or you don't have effective coping mechanisms, so that is why, again, it can possibly, manifest in such a way because they (you) are not getting enough or optimal support

Anita Abu Bakar, Founder and President of MIASA
4. Datin Mina Cheah-Foong On The Importance Of Mental Health And Vulnerability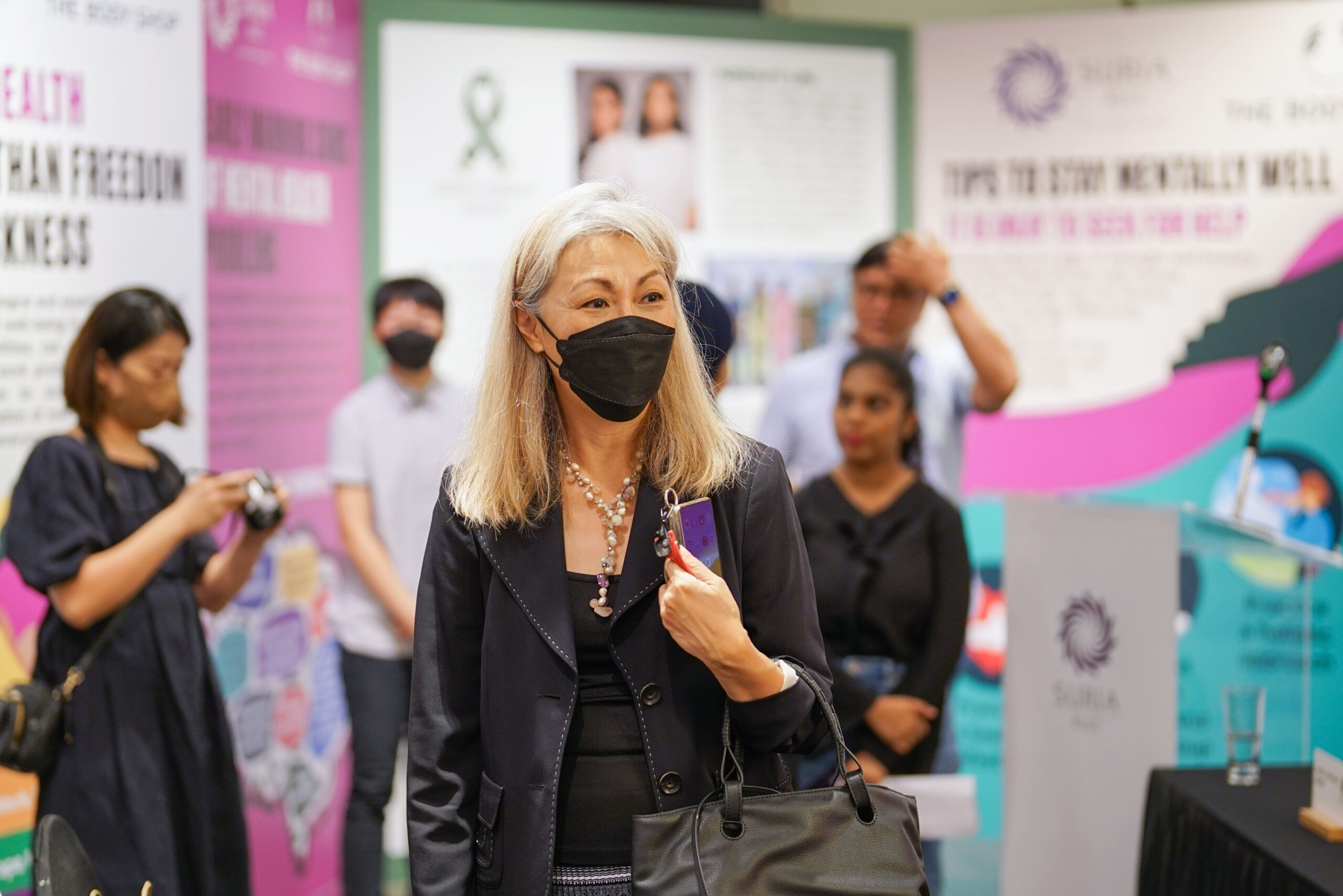 The Managing Director of Body Shop, Datin Mina Cheah-Foong further emphasized:
At The Body Shop, we believe that the voices of our youth matter and they should be seen and be heard. As we step into World Mental Health month, it is important to create awareness about mental health and wellbeing, especially for young people. Setting up this Safe Space KLCC alongside MIASA and Green Ribbon Group is our way of advocating for our youth through promoting and protecting the value of mental health. Young people with their youthful energy and ideals are the change the world needs today. Thus, overcoming stigma, building resilience and empowering their selfesteem is truly a community effort to ensure we help them reach their potential as the changemakers of today and tomorrow

Datin Mina Cheah-Foong, Managing Director of The Body Shop
Rise Malaysia also managed to have one quick chat with the Managing Director, was curious on what her take on men being afraid to be vulnerable. She explained:
Men need to open up and have role models to show that (vulnerability) is not a sign of weakness, because when you open up, you put yourself out there to be able to embrace criticism, and that takes bravery and a lot of courage. All you can do is be true to yourself, and displaying vulnerability should not be limited to one or a specific gender.

Datin Mina Cheah-Foong, Managing Director of The Body Shop
5. The Calm Room As Part Of Mental Health Care At Safe Space KLCC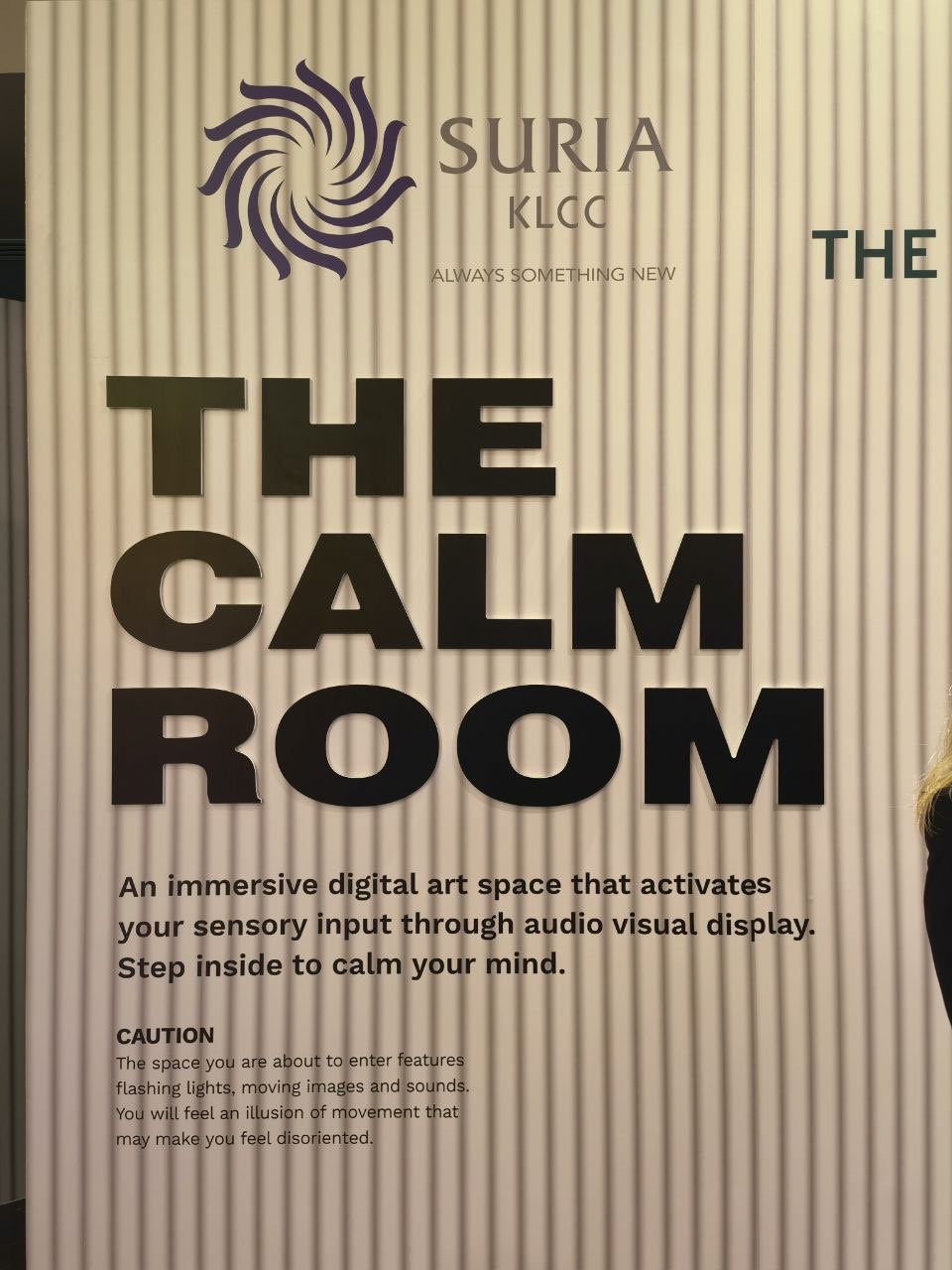 In addition, Suria KLCC has committed to contributing money to non-governmental organisations (NGOs) working in the field of mental health through the sales of the Suria Ribbon Pin during holiday campaigns. To date, roughly RM20,000 has been donated to non governmental organisations (NGOs) working in the field of mental health. These organisations include Befrienders KL and the Malaysian Mental Health Association. You can participate in this continuing campaign by purchasing a Suria Ribbon Pin from the Concierge for the price of RM10.
For further information, visit Green Ribbon Group, MIASA and The Body Shop.