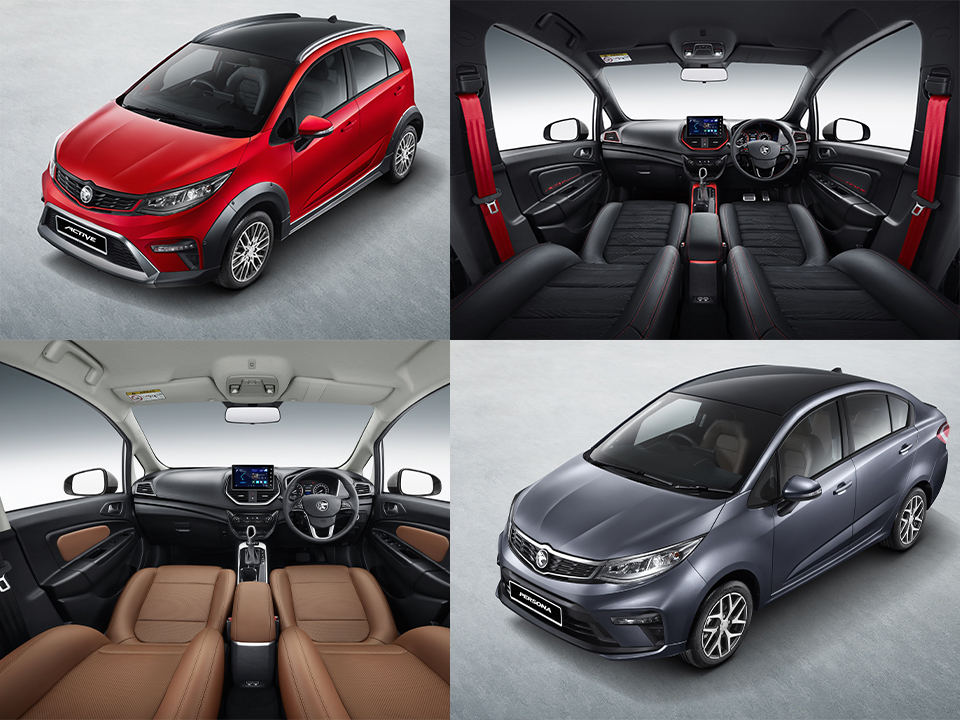 Car shopping is fun when there is a growing number of competitively-priced car models that feature superior aesthetics, cutting-edge infotainment, safety, and improved ride and handling performance. Whether you are buying your first car, or your disposable income has increased since you bought your current car, you may find yourself interested in more premium and chic options. What influences a buyer when choosing a new car? There are many aspects to car shopping and they can affect purchase decisions. Do car reviews really matter? Simply put – yes, they matter. However, it is also important for a buyer to make comparisons and form independent conclusions. Let's take the 2022 Proton Iriz and Persona cars as an example for this evaluation. Recently introduced by PROTON, the facelifted 2022 Iriz hatchback and Persona sedan offer updated design elements plus enhanced features, along with the new Iriz Active variant.
Since the launch of these models earlier in August this year, drivers have broadly given them the thumbs up, so what can we learn about buyer preferences from these reactions?
Aesthetics That Appeal
What makes a car a hit among drivers while others don't quite hit the spot? Fundamentally, buying and driving a new car offers an emotional boost. Our cars make a statement about our identities and can act as an extension of our homes and comfort zones. They are – in short, not just a box on wheels to take us from Point A to Point B. Much like our clothing choices, our cars can tell others who we are and what we value most. Through the very simple choice of the car we drive, we can announce our self-identity to the world.
With both the 2022 Iriz and Persona being new iterations of long-beloved favourites, their existing identity can be a help in capturing consumer attention, not forgetting their good looks. Making a handsome comeback with new cosmetic features and refreshed styling with new colour options, the new Citric Orange and Passion Red for the Iriz and Space Grey for the Persona have certainly commanded attention. Notable exterior enhancements that further catch the eye are the newly-designed Infinite Weave with Ethereal Bow grille in sporty red on the Iriz while the Persona boasts additional chrome to offer a more premium feel and to better frame the new PROTON logo.
Proton Iriz Active
The introduction of the Active variant takes the Iriz down a more rugged lifestyle path. The exterior of the car sports a different front bumper design with new distinctive all-around body mouldings that run from the front bumper, across the wheel arches and side sills before ending at the rear bumper. A black roof with roof rails completes the look. It is certainly easy to see why it was dubbed the 'baby X50'.
On the interior, the ambience is further amped up by red highlights. The word 'Active' is embroidered on the front seats, door trims and carpet mats, with red stitching on the steering wheel and red seat belts rounding up the colour accents. It also comes with aluminium sport pedals that add a subtle sporty touch.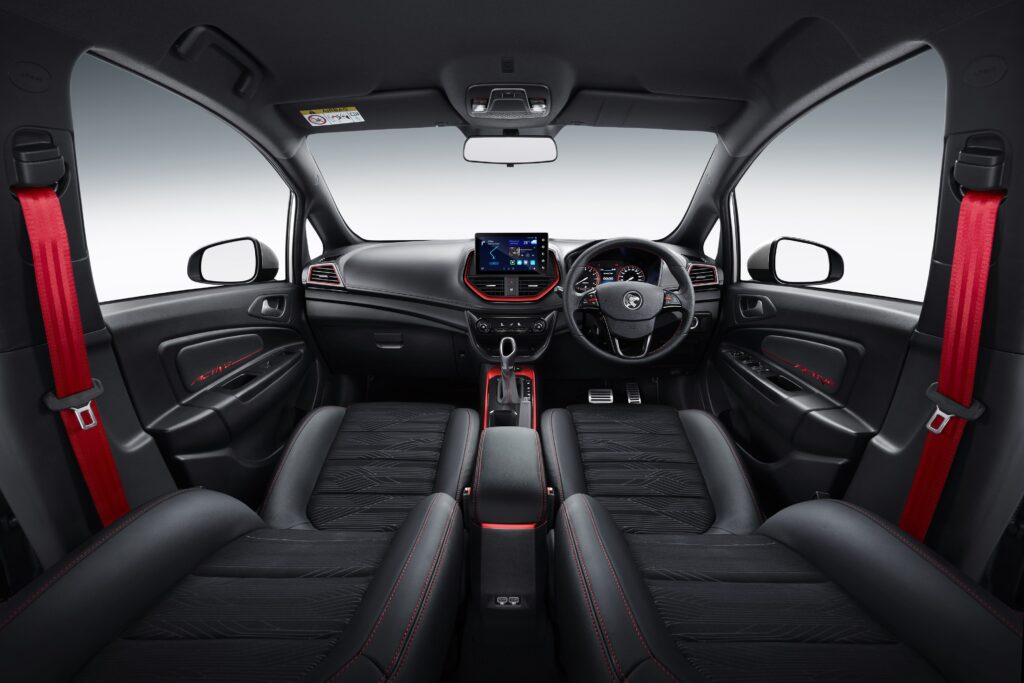 Proton Persona Premium
The Proton Persona Premium meanwhile has seats and door trims covered in brown leatherette (in the same shade that debuted on the Proton X70) to complement the new interior design and add to its premium aesthetic.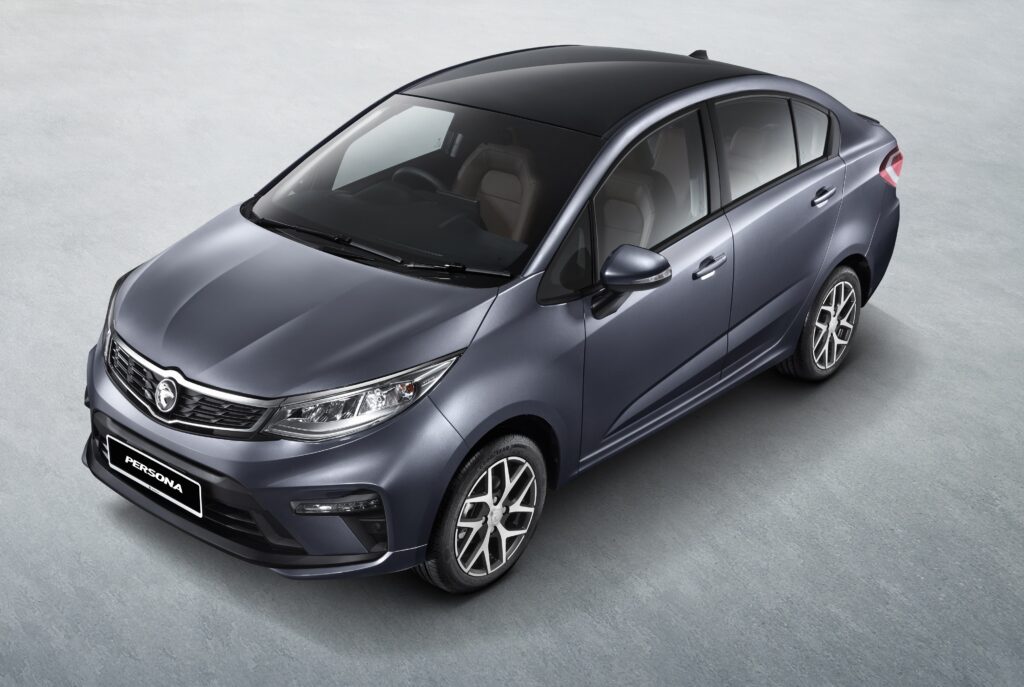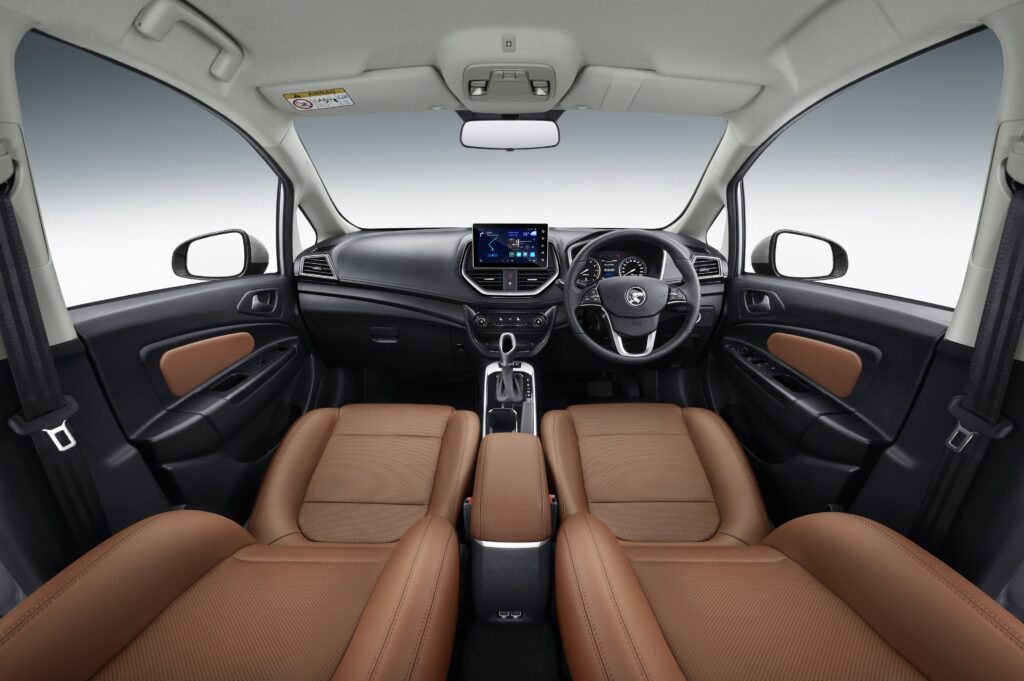 A Smarter, Safer and Improved Driving Experience
Unlike styling or physical features, a car's ride and handling are unseen qualities, but they are most certainly felt by the driver. You don't have to be a 'car person' or professional test driver to know the difference, but every driver can recognise safety when navigating a corner, and feel the increased stability at highway-cruising speeds or the smoothness when going over our kampung roads.
PROTON cars are renowned and universally praised for their strength in this department, and the Iriz and Persona are no different, having received widespread recognition – from the public and experts alike, for being safe, fun to drive and comfortable, even when measured against international rivals. Both models have received a 5-star ASEAN NCAP rating and come with safety features such as 6 SRS airbags, a reinforced body structure using Hot Press Formed (HPF) steel, Electronic Stability Control (ESC), Traction Control System (TCS) and Hill Hold Assist (HHA).
Convenience, comfort and savings
The Proton Iriz Active and Persona Premium models both offer new fuel-saving functions, namely the Neutral Idle Control (NIC) and ECO modes. The ECO mode enables more efficient driving, resulting in even better fuel consumption standards – achieving approximately 10% reduction on the New European Driving Cycle (NEDC) standard, while it further improves the result by 8-10%.
A reverse camera and parking sensors provide visual and audible parking assistance, while the Premium and Active variants now get a larger 8-inch floating infotainment head unit with voice command functions updated to control the air-conditioning and driver's window. On top of that, all the new models come with a N95 cabin filter as a standard feature to enhance the air quality in your car. We spend a lot of time in our cars, so naturally, the air quality in the car matters.
With a total of six USB ports – three at the front, two at the rear and one behind the rear-view mirror to power a dashcam, both models have ample power outlets to suit the demands of a digital lifestyle. The Persona also offers 510 litres of boot space that can be expanded by folding the rear seats.
For those driving alone, you will be pleased to know that the updated LED headlamps support auto on/off and follow me home functions. Little details like this can be immensely helpful, such as providing a lit track to help you navigate your way on foot to your destination after you step out of your car.
Accessibility for More Drivers
Pricing is undeniably a key attraction for the 2022 Iriz and Persona – acknowledged by potential buyers. With three variants each, the Iriz is priced from RM40,300 while the Persona starts from RM45,200 (OTR without insurance and minus SST). Along with the purchase price comes other not-so-obvious costs of ownership. When comparing costs, one must also take into account the total cost of ownership over the duration you intend to keep the car. The Iriz and Persona are not only priced lower than competitors but also enjoy:
Lower insurance premiums
Better fuel economy
Affordable, best in class, maintenance costs
Combined, both cars are more economical and affordable to run in the long term.
The Iriz Active is a bona fide comfortable, practical and grown-up-feeling small car. For its price point and the features offered, there is no other pseudo-SUV that compares. Meanwhile, the classy-looking Persona is the most affordable premium B-segment sedan. Estimated to be 30-40% cheaper than other models in the same segment, the Persona is truly in a class of its own and better value for money than ever.
The continuing evolution of the Iriz and Persona models aim to deliver greater stability, predictability and precise handling characteristics, making them capable of rivalling many of today's vehicles that are priced much higher.
For further information, please visit https://www.proton.com/en/find-a-car/iriz / and https://www.proton.com/en/find-a-car/persona