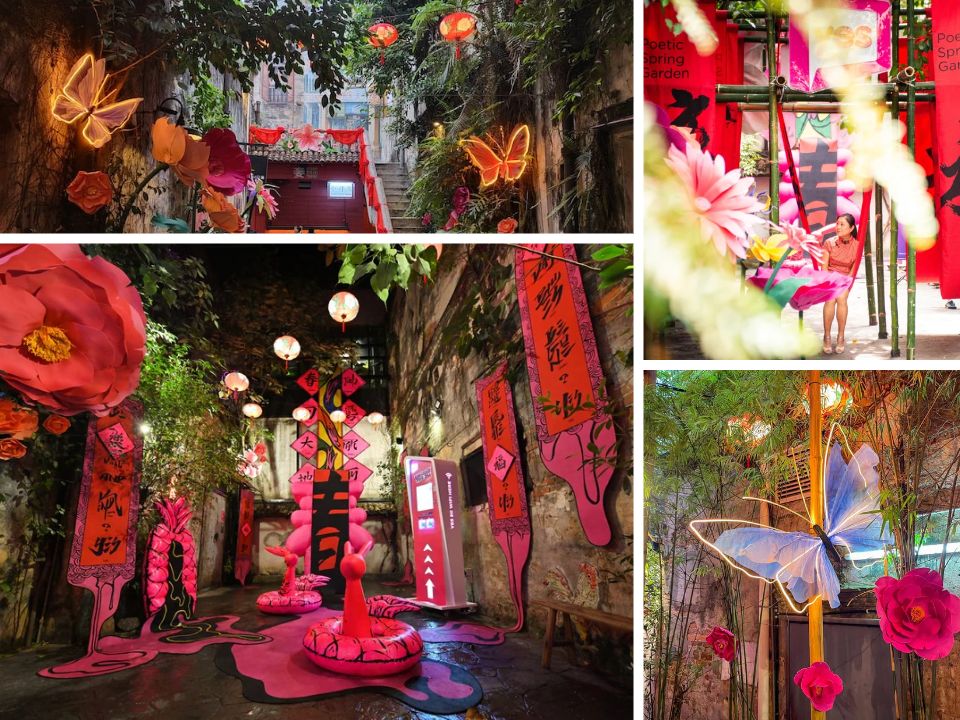 Kwai Chai Hong in Kuala Lumpur's Chinatown, one of the city's most Instagrammable sites, displays a new eclectic art installation in honour of Chinese New Year that features classic Chinese Calligraphy rendered in bold, non-conventional depiction among oversized blossoms and foliage.
Poetic Spring Garden Installation
Classic Chinese Calligraphy and Pink Blossoms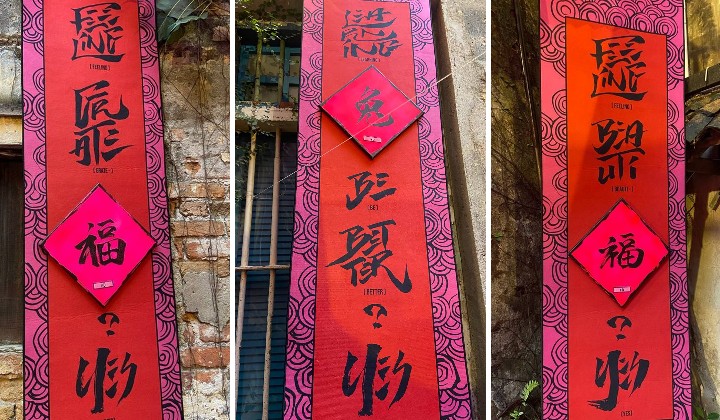 Traditional Chinese calligraphy with a mind-blowing twist is presented in an immersive display in Kwai Chai Hong Poetic Spring Garden Installation for the Chinese New Year. Visitors are expected to feel the blossoming of pink plants and aesthetic red paintings all over the place.
Calligraphy Artworks by Jaemy C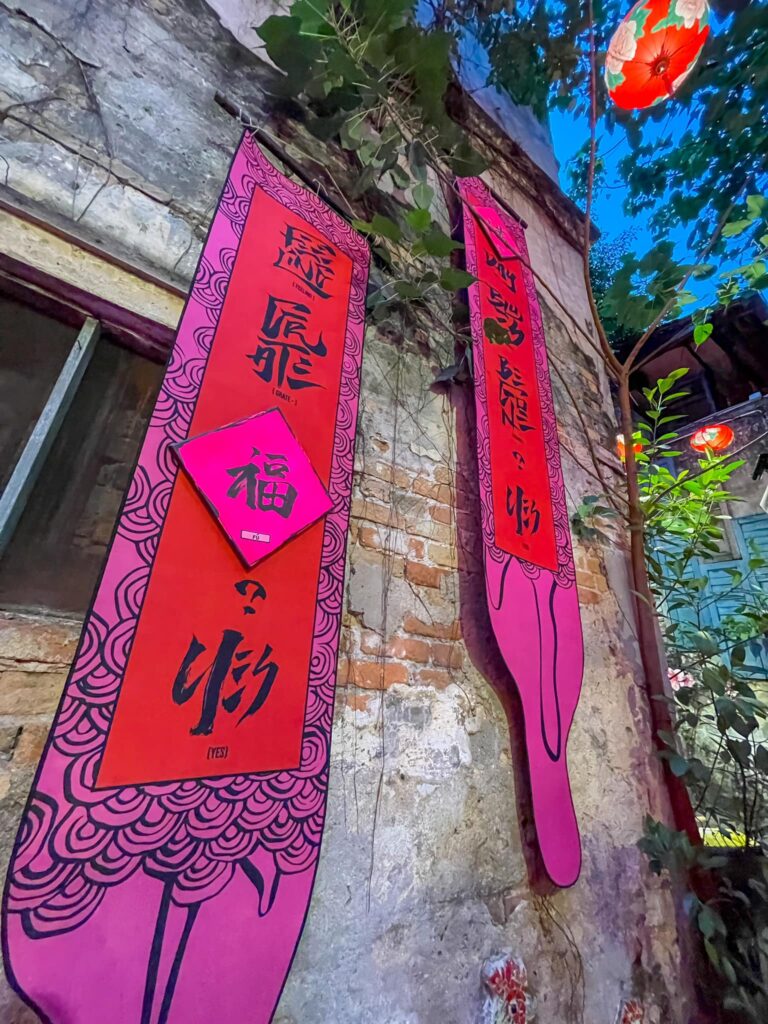 To create the "Poetic Spring Garden" theme, Kwai Chai Hong KL teamed up with local artist Jaemy C, who is known for his reinterpretations of traditional Chinese calligraphy in the context of exotic, eye-popping imagery.
Artist Jaemy said:
I am super excited to collaborate with Kwai Chai Hong as we share a common belief in the long standing and unique values of cultural preservation. The installation is uniquely ours, striking, bold and unabashedly quirky. It also speaks to the masses who differ in culture and language, but share a common appreciation for the Chinese art form and its festive symbolisms.

Jaemy C, Local Artist
Wet Hot Spring Thing "Hidden Messages"
Jaemy offers an exhibit titled "Wet Hot Spring Thing" with concealed cryptic messages for visitors to understand, all in honour of the year of the Rabbit.
In the mean time, Zeen Chang, managing partner of Bai Chuan Management, said:
Kwai Chai Hong has always been a catalyst for perpetuity in culture and celebrating modernity. This Chinese New Year, we are resetting the status quo of culture and art, pushing the boundaries that separate the new and the old. Realising that the younger generation is captivated with the idea of going back in time to revisit heritage and tradition, through the concept of Poetic Spring Garden, and Jaemy's brush calligraphy art, we want to deliver tradition to the younger generation in a familiar vehicle without compromising modernisation, simply by speaking in a universal language of visual arts. Our astounding installation tells the story of tradition and heritage, and that traditional things like the Chinese Calligraphy installation, are not old fashioned. We can embrace modernity without forsaking tradition, through a common ground connecting the past and the future. It has always been in Kwai Chai Hong's DNA.

Zeen Chang, Bai Chuan Management's Managing Partner
Sponsored by YES 5G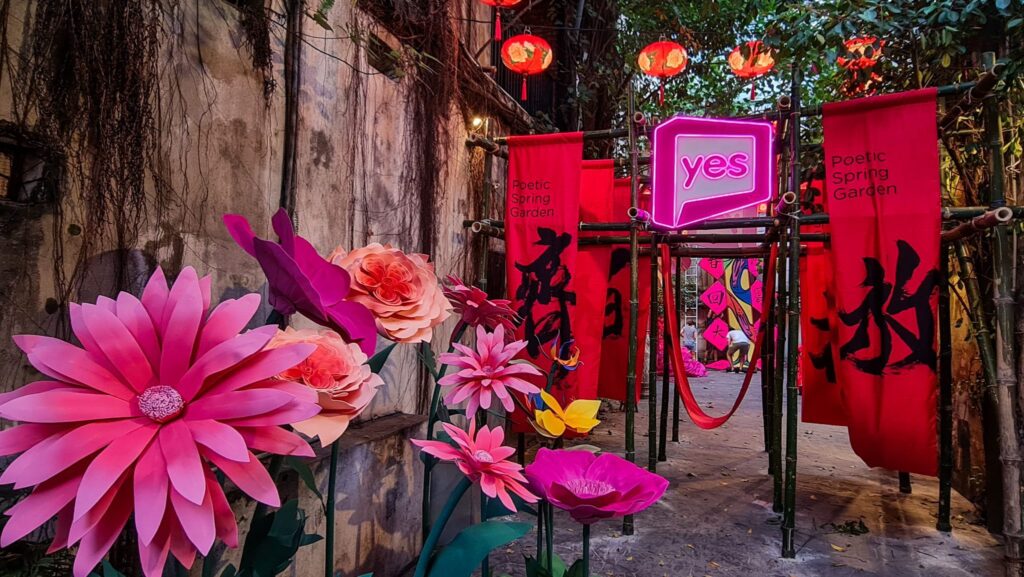 The Poetic Spring Garden installation is proudly sponsored by Yes 5G. Wing K. Lee, CEO of YTL Communications, shared:
As a pioneer in 5G technology, Yes fully understands how technology can open the door to a world of possibilities. We were the first mobile network to launch 5G in December 2021, and now, we are entering our first foray into arts and culture through our partnership with Kwai Chai Hong. Yes' '5G for All' remains our mission, and true to the Poetic Spring Garden theme, we want to make Yes 5G more accessible to the business community and Malaysians, even at the corners of the heritage streets of Kwai Chai Hong. Here, we are making technology even more inclusive with 'Experience Yes 5G – No speed cap. No data cap', bringing 5G connectivity directly to consumers, free of charge.

Wing K. Lee, CEO of YTL Communications
The doors of Kwai Chai Hong KL will be open to the general public from January 6th to February 12th, 2023. You can experience the art piece Poetic Spring Garden and bring your loved ones to Kwai Chai Hong for Chinese New Year celebrations.
Address: Lorong Panggung, City Centre, 50000 Kuala Lumpur, Wilayah Persekutuan Kuala Lumpur
Operation Hours: 9 am – 12 am
Admission: Free
Check out Kwai Chai Hong on Facebook, Instagram, or their official website for frequent updates.