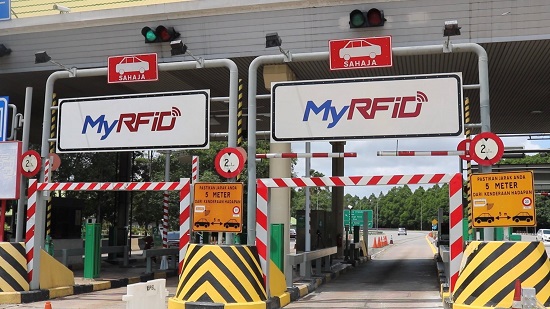 On Saturday, PLUS Malaysia Berhad (PLUS) announced that its Radio Frequency Identification (RFID) toll payment system along Hutan Kampung-Sg Dua stretch will go live on Sunday (31st October 2021). The RFID with Automated Number Plate Recognition (ANPR) toll system at PLUS will allow customers to enjoy seamless, contactless, and cashless journey at toll plazas.
The implementation also marks the end of its public pilot from July 2020.
RFID ANPR Toll Payment System At PLUS
The RFID with ANPR toll payment system at PLUS enables customers to pass through the lane without interruptions. According to PLUS, the system has been enhanced to safely and seamlessly enable customers to pass through the lane at a higher recommended lane pass-through speed (30 km/h) versus SmartTAG (20km/h).
The first step to a barrier-less, multi-lane free flow (MLFF) highway experience in the future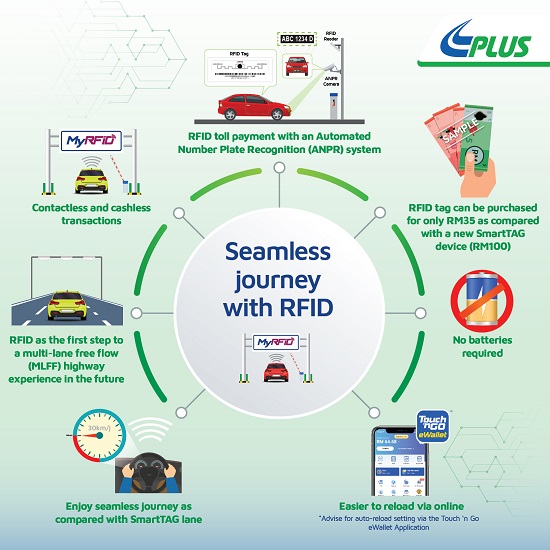 The RFID at PLUS is integrated with ANPR system and Toll Validation Center (TVC) which will enhance toll payments processing. The system is powered by Artificial Intelligence (AI) and machine learning. It features high-resolution cameras at both entry and exit lanes.
According to PLUS Managing Director Datuk Azman Ismail, the integrated ANPR and TVC system will be able to detect, analyse and resolve most common RFID issues automatically in the background. Therefore, all RFID customers can pass through the toll lane seamlessly, without interruptions.
Hassle-free cashless and contactless payment experience at PLUS toll
Moreover, the RFID system provides convenience for customers to reload and maintain sufficient balance through secure online reloading and auto-reloading via the Touch 'n Go (TNG) e-Wallet.
Comparing the price of RFID tag with the new SmartTAG, the RFID tag is cheaper. An RFID tag costs RM35 whereas the new SmartTAG device costs RM100.
Not a barrier-free lane yet
While the new RFID system provides a faster drive-thru process, it is still not barrier-free at the moment. Thus, there will still be boom barriers at the toll plazas and customers will have to slow down to pass through it.
List of toll plazas with RFID and ANPR at PLUS:
Hutan Kampung
Alor Setar Utara
Alor Setar Selatan
Pendang
Gurun
Sungai Petani Utara
Sungai Petani Selatan
Bertam
Sungai Dua
On the other hand, Green Packet Bhd announced to run Malaysia's first-ever MLFF tolling system proof of concept at Besraya KM5.5 (North Bound) next year.
(Source: PLUS)