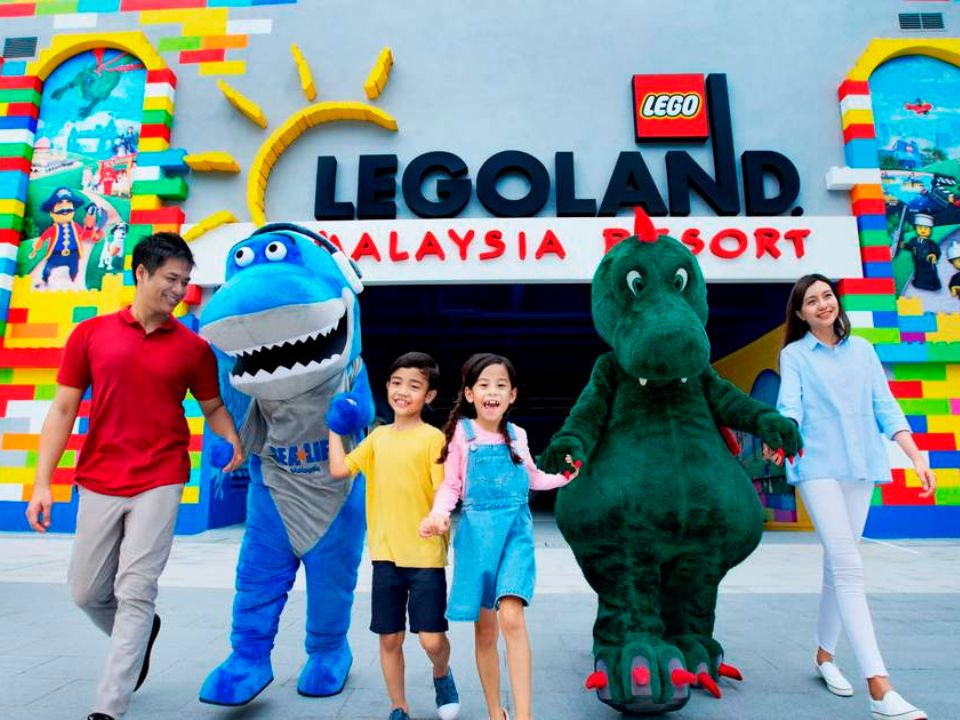 Visit LEGOLAND Malaysia for an unforgettable experiences on their rides and attractions at their theme park, water park, aquarium, and hotel.
Welcome to LEGOLAND®
It is the first of its kind in Asia where it is specifically designed for families with children between the ages of 2-12. LEGOLAND Malaysia Resort is the ideal family holiday destination with more than 80 hands-on rides, slides, shows and attractions offering adventure, education, and fun for an action-packed day trip or a short break.
Fun fact: it contains more than 15,000 LEGO models made from 60 million LEGO bricks.
LEGOLAND Malaysia Resort brings together a LEGOLAND Theme Park, Water Park, Hotel and SEA LIFE Malaysia in one LEGO themed location. Other LEGOLAND Resorts are located in Japan, United Arab Emirates, Denmark, Germany, United States and the United Kingdom.
A Unique Themed Destination
LEGOLAND Theme Park
The LEGOLAND Malaysia theme park features eight themed areas with over 40 awesome shows, rides, & attractions including fun LEGO workshops.
1. The Beginning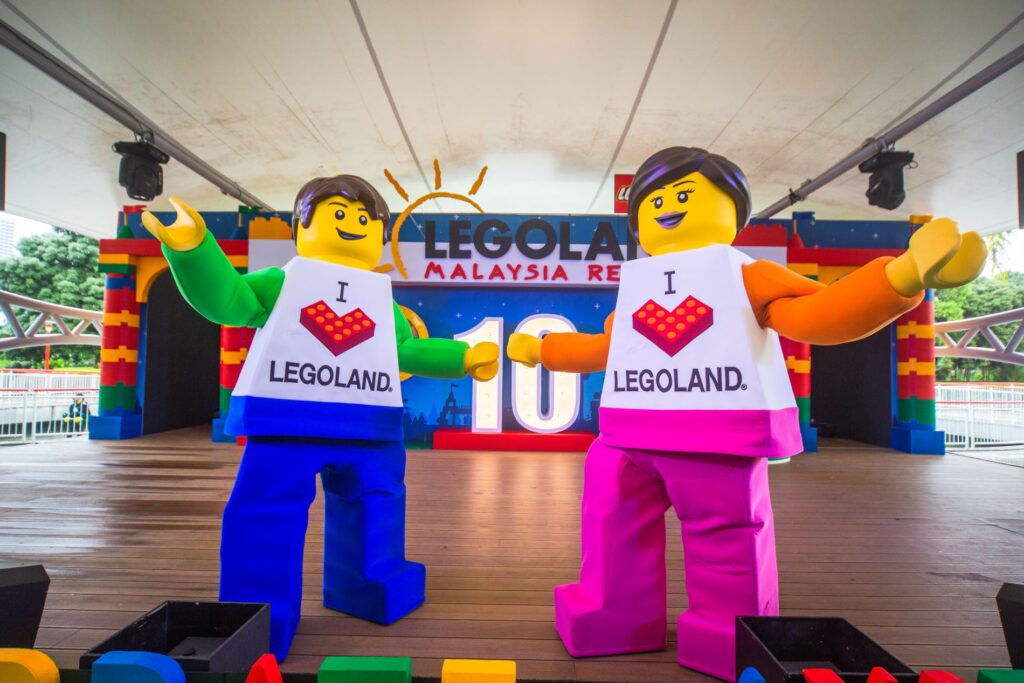 The LEGOLAND experience starts here at The Beginning, the entrance area to the Park featuring the main entertainment stage area and The Big Shop which sells the largest selection of LEGO products in Asia.
2. LEGO City
LEGO Rescue Academy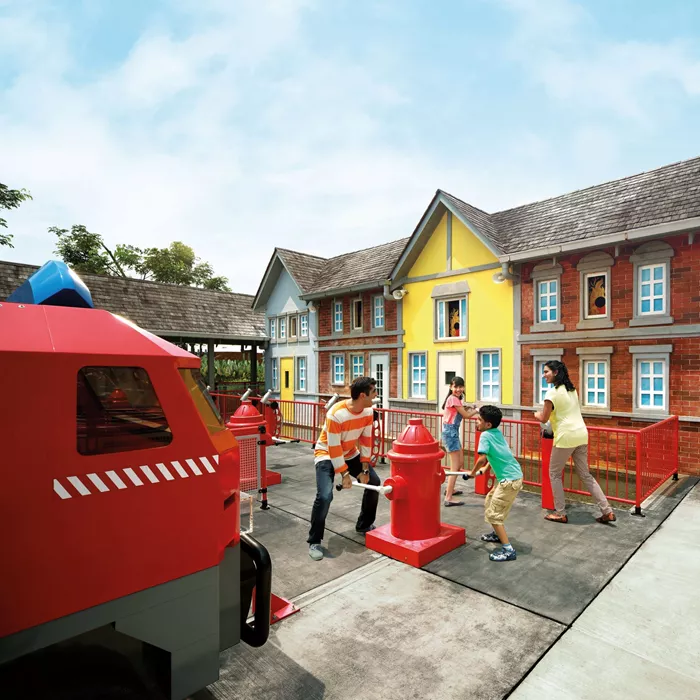 Teams of families' race each other to put out the fire in the LEGO Rescue Academy. A worldwide LEGOLAND favourite, where firefighters and police officers, big and small, power their trucks by piping levers up and down.
Driving School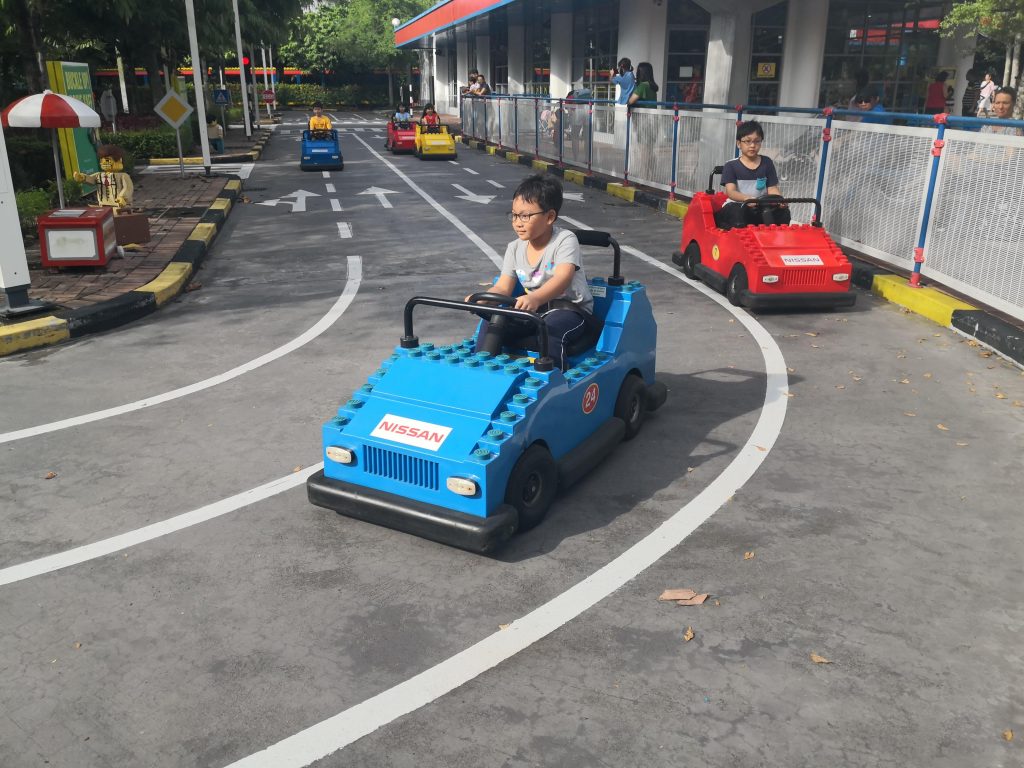 This school offers children a unique experience to drive on a true-to-life traffic circuit. They have to steer their LEGO cars past signs, traffic lights and other drivers to qualify for their very own licence after learning the rules of the road.
Junior Driving School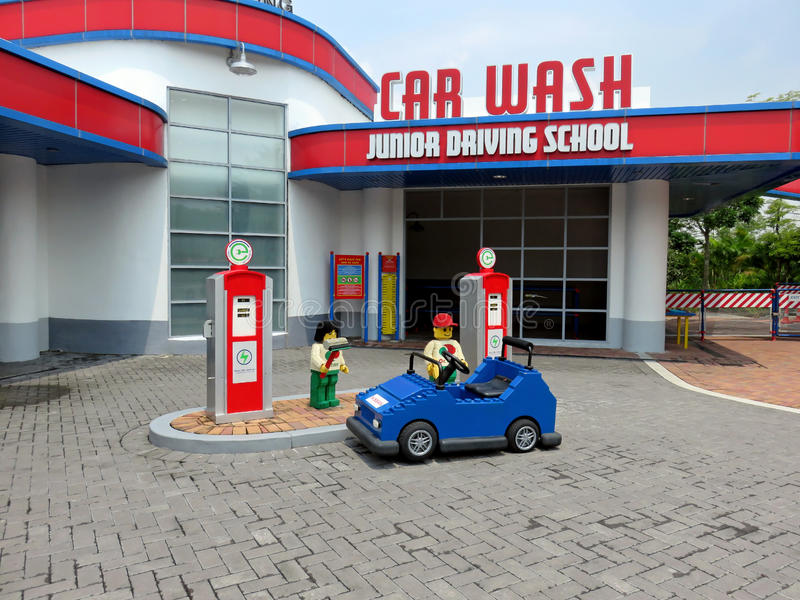 Junior Driving School has slower single pedal cars to give smaller children a taste of the Driving School experience.
Boating School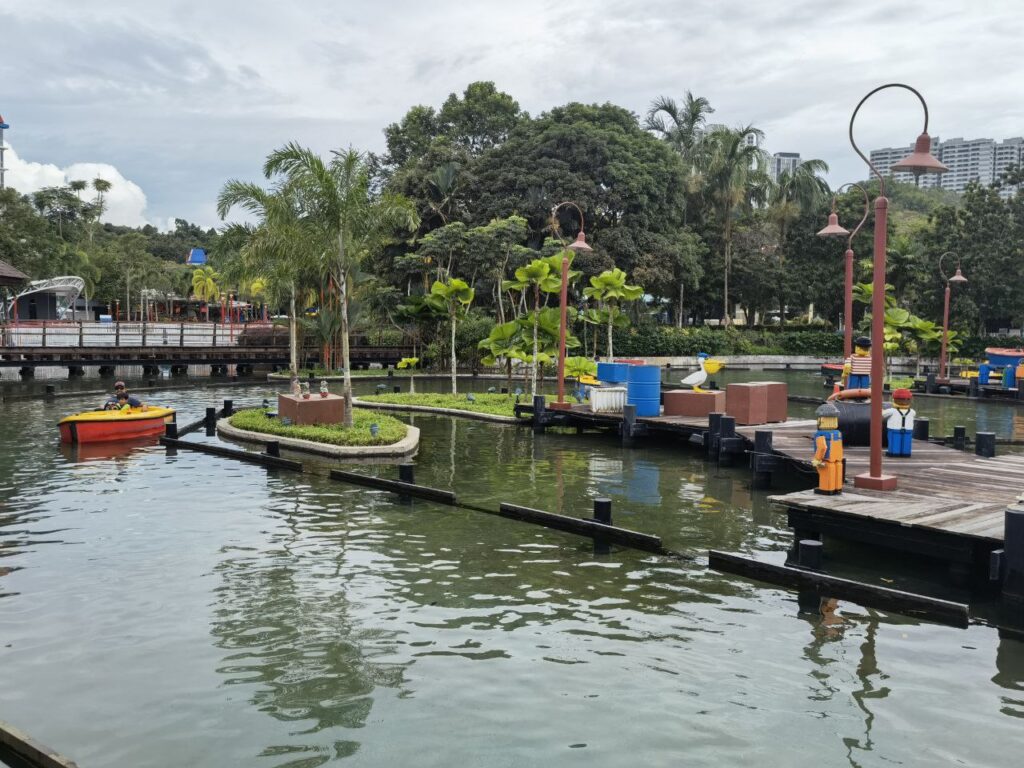 Future captains can take the wheel of their very own battery powered boat at the Boating School. Families can set sail together with up to three people in a boat.
LEGO City Airport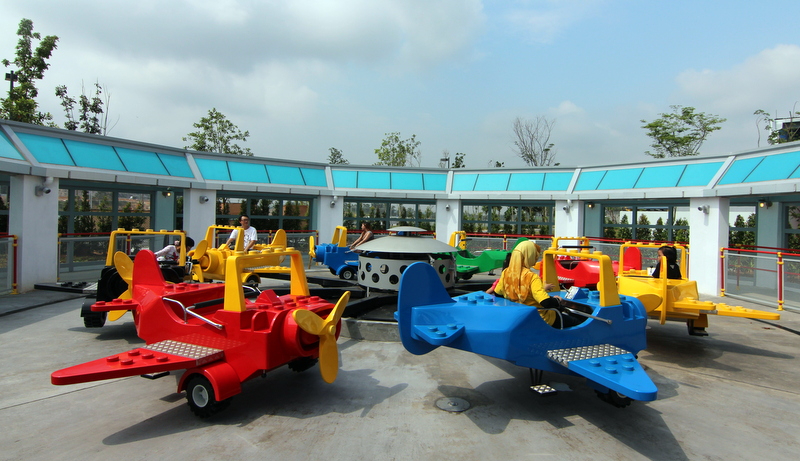 This attraction gives potential pilots and their parents the chance to lift off together in a LEGO aeroplane. Pilots are in control of exactly how high they go.
LEGOLAND Express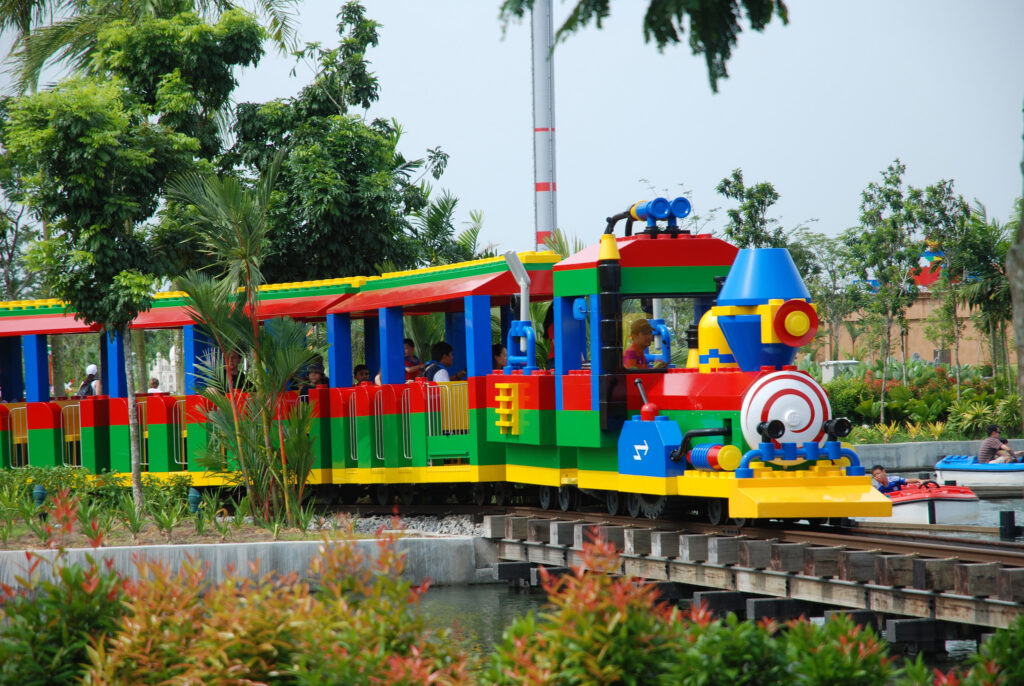 Visitors can tour the Park in style from the comfort of LEGOLAND Express. This full-size LEGO train carries 60 people at a time over real level crossings.
The Shipyard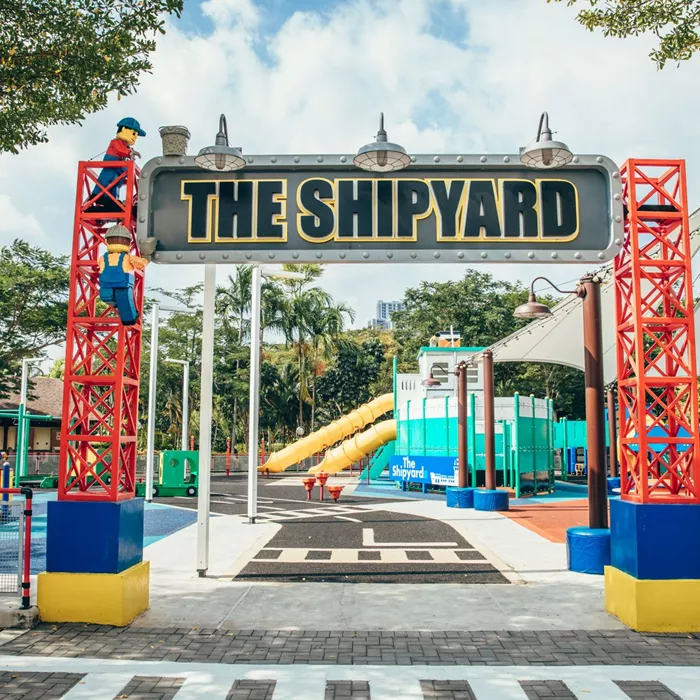 The Shipyard is an adventure paradise for climbers and crawlers where parents can get involved in the fun.
3. LEGO Technic
AQUAZONE Wave Racers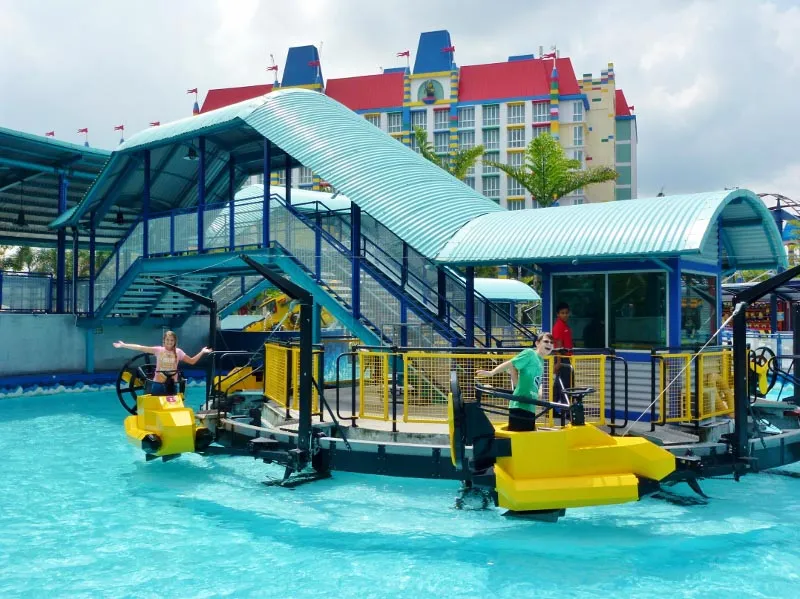 AQUAZONE Wave Racers offers a thrilling wave surf where both the players and the spectator may enjoy and trigger the water blasts that players have to dodge. There are four water guns for spectators to fire at the tewolve wave racers whizzing around their circular tracks.
LEGO Academy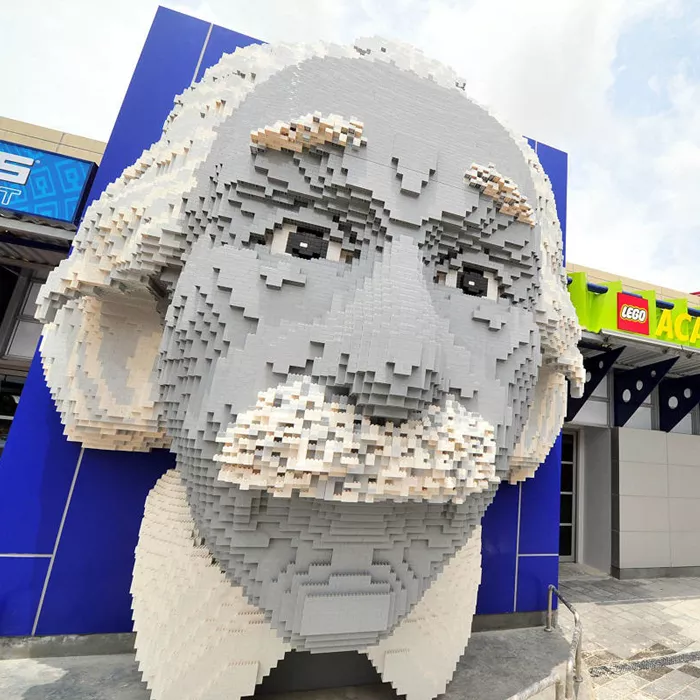 The academy helps model builders of all ages turn their designs into reality.
The Great LEGO Race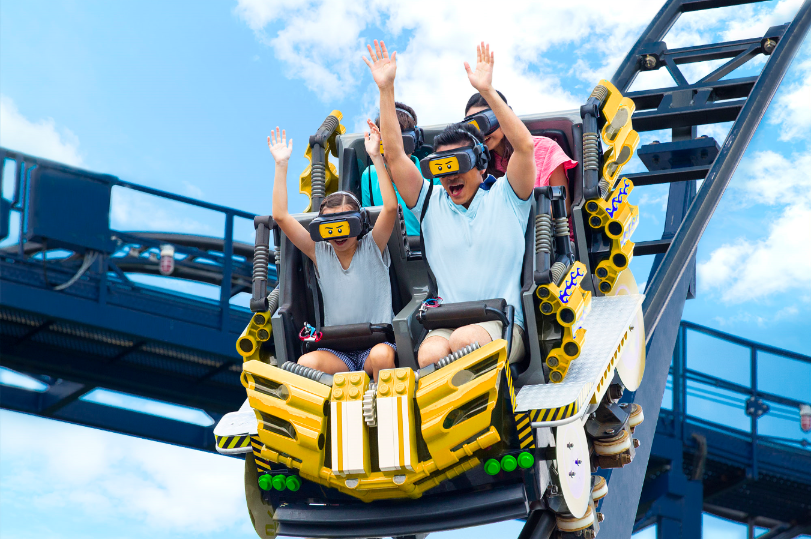 Combines roller coaster thrills with virtual reality (VR) technology in an exciting never-before-seen in a LEGOLAND theme park.
Technic Twister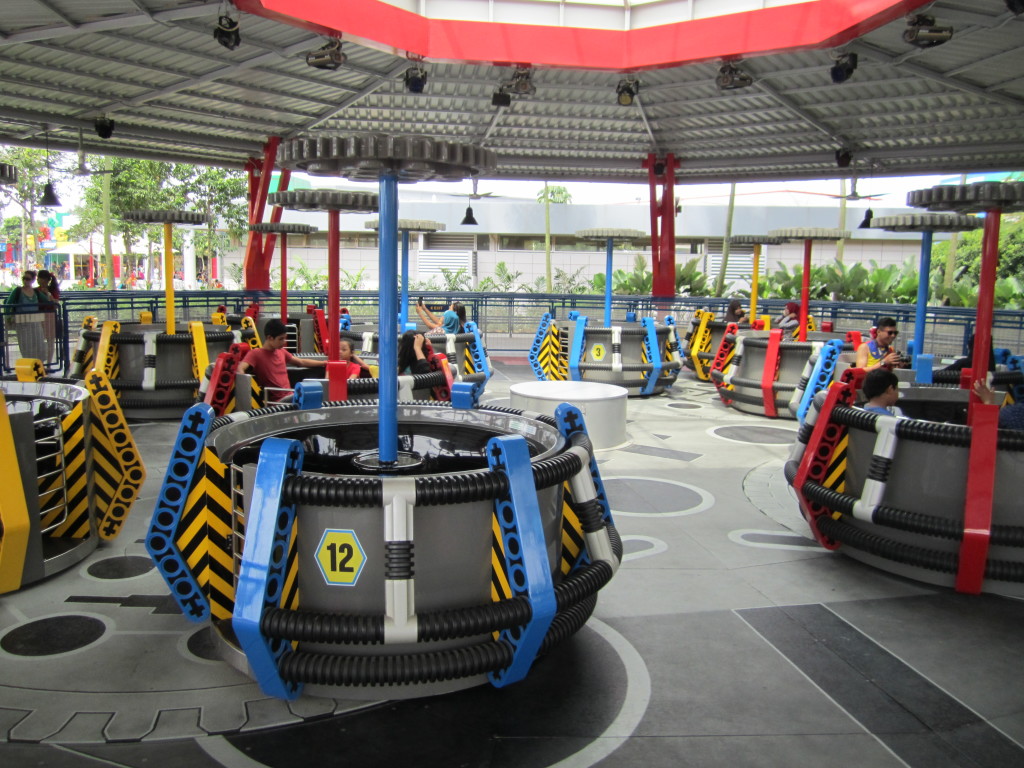 The Technic Twister lets visitors spin a wheel to control their ride's 'crazy' level. Its twelve colourful LEGO pods can take 60 people at a time on a highly geared whirlwind ride.
Rebuild the World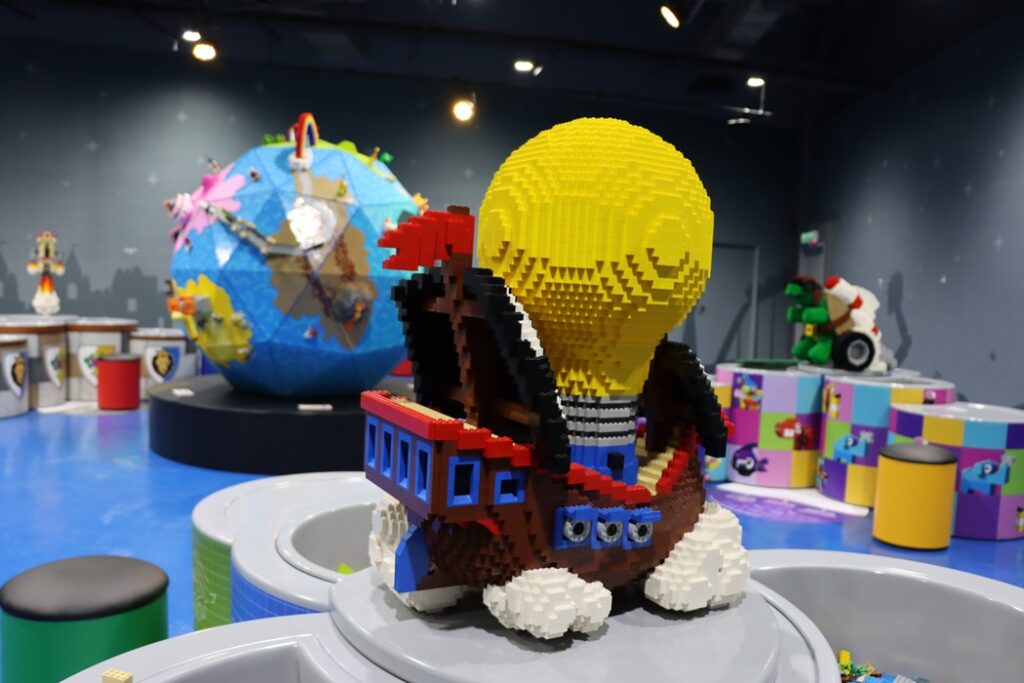 A world with no rules, just pure creativity, allowing guests to unleash their imaginations by building , unbuilding and rebuilding the world of their dreams with LEGO bricks.
4. LEGO Kingdoms
The Dragon
The Dragon roller coaster takes riders deep inside the royal castle on a journey into the Middle Ages. With two fire-breathing dragons to ride, up to 600 visitors can take on its twists and turns each hour.
The Dragon's Apprentice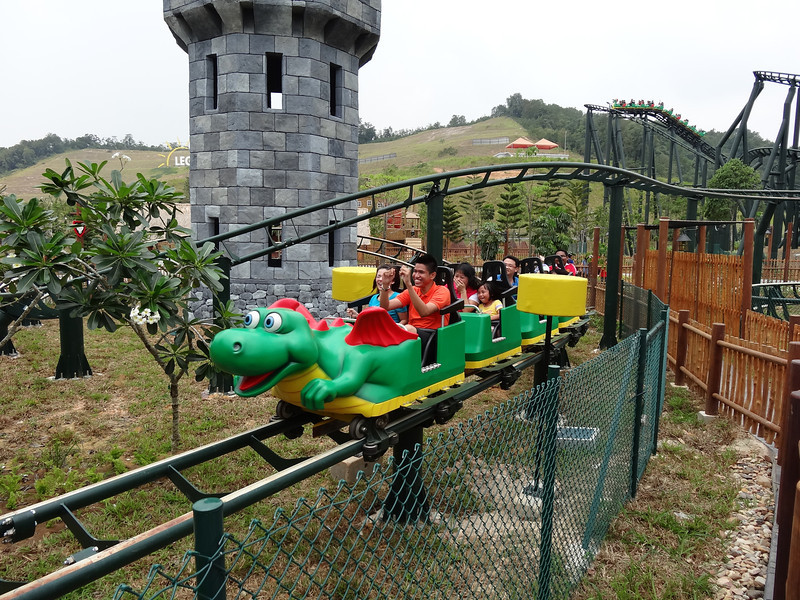 This ride offers younger guests a taste of what to expect if they are big and brave enough to ride The Dragon.
The Forestmen's Hideout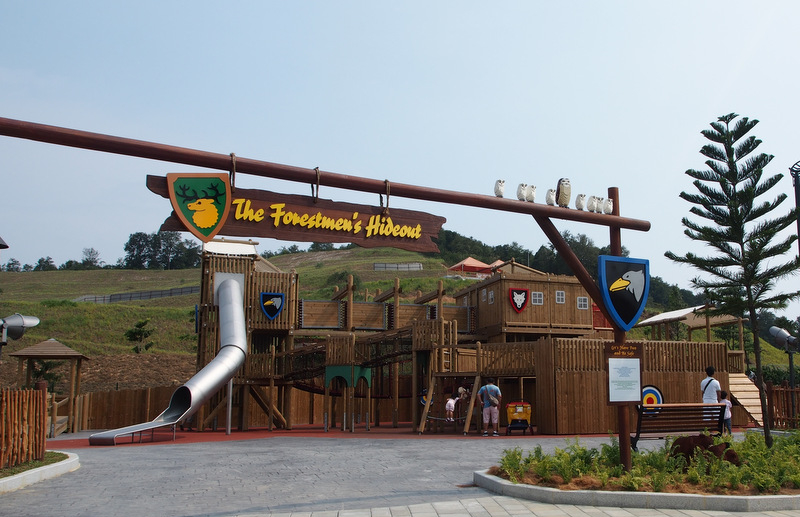 There's a tree-top adventure for children and their parents in the multi-level playground in The Forestmen's Hideout. Its slides and ropes are suitable for the entire family.
Merlin's Challenge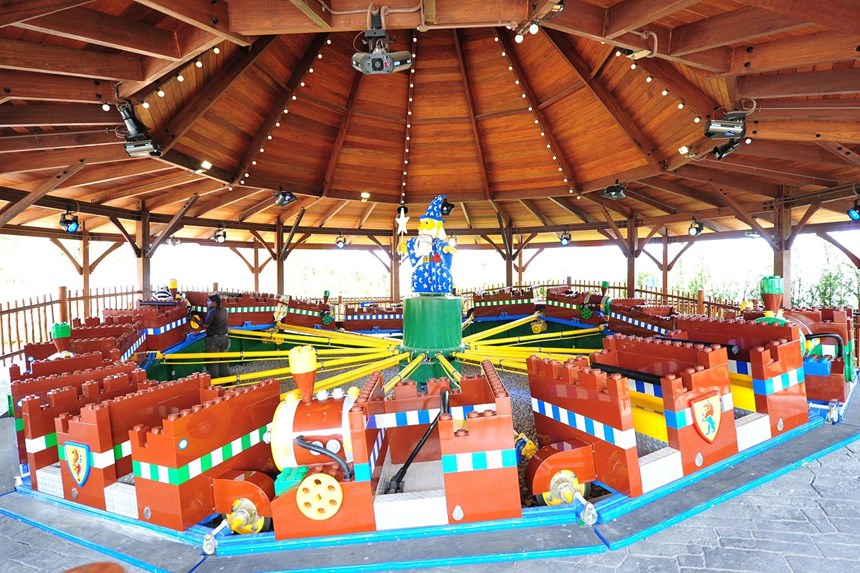 Merlin's Challenge is a high-speed carousel for parents and children. Its 24 cars can put 48 visitors at a time into a spin.
Royal Joust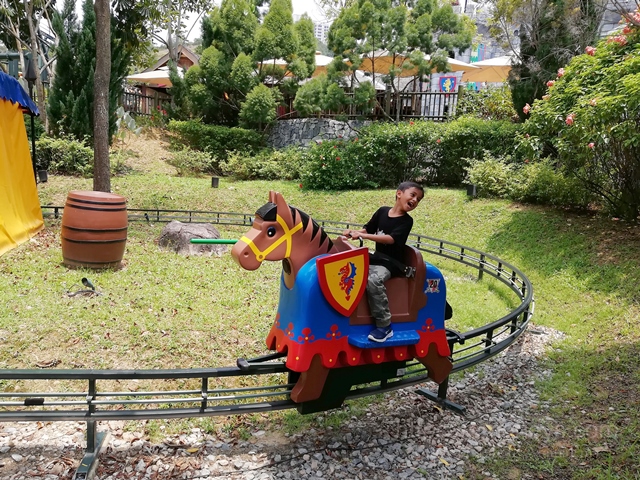 A classic medieval contest, this ride puts children into saddles of 20 LEGO horses.
Castle Stage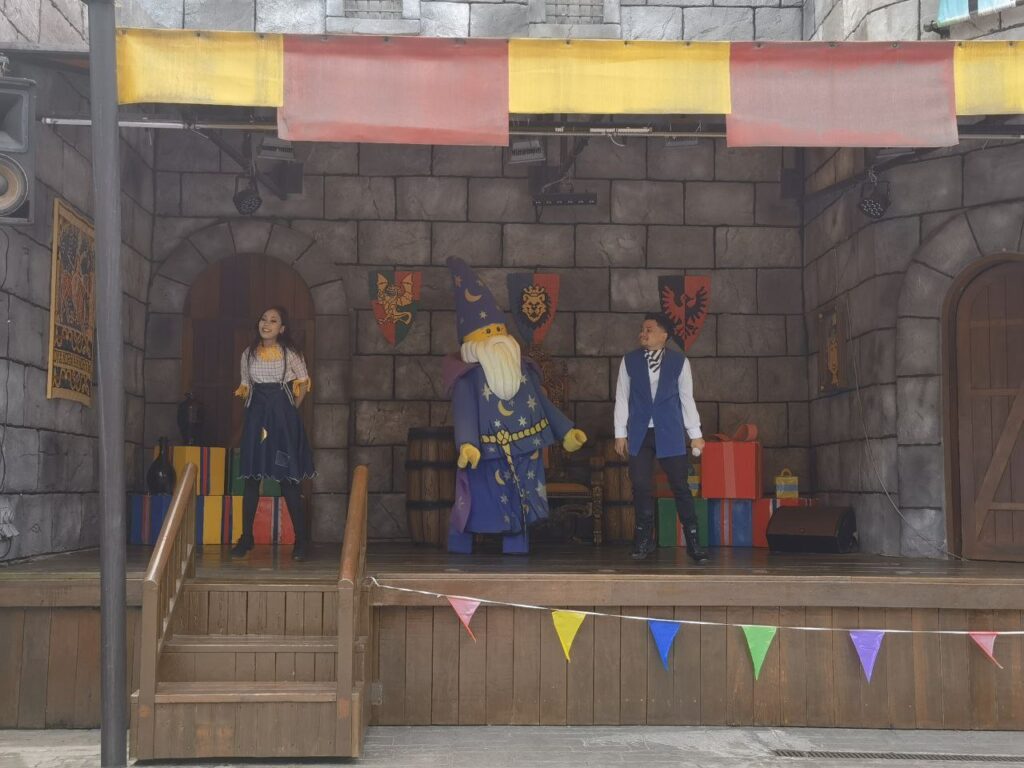 The Caste Stage is where music and dances fill the air with show fit for royalty.
5. Land of Adventure
Dino Island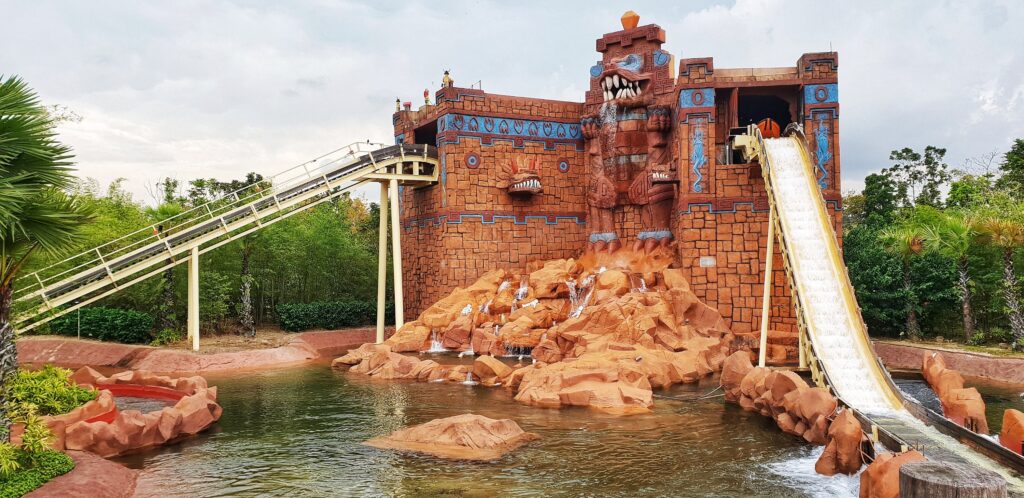 One of the most anticipated rides in LEGOLAND Malaysia, this island takes visitors on a canoe voyage into a forgotten time. Explorers pass rocky outcrops, man-eating plants and a dinosaur lagoon. A 12-metre-high waterfall is the only way down, and there's no escape without getting wet!
Lost Kingdom Adventure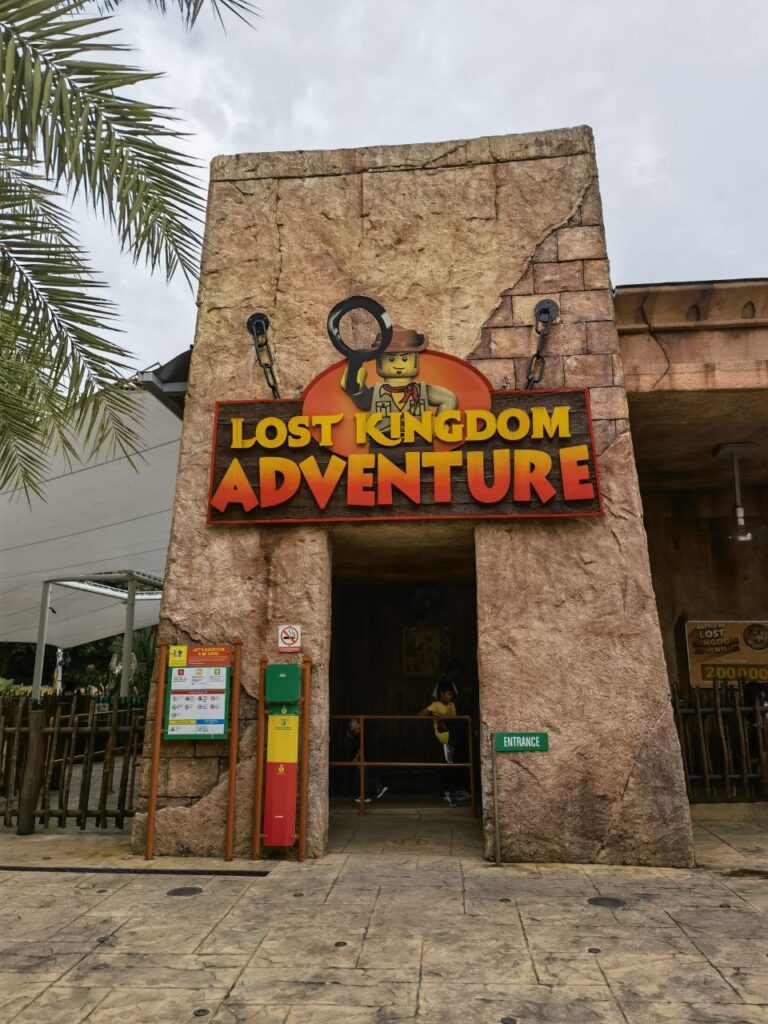 The desert off-roader can take up to 1000 heroes on a discovery mission to uncover the secrets of the ancient. Heroes will be armed with laser guns to shoot their way through the treacherous path.
Beetle Bounce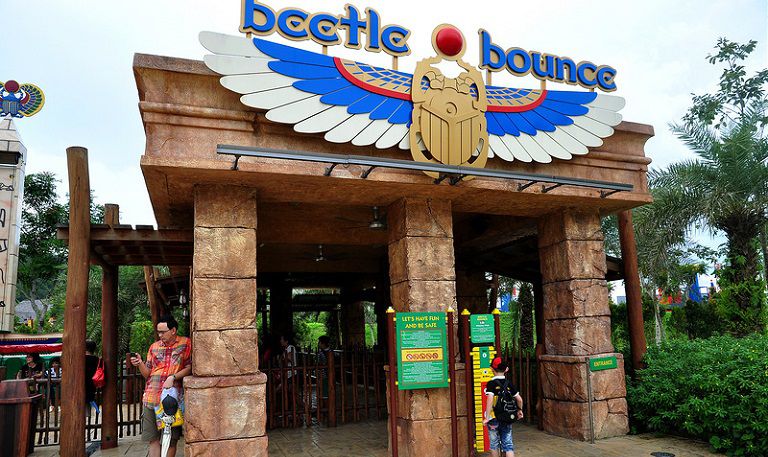 Beetle Bounce ride launches children up and down a 15-foot tower, nearly touching the gigantic LEGO beetles that sit above with every bounce.
Pharaoh's Revenge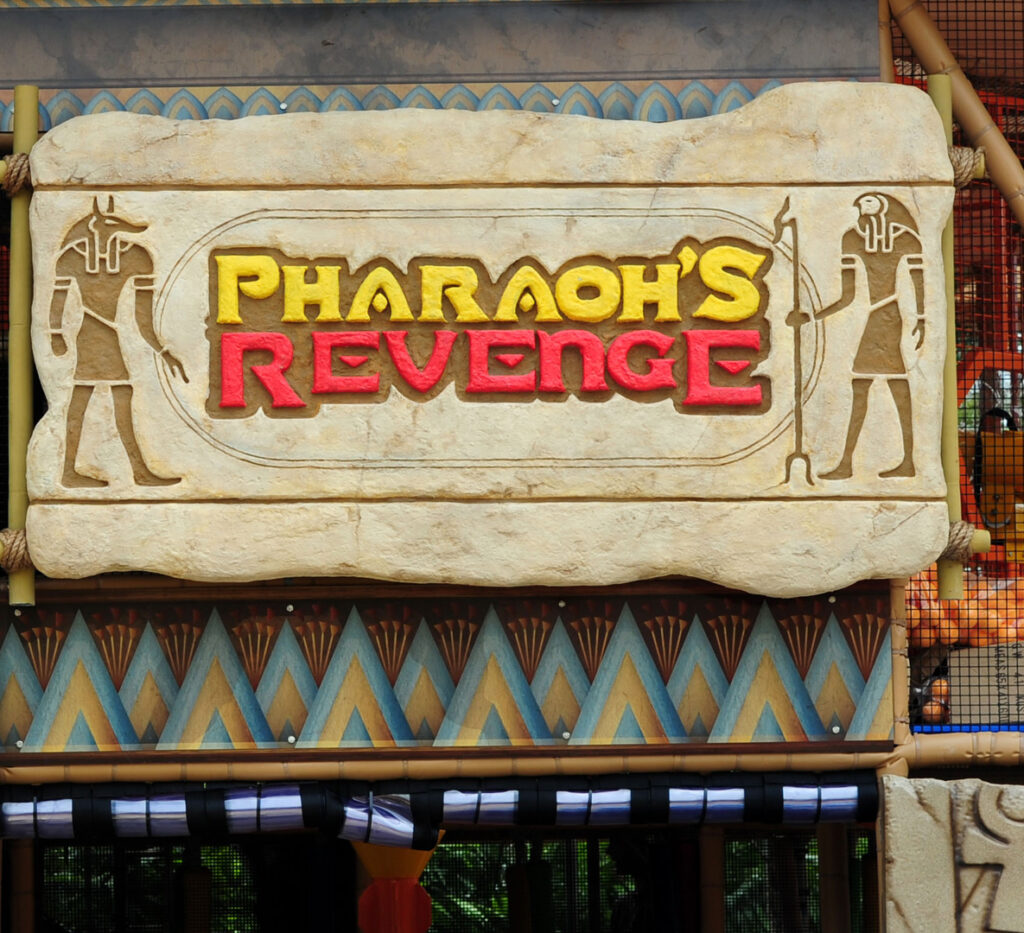 A play area where children can create their own adventures!
6. Imagination
Build & Test Centre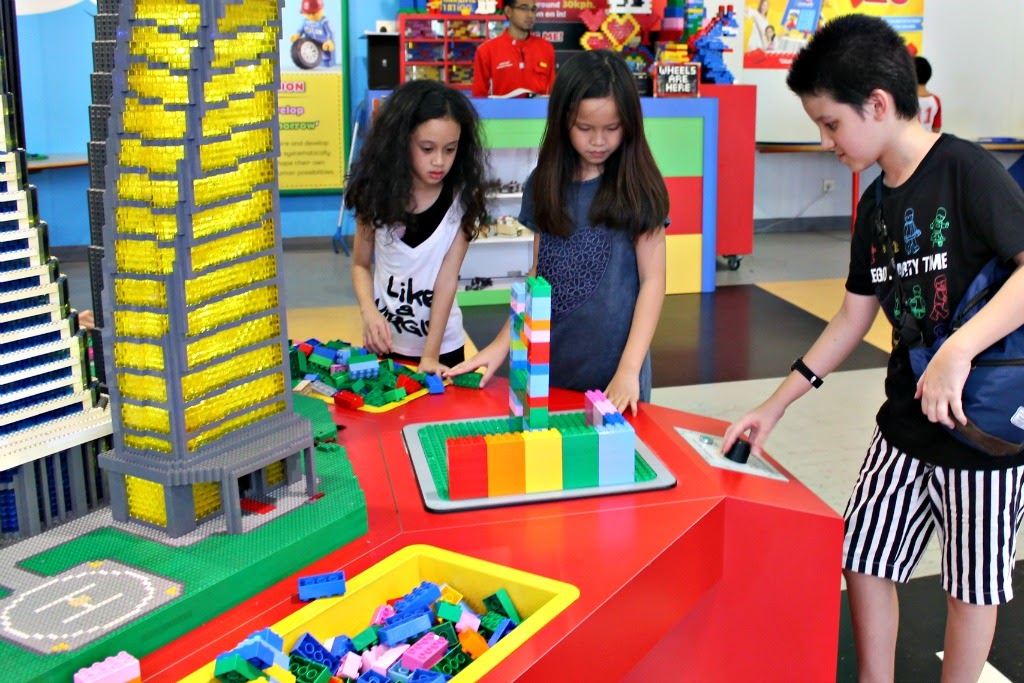 LEGO inventors can bring their imaginations to life. There are thousands of LEGO bricks ready for experimenting, testing, and building. Inventors can construct and race cars and test their buildings on the earthquake table.
LEGO Studios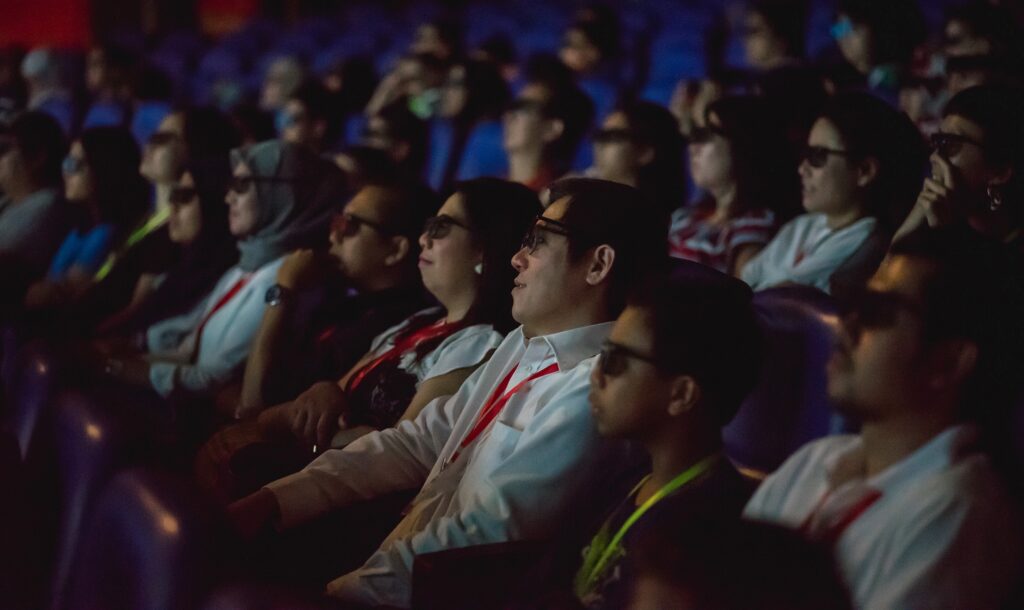 The LEGO Studios offers 3D computer animated film plus "4D" effects such as wind, water, and fog, featuring movies exclusive only to LEGOLAND Parks. Currently they're playing "The Great Monster Chase" during this month to celebrate Halloween.
The Observation Tower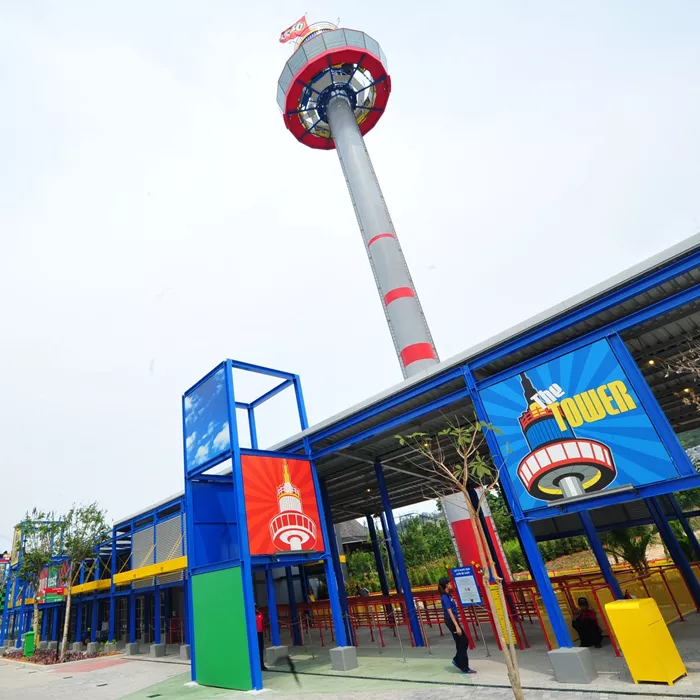 The tower can lift up to 1,000 visitors each hour to a viewing position 41m above the ground for an excellent aerial view of the whole theme park.
Kids Power Tower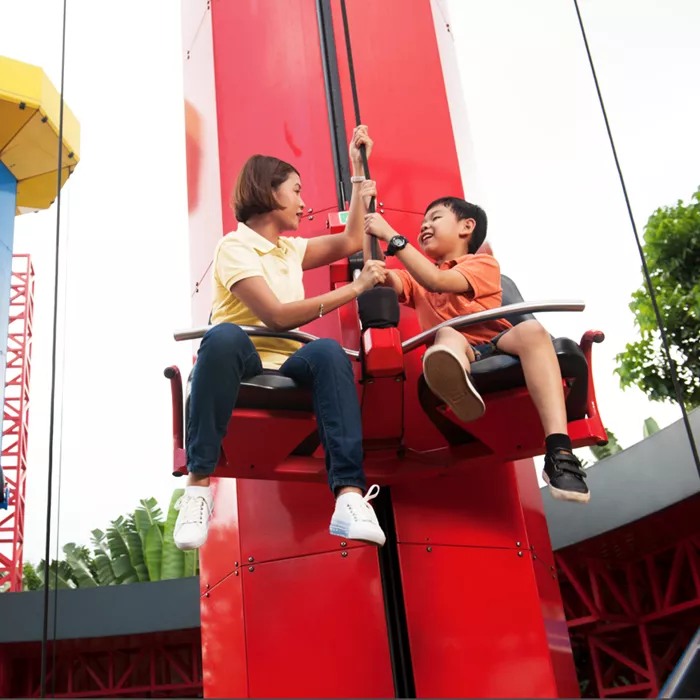 The Kids Power Tower challenges 200 visitors per hour to test their strength by pulling their two-seat car up a nine-meter rope. A beautiful view over the Park is the reward at the top.
DUPLO Playtown & Express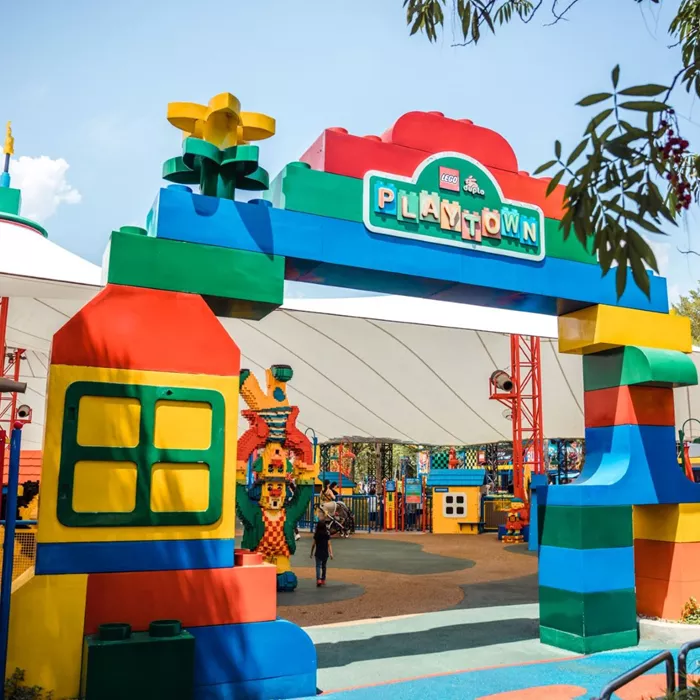 Children can take over the town and explore their very own child-size city at DUPLO Playtown. Young engine drivers, in particular, will love DUPLO Express, a colourful five carriage train for ten passengers at a time.
Musical Fountain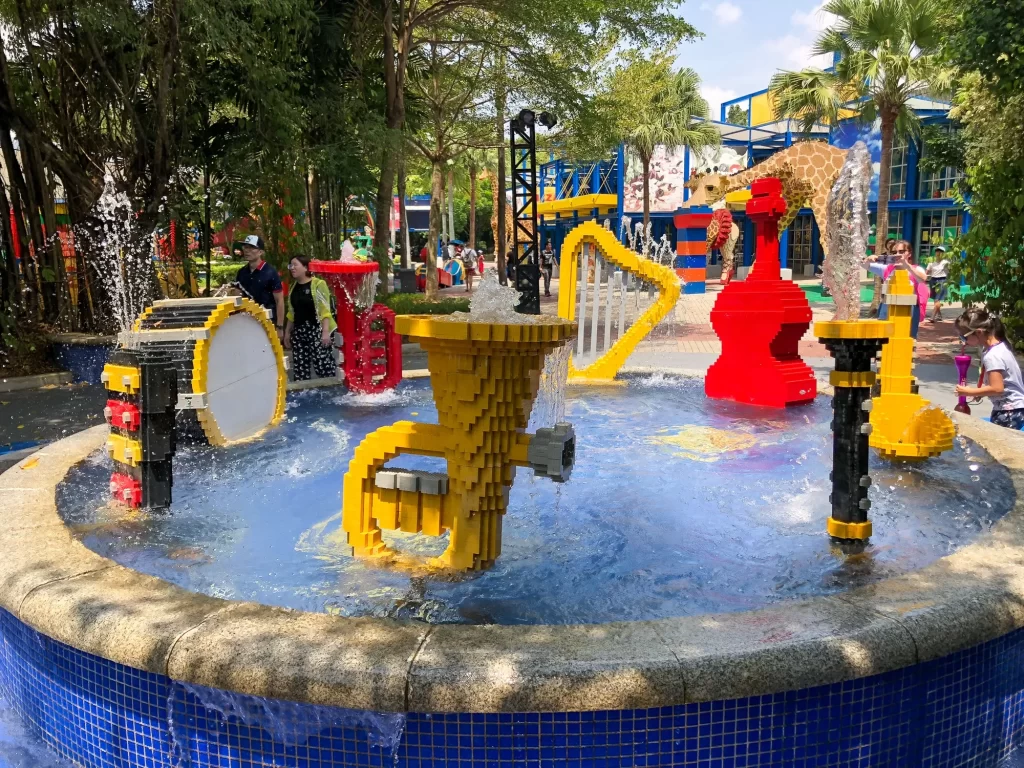 A musical fountain that you can interact with that will play music and spray water.
7. LEGO NINJAGO World
LEGO NINJAGO The Ride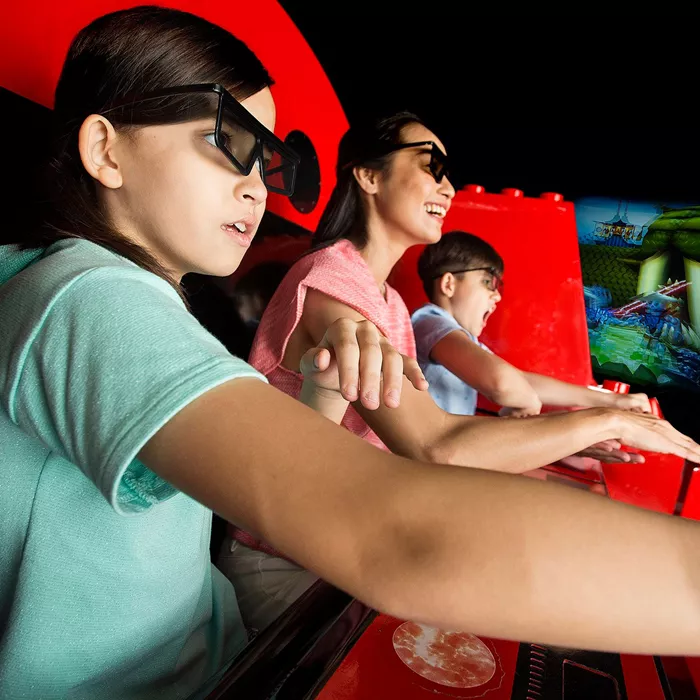 Defeat the Great Devourer with Fireballs, Lightning, Shockwaves or Ice and earn ninja status at the LEGO NINJAGO The Ride.
Nya's Practice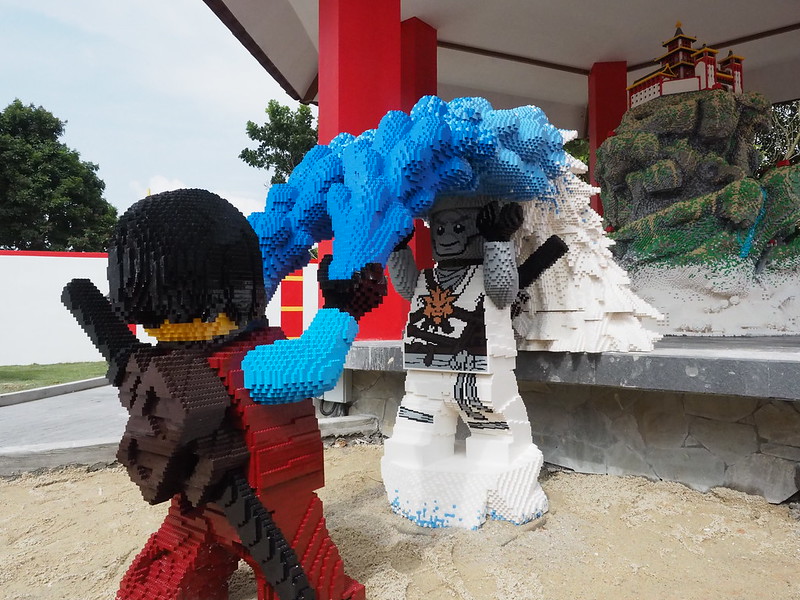 Nya's Practice is where one can prepare their skills with a digital screen before the battle with The Great Devourer.
Zane's Temple Build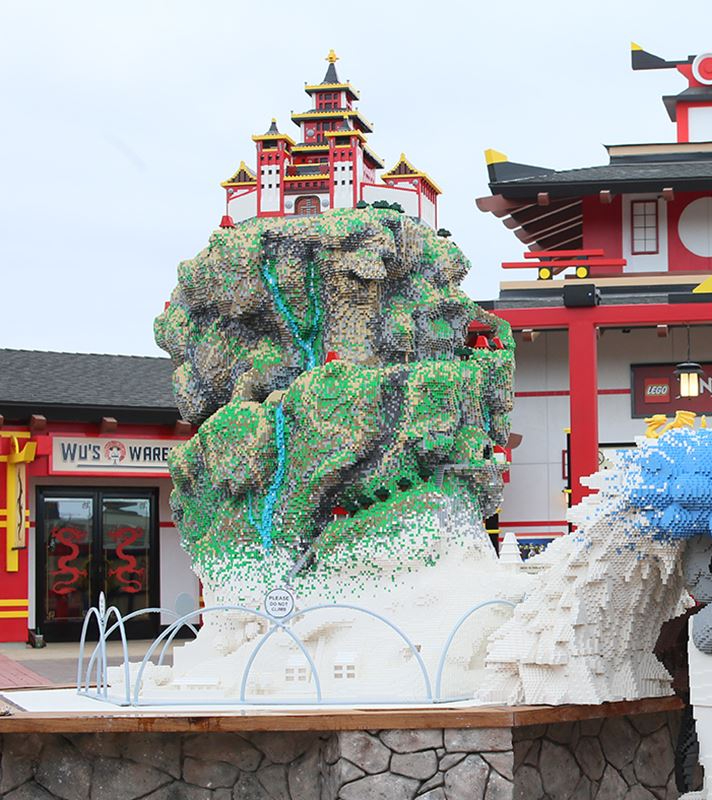 Master LEGO skills by building the NINJAGO monastery at Zane's Temple Build.
Cole's Rock Climb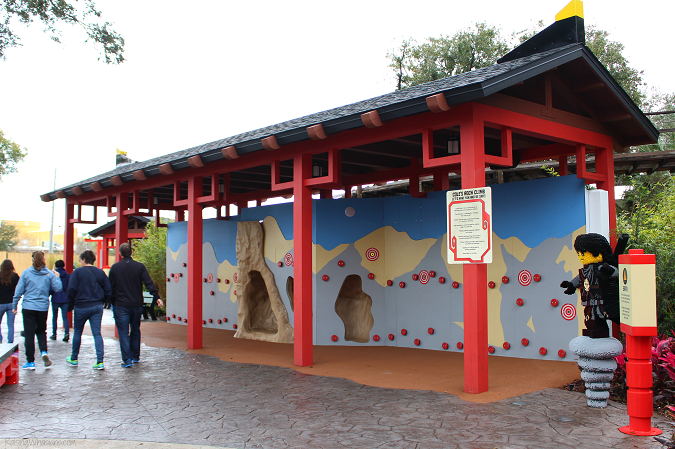 Cole's Rock Climb teaches the mind patience and the body endurance.
Kai's Spinners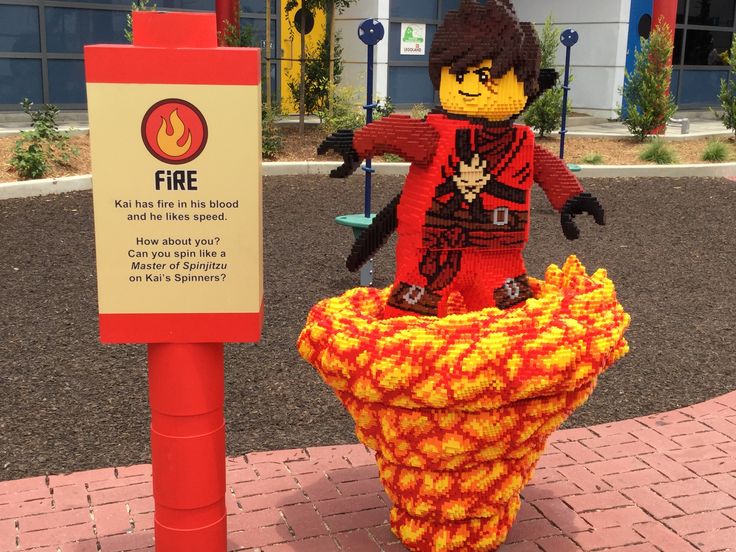 At Kai's Spinners, guests can practise balance and vortex spinning for the art of Spinjitsu.
8. MINILAND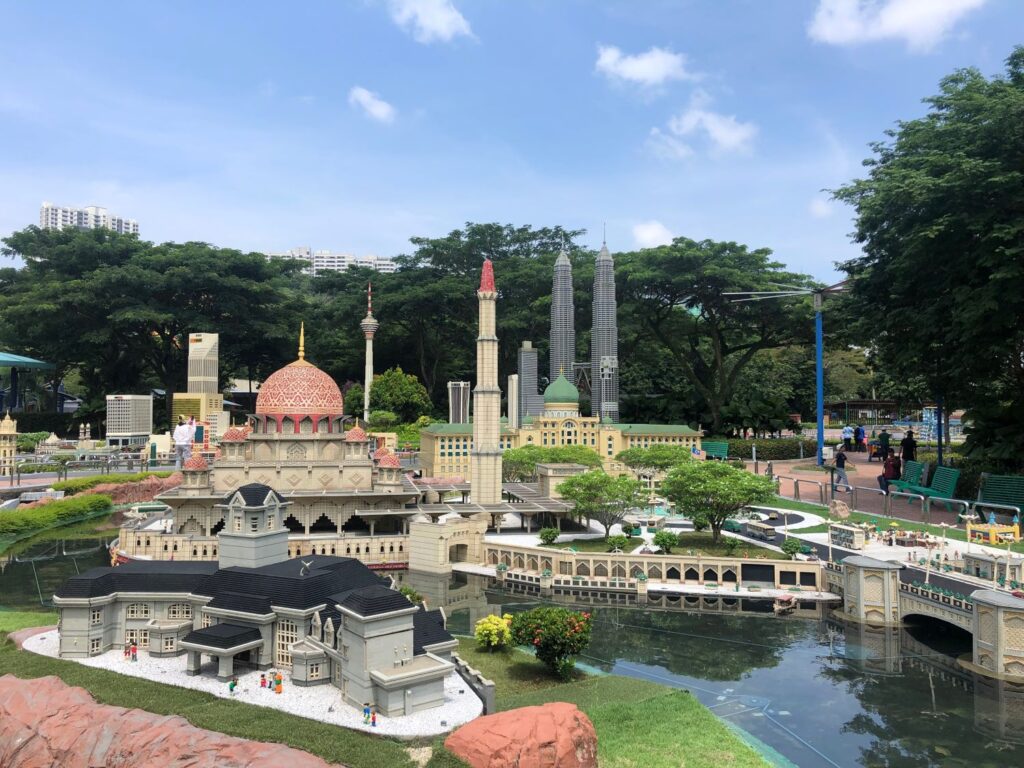 MINILAND's highly-detailed clusters pay tribute in LEGO to 17 different cities and countries across Asia, including Johor Bahru and Singapore. Discover iconic Asia's landmarks in miniature size here, built with 30 million LEGO bricks.
9. Dine At These Eateries Located Throughout LEGOLAND Theme Park
An awesome day is not complete without a healthy and delicious meal. At LEGOLAND, visitors have a wide variety of restaurant choices from Asian to Western cuisines. Writer's suggestion: Aim for their potato based dishes, you won't regret it!
All menu items are prepared with Halal-certified ingredients and have vegetarian options. Visitors may reach out to the restaurant chefs for any special dietary needs.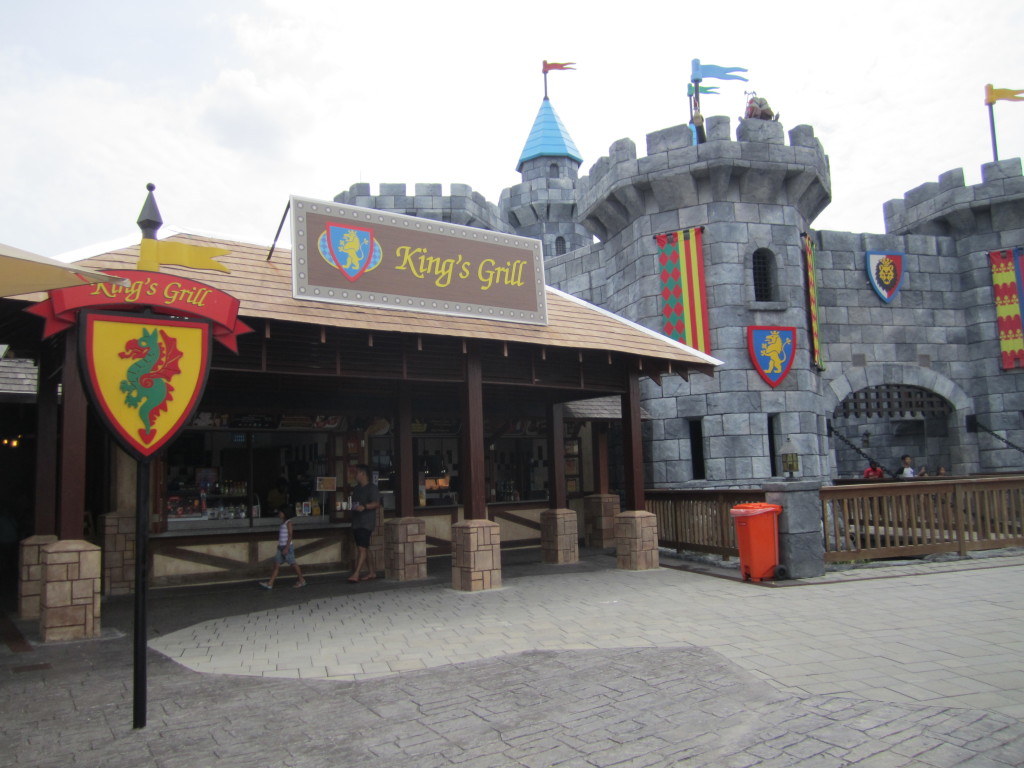 Main outlets across the Theme Park:
The Cafe @ The Beginning
Pizza Mania @ Imagination
Asian Deli @ LEGO Technic
King's Grill @ LEGO Kingdoms
Burger Junction @ Land of Adventure
Market Restaurant @ LEGO City
Fire Rescue Bistro @ LEGO City
Snack Corner @ LEGO City
10. Buy Your LEGO Wish-list Here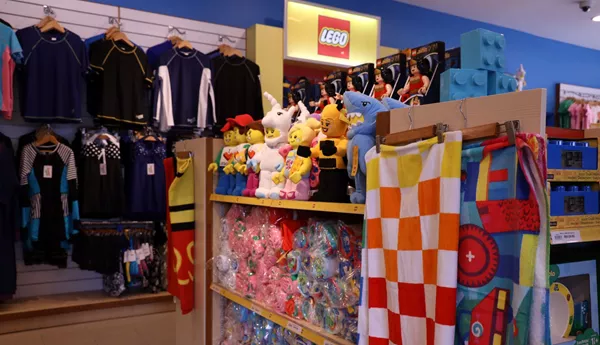 Visitors can also take home some LEGO souvenirs of their awesome adventure at LEGOLAND at any of the retail stores. Each retail store located around the resort has been adapted to reflect a specific theme based on its location.
LEGO Shops across the Theme Park:
Mini Market @ The Beginning
The Big Shop @ The Beginning
The Brick Shop @ The Beginning
Sensei's Shop @ LEGO NINJAGO World
King's Market @ LEGO Kingdoms
Adventurer's Depot @ Land of Adventure
Driving School Shop @ LEGO City
Stage Shop @ LEGO City
LEGOLAND Water Park
There are more than 20 unique rides and slides, over 70 lego models and much more for families to enjoy in LEGOLAND Malaysia. It also features the most famous attractions from other LEGOLAND Water Parks in the world.
1. Build-A-Raft River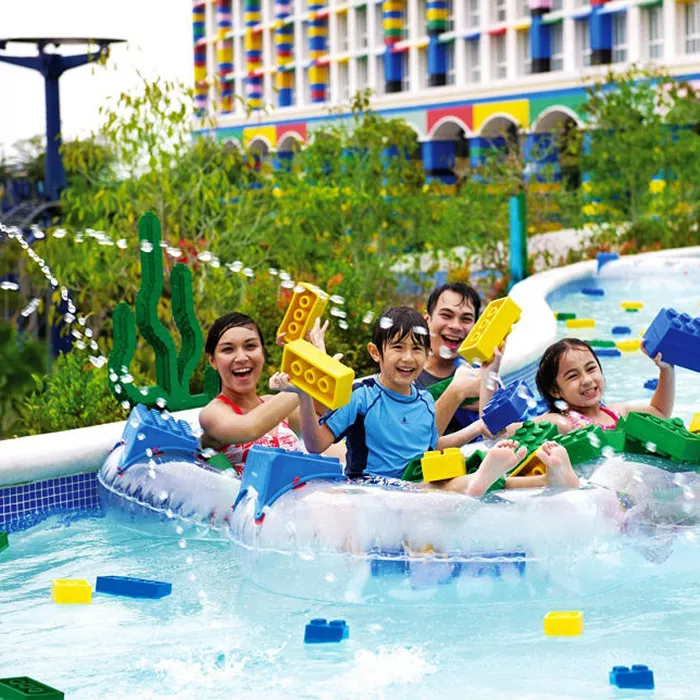 A unique concept where children can customise their own raft made from soft LEGO bricks before floating down the lazy river.
2. LEGO Wave Pool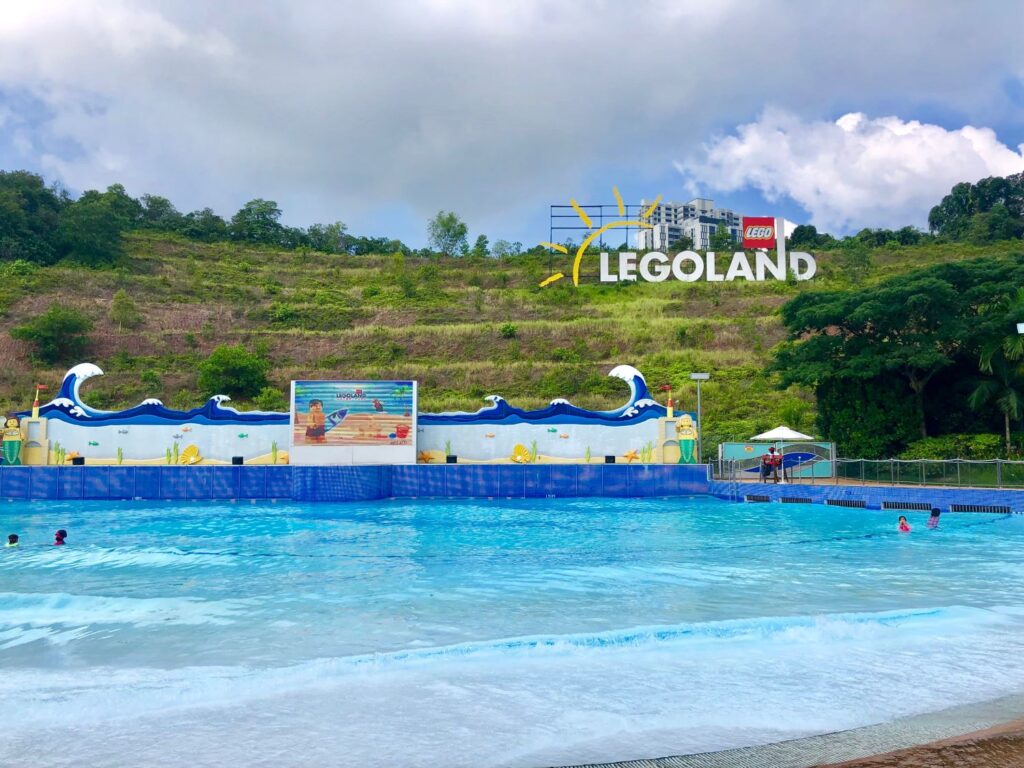 Families can ride the waves or simply cool off in this wave pool where swimmers of all ages will enjoy making a splash.
3. Build-A-Boat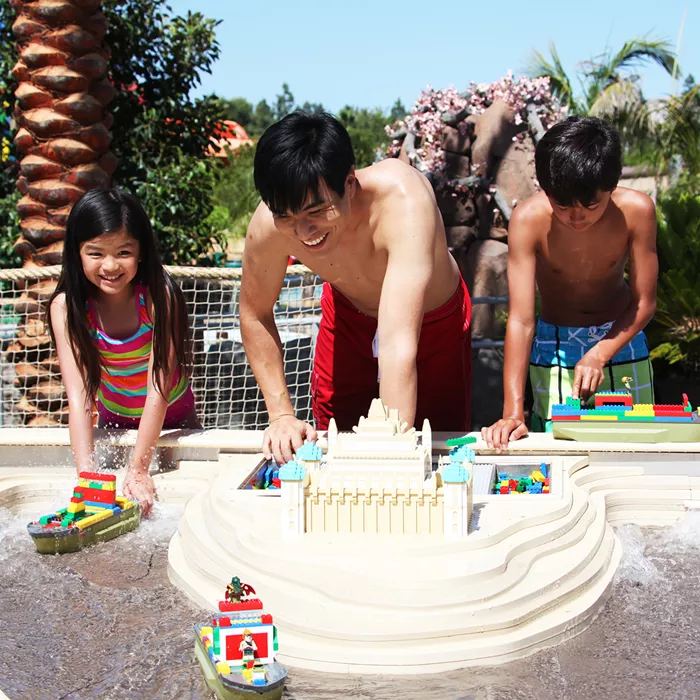 Children can show-off their imagination and creativity through building a boat to race down a 35-feet long river.
4. LEGO Slide Racers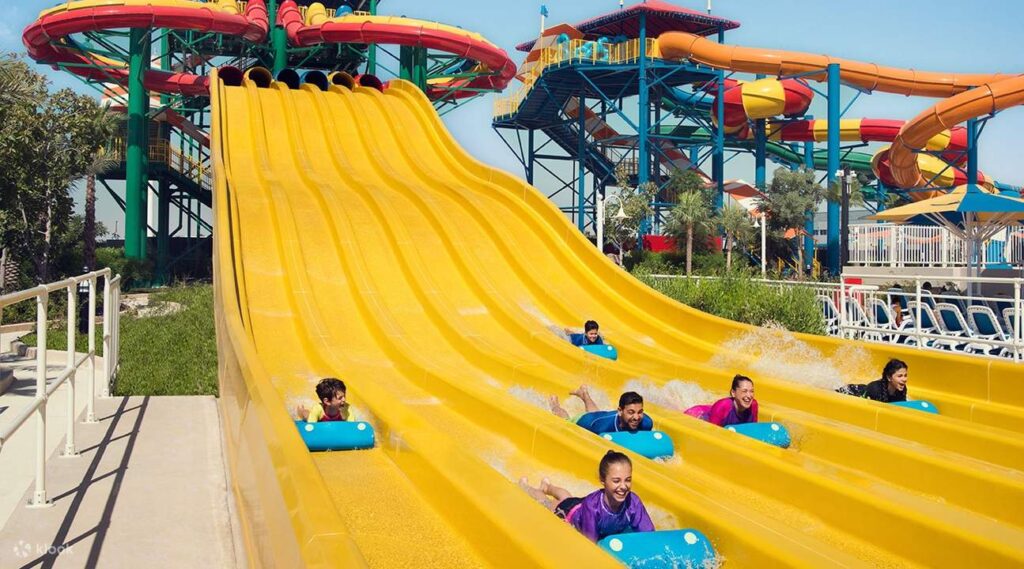 An exhilarating ride consists of six mat slides where you can race down from the hill-top together with your friends.
5. Joke Soaker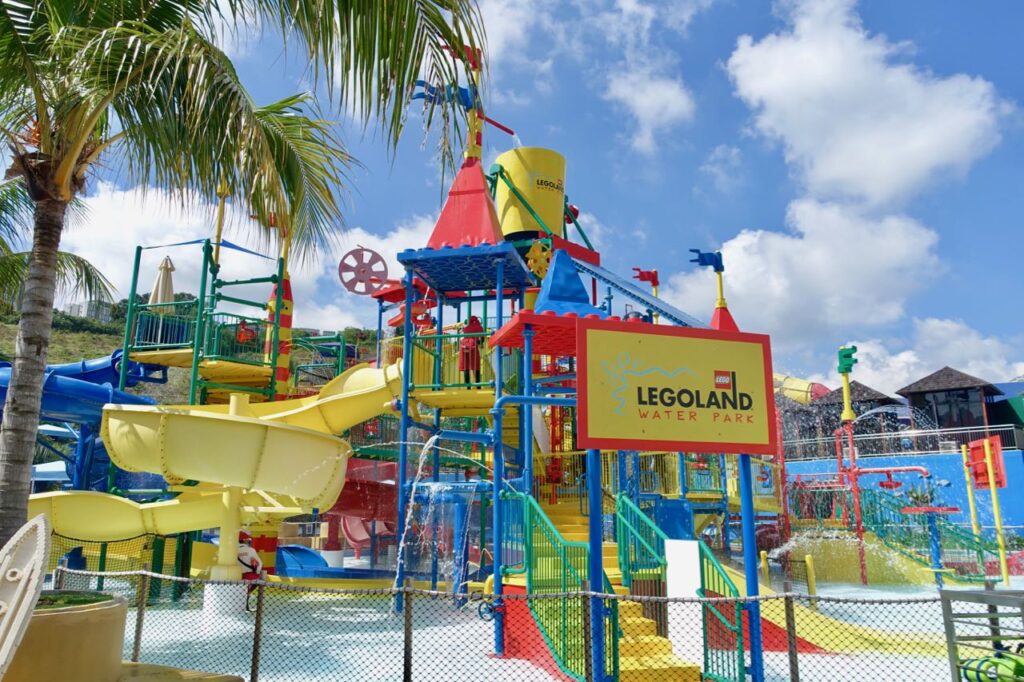 A fun interactive play structure in the wade pool where children can aim water cannons at one another.
Other rides, slides and attractions in LEGOLAND Water Park Malaysia:
Wave Rider
Brick Blaster
Splash & Swirl
Tidal Tube
Twin Chasers
Red Rush
Imagination Station
DUPLO Splash Safari
Wave Pool Stage
SEA LIFE Aquarium
The Aquarium consists of more than 25 display tanks in 11 habitat zones which houses over 13,000 sea creatures from 120 species.
1. Get an Up-Close Ocean Experience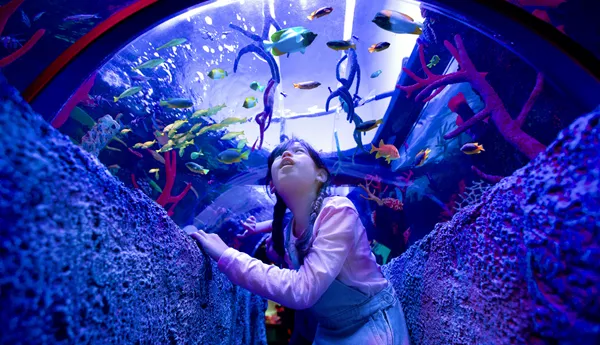 SEA LIFE Malaysia offers a fun and educational marine life experience, this new attraction will further enhance visitors' experience at the resort while inspiring everyone to learn more about our blue planet's invaluable natural assets.
Get up close and view Rockpools, Shoaling Ring, Malaysian Rainforest, coral reef, sunken shipwreck, ocean view and cave, Seahorses, Stingray Bay, Jellies and ocean tunnel only in SEA LIFE Malaysia.
2. Magical Storytelling, Interactive Displays, and Hands-On Activities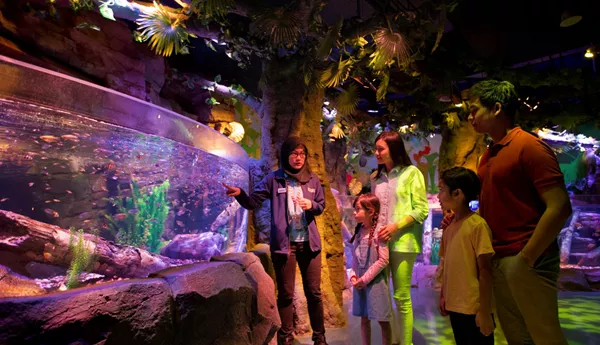 The largest tank, Ocean Tank, features a tunnel with a 180-degree view that cuts across the largest tank where visitors can watch as sharks, rays and other sea creatures swim around them in 385,000 litres of water. To make the learning experience more memorable, SEA LIFE Malaysia also includes interactive elements in every habitat zone.
3. Exclusive Dining Experience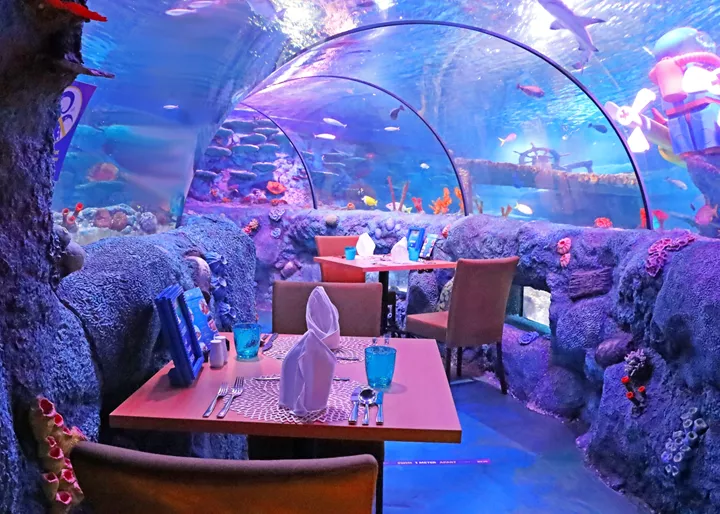 Immerse yourself in the unique underwater dining experience at SEA Life. Indulge in a four-course meal under an intimate underwater setting surrounded with SEA LIFE Malaysia's star creatures: the Black Tip Reef Sharks and Zebra Sharks!
LEGOLAND Hotel
All 263 rooms are themed to provide guests the choice of training like a Ninja, playing Pirate, commanding a Kingdom or embarking on an Adventure. Interactive LEGO features can be found throughout the Hotel's rooms, lobby, play areas, elevators and restaurants.
1. A Unique Overnight Experience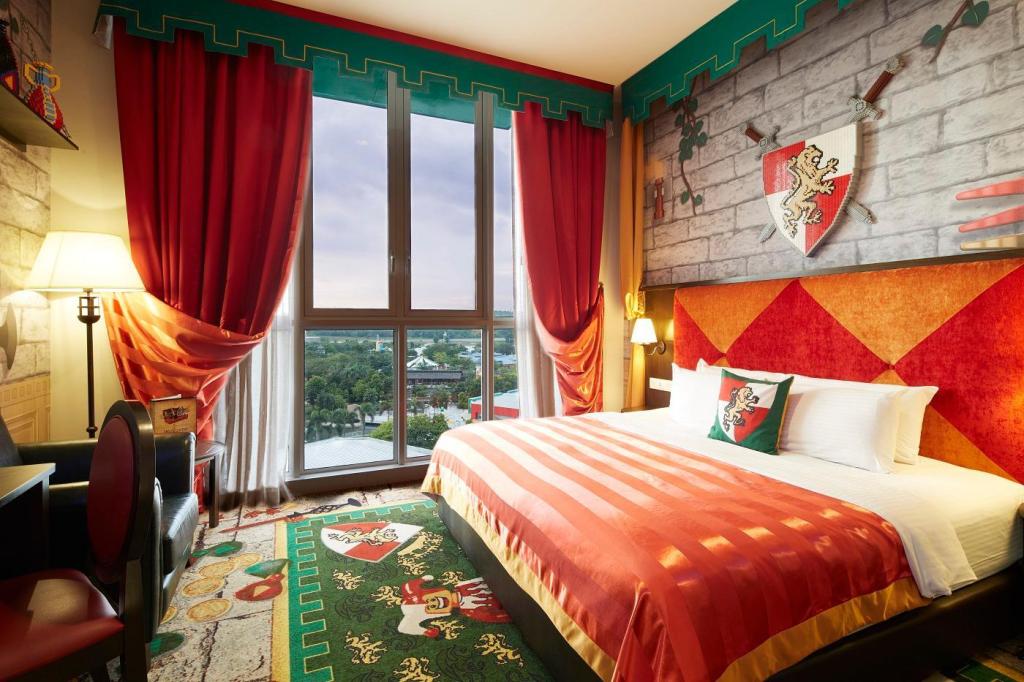 The hotel is themed and fitted out in every way to create a child-friendly environment that invites kids to explore and play. All rooms can fit up to five people and includes a king-sized bed for grown-ups plus separate semi-private sleeping area for the children, complete with bunk beds, pull-out trundle bed and an entertainment unit.
2. LEGO Themed Hotel Dining
Bricks Family Restaurant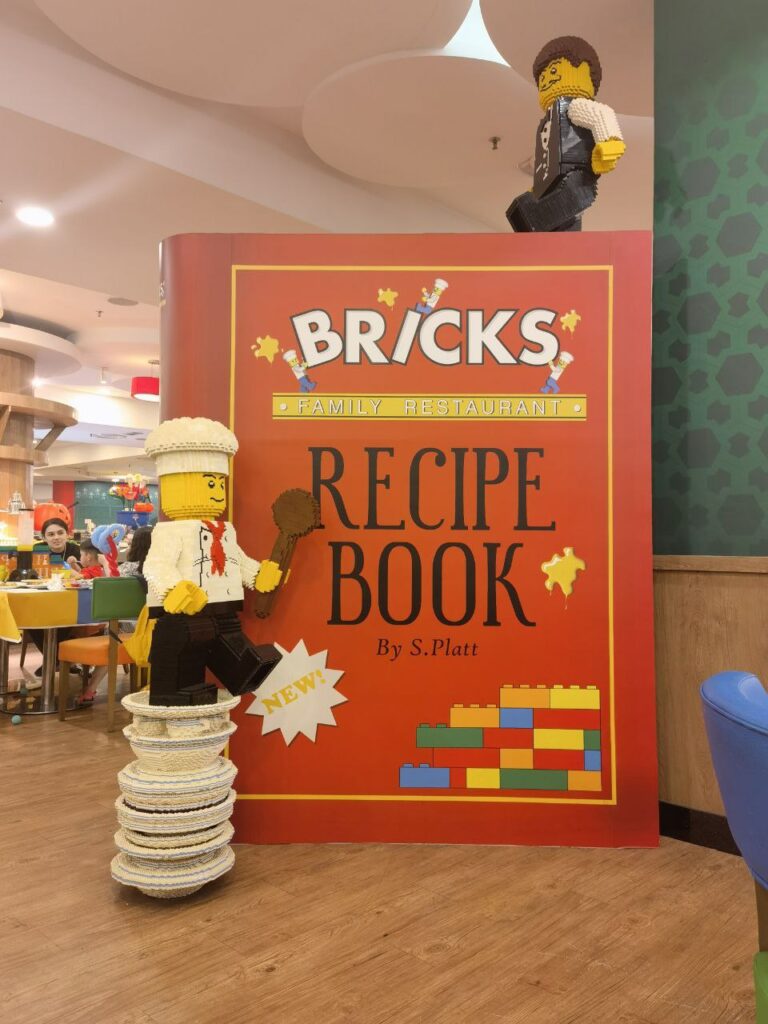 Dine in and be surrounded with LEGO environments at Bricks Family Restaurant. They serve breakfast, lunch and dinner with a variety of cuisines from Western to Asian delight.
Kai's Sushi Bar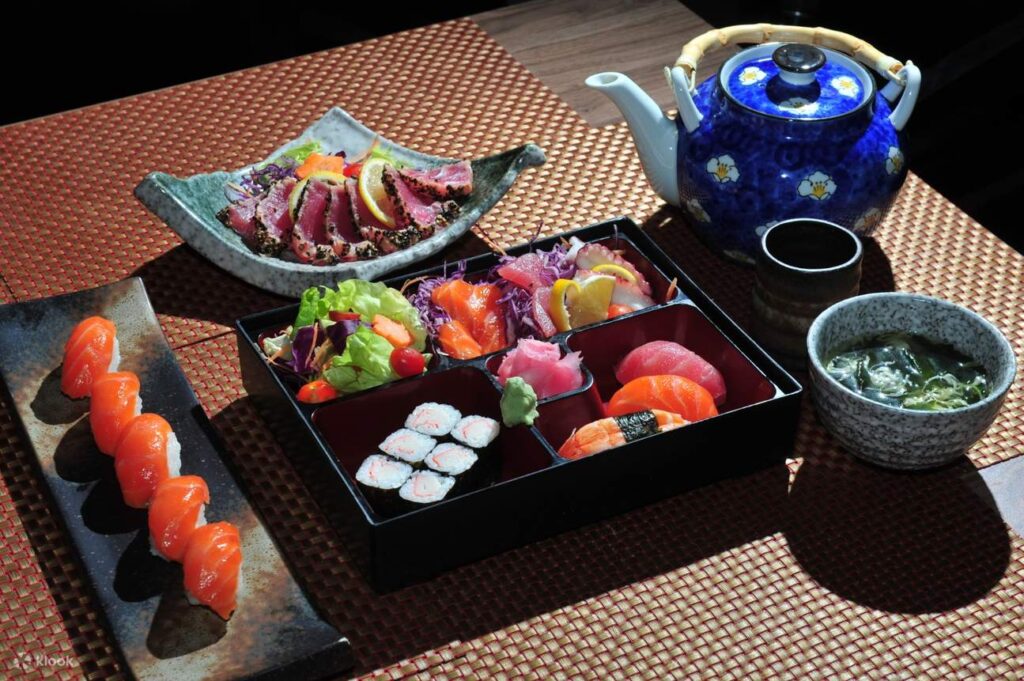 This bar offers a delightful variety of authentic Japanese dishes such as sashimi, tempura, donburi, noodles and more. All of which are meticulously prepared by Kai's talented chefs.
Coffee@Bricks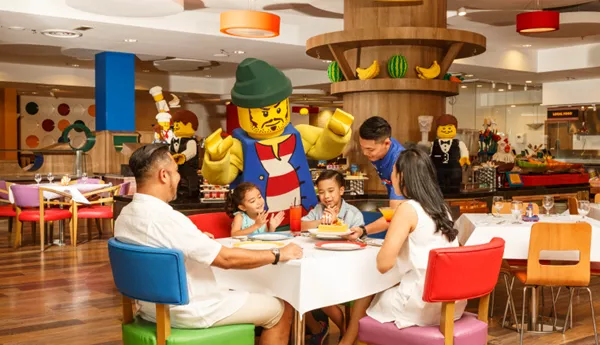 An upscale deli specialising in cold sandwiches, grab-and-go or dine-in style. It also serves freshly made salads, delicious pastries and features a special creation by the chef everyday.
Di Mattoni Restaurant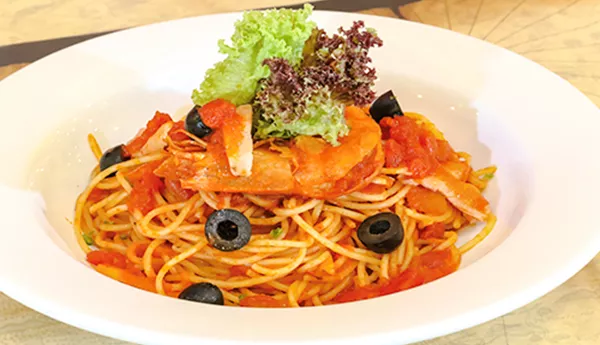 The Italian fun dining restaurant offers an a-la-carte style menu and this restaurant fits up to 50 hungry diners at a time.
Sounds like a great place for your child's dream vacation? Then what are you waiting for, book a trip to LEGOLAND Malaysia Resort now! For more information on LEGOLAND Malaysia Resort and their rides and other attractions, visit their website and also their Facebook page and Instagram page.