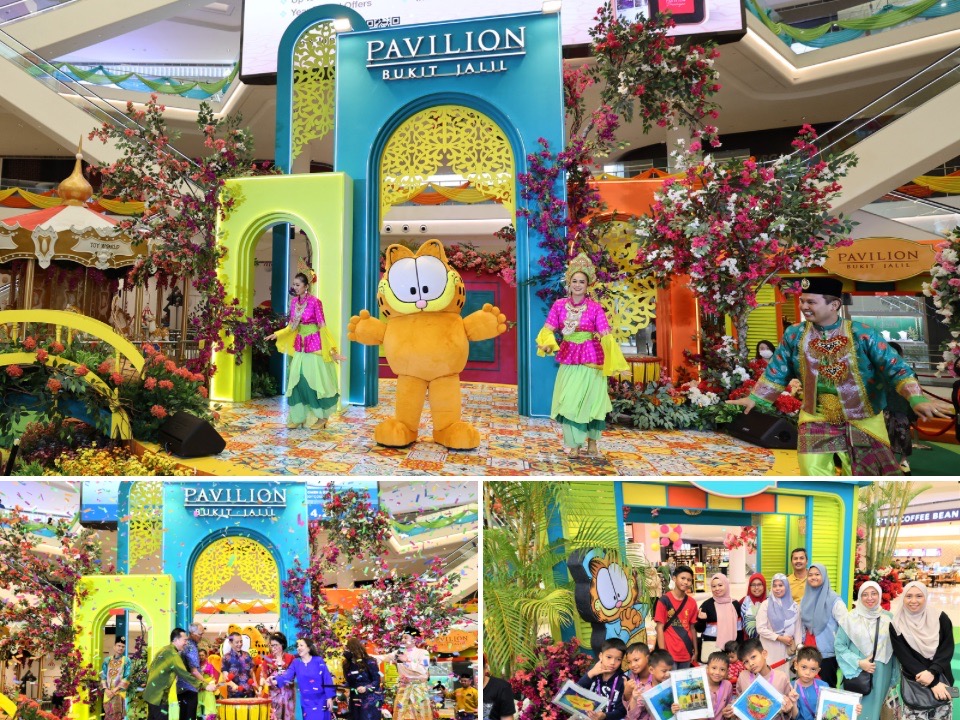 Pavilion Bukit Jalil is set to ignite the Raya festivities this season with an exhilarating 'Meriah Raya' celebration and event in collaboration with Nickelodeon's beloved character, Garfield.
Meriah Raya: Nickelodeon's Garfield Joins The Festive Celebration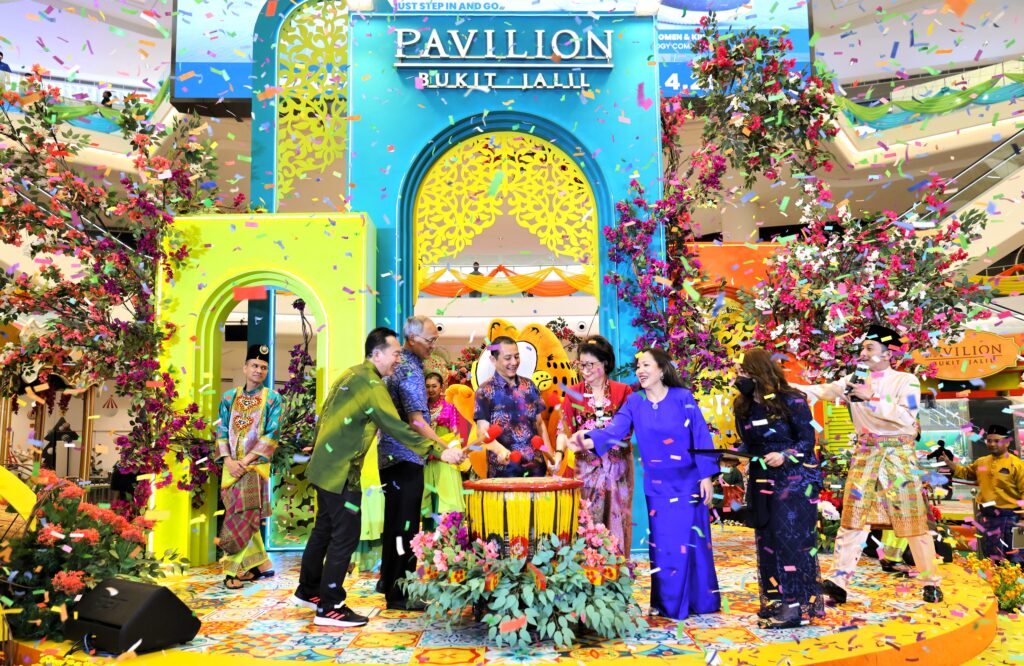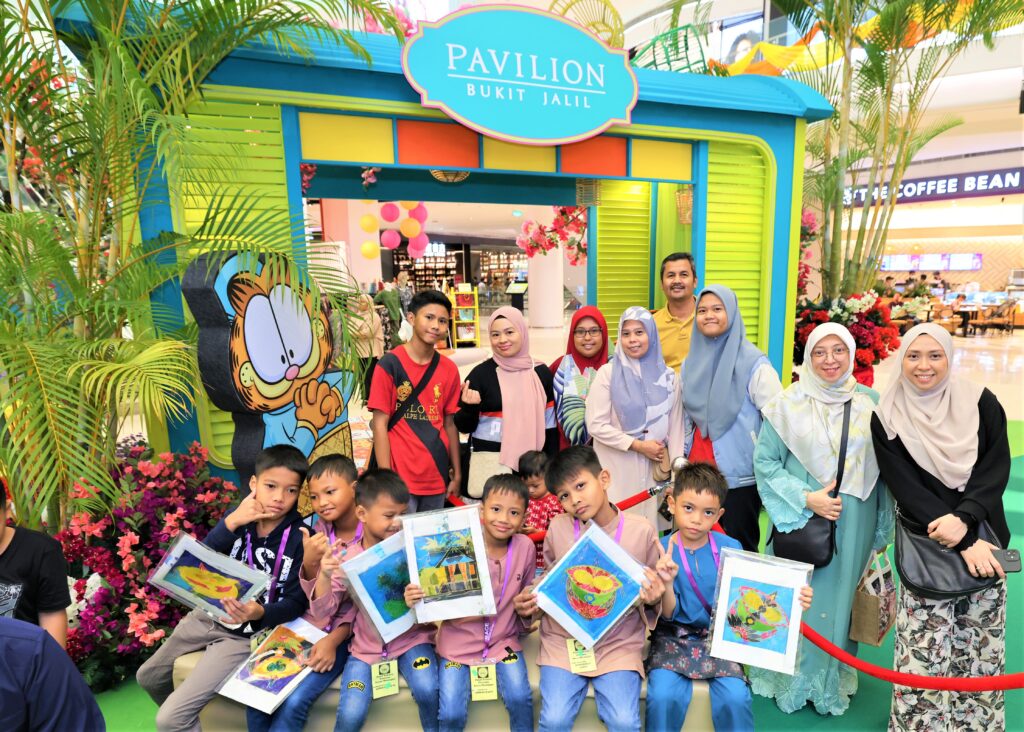 Between now and April 25th, 2023, shoppers can join in celebrating Garfield's 45th Anniversary, the world's most loved cat and pop-culture icon, while enjoying the Hari Raya decorations, entertainment, festive shopping, and delicious dining options at over 400 stores. Visitors will also have access to exclusive limited-edition festive redemptions.
The launch of the 'Meriah Raya' Celebration was graced by several distinguished guests, including Encik Shahrin Mokhtar, Director of Package Development Division at Tourism Malaysia; Datuk Lee Whay Hoong, Director of Regal Path Sdn. Bhd; Dato' Joyce Yap, CEO of Retail at KLPSB; Ms. Kung Suan Ai, Director of Marketing at KLPSB; Mr. Dennis Tan, Vice President of Brand and Retail Marketing at Paramount Consumer Products Asia.
Also in attendance were tenants, shoppers, and 120 children from nearby homes and orphanages, such as Surau Mustaqim PPR Pinggiran Bukit Jalil, Sri Rakyat Apartment Bukit Jalil, and PPR Bukit Jalil.
Meriah Bersama Garfield
Meet Nickelodeon's Garfield and Take Photos with Beautiful Backdrops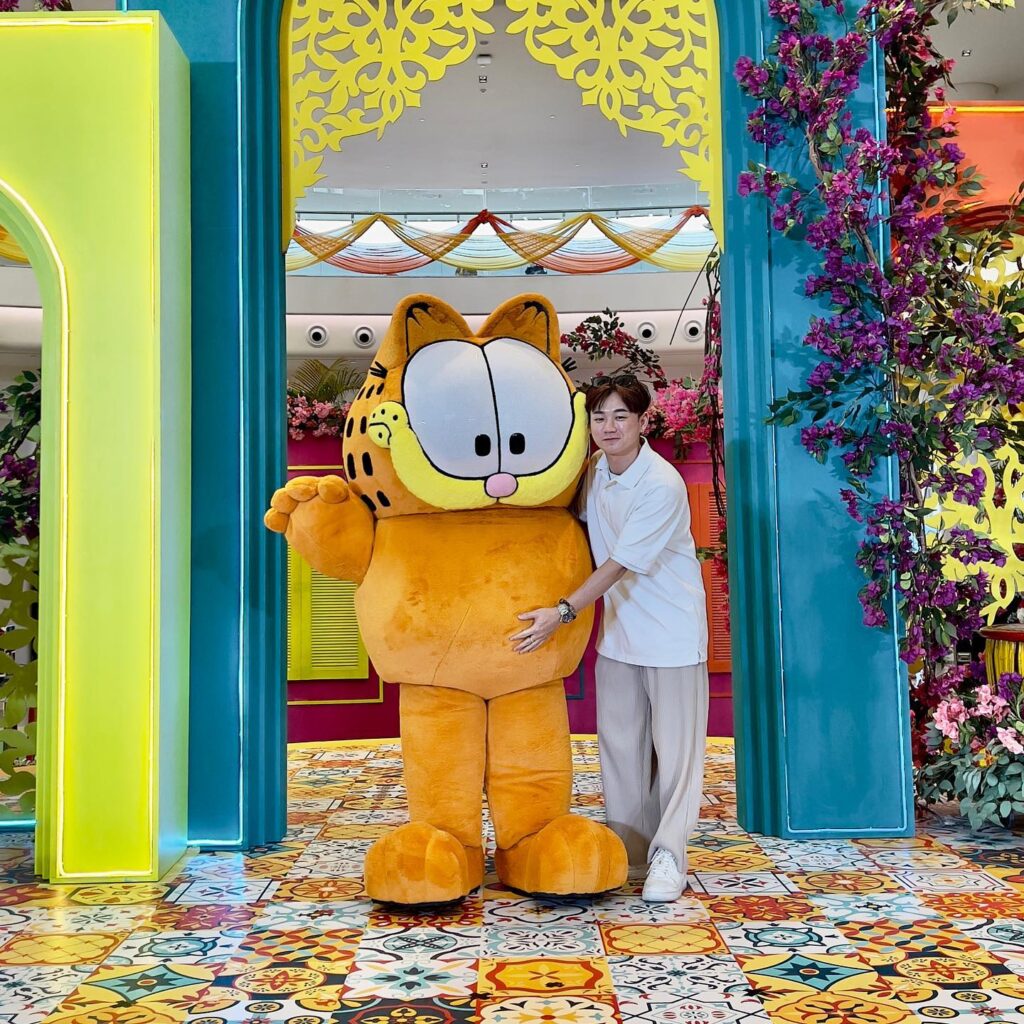 Visitors can immerse themselves in the vibrant of an event of Hari Raya ambiance by exploring the Center Court at Pavilion Bukit Jalil which is adorned with stunning decorations. Take memorable photos against the picturesque backdrops and even meet Garfield, one of the most renowned cats in the entertainment industry, courtesy of Nickelodeon.
In the event, Dennis Tan, Vice President, Brand & Retail Marketing, Paramount Consumer Products Asia said:
Over the years, Garfield's fanbase has continued to grow and grow. We are excited to kick off the very first of our 45th anniversary celebrations across South East Asia with this special event together with Pavilion Bukit Jalil! We hope that all these exciting activities will add to the Raya festivities and bring out the Garfield in everyone!

Dennis Tan, Vice President, Brand & Retail Marketing, Paramount Consumer Products Asia
Enjoy Meet-and-Greet Sessions with Garfield in Person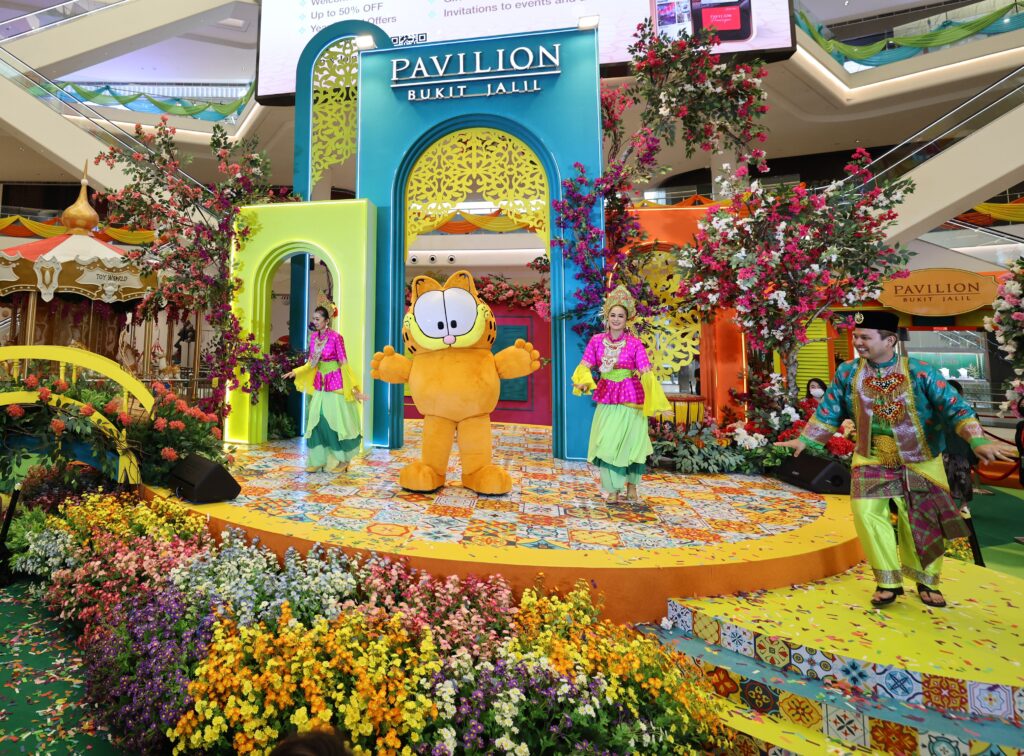 Shoppers have the opportunity to take photos with three charming sculptures and six larger-than-life Garfield character installations that stand up to eight feet tall. In addition, visitors who spend a minimum of RM100 mall-wide can participate in meet-and-greet sessions with Garfield based on the schedule below:
| | |
| --- | --- |
| Date | 26 March 2023 – 25 April 2023 (Every weekend) |
| Time | 2pm – 6pm |
---
Meriah Events
Raya-Raya Bazaar: Fantastic Line-up of Events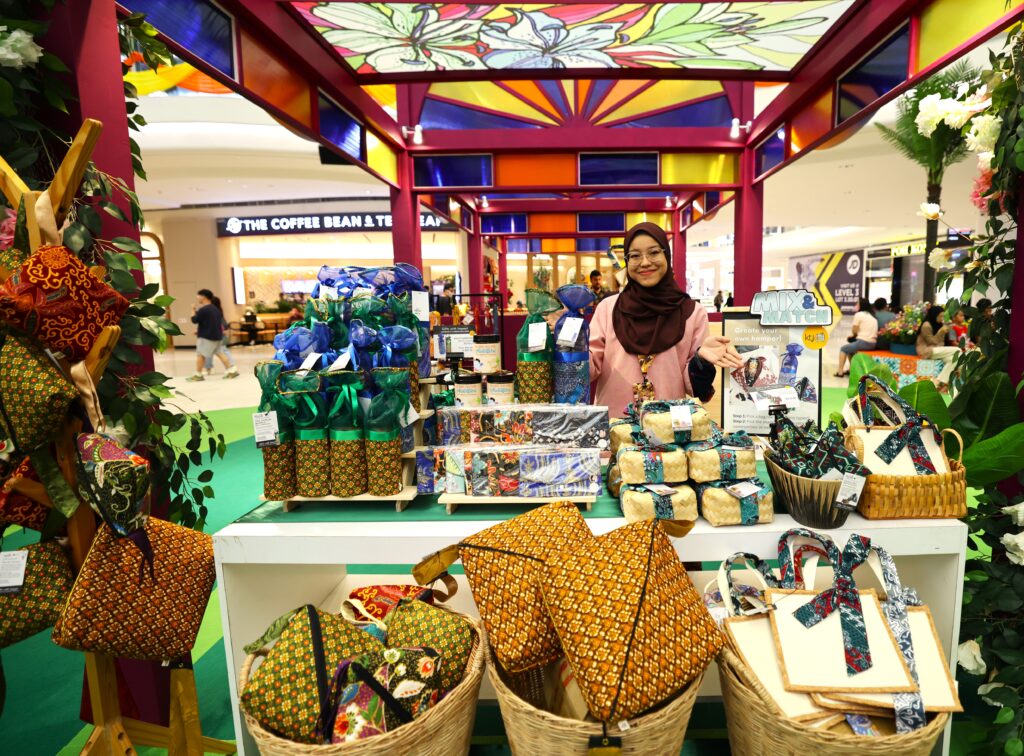 As part of the campaign, shoppers can enjoy a wonderful array of activities, including the Raya-Raya Bazaar at PIAZZA on Level 3. With more than 50 booths available, visitors can browse and purchase an assortment of festive cakes, delicious kuihs, beautiful home decor, Muslimah fashion, and other clothing items.
| | |
| --- | --- |
| Event | Raya-Raya Bazaar |
| Date | 13 April 2023 – 17 April 2023 |
Explore the World of Tim Burton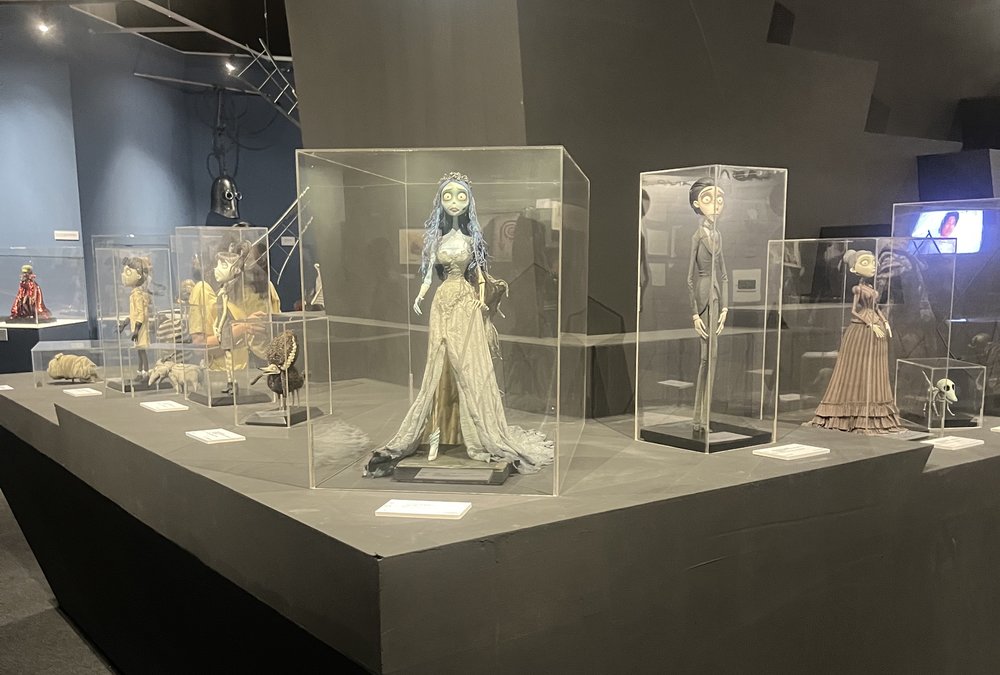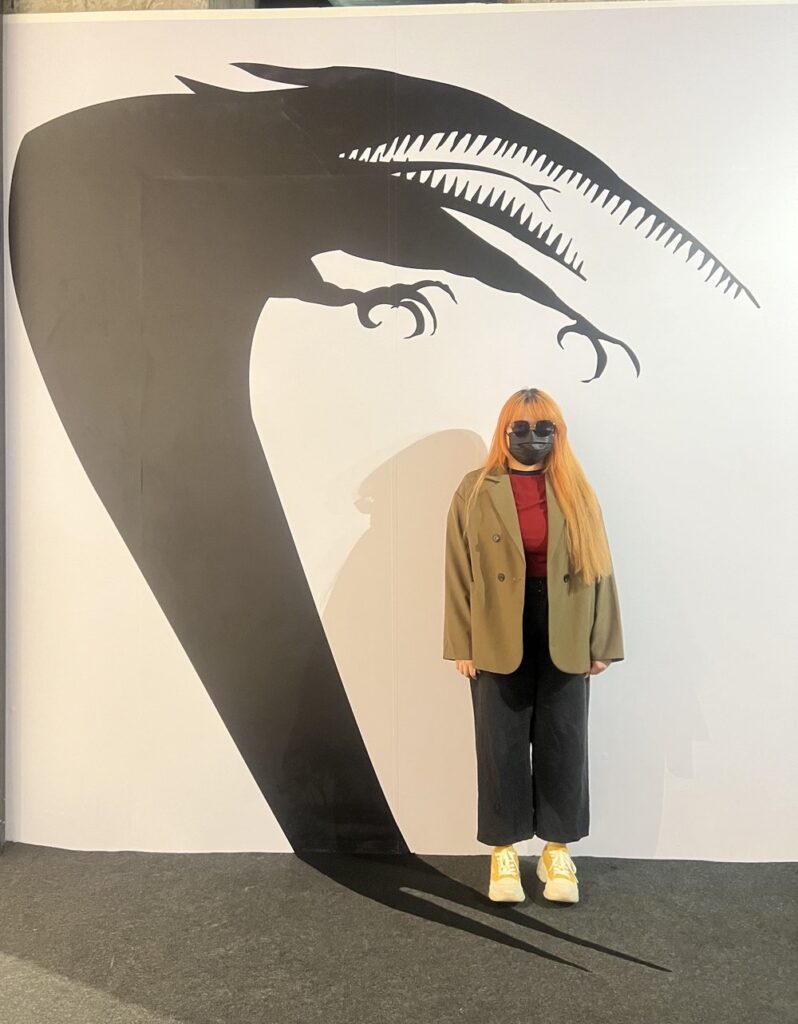 Visitors to Pavilion Bukit Jalil can immerse themselves in the visionary works of Tim Burton at 'The World of Tim Burton Exhibition. This exceptional exhibition showcases the celebrated filmmaker's outstanding works over the last fifty years, arranged in ten intriguing thematic sections, and is making its first appearance in Southeast Asia.
| | |
| --- | --- |
| Event | The World of Tim Burton Exhibition |
| Date | 20 March 2023 – 31 July 2023 |
| Operating hours | 10am – 10pm |
While you're at it, check out this video!
Athos Giant 3×3 Competition and REX HOME EXPO H4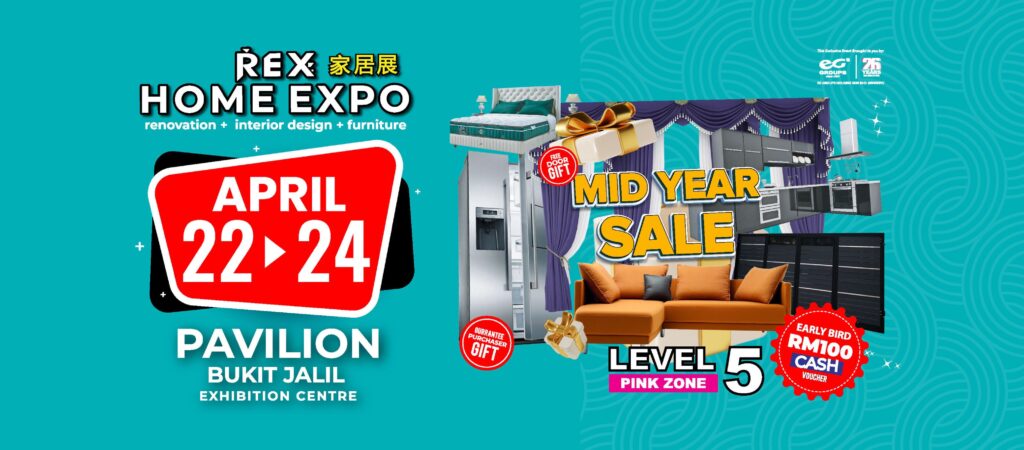 Attention sports enthusiasts and homeowners! Get ready to experience an exciting weekend of fun and games event at Pavilion Bukit Jalil Piazza. Visitors are to witness the launch of the Athos Giant 3×3 Competition by none other than YB Tuan Adam Adli, Deputy Minister of Youth and Sports Malaysia.
And if you're looking for home improvement ideas or need to upgrade your appliances, don't miss out on the REX HOME EXPO happening at PBJEC.
| | |
| --- | --- |
| Event | Athos Giant 3×3 Competition |
| Date | 31 March 2023 – 2 April 2023 |
| | |
| --- | --- |
| Event | REX HOME EXPO |
| Date | 22 April 2023 – 24 April 2023 |
---
Meriah Shopping
King Koil and Harvey Norman Roadshows with Exclusive Offers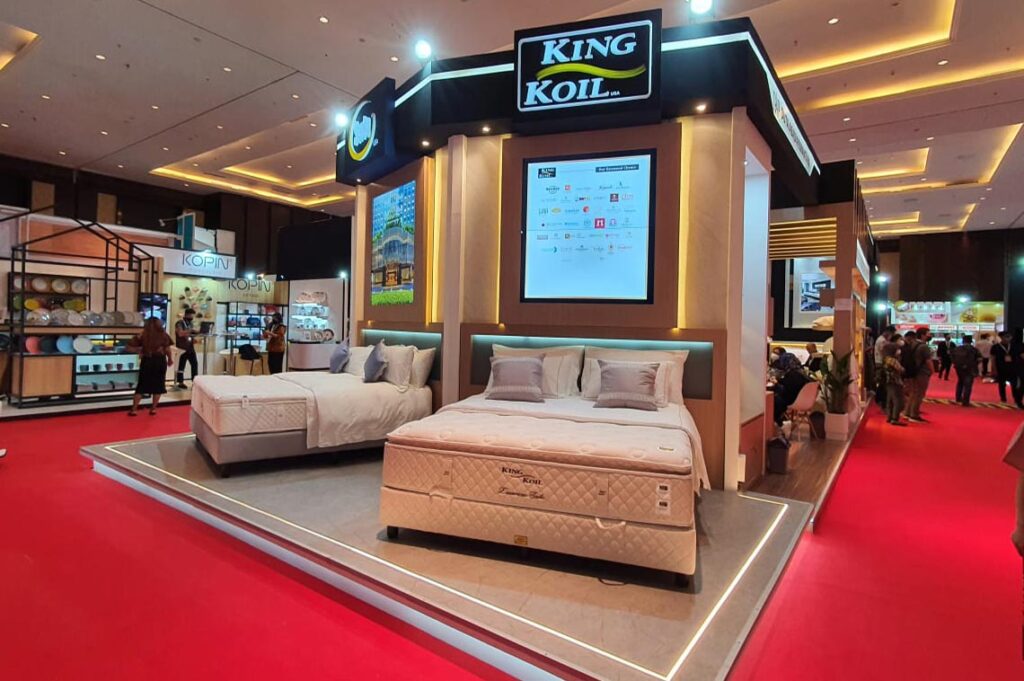 Get ready to refresh your home for the upcoming festive season with exciting deals at the King Koil Roadshow. Discover a range of luxurious bed frames, premium mattresses, and stylish bedding accessories!
Also, don't miss out on the Harvey Norman Roadshow , where shoppers can score great deals on a wide selection of electronic and electrical appliances, as well as indoor and outdoor home furnishings.
King Koil Roadshow:
| | |
| --- | --- |
| Date | 24 March 2023 – 2 April 2023 |
Harvey Norman Roadshow:
| | |
| --- | --- |
| Date | 2 March 2023 – 9 May 2023 |
Fashion, Beauty and Accessories Galore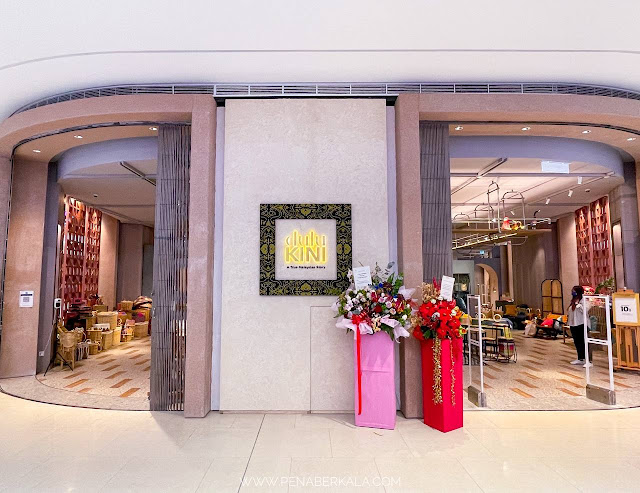 Looking to make a statement with your Raya outfits? Look no further than duluKINI, Kashkha, and dUCK for stunning fashion pieces that are sure to turn heads. And no outfit is complete without the right accessories! Habib, Swarovski, and SK Jewellery have you covered with their elegant and beautiful collections. If you want to add a touch of luxury to your beauty routine, visit Arabian OUD and Alha Alfa for their premium fragrance and beauty products. And for the finishing touch, pamper yourself at one of Pavilion Bukit Jalil's many beauty salons like Sothys, Skinz Sanctuary, Hair Tric and Lashility, A-Look and more to achieve that radiant glow.
---
Meriah Makan-Makan
Feast with Family and Friends at Muslim-Friendly F&B Outlets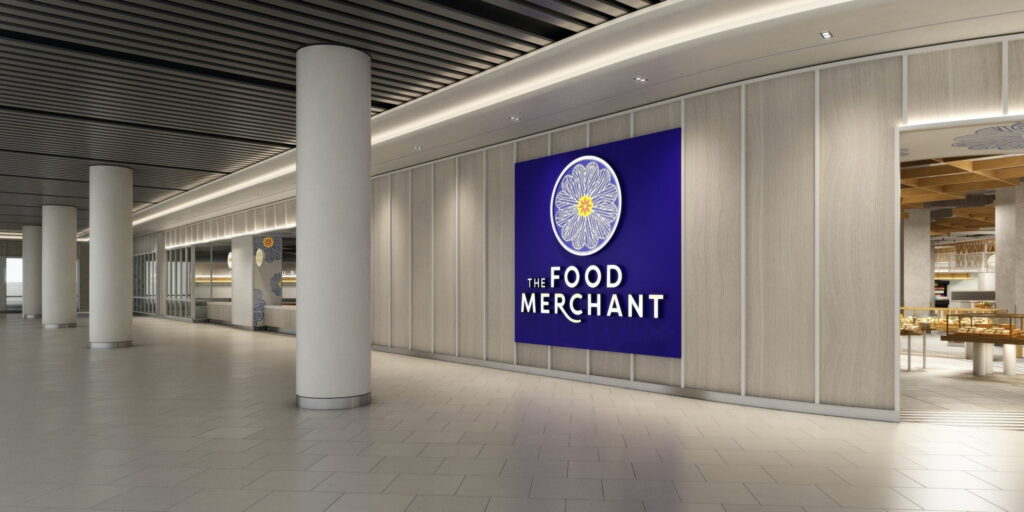 Step into a world of culinary delights at Pavilion Bukit Jalil, where shoppers can indulge in over 150 F&B options spread across 1.8 million square feet of space. Whether you're planning a 'buka puasa' feast or hosting a Raya gathering, there's something for everyone – from delectable local cuisine to international favourites. Plus, with ample seating options available, accommodating large groups has never been easier.
Delicious Eateries to Satisfy Your Appetite and Sweet Tooth During Buka Puasa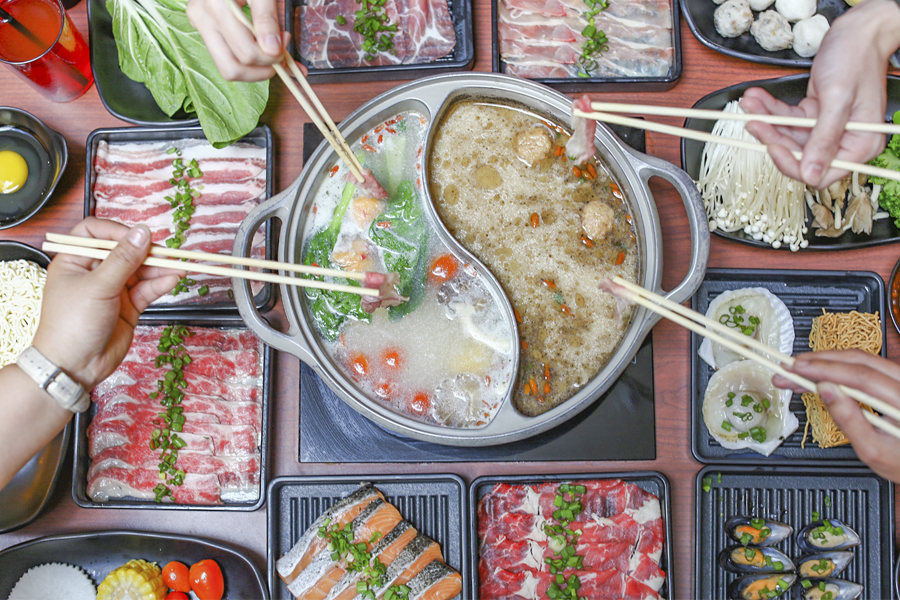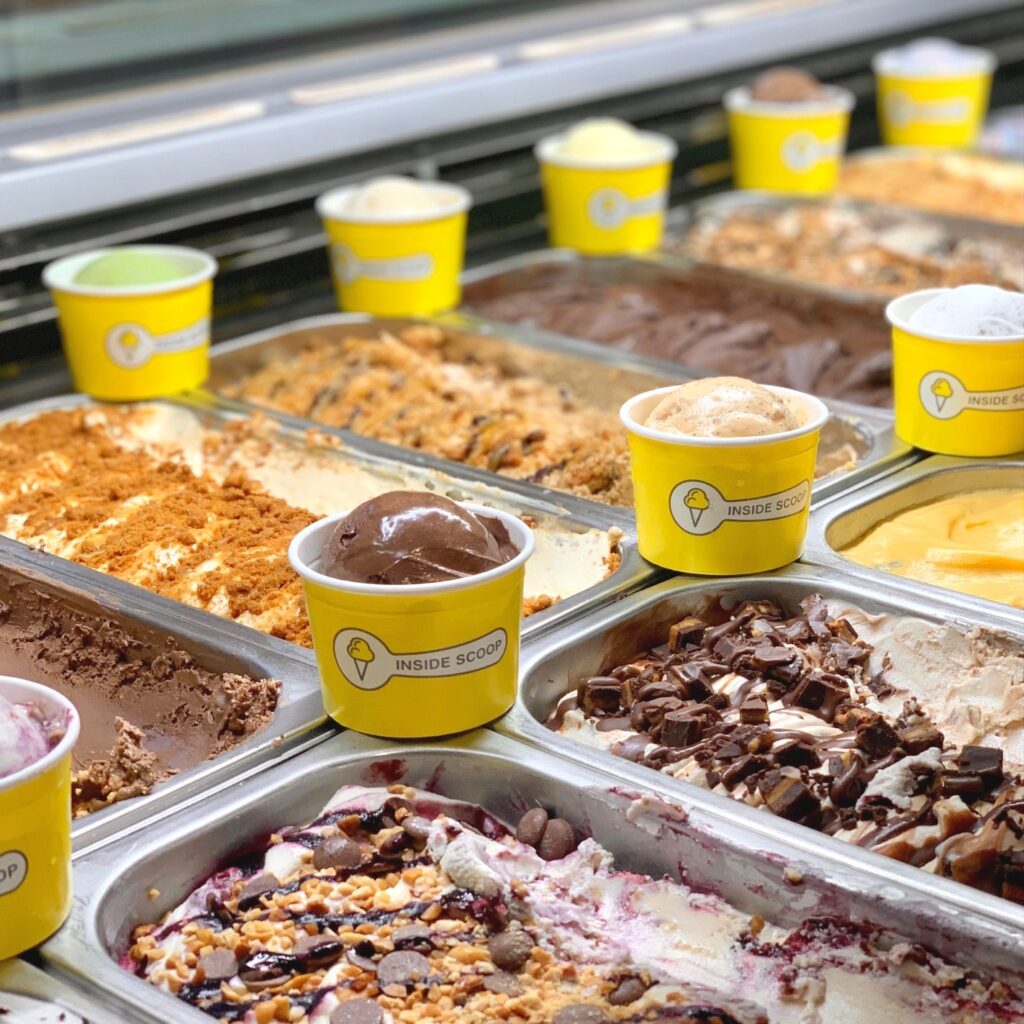 Indulge in a tantalizing array of appetizers during 'buka puasa' with offerings from Mahnaz Food, D'Laksa, and The Food Republic. And for those hosting a large gathering, eateries such as Sukiya, Grandma's, Seniman, and Mee Hiris China Muslim provide ample space to accommodate everyone. End your meal on a sweet note with delectable treats from Rollney's, Inside Scoop, Perfect Ice, and Yam Fresh that are sure to satisfy any sweet tooth.
Complete Your Festive Shopping at Meriah Raya Marketplace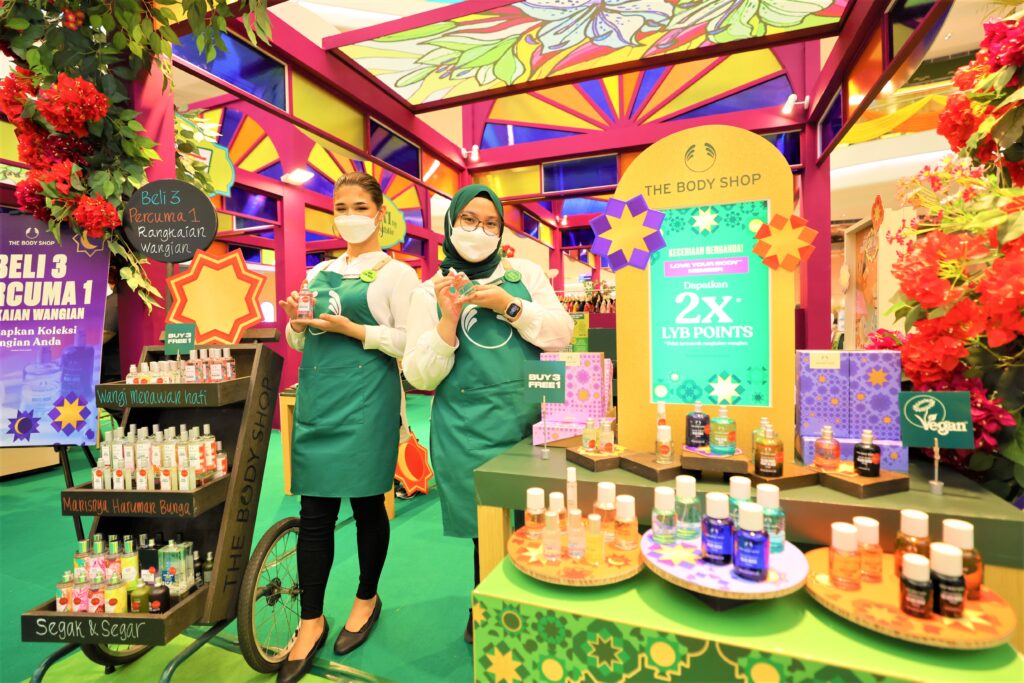 Get ready to be amazed by the Meriah Raya Marketplace at Centre Court, Level 2 where shoppers can find unique and wonderful festive offerings from a variety of booths such as duluKINI, GIFTOLOGY, The Body Shop, Krispy Kreme, Diamond Dotz, Yuniku, DUBAI by Food Republic and many more. It's the perfect place to complete your festive shopping and discover new treasures to add to your collection.
| | |
| --- | --- |
| Date | 27 March 2023 – 25 April 2023 |
For a limited time, shoppers will be able to spend and be rewarded with exclusive limited-edition gifts such as;
| | |
| --- | --- |
| Gifts | Minimum spend |
| Garfield 'Meriah Raya' Green Packets | RM100 in a single receipt |
| Garfield 'Meriah Raya' Tote Bags | RM300 in a single receipt |
| RM50 Shopping Vouchers | RM500 in a single receipt |
Additionally, redemption using receipts from selected home & living brands including LG Puricare, Hooga, Epitex, HOHM, duluKINI, Iconfraft, Nitori and More Design are entitled to an Extra Meriah Lucky Draw to win up to RM50 shopping vouchers.
Bringing Together Communities with Vibrant Retail and F&B Mix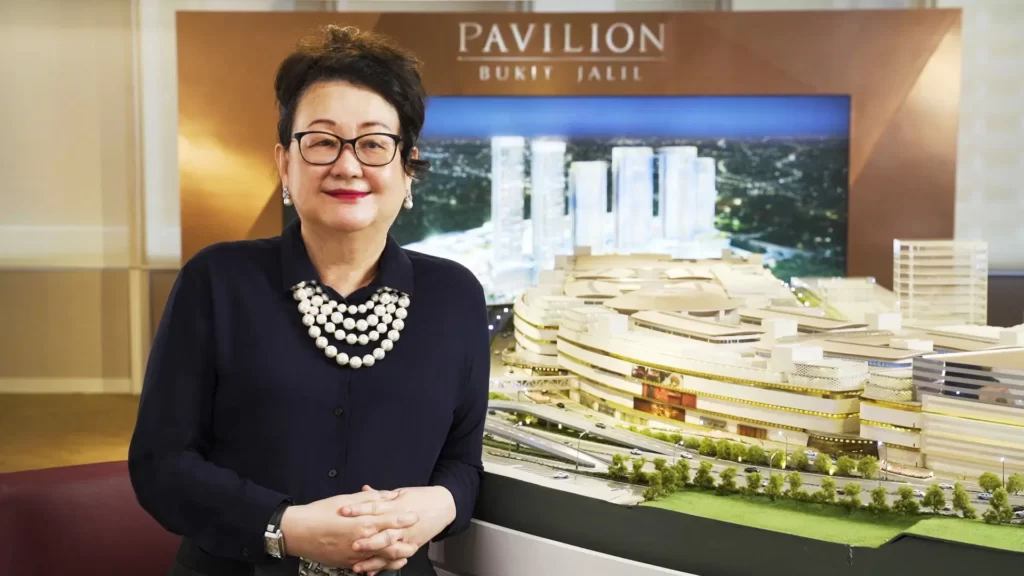 During the launch, Dato' Joyce Yap, Chief Executive Officer of Retail for Kuala Lumpur Pavilion Sdn. Bhd., Retail Planner of Pavilion Bukit Jalil said:
Pavilion Bukit Jalil this year presents a 'Meriah Raya' celebration that represents the liveliness and true Malaysian spirit of communities coming together in celebrations. With over 400 vibrant retail mix, Pavilion Bukit Jalil has fast gained popularity as a position in the region as a shopping destination in terms of F&B, urban leisure, and retail. Together with our partners and tenants, we wish everyone 'Happy Ramadan and Selamat Hari Raya Aidilfitri.

Dato' Joyce Yap, Chief Executive Officer of Retail for Kuala Lumpur Pavilion Sdn. Bhd., Retail Planner of Pavilion Bukit Jalil
Pavilion Bukit Jalil Donates 5,000 Milo Packets to the Community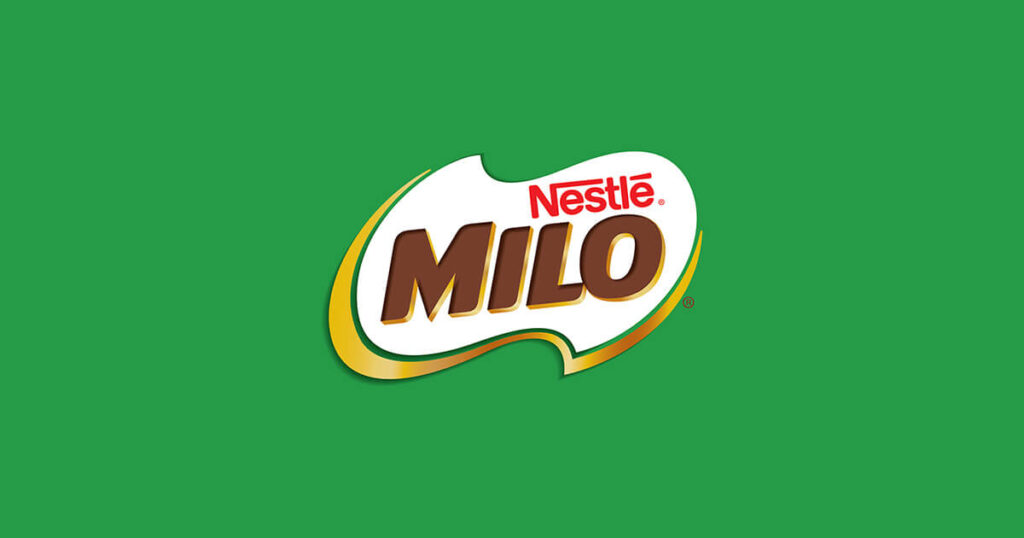 During Ramadan, Pavilion Bukit Jalil emphasized the significance of contributing to society by donating more than 5,000 packets of Milo to e-hailing and food delivery drivers, as well as to orphanages and elderly care homes in the Bukit Jalil area. This is in line with the month's focus on fasting and self-reflection.
For more information on Pavilion Bukit Jalil's 'Meriah Raya' activities and promotions, visit www.pavilion-bukitjalil.com, or check for real-time updates via Facebook, Instagram, or contact Customer Service at +603-8092 8888.