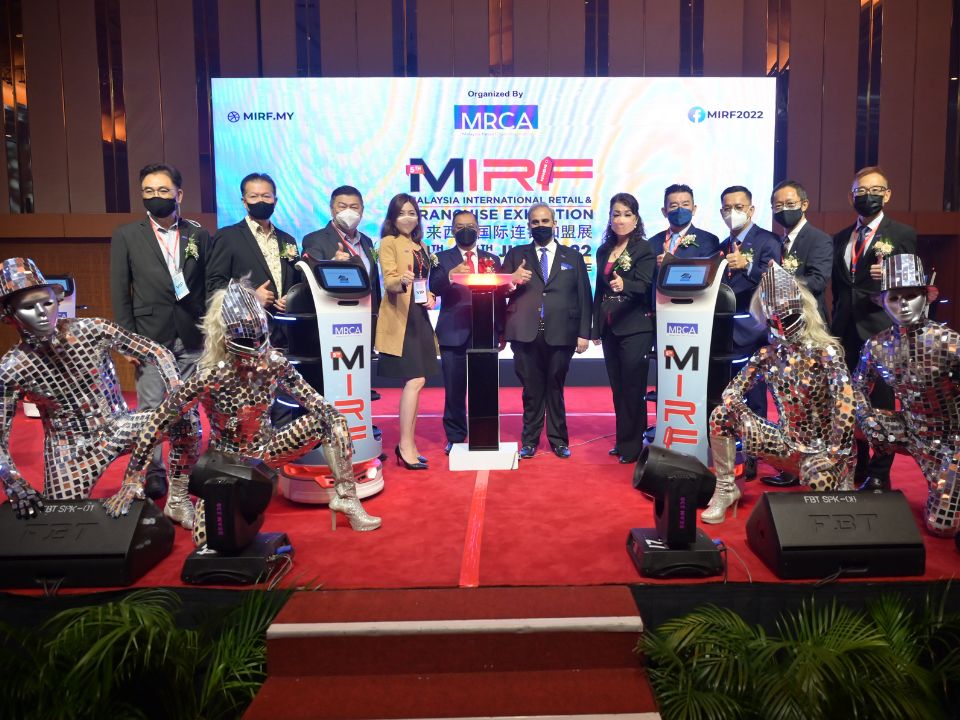 The Malaysia International Retail & Franchise Exhibition (MIRF) 2022 has finally opened its door to the public starting from 14 until 16 July 2022 at Kuala Lumpur Convention Centre.
"Retail And Franchise: REBOOT", MIRF 2022 Theme
The MIRF 2022 was launched by the YBhg. Datuk Haji Zamri Bin Salleh, Deputy Secretary General of the Ministry of Entrepreneur Development and Cooperative (MEDAC), on behalf of its Minister, YB Tan Sri Noh Bin Haji Omar.
The 3-day expo is organized by the Malaysia Retail Chain Association (MRCA) which will focus on the theme "Retail & Franchise: REBOOT".
The exhibition will be featuring three halls with over 22,000 sqm of floor space, and also, there will be over 400 exhibition booths covering a wide spectrum of the retail and franchise industry.
Some leading retail and franchise brands that participated in the expo this year include Marrybrown, Bask Bear Coffee, Ah Cheng Laksa, Vanilla Crepe, Laundrybar, and many more.
The event also features foreign exhibitors from more than 10 countries, such as South Korea, Singapore, Taiwan, India, Pakistan, Japan, Cyprus, and the Philippines. Not only that, a dedicated section is also provided to promote Halal products, providing a platform for quality business matching.
This signifies MIRF as a growth platform for retail and franchise businesses to not only expand in terms of revenue but also reshape and cultivate new business models and innovation strategies after the pandemic period.
Platform For Malaysian Retailers And Franchise Businesses To Grow
MRCA is positive that it can build on the success of the last edition in 2019 which successfully attracted 350 booths and transacted over RM80 million in business revenue, and increase the number up to 10 to 12 percent.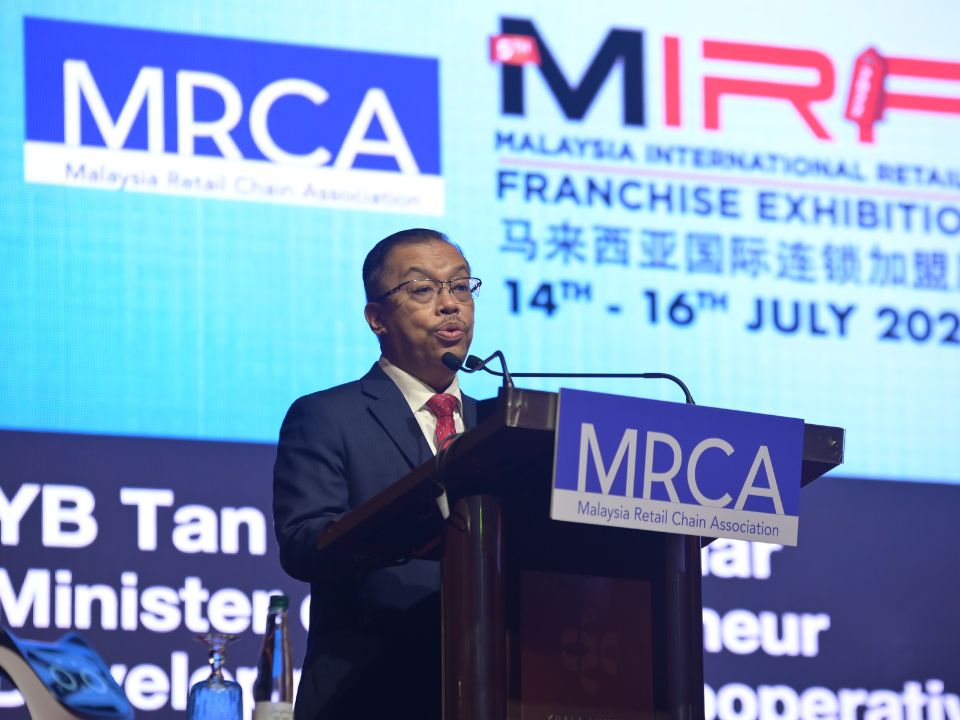 YBhg. Datuk Haji Zamri Bin Salleh in his speech on behalf of the Minister mentioned,
Apart from setting a target for the franchise industry to contribute 9.4% to gross domestic product (GDP) by 2022, the government also plans to create 18,000 new job opportunities by 2025.

YBhg. Datuk Haji Zamri Bin Salleh, Deputy Secretary General of the Ministry of Entrepreneur Development and Cooperative (MEDAC)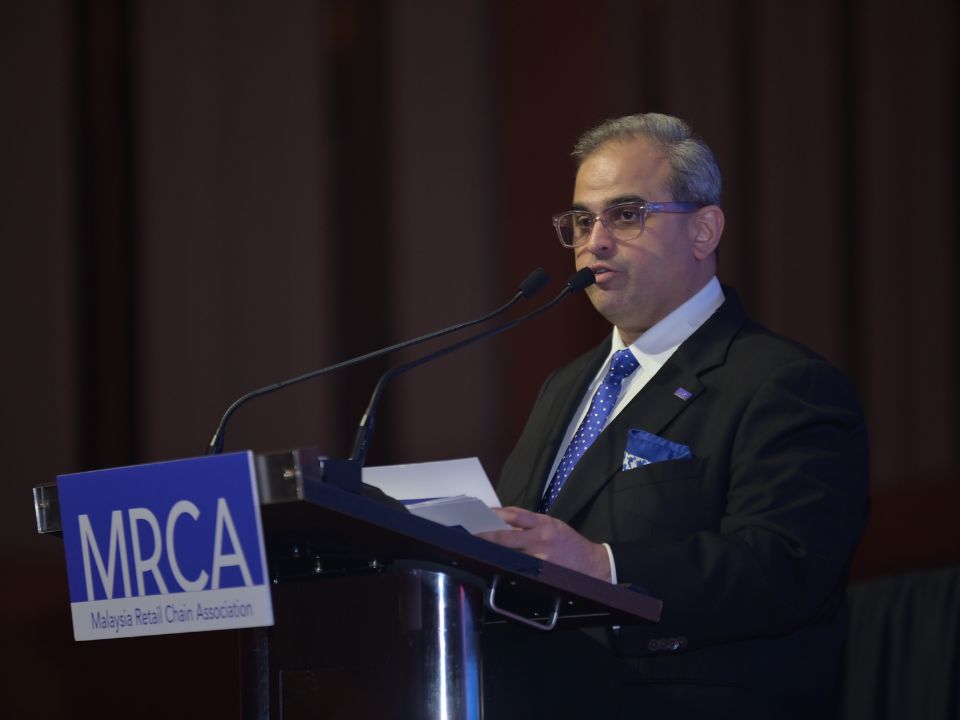 Meanwhile, the President of MRCA, Sharan Valiram shared,
Through MIRF, we are committed to make Malaysia the springboard for retailers and franchise businesses to grow, where brands, organisations and industry practitioners to gather in one place to network and transact businesses in real-time.

Sharan Valiram, President of MRCA
MIRF 2022 is set to continue enhancing greater push for transactions by having better business matchings and the use of technology as a hybrid option to interact with people, in line with MRCA 4 pillars which are F&B, Retail, Franchise, e-Commerce.
Sponsors For MIRF 2022 Exhibition
The exhibition is supported by MRCA Corporate Patrons namely Maxis, Fusionex and RHB, and supported by Malaysia External Trade Development Corporation (MATRADE), Malaysia Convention & Exhibition Bureau (MyCEB), Franchising and Licensing Association (FLA) Singapore, Busan Economy Promotion Agency (BEPA), Taiwan External Trade Development Council (TAITRA) and others.
MIRF is also proud to have PERNAS as the Gold Sponsor, China Mobile, Infra Bunga, Shopline, UT Robotics and ZCITY as Silver Sponsors and Malaysia Airlines and Time.com as Bronze Sponsor.
Do come and pay a visit to the Malaysia International Retail & Franchise exhibition to help and support the small and big businesses to grow! For more information, kindly visit Malaysia Retail Chain Association.