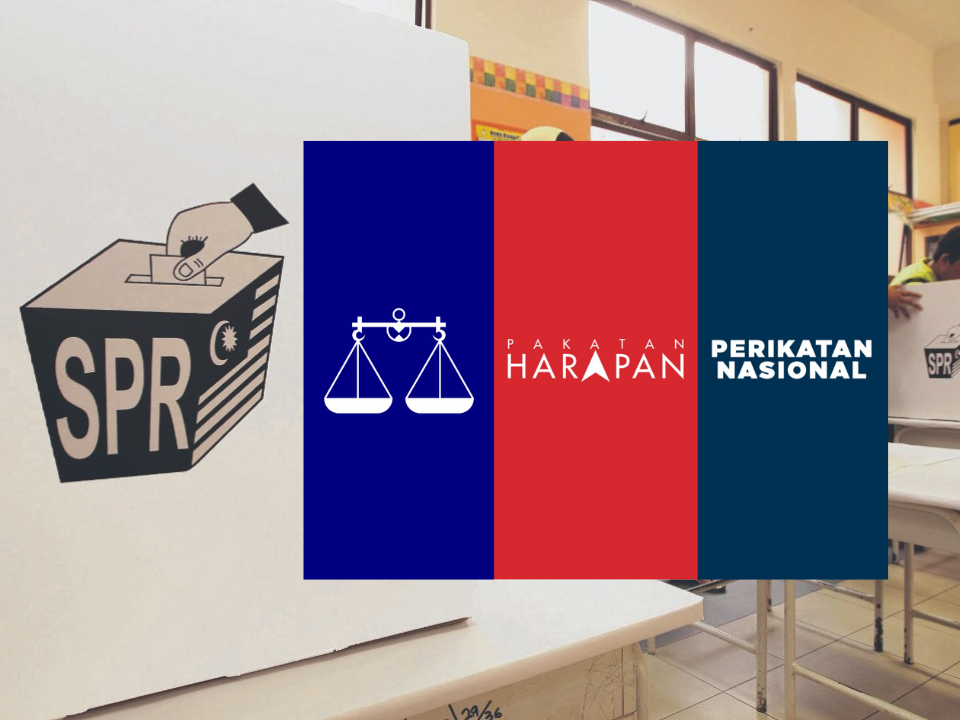 Every election will come along with a manifesto that each party presented, including for PRU 15 2022. It is the benchmark to what they're going to do economically and socially if they get the opportunity to govern the country. Read through this BN, PH, and PN Manifesto for PRU 15 2022.
Barisan Nasional (BN) Manifesto PRU 15 2022
Addressing Cost of Living
– Assistive Basic Income Scheme: eradicate absolute poverty, credited every month to households with a monthly income below RM2,208
– 2% income tax cut at M40 group
Progressive Politics & Performance-Oriented Government
– Explore devolution of power from Federal Government to the State Government
– Separates the roles of Attorney-General & Public Prosecutor: eliminate conflict of interest
– Establish Parliament Special Select Committee: MACC Chief Commissioner, EC Chairman & Bank Negara Governor
– Creating a single & integrated identification system (ID card, licence, insurance, takaful, Touch n' Go, etc.)
– Introduce quota for Youth Senators in the Senate (Dewan Negara)
– Establish a Youth Committee for Policy Review in Parliament
– Upgrade the Malaysian Institute of Integrity to the Malaysia Commission of Integrity: enhance capabilities & competencies
– Take necessary action following the special task force on Pulau Batu Puteh & the former attorney-general's book
Sabah & Sarawak – Strengthening The Spirit of The Federation of Malaysia
– As the new national security hub
– As the new economic giants of the country
High-Quality & Resilient Healthcare
– Doubling the annual allocation from RM36 bil to RM77 bil (5% of GDP) by 2027
– Construct more specialist hospitals – infectious diseases & mental health
– Increase speciality & subspecialty training – increase medical expert
Childhood Care, Education & Higher Education
– Free national early childhood care – all children 6 years old and below
– Introduce 21st-century smart skills teaching – programming (coding), creativity & basic communication languages (e.g. Mandarin, Tamil, Iban, Kadazan, Sudun, etc.)
– Implement a dedicated educational program Restore crucial balance between science & technology with humanities; history, geography, literature & art
– Promote local cultures in education – mother tongue for children at Community Learning Centres in Sabah & Sarawak
– Textbook-free schools – free laptops to all B40 students
– Expand 100% 5G internet coverage & public Wi-Fi networks to all schools within 18 months
– Promote teaching as a highly profession
– Provide free higher education to all individual from B40 families
– Reduce cost of higher education up to half through (50% on campus and 50% online / distance learning)
– Encourage students to take a gap year to fulfil their personal aspirations
– Grant full autonomy to public High Education Institutions (IPTA)
– Offer higher education vouchers for intake into private Higher Education Institutions (IPTS)
– Transform the National Higher Education Fund (PTPTN) into a foundation – funded through community endowments & infaq
– Introduce the income-contingent PTPTN loan – repayments after graduates have worked for a year
– Expand PTPTN funding to 100% (full loan) for students from M40 group & below
– Upgrade Darul Quran to Al-Quran University – produce more huffaz graduates equipped with expertise in professional fields
Young People & Dignified Living
– Expend the Employment Insurance System (EIS) coverage – raise monthly salary ceiling limit from RM5,000 to RM8,000
– Paid holiday on employee's birthday
– Provide tax deduction maximum of RM5,000 per year to employers
– Provide credit vouchers maximum of RM10,000 per year to SME employers
– Establish Employment Retention Fund (ERF)
– Implement One Family One Graduate / Skilled Worker Policy – cash injections from the Federal Government, State Government & educational foundations
– Introduce industry-led National Apprenticeship Program (70% industry training, 30% theory)
– Eliminate exploitation for interns – mandate a minimum allowance payment
– Diversify advanced skill & technical programs for public
– Promote youth entrepreneurship – establish Youth Entrepreneurship Fund
– Establish National Placement Center & MyFutureJobs Satellite Centers – access to employment & job matching opportunities
– Enactment of the Elderly Care Act – build better protection & care ecosystem for elderly
– Empower capabilities of NGOs with an allocation of RM105 mil for 5 years
– Enact the Dependent Contractor Act – protect the rights, welfare, incomes of gig workers
– Develop drag racing circuits – an allocation of RM20 mil per year Enhance welfare schemes for veterans from the military, police, & other unit uniformed forces
– Provide more job opportunities, maintain unemployment rate below 4%Involve Local Authorities (PBT) – provide more affordable homes
– Expand coverage of Housing Credit Guarantee Scheme (HCGS) – guarantee housing loans for those without fixed income
– Increase "rent-to-own" programs – provide sufficient affordable homes
Food Security
– Set up 6 food valleys across the country
– Nurture young generation of 5,000 modern farmers under the age of within a period of 5 years – training program/academy
– Subsidise 50% of financing skills training – agriculture, fishery, animal husbandry & enterprises in rural areas
– Implement 'Efficient Farming, Sufficient Produce' Agenda – expand the use of modern technology
– Gazette agricultural areas such as paddy fields & grazing land – prevent change of status to municipal, industrial & settlement areas
– Remove Approved Permits (AP) for agro-food imports
– Mandate 10% of GLC farms should be designated for food production
– Establish Agricultural Protection Scheme – protect agricultural operators from any out-of-control risks – bad weather & disease
New Strategies to Propel Foreign Direct Investment (FDI)
– Introduce Migrant Worker Policy – uphold human security
– Implement strategies & free trade negotiations with other countries
– Set limits on GLC investments & involvement
– Carry out comprehensive reform of immigration laws & regulations
Uphold Needs-Based Policy
– Consolidate data & information through the use of technology & digitalization
– Allocate RM10 mil per year – provide travel vouchers
– Establish Cabinet Committee for Human Dignity (INSANI) – resolve the cases of children born out of wedlock & undocumented children to uphold their right education
– Uphold citizenship rights for children born to Malaysian women abroad
– Enforce harsher punishments – drunk driving / under the influence of intoxicating liquor or drugs
– Introduce national-level Transformation, Guidance & Skills Development Program (KEMBALI) – ex-prisoners / addicts, juvenile offenders, etc. in addition to allocating RM10 mil AgroPenjara scheme
– Provide tax deductions – uphold gender & ethnic diversity in management
– Establish Anti-Sexual Harassment Tribunal & Gender Equality Tribunal
– Strengthen Islamic legal system & Syariah legal system
– Expand existing legal aid scheme services for Shariah cases
– Integrate national railway network
– Revive east-west public ferry service – connect Peninsular Malaysia to Sabah and Sarawak
– Provide one-off RM500 cash assistance – Bantuan Keluarga Malaysia, mothers who have given birth
– Achieve zero absolute & hardcore poverty by 2025
Women – The Heartbeat of The Nation
– Provide tax deduction – employers who introduce flexible working hours for working mothers
– Upgrade Amanah Ikhtiar Malaysia & establish Women's Economic Development Bank
– Establish first Women's Public Specialist Hospital (HAWA) – specialising in women's health issues
– Establish first Women's Public University
– Establish Women's Leadership Academy at Public University
– Establish national Women's Economic Development Corporation Provide full income tax exemptions (0%) for 5 years for women who return to the workforce after a career break
– Develop national subsidy scheme for mammogram tests & cervical cancer screening programmes
Rural Empowerment
– Propelling FELDA as national key conglomerate of agro-food industry
– 100% internet coverage throughout the country within 30 months
– Develop strategic assets in rural areas
– Establish training & financial assistance for fishermen – explore the potential of deep sea fishing
– Enhance Monsoon Season Aid (BMT) for small farmers, rice farmers & fishermen
Environmental Preservation
– Implement stricter environmental laws, up to Rm10 mil for offender – designated to fund pollution treatment costs
– Tighten laws ensuring mining & quarrying activities – environmentally-friendly, minimise environmental pollution & community-friendly
– Remove Approved Permits (AP) for electric vehicles (EV) – increase access to affordable eco-friendly vehicles
– Ensure 100% public transport services & official Government vehicles are environmentally-friendly by 2030
– Establish special fund to help victims of natural disasters
– Ensure all Government projects comply with Environmental, Social & Governance (ESG) principles
– Propel Malaysia as key driver of "Debt-for-Nature" initiative in ASEAN – give richer countries to offer funds
– Increase Malaysia's forest cover to 60% of land surface
Foreign Policy & International Relations
– Continue pursuing active foreign policy & relations based principles – prioritise promotion of trade, Islamic interests, ASEAN unity, human rights, climate change, peaceful resolution of international conflicts & human security
(Source: BN PADU – Perancangan Amal & Usaha)
Pakatan Harapan (PH) Manifesto PRU 15 2022
Addressing Cost of Living Issue
– Eliminate cartels – widen opportunity for new entrepreneurs
– Sufficient supplies – ensure sufficient food supplies especially on festive seasons
– Production incentives – higher production, lower cost
– Reviewing highway concessions – reduction of 18% toll rates for North-South Expressway (PLUS) & the East-Coast Expressway Phase 2 (LPT 2)
Ensuring Food Security
Food Security
– Agricultural land reform – reform farmlands, partnership with the National Land Council to help farmers request or lease land
– Modern & smart farming – encourage use of technology in agricultural with R&D efforts
– Malaysia as an agricultural exporter – explore & expand global market for Malaysian agricultural products
– Attracting Investors & Young Agropreneurs – tax exemption for investments in farming sector through Young Agropreneur Program

Farmers' and Fishermen's Welfare
– Widen social safety nets for farmers & fishermens within 5 years
– Increase SKIm Subsidi Harga PadI (SSHP) from RM360 per ton to RM500 per ton
– Introduce Subsidy cards or e-wallets – provide farmers the freedom in procuring farming inputs
Eradicating Poverty
Eradicating Poverty At All Levels
– Micro-credit financing – micro-credit via fund injection for Amanah Ikhtiar Malaysia & Yayasan Usaha Maju
– Bantuan Sara Hidup (BSH) & free breakfast – overcome living costs & free breakfast programmes for pupils from poor households in schools
– Nurturing happy families – monthly assistance for every family based on number of children below 6 years old
– No one left behind – partnering with Member of Parliament for MySalam & Program Kasih Suri Malaysia


Urban Poverty
– Affordable home ownership & rental – provide home for ownership, rental, low cost & medium cost, and transit housing for localities in need
– Community health access – building up more Klinik Kesihatan in high density areas
– Safe space & community kitchen – single parents to find a safe space for their children outside school hours
– Community policing – The Neighbourhood Watch model practised in low-cost housing areas
Strengthening Worker Protection
– Minimum wage policy – a structured minimum wage policy plan to achieve the status of high income nation
– Overcoming discriminatory obstacles -race, religion, gender, physical & mental ability, also gender wage gap
– Social security – protect the welfare of gig workers; regulatory body, contract agreements, free life – insurance schemes, funeral compensation amounting to RM10,000 for 6 million gig workers
– Job loss special allowance – for those who lost their jobs as contract workers & those who actively seeking new employment
– Overcoming retirement poverty – implement automatic registration for EPF regardless of age, expanding I-saraan
HARAPAN Homes for the Rakyat
– Affordable ownership & rental – provide affordable homes for purchase rental, low-cost & medium-cost in localities in need
– JaminPinjam – RM3 bil fund to guarantee financing homes for first time buyers
– Ownership opportunities – Program Perumahan Rakyat (PPR) tenants transition into owners
– Special housing tribunal – expand role of tribunal to encompass tenants' interests as well
– Maintenance takeover – help create safe & higher quality living conditions
– 100% stamp duty exemption – for first time homeowners for properties below RM500,000 to also cover subsale unit ownership
New Economic Opportunities for Youths
– B40 scholarships – Biasiswa B40 help reduce dependency on loans such as PTPTN
– Pioneer scholarships – Biasiswa Perintis for those who are interested in delving into new economic fields (caregiving, modern farming & green industry)
– Career progression system – gig economy companies will be given incentives to develop skills & career for employees. SPM graduates are encouraged to further studies in TVET fields
– Entrepreneurial growth – provide special funds, training programmes & sector specific accelerator programmes for youths
Our Youth, Our Future
– Kad Belia – for youths between ages of 13 to 25 years old, promotions & discounts at selected businesses
– Kembara Siswa – help students to return to their hometown especially during festive seasons. Fixed price (RM199) for flights to Sabah & Sarawak, limited to 2 tickets per year for each student
– Housing provision – reduce housing commitments for youths
– Access to sports & recreation – prepare more public spaces such as recreational parks, public sports facilities, libraries, digital resource centres, & event spaces
– Freedom of activism – encourage the establishment of social and welfare bodies, and public intellectual activities
– Skill training account – for young workers aged 18-30 years old under HRD Corp containing RM500 for lifetime training
Future-proofing Technical and Vocational Education and Training (TVET)
– 'Zero Reject Policy' – no rejection for all registrations into the TVET system
– Independent coordinator – involvement of Trade Associations & Practitioner Associations to manage TVET institutions
– Industry partnership through 'Place to Train' concept – TVET trainings
– OpenCreds – facilitate and empower TVET pupils, apprentices, practitioners, trainers, & professionals
– School to Work transition – produce more school pupils who are directly involved with the working world
Humane Economy
– Professional caregiving sector – build up capacity & training to achieve Caregiver Support Ratio (CgSR) according to ageing population by 2035
– Caregiver assistance & allowance – for those to are forced to quit employment
– Mobile care – combining in-situ caregiving who have lost the capacity
– One Stop Caregiving Facilities – development based on ratio of the population
– Incentivising familial institution – incentivising households with elderly members
– Strategic intervention – to streamline operations & coordination between agencies and primary public healthcare service institutions, volunteer caregivers, certified field caregivers, local authorities, and NGOs
A Brighter Future for Our Children
– Universal child benefits – every newborn will be givencash benefits that will be deposited monthly to the parents' account up to the age of 6 years old
– Guaranteeing citizenship – amending Article 15(2) to guarantee citizenship for any child born in Malaysia to either a Malaysian mother or father regardless of race and religion. Article 14(1)(b) in the Constitution will also be amended to allow Malaysian mothers who give birth outside of Malaysia to confer citizenship to their children. Amendments will also be made to provide automatic citizenship to adopted children
– Children department – Children's Department or Agency to keep threats in check & allow proper intervention when needed to ensure children's safety
– 1,500 child protection officers – under the Department of Social Welfare
– Restructuring early childhood education – help the children return to classes and resume learning
– Setting up Child Rights Committee at Civil & Syariah Courts – help solving issues like child marriage, custodial rights, & visitation rights
– National strategic plan in handling the causes of child marriage 2025 – resume efforts outlined as implemented in January 2020
Empowering Women and Supporting Families
– Gender inclusivity – every Bill presented in Parliament will be guaranteed to possess gender inclusivity elements
– Data collection system – facilitate data integration for information related to women and children
Childcare subsidies – for working women from the B40 and M40 categories
– Citizenship guarantee – Amending Article 14(1)(b) in the Constitution to allow Malaysian mothers giving birth overseas to confer citizenship to their children
– Solving period poverty – free sanitary pads and tampons at all primary and secondary schools & for women in B40 category at strategic locations
– Empowering Syariah courts – reinforced with academic scholarships and improved efficiency
– Overcoming causes of child marriage 2025 – to safeguard the rights of women and children
Living Comfortably in Our Golden Years
– Elderly friendly schemes – Jom Shopping vouchers worth RM100, funeral coverage worth RM1,000 & Jom Travel prepare free buses to visit local tourist destinations
– Free Public Transportation – for senior citizens, improving on the current policy of offering 50% discount
– Enacting Senior Citizen Act & emphasise the importance of Active Aging Policy
– Elderly care allowance – financial incentives for M40 and B40 families that care for their elderly family members
– Elderly care centre – enforce the building of elderly care centres
– Incentives & targeted assistance – tax exemption & financial assistance to employers that train and employ senior citizen
– Automatic citizenship – for elderly (60 years) Malaysian citizens that have at least one child who holds Malaysian citizenship
– Agency/Department for senior citizen – safeguarding the welfare of senior citizens and solving issues faced by them
– Restructuring of PERKESO – include the Elderly Protection Scheme to ensure that senior citizens will have a safety net even after retirement
Enhanced Support for Persons with Disability (PWD)
– Setting up PWD Department/Agency – to coordinating assistance & allocation from various ministries
– Appointment of PWD commissioner in SUHAKAM – help champion their rights & combat against all forms of discrimination targeted towards them
– Accessibility for the PWDs – increase facilities and public transportation that are PWD-friendly
– Special allocation for PWD education – teachers' training, providing infrastructure for classes, & increasing the number of classes, a special allocation for PWD education will be provided
Combating Corruption
– MACC Chief Commissioner – nomination must be vetted by a bipartisan Parliamentary Special Committee
– Asset declaration – continue this practice for all ministers, Members of Parliament, senior civil servants, GLC chairmen, as well as all spouses & close family members aged 18 years old and above
– Freedom of Information Act – limit the implementation of the Official Secrets Act (OSA) except only for matters that can potentially threaten the security of the nation
– Public procurement – Ministry of Finance must maintain a list of supply costs that is updated every 6 months. For projects, the RFP system and open tenders will be carried out
– Amending Whistleblower Protection Act – allow whistleblowers to directly expose misappropriations to the media
– Guaranteeing freedom of media – efforts to establish a Media Council and amending the Printing Press Act
– Ombudsman System – address issues of misconduct by politicians and civil servants including the enforcement authorities
Reinforcing Institutional Integrity
– 10 year term limit – serving term for Prime Ministers, Menteri Besar, & Chief Ministers to a maximum of 10 years
– Separation of power for public prosecutor (Attorney General) – reinforce the freedom of public prosecutors
– Review of appointment – Nomination for roles such as the Public Prosecutor, primary positions in the Malaysian Anti-Corruption Commission (MACC), Election Commission of Malaysia, and the Inspector-General of Police must be vetted by a Special Parliamentary Committee
– Fixed Parliament Term Act – ensure that the dissolution of Parliament and DUN will only be called for at the end of the term to minimise political instability
Defending Democracy & Empowering the People
– Affirming parliamentary sovereignty: bringing back the Parliament Service Act and improving the Parliamentary Committee system
– Boosting MPs debate quality: establish a Parliamentary Budget Office (PBO) to provide objective services to all Members of Parliament to estimated financial implication, or cost, policies & their policy recommendations
– Political Funding Act: stem the widespread practice of money politics and prevent misappropriations of funds such as the 1MDB & SRC scandal
– Equal constituency allocation: provide equal Constituency Development Funds (CDF) for Members of Parliament
– Overcoming malapportionment: implement deviation limit of 30% from the average population size of voting constituencies
– Absentee ballot: extend the right to vote to voters outside of constituencies especially Sabah and Sarawak diaspora that are living in Peninsular Malaysia as well as those working or studying in Sabah and Sarawak, and vice versa
Protecting Media Freedom & Promoting Free Speech
– Repealing Draconian Acts: the Sedition Act 1948, Communications & Multimedia Act 1998, and Printing Press & Publications Act 1984
– Media council: safeguarding media freedom and the welfare of members of the media
– Protecting whistleblowers: help establish control mechanisms for issues relating to integrity and any financial leakages
– Freedom of Information Act: introduce the Freedom of Information Act & limit the implementation of the Official Secrets Act (OSA)
Health Reforms
– Health & welfare: addressing social determinants for health such as poverty & preparing health education, equal access to healthcare for all
– 5% in 5 years: increase Public Healthcare Expenditure to 5% of Gross Domestic Product (GDP) in 5 years
– Mitigating rise of NCD: focus on primary care, health screening, education, welfare, public health, and reduction of harmful habits including smoking
– Health commission: solve systemic issues including healthcare financing, decentralisation of power, public and private partnership (PPP) and others
– National Health Service Commission: reinforce the management of human resources, staffing, training, and career growth of healthcare staff
– Service delivery reform: cover reduction of waiting periods for procuring health services, modernising health facilities, & establishing flexible operating hours at clinics located in high population areas
– Safeguarding welfare of doctors & healthcare staff: public hospitals operate on shifts instead of normal working hours
– Expanding mySalam: expand the coverage to M40 group
Expanding PeKaB40 to M40
– Ageing nation for 2030: move in tandem with the Humane Economy policies and the SiagaJaga Plan
– Suicide decriminalisation: hastening the amendment of Section 309 Penal Code to decriminalise suicide attempts
– Mental health protection: includes insurance schemes that cover mental health issues
Broadening Internet Access
– Eradicating internet poverty: broaden high speed internet penetration to the entirety of Malaysia
– Growth of data centre industry: encourage better digital infrastructure to provide high quality internet services for all Malaysians
Enhancing Public Transport Connectivity
– Ease of access, ease of travel: make sure 80% of urban areas will have bus stops & train stations within 10 minutes of walking. Waiting period between transport is less than 10 minutes.
– Fare limit: RM5 per day to encourage more citizens to use public transportation
– Regulation & legalisation of micro mobility: e-scooters and e-bikes to ensure that first & last mile connections are made available
– Transportation voucher: partner with rideshare services
– Expanding payment methods: include debit cards and e-wallets
Educational Reforms
Primary Education
– Free Breakfast Post-pandemic, bringing down the lost generation rate: reduce the number of those who are being left behind by the system
– Tackling dilapidated schools: ensure that high quality education can be provided to all Malaysian children including those in Sabah & Sarawak, renovating dilapidated schools will form the core of the Education Reform
– Reduce teachers' workload: overlaps between procedures & existing reports will be streamlined
– Cross-cultural programmes: will be carried out for national schools, vernacular schools, & religious schools
– Fair allocation: funds will be provided to all schools
– Ethnic languages: expand capabilities of teaching ethnic languages at Institutes of Teacher Education (IPGs)
– Recognising UEC: IPTA applicants possess at least a credit in Bahasa Melayu for their SPM results

Higher Education
– Abolish UUCA (AUKU): students, lecturers, and alumni will be recognised as the true stakeholders
– Targeted PTPTN loans forgiveness: for those living in poverty & students who come from B40 households will be introduced
– B40 scholarships: help them reduce dependency on PTPTN loans
– More admission opportunities: ensure high-achieving SPM & STPM graduates are provided the opportunity to continue their studies in IPTAs
Disaster Resilience
– Infrastructure plan & sustainable development: prioritise drainage infrastructure plans, flood mitigation, & sustainable development
– National Disaster Protection scheme: assistance up to RM50,000 per household
– Strengthening NADMA: increase the capacity for managing and reducing risks from natural disasters & indicating early warnings
– Preparedness for floods & disasters: ensure that there are adequate resources allocated for prevention, rescue, assistance, & recovery management
Environmental Protection
– Climate Change Act: set targets for carbon emissions and forest coverage by 2040
– Ecological Fiscal Transfer: increasing funding for forest financing up to at least RM1 billion
– Marine Protection Areas: increase to 30% by 2030
– Transboundary Haze Act: reinforcing a cooperation framework among neighbouring countries
Sustainable (MADANI) Economy
– Renewable energy: increase investment to achieve the 50% target of the country's total primary energy supply (TPES) mixture
– Reducing carbon footprint: support green project & ensure 20% of 10,500 public premises will be given allocations for smart energy and renewable energy installation projects as part of large-scale infrastructure expenditure
Spurring Industries
– Industry facilitation: streamline the business & commerce processes by reducing bureaucracy through continued facilitation by government agencies
– Strategic funding: introduce more strategic funding which will strengthen the capacity of Malaysian-owned companies to participate in direct domestic investments
– Export incentives: to encourage international trade such as tax incentives for triple deductions on expenditure related to business movement for encouraging export
– Free Trade Zone: gazetting Free Trade Zones at Kota Kinabalu Industrial Park (KKIP), POIC Lahad Datu and Sandakan as well as Sipitang Oil & Gas Industrial Park(SOGIP)
– Upgrading infrastructure: water, electrical, sewerage systems, and roads to ensure our industrial parks remain competitive to attract investors and industries
Empowering MSME & Entrepreneurs
– Human resource streamline the recruitment process forforeign workers
– One stop digitalisation centre: ensure digital transformation can proceed smoothly
– Increasing productivity: purchase of technological equipment, tools/solutions for digital marketing, consultancy and technical services
– Financing venture capital: increase allocation for venture capital (VC) financing on a periodic basis to encourage entrepreneurs in high value technology fields to jumpstart their MSME operations
Advancing Sports Economy
– Sports training destination: upgrade sports complex to position Malaysia as a high performance sports training destination
– Capitalise on uniqueness of esports ecosystem: discussion pertaining to policies & changes that are needed to support the esports ecosystem
– Sports tourism support: streamline & digitalise visa request process for international athletes & esports athletes & also providing support for esports tournaments
– Career management skills: exposed to financial management and communication skills, essential competencies for long term success in the industry
– Sports for all: remove barrier of access for citizens Grassroots talent – open more opportunities for talents in sports
– Transition for former athletes: partner with National Athlete Welfare Foundation (YAKEB) to prepare skills training programmes
Development of National Creative & Culture Industry
– Filming hub: give positive impact to our service industries & local economies
Artistes' welfare – social security system will be enforced
– Establishing independent film board: regulate film & improve existing structures
– Streamlining licensing system: reduce undue stress inflicted upon local artists
– Creative culture funds for schools: encourage pupils to delve into arts & creative processes
Protecting the Well-Being and Ensuring the Competitiveness of All Malaysians
– Stateless conundrum: Special Committee will coordinate immediate assistance according to the needs of Indian community
– Family support: cash assistance for child every month up to 6 years of age
– Eradicate discrimination: address all forms of discriminatory barriers
– Socio economic development: review socioeconomic development units such as MITRA & introduce "Makkal Malarchi" fund
– Home ownership: especially for farmers, former farmers & Orang Asli
– Economic & business opportunities: increase participation in business, agriculture, & animal husbandry
– Royal commission of inquiry: investigate abuse of power & misappropriation of funds in Maika Holdings, MIED, SEED, SEDIC, NAAM, Penjana Kerja, MITRA, etc.
Safeguarding the Rights of Orang Asal (Sabah, Sarawak, & Peninsular Malaysia)
– Strengthen the native customary land rights: amending relevant laws & policies
– Land Tribunalh: andle Customary Land Rights disputes
– Entrustment of land grants: accelerate the process of handing over land to Orang Asli who are eligible to own them
– Sabah Native Court: establish the Native Justice Department
– Free, prior & informed consent: adopt in government development involving Orang Asli territories
Bridging the Development Gap between Sabah, Sarawak, & Peninsular Malaysia
– National Administrative Coordination Council: involve agencies that operate autonomously for the regions of Sabah, Sarawak & the Peninsula
– Deputy Prime Minister from Sabah & Sarawak: one from the Borneo regions and one from the Peninsula
– Access to specialist health services: expand coverage of specialist medical services
– Higher education & TVET: 2 new Public Higher Education Institutes (IPTA) will be built in Sabah & Sarawak and the integration of TVET education will be reinforced
Empowering Sabah & Sarawak through the Implementation of the 1963 Malaysia Agreement
– Revenue sharing: implement 40% of Sabah regional revenue to be returned based on the original formula of Article 112C and Subsection 2(1) Part IV of the Tenth Schedule in the Federal Constitution
– Implement IGC Report recommendations: ensure the Malaysia Agreement 1963 (MA63) and all 12 documents, especially the IGC, are respected and that any matter that has conflicted with the original intention of the agreement will be implemented as intended
– 35% parliamentary representatives from Sabah & Sarawak
Decentralisation of Power to the Regions of Sabah & Sarawak
– Education & health autonomy: strengthen the role of the Regional Government in the field of education & health
– Entrustment of electricity supply administration Village Community Management Council: strengthen the grassroots institutions
– Native employment: 70% of the staffing of all central and state agencies are prioritised for the children of Sabah and Sarawak who are eligible, especially at the top level
Solving Issues of Foreigner Influx in Sabah
– Establish a Special Task Force involving related agencies to find a comprehensive solution relevant to their respective responsibilities:
Dubious identity card (MyKad) holders;
Philippine War Refugees;
Stateless People and;
llegal Immigrants (PTIs)
Creating Job Opportunities and Attracting Investments into Sabah & Sarawak
– Upgrade ports: POIC Lahad Datu port and Sepanggar port, as well as building a Kudat port
– Free Trade Zone Basic infrastructure: involving water, electricity, sewerage systems and roads by providing allocations in the form of grants
– Fully equipped airport facilities: cold storage facilities, aircraft maintenance, Repair and Overhaul (MRO) facilities and an aerospace industrial park
Greater Democracy, Accountability & Participation at All Levels of Government
– Stronger public participation: at all levels through a consistent and open platform
– Working towards representative democracy in DBKL : ensure reliable, inclusive, represents the interests of the people, not the developer
Digitising Government: Empowering Service Delivery & Reducing the Burden of Civil Servants
– Access for all: access to the entire administration via smartphone
– Standardisation of public services: streamline overlapping or redundant procedures with the aim of reducing the workload of civil servants
National Security
– Single border agency: establishment of a Single Agency and the Use of Big Data and Artificial Intelligence in border regulatory issues
– Defence White Paper: defence modernisation program according to the needs of the Armed Forces
– Joint capability plan: develop a tri-service joint capability plan in dealing with external threats and a different dimension of aggression from the communist and terrorist threat
– Government & defence procurement: enact the Government Procurement Act and overhaul the Defence Procurement Process to protect against leakages, corruption and abuse of power
– Safeguarding personnel welfare
– Defence Capacity Action Plan (RTKP): review the existing policies in relation to human resources & ensure that the number of defence personnel is always sufficient to protect the country's sovereignty
– National Defence Industrial Policy (NDIP): guideline for developing science, technology and the national defence industry
– Eastern Sabah Security Command (ESSCOM): strengthen the role and enhance the assets for the security of East Sabah waters
– Personal data protection: ensure the security of rakyat's personal data Border Control – improve the defense of the country's borders from invasion, smuggling, & human trafficking
– Empowerment of the IPCC: includes aspects of human resource development for the police, organisational structure and recommendations for improvement & modernization of the PDRM
A Respected Malaysia on the Global Stage
– Commitment to change: recultivating the original spirit of the Federation of Malaysia in building a liberal and progressive pluralistic society, maintaining institutional reforms, raising the value of integrity, & respecting the independence of the judicial and legislative bodies
– Influential middle power: emphasise bilateral relations that can promote development and strengthen the country's economic progress
– Together with ASEAN: continue to promote ASEAN as the world's main trading bloc and our regional cooperation and ensure that Malaysia continues to remain an important and committed member of ASEAN in fighting for regional interests
(Source: Harapan Action Plan)
Perikatan Nasional (PN) Manifesto PRU 15 2022
Build a Competitive Economy in the Future
– Improve the economy holistically aligned to people's needs
– Make Malaysia the main economic centre in Southeast Asia
– Protect & strengthen PKMS to compete and unable in being a catalyst of economy
– Make sure of sufficient food supply with affordable prices
Improve the Quality and Cost of Living
– Prioritise the quality of self and community's welfare
– Solidify education system for it to be inclusive, competitive, & global
– Strengthen efficient & people-friendly health services
– Improve the access to quality housing
– Provide a conducive & safe environment
Make sure of transparency in politics and government
– Maintain the supremacy of the constitution, Islam is the religion of the Federation & people's rights
– Improve Government's services efficiency & prioritise integrity Increase the welfare & professionalism of public services
Harmonise the unity between Bumiputera, Orang Asli, & all races
– Empowering Bumiputera agenda
– Safeguard the welfare of Orang Asli & all races, also their living standards
Enhance the regional development
– Close the gap of development comparing to the city
– Spur inclusive development for Sabah & Sarawak
Conserve the environment & attractions for tourism
– Protect natural treasure & deal with climate change
– Develop high-quality & global tourism
Empowering youth & taking care of young family's welfare
– Develop dynamic & competitive youth
– Build harmony young families
Optimise women's potential
– Empowering women as the catalyst of Malaysia's development
– Protect women's right as the pillar of harmonious family
Build an active & peaceful elderly community
– Safeguard the welfare of the elderly
– Improve the facility & supporting system for active elderly
Empowering Persons With Disability (PWD)
– Intensify PWD involvement in the country's development
– Polish PWD potential
Empowering FELDA
– Build a new generation for FELDA in the future
– Solidify FELDA's management
Transform and develop more for farmers, breeder, & fishermen
– Empowering farmer, breeder, & fishermen: strengthen food supply chain for the country
– Maintain the welfare of farmer, breeder, & fishermen
(Source: PN – Tawaran Lengkap)
Make the best choice to vote & to know more, kindly visit the party's manifesto through this BN, PH, and PN Manifesto for PRU 15 2022.
More to read about PRU 15 2022: