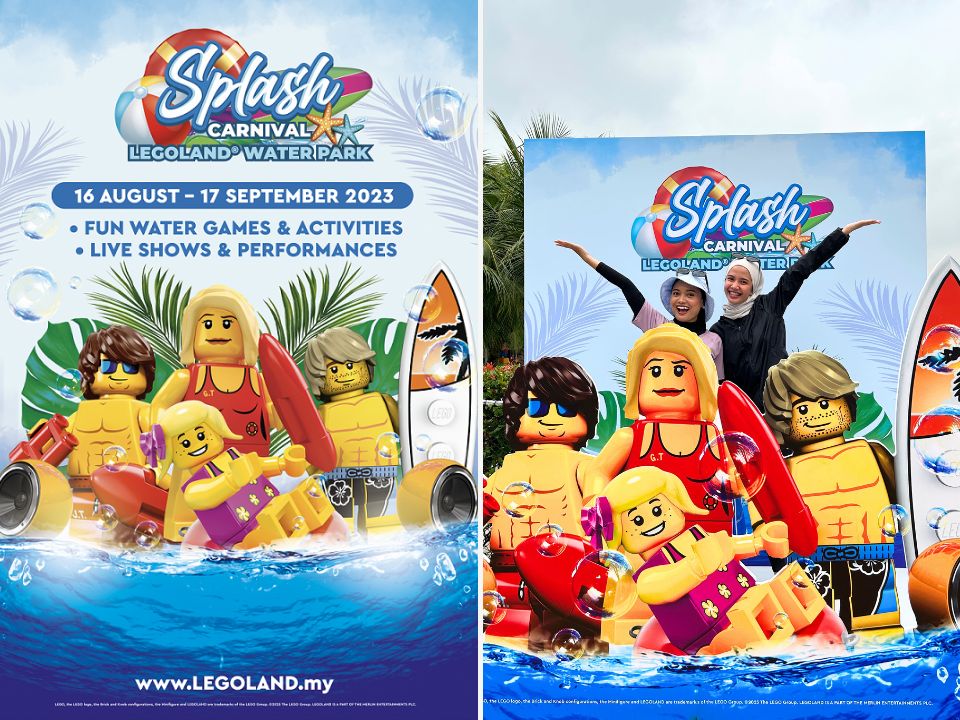 Prepare to immerse yourself in a realm of enjoyment and thrills with the exciting announcement of the highly awaited Splash Carnival Event at LEGOLAND® Malaysia Resort!
The resort is brimming with enthusiasm as it extends a warm invitation to families and adventure enthusiasts alike, welcoming them to partake in a 5-week extravaganza filled with aquatic games, activities suitable for all ages, and enchanting live entertainment. All of this unfolds amidst the iconic backdrop of the LEGOLAND Water Park.
LEGOLAND Water Park Splash Carnival Event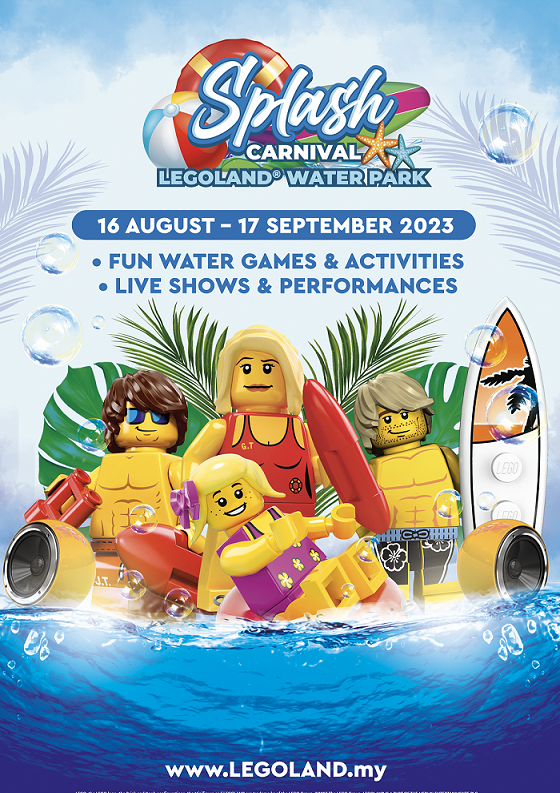 From 16th August to 17th September 2023, the Splash Carnival Event at LEGOLAND Water Park is set to deliver an indelible festivity, presenting a variety of exhilarating water games and interactive encounters tailored for individuals of every age.
Attendees can submerge themselves in a dynamic aquatic realm filled with thrilling competitions and imaginative escapades, providing an ideal opportunity to forge treasured moments with their dear ones.
Malaysian Star Artists Illuminate Saturday Evening With Stellar Performances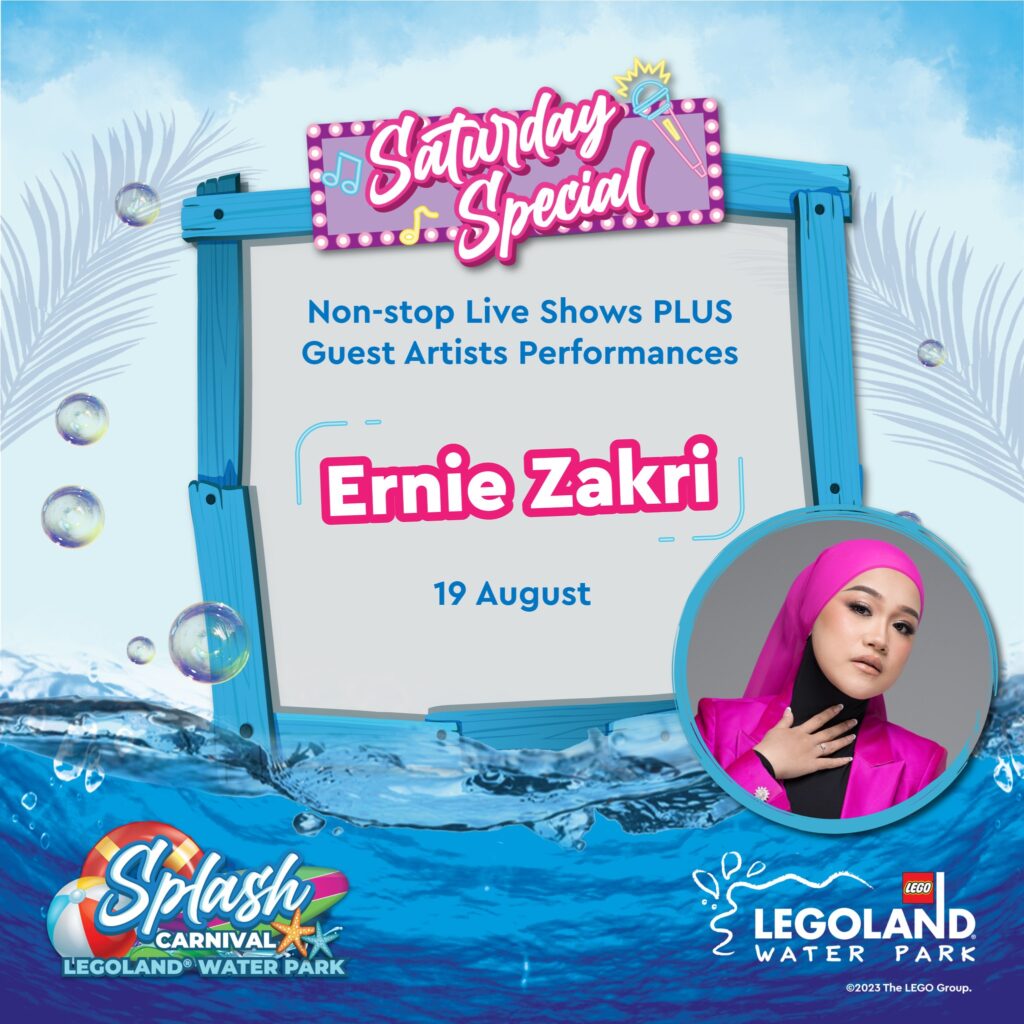 The heart of the Splash Carnival Event comes alive with its glittering Saturday performances!
Every Saturday during the 5-week festival, attendees will have the pleasure of enjoying dynamic live shows by a selection of Malaysia's distinguished homegrown talents. Among the stars set to captivate the audience are Naim Daniel, De Fam, Dayang Nurfaizah, K-Clique, Erni Zakri, and Heerraa.
Get ready to be enchanted as these remarkable artists take the stage, delivering enchanting performances that promise to enthrall and amuse.
Immersive Splash Carnival Activities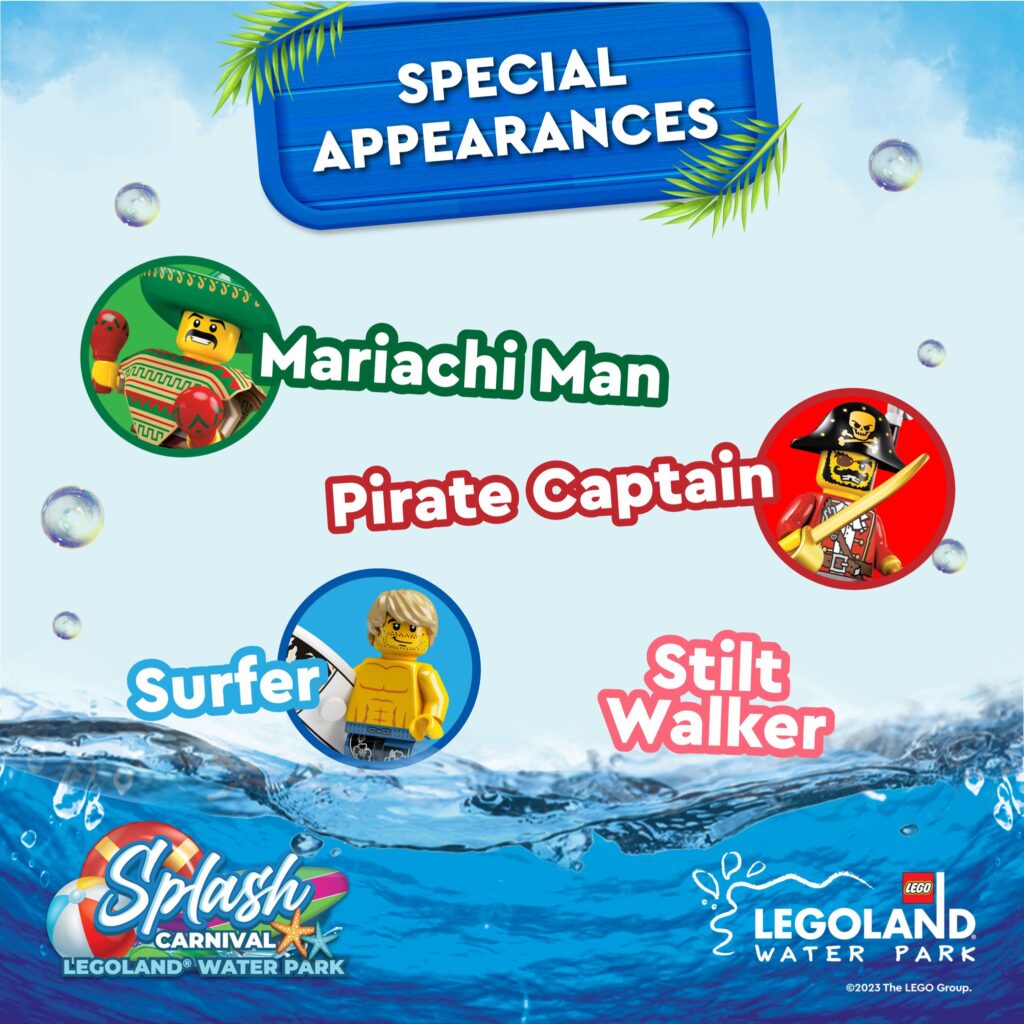 Guests will have the pleasure of indulging in a variety of interactive and captivating activities, promising a one-of-a-kind and fully immersive festival encounter. The Splash Carnival activities comprise:
LEGO Boat Race: Test your speed and maneuvering skills in an exhilarating LEGO Boat Race, where you can compete against friends and family in a thrilling nautical challenge.
Limbo Rock and Hula Hoop Battle: Showcase your balancing skills and engage in friendly competitions at the Limbo Rock and Hula Hoop Battle stations, adding an element of friendly rivalry to the festivities.
Aqua Zumba and Just Dance Wavepool: Calling all dance enthusiasts and groovy partygoers! Participate in high-energy Aqua Zumba sessions and lively Just Dance Wavepool gatherings to showcase your dance moves and have a blast.
Aquatic Symphony: Dive into the Splash Carnival Parade and dance shows every Friday and Saturday to experience the enchanting musical wave with dancers, brass bands, and mascots.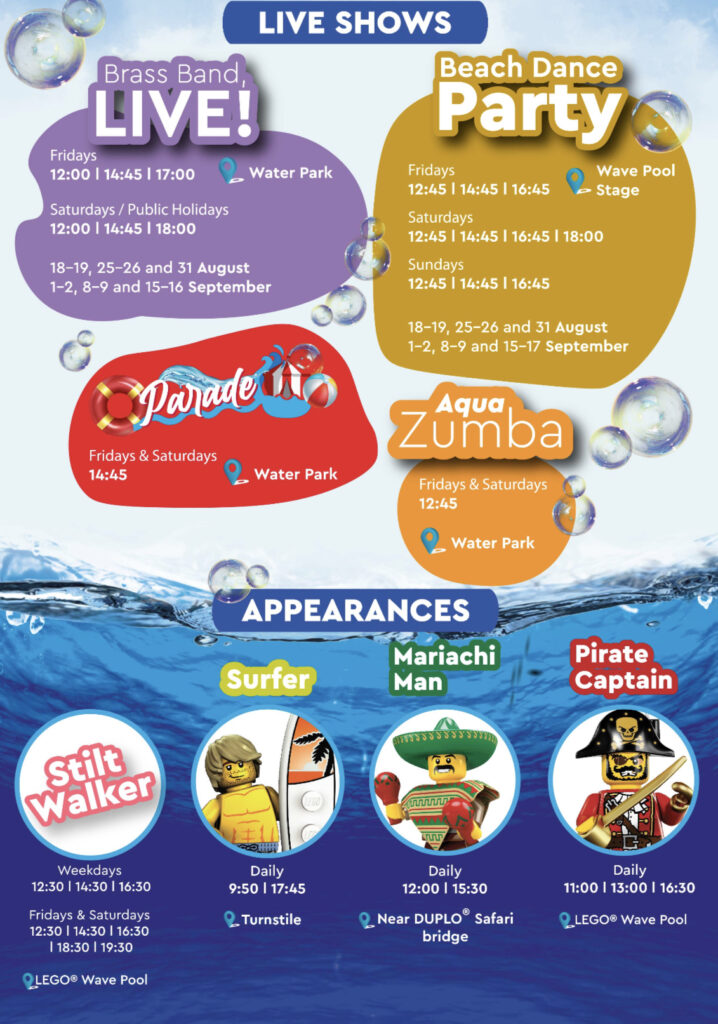 Standing as the dynamic setting for the Splash Carnival Event, the LEGOLAND Water Park, the largest of its kind in Southeast Asia, is ready to take center stage.
This immersive water wonderland, fully adorned with LEGO-themed marvels, offers a collection of over 20 distinct slides, more than 70 captivating LEGO® models, and an array of attractions tailored for family enjoyment.
Amidst this aquatic haven, attendees can venture into experiences like the Build-A-Raft River and the Joker Soaker, find a reprieve at one of the dual dining establishments, or indulge in retail therapy at the store brimming with LEGO-themed treasures.
Unlock A Year's Worth Of Excitement For The Cost Of A Single Day!
Book your tickets exclusively on LEGOLAND Malaysia Resort's official website for this incredible entertainment. For Malaysians, a full-price 1-day pass triggers an automatic upgrade to an Annual Pass, granting a year of non-stop access. The Annual Pass unlocks a full year enriched with perks: discounts, exclusive updates, and unique experiences, ensuring each visit is exceptionally memorable.
For exclusive entry to the Water Park Splash Carnival, LEGOLAND Malaysia offers a limited 20% discount on 1-Day Water Park tickets. While pass holders won't ascend to an annual pass, they can dive into all the Splash Carnival fun, including captivating musical performances. Immerse yourself in the festival's charm – an unforgettable experience for all attendees.
Dive Into The FUN @ The LEGOLAND Water Park Splash Carnival Event!
Don't let this opportunity slip away to enjoy an unparalleled water-themed spectacle, brimming with family fun, entertainment, and delightful surprises. Secure your pass to the Splash Carnival now at Legoland Splash Carnival.
Grab your annual pass and stay connected for updates from LEGOLAND Malaysia Resort via the official website or follow Facebook and Instagram.