The Road Transport Department (JPJ) is reminding motorists that the installation of 'fancy' vehicle number plates is against the law. As fancy and unique they may seem, these number plates are illegal in Malaysia.
JPJ calls out illegal number plates in Malaysia
In a Facebook post yesterday, the department advised people to comply with the rules to install vehicle registration numbers.
The Facebook post includes image examples of number plates that do not conform to the specifications.
"Misleading, vague or fancy" number plates are illegal
Motorists will have to register their number plates according to the specifications set under the Road Transport Act (APJ) 1987.
Under Section 14 (4) APJ 1987, offenders can face a fine of not less than RM300 and not more than RM3,000. The offences include stylised fonts as well as a combination of numbers or letters that indicates a phrase or name.
However, this does not apply to the government-issued 'Malaysia special series' and series such as PERFECT and PATRIOT. These special number plate series are permissible.
You may refer to the specifications set below: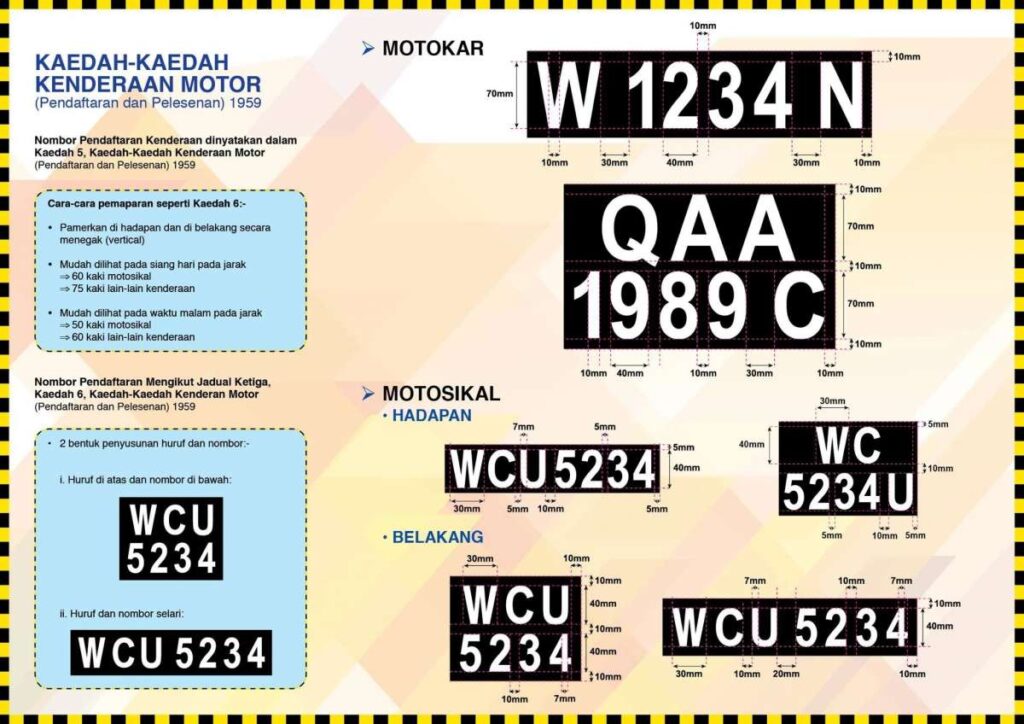 How to report someone for illegal number plates to JPJ:
If you ever see a vehicle that does not comply with the specifications of number plates set by the department, you may send a complaint to [email protected]. All you have to do is submit photos of the vehicle and include relevant details as evidence to JPJ.
Meanwhile, The Star reported that a number of compound notices were issued for modified registration number plates just last month. This offence has been an alarming issue that the transport department has noticed.
Moreover, earlier in March, The Sun Daily also reported that there were 76 offences of 'fancy' number plates recorded.
Motorists should be aware of this violation of transportation law in Malaysia and comply with all the specifications set by JPJ.
While Malaysians are giving suggestions on how JPJ could standardise all number plates for vehicles in Malaysia, it is uncertain if the department will consider it as of now. Therefore, what Malaysians can do now is abide by the current law and report those who violate it.