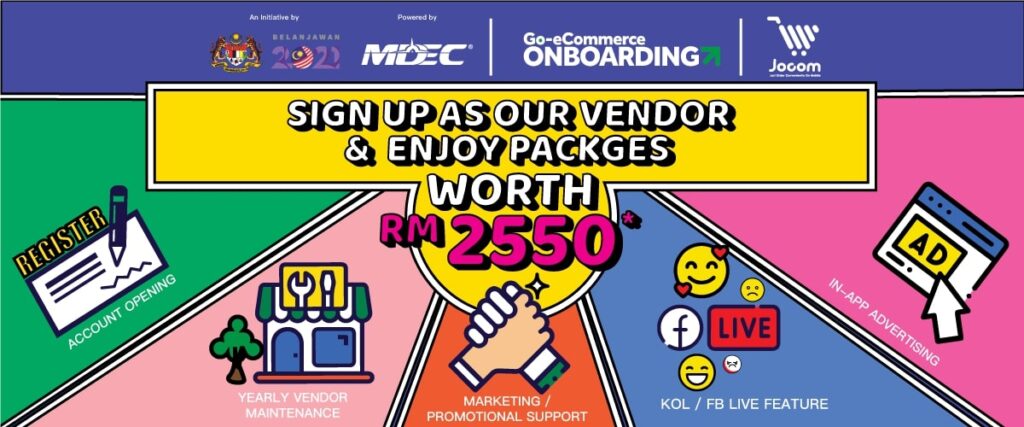 Digitalization of businesses during the pandemic is no longer something new. The need to go digital is known by all businesses to keep up with the competition and reach their customers. However, there are still some who are struggling with the digitalization process.
To assist and encourage these groups in hopping on the eCommerce medium, JOCOM and Malaysia Digital Economy Corporation (MDEC) are collaborating to offer incentives worth RM2,550 for onboarding vendors.
JOCOM (Just Order Conveniently On Mobile) is a Mobile-Commerce platform specialising in groceries shopping. According to the Chief Operations Officer (COO) of JOCOM, the initiative is to bring more micro, small and medium enterprises (SMEs) to eCommerce platforms where they can offer groceries and household products online to consumers.
Go-eCommerce Programme
Under the programme, vendors do not have to pay to introduce their products on the platform. The RM2,500 incentives include various value-added services to vendors for the first year on the JOCOM platform such as:
Product listing
Design
Marketing
Advertising
Customer service
Warehousing
Packing, and
Delivery across Malaysia
Therefore, vendors will only need to deliver the products to their Kuala Lumpur warehouse and JOCOM will take care of the rest.
Moreover, JOCUM's warehouse can store items in room, chilled and frozen temperature. It has its own in-house logistics fleet that can deliver products to Klang Valley customers as well as outsource deliveries for products beyond room temperatures.
First-come-first-serve basis
For interested parties, the GO-eCommerce programme will be on a first-come-first-serve basis. You would need to sign a vendor onboarding contract and submit relevant documents before this year-end.
To register as a vendor, please click here.
For more information on the programme, you visit JOCOM's website here.
(Source: Business Today)