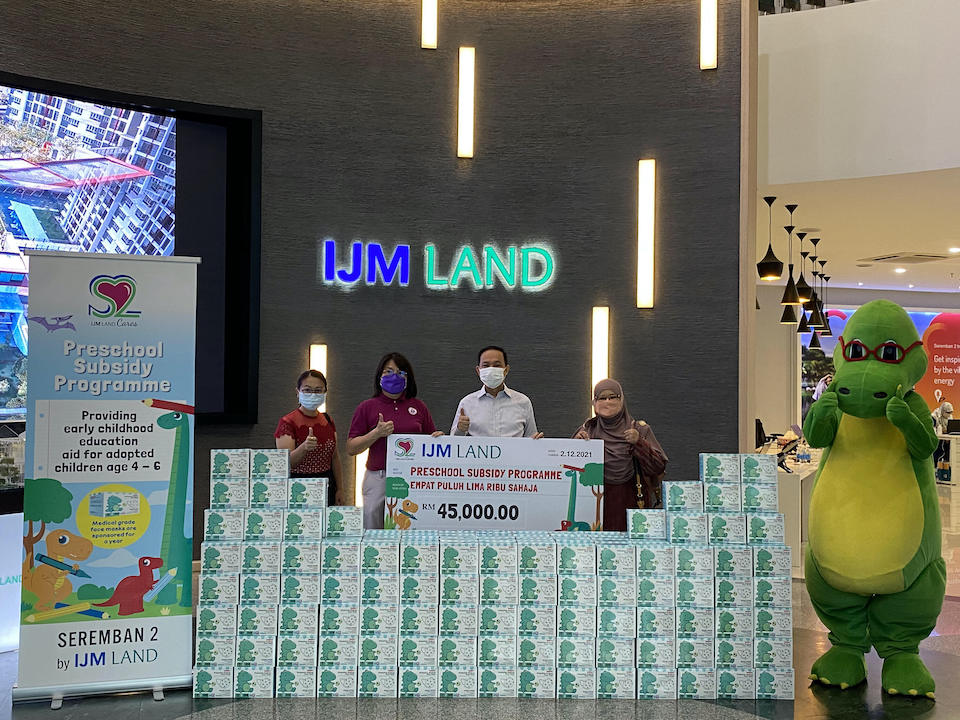 Leading property developer IJM Land Berhad launched the Covid-19 Contactless Education Aid Support: Preschool Subsidy Programme to help struggling families greatly impacted by the pandemic with immediate financial relief. The programme enables children from underprivileged communities in Seremban to receive at least the basic education that they deserve.
Preschool Subsidy Programme by IJM Land
The initiative is under the IJM Covid-19 Community Investment programme and is in line with IJM Land's key pillar in their Community Investment Policy to support the educational needs of deserving individuals.
IJM Land is committed to its mission to elevate the welfare of the people and play an active role in ensuring children in the underprivileged community are not at a disadvantage in their education.
A fair opportunity to the underprivileged children
The Preschool Subsidy Programme will provide a fair opportunity at education to children ages 4 to 6 from different underprivileged backgrounds. These children include OKU children and those from single-parent families in Seremban.
Through this initiative, Dato' Hoo Kim See, Senior General Manager of IJM Land (Central Region) said the company hope to uplift the lives of these low-income families by providing immediate financial relief for six months for their children's pre-school expenses. At the same time, they want to let these children know that they deserve fair opportunities at education as their privileged peers when it comes to their basic education.
Every child deserves the equal chance to receive a good education and learn the skills that will help them to thrive in the future. However, we know that there are families living in hardship and are struggling to overcome the challenges especially in this current time. That is why we at IJM Land are working hard to support these families and ensure that their child living in Seremban, regardless of their background, is given the opportunity for basic education and be protected at all times.

Dato' Hoo Kim See
COVID-19 pandemic aids
In an effort to spread awareness and knowledge on staying safe during the pandemic, a total of RM45,000 financial support including miscellaneous expenses such as medical kids' face masks will be contributed to 50 beneficiaries from 16 preschools in Seremban for a year.
Persatuan Guru Tadika Swasta Negeri Sembilan and Pertubuhan Tadika Swasta Negeri Sembilan (TUNTASN9) collaborated with IJM Land to identify the students for this programme. Dato' Hoo said their assistance were able to help them deeply identify those in need of financial support for education expenses.
We hope that this initiative will ignite their hopes again with encouragement and positivity and that there is always a light at the end of the tunnel to bring them forward.

Dato' Hoo Kim See
IJM Land is fast becoming a global name known not only for its award-winning sustainable developments but for the dreams it has made real. Since 1989, the company has been committed to creating a positive legacy for communities to live well and thrive.