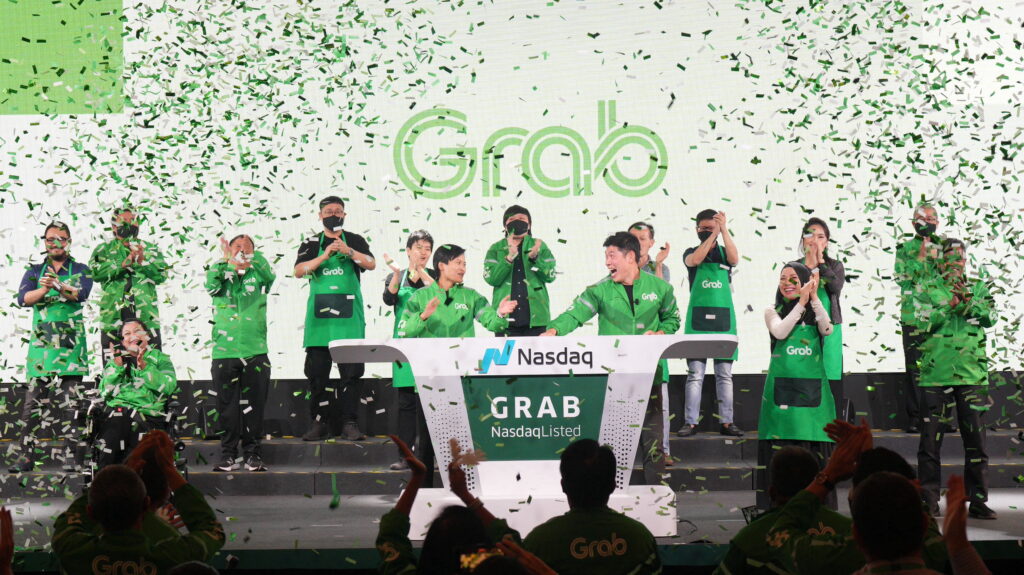 Malaysian-born ride-hailing and delivery firm, Grab Holdings Limited (GRAB) made its debut on the Nasdaq stock exchange on Thursday (2 Dec). The firm achieved a record of US$40 billion (about RM169.12 billion) merger with US-based company Altimeter Capital Management's special purpose acquisition company, Altimeter Growth Corp in a listing.
According to The Star, Grab will raise about US$4.5bil (RM18.99bil), including US$4bil (RM16.88bil) in private investment managed by BlackRock, Temasek Holdings, Morgan Stanley, Fidelity International, Altimeter, and T Rowe Price.
First Nasdaq opening bell ceremony in Southeast Asia
The leading superapp company celebrates its milestone with the first-ever Nasdaq opening bell ceremony held in Southeast Asia yesterday.
Anthony Tan and Tan Hooi Ling, co-founders of Grab, were joined onstage by representatives of the company's driver, delivery and merchant partners during the opening bell ceremony in Singapore. This includes 'Grabversauruses', Grab employees who have been with the company for over six years.
The 'Grabversauruses' joined the company when it was only offering ride-hailing services and operating in less than 30 cities. According to Grab, they have contributed to the company's growth into a superapp that is now available in 465 cities.
The company recognises and values the collective effort of the Grab community in achieving this milestone. Therefore, about 1,500 Grab employees, as well as representatives from Grab's partner communities, from across Southeast Asia are being featured on the Nasdaq Tower in Times Square, New York City, after Grab is officially listed on Nasdaq.
It's important to us not to lose sight of what this was all built on. The heart and hard work of our Grabbers to serve our partners, and in turn, the dedication of our partners towards serving their customers. That's why we chose to hold the ceremony close to home. To be here, amongst our community, sharing the moment with them as we cross the threshold into a new chapter of our journey.

Anthony Tan, Group CEO and Co-founder, Grab
Grab was launched in 2012 as a sole taxi-hailing service provider. Now, Grab is the largest superapp in Southeast Asia enabling consumers to ride, eat, and pay with its variety of services.