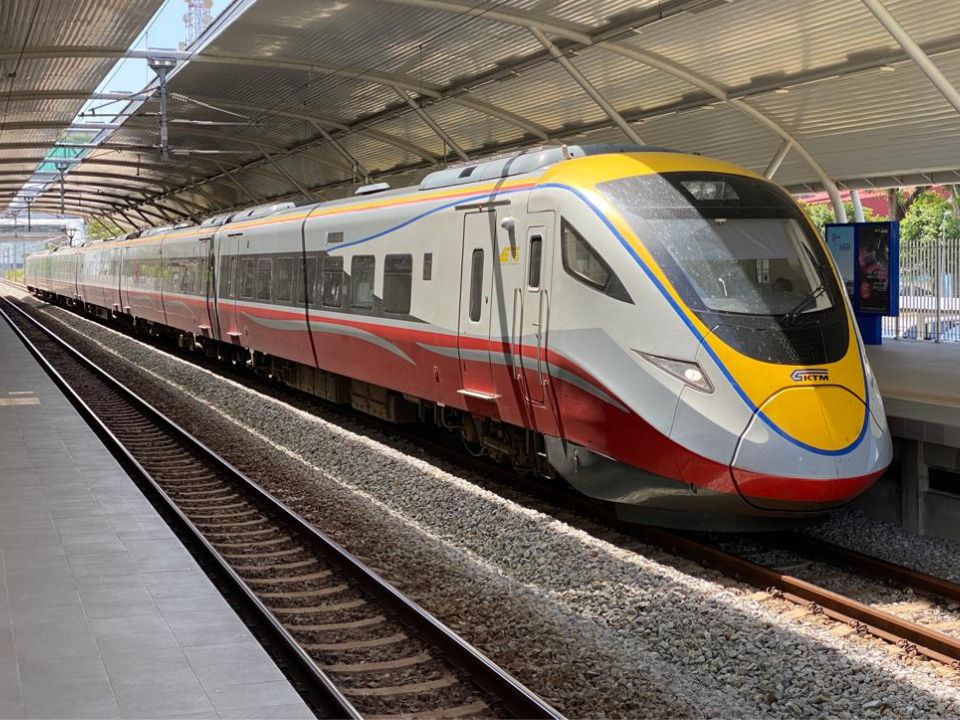 The Electric Train Service (ETS) was launched by Keretapi Tanah Melayu (KTM) in Malaysia on August 12, 2010. Initially, ETS Transit was the only rail service that ran in both directions and had the same acronym as the name. However, the service was expanded on July 10, 2015, and it now travels from Ipoh to Padang Besar through Butterworth, making stops at a total of 24 stations. For a more enjoyable ETS experience, Rise Malaysia provides some essential information about ETS services in Malaysia.
ETS Services In Malaysia
1. ETS Platinum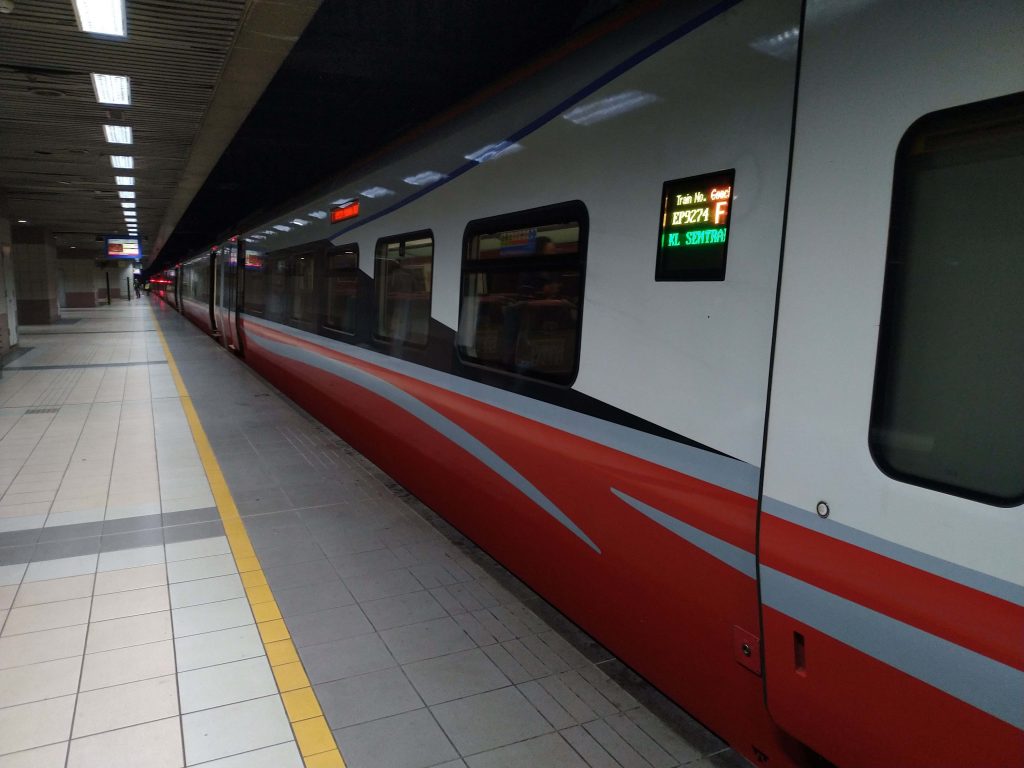 To travel quickly from one point to another on long-distance trains, the Platinum Class is the best option as it stops only at major stations, making it the fastest of all ETS services. These trains usually operate during peak travel hours, and their train numbers start with EP. Platinum Class trains consist of six coaches that can accommodate up to 58 passengers each.
ETS Business Class
The KTM ETS Business Class is similar to the Platinum Class, as it only operates on Coach A and makes very few stops. This results in a significantly shorter travel time compared to other ETS classes. However, the Business Class offers the highest level of comfort among all the ETS classes. The seats are larger and more spacious, and passengers have access to a wider selection of food and beverages. Additionally, there are only 48 seats per coach, which means that passengers have more room to stretch out and relax.
Features Available In ETS Business Class
i) Rotatable, Flexible & Bigger Seats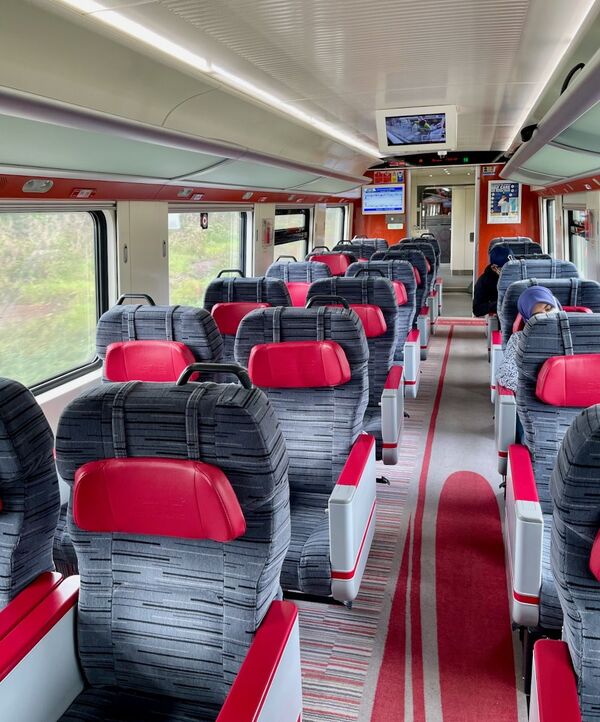 Seats in the ETS Business Class are more spacious, and each row has a 1+2 layout rather than the 2+2 found in the normal cabins. Those commuting with ETS Business Class will like the 360-degree swiwel capability of their seats.
A maximum recline of 45 degrees is available on the seats too.
Each passenger's seat has both a tray table and the in-seat entertainment system already set up and ready to use. Your level of comfort can be modified by adjusting the headrest.
It has a power socket with three pins and two USB ports. Not to forget, you will also be given a travel kit; earphones. Hand socks and neck pillow.
ii) Personal Entertainment System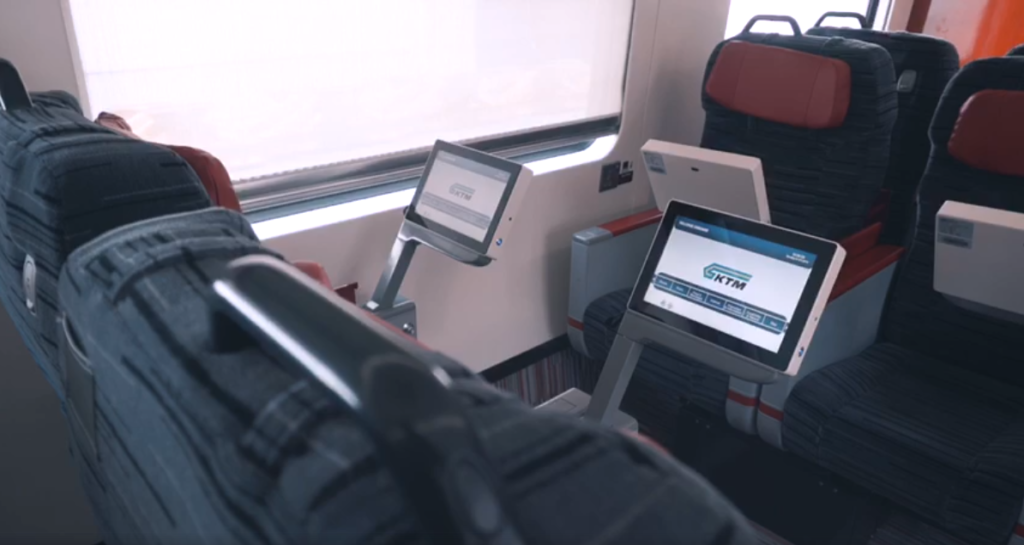 A personal entertainment system, consisting of a small screen on which passengers can watch movies or browse the internet with their free WiFi, is provided at each seat. You can use the in-seat dining option on the entertainment system.
To save you the trouble of leaving your seat to walk to the café, know that the meal will be served to your seat when it has been prepared, and that payment is made solely in cash upon delivery.
iii) Intercom & Information Display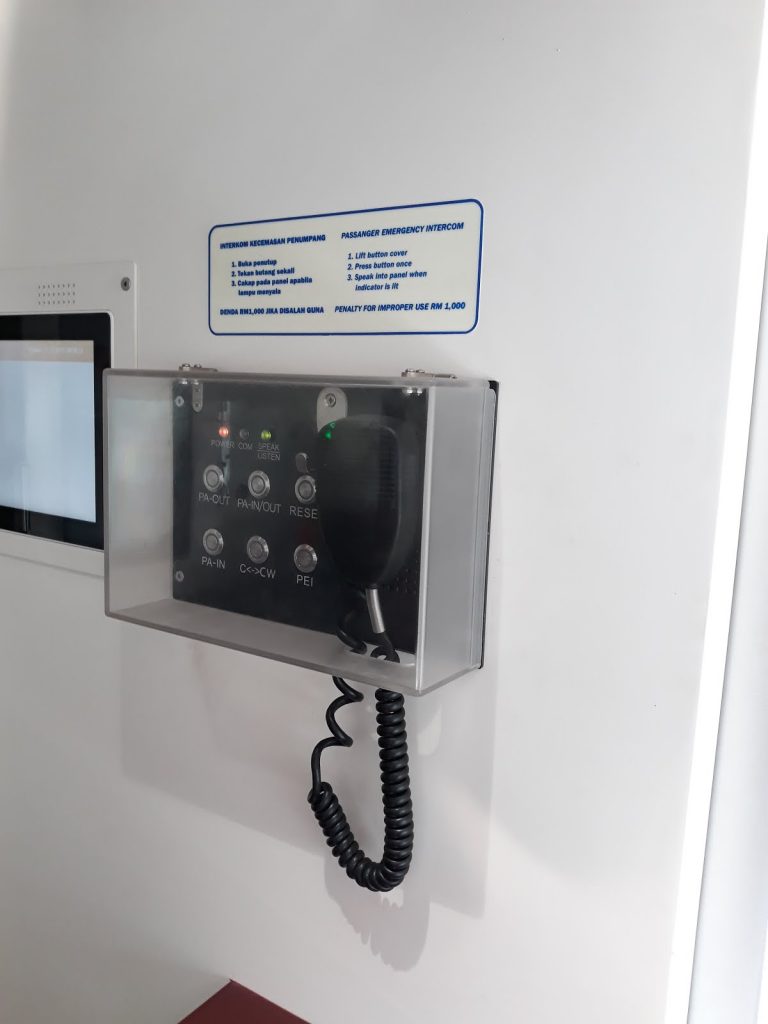 To ensure passengers' safety and convenience, an emergency intercom system is installed at the dining café nearest to each coach. Additionally, wall-mounted LCD screens are installed at both ends of every carriage, displaying vital information about the train's route, as well as the current time, carriage speed, and reminder messages. These features provide passengers with important information and a means to quickly alert train personnel in case of emergency.
2. ETS Gold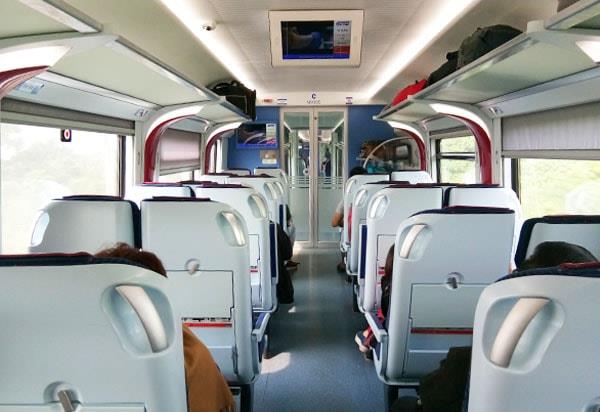 Gold Class service is comparable to Platinum Class service in many respects, including the use of the same high-speed Class 93 Trains imported from China that are capable of speeds up to 160 km/h. However, there is a distinction; Gold service trains make more stops along the way, making them somewhat slower than Platinum service trains. As a result, Gold Services may take slightly more time to arrive at their destination. The train numbers for Gold ETS services begin with EG.
3. ETS Silver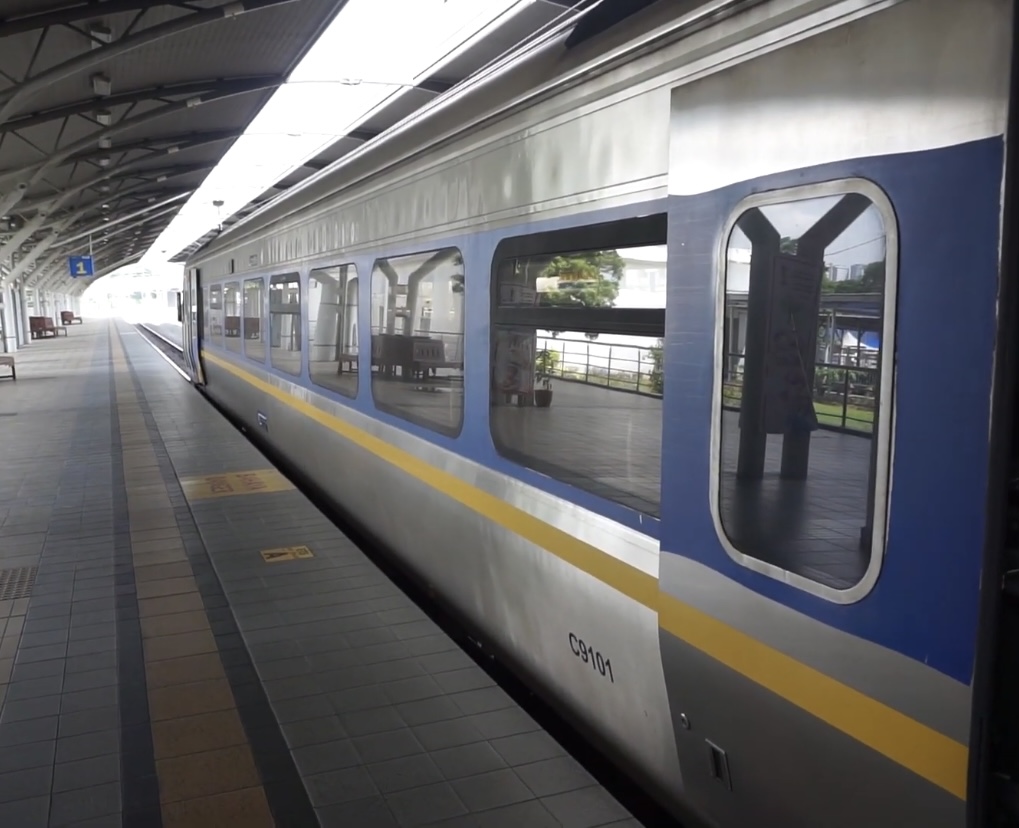 The Silver Train Services (ES) on the ETS are the slowest of the three classes, running between KL Sentral in Kuala Lumpur and Ipoh in Perak state. Unlike the Gold Services, which only make stops at primary stations, the Silver Services make stops at all stations along the route. These trains are the most cost-effective option for getting to Perak, making them a popular choice, particularly during peak travel periods. If you're looking to save money, the Silver Trains are a great option.
Facilities & Amenities Of All ETS Services In Malaysia
1. Bistro & Dining Area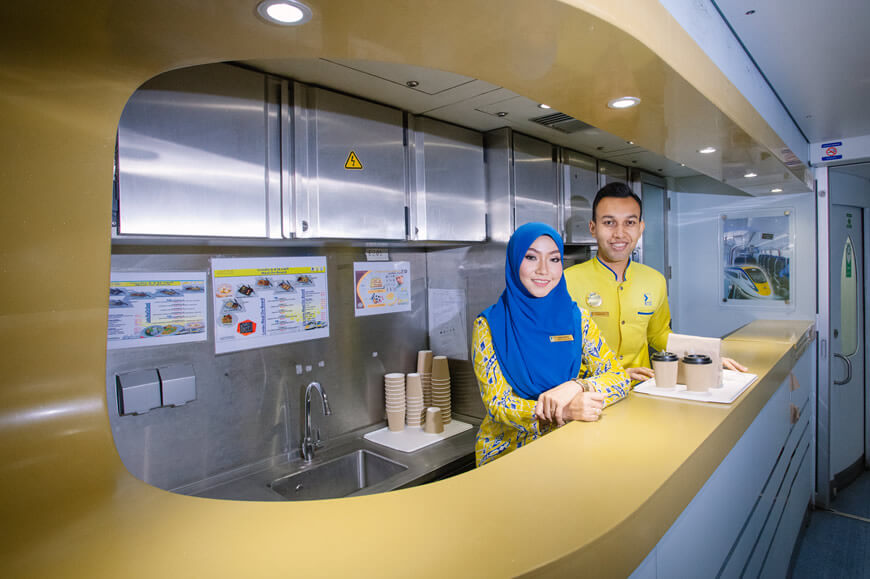 Looking for a quick bite or a warm drink during your ETS ride? Look no further than the F&B Bistro located in coach C. The ETS team is on hand to assist you. Enjoy a hot meal while taking in the stunning scenery. The dining section of the coach has two tables and four seats for your convenience.
2. Luggage Compartment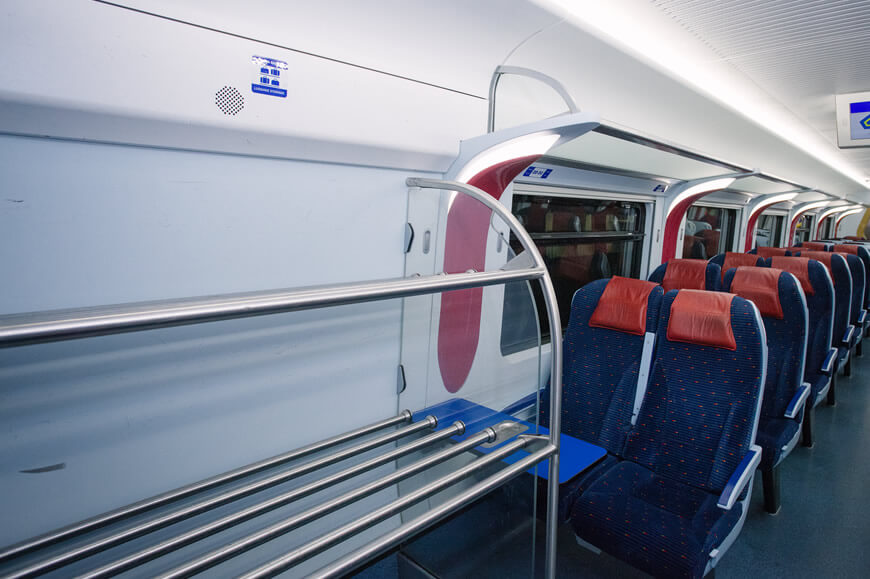 All ETS coaches, ranging from A to F, provide a secure luggage compartment for passengers to store their bags. Coaches A and F, on the other hand, have extra luggage rack space available if you require more room for your belongings. This makes it simple for you to store your luggage safely while still having access to it.
3. Washroom & Wheelchair Accessible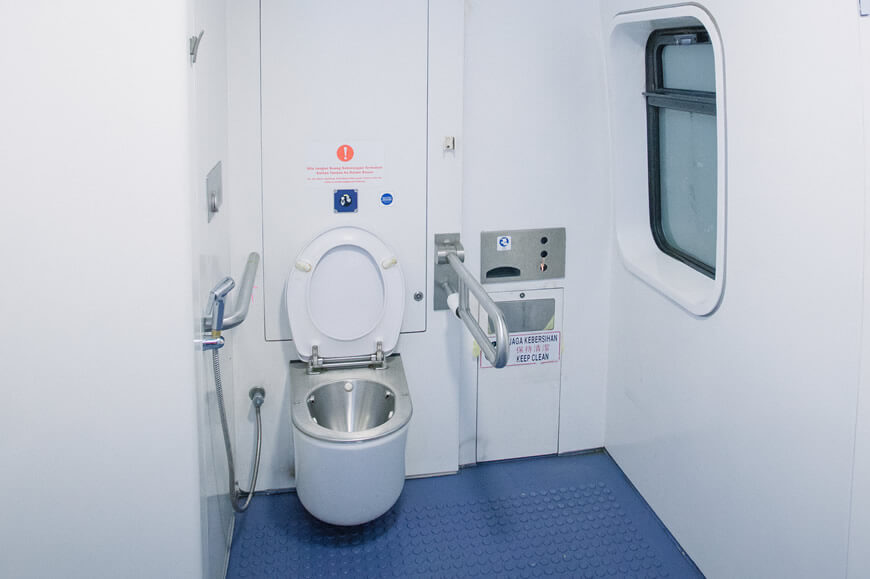 All coaches on the ETS train have a fully functional and accessible unisex restroom, designed to be friendly to the differently-abled, with coach D having additional seats that are reserved for the elderly and disabled, located near the restroom for added convenience.
4. LCD Monitor & CCTV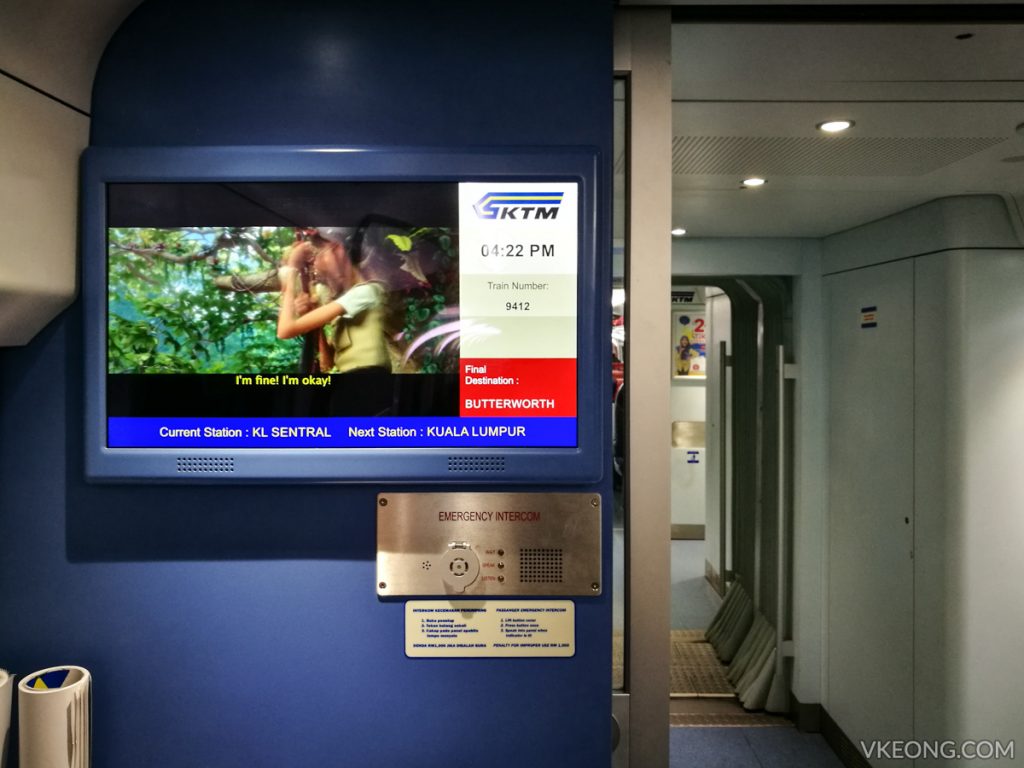 Passengers can enjoy a movie or documentary on the LCD displays located at the end of each coach or in the passenger hallway, providing entertainment during the trip. To ensure a safe and pleasant journey, each coach is equipped with a CCTV system, which constantly monitors and surveils the area.
5. Power Outlet & Musolla
It is worth noting that every coach is equipped with power outlets (with three pins) located beneath each passenger seat. Furthermore, in recognition of the needs of Muslim passengers, there are ablution stations placed in every coach for their use, alongside the musolla.
ETS Routes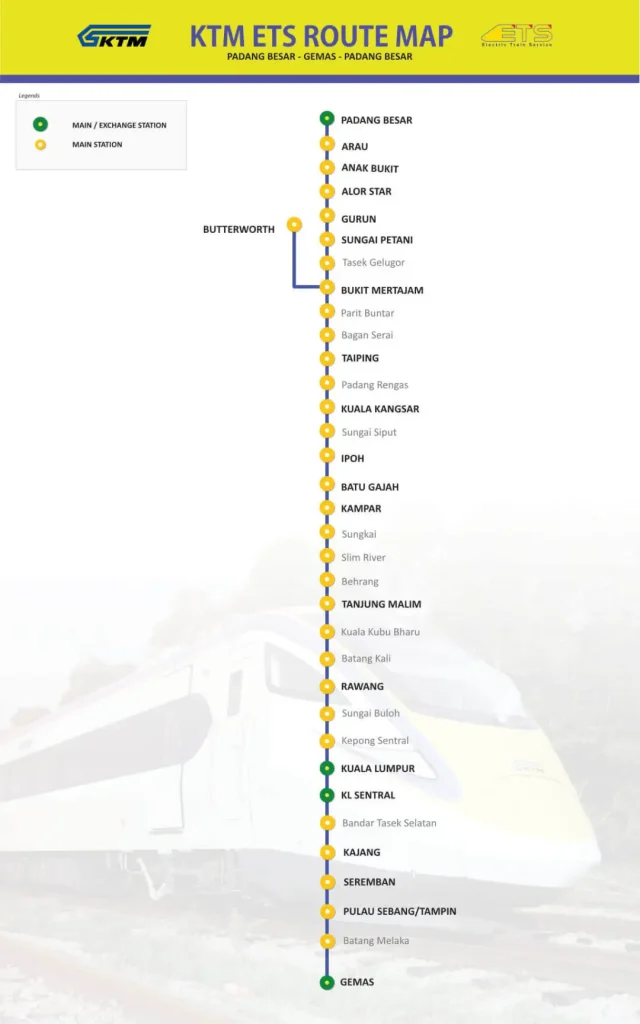 The ETS route map covers a vast distance, extending from Gemas in Negeri Sembilan to Padang Besar in northern Perlis, and connecting major cities like Kuala Lumpur, Perak, and Penang. As the most popular rail line in Malaysia, it offers three distinct classes of service – Platinum, Gold, and Silver – to cater to a wide range of passenger preferences and budgets.
For those seeking the quickest and most efficient service, Platinum is the ideal choice, with fewer stops and shorter travel times. Silver, on the other hand, stops at every station on the route, making it the best option for those looking for an affordable way to travel between destinations.
No matter which service class you choose, you can expect to stop at many well-known tourist hotspots along the way, including KL Sentral, Ipoh, Butterworth, and Padang Besar. These destinations are renowned for their cultural and historical significance, natural beauty, and culinary delights, making them popular with visitors from all corners of the country.
However, keep in mind:
ETS Platinum is only available for KL Sentral to Padang Besar or KL Sentral to Padang Besar routes.
ETS Gold is only available for KL Sentral to Ipoh, Padang Besar to Gemas, and Butterworth to Gemas routes.
ETS Silver is only available for KL Sentral to Ipoh route.
Below is the tables for the price, amenities based on ETS preference (Platinum, Gold and Silver), and most popular routes for an adult.
Route: KL Sentral – Ipoh / Ipoh – KL Sentral (for an adult)
| | | | |
| --- | --- | --- | --- |
| ETS | Platinum | Gold | Silver |
| Price | RM47 – RM48 | RM37 – RM38 | RM26 – RM27 |
Route: KL Sentral – Butterworth / Butterworth – KL Sentral (for an adult)
| | | |
| --- | --- | --- |
| ETS | Platinum | Gold |
| Price | RM81 – RM83 | RM62 – RM63 |
Route: KL Sentral – Padang Besar / Padang Besar – KL Sentral (for an adult)
| | | |
| --- | --- | --- |
| ETS | Platinum | Gold |
| Price | RM106 – RM108 | RM78 – RM79 |
Do take note, as of November 5th 2022, ETS Silver is still not available for KL Sentral – Butterwoth / Butterworth – KL Sentral route along with KL Sentral – Padang Besar / Padang Besar – KL Sentral route.
Visit KTMB or download the app from the Google Play Store or the App Store for more details on tickets, prices of other routes, and services.