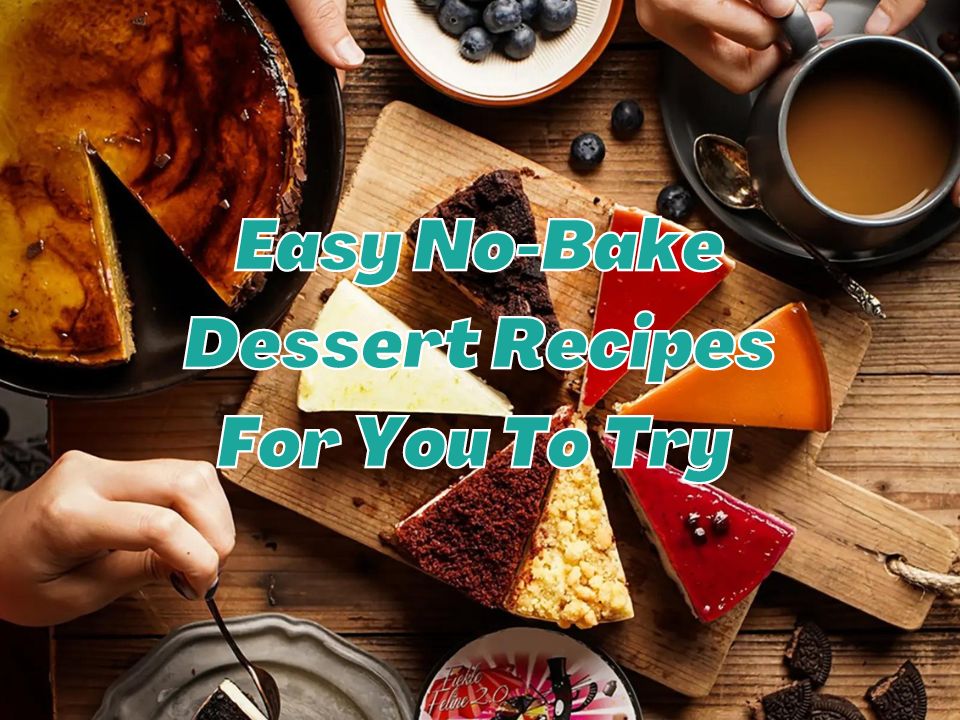 Making food has never been this simpler. With easy and beginner-friendly dessert recipes and no bake or oven required, you won't be disappointed with this list of desserts.
8 Easy No Bake Recipes For Your Dessert
1. No-Bake Cheesecake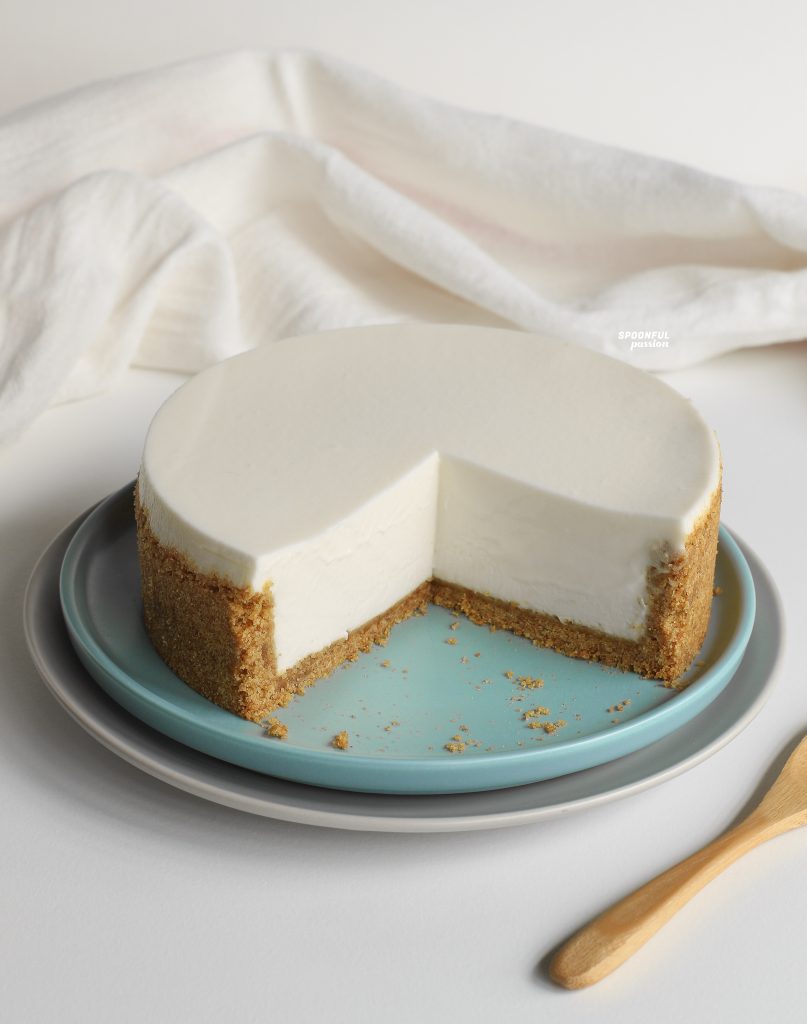 Ingredients
1 ¼ cup (105g) marie biscuits crumbs
¼ cup granulated sugar
6 tablespoons butter, melted
455g cream cheese 
¾ cup (150g) granulated sugar
1 tablespoon (20g) lemon juice
1 teaspoon vanilla extract
⅛ teaspoon salt
1 ½ cups (357g) heavy whipping cream
Instructions
To make the crust:
Combine marie biscuits crumbs, sugar, and melted butter in a small bowl. Make sure to get every crumb coated with butter. 
Pour into a 7-inch pan. Spread into an even layer, then compress firmly with a measuring cup making sure to press up the sides of the pan. Set aside.
To make the filling:
Combine the cream cheese, sugar, lemon juice, vanilla, and salt in the bowl of a stand mixer fitted with a paddle attachment. Mix at medium speed until soft and smooth.
Switch to the whisk attachment and pour in the cream. Mix at low speed to combine, then increase to high and whip until the mixture can hold stiff peaks, 3 to 5 minutes.
Pour into the prepared crust.
Refrigerate until the filling is firm and cold, about 6 hours or overnight
Prep time: 20 minutes
Cook/Chill time: 6 hours
Servings: 8 people
2. Batik Cake (Kek Batik)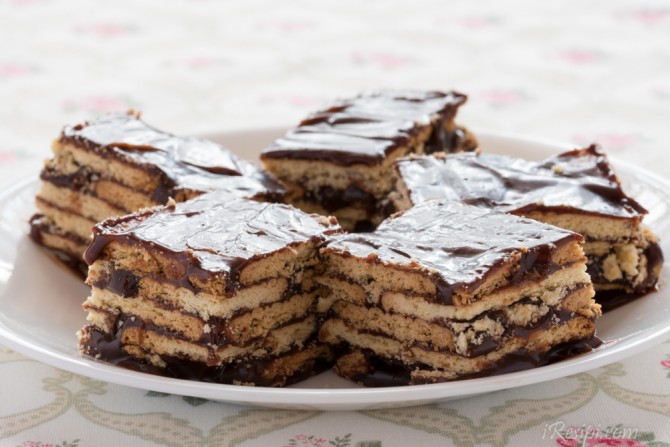 Ingredients
1 pack of Marie biscuit.
250g butter
200g Milo powder
3 tsp cocoa powder, sifted
¾ condensed milk
Instructions
Line the baking sheet with parchment paper or baking paper on an  8×8-inch pan.
Cut the butter into cubes. Heat the butter in a saucepan over medium heat until melted.
Add Milo powder, condensed milk and cocoa powder. Stir until thickened.
Arrange the Marie biscuits in the tin then spoon the chocolate mixture and spread evenly as a top layer.
Arrange alternating layers of Marie biscuits and chocolate mixture until finished.
Chill in the refrigerator overnight. Remove and slice to serve.
Prep time: 15 minutes
Cook/Chill time: 10 minutes
Servings: 5 people
3. Lotus Biscoff Cheesekut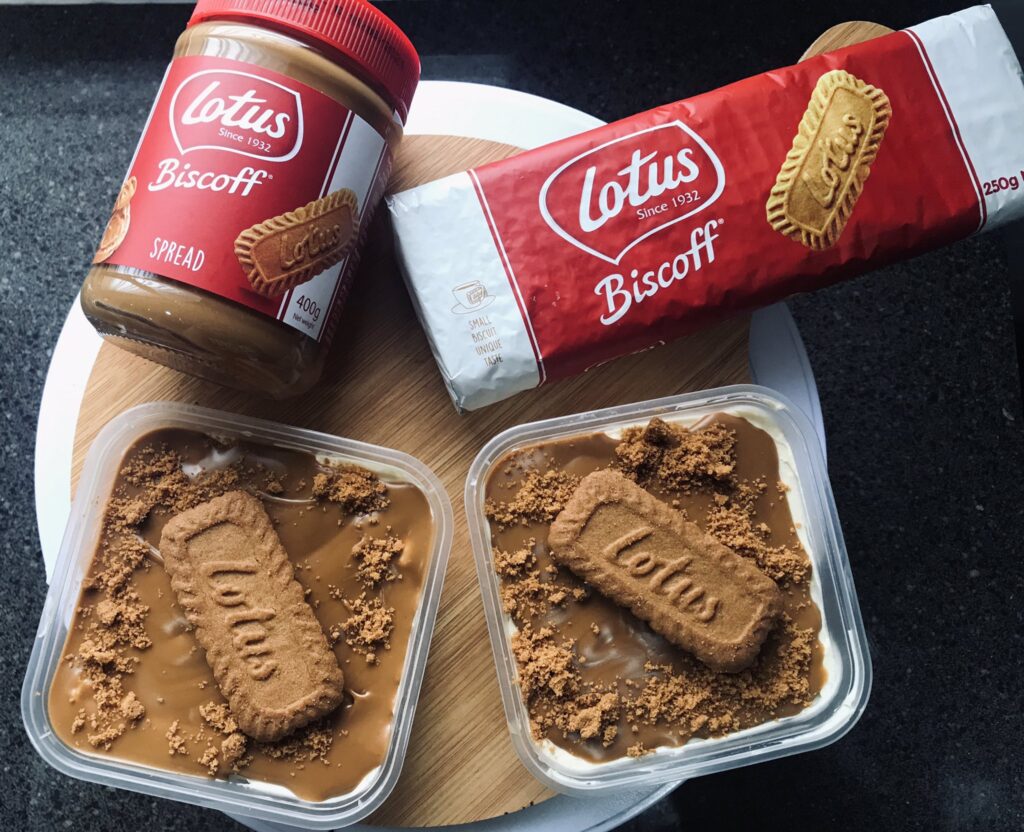 Ingredients
200g cream cheese
½ cup condensed milk
1 cup whipping cream
1 pack of cream crackers
Fresh milk
Lotus biscoff spread
Instruction
Mix cream cheese, condensed milk, whipping cream and lotus spread in a bowl until the texture is whipped.
Arrange the cream crackers and the lotus cream cheese mixture alternatively until finished.
Chill in the refrigerator overnight. Remove and slice to serve.
Prep time: 15 minutes
Cook/chill time: Overnight
Servings: 1-2 people
4. Nutella Cheesecake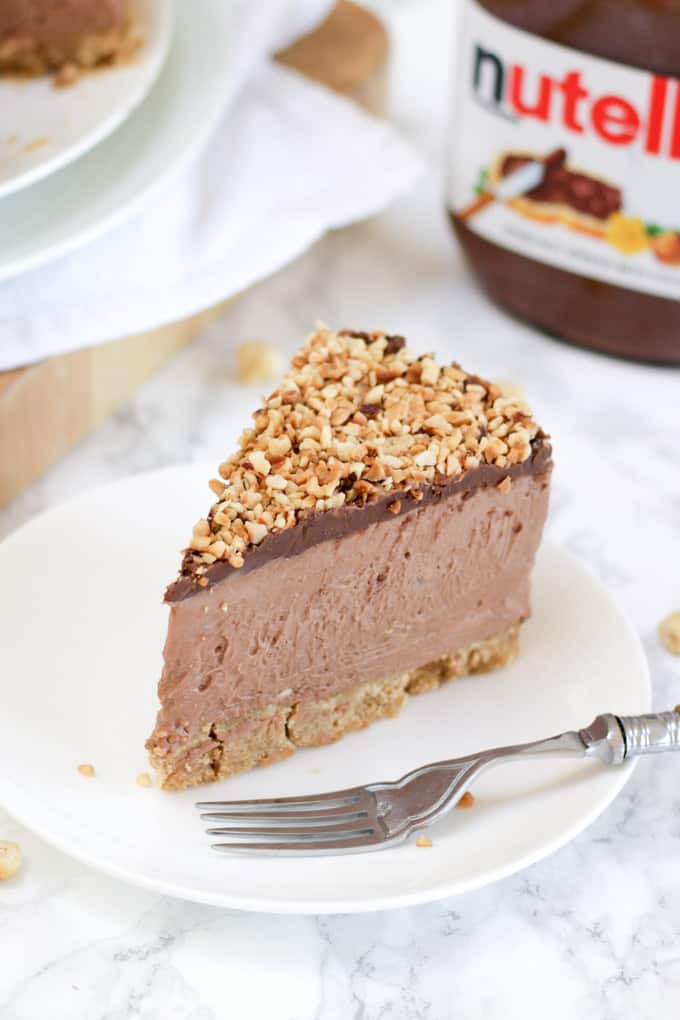 Ingredients
1 pack of Oreo
A jar of Nutella
70g butter
500g cream cheese
1tsp vanilla essence
125g dark chocolate
¾ tbsp gelatin powder
3 tbsp hot water
250ml whipping cream
Instruction
To prepare crust:
Separate the oreo cookie pieces and the cream.
Crush the oreo cookie pieces into a fine powder.
Melt the butter and pour it into the oreo biscuit powder and mix until smooth.
Pour into the tin and press and flatten the oreo biscuits as the bottom layer of the cheesecake.
Cool in the refrigerator.
To prepare cheese layer:
Heat or double boil the dark chocolate until it melts and set it aside.
Press and crush the cream cheese then add the cream part of Oreo. Mix it all together.
Whip the chilled dairy whipping cream until it thickens.
Add vanilla essence, dark chocolate, Nutella, and gelatin into the cream cheese mixture while mixing it.
Add the whipped cream little by little and mix the ingredients until smooth.
To assemble:
Pour the cheese mixture into the tin on top of the cooled biscuit layer.
Flatten the cheese layer mixture and tap the mixture several times to remove the air space in the pan.
Cover the pan with aluminum foil and store in the refrigerator for a minimum of 4-5 hours.
Remove from the pan and flatten the sides of the cheesecake to make it neater.
Decorate with a Nutella that has been put into a piping bag and use your creativity!
Cheesecake is now ready to be served.
Prep time: 30 minutes
Cook/Chill time: 10-15 minutes
Servings: 8 people
5. Chocolate Moist Cake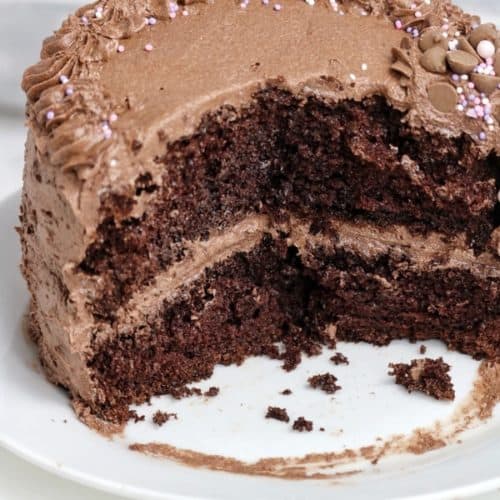 Ingredients
1 ½ cup (190g) flour
2/3 cup (65g) cocoa powder
3  tsp baking powder
1/2 tsp Nescafe
2 tbsp hot water
2/3 cup (150g) castor sugar
1/2 cup (118m) vegetable oil
1 3/4 (440ml) warm water 
⅛ teaspoon salt
250g  dark cooking chocolate
2 tbsp butter
¾ cup full cream milk
Instructions
Measure and sift ingredients like flour, cocoa powder and baking powder.
Add castor sugar, vegetable oil and warm water
Mix Nescafe powder with hot water and add it to the mixture.
Stir slowly starting from the middle of the mixing bowl and add salt and stir until evenly thickened.
Spread a bit of butter around the container and line it with baking paper.
Pour the cake batter and put it in the microwave for three minutes.
Check every 30 seconds until the cake is cooked.
Cool the cake and it is ready to be served.
Prep time: 20 minutes
Cook/Chill time: 8 minutes
Servings: 4-5 people
Thinking of just spending your own money instead of making an easy no bake dessert recipes yourself? Read up Sweeten Your Hari Raya With These Desserts At Pavilion KL!
6. Tiramisu Cheesekut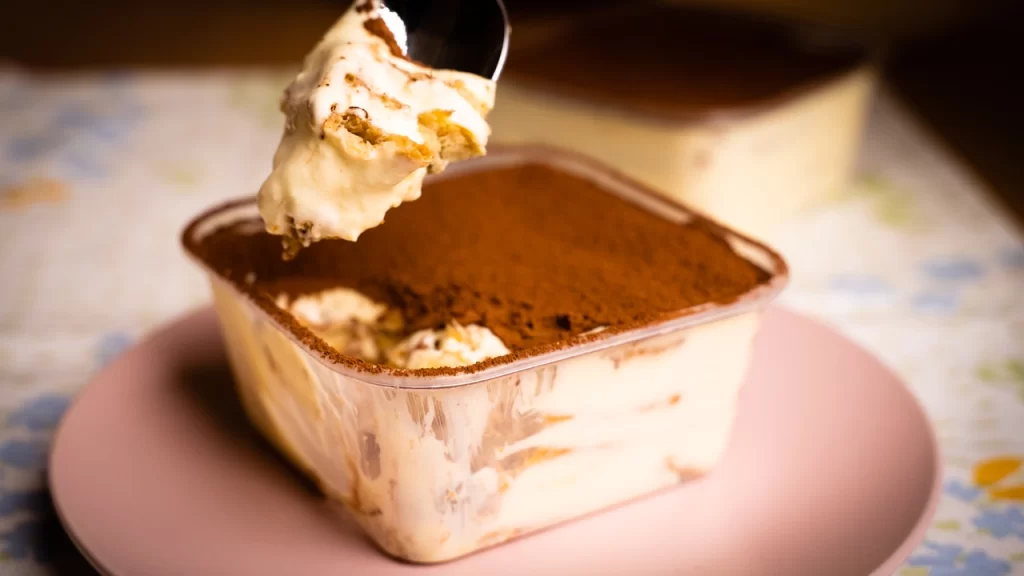 Ingredients
250g cream cheese
3/4 cup condensed milk
250g whipped cream
biskut cream cracker
1 pack of instant coffee
3/4 cup hot water
Cocoa powder
Instruction
To prepare cheese layer:
Beat the cream cheese until it looks soft.
Add condensed milk and then mix until the mixture thickens.
In a separate bowl, pour the whipping cream and stir until it thickens.
Pour the whipping cream into the cream cheese mixture and mix well.
To assemble:
Mix the instant coffee with hot water.
Dip the biscuits in the Nescafe mix and arrange in a container.
Alternate layers of biscuits with cream cheese mixture.
Refrigerate for at least 5-6 hours or overnight and enjoy.
Prep time: 15 minutes
Cook/Chill time: 5 hours
Servings: 4-5 people
7. Rice Krispy Bars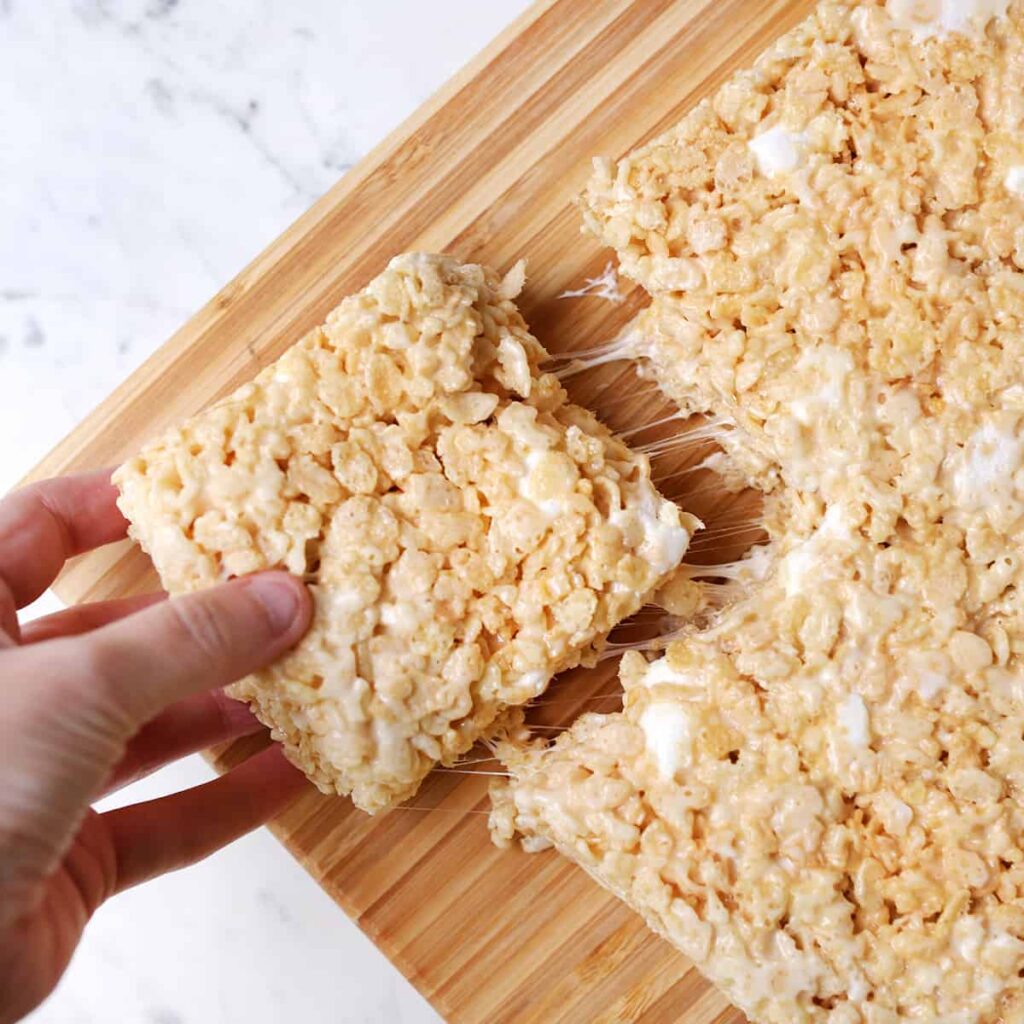 Ingredients
3 tbsp butter
400g condensed milk
1 bag (280g) of marshmallows
6 cups of rice cereal
Instructions
Spray an 8×8-inch baking pan with nonstick cooking spray. Set aside.
In a large pot over medium heat, melt butter. Add sweetened condensed milk and stir to combine. Bring the mixture to a simmer, stirring constantly to prevent burning.
Add marshmallows, stirring frequently until melted.
Remove the pot from heat and fold in the rice cereal with a clean rubber spatula. Stir until well coated.
Transfer mixture into the prepared baking dish and press into an even layer.
Allow the bars to cool to room temperature before cutting and serving.
Prep time: 10 minutes
Cook/Chill time: 30 minutes
Servings: 8 people
8. Oreo Cookie Balls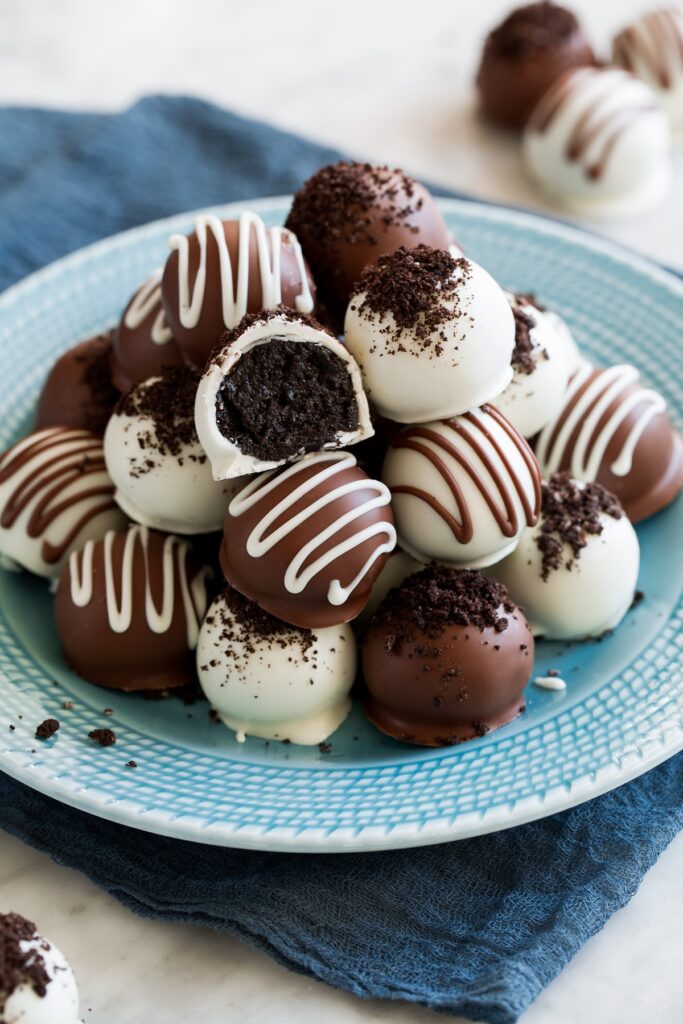 Ingredients
1 package of Oreos
226g cream cheese
⅛ tsp salt
340g chocolate chips, melted
Instructions
Use a food processor to crush cookies into fine crumbs.
Add cream cheese and salt and stir until evenly combined.
Line a baking sheet with parchment paper. Using a small cookie scoop, form mixture into small balls and transfer to the prepared baking sheet.
Freeze until slightly hardened for about 30 minutes.
Dip frozen balls in melted chocolate until coated and return to the baking sheet. Sprinkle with remaining cookie crumbs. Freeze until chocolate hardens, about 15 minutes and enjoy.
Prep time: 10 minutes
Cook time: 2 hours
Servings: 4 people
If you like this easy no bake dessert recipes related article, here are our other recipes: