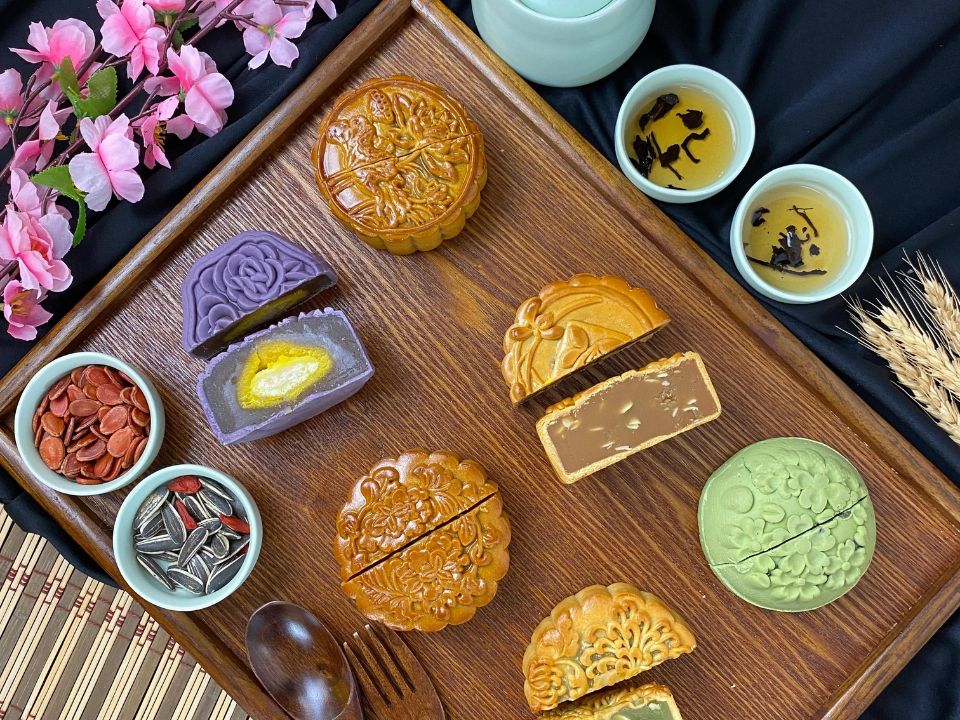 Mooncakes are a type of pastry with different fillings, generally sweet or savory. Additionally, numerous creative designs or the name of the filling are imprinted on the thin crust of the mooncake. Mooncakes are also known as a delicacy that portrays histories of the Mid-Autumn Festival, reminiscences of traditions, and delivers propitious messages.
Remarkably, mooncakes are the signature food enjoyed during the Mid-Autumn Festival, which is generally round-shaped to resemble the form of the moon. However, they can also be molded to be square-shaped.
Why Do We Eat Mooncakes at the Mid-Autumn Festival?
Do you know that mooncakes symbolize reunion? Because mooncakes are often round in shape, their roundness bears the meaning of wholeness and rapport.
As the full moon denotes reunion in Chinese culture, families usually gather to celebrate the Mid-Autumn Festival together.
Likewise, the moon on the night of the Mid-Autumn Festival is considered the greatest and brightest in traditional Chinese culture, signifying a family reunion. (And, sure, there will be a full moon at the Mid Autumn Festival on September 10, 2022!)
Even if a family member is not at home, they are still enjoying and gazing at the same moon as other family members. It provides the impression that they are close together in their hearts.
4 Classic Mooncake Flavors
1. Red Bean Paste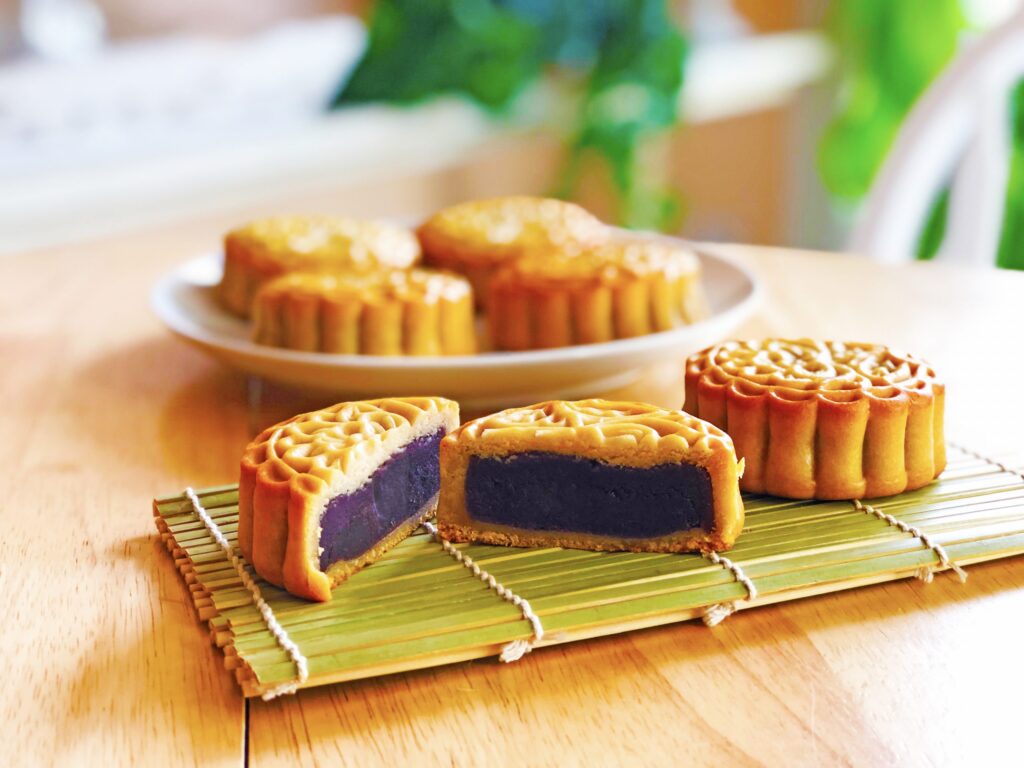 One of the most favored sweet fillings for ordinary mooncake fillings is the rich, thick, and silky red bean paste. The main ingredient for producing the red bean paste is the red bean. It is also known as adzuki bean paste or Anko (sweet red bean paste), which tastes similar to sweet potato and has an attractive color (dark red).
The lasting and smooth texture of the red bean paste suffused your mouth immediately with each bite of the mooncakes. For individuals who dislike the sweet flavor, here is a small suggestion for you! Consume the red bean paste mooncakes with a cup of tea, which is a fantastic match to enjoy the pastry.
2. Lotus Seed Paste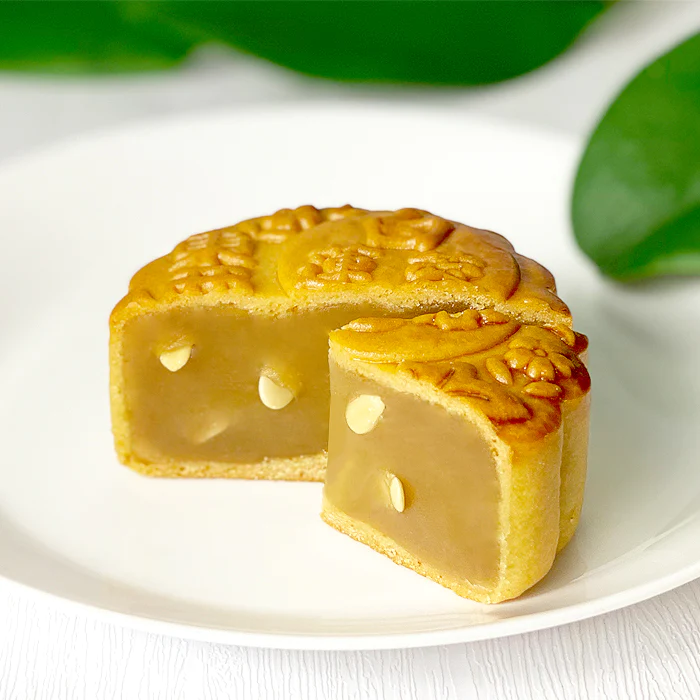 When you think about classic mooncake fillings, do you picture brown-colored, smooth-textured lotus seed paste mooncakes? Ordinarily, the bitter, green center of lotus seeds is extracted to produce the delicious lotus seed paste.
Besides mooncakes, lotus seed paste is utilized as a filler in various sweet-based desserts, such as baozi (steamed stuffed bun). Till now, lotus seed paste is one of the most sumptuous mooncake filling due to its high cost of producing and extracting the lotus seeds.
3. Salted Egg Yolk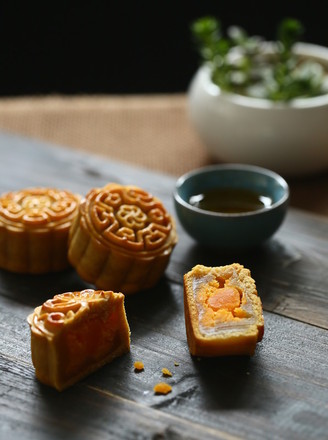 Salted egg yolk is an egg that has been cured in its shell to add a delectable and savory flavor to the mooncakes. Here are some facts you need to know, despite their name, the mooncakes are not completely stuffed with salted egg yolk!
Instead, the mooncake contains lotus seed paste or other fillings, and you will find 1 or 2 salted egg yolks in the center. During the Mid-Autumn Festival, more costly and lavish duck eggs are employed as mooncake fillings since it is a famous delicacy.
4. Wu Ren (Mixed Nuts)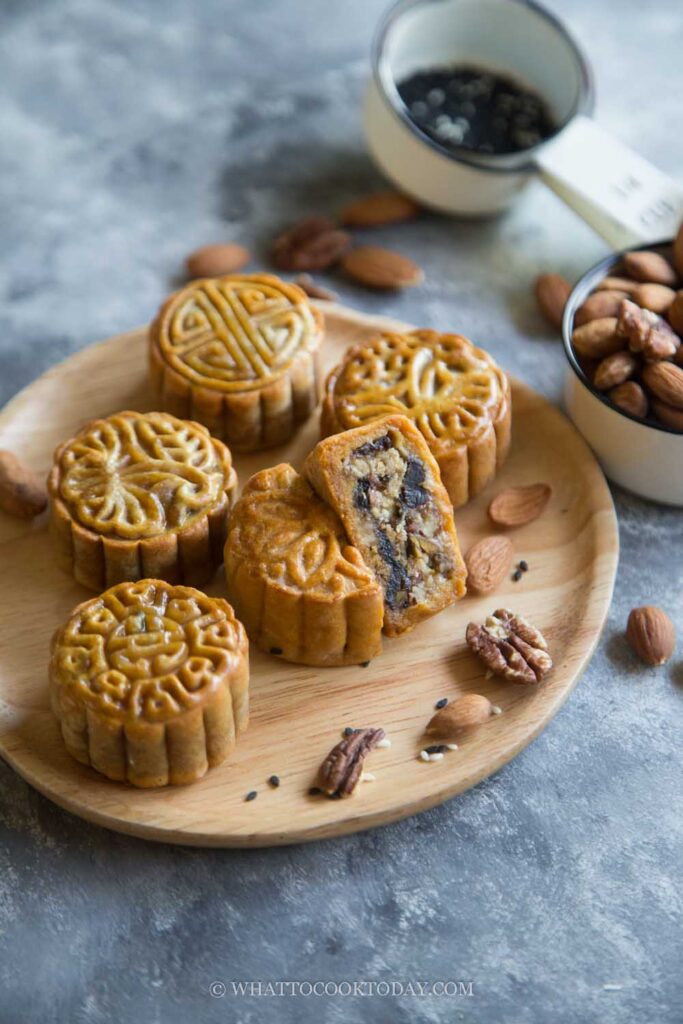 In direct translation, Wu Ren is "five types of nuts or kernels," including walnut kernels, almonds, sesame seeds, pumpkin seeds, candied winter melon, pine nuts, hawthorn, red beans, and others. Due to the various fillings, the mooncakes have a nutty and sweet flavor. 
Also, Wu Ren mooncakes are a reasonable option for those who pursue healthier choices of mooncakes. Although most youths dislike it, Wu Ren mooncakes are widely accepted and appreciated by the middle-aged and elderly.
4 Modern Mooncake Flavors
1. Ice Cream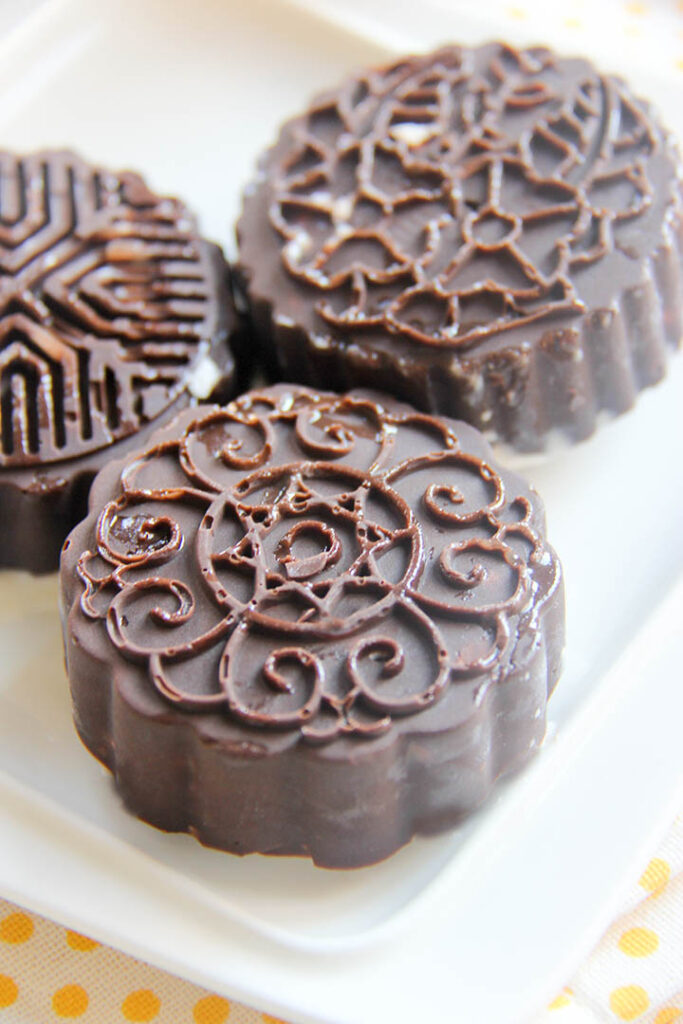 Amid the mood to try something new and chilly in the hot and humid weather in Malaysia? Here you are! With a light and appealing taste that attract a majority of youths, ice cream mooncakes would be your best choice!
Commonly, the shell of the ice cream mooncakes has coated with chocolate, and the fillings can be any preferred flavor of ice cream. The ice cream flavors range from fruits such as strawberries, mangoes, and Musang King Durian to alcoholic ice cream mooncakes like Rum and Raisin and Whisky Cream!
2. Green Tea (Matcha)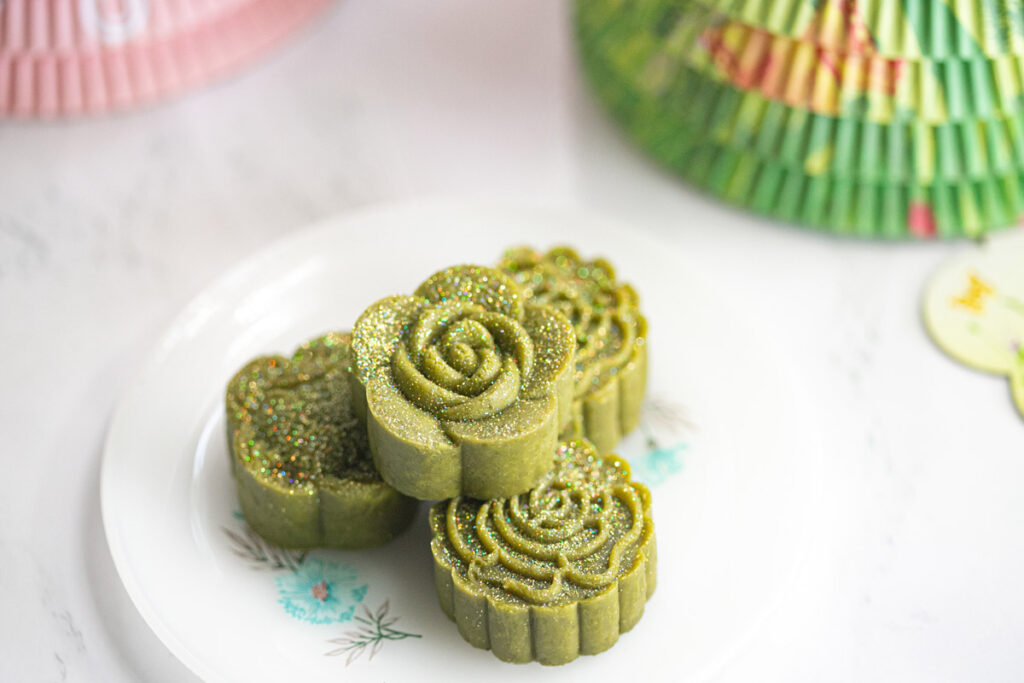 The natural taste of green tea mooncakes leads to its distinctiveness from the other mooncakes. Interestingly, the mooncakes' skin and crust usually consist of finely crushed green tea powder. As for the mooncake fillings, green tea paste is paired with other famous fillings, such as red bean paste and lotus seed paste.
Unquestionably, green tea mooncakes are not excessively sweet and greasy. Hence, green tea mooncakes fit both young and elderly individuals.
3. Durian
Look here, durian lovers! You will not want to overlook the mooncakes with Musang King and D24 Durian fillings. Musang King durian fillings are pure, rich, and aromatic, and the fillings are carefully made and stuffed in baked or snow skin mooncakes.
Remarkably, only the best and authentic Musang King and D24 durians were employed to produce high-quality durian mooncakes.
4. Chocolate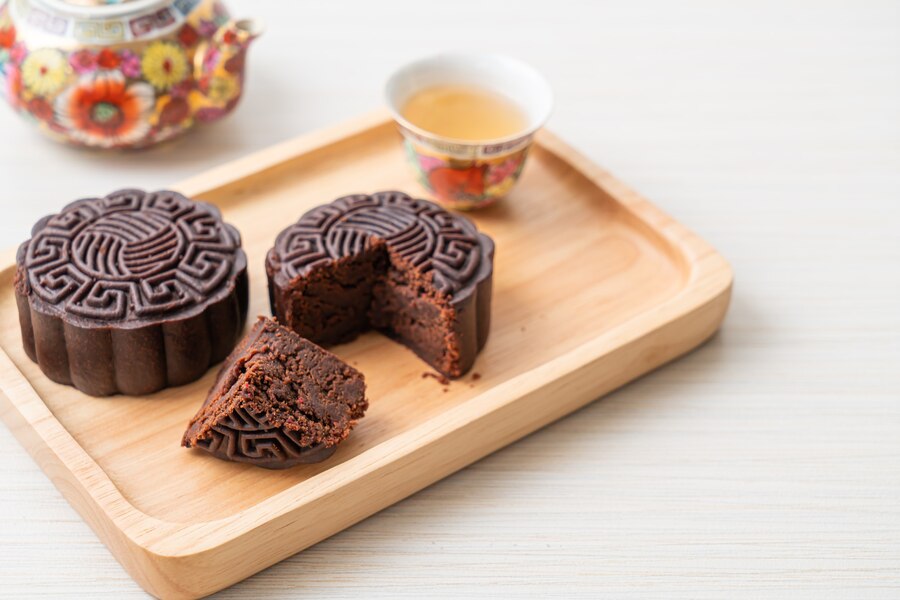 Rejoice, chocolate lovers! Chocolate mooncakes are now available at the market to satisfy your cravings! Generally, chocolate is combined with almond, hazelnut, peanut butter, cream cheese, Nutella, and even Ferrero Rocher as fillings!
Briefly said, chocolate mooncakes have a chocolate crust, whereas the fillings can be berries, oats, or others. Due to commercialism, new mooncake flavors are launched to the market every year; thus, it is best to select the classic mooncake flavors because they are more reliable and well-known.
Other Mooncake Fillings
Mooncakes with sweet bean paste or lotus seed paste usually include one or more small salted and cured duck egg yolks for the classic sweet fillings. It seems like a unique combination, right?
On the other hand, Chinese sausage, ham, minced pork, and other distinct savory fillings are also famous and welcomed. Mixed nuts and dried fruits are included as one of the usual mooncake fillings.
The 2022 Mid-Autumn Festival is just around the corner, consider purchasing and trying out the tasty mooncakes!