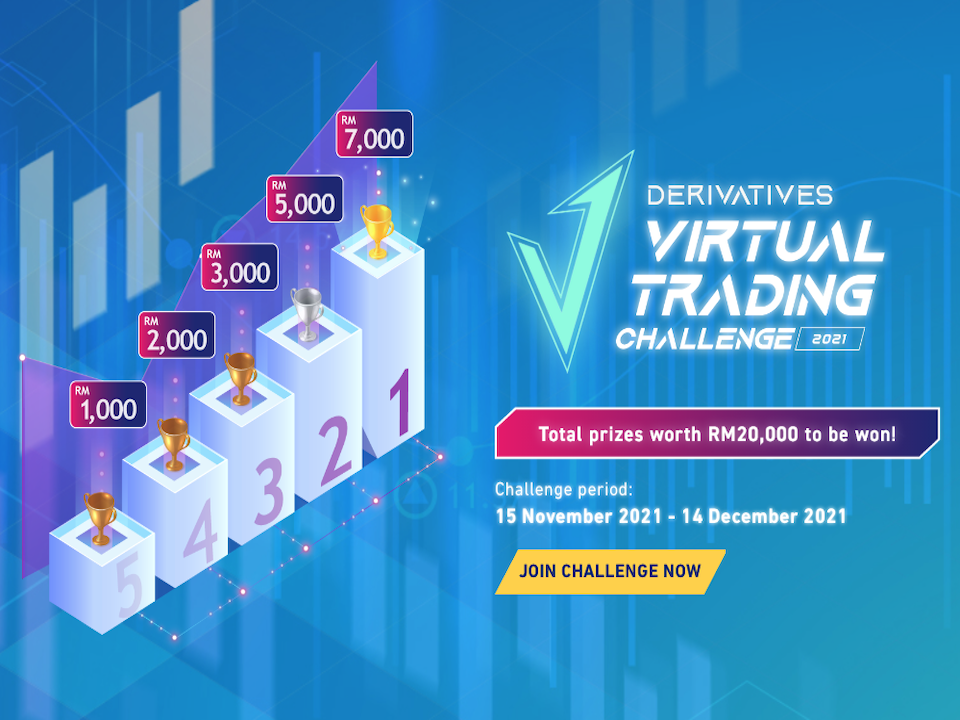 Bursa Malaysia Derivatives Bhd has launched its first-ever nationwide Derivatives Virtual Trading Challenge 2021 intending to create awareness and develop interest about the Malaysian derivatives market among millennials.
What is the Derivatives Virtual Trading Challenge about?
Incorporating fun and educational activities, the challenge will provide essential knowledge to new investors to start trading derivatives in an informed manner, through experiential learning.
According to the Exchange, participants would compete via the BursaMKTPLC Derivatives Trading Simulator (DTS) in a simulated environment.
The simulator is a virtual trading platform that replicates live futures markets with real-time data. It will allow participants to familiarize themselves with future trading without having to worry about losing any capital.
For this challenge, each participant will be given RM100,000 virtual capital preloaded to their DTS.
Top 15 Prizes
To add the fun, participants who made it to the Top 15 with the highest account balance at the end of the challenge will win prizes worth RM20,000. First place winner will take home RM7,000!

The challenge will be open to all Malaysians aged 18 and above.
Registration Period : 22 September 2021 – 5 November 2021
Challenge Period : 15 November 2021 – 14 December 2021
How to participate?
Step 1 : Click here to register
The registration is free!
Step 2: Download & install the Derivatives Trading Simulator (DTS)
You can choose to download it on your phone or desktop, including on Android or iOS as well as Windows or Mac OS X.
Step 3: Gain trading knowledge & skills at the familiarisation webinars
Join the webinars and access the self-learning materials Bursa Academy to prepare yourself for the trading challenge.
Step 4: Start trading on DTS with RM100,000 virtual capital
This is where you put your skills to use.
Step 5: Strive to win by achieving the highest account balance!
Are you up for the challenge?
Meanwhile, Samuel Ho, Chief Executive Officer of Bursa Malaysia Derivatives hopes that an interactive platform like this will help participants to build their confidence in making trading decisions. He said it will benefit them when they enter the actual market in the future.
For more information, please visit the BursaMKTPLC website.
(Source: BERNAMA, BursaMKTPLC)