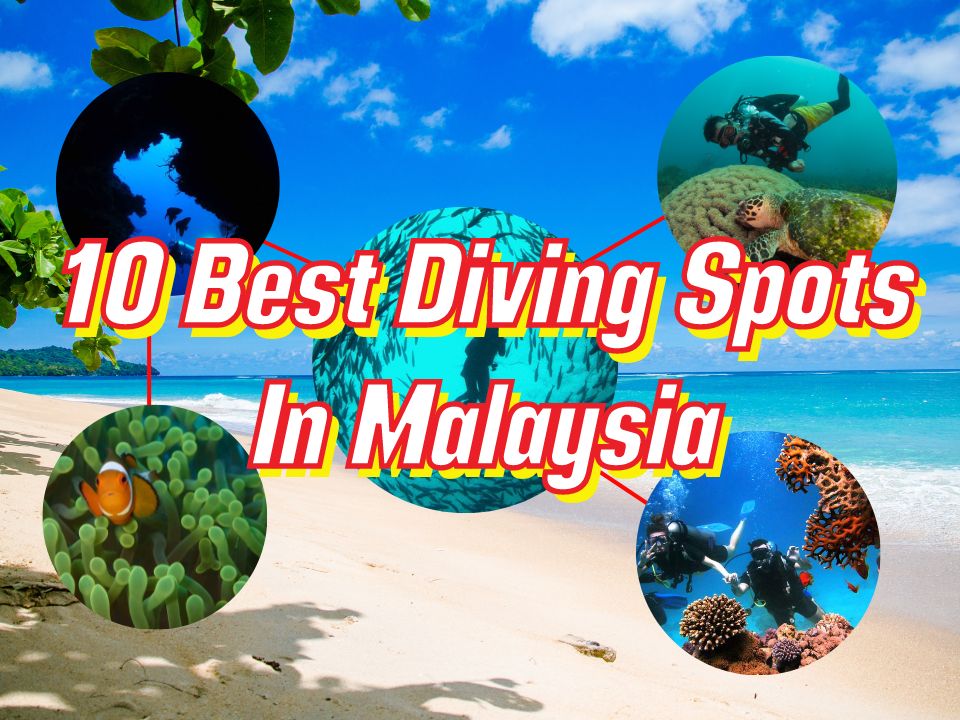 An exhilarating dive is the best way to see the stunning marine life and deep blue sea of every island that surrounds Malaysia. Fortunately, Peninsular Malaysia and East Malaysia are both endowed with a wide variety of excellent locations at which to go scuba diving. When you're ready to dive in and see what marine life Malaysia has to offer, be sure to read our best diving spots in Malaysia 2023 list first.
10 Best Diving Spots In Malaysia 2023
Malaysia's oceans are home to a vibrant and diverse marine ecosystem, and scuba diving there is a great way to explore them. Divers from all over the world flock to Malaysia because of the country's two main diving regions: peninsular Malaysia and Malaysian Borneo. Let's explore the depths of this stunning nation and unearth its top scuba diving locations.
1. Sipadan Island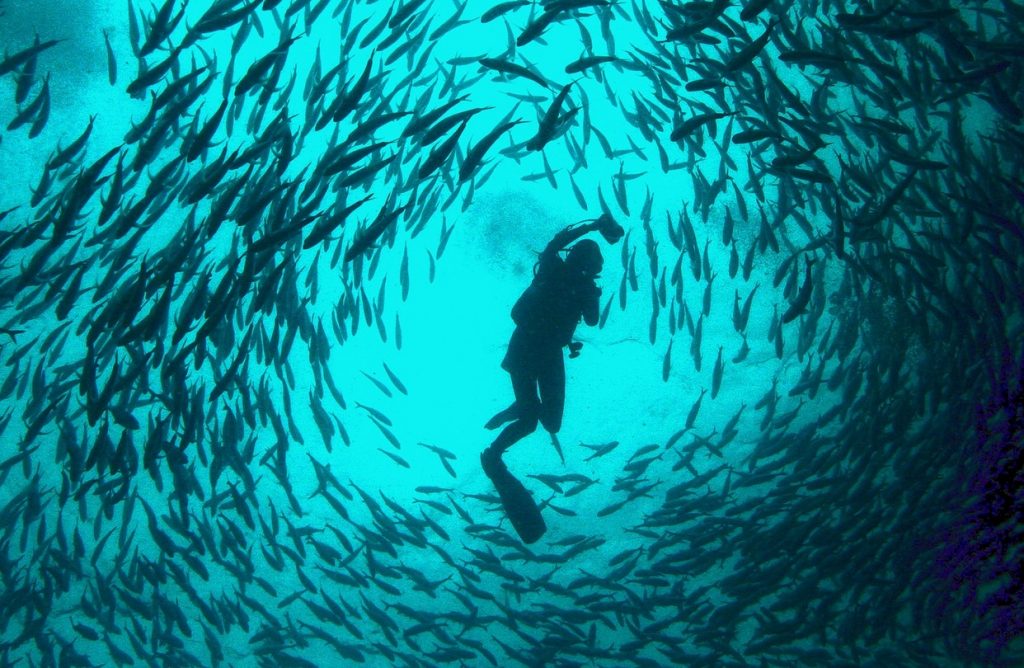 With ideal diving conditions and a wide variety of marine animals to explore, this beautiful island is the greatest place to go scuba diving in all of Malaysia. Sipadan Island is a world-class diving destination with incredible marine life can be seen at popular dive spots like Barracuda Point, Coral Garden, Hanging Garden, etc. While scuba diving in Sipadan, Malaysia, you can see turtles, reef sharks, grey sharks, and a wide variety of other fish, including pygmy seahorses, leaf fish, and frog fish.
| | |
| --- | --- |
| Attraction | Scuba diving in the waters around Sipadan island allows you to observe marine life like you've never seen it before, lending credence to claims that the island is on par with the more well-known Galapagos Islands. Eagle rays, Leopard sharks, white trevallies, and Hawksbill turtles all call these enticing waters home. |
| Best time to visit | March to October |
| Best time to dive | April to December |
| Accessibility | You may fly into either Tawau or Kota Kinabalu in Sabah; from there, you'll need to take a land transfer to Semporna and then a boat to the islands. Day trips from Semporna are available, and resorts and local dive operators can arrange for boats to take you between the islands. |
Most visitors now stay in Mabul or Semporna and take a day trip boat to Sipadan, as overnight accommodations there are no longer available.
For more info, book here!
2. Mataking Island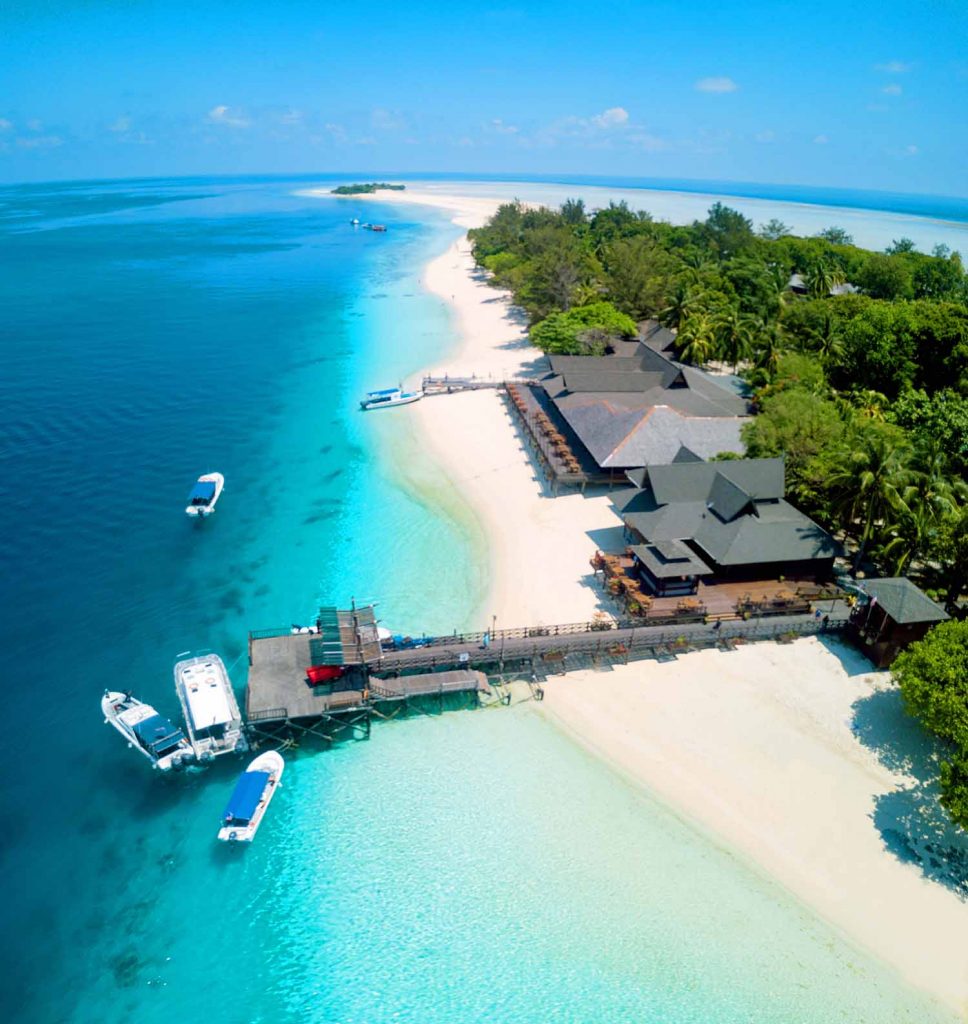 Scuba divers of all skill levels will find Mataking Island diving to be an unforgettable and life-changing experience. Beautiful five-star resorts may be found on the island, perfect for arranging dive excursions. Divers may come across manta rays, eagle rays, grey reef sharks, and enormous green turtles. The odds of encountering unusual animals make Mataking and Sibuan two of the top best diving spots in Malaysia 2023 for muck diving. Take a wreck diving tour in Mataking if you want to see the world's first underwater post office.
| | |
| --- | --- |
| Attraction | It would be a shame to pass up the chance to see the one and only "Underwater Post Office" in Malaysia, which is located in the town of Mataking. The resort sank the Mataking 1, a wooden cargo ship of 40 feet in length, in March of 2006 to serve as an artificial reef. It was supposed to be a one-of-a-kind mailbox for the deep, too. Divers use vacuum bags to ensure their correspondence survives the journey to its destination. |
| Best time to visit | February to November |
| Best time to dive | March to October |
| Accessibility | You can take a 40-minute boat voyage inland from Semporna if you take a land transfer there. |
For more info, book here!
3. Redang Island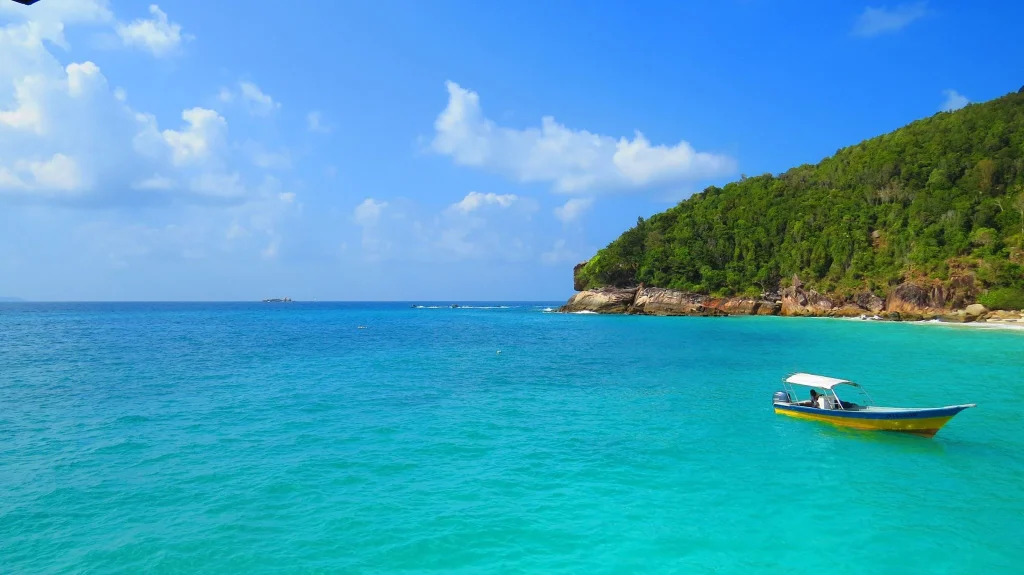 Located in the Terengganu Marine Park off the eastern coast of peninsular Malaysia, Redang Island is a diving mecca thanks to its placid seas and abundance of colourful corals. Near Kuala Lumpur, it is one of the best diving spots in Malaysia 2023 to go scuba diving because of the calm waters and abundant marine life.
| | |
| --- | --- |
| Attraction | There are over twenty dive sites on the island, and they range in depth and complexity so that everyone may find something they like. Tanjung Tokong, Tanjong Lang, and Terumbu Kili are just a few of the many popular dive sites in the area. There are also two major WWII shipwrecks that divers can examine. |
| Best time to visit | April to October |
| Best time to dive | April to October |
| Accessibility | Get to Kuala Terengganu via plane, car, or bus, then head to either Shahbandar Jetty or Merang Jetty. |
For more info, book here!
4. Tioman Island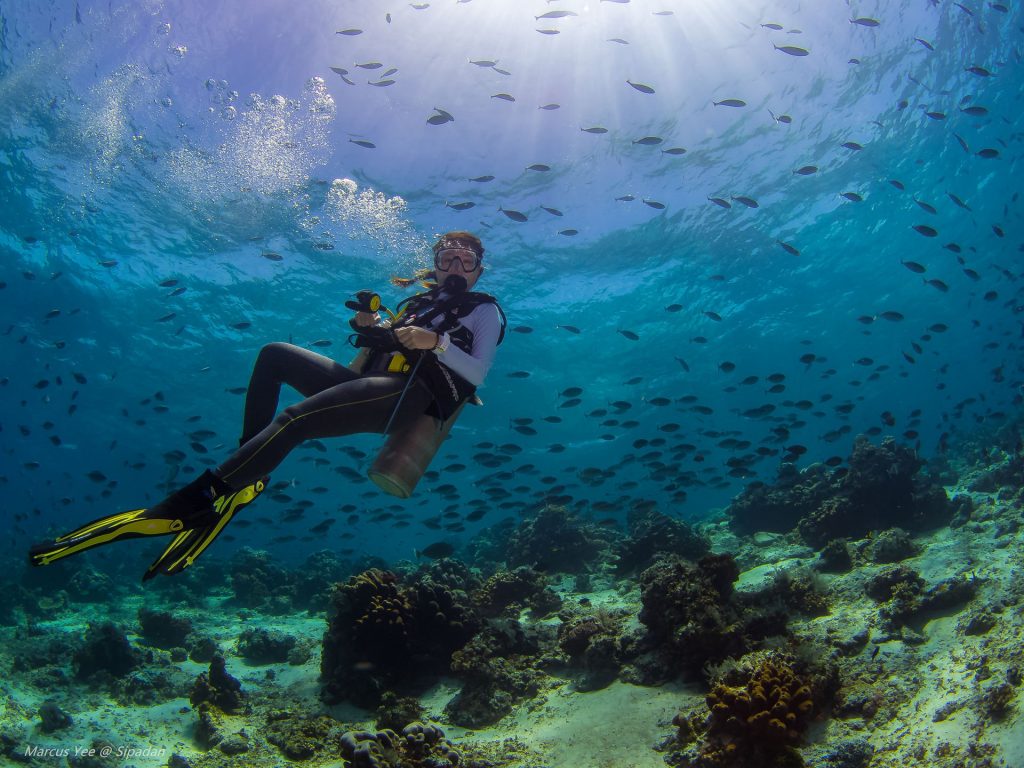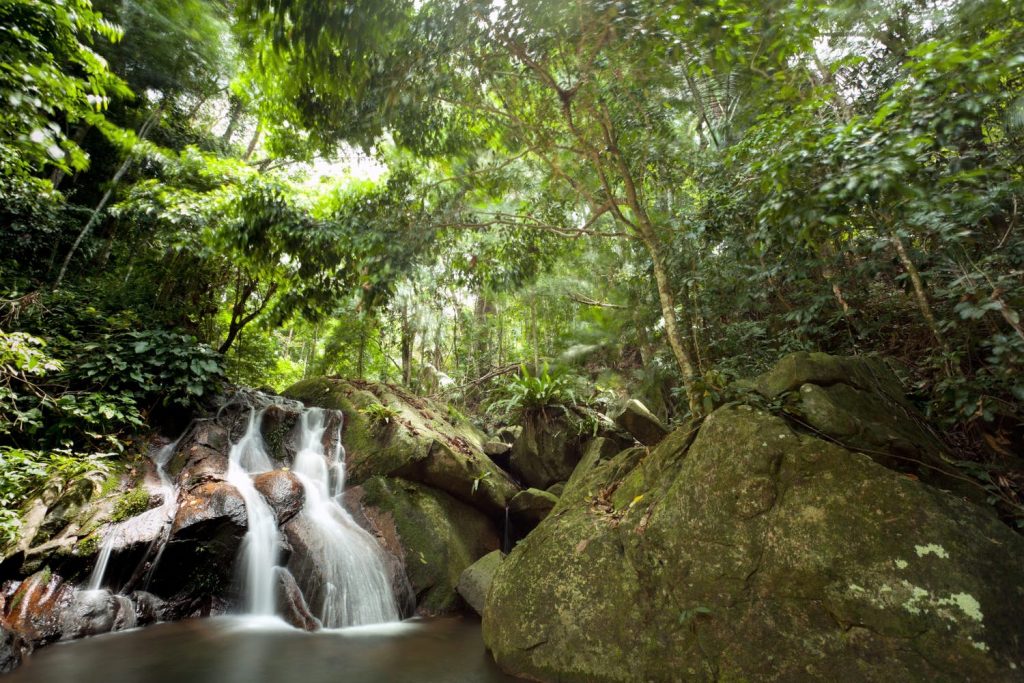 Among the best diving spots in Malaysia 2023 in February is the tropical paradise of the Tioman Islands. With more than 25 spectacular dive sites, such as the famous Tiger Reef, the islands are perfect for divers of all skill levels. As you make your way through the amazing landscape of granite boulders, caverns, and canyons, you'll find yourself in a mystical underwater realm teeming with all kind of marine life, from reef sharks and turtles to manta rays and even whale sharks. The Salang Jetty and the ABC House Reef on this island are among the best places in Malaysia for novice divers to learn the sport.
| | |
| --- | --- |
| Attraction | In 2012, a Malaysian Navy warship and two decommissioned fishing boats (together known as the Sawadee Wreck) were sunk to construct an artificial reef that is now home to lionfish, pufferfish, and even a little octopus. The wide entrances make this dive site ideal for both experienced and recreational scuba divers, who can enter the wreck and explore it from stern to |
| Best time to visit | March to October |
| Best time to dive | February to November |
| Accessibility | SAS airline flies directly to Subang International Airport, so do night buses, taxis, and driving. |
For more info, book here!
5. Perhentian Island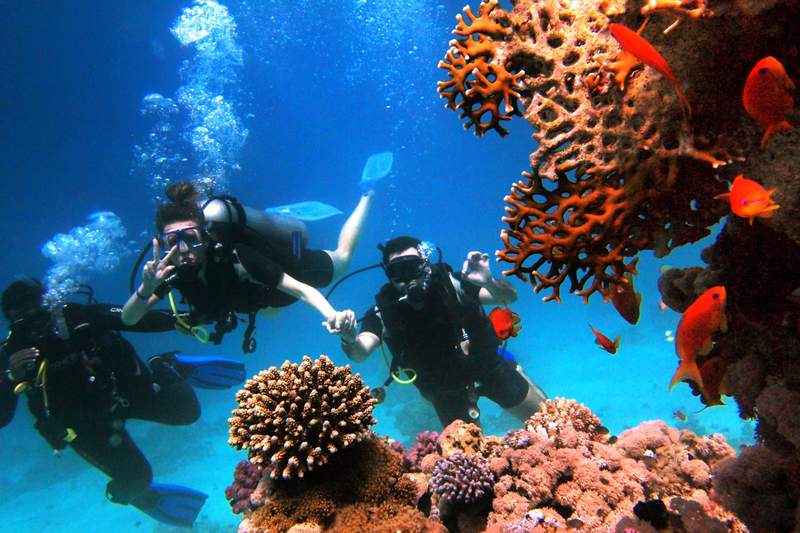 The Perhentian Island is home to some of Malaysia's best diving and are a popular destination for novice divers. Terengganu Marine Park encompasses the archipelago, and its clean waters and shallow reefs are home to a wide variety of beautiful marine life. The Sugar Wreck is a popular diving spot for tourists and locals alike, and it provides excellent conditions for underwater photographers. The best deals on scuba diving courses in Malaysia can be found on the Perhentian Islands.
| | |
| --- | --- |
| Attraction | Scuba divers have always been drawn to the Perhentian Islands' coastlines and coral reefs by the astonishing variety of marine life found there. As a result, numerous diving centres have opened up, especially on the island of Perhentian Kecil. These are appropriate for both complete novices and seasoned experts. Divers can encounter a wide variety of marine life, from reef sharks and sea turtles to clownfish and spectacular underwater rock formations. |
| Best time to visit | March to November |
| Best time to dive | April to October |
| Accessibility | You can take a flight to Terrenganu, a car, or an overnight bus to get to the Kuala Besut dock where the early ferries depart. |
For more info, book here!
6. Lankayan Island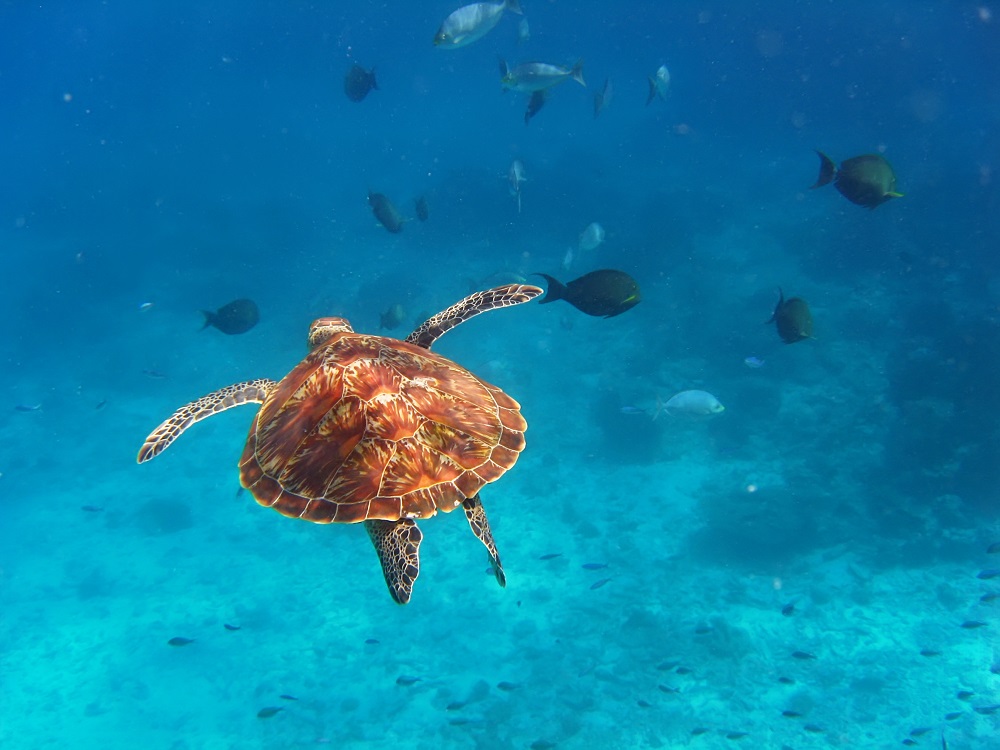 Lankayan is one of the few places in the world where you may dive among stunning corals, go muck diving, and explore an accessible wreck all in one day. Lankayan, home to the world's single most luxurious resort, is the ideal destination for a stress-free vacation spent scuba diving and lounging on the beach. Large schools of fish, including barracudas and trevallies, may often be seen in the wreck diving locations around the island.
Attraction
Exceptional creatures like seahorses and porcelain crabs thrive here. There are also many gobies and colourful nudibranchs to see. Lankayan Island is the finest place to go scuba diving if you want to see amazing creatures, like the ornate ghost pipe fish and the mimic octopus.

Several sunken boats near the island are believed to have been used in illegal fishing. The resort jetty has a wreck in front of it, 20 metres out. This location is ideal for both night dives and close-up photography. The Lankayan and the Mosquito are two additional accessible wreck dives with penetration opportunities.

Best time to visit
June and September
Best time to dive
June and September
Accessibility
The best way to get there is to take a speedboat to Sandakan, Sabah.
For more info, book here!
7. Layang – Layang Island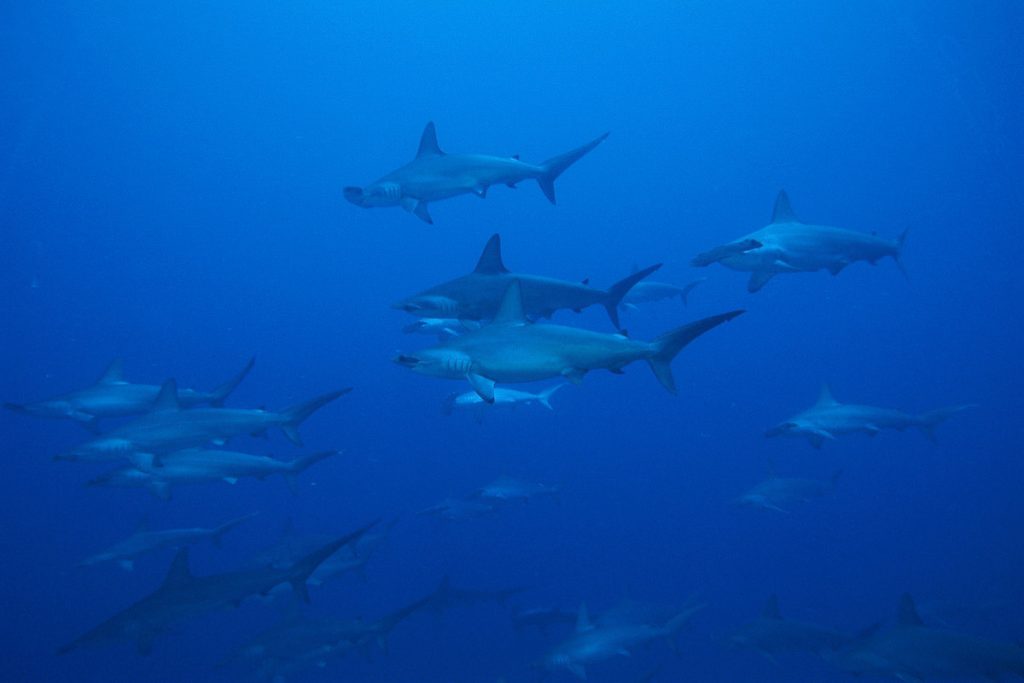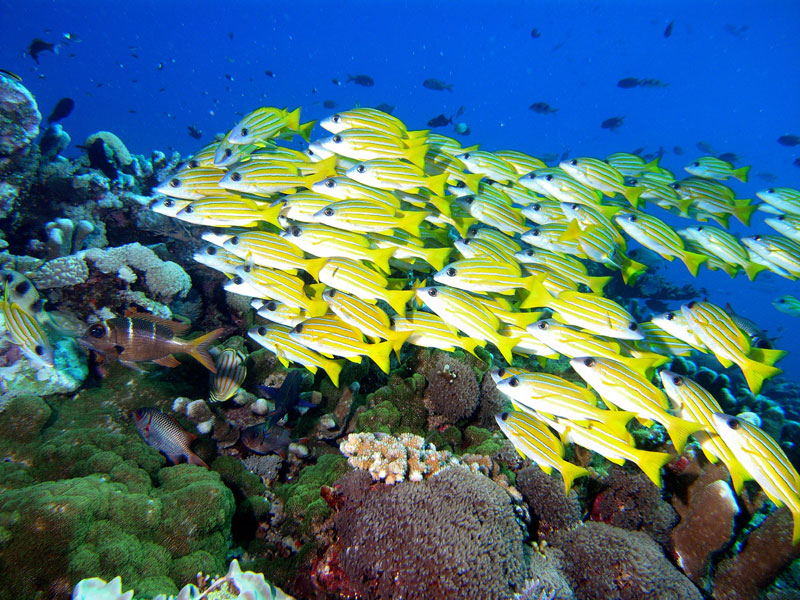 Layang Layang is a great place to do scuba diving in Malaysia since it is convenient to a dozen different dive spots within a five- to fifteen-minute speed boat ride. The unspoiled condition of the corals and marine life at this uninhabited island makes it a top destination for divers in Malaysia. Layang Layang has excellent diving due to its large populations of pelagic fish, manta rays, and even whale sharks. Beautiful hammerhead sharks congregate in the island's deep waters throughout April and May for mating.
| | |
| --- | --- |
| Attraction | Rarer species such as thresher sharks, whale sharks, manta rays, eagle rays, leopard sharks, and even orcas are occasionally observed here as well as more common species including barracudas, trevally, snapper, and dog-tooth tuna. It is also not uncommon to spot stingrays in the waters surrounding Layang – Layang Island. Common species of stingrays include mantas, pygmy devils, marbled rays, and eagle rays. |
| Best time to visit | March to August |
| Best time to dive | March – May |
| Accessibility | The only way to reach the island is by taking a chartered flight on a small cargo plane from Kota Kinabalu. If you intend to bring along diving equipment and other items, you should verify any weight restrictions. |
For more info, book here!
8. Tenggol Island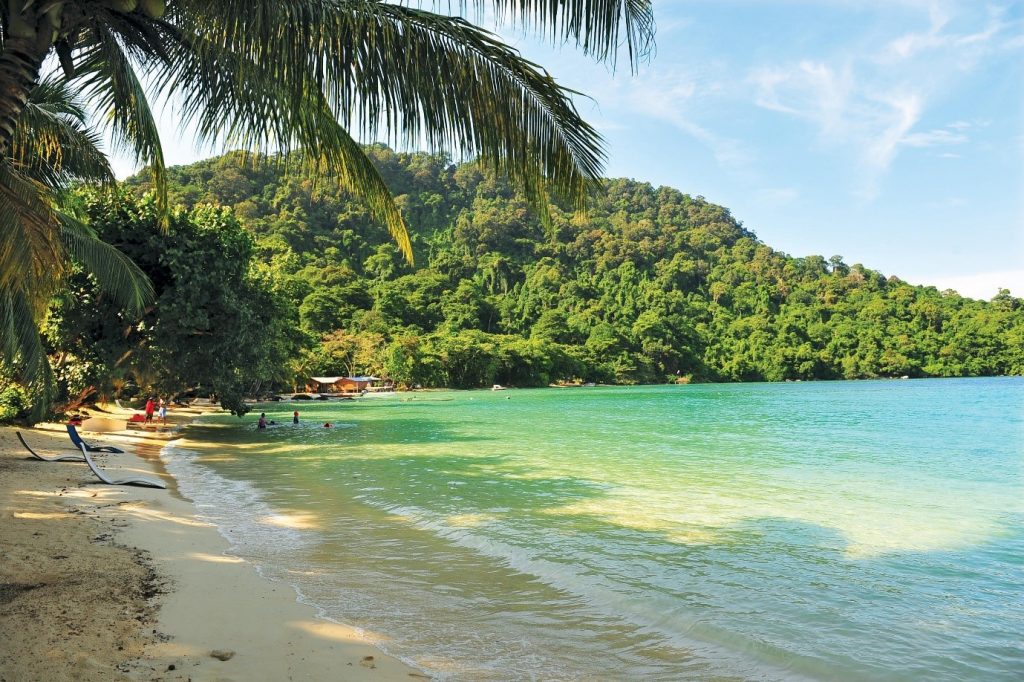 Tenggol Island is an additional great dive destination in peninsular Malaysia, however it is best suited for more seasoned divers due to its strong currents. This stunning island, accessible in just 45 minutes by speedboat, is home to some of Malaysia's best diving because to its proximity to the mainland and plenty of fantastic resorts and pristine corals. Prepare to dive into over twenty incredible dive sites with breathtaking underwater vistas and teeming marine life.
| | |
| --- | --- |
| Attraction | Dive locations range from those with interesting wrecks to those with excellent macro life (especially many nudibranches). Each year, between the months of August and October, whale sharks can be spotted at specific locations. |
| Best time to visit | October to February |
| Best time to dive | March to October |
| Accessibility | To get over, you can either drive or fly to Terengannu, then take a ferry or a boat from the Dungun port. |
For more info, book here!
9. Dayang Island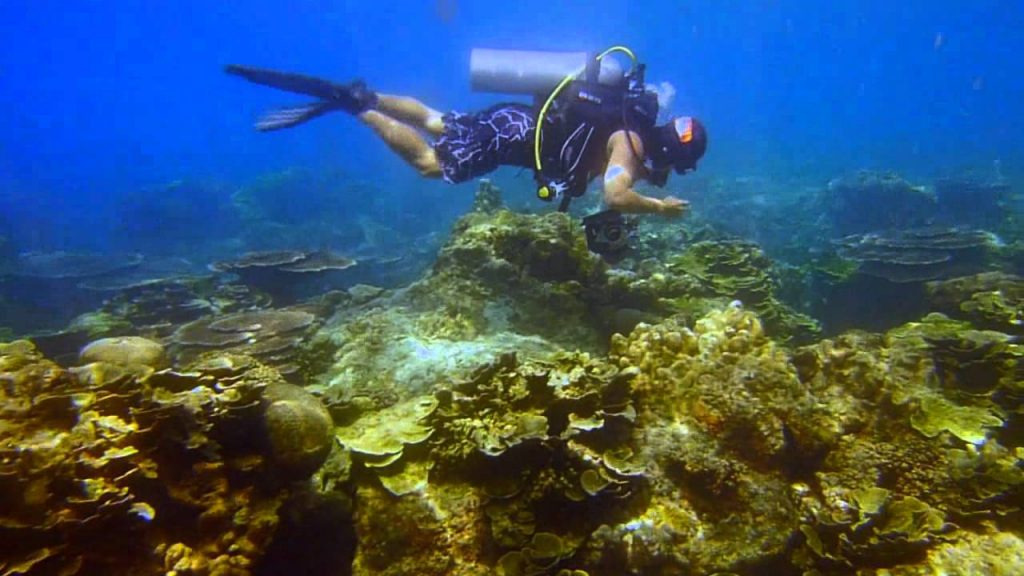 The diving and fishing opportunities on the Dayang Island have contributed greatly to their rise to prominence as one of Johor, Malaysia's most picturesque destinations. The island of Dayang is connected to three additional islands: Pulau Lang, Pulau Pemanggil, and Pulau Aur. This is the best destination for a romantic weekend away with your significant other. It's peaceful and remote, and it'll make you forget all about the hectic life you've been leading in the city.
| | |
| --- | --- |
| Attraction | One can easily observe marine life including whales, sharks, and rays while scuba diving. Photography under the sea is possible while scuba diving. Beginners and those with a genuine interest in diving can take a course before venturing into the pristine waters surrounding Dayang Island. |
| Best time to visit | April to September |
| Best time to dive | June to September |
| Accessibility | To go to Dayang Island, you can take a ferry from Mersing jetty. The ferry often leaves on Friday evenings, and the trip to the island takes around 5 hours. |
For more info, book here!
10. Kapas Island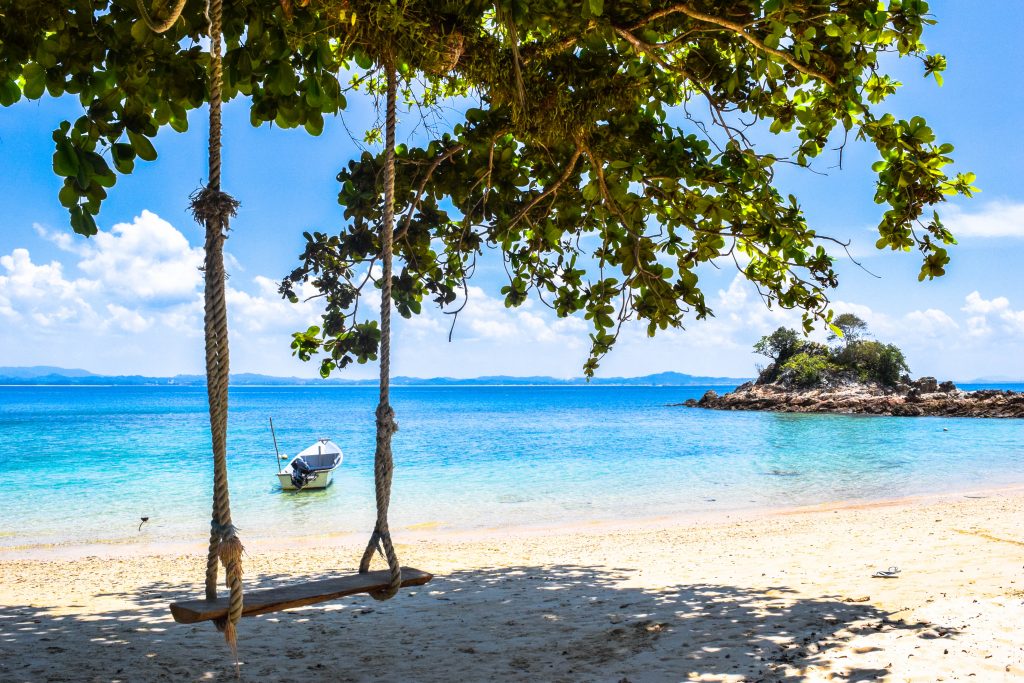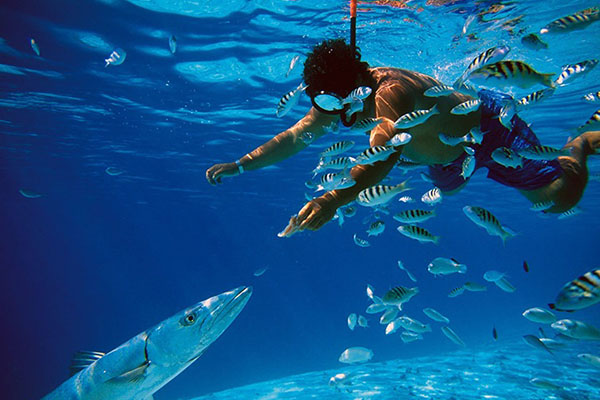 One of the most well-liked activities on Kapas Island is snorkelling and diving. The reason why it's considered as one of the best diving spots in Malaysia 2023; everything is in perfect condition there, from the reefs to the sea. It provides snorkelling gear and may set you up with Aquasport divers for scuba diving. Certified Padi open water certifications can be obtained at some of the lowest prices in the world in Malaysia.
| | |
| --- | --- |
| Attraction | There is a wide variety of hard coral and soft coral, all of which have been remarkably maintained. Because of this, many different kinds of colourful and fascinating marine life, such as reef fish, stingrays, nudibranchs, and crustaceans, congregate there and thrive. You may also come across larger creatures such as blacktip reef sharks, nurse sharks, and enormous bulbous bumphead parrotfish. A tiny Japanese wreck can be found to the north of Kapas as well. |
| Best time to visit | June to September |
| Best time to dive | June to September |
| Accessibility | You can get to the Marang jetty for the boat ride by flying into Terengganu, driving there, or using a bus. |
For more info, book here!
In all of Malaysia's prime diving locations, you'll find excellent and trustworthy scuba diving schools that will arrange your entire trip, from where to stay to which dives to take. Most Malaysian diving centres offer PADI (Professional Association of Diving Instructors) certification programmes and real scuba diving certificates. If you're looking for the lowest price on a scuba diving licence in Malaysia, your best chance is to visit popular diving destinations like Perhentian and Tioman Islands.