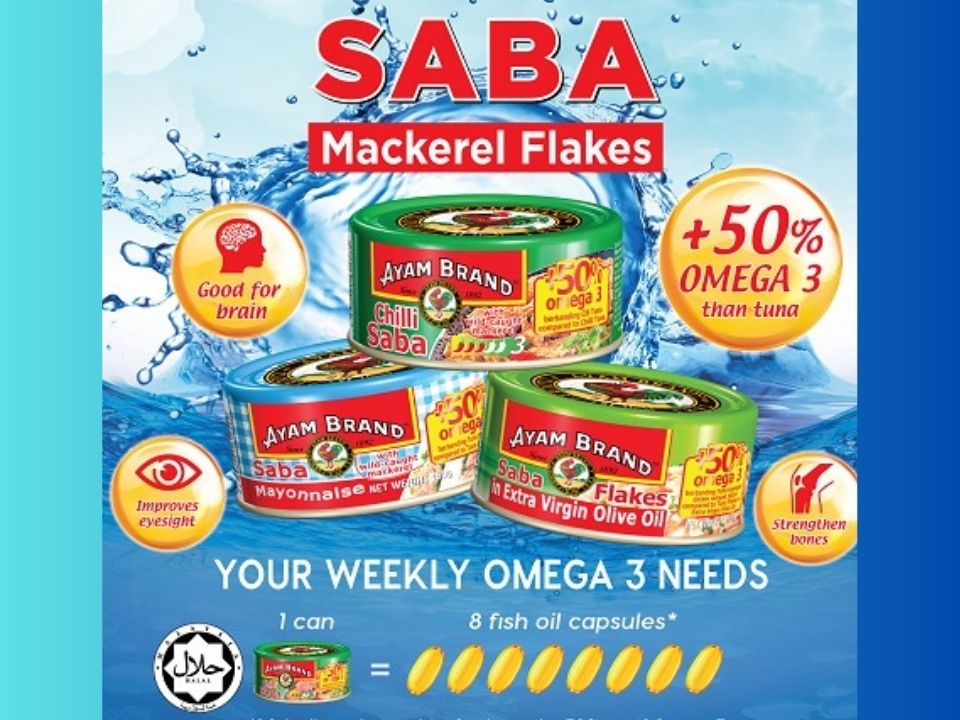 Did you know that Omega-3 fatty acids are healthy polyunsaturated fats that perform important functions in our bodies? However, our bodies cannot produce the amount of Omega-3 needed to survive, so we need to get it from our foods.
Ayam Brand™'s Fish Range: A Good Sources For Omega-3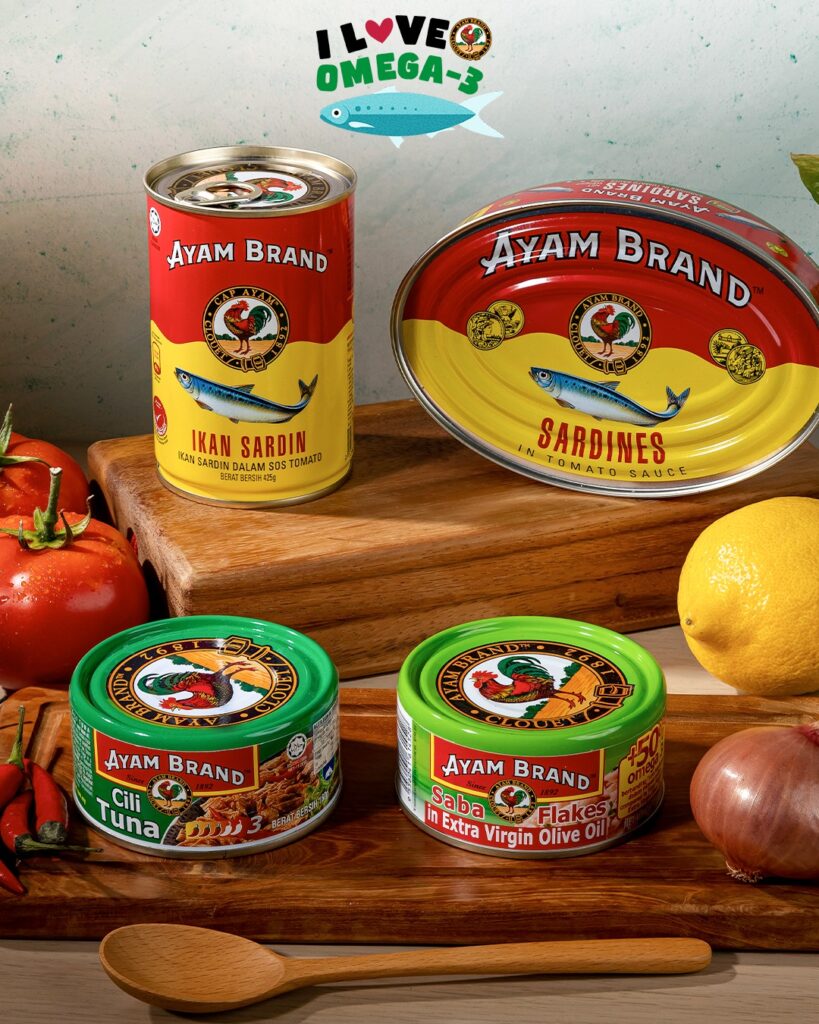 Image via Ayam Brand Malaysia
Did you know that fatty fish such as tuna, saba, sardine, and mackerel are very good sources of Omega-3? Canned ready-to-eat tuna, saba, sardine, and mackerel provide much-appreciated convenience to adding healthy, Omega-3-rich fish to our daily diet.
Ayam Brand™ is famed for its wide range of healthy, high, and delicious quality canned tuna, saba, sardine, and mackerel that are preservative-free, with no added MSG. Open an easy-pull-tab can for that tasty, convenient, and healthy Omega-3 addition to your family's diet.
Ayam Brand™ Saba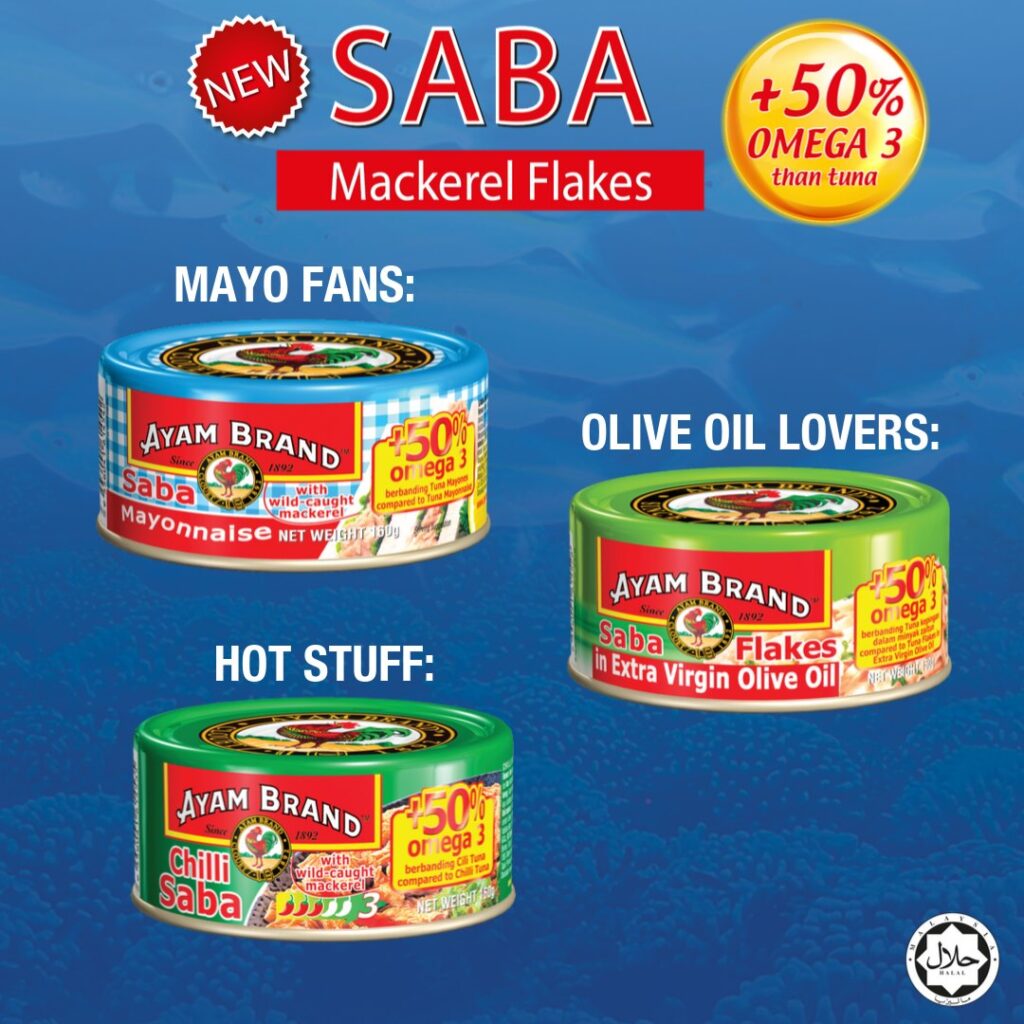 Image via Ayam Brand Malaysia
Saba, also known as Japanese mackerel, is especially rich in Omega-3. Each can of Ayam Brand™ Saba has more than 500mg of Omega-3 per 100g. For comparison, a 150g can of Ayam Brand™ Saba has the same amount of Omega-3 as eight fish oil capsules. Getting your daily Omega-3 should be deliciously easy, and not difficult to swallow.
Ayam Brand™ Sardines & Mackerel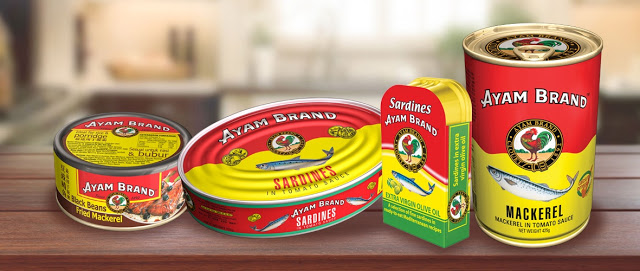 Image via Malaysian Foodie
The high Omega-3 content in Ayam Brand™'s fish range is due to the careful sourcing of high-quality fish.
Ayam Brand™ Sardines are exclusive of the Sardinops species from the North-Western and Eastern Pacific waters, Southern waters of the Indian Ocean, and North-Western Atlantic waters.
Meanwhile, the Ayam Brand™ Mackerel sources from the mackerel of the Scomber species, caught mainly in the North Atlantic Ocean, North-western Pacific, and Eastern Pacific waters. Sardines and mackerel living in extremely cold conditions are fattier, juicier, and richer in Omega-3.
Benefits Of Omega-3 For Health
Image via Freepik
Why is Omega-3 vital for our health? Let's find out!
Omega-3 is vital for brain growth and development in children and has heart-protective benefits such as helping to lower blood pressure, reduce triglycerides, slow the development of plaque in arteries, reduce the chance of abnormal heart rhythms, and reduce the likelihood of heart attack and stroke.
It helps to improve eye health, helps fight anxiety and depression, promotes brain health during pregnancy and early life, helps reduce symptoms of ADHD in children, can help to fight age-related mental decline and Alzheimer's disease, and can assist in alleviating menstrual pain.
Get Your Omega-3 With Ayam Brand™'s Fish Range
Image via Betty's Journey
A research study on the Comparison of Nutritional Composition, Chemical Preservatives, and Glutamic Acid Content of Canned Food with Freshly Cooked and Home Cooked Products by researchers Muhammad Ezzudin, R, Lim X.X, Uthumporn, U, Shariffa N.Y and Liew, C.L from the School of Industrial Technology, Universiti Sains Malaysia found that Ayam Brand™ Sardines in Tomato Sauce was shown to have 7.1x more Omega-3 compared to home-cooked locally caught fresh sardines.
Meanwhile, Ayam Brand™ Mackerel in Tomato Sauce contains a whopping 7.6x more Omega-3 compared to an equivalent serving of home-cooked locally caught mackerel.
The Ayam Brand™ fish range is ready-to-eat straight from the can. They taste great paired with rice, bread, or with salad. Get your Omega-3 now with Ayam Brand™!
Ayam Brand™ products are widely available from Aeon, Aeon Big, Giant, Cold Storage, Jaya Grocer, Hero (selected only), Mydin, Econsave, Matahari or visit the Ayam Brand™ Official stores on Shopee and Lazada.
Also, please don't forget to try out these Ayam Brand™ Baked Beans recipes at home!