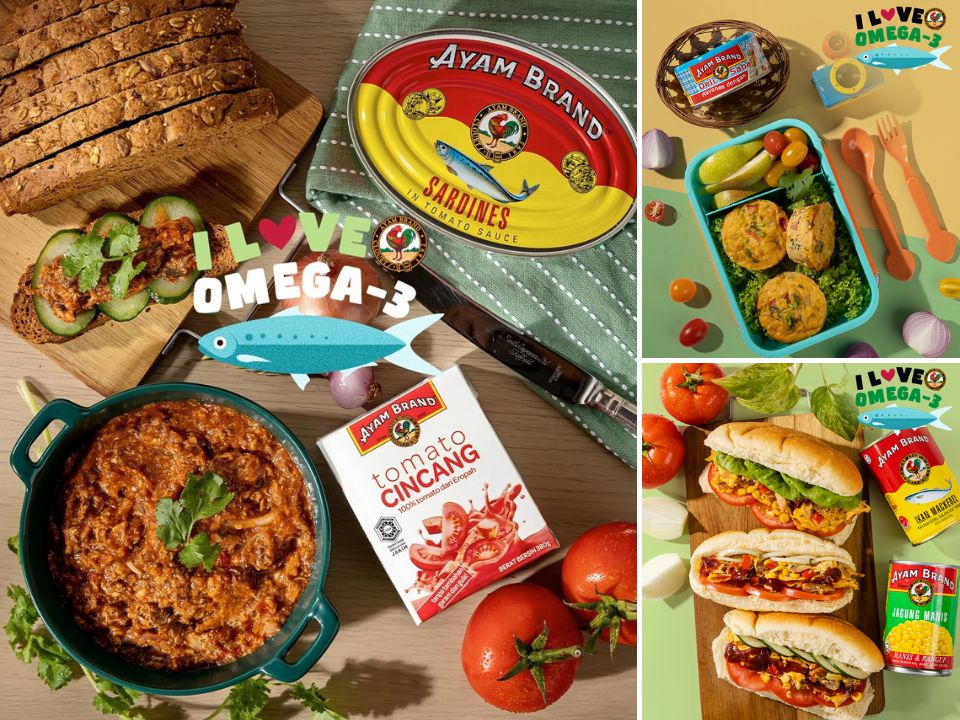 Discover the perfect way to incorporate your daily Omega-3 intake with Ayam Brand™'s scrumptiously healthy and conveniently accessible range of fish products. Check out these 3 Ayam Brand recipes using Ayam Brand™'s fish range.
Explore These 3 Mouthwatering Omega-3 Recipes Featuring Ayam Brand™'s Delectable Fish Range!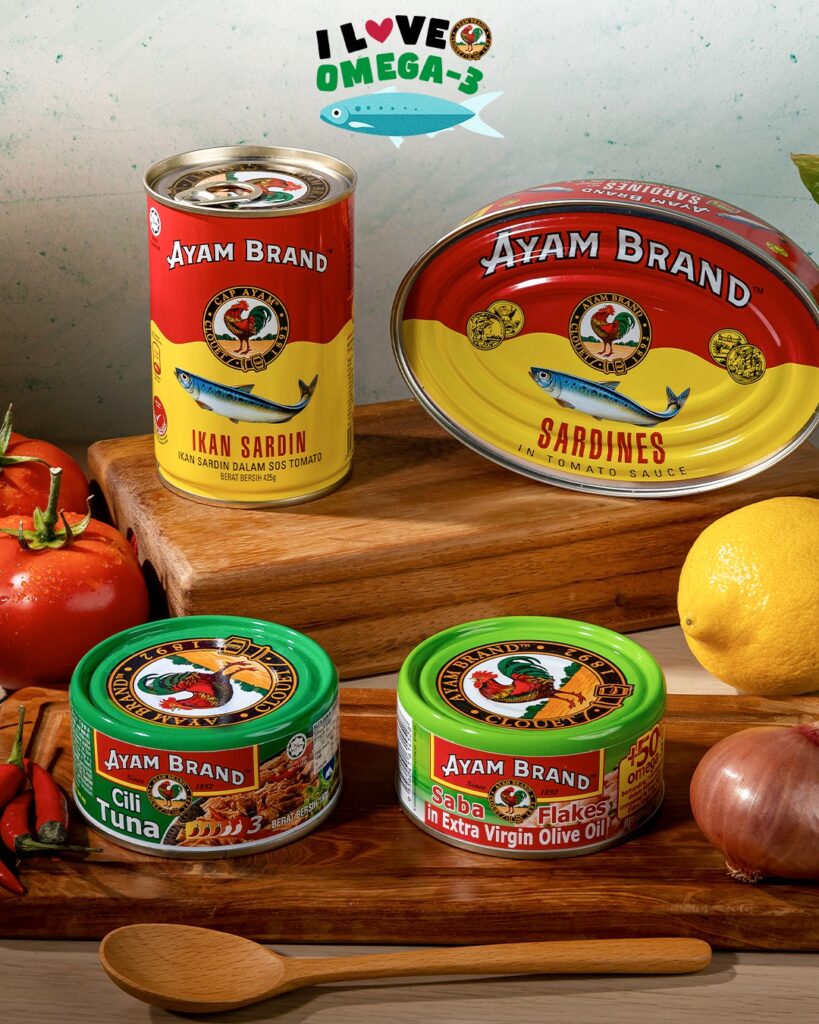 1. Saba Cheddar Lunch Box Bites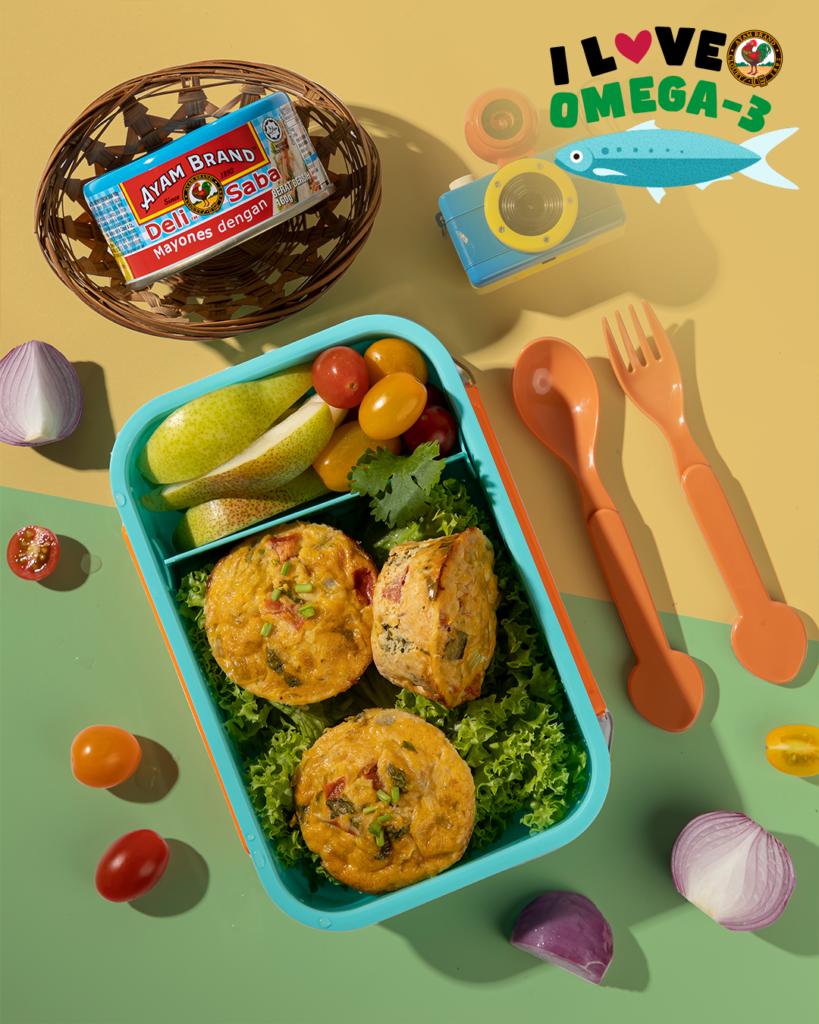 Prep time: 10 minutes, cook time: 25 minutes, serves: 3-4 pax
Make a healthy Omega-3-loaded lunch box for adults or kids using Ayam Brand™ Saba Flakes in Mayonnaise.
Ingredients:
1 can Ayam Brand™ Saba Flakes in Mayonnaise
1/3 cup sour cream
3 tbsp Ayam Brand Tomato Puree
1/4 cup minced sweet onion
2 tbsp chopped parsley
3 large eggs
¼ tsp salt
1 cup grated cheddar cheese 
Steps:
Preheat the oven to 325 F and lightly grease a 12-cup mini muffin tin.
Put the drained Ayam Brand™ Saba Flakes in Mayonnaise into a bowl and use a wooden spoon to break it apart into very small flakes.
Mix in the sour cream, Ayam Brand Tomato Puree, sweet onion and parsley.
In a small bowl, beat together the eggs and the salt. Add them to the saba mixture and stir to combine thoroughly. Add the cheese and mix.
Divide the mixture between the mini muffin cups. Bake saba cheddar bites for 15-17 minutes or until they are set. Remove bites from the oven and let it stand in the tins for 5 minutes.
Use a sharp knife or offset spatula to loosen around the edges of the bites and remove them from the tin. Enjoy warm or at room temperature.
Your Saba Cheddar Lunch Box Bites are ready. Keto-friendly too!
2. Roti John Mackerel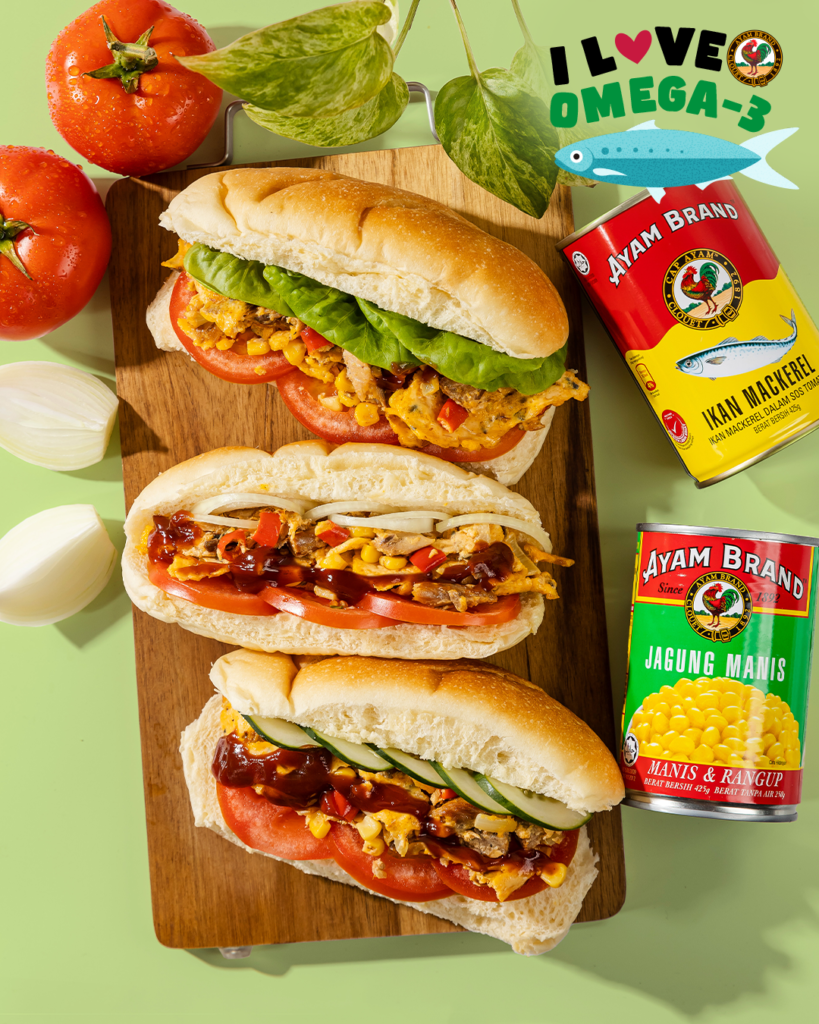 Prep time: 10 minutes, cook time: 15 minutes, serves: 3-4 pax
Enjoy an Omega-3-rich and healthier snack with this Roti John Mackerel. This is the right time to impress your family and friends by adding Ayam Brand™ Mackerel to elevate the taste of the dish which only takes a few minutes to prepare.
Ingredients:
1 can of Ayam Brand Mackerel
Roti John
4 large eggs
Chillies 
1 onion (diced) 
Salt
Cucumber and tomato (for garnish) 
Sauce 
Mayonnaise
Steps:
In a bowl, mash the Ayam Brand™ Mackerel in Tomato Sauce into very small flakes.
Break in eggs, add chillies, onion and salt.
Fry the mixture with Roti John.
Garnish with cucumber and tomato.
Add sauce and mayonnaise.
It's ready to serve!
3. Sardine Pate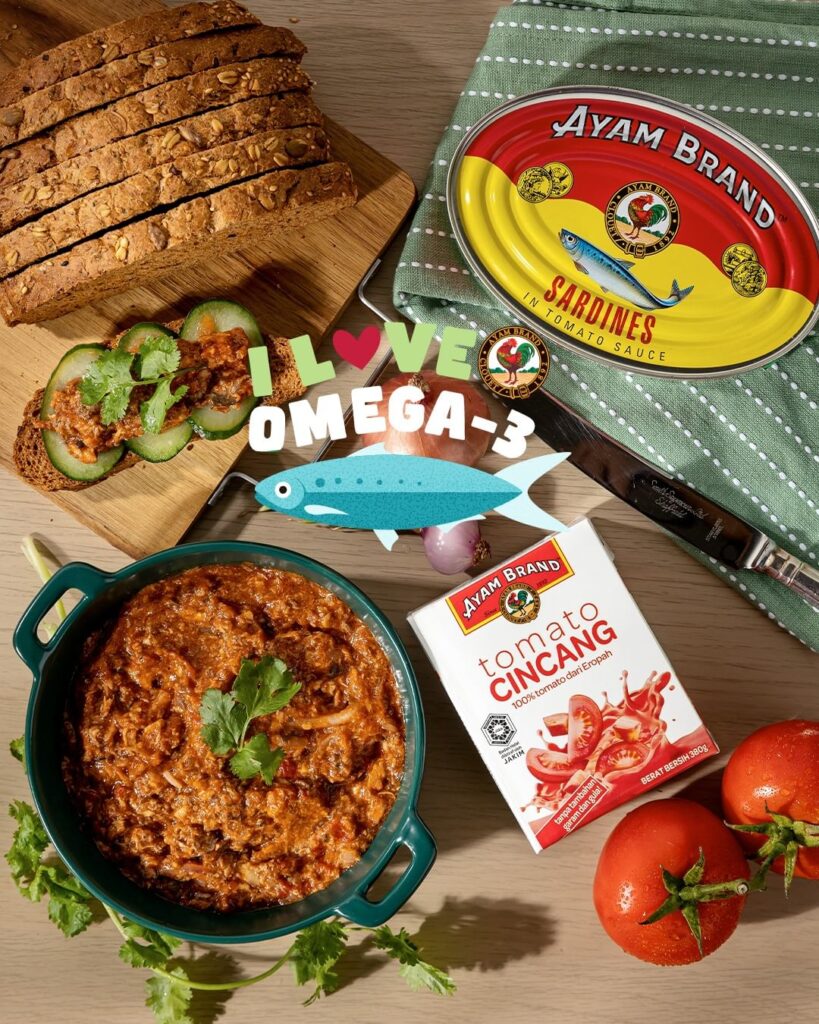 Prep time: 10 minutes, serves: 3-4 pax
This delicious Sardine Pate can please even the fussy eaters. This 6-ingredient recipe with an impressive Omega-3 content in Ayam Brand™ Sardines is very healthy and nourishing. 
Ingredients:
1 can Ayam Brand™ Sardines
4 tomato halves (preserved in oil)
1 ½ tbsp mayonnaise
1 tbsp chopped spring onion
1 tbsp lemon juice
1 tsp hot sauce
Steps:
Add a can of Ayam Brand™ Sardines with the halved tomatoes, mayonnaise, chopped spring onion, lemon juice and hot sauce.
Pour it to a food processor or a medium bowl if using an immersion blender stick.
Blend until just smooth.
Transfer the sardine paste to a bowl to serve with crispbreads, sourdough, sliced veggies, crackers or use in wraps, salads.
You Sardine Pate is now ready to be served!
If you're searching for other recipes using Ayam Brand products, check out these recipes using Ayam Brand™ Baked Beans or Ayam Brand™ Tuna.
For more information on Ayam Brand™, head over to Ayam Brand™'s Facebook @AyamBrandMalaysia or Instagram @AyamBrandMy.