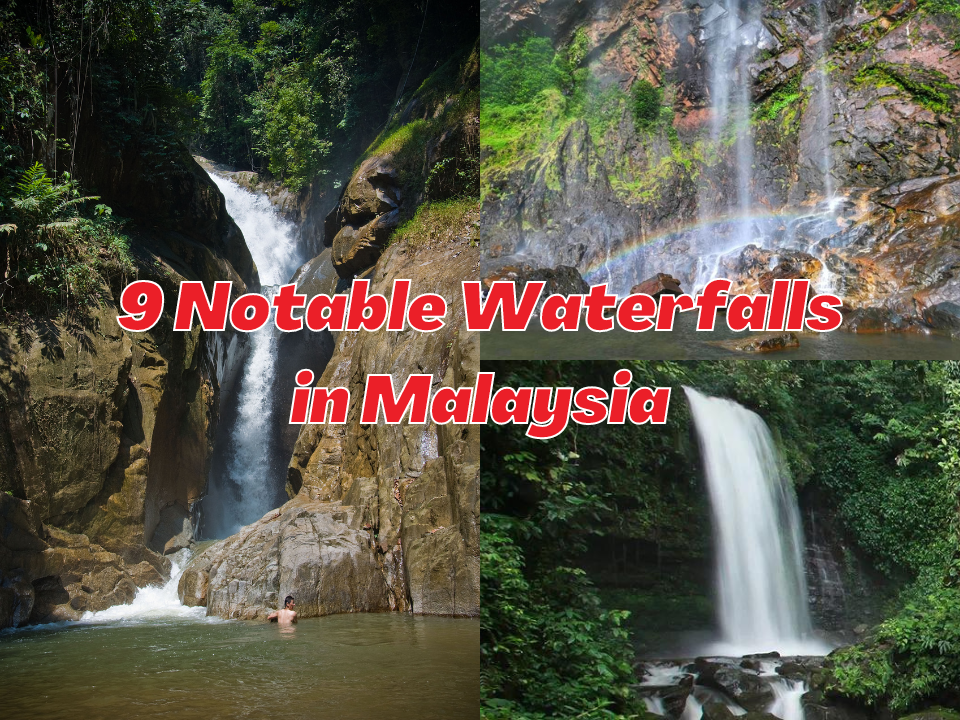 The truth you might not know, Malaysia has over 100 recognized breathtakingly beautiful and famous waterfalls! The deep and dark forests may have many more exquisite waterfalls that await you. Does it spark your curiosity about waterfalls in Malaysia?
As you know, Malaysia's waterfalls are available in diverse forms and size that suit adults and children. For instance, some towering waterfalls in Malaysia have no visible sources, while some have natural pools below that are ideal for swimming.
Oddly, the waterfalls appear to emanate an energy that revitalizes us as we hear the gushing waters that relieve us from the hustle and bustle of the cities. These are the seven famous waterfalls in Malaysia that are pretty easy to reach with vehicles. Therefore, plan and explore them right now!
9 Spectacular Waterfalls in Malaysia
1. Rainbow Waterfall (Pahang)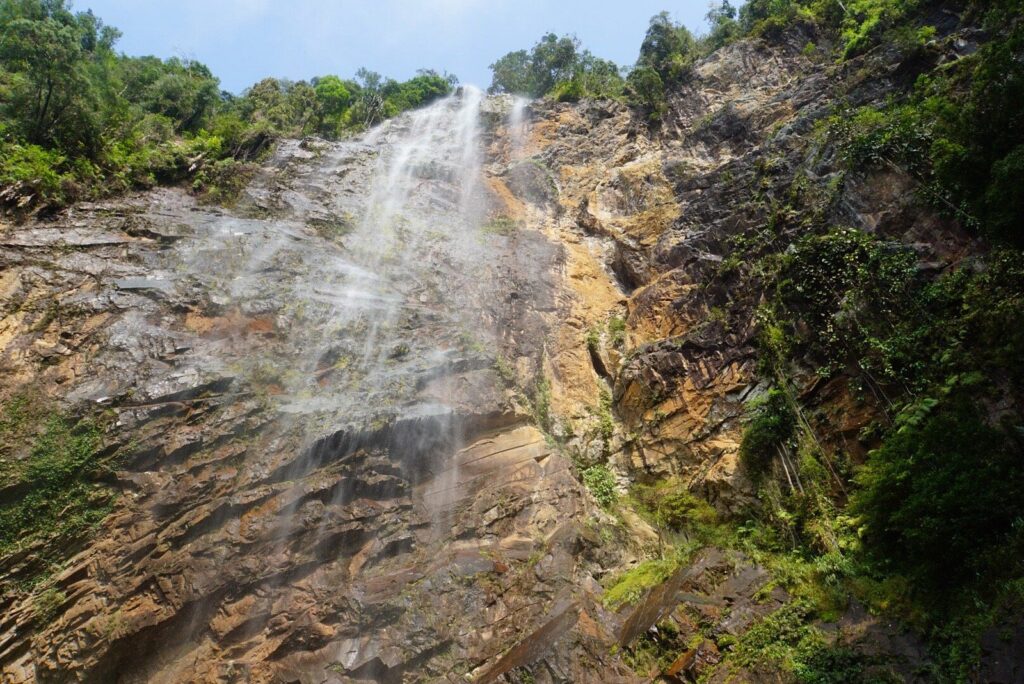 Are you searching for a location that appears like a fairytale world in Malaysia? Visit Rainbow Waterfall now! The name alone guarantees visitors an experience they will never forget in their life. If you go at the appropriate moment, you can see how the water and light interact to produce mesmerizing rainbows within the mist. Interestingly, you will view the refraction phenomenon when the sun shines just so (9 am – 10 am) and possibly earlier.
As numerous local and global visitors flock to see this iconic phenomenon in Malaysia, it is advisable to come early in the morning, after rain, or before sunset. However, this well-known Rainbow Waterfall can only be reached with four-wheel-drive vehicles (4WD).
Aside from taking lovely photographs with rainbows and waterfalls as backgrounds to upload to your social media platforms, Sungai Lembing also features a trekking track that extends up the mountain. On top, you will enjoy a fantastic view of the luscious herbage and hills.
Location: Sungai Lembing, Pahang
Opening hours: 9.00 am – 5.00 pm (Daily)
Entrance Fee: RM50 (includes transport, guide, and insurance)
2. Sungai Chiling Waterfall (Selangor)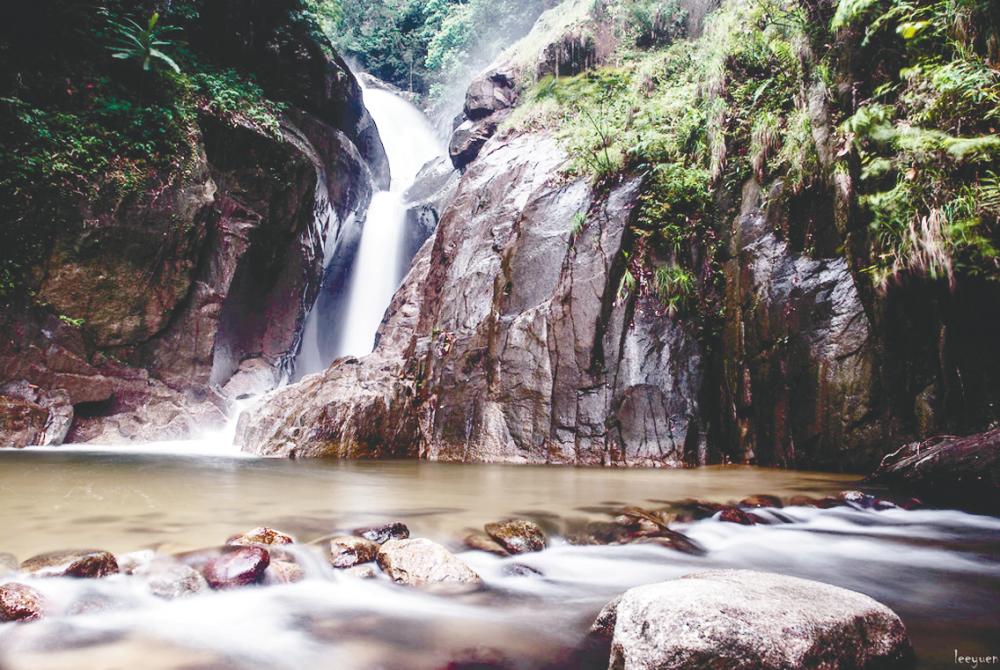 The Sungai Chiling Waterfall in Selangor is one of the top must-visit spots in Malaysia, especially for adventurers for an adrenaline rush!
More excitingly, the Sungai Chiling Waterfall is also one of the fish sanctuaries in Selangor. Then, you can arrive at the Sungai Chiling Waterfall after an exciting hike down the river.
Conquer the six river crossings to reach the magnificent waterfall, so be prepared to get your feet wet! (Highly recommended: waterproof boots) Although having strong currents and deep waters, the trek is perfectly safe for hikers. This spot feels like the diamond in the rough, enveloped in deep greenery.
As a reminder, the Sungai Chiling Waterfall is only available to the public on Friday, Saturday, and Sunday due to a regulation imposed by the Selangor Fisheries Department (for research purposes), so check your schedule and plan your trip accordingly.
Location: 44000 Kuala Kubu Bharu, Selangor
Opening hours: 8.00 am – 5.00 pm (Fridays to Sundays); closed on Mondays to Thursdays
Entrance Fee: RM1
3. Ulu Chepor Waterfall (Perak)
The Ulu Chepor Waterfall is quite appealing, especially with hot weather in Malaysia, because of its cold, pure water that flows from the summits of the Kledang Hills. Do you know that the Ulu Chepor Waterfall is one of the renowned waterfalls in Perak? It attracts the arrival of visitors as it features a vast picnic space, a multi-purpose hall, tiny huts, prayer rooms, hawker kiosks, and restrooms constructed by the Ipoh City Council.
Notably, this waterfall contains several cascades, but the star attraction is the plants and wildlife. Additionally, butterflies perceive this as a safe shelter, and you may see them flitting around! To fully explore the waterfall, walk further after the initial fall, then cross under two large stones to reach the last one in the rainforest.
Relax your nerves and listen to the soothing sounds of running water; you could fall asleep before you realize it. The Ulu Chepor Waterfall is a terrific area to unwind, take a picnic, and dive amid stunning natural beauty. For those who choose to stay overnight, there are rest huts and chalets for visitors.
Location: Kampung Ulu Chepor, 31200 Chemor, Perak
Opening hours: 8.00 am – 6.00 pm (Daily)
Entrance Fee: RM2 (Per car)
4. Seven Wells (Telaga Tujuh) Waterfalls (Kedah)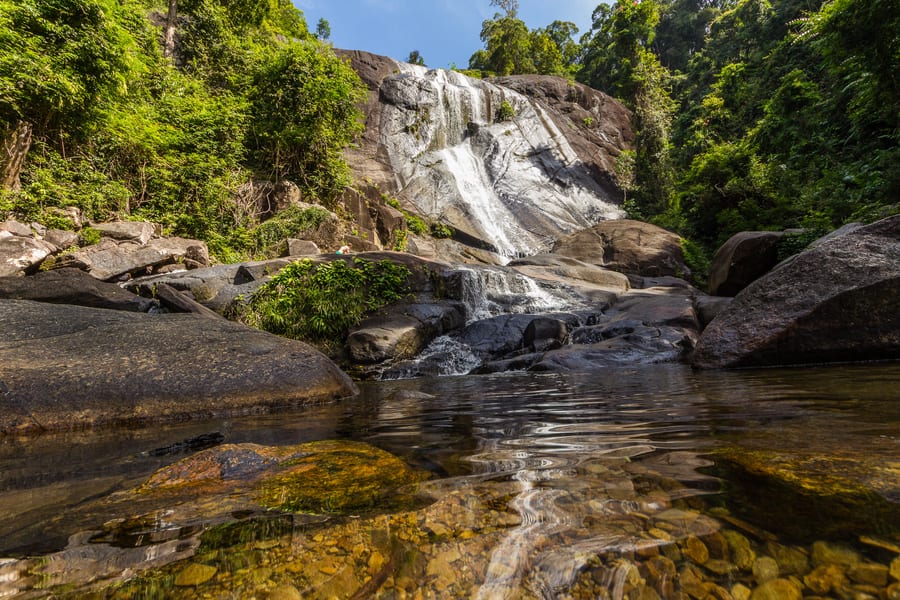 Do not miss out on the famous Telaga Tujuh Waterfalls, also known as the Seven Wells Waterfalls in Malaysia! It is a great spot to see in Langkawi Island, Malaysia. Its name, seven wells, derives from a series of seven interconnected natural pools that contain seven separate waterfalls. Furthermore, there are myths about the seven fairies that dance around the seven natural lakes at the Telaga Tujuh Waterfalls.
The Mat Chinchang Forest Reserve, which has distinct flora and fauna, was like a protected reserve and surrounded the famous waterfall. Thus, visitors may have a walk, hunt for Sintuk and lime plants in the forest, and cool down in one of the higher pools. There is also a crimson "half-bridge" with a glass platform where you may take photos. Unquestionably, the splendor of the famous Telaga Tujuh Waterfalls (Malaysia) is beyond description.
Location: Mukim, Jalan Telaga Tujuh, 07000 Langkawi, Kedah
Opening hours: 8.30 am – 7.30 pm (Daily)
Entrance Fee: Free
5. Kota Tinggi Waterfalls (Johor)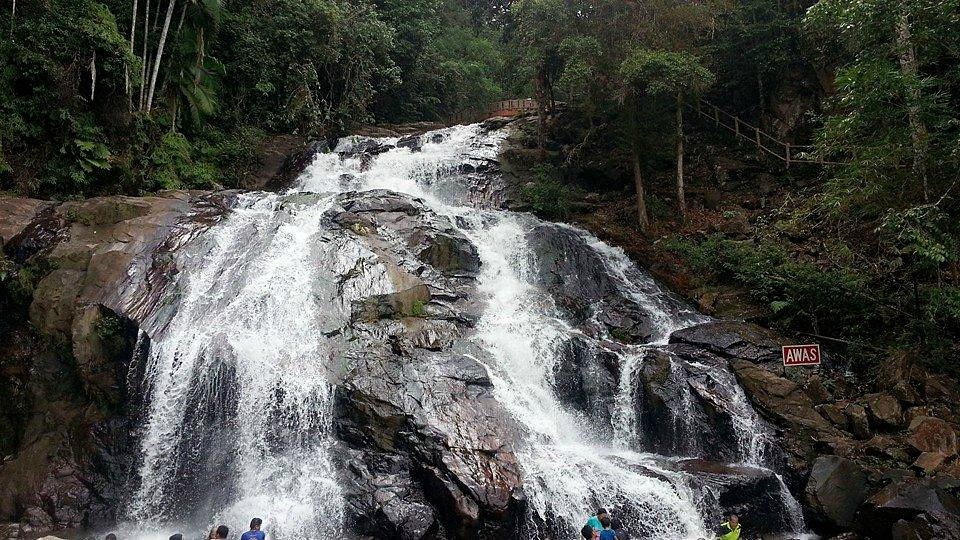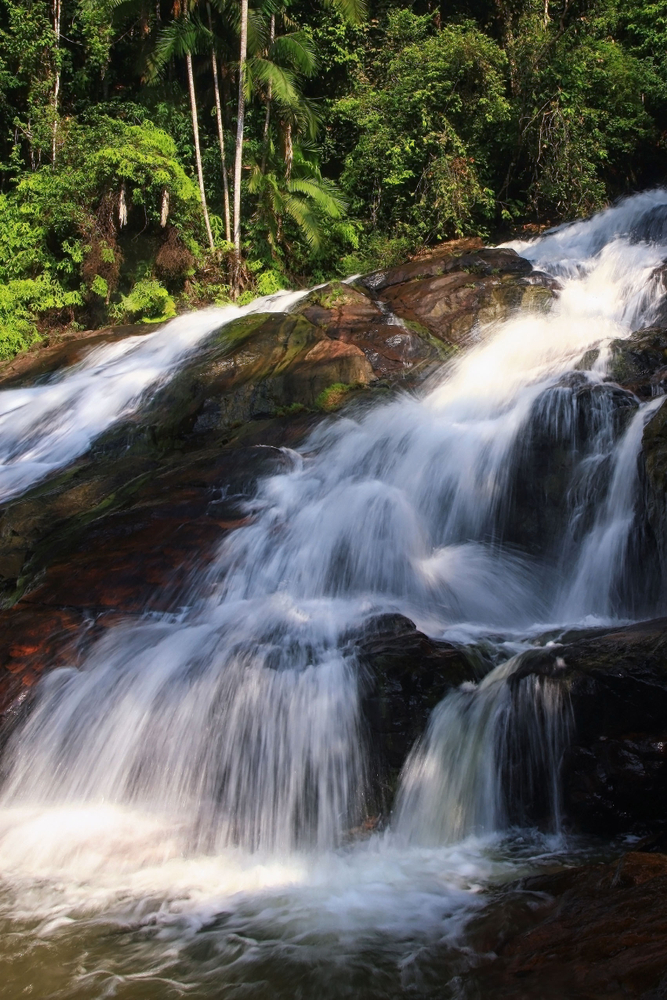 The famous Kota Tinggi Waterfalls in Johor (Malaysia) is a popular weekend destination for locals' enjoyment. The waterfall nearer to the entry is a lovely cascading waterfall with pools below that enable swimming in the chilly waters, while the other is accessible by trekking.
After enjoying the panoramic view of the Kota Tinggi Waterfalls, take a lovely walk to the water slides, which suit kids and adults. If you prefer forest trekking, try the hiking trail to Muntahak Mountain. More impressively, you might be able to view a variety of flora with medical values at the mountain.
As a tip, there is a lot of green algae forming on the rocks' surfaces at the waterfalls, so be careful every step since there is a significant risk of slipping!
*The waterfalls and resort are currently closed till further notice.
Location: KM 16, Jalan Lombong, 81900 Kota Tinggi, Johor
Opening hours: 8.30 am – 7.00 pm (Mondays to Saturdays); 8.30 am – 12.00 am (Sundays)
Entrance Fee:
| | |
| --- | --- |
| Ticket Types | Prices |
| Adults | RM10 |
| Children | RM5 |
6. Jelawang Waterfall (Kelantan)
The Gunung Stong State Forest Park, one of the top five ecotourism places in Malaysia, consists of the legendary Jelawang Waterfall, the highest waterfall in Malaysia and Southeast Asia at 160 meters. The Jelawang Waterfall, also known as Stong Waterfall, is a superb destination to visit because you might be able to view the gigantic flower with a horrendous smell, the Rafflesia.
Besides, you can either hike to the peak of the waterfall or observe its splendor from below. Amazingly, those granite cascades at the waterfall have created an excellent photo backdrop. Although it is a little isolated and has few utilities (only toilets available), it is well worth the trip.
Location: Kampung Jelawang, 18200 Dabong, Kelantan
Opening hours: Open 24 hours (Daily)
Entrance Fee: RM5
7. Sekayu Waterfall (Terengganu)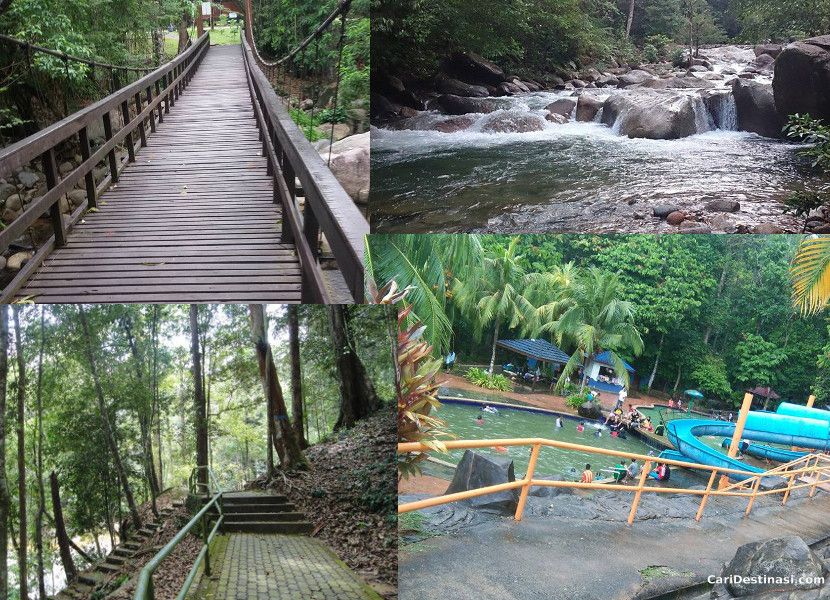 If you are heading to Terengganu, you will probably hear people brag about Sekayu Waterfall, one of the most notable tourist sites in Kuala Lumpur's northeast. The waterfall is situated within the Sekayu Recreational Forest in Kuala Berang and is a treat to the eyes.
While the Sekayu Waterfall is a fantastic spot to come with your family members and buddies, it is suggested to spend a minimum of half a day in this magnificent park and at Sekayu Waterfall. Notably, beautiful gardens, fruit orchards, fish ponds, and a small zoo are some worth visiting features around the waterfall. However, it is best to follow the safety guidelines to avoid unwanted issues and incidents!
Location: Hutan Lipur Sekayu, 21700 Kuala Berang, Terengganu
Opening hours: 8.00 am – 6.00 pm (Daily)
Entrance Fee: RM1
8. Mahua Waterfall (Sabah)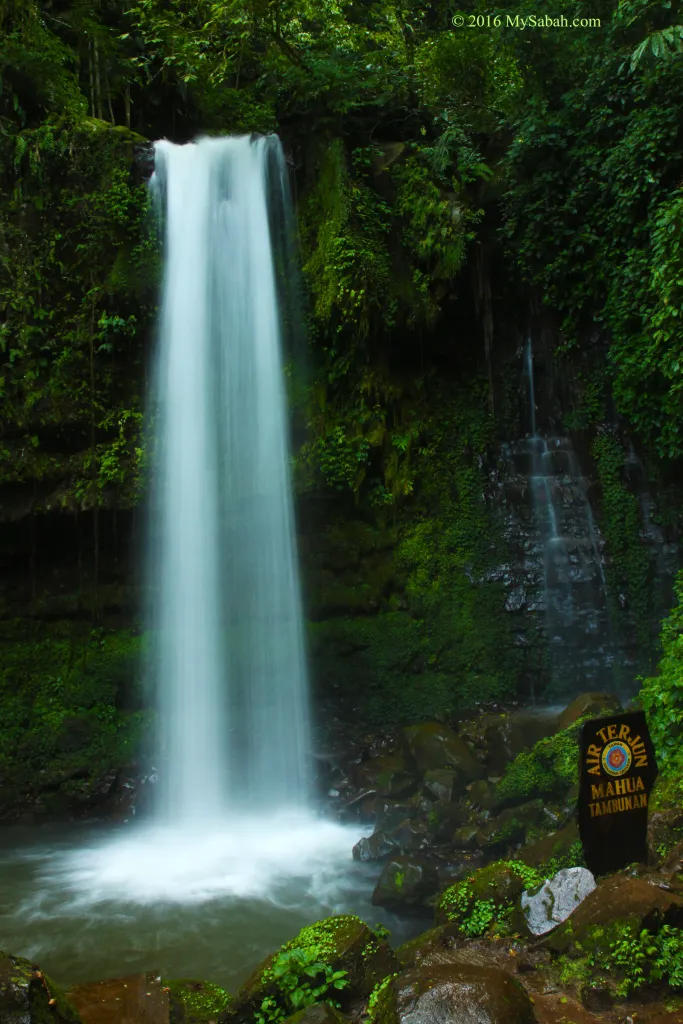 The Mahua Waterfall, located in Tambunan, Sabah, has been accessible to the general public since June 2003 and has attracted people from all around Malaysia. The waterfall is 26 kilometers from Sabah and 17 meters (55 feet) high.
It is advisable to follow the 500-meter route, flanked by beautiful greenery and innumerable gorgeous butterflies flitting around to reach the Mahua Waterfall. Furthermore, there are a variety of unique butterfly species to be seen, including the Monster Skipper, Black-Veined Mapwings, Blue Hedges, Rajah Brooke's Birdwing, Red Helen, and Common Mormon. Last but not least, remember to be wary of the loose rocks on the route and around the waterfall!
Location: Kampung Mahua, 89650 Tambunan, Sabah
Opening hours: 8.00 am – 5.00 pm (Daily)
Entrance Fee:
| | | |
| --- | --- | --- |
| Age | Malaysian | Non-Malaysian |
| 18 years old and above | RM3 | RM10 |
| Below 18 years old | RM1 | RM6 |
| Below 16 years old (Student) | RM0.50 | RM6 |
9. Giam Klimau Waterfall (Sarawak)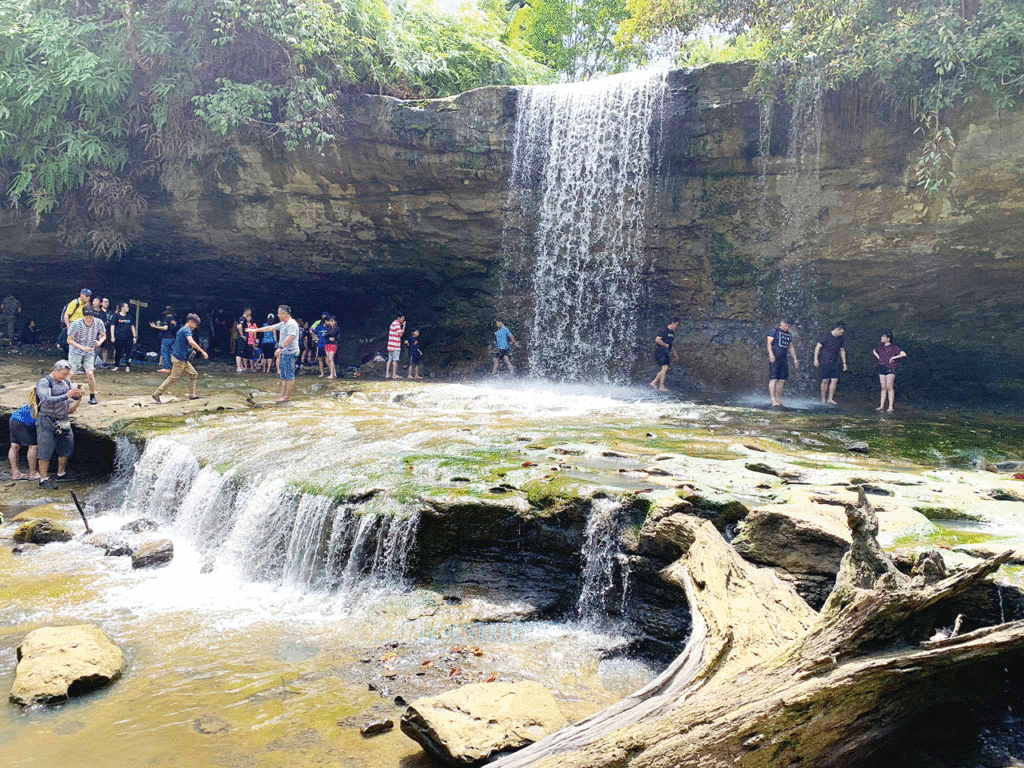 Do you know the origin of the name of this waterfall? The term, Giam, bears the meaning of waterfall or rapids in Bidayuh, the indigenous ethnic group of southern Sarawak. The curtain waterfall at the Giam Klimau Waterfall is the main feature that makes it mesmerizing.
Furthermore, you can stand on a broad, rocky protrusion that offers a shelter below and view one of Malaysia's prime waterfalls mysteriously trickle down. Therefore, come here with your family members or friends to share the wonders of nature!
However, to enter the waterfall, you must first walk through a privately-owned oil palm plantation and report to many security checkpoints. Giam Klimau, on the other hand, is definitely worth the hassle!
Location: South-East of Niah National Park, 98200 Miri, Sarawak
Opening hours: No specific time, usually morning to evening
Entrance Fee: Free
In summary, if you adore nature, you will definitely enjoy a vacation in this lovely country noted for its natural grandeur. Thus, you should include these famous waterfalls in Malaysia as one of the recreational activities on your list!
Lastly, remember to bring your camera so you may capture the beauty of nature in these marvelous photographs and share them with your family and friends!
Are you planning the places you will visit for the forthcoming holiday in Malaysia? Find out more about the Top 10 Glamping Sites In Malaysia For A Perfect Getaway.