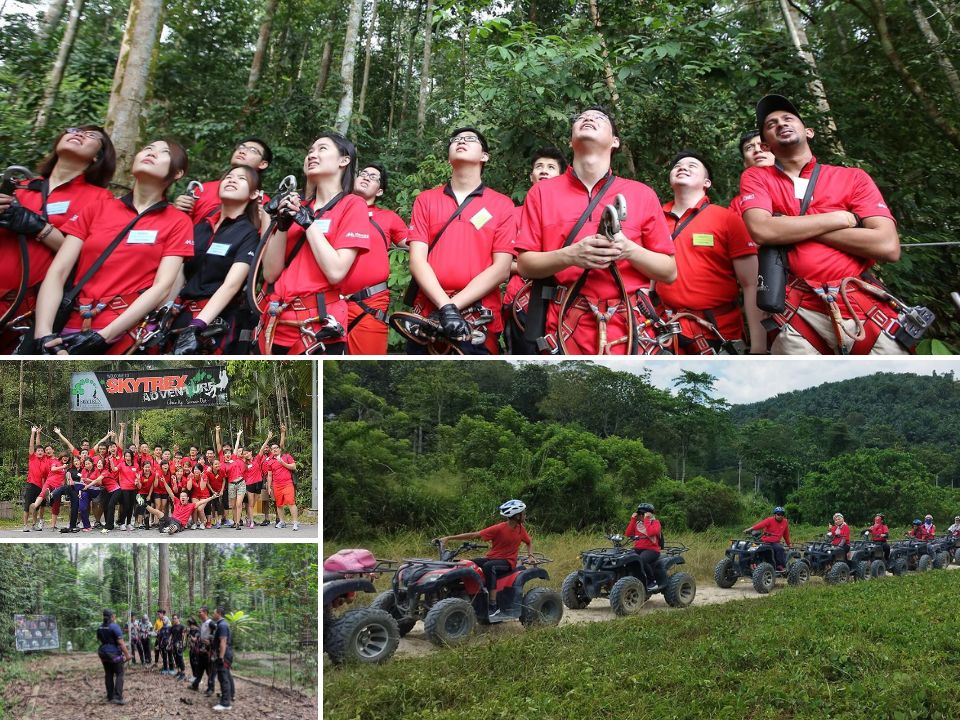 Are you ready to bring your corporate outing to the next level? Imagine you and your colleagues zipping through the air on an exciting zip line tour or navigating the white waters of a scenic river on a white-water rafting trip. Isn't it fun and exciting?!
Here is a list of 6 exciting and unforgettable corporate outing ideas – from exhilarating sports activities to relaxing indoor activities, we have it all. Let's check it out!
6 Fun Ideas For Your Corporate Outings
If you choose one of these six corporate outing ideas, your company's outing can be the perfect mix of team building, adrenaline, and developing new skills. So, gather your colleagues and get ready to experience an awesome corporate outing like never before!
1. Splashed @ Bomb Battle, Berjaya Times Square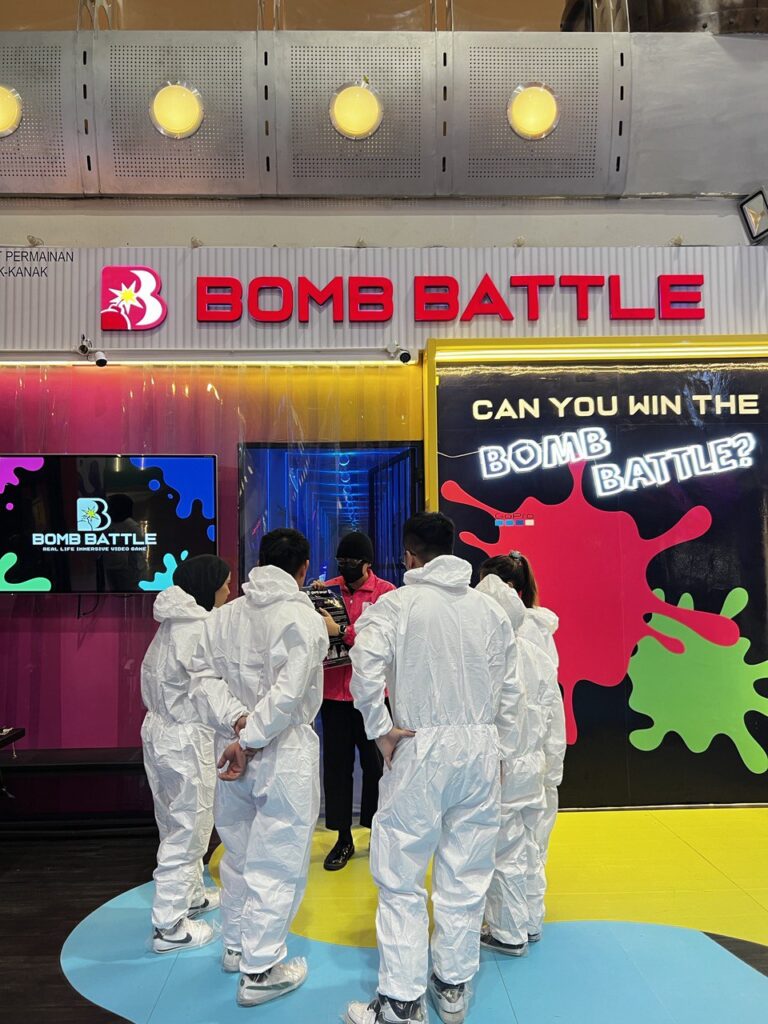 Looking for an epic corporate event that will have your team on the edge of their seats? Look no further than Bomb Battle! Get ready to embark on a series of thrilling missions that will test everyone's skills and teamwork like never before.
From multiplayer mayhem and communication puzzles, it's a chaotic rush from start to finish! Watch out for the explosive paint blasts if you can't defuse the bomb in time – it's a blast of colourful mess!
In Bomb Battle, collaboration is key as you and your teammates work together to overcome the missions. But remember, the clock is ticking, so stay sharp and race against the clock!
Plus, here's a pro tip: the more points you earn, the more time you'll have to defuse that ticking time bomb! So gear up, communicate, and prepare for an unforgettable team-building experience that will leave everybody wanting more. Click here for more information about the experience!
2. Soar Through Treetops @ Skytrex Adventure, Sungai Congkak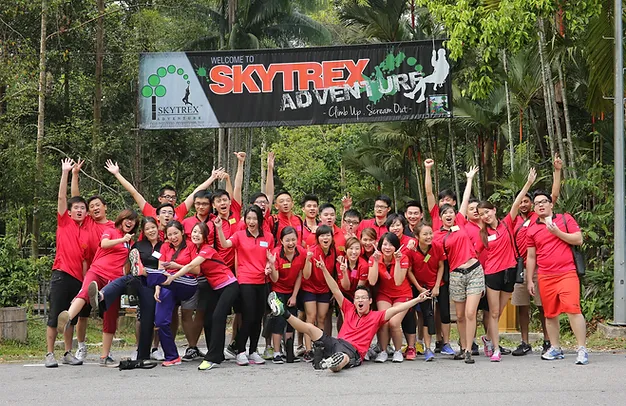 Are you in to foster camaraderie in the woods? Introducing the Skytrex Adventure, where they offer an exhilarating team-building program amidst the breathtaking backdrop of a lush tropical forest.
Their unique outdoor experience combines experiential learning and thrilling team tasks, ensuring a memorable wilderness adventure for your corporate event.
This high-flying activity will push your team to its limits, requiring them to face their fears and step out of their comfort zones, by mentally and physically challenging themselves with up to 27 to 30 obstacles on the high trees of Sungai Congkak.
But that's not all! Your team will also engage in interactive assignments such as the Duplication Game, Protect The Egg, and Marshmallow Challenge, which will also test your communication, planning, and problem-solving abilities.
3. Navigate The Rapid River In Gopeng, Perak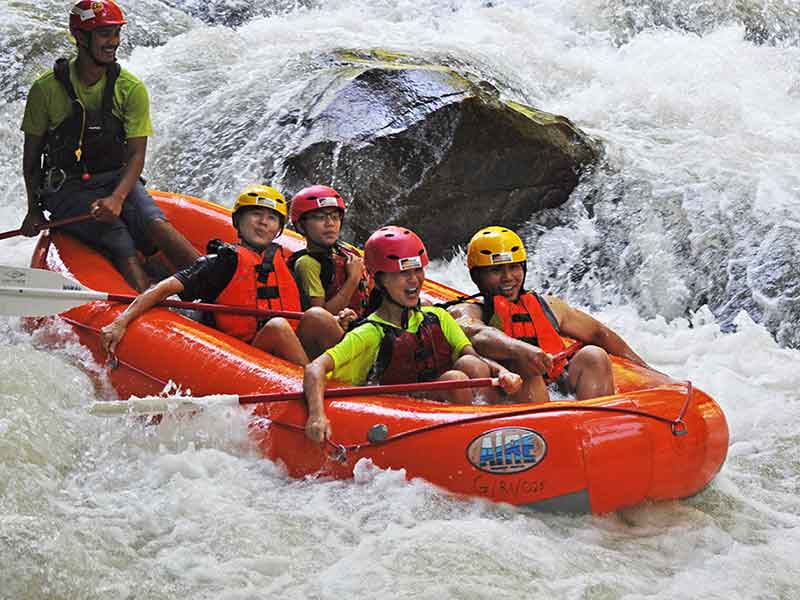 Located just a short 20-minute drive from Ipoh, Sungai Kampar offers an unforgettable rafting experience suitable for corporate outings.
With 22 rapids ranging from Grade 2 to Grade 3+, this trip combines the excitement of tackling challenging rapids while paddling through lush rainforests, immersing you in nature's beauty. It is an ideal activity for participants of all ages and physical abilities and is suited for beginners and intermediates alike.
Nomad Adventure's unique offering allows you to paddle an additional 3 kilometres, taking you to their Earth Camp, a picturesque ending point that showcases the river's most scenic stretch. At Earth Camp, many 'back-to-basics' themed facilities are available such as Jungle Lounge, dormitories, villas, dining hall, and more.
Do not miss out on the opportunity to create lasting memories while enjoying the thrill of white water rafting in the stunning and peaceful landscapes of Malaysia.
4. Explore The Jungle With An ATV @ Rinching Adventure Park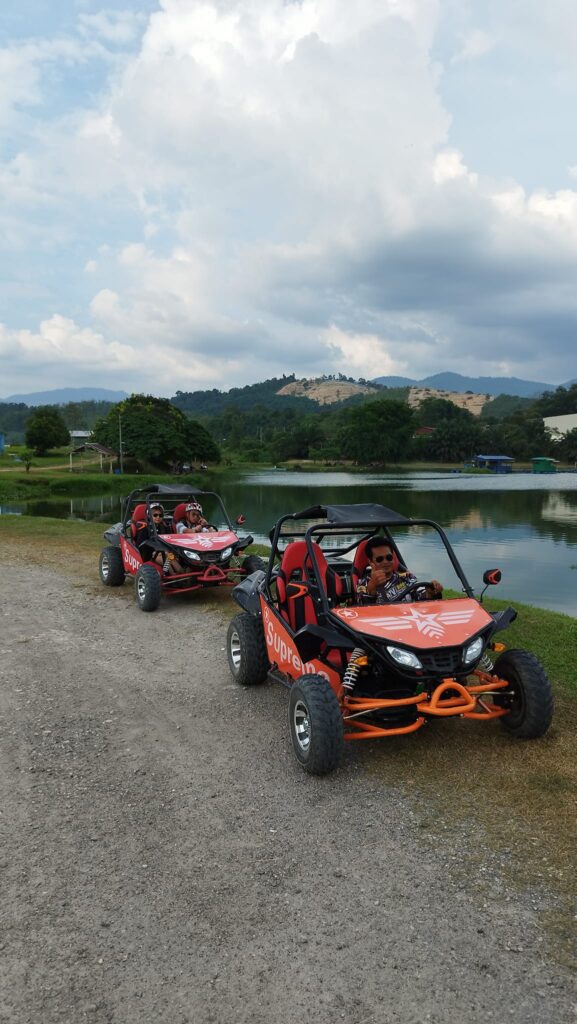 Take your corporate event to new heights as you embark on an adrenaline-pumping off-road adventure at Rinching Adventure Park.
It offers a thrilling ATV experience that will leave your team exhilarated and bonded. Get ready to navigate through rugged terrains, dense foliage, and muddy trails as you ride powerful all-terrain vehicles according to your cc's liking.
Whether you're a seasoned rider or a first-timer, the adventure park provides a range of packages suitable for all skill levels. Feel the rush of adrenaline as you conquer challenging obstacles and witness the beauty of the jungles and waterfalls up close. With experienced guides leading the way, safety is a top priority, ensuring a memorable yet secure adventure for everyone.
As your team explores the jungle on ATVs, they will not only strengthen their teamwork and communication but also create lasting memories in an exhilarating and picturesque environment.
So, rev up your engines and get ready to embark on an unforgettable corporate outing at Rinching Adventure Park!
5. Make Your Own Perfume With POTIONS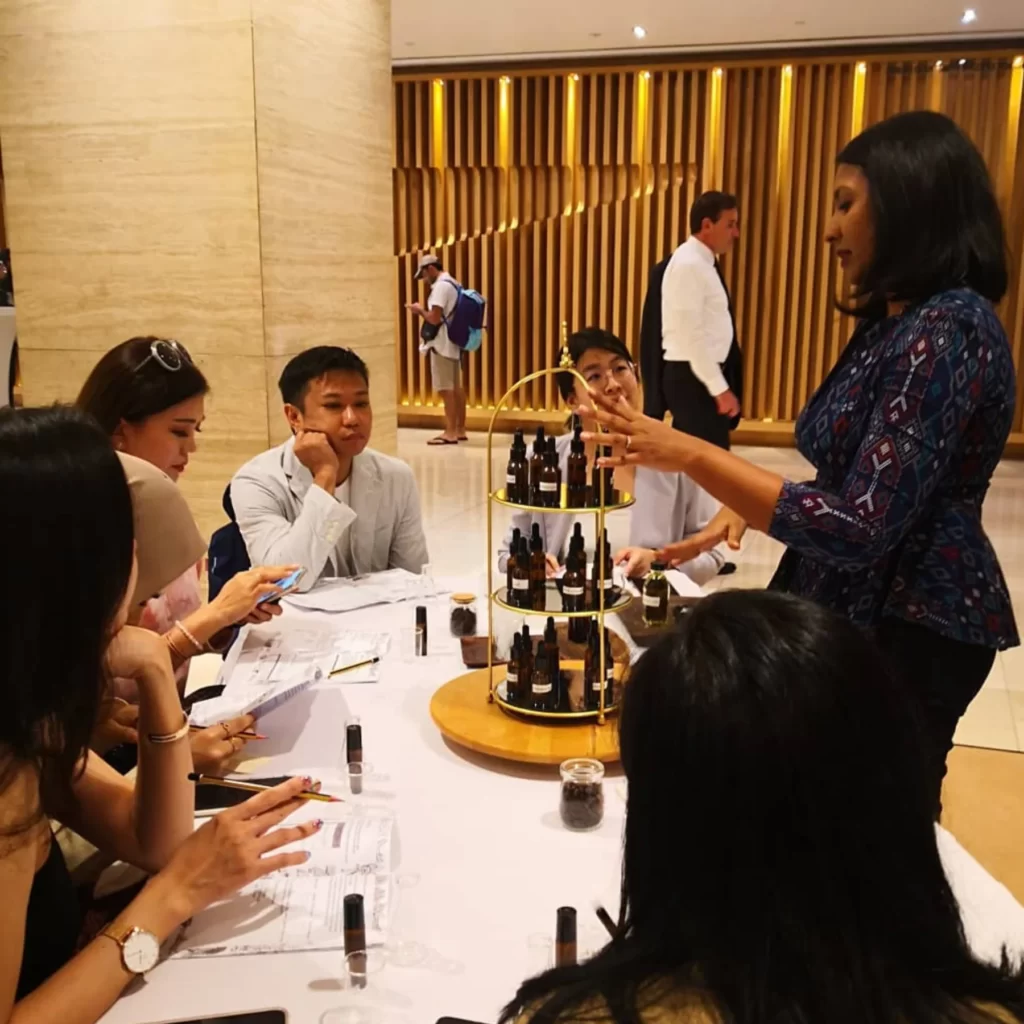 If you are looking for something with a little less of an adrenaline rush – worry not, we've got your back!
Led by experienced facilitators, your team will have the opportunity to explore a range of fragrance notes, composition, and blending techniques through interactive activities with POTIONS.
Designed to be hands-on, the workshop allows your team to create their own unique signature scents, representing your company's values, mission, and culture. This collaborative experience fosters team spirit and encourages collaboration, strengthening the bonds among your colleagues.
Beyond team building, it offers an opportunity for your team to have fun and unwind away from the pressures of the office. To enhance the experience, POTIONS offers additional team-building activities such as a fragrance quiz, testing your team's knowledge of perfumes, or a scent guessing game where participants identify fragrance notes while blindfolded.
Not only that your colleagues will get to bring their DIY perfume home, but they also get to foster their teamwork and communication skills, creating a well-rounded and memorable event.
6. Clay Well With Others @ Beary Potter Studio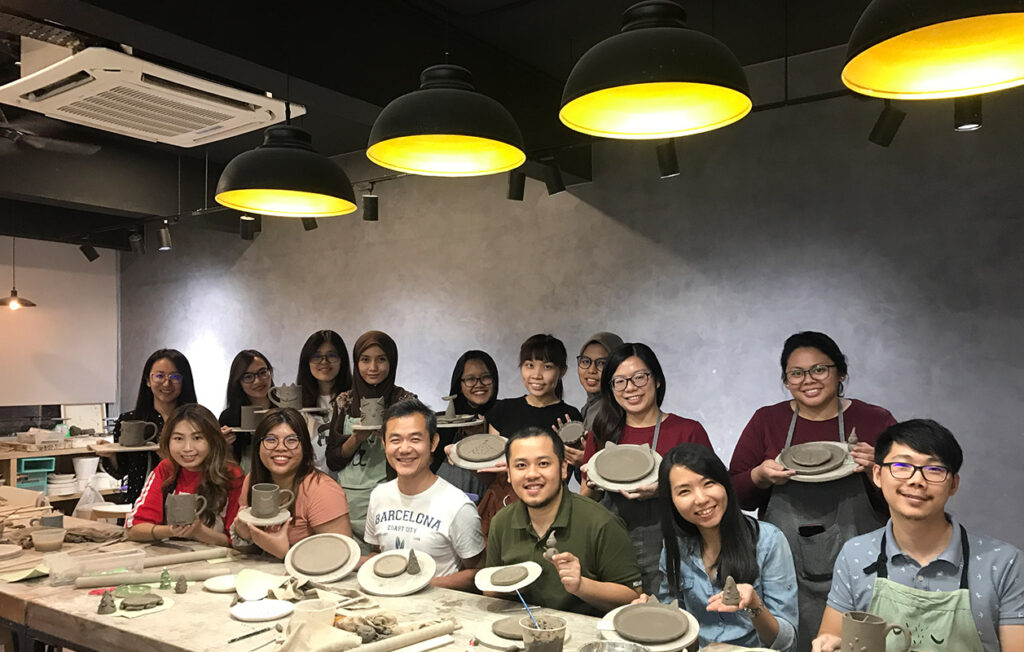 Share the joy of creativity and stress-relief activities with no other than the art of building pottery!
Organize an escapade outing for your colleagues and unleash your team's creativity as you embark on a hands-on pottery experience at Beary Potter Studio. Imagine the excitement as your colleagues gather around the pottery wheel, shaping clay into beautiful and functional masterpieces that are worth cherishing for a lifetime.
From crafting elegant vases to designing personalized mugs, the possibilities are endless. As your team members immerse themselves in the tactile experience of moulding clay, they will discover hidden talents and embrace the joy of creating something from scratch.
Whether it's a friendly competition or a collaborative project, the process of building pottery will undoubtedly leave a lasting impression on your team, fostering a sense of accomplishment and boosting morale.
If your group is looking for something to do indoors but still be hilariously entertaining, why not book a multiplayer bomb battle experience at Berjaya Times Square?
However, if you and your team prefer relaxed activities, try hosting a workshop where they can make their own perfume or pottery and discover their hidden latent skills. So, any of these ideas do you think are the best for your company's corporate outing? Share this with your boss and let em' know!