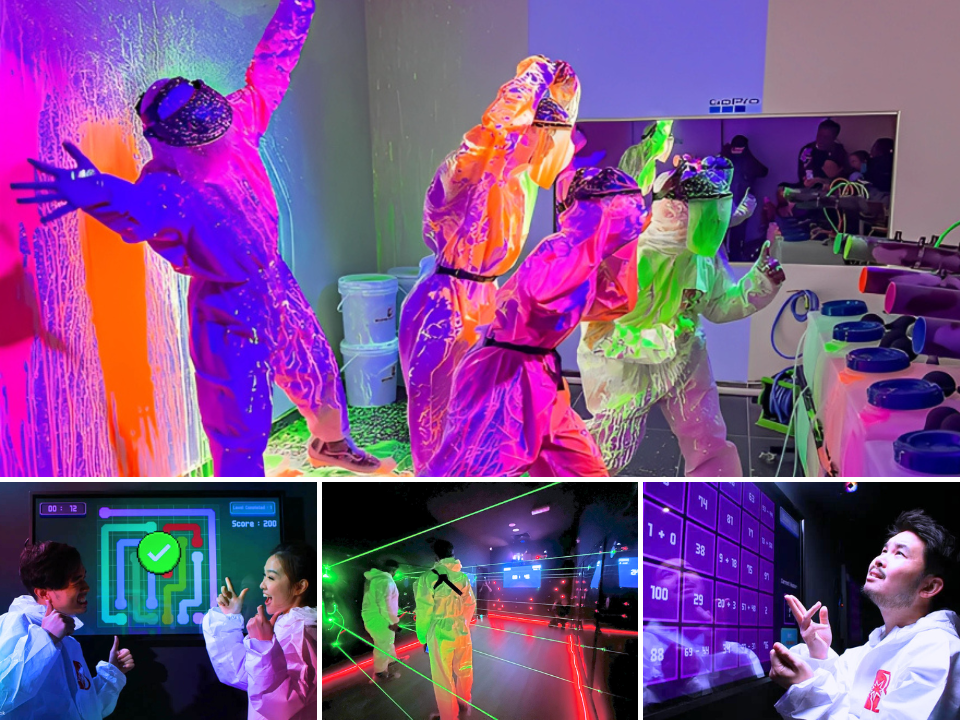 Come and get splash with paint at the first and largest bomb battle in Malaysia located at Berjaya Times Square. Here you get to experience the new upgrade of a real-life arcade and escape room. If you lose, get ready to get splashed by a paint bomb!
Get Splash With Paint At The First Bomb Battle In Malaysia!
What Are The Bomb Battle That Everyone Talks About?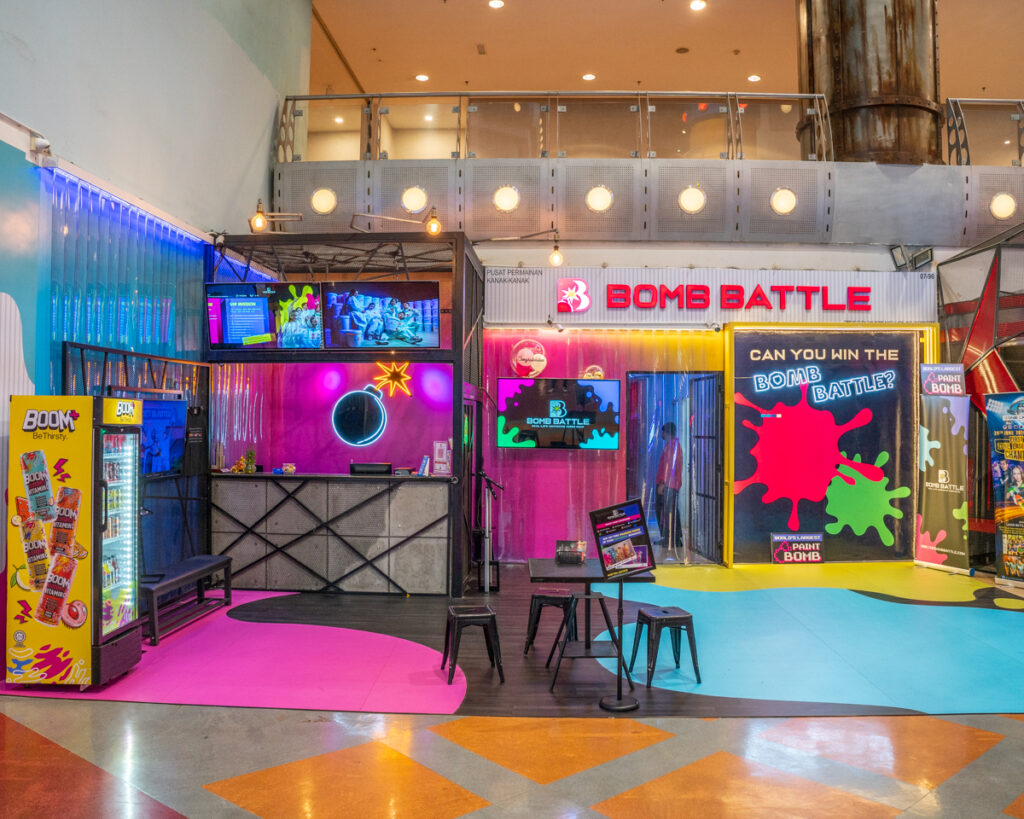 Images via Berjaya Times Square & CILISOS
Bomb Battle? Paint? There are a lot of words about bomb battle and paint in social media like TikTok and Instagram, but what is it actually? Bomb battle is the world of real-life video games with high-energy thrills that suitable for group entertainment.
Address
Lot 07-96, Level 7, East wing, Berjaya Times Square Shopping Mall,
1, Jln Imbi, Imbi, 55100 Kuala Lumpur
Operating Hours
Monday – Sunday, 10am – 10pm
Contact
03-4819 2852
Social Media
TikTok | Instagram
With all the 5 games and 75 minutes given in your hands, come and show off your skills to dodge lasers, crack some memory codes and defusing the ticking paint bomb to avoid getting paint bomb! You also can get to capture the most colorful moments of your adventures with the paint that glow in the dark and dance like all the way you want.
Watch The Bomb Battle's teaser to have a guess on what this Bomb Battle is all about:
Check out their website to know more about The Bomb Battle and for any updates.
Pricing & Packages
For The Bomb Battle, they got two different packages and prices. Feel free to choose whatever you want.
1. Bomb Mission
Price
RM 89/pax
(Off-Peak)

RM 99/pax
(Peak Hours)
Duration
75 Minutes
What's Included
Full Body Hazmat Suits
Protective Gears
Shoe Coverall
Digital Photos
Bomb Videos
Lockers
Total Paint Bomb
7.5L of paint bomb splash
Group members
Minimum: 4 persons
Maximum: 8 persons
2. VIP Mission
If you add on RM20 from the Bomb Mission package, you can upgrade to VIP Mission and get some interesting benefits such as:
Limited Edition Bomber's Seasonal T-Shirt
1 Haus Boom Welcome Drink
Price
RM 109/pax
(Off-Peak)

RM 119/pax
(Peak Hours)
Duration
75 Minutes
What's Included
Limited Edition Seasonal T-Shirt
1 Haus Boom Welcome Drink
Full Body Hazmat Suits
Protective Gears
Shoe Coverall
Digital Photos
Bomb Videos
Lockers
Total Paint Bomb
14L of paint bomb splash
Group members
Minimum: 4 persons
Maximum: 8 persons
For every 4 tickets purchase in VIP Mission during the opening season, you will get discount off up to 20% and free XL water gun during game.
Click on this link to check the booking dates and slots, also to purchase the tickets.
Games & Levels To Explore @ The Bomb Battle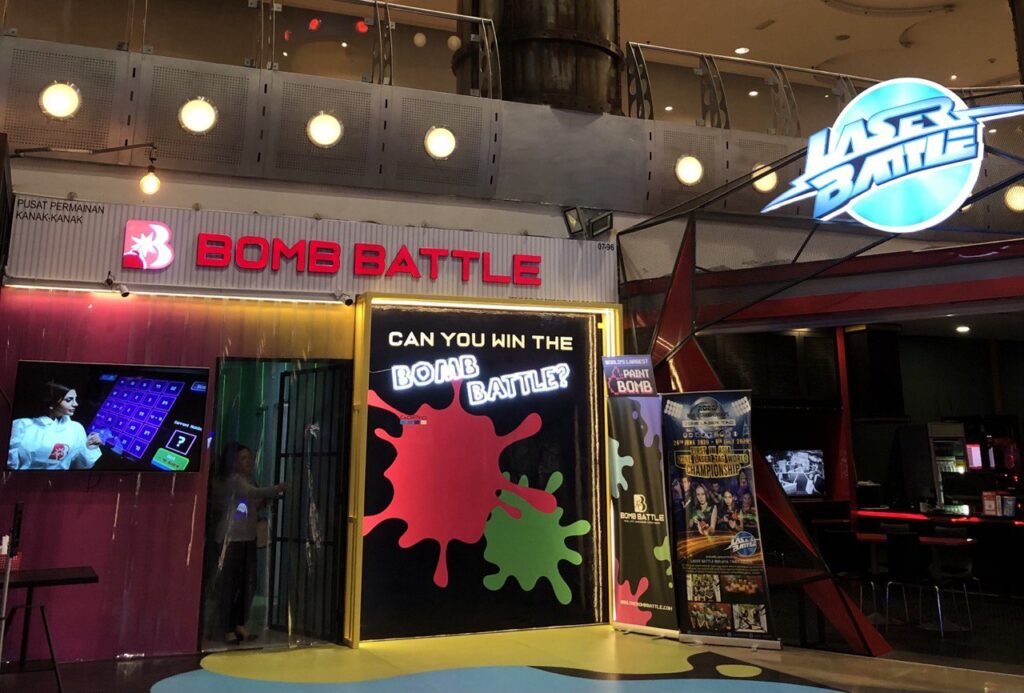 There are 5 different and exciting game missions you have to finish within 75 minutes and each mission will have 15 minutes for you to collect the points as much as you can. Before you enter the room, make sure to choose your level difficulty either Easy, Normal or Hard.
Every game requires 4 to 8 team members in a group because teamwork is very important! The Bomb Battle is to ensure that players are fully immersed in a real-life arcade game, creating an electrifying experience that you will never forget.
1. Power Grid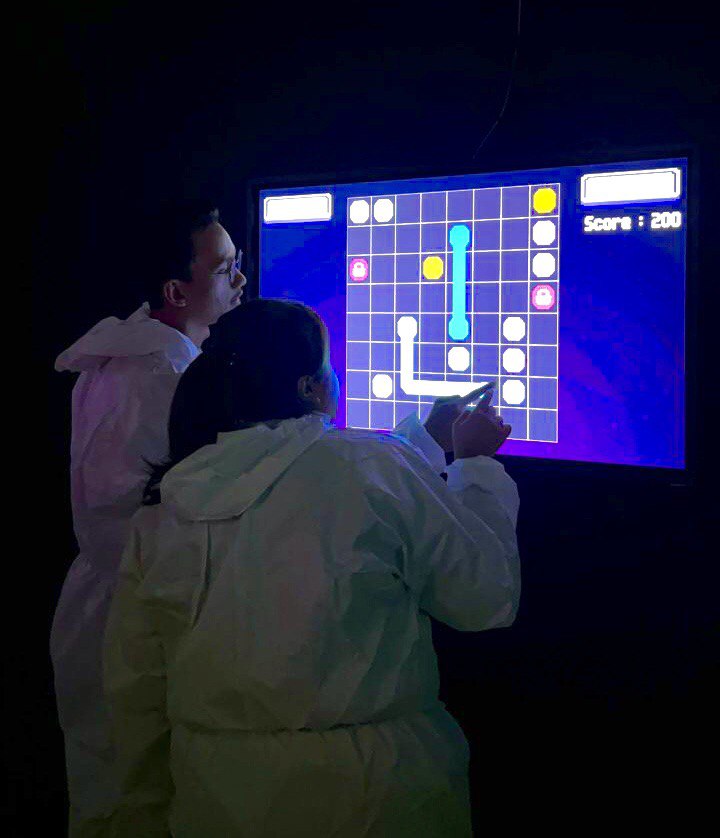 Power Grid is a multi-screen cooperative game where you need to connect all the color dots without touching other colors. The game will become harder as the number of dots and colors increases to make the game more intense. This game requires you to have strategic thinking and spatial reasoning to succeed and score high points there.
The first game usually is the easiest. But, not that easy for Power Grid. This game needs you to think out of the box to solve the mission. We do struggle to while playing this game and trying to connect the dots. But guess what, we did it! Psst… the tip is to use all the boxes there to win this round.
Here is the teaser on How To Play Power Grid:
2. Laser Maze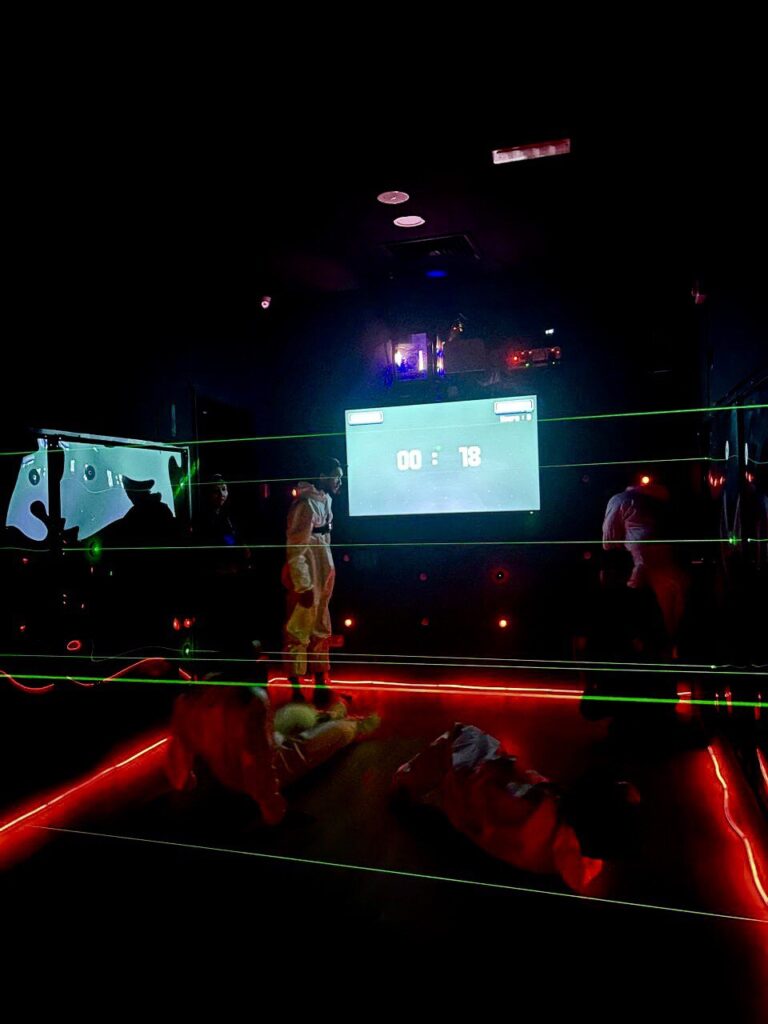 This Laser Maze is where players must outsmart a myriad of challenges! Engage in a highly immersive and meticulously designed laser game, this is where your wits are put to the test as you skillfully deactivate illuminated panels, all while skillfully dodging the treacherous laser beams.
Brace yourself for an adrenaline-fueled experience that escalates in difficulty, pushing your strategic prowess, spatial reasoning, and problem-solving abilities to their limits. Prepare for a mind-bending journey where every move counts, and only the most cunning players emerge victorious!
This game are made for us to use all of our physical energy to finish it. We need to avoid the laser to go for the cross it, sometimes we even need to crawl on the floor. The energy need to be superb to play this round because you need to still focus and press the correct button.
Here are sneak peek about how Laser Maze works:
3. Melody Hack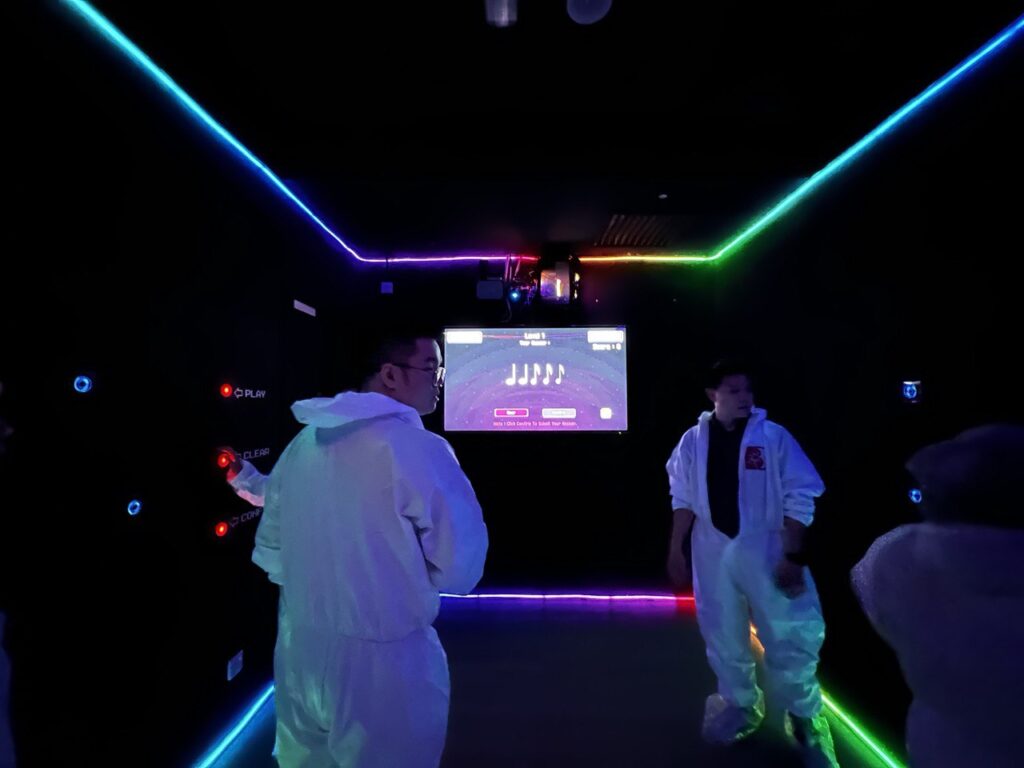 The third game is Melody Hack. This game needs you to focus on your listening better than anyone else. No matter if you have a music background or not, this game can be hard for you. Melody Hack is a music memory game where players need to listen to a few notes played by the game and then, players need to recreate the notes back the same as before.
It may sound easy but it quite tough. The game has different levels of difficulty, and comes with more complex musical sequences and more notes to memorize. If you are confident, you can take the hard level with 5 notes to memorize and recognize. Memory, listening, and motor skills are what this game requires to win.
4. Decrypt It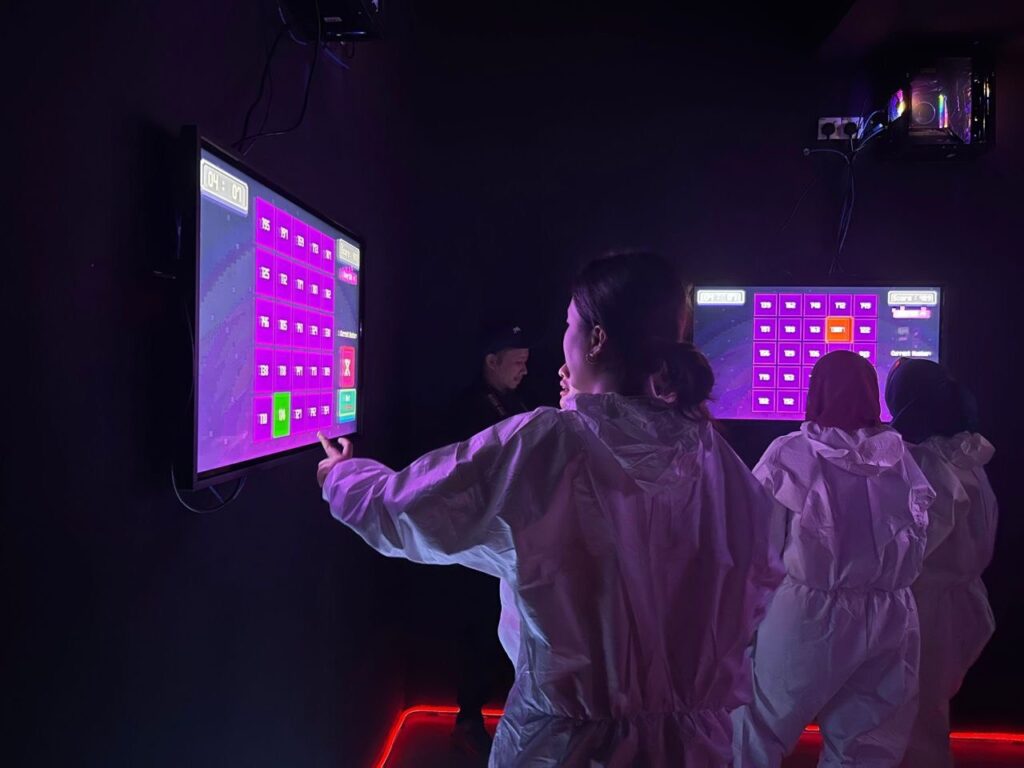 Decrypt It is a game where all the players need to be on the same page to find the correct number sequence as fast as possible on the touch screen. But, you need to be careful with fading color that tricks your sight and some numbers that require you to solve the calculation as fast as you can.
Look at how focus we are while playing this game: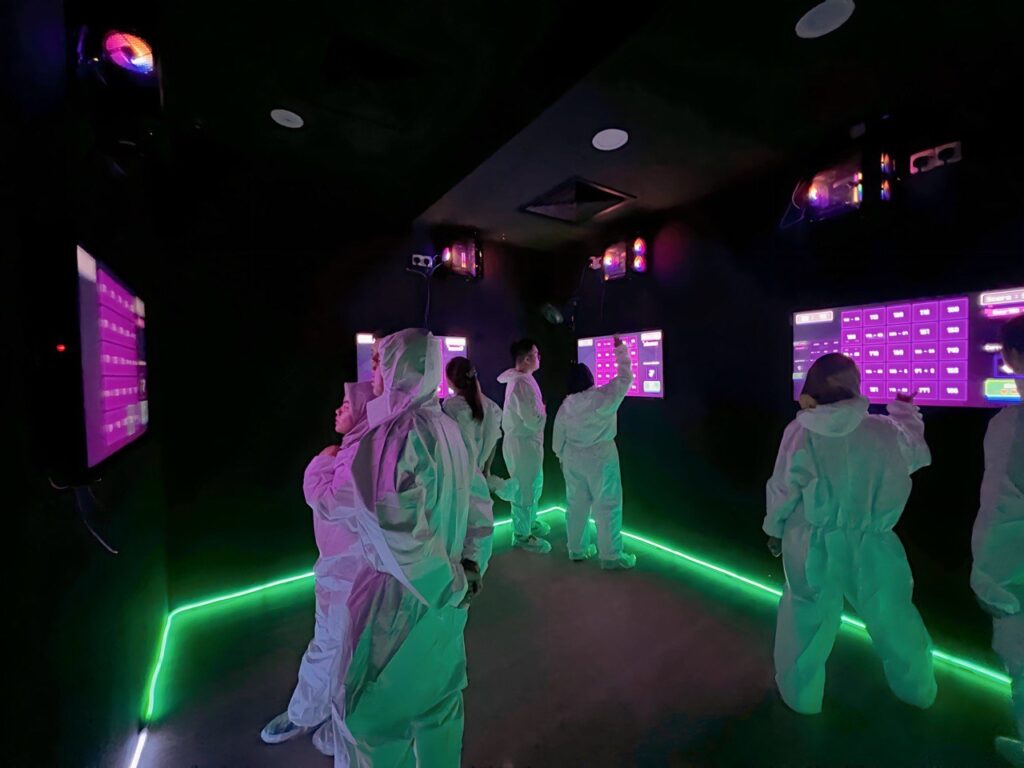 You probably think this one is easy. Up until the first round of 100, yes it was pretty easy. But, don't judge a book by its cover for too early. Up to 200, things started to get harder because within few seconds, you also need to do solve some simple mathematic problems or you will run out of time. But lucky us, we got to score a lot in this game!
5. Circuit Cracker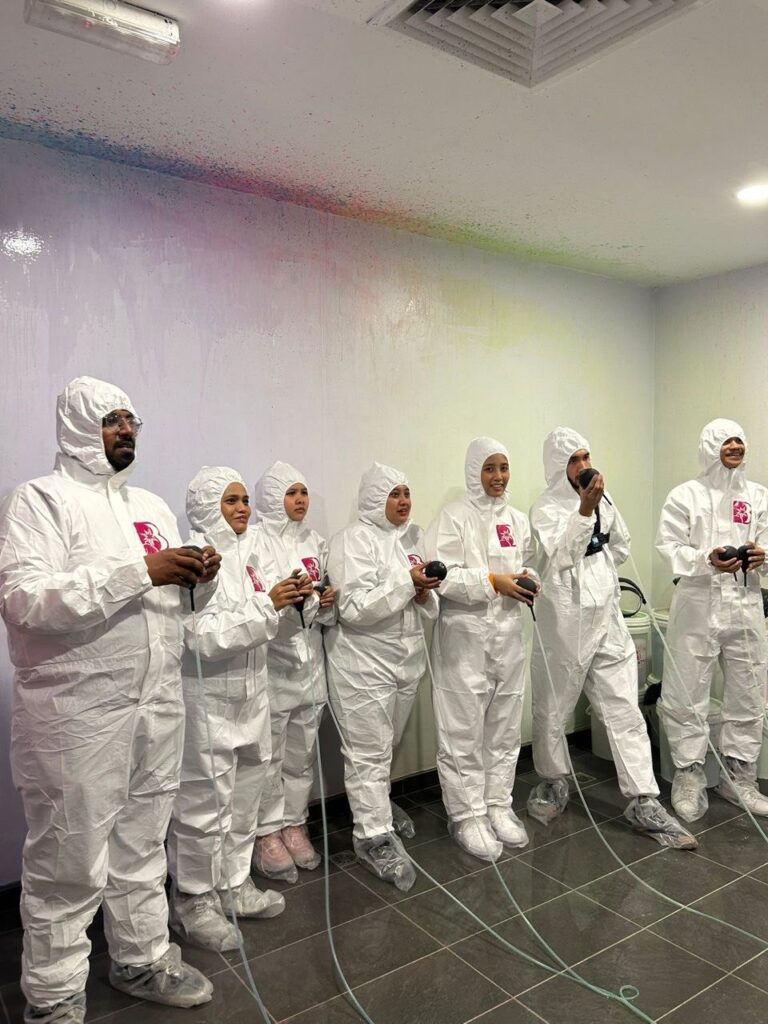 Circuit Cracker is the last game you will be encountering during this 75 minutes session. This game requires everyone in the team to work together and defuse the bomb. There are a series of circuit puzzles that players need to solve and stop the circuit. Work together before the time ends!
For us, this game was the most nervous and confusing to play. It needs your full attention to listen to the guidelines and steps before the game started. Teamwork, communication, problem-solving, and knowledge about circuit IT are is what needed to win this round. Once we get the buttons, it became too intense and hard to find our circuits. In the end, we lose this game.
So here comes the best part for the Bomb Battle Times Square! Bomb paint!
Look at how our paint bomb busted turns out to be a dance party!
The Bomb Battle Even Better For Group Events!
The Bomb Battle also provides some group events for any kind of celebrations, such as:
Employee Appreciation
Birthday Parties
Hen & Steg Parties
Festive Outing
You may be wondering, what services and things they are going to prepare for the event. You can build your packages with customized decorations and the duration whether you want it only for one hour or even for a full day.
These are the things included as complimentary in the celebration packages:
Bomb Drinks
PA Systems
Team Photo
Bomb Video
1. Bouncing Bomb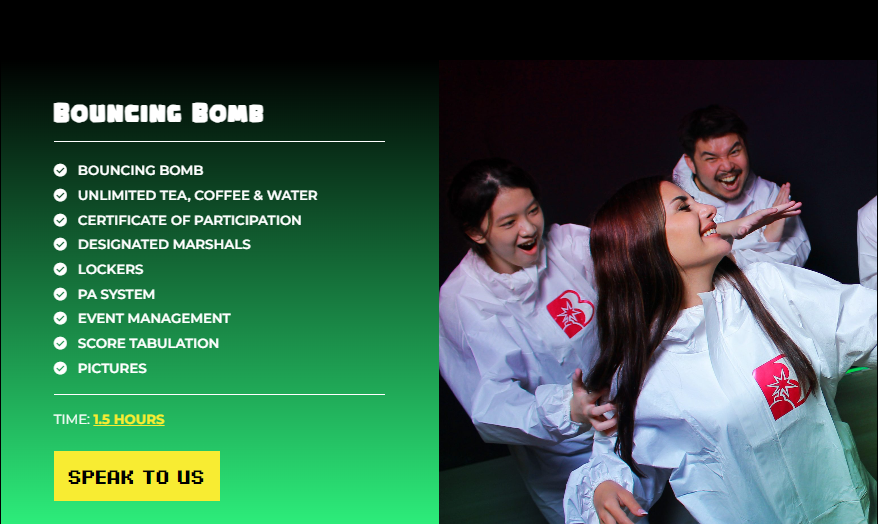 Image via The Bomb Battle
2. Attacking Bomb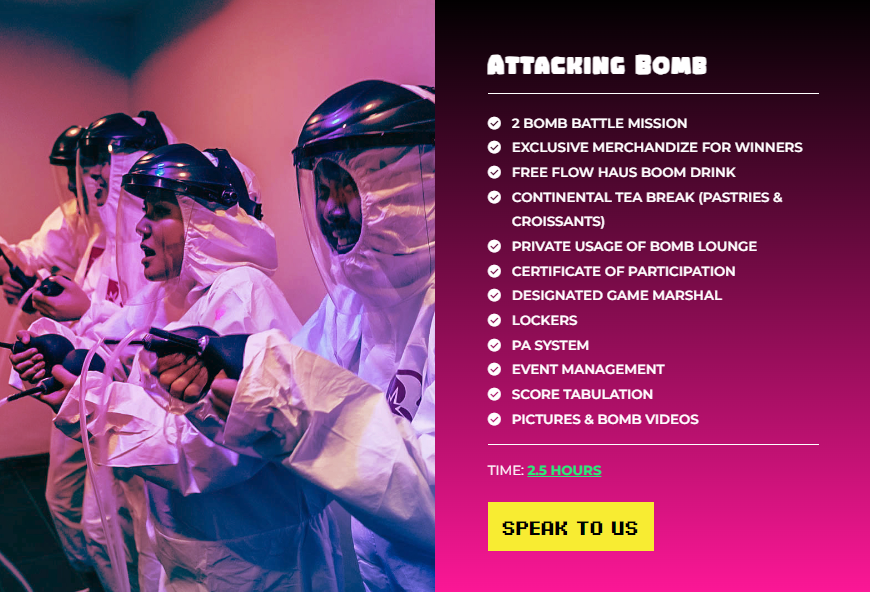 Image via The Bomb Battle
3. The C4 Bomb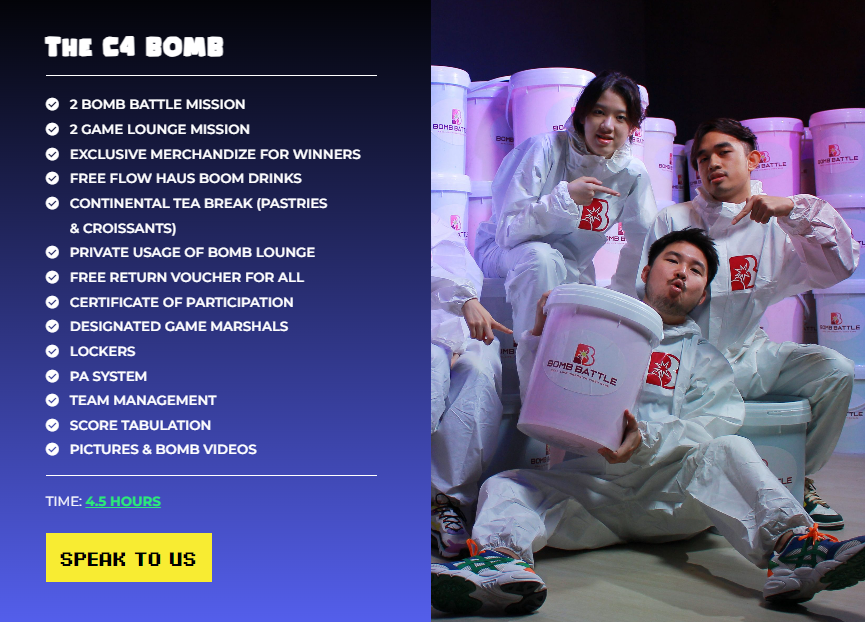 Image via The Bomb Battle
To book your slot you can click on this link for more info and further actions!
Overall Experience @ The Bomb Battle, Berjaya Times Square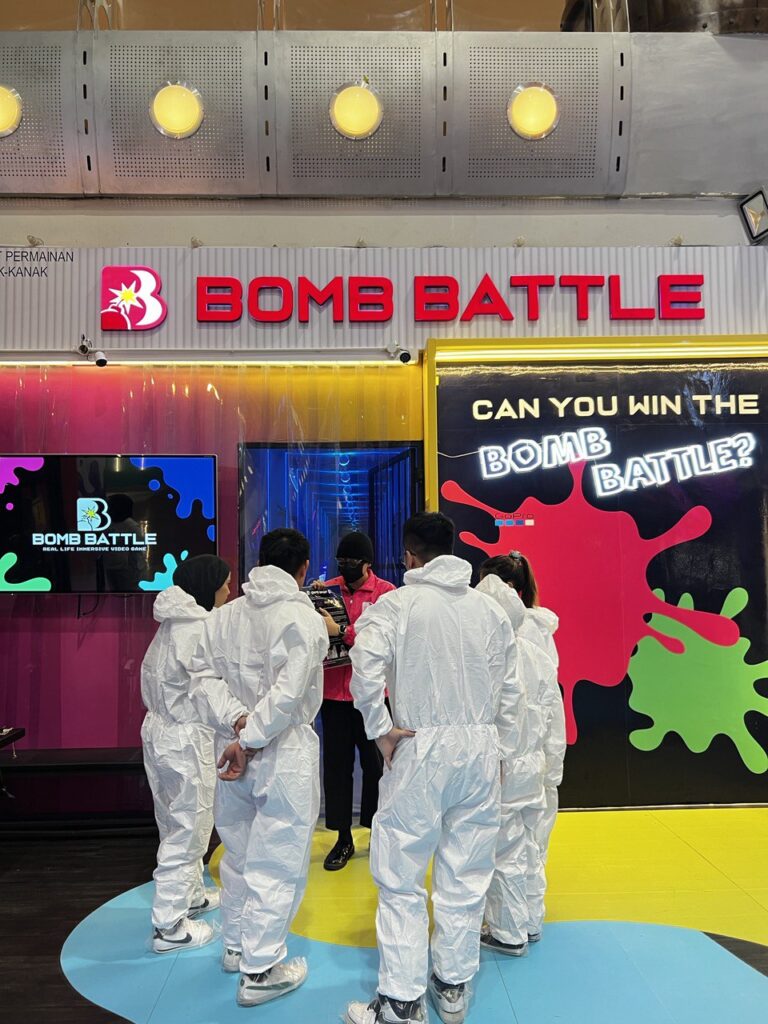 It was an amazing experience at The Bomb Battle. We had so much fun during all 5 different games that requires all of our physical, mental, teamwork, and communication skills among each of us. Bomb Battle Times Square is not like any other typical escape room because they already combine more concepts and come out with great ideas to make sure we experience something we have never seen before!
Here are our before and after the bomb paint: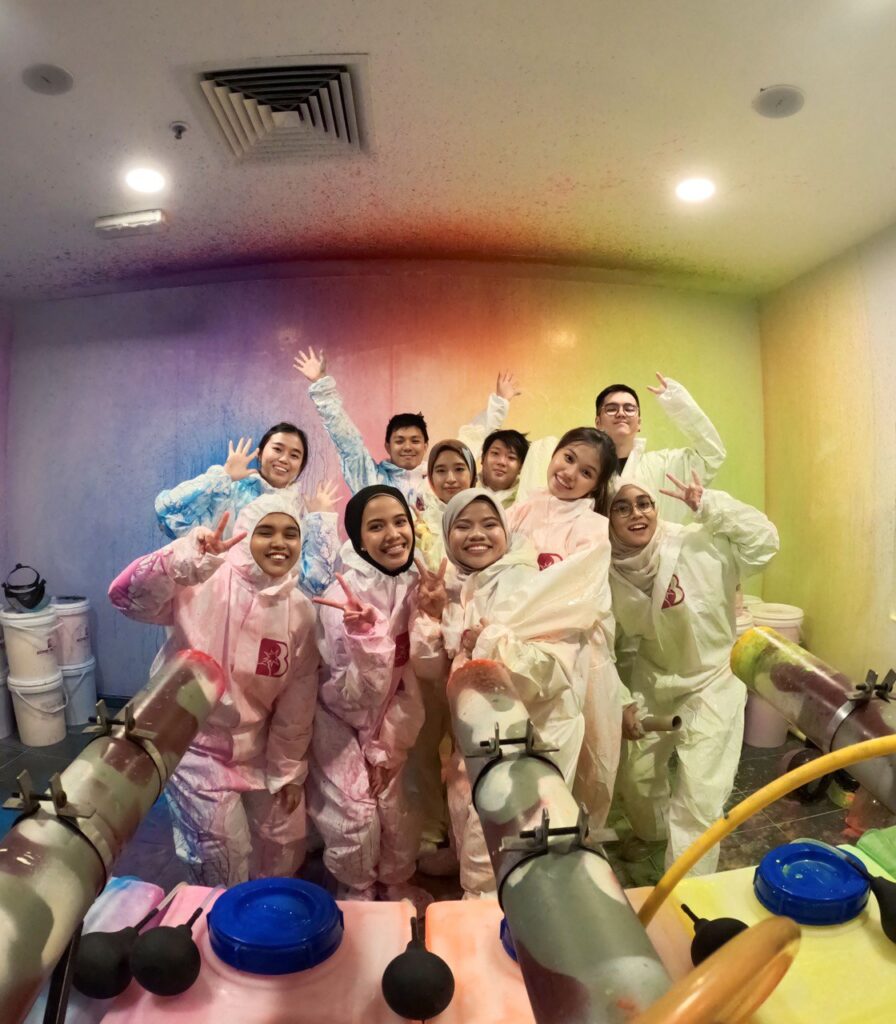 Everyone participating in all these game are trying their best to win, and have fun are what we are searching for. But, losing is the best part of this game because we will get splashed by paint bombs because that is the main reason why we are here!
We enjoyed every second that we had during the game mission, so we would like you to join us and enjoying yourself there. It's your turn to feel the same feelings. Bring along your friends, family, or even colleagues to experience together!
Attention to all the thrill seekers, people who love challenges and adventures, escape room's fans and many more, this is your chance to prove your skills and enjoy the thrills with The Bomb Battle Times Square. Let's get splash together and dancing through the glow in the dark together! Here are also 8 indoor theme parks in KL for the thrill seekers out there to feel the rush.