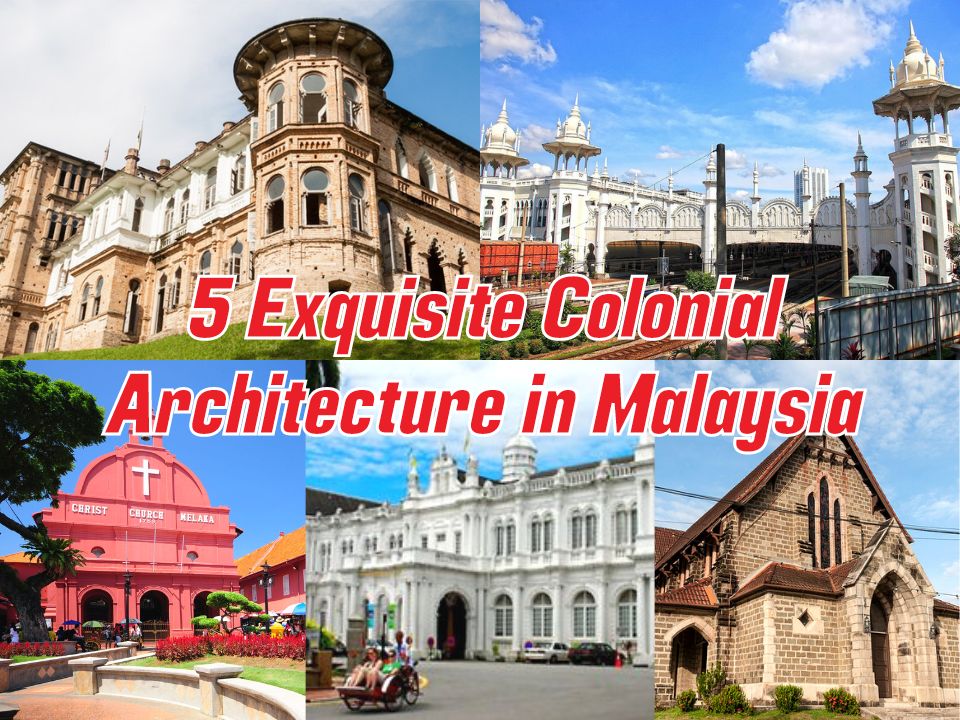 Unquestionably, as we have studied in the history books, Malaysia has been colonized and exploited of natural resources by several European countries. Also, Malaysia was invaded by the Japanese during the Second World War, in addition to European colonialism.
The colonization led to the construction of several colonial structures throughout the period. The breathtaking and ancient colonial architecture in Malaysia will transport you to the golden era of our dearest country.
5 Stunning Colonial Architecture in Malaysia
1. Kellie's Castle, Perak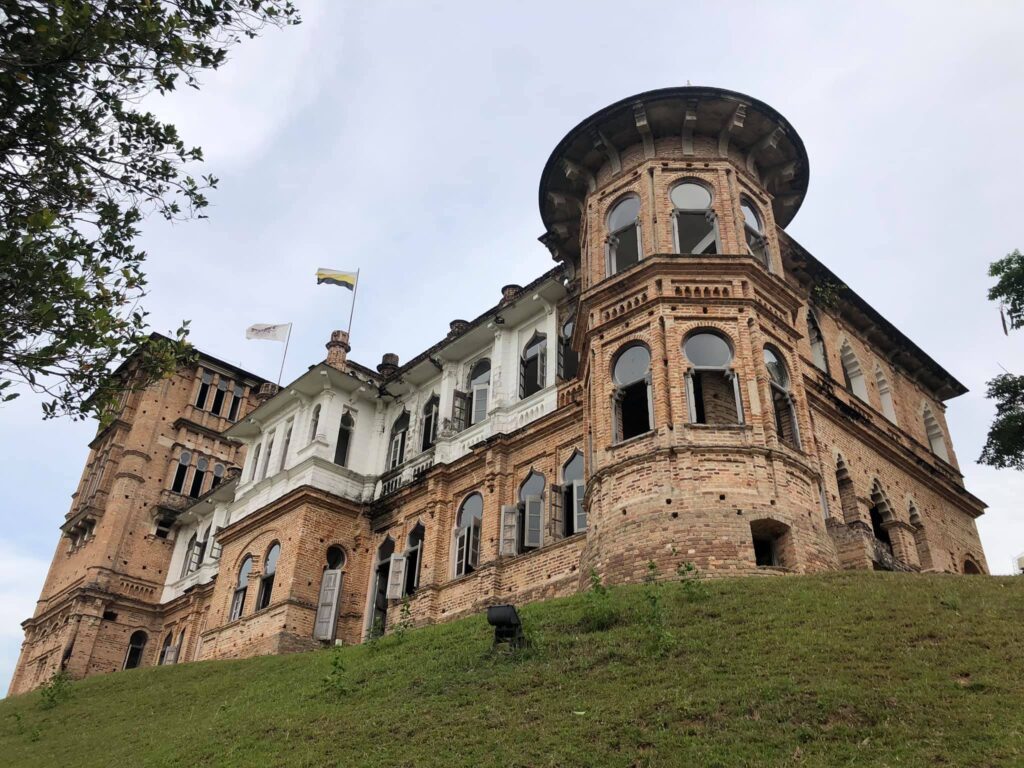 Kellie's Castle, situated in Batu Gajah (Perak), was constructed by a Scottish Planter named William Kellie-Smith as a present for his beloved wife and to mark the birth of their son. Construction on the mansion started in 1915, but Kellie-Smith died of pneumonia at 56 years old in 1926, and it was left uncompleted.
It is a magnificent but abandoned Indo-Saracenic and Moorish Revival architecture with a six-story tower, basement wine cellar, and elegant columns and arches. Hence, the unique design and composition of Kellie's Castle are distinctively indicative of regional architecture in the early twentieth century.
Additionally, it is one of Malaysia's landmarks and a famous tourist destination in Perak. However, many claimed the mansion was haunted as they witnessed a girl wearing a blouse appear in one of the bedrooms, accompanied by the sudden cold temperature.
Surprisingly, the scenes from the films Anna And The King (1999) and Skyline Cruisers (2000) were filmed at Kellie's Castle.
Highlights: Kellie's Castle Night Tour, a virtual tour of Kellie's Castle, taking photos
Location: Kompleks Pelancongan Kellie's Castle Lot 48436, KM 5, 5, Jalan Gopeng, 31000 Batu Gajah, Perak
Opening hours: 9.00 am – 5.00 pm (Daily)
Social media platforms: Facebook
Entrance Fees:
| | | |
| --- | --- | --- |
| Ticket Types | Adult | Children |
| Malaysians | RM5 | RM3 |
| Foreigners | RM10 | RM8 |
2. The City Hall, Penang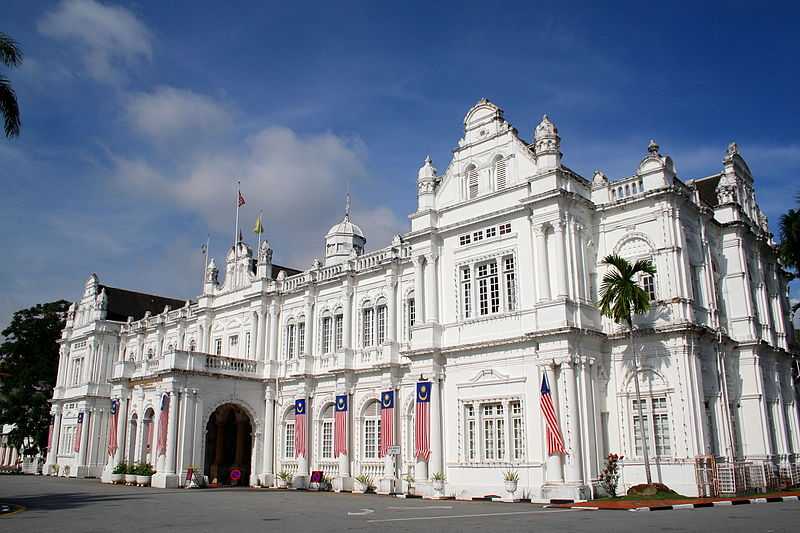 The City Hall located at Penang, also formerly known as the Municipal Offices building, was built in 1903 and inaugurated in 1906, a few decades after the Penang Town Hall. Furthermore, this UNESCO World Heritage Site depicts the history of British colonialism via a unique blend of Edwardian Baroque and Palladian architectural styles. The Antiquities Act of 1976 also recognized Penang City Hall as a national monument in 1982.
The Penang City Hall is one of the prominent colonial architecture in Malaysia. Proudly said, it was one of the first buildings in George Town, Penang, to be equipped with electric lights and fans. Today, it houses the Municipal Council of Penang Island, or Majlis Perbandaran Pulau Pinang (MPPP), and the whitewashed and symmetrical structure provides a splendid background to the Esplanade.
*You are not allowed to enter the Penang City Hall
Highlights: taking photos (the outside), (in front of the city hall) having picnics, jogging, strolling
Location: Esplanade Road, 10200 George Town, Penang, Malaysia
Opening hours: 8.00 am – 5.00 pm (weekdays); closed on weekends
3. Old Kuala Lumpur Railway Station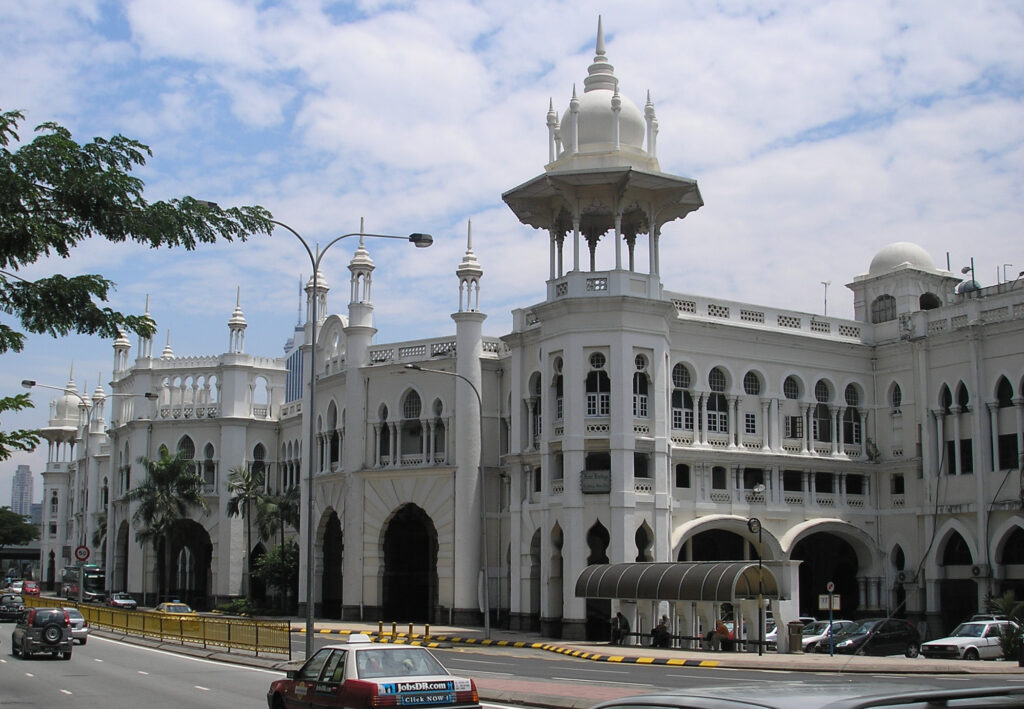 Arthur Benison Hubback, one of the most potent and skilled British colonial architects, designed the Kuala Lumpur railway station in 1910. For instance, the exquisite chhatris (dome-capped pavilions of Indian origin) that run along the roof line of the KL Railway Station are Mughal elements in designing the famous railway station.
Because of several domes on top of the buildings, the white and ivory-colored Kuala Lumpur railway station is often mistaken for a mosque. Specifically, the main buildings of the Kuala Lumpur railway station, which comprises its offices, main hall, ticket booths, and hotel, are possibly the most photographed location in the country. Undoubtedly, it demonstrated the remarkable blends of Colonial British, Mughal, Moorish Revival, and Indo-Saracenic architectural styles in Malaysia.
The Kuala Lumpur train station had extensive modifications in the 1960s and 1980s to preserve its beauty. For example, the previously open arched verandas have been walled off with glass, and the platforms have been extended and substantially renovated in modern design.
Highlights: taking photos, mini railway museum, the Railway Administration Building (now the Headquarters of KTM Berhad (KTMB)), (around the station) The National Planetarium, The Islamic Arts Museum Malaysia
Location: 110, Jalan Sultan Hishamuddin, City Centre, 50000 Kuala Lumpur, Wilayah Persekutuan Kuala Lumpur
Opening hours: Open 24 hours (Daily)
Entrance Fees: Free
4. Christ Church, Malacca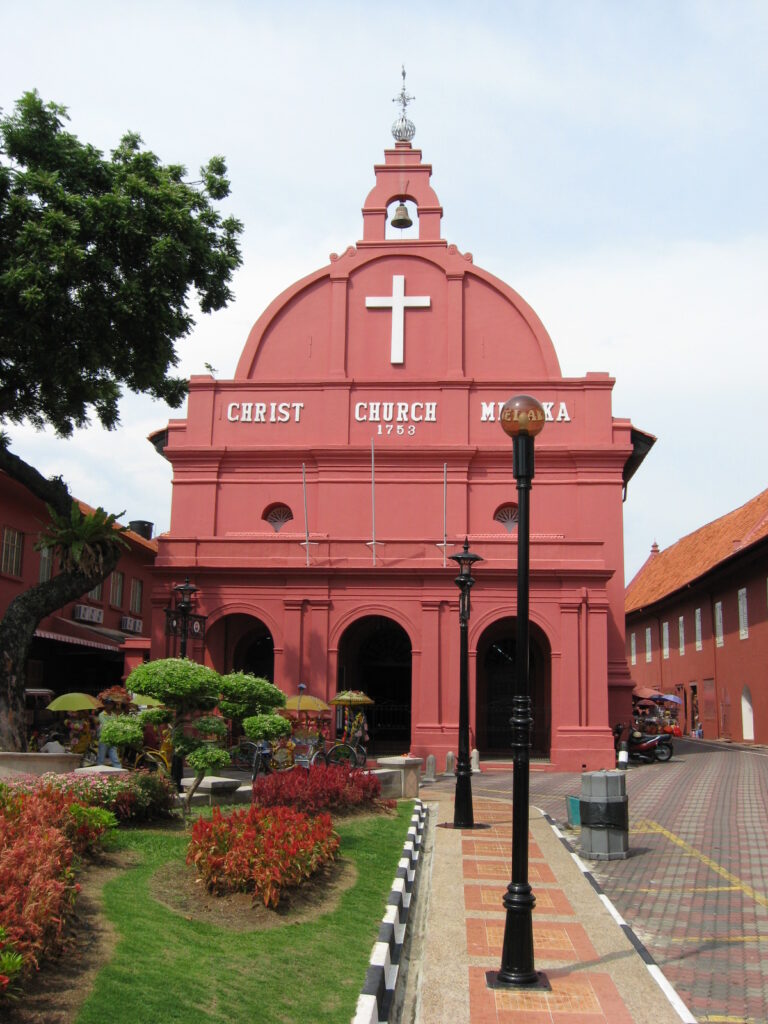 Christ Church in Malacca is the oldest operating Protestant church in Malaysia. On the centenary of the Dutch occupation, construction began in 1741 and was finished in 1753. During the Dutch colonization of Malaysia, the stunning building was known as Benedenkerk, which means "the church down the hill," and served as the primary Dutch Reformed Church. Presently, it is an Anglican church, also a colonial architecture in Malacca, Malaysia.
The rectangular design, hefty walls, red-colored granite plinths, and Dutch roof tiles are some characteristics of 18th-century Colonial Dutch architecture. Except for several modern renovations to the windows, porch, and vestry in Colonial British style, almost every element has been perfectly preserved, from the interior wooden beams beneath its tiled roof to its Dutch stone walls and flooring laid with marine ballast stones.
Highlights: taking photos, (near the Christ Church) Jonker Street night market
Location: Gereja Christ, 48, Jalan Gereja, Bandar Hilir, 75000 Melaka, Malaysia
Opening hours: 9.00 am – 4.30 pm (Mondays to Saturdays); 8.30 am – 1.00 pm (Sundays)
Social media platforms: Facebook
Entrance Fees: Free
5. St. Michael's and All Angels Church, Sabah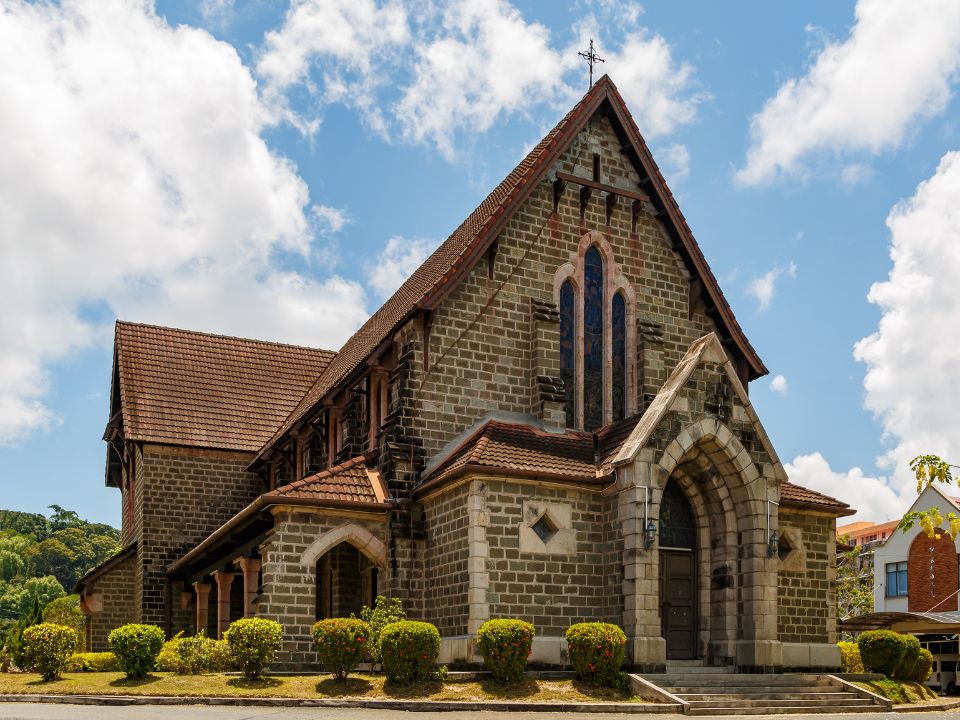 St. Michael's and All Angels Church is famously known as the oldest stone church in Sabah. It was one of the few ancient stone buildings to withstand Allied bombing raids and a rushed destruction assault by surrendering Imperial Japanese soldiers during the Second World War in the 1940s.
This prominent Anglican church, erected in 1925, shows classic Gothic-styled architectural components designed by B.W. Mountfort, a New Zealand architect. Impressively, the church was constructed in stages, beginning with a framework of ironwood timber (Eusideroxylon zwageri), then brick and stone.
The large earth-colored stones that account for more than half of the original structure were obtained from Buli Sim Sim, while the white stones that decorate the windows and doors were imported from Hong Kong. Remarkably, the gorgeous stained glass windows will capture your eye when you enter the church. The beautifully crafted glass windows were a gift by the Australian government to celebrate the 60th anniversary of the end of the Second World War.
Highlights: The Windows of Remembrance & The Friendship Windows
Location: 51, Jalan Puncak, Pusat Bandar Sandakan, 90000 Sandakan, Sabah
Opening hours: 8.30 am – 4.30 pm (Monday, Wednesday to Saturday); closed on Tuesdays, Sundays, and public holidays
Social media platforms: Facebook, Website
Entrance Fees: (Love donation – Maintenance)
| | |
| --- | --- |
| Ticket Types | Prices |
| Malaysian Adult | RM5 |
| Non-Malaysian Adult | RM10 |
| Children | Free admission |
In short, Malaysia retains various colonial structures that showcase its rich historical past for those who appreciate architecture and are interested in ancient buildings. Thus, include these colonial architectures as the choice of destination for your holiday trip in Malaysia now!