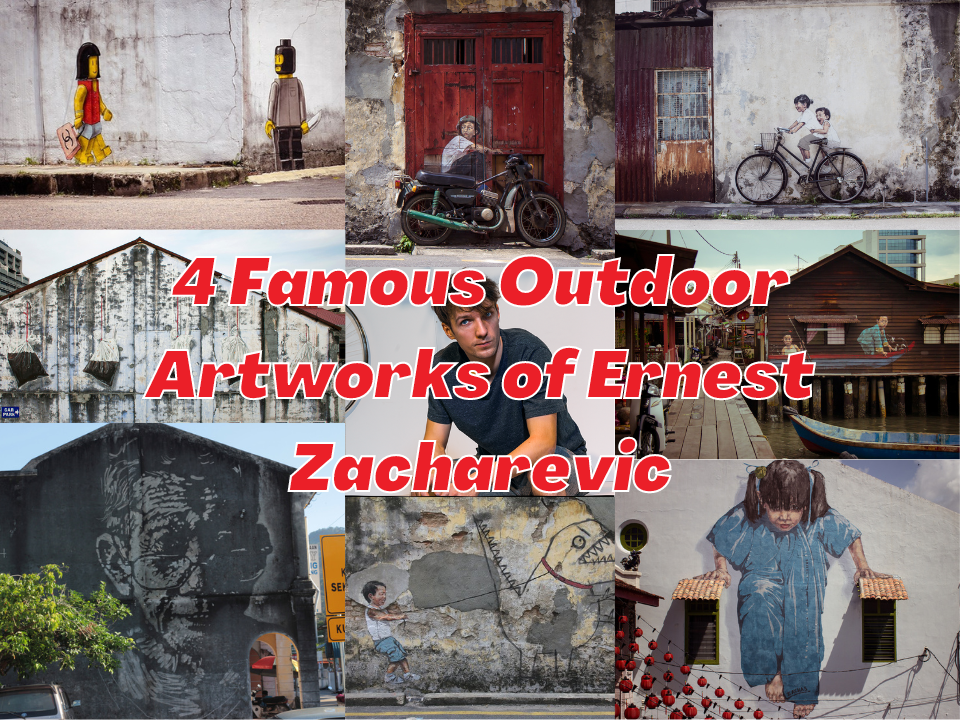 Ernest Zacharevic, commonly known as Zach, is a Lithuanian-born artist who integrates creative art methods with a love of producing art indoors and outdoors. He traveled to George Town, Penang approximately 2011 and made a career by producing paintings.
More fascinatingly, Zach prefers to utilize experimentation techniques in his modern art, with the sole constant being his devotion to his different and unpredictable themes and subjects. Besides, Zach breaks down aesthetic barriers by shifting smoothly across the classifications of arts such as oil painting, stencil, spray paint, sculpture, and installation with his continuously emerging ideas. Thus, Zach competently creates vibrant compositions, both within and outside the art exhibition space.
4 Notable Artworks of Ernest Zacharevic
1. George Town Festival (GTF), Penang (2012)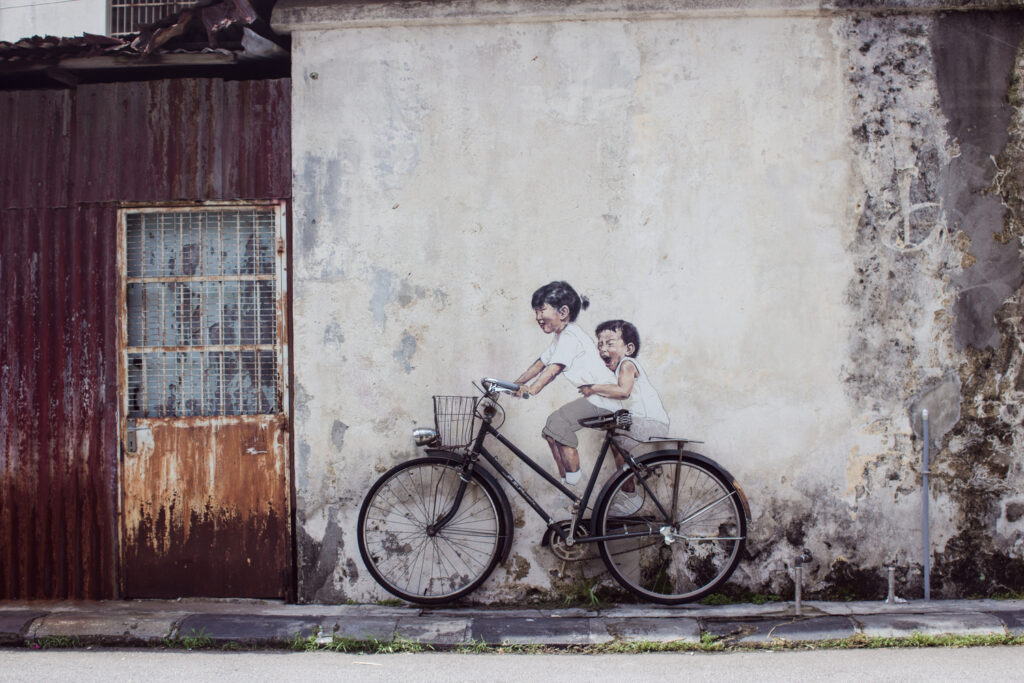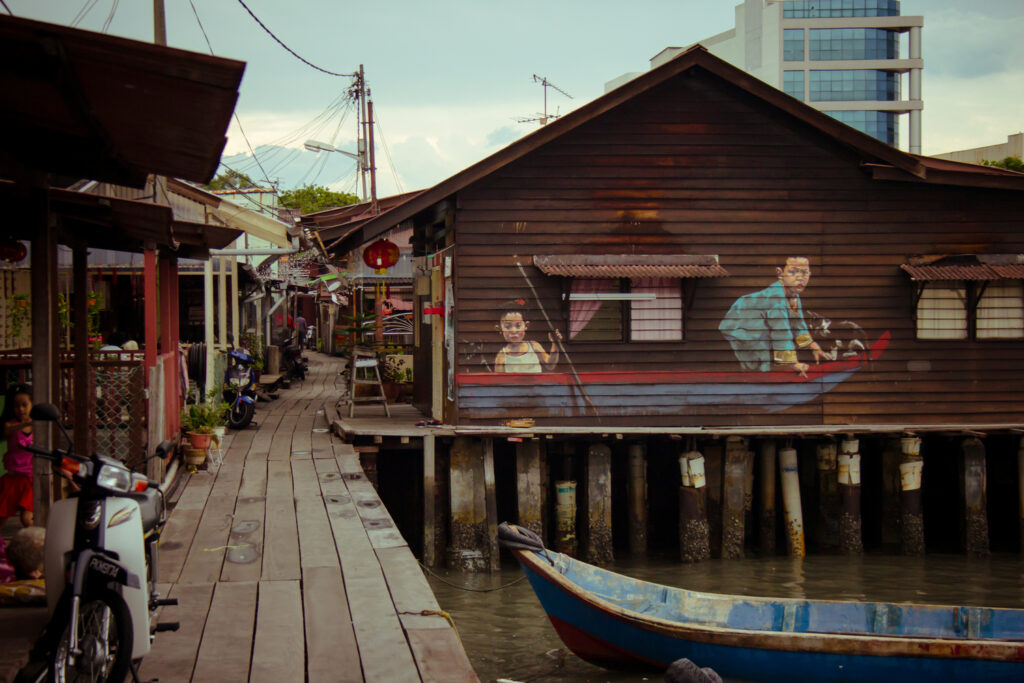 Ernest Zacharevic, a world-renowned public artist, rose to prominence in Penang after finishing a series of murals named Mirrors George Town as part of the George Town Festival in 2012. His famous mural paintings in George Town feature figure drawings and portraits that highlight the vibrancy of Penangites' life.
Surprisingly, according to Zach, the attentively painted Penang murals are his first constructive public art project, and it was a fantastic partnership with the George Town Festival (GTF). George Town Festival (GTF) is a yearly festival that exhibits and preserves local arts, heritage, and culture at Penang heritage architecture as performance locations.
His paintings have become one of the most recognizable murals, attracting more tourists from different countries to visit Penang. Thus, it demonstrated that the George Town Festival (GTF) has highly contributed to revitalizing the Malaysian UNESCO World Heritage Site.
Some of the renowned Penang murals by Ernest Zacharevic:
The Boy on a Motorbike
The Boy and his Dinosaur
Children and a Cat in a Boat
Little Children on a Bicycle
Little Girl in Blue
Reaching Up
The Awaiting Trishaw Paddler
This Old Man
Uncle Ng, the Clog Maker
Broken Hearted Phone Booth
2. LEGOLAND, Johor (2013)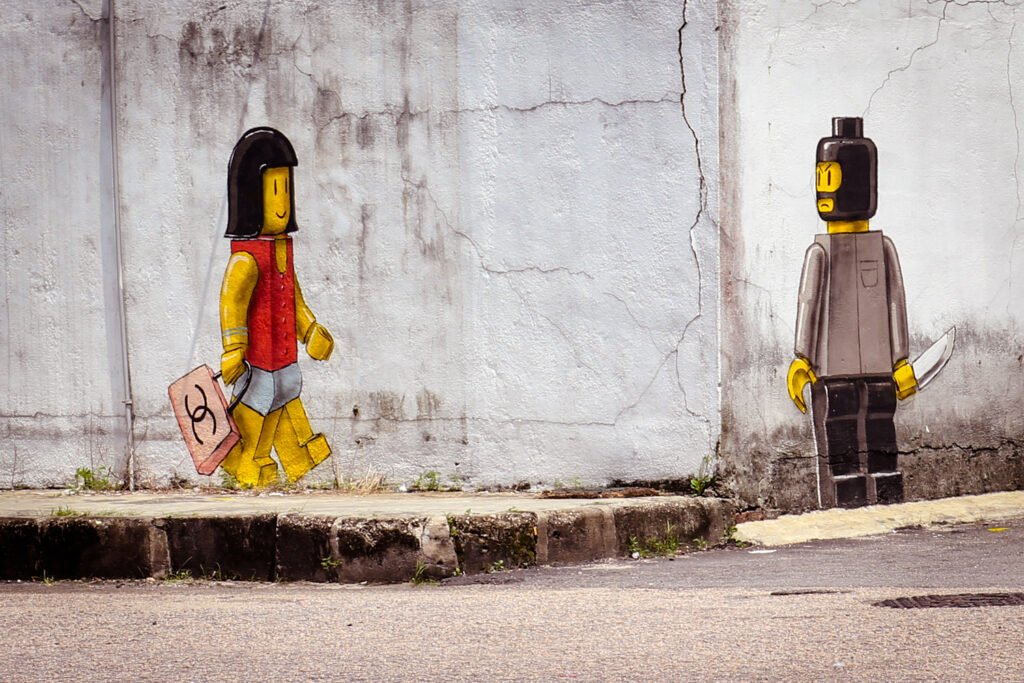 Johor Bahru is a city in Malaysia's southern peninsula, also the capital of Johor. Across the Johor-Singapore Causeway is Singapore, one of the safest cities in the world for traveling; Johor Bahru, on the other hand, is said to have the worst crime rates in the world. Ironically, across a bridge, the contrast is so shocking!
Besides its delicious foods, Johor is famed for having Malaysia's own Legoland, one of the prominent tourist attractions. Thus, Zach had made a significant social statement about the Johor Bahru community through inoffensive, appropriate for all ages, and gender-neutral Lego characters.
In producing this meaningful mural, Ernest Zacharevic believes that the authorities had raised their awareness of the issue that he was attempting to convey, which is the increasing crime rate. However, according to Zach, this mural had caused an uproar among Malaysians, and it was the only one of three unapproved artworks that were white-washed.
3. Ipoh Old Town, Perak (2014)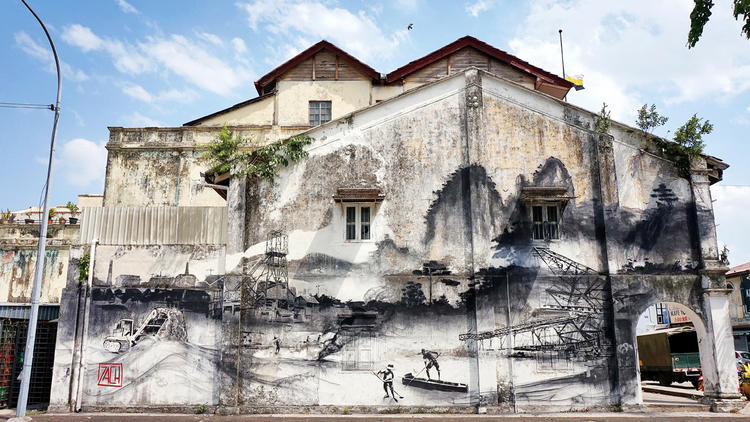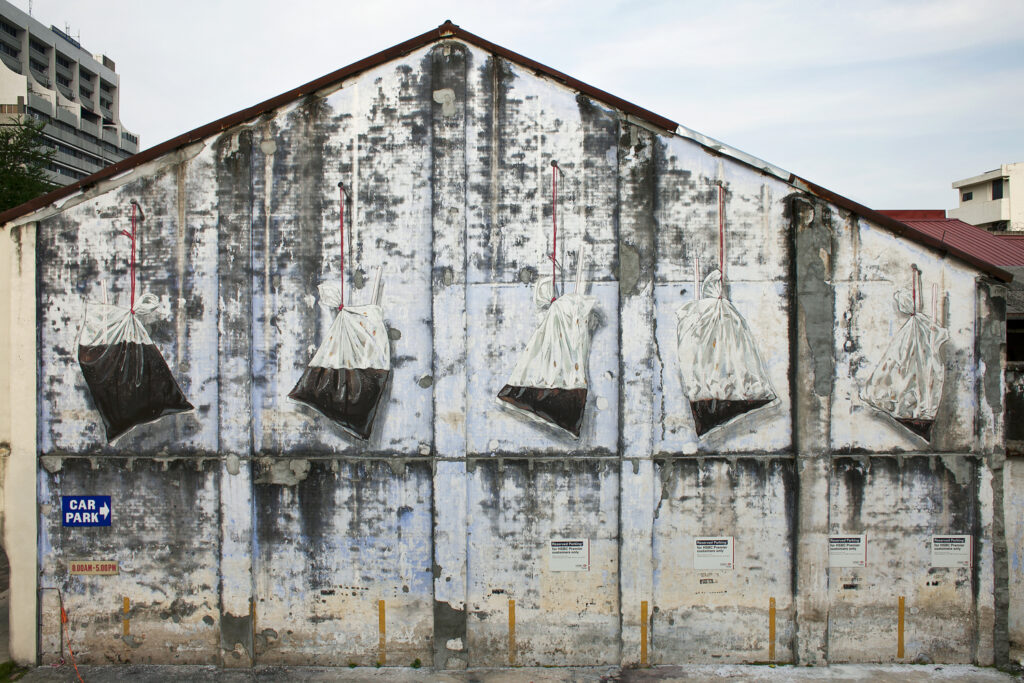 Zach painted seven murals in Ipoh Old Town as part of a series he created earlier in 2014. These renowned artworks reflect their urban setting with the heritage architecture in Ipoh. Furthermore, these magnificent murals presented Ipoh, a small but worth-visiting town in Malaysia, and reminisced the daily life of Ipoh's residents.
According to Zach, these murals had been commissioned by the well-liked Old Town White Coffee. Thus, locals and tourists can spend time exploring and finding the walls at seven different spots throughout Ipoh Old Town as they are free to visit daily and anytime!
Proudly said, his work has converted dingy and shabby shophouse walls into pieces of art, some of which use props to create a 3D appearance that looks more attractive.
Seven astonishingly life-like murals in Ipoh Old Town by Ernest Zacharevic:
A Paper Plane
Trishaw
An Old Uncle Drinking Coffee
A bag of Coffee
Hummingbird
Evolution
Girl on a Wall
4. The Silversmith, Penang (2014)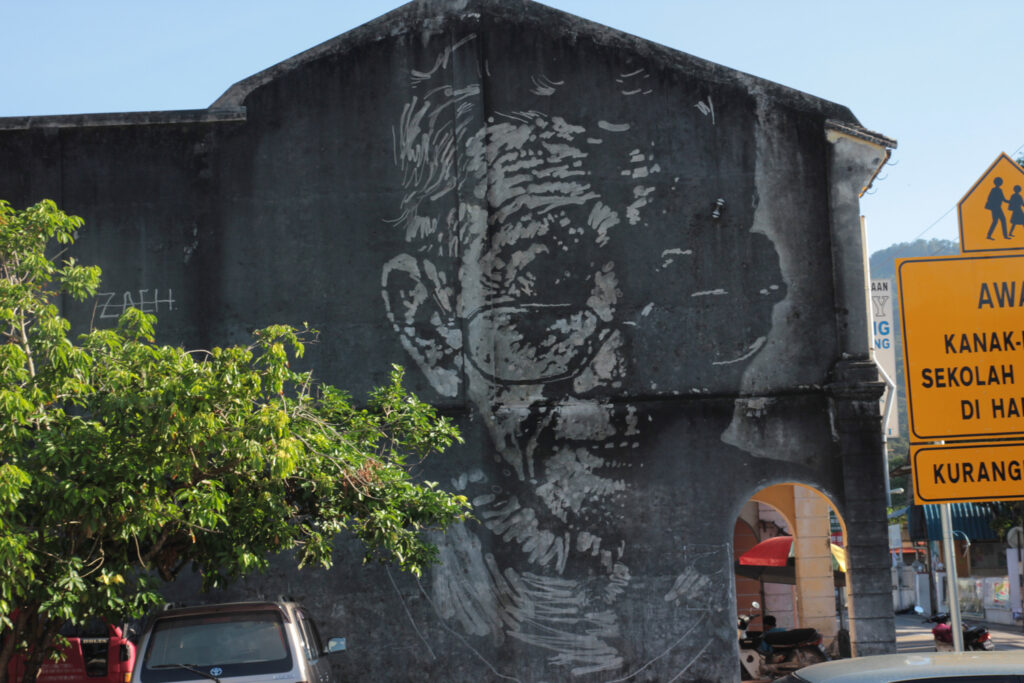 Do you know that Ernest Zacharevic used the unique reverse graffiti method to produce murals? Specifically, this mural was completed skillfully by removing the existing coat of dirt on the wall with a water pressure pump.
Upon first glance, it is a portrait of a local silversmith, also known as one of the last craft makers in Balik Pulau. Although he could not practice his craft due to health issues, he still operates a silver shop and fascinates many locals and tourists, who are often greeted with a warm smile, a cup of aromatic Chinese tea, and a lengthy "back in the day" story.
Furthermore, the mural was made as part of the Hin Bus Depot and Urban Nation Project 'Urban Xchange' in Penang.
In summary, Zach focuses on the connections between art and the metropolitan setting, accompanied by frequently appearing notions as it is an involuntary reaction to the surrounding environments, society, and culture. As a result, his artworks are more realistic and have a message that he aspires to convey across society.
Curious about Malaysian artists who produce modern art? Learn more about 4 Renowned Artworks by a Malaysian Artist, Red Hong Yi!