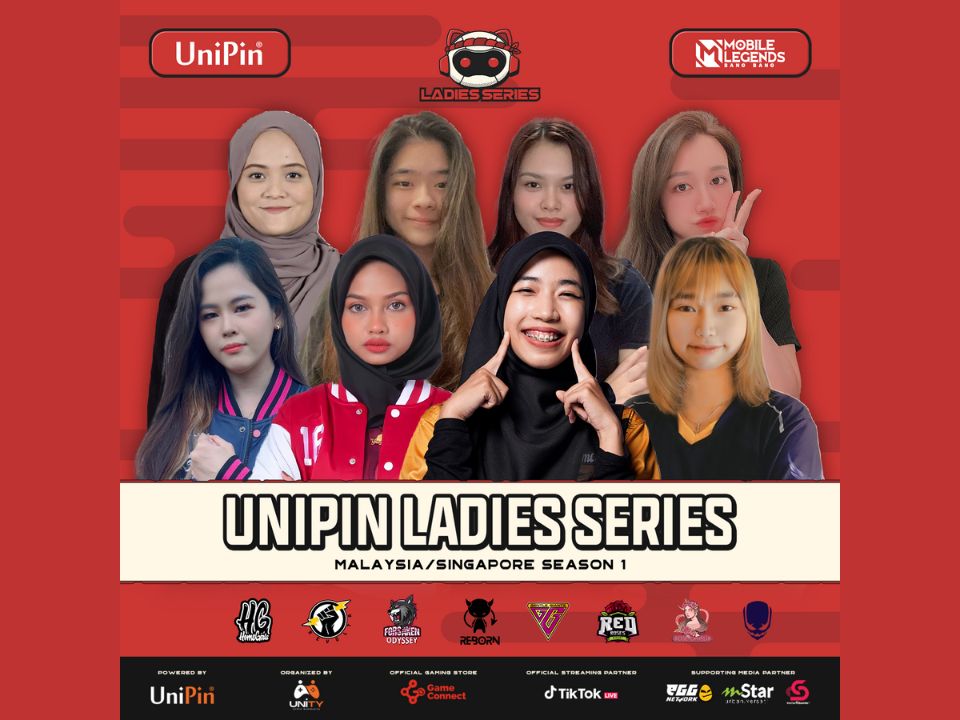 The future of Malaysian esports looks promising especially for women gamers. As the leading Digital Entertainment Enabler for online games and digital products across the world, UniPin is opening more doors for female Malaysian gamers to make their mark in the Southeast Asian region, specifically through its Unipin Ladies Series MYSG competitions.
Participation From Malaysia And Singapore
Having increased the prize pool to RM7500 this season, UniPin recently concluded its qualifiers with the amazing participation of 19 all-women teams from Malaysia and Singapore. Each team consists of five players and the top six teams from the regular season phase will then move on to the final knock-out stage.
Dominating the top eight spots to make it to the regular season playoffs are five Malaysian teams:
Rose Ophelia, the second-place winner from the previous championship
HomeGirls
Red Roses
Madness Aubrey
Revolta Siren
Another three teams from Singapore are:
Forsaken Odyssey
Reborn
GGFE SG
According to Luna, an avid Malaysian gamer, she said:
I think that the development of women in esports is amazing as more women are interested in joining. We have some excellent lady players here in Malaysia and we should be able to qualify for a spot in the esports scene to showcase our true potential. Just like other sports, gaming can be a viable career for someone as long as they have the ambition and consistency to make it work.

Luna, An Avid Malaysian Gamer
Esports Industry Moving Forward
Once disregarded as a pointless hobby, video gaming has now evolved into a revenue-generating global esports industry. The growing viewership, media attention, and the number of investors are propelling the industry forward, along with the mass adoption of technology and experiential trends by millennials worldwide.
At the 2019 SEA Games, esports, for the first time, became an official medal sport. Although China, Japan, Korea, and the US are considered esports pioneers, reports have shown that the Southeast Asian countries booming with gamer numbers are Vietnam, Thailand, Philippines, Indonesia, Malaysia and Singapore.
UniPin Ladies Series MY/SG 2022 Partners
The UniPin Ladies Series MYSG 2022 is supported by Boost, the fintech arm of Axiata through Game Connect, the one-stop gaming storefront solution as the Official Game Store. Boost's Game Connect links games publishers to over 20 million Malaysian gamers, providing them with an end-to-end solution for their gaming needs.
The tournament is also championed by TikTok, the official streaming partner as well as the eGG Network, mStar and Tech Storm, as supporting media partners, who share in the values and mission of promoting inclusivity and diversity within the esports industry.
UniPin has been facilitating gamers in the Southeast Asia region for easier top-up access and hosting several successful female-only tournaments in various Southeast Asian countries. All matches of the UniPin Ladies Series MY/SG 2022 can be accessed through the UniPin's YouTube channel, Facebook Page and TikTok. For more details and information of the tournament, kindly visit www.seaca.gg or Instagram @unipin_malaysia, @unipincommunity, and @unipinladiesseries.