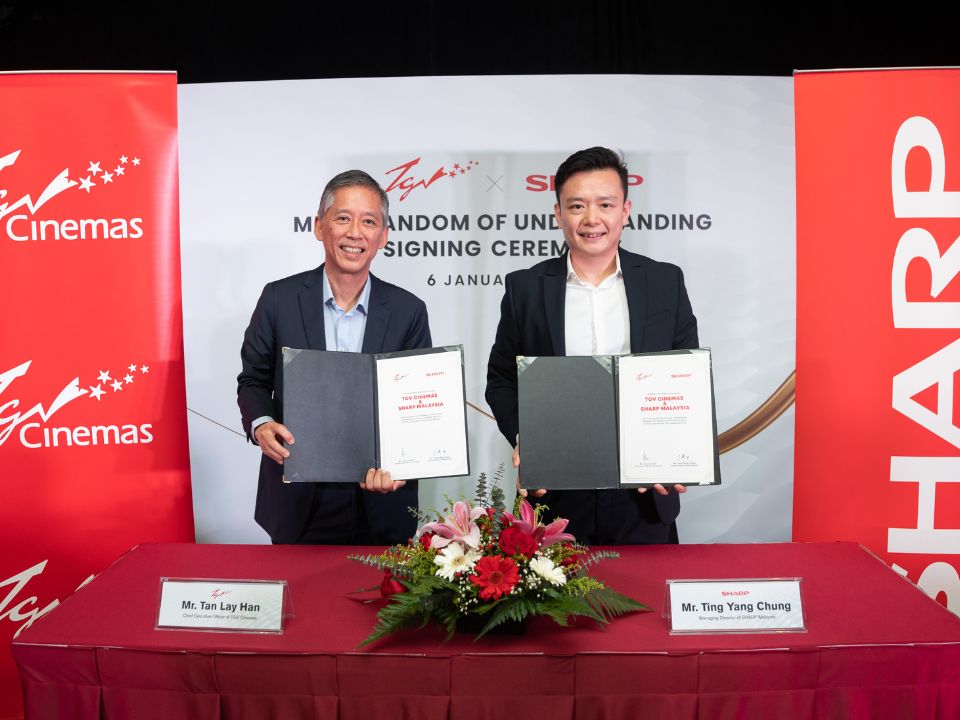 TGV Cinemas Sdn Bhd (TGV) and SHARP Electronics (Malaysia) Sdn Bhd (SHARP) are constantly changing and developing to ensure customer satisfaction. Today, they have signed a Memorandum of Understanding (MoU) to recreate an elevated entertainment experience for moviegoers.
Memorandum Of Understanding (MoU) Between TGV Cinemas And SHARP Malaysia
Malaysia's premier cinema company, TGV Cinemas and leading electronics and home appliances solutions provider, SHARP officially marked their first-of-its-kind partnership.
It was officiated by TGV Cinema's Chief Executive Officer, Tan Lay Han and SHARP Malaysia Managing Director, Ting Yang Chung at TGV Cinemas, Sunway Velocity.
Through this exclusive partnership, TGV and SHARP provide an unrivalled form of entertainment from homes to cinemas, enhancing and improving the customer experience at every TGV Cinema.
Only The Best For Their Customers
At TGV, we prioritize our customer's experience and are always working towards raising the bar far our guests. We are delighted to be partnering with SHARP who shares the same value as us when it comes to delivering the best customer experience and providing premium entertainment — in and out of home.

Mr. Tan Lay Han, TGV Cinema's Chief Executive Officer
TGV Cinemas and SHARP Malaysia decided to partner up because of their similar goals which are only the best experience for their customers.
Due to the pandemic, we have done a collaboration together with TGV Cinemas and since then we started to plan for future programs such as this MoU. The reason why we choose TGV is that they always try to provide an exclusive experience for their customer and that is SHARP main goal.

Mr. Ting Yang Chung, Managing Director of SHARP Malaysia
This shows how both of these major brands in Malaysia are constantly evolving to deliver the best and premium entertainment.
Results of Partnership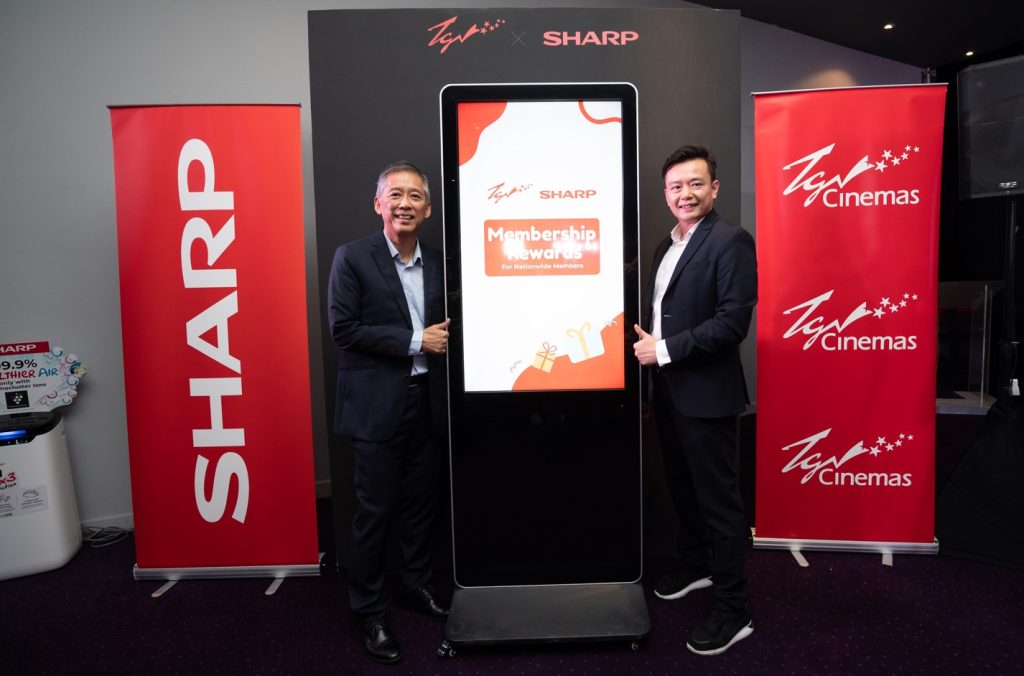 As part of this partnership, TGV will be launching an exclusive line-up of SHARP products on their E-shop where customers are entitled to complimentary movie tickets upon purchase of SHARP products.
Besides, members will stand a chance to walk away with SHARP AQUOS 60" TV, with a minimum purchase of four movie tickets.
Meanwhile, SHARP will give up to 5,000 pieces of complimentary movie pass throughout 2023 to individuals who register for Cocoro Life membership and set up a lifestyle store at TGV Central I-City.
The cinema foyer experience will be enriched with SHARP LED TVs, sound bars, air purifiers and activities. They will also host an Exclusive Movie Screening with Freebies just for customers.
Curious to know more about TGV? Kindly visit their Official Website, Facebook and Instagram. Don't forget to visit SHARP Malaysia Official Website, Facebook and Instagram.
Articles you might be interested in: