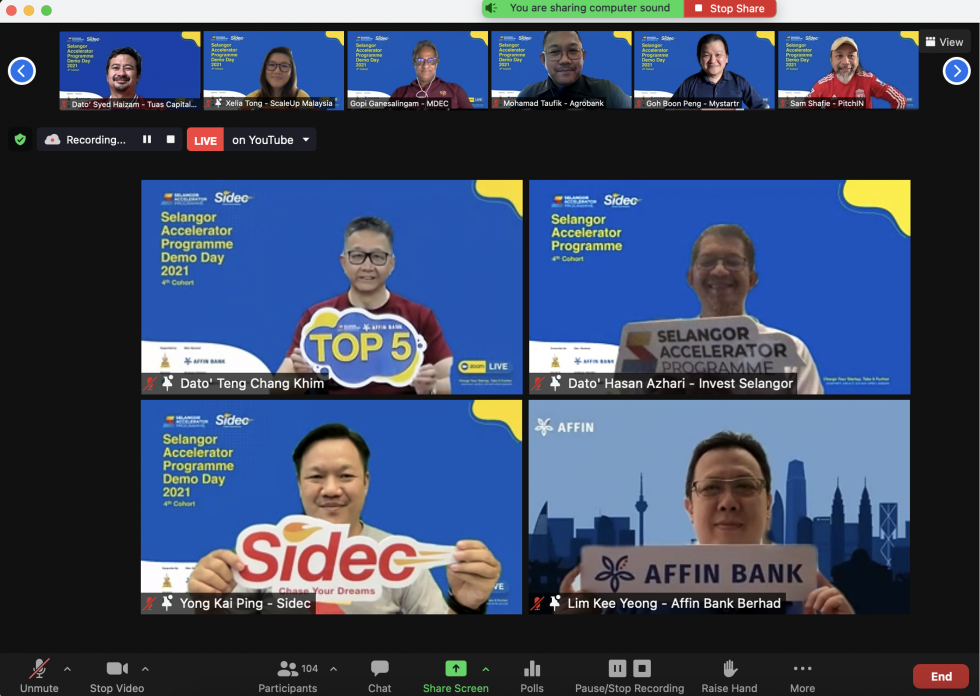 The 4th cohort of Selangor Accelerator Programme 2021 (SAP 2021) was concluded with five startups walking away with an RM10,000 cash prize each. The five startups had successfully pitched their business to renowned venture capitalists, corporations, and government agencies during the demo day on 12 September 2021.
The five companies are:
eMLab
GFI Fintech
NexMind AI
Boss Boleh
Farmy
In line with the programme's focus on five major pillars this year, these startups are from various industries including Agritech, Fintech, Greentech, e-Commerce and Smart City Solutions.
Other than the cash prize, the top 5 startups also bagged investment opportunities with SAP 2021's strategic partners. The partners of the programme include RHL Ventures, AgroBank and The Hive South East Asia.
The award ceremony, happening on the same day, was chaired by a panel of 7 judges who contributed 70% of the judging score for participants of the programme. The other 30% of the score includes the performance and attendance of the participants.
This year, a total of 165 submissions were received whereby 30 participants were selected for the programme. The participants had the opportunity to attend three months of training, mentorship and learning from well-versed mentors in the community before the demo day.
Meanwhile, the top 10 startups of the SAP 2021 (inclusive of Top 5) are:
eMLab
GFI Fintech
NexMind AI
Boss Boleh
Farmy
Xhinobi
Umorie
i-3s
Securepay
SnappEd
They received US$10,000 worth of AWS cloud credit, US$10,000 worth of TM One Alpha Edge Cloud Credit, 1 year's rent-free SDCC co-working space, as well as Logitech R400 wireless presentation remotes.
More about the Selangor Accelerator Programme
The SAP is a three-month programme that aims to prepare early-stage startups into becoming investment-ready businesses. Since 2018, the programme has nurtured 90 startups, with a successful rate of 43% of the participants received funding.
It is a programme that not only polish startups' product and business, but also enhance their core team through workshops and mentor's guidance.
(Source: Sidec)