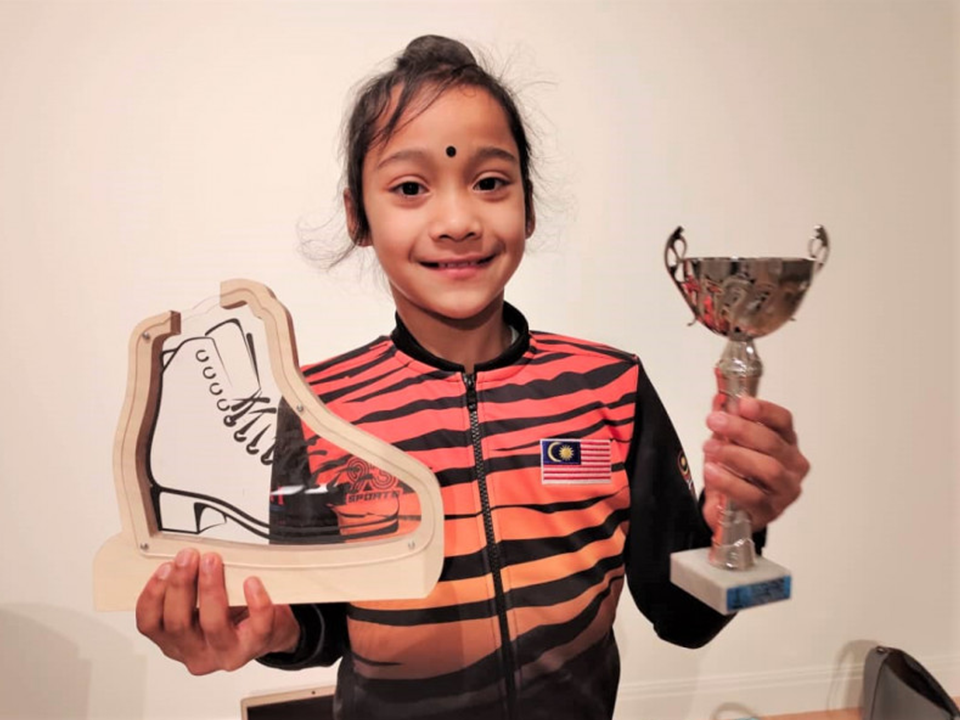 Making Malaysians proud at a young age. Young Malaysian figure skating prodigy, C. Sree Abiraame wins the Tallin Trophy 2021! The event was held at the Tondiraba Ice Hall, in Estonia from 15 November to 21 November 2021.
C. Sree Abiraame wins Tallin Trophy 2021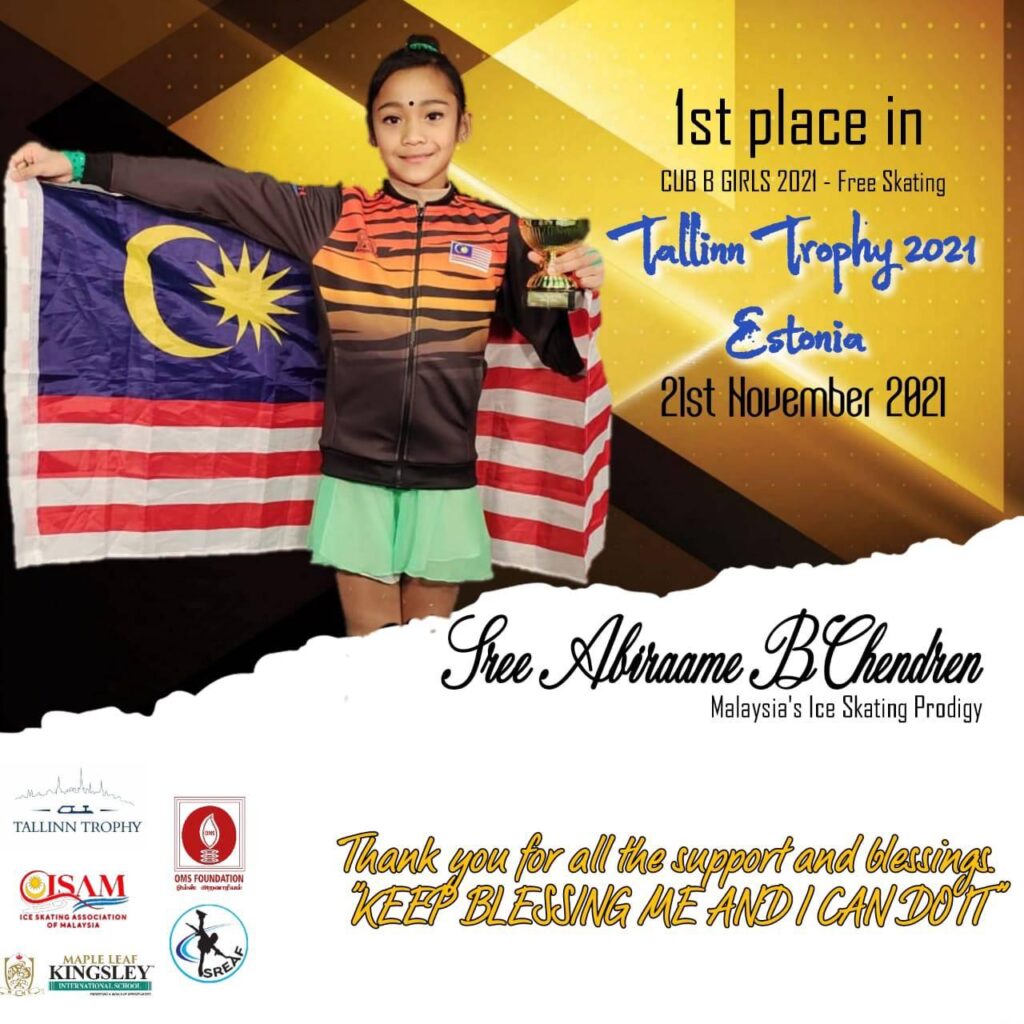 As reported in BERNAMA, the nine-year-old achieved 23.49 points and emerged victoriously as the champion on Sunday (21 Nov). She surpassed seven other skaters in the Cubs B girls' free skating category with her stunning performance.
On the other hand, home skater, Emilia Dratshenko finished second with 23.33 points while her compatriot, Tatiana Izymnikova took the third place with 21.77 points.
Meanwhile, Sree expresses her thoughts and gratitude on her Facebook page after her win on Sunday.
A supportive family
Sree has been training in Latvia since March 2020. According to Varnam, Sree's father Chendren Balakrishnan had to sell a home, and a car to help fund her training in Latvia.
Despite the financial difficulties, Sree's family is still supportive of her pursuit, making her the successful young skater she is today. Sree's dream is to take part in the most prestigious competition, which is the 2024 Winter Youth Olympics in Korea, and the 2026 Winter Olympics in Italy.
Costly training
Previously, the cost of leasing a rink was around EUR 10 (RM50) per hour. However, the price has increased to EUR 120 (RM600) per hour, requiring four hours of preparation per day.
Moreover, Sree has to practise alone because of the COVID-19 pandemic. She was unable to share the rink with other participants, which she used to do so with 10 participants to bear the cost.
The money & effort paid off for this young skater
Just last month, Sree won the runner-up in the same skating category at the Narva Cup 2021 held in Estonia.
You may watch her performance here:
Before this, she has also won more than 50 gold medals at various levels, The medallist has carved her name in the Asia and Malaysia Book of Records for her great achievements.
Her records include:
Youngest to Win Medals in International Figure Skating in 2019 (Asia Book of Records )
Youngest to Win "Skate Asia" Figure Skating Competition (Female) in 2017 (Malaysia Book of Records)
Sree has been actively participating in figure and speed ice skating from the age of three. With her impressive performance and passion in the ice rink, we look forward to her positive growth in her career as a national ice skater.