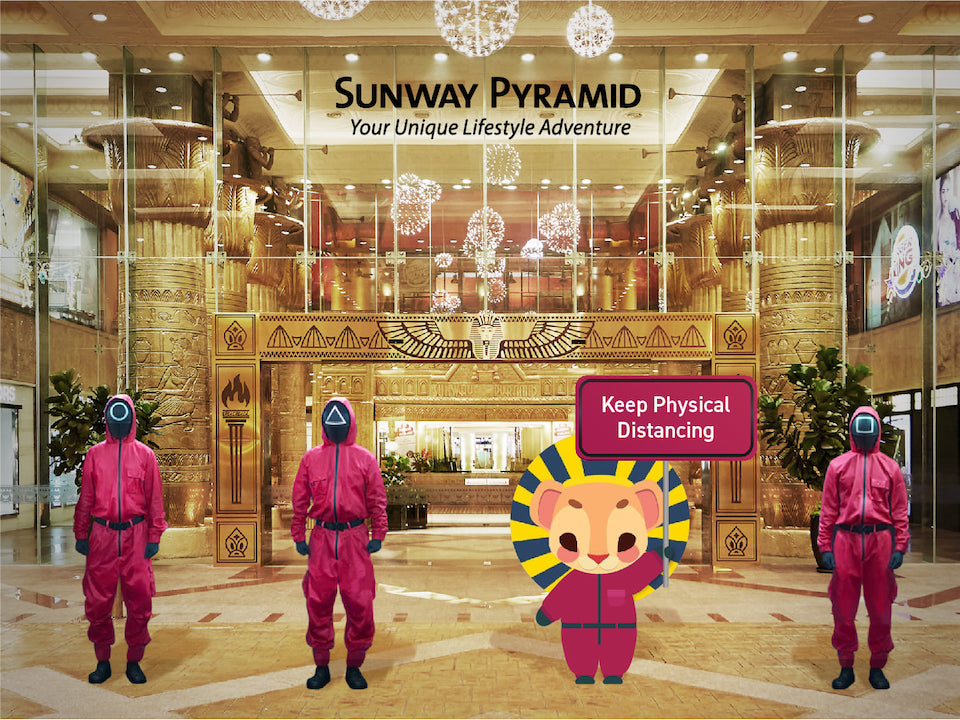 Yesterday, Sunway Pyramid shared a photo of three soldiers in hot pink-suit and a mascot holding a "Keep Physical Distancing" sign standing at the entrance of the mall on its Facebook Page. The post quickly blew up because people could recognise the soldiers from a recent popular Netflix's series – Squid Game!
In the post, Sunway Pyramid cheekily asked "Are you ready to play?' in reference to the famous game-theme series. Unlike the thriller series that features bloody and brutal games involving inhumane death, the game at Sunway Pyramid is much simpler:
Just stay 1 metre apart from every other shopper and live on!
Sensibly referencing the latest trend to instil some 'fear' in people, Sunway Pyramid hopes everyone would comply with the various safety measures.
"Follow the rules, Lion is watching…"
However, the photo is actually edited and visitors are unlikely to see these soldiers at the Mall in Selangor. Instead, 'normal'-looking Sunway Pyramid staff should be what you will see when you visit the mall.
Although there would not be scary soldiers there to enforce SOPs, everyone should still be careful as the COVID-19 virus is as deadly.
Follow the guidelines and stay safe everyone!