The two times Oscar Award Winner & Music Composer AR Rahman, played numerous medleys from various Indian musical styles, including some of his most well-known songs like Jai Ho from the British Drama Film Slumdog Millionaire.
AR Rahman 2023 Concert In Malaysia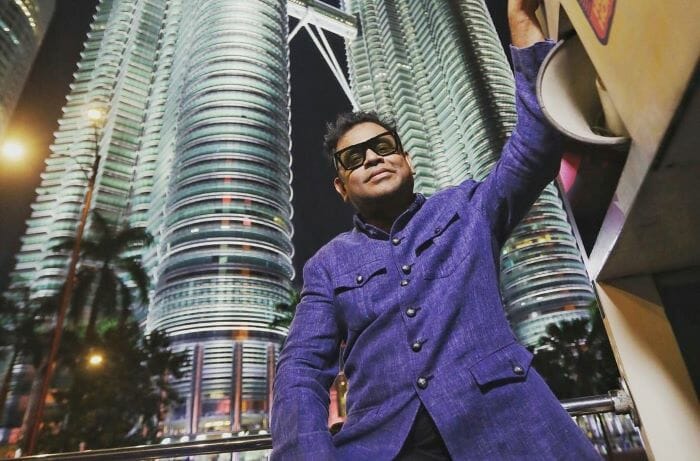 Rahman's concert, which was organised by DMY Creation, also included appearances by famous drummer Drums Sivamani, playback singers Hariharan, Shweta Mohan, AR Ameen, AR Reihana and a number of other renowned performers from India. The concert took place at the National Stadium Bukit Jalil Kuala Lumpur.
Popular Malaysian Singer Siti Nurhaliza Sang A Tamil Duet
While the audience were enjoying the concert, Siti Nurhaliza, who is known to be one of the most favorite and popular singers in Malaysia performed for Tamil classic duet "Munbe Vaa" together with an Indian vocalist Haricharan.
Siti decided to cover the song for the concert, which was sang by one of the popular Indian vocalist Shreya Ghoshal. Unsurprisingly, she did an excellent job.
Siti Nurhaliza received applause and standing ovation by thousands of audience members both during and after her performance for her clarity and almost perfect pronunciation of the Tamil lyrics in Munbe Vaa.
Siti Nurhaliza's Instagram Post About Her Musical Journey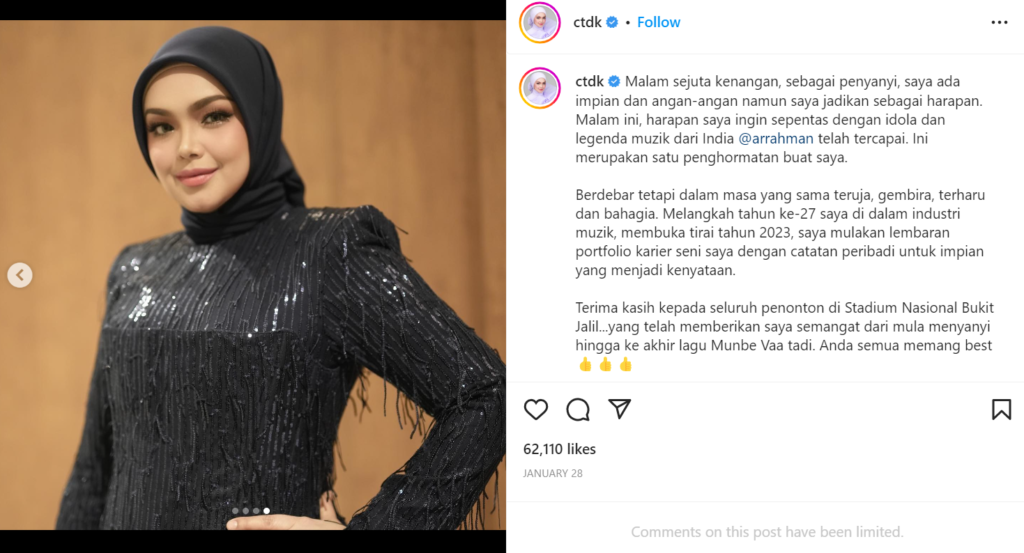 After performing at the AR Rahman Malaysia concert, the singer took her Instagram page to express that one of her fondest wishes has finally come true!
The singer explained in detail in the post's caption, in translation:
A night of million memories, as a singer, I have dream and wishes but I turn them into hopes. Tonight, my wish to be on stage with the idol and music legend from India @arrahman has been fullfilled. This is an honor for me.

Siti Nurhaliza, Malaysian Singer
Siti also stated that in the year 2023 she had complete 27 years of journey as a singer in the music industry in the post . "Thank you to all the viewers who came to National Stadium Bukit Jalil and gave me strength from beginning to end to perform Munbe Vaa just now. You guys are the best!" she added.
Check out Siti Nurhaliza's performance video:
Siti has also been celebrated as one the "Most Awarded Musicians All Time". Want to know more about it? Click here to check out the list!