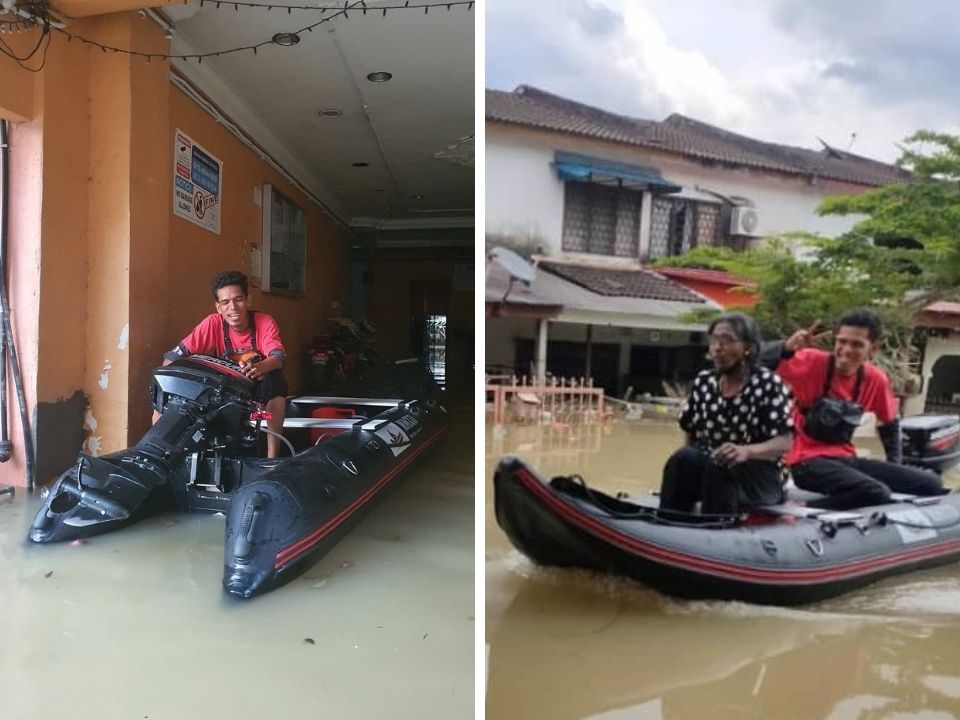 His pure intention has caught the attention of many. Azwan Omar, also known as 'Abang Viva Viral' across social media platforms, came all the way from Melaka to help the flood victims.
He is just a regular citizen, works as an operator and even took a leave from work just to help flood victims in need. With his car, Perodua Viva and a boat strapped tight on the roof of his Viva, he came all the way to Shah Alam with one goal, to rescue people in need!
Heavy Flood in Klang Valley Encouraged Him To Help
The heavy flood that occurred on Saturday, 18 December has affected many Klang Valley residents as this is the biggest flood that has happened here yet. The water level that rises quickly has caused many victims to be stranded at their own house feeling helpless.
That's when this 'Abang Viva' came into the picture. His goal is clear, to help stranded victims.
With only RM50 in his possession, he used RM20 to buy fuel for his boat and the remaining RM30 for bread and drinks for his food supply.
Overwhelming Situation On Site
Among the victims he saved includes senior citizens, a paralyzed husband and a new mom who just gave birth 2 days before the unfortunate event.
He describes the overall situation as overwhelming, especially when families can't be rescued together as his boat reaches its capacity limit.
He had also shared that his hardships are nothing compared to what these victims went through. One of the senior citizens he encountered was only drinking pipe water before they were rescued by him.
Selfless 'Abang Viva'
His sincere effort has encouraged many people to donate some money for his usage, as a sign of gratitude. However, he again acts so selflessly by sharing the donation money to several different NGO that are in charge of the flood relief effort while some are also given by him directly to the flood victim.