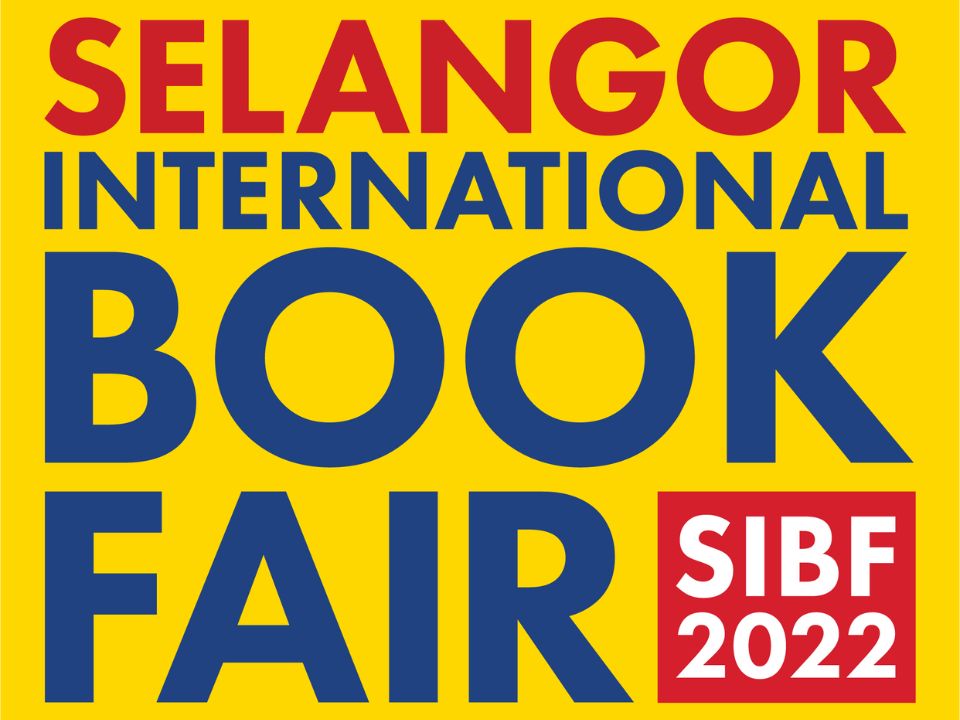 Calling all bookworms! This is your chance to buy all the books you want at the Selangor International Book Fair 2022 (SIBF 2022) which will be happening in the first week of December.
First Ever Selangor International Book Fair 2022
Selangor International Book Fair 2022 will be from 1st December until 11th December 2022. Many people are excited about this book fair because, after 16 years of events, Selangor Book Fair has now gained an international status thus making this, their first time being Selangor International Book Fair.
Selangor International Book Fair 2022: Connecting Heart And Mind
SIBF are all about improving therefore, they have set their theme to Connecting Heart and Mind because they believe knowledge can improve every aspect of lives. Therefore, this book fair is an opportunity to learn, share and innovate to be better by connecting our hearts and minds.
SIBF 2022 Programmes & Activities
Other than buying books, SIBF 2022 is packed with exciting programmes and activities for all visitors to watch and enjoy.
1st December 2022 (Day 1)
1. School Libraries & The Right To Happiness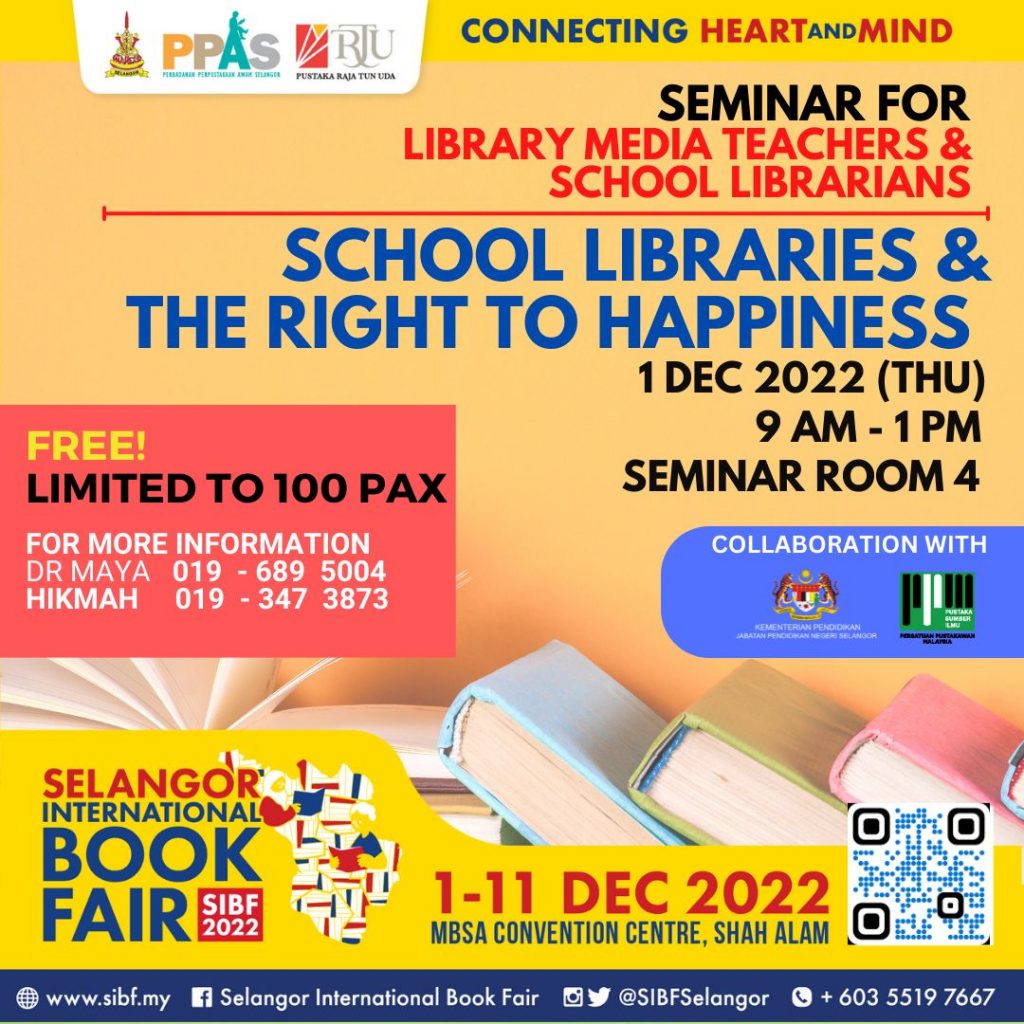 Time: 9:00 AM until 1:00 PM
Venue: Seminar Room 4
2. Dikir Barat Competition (High School Category)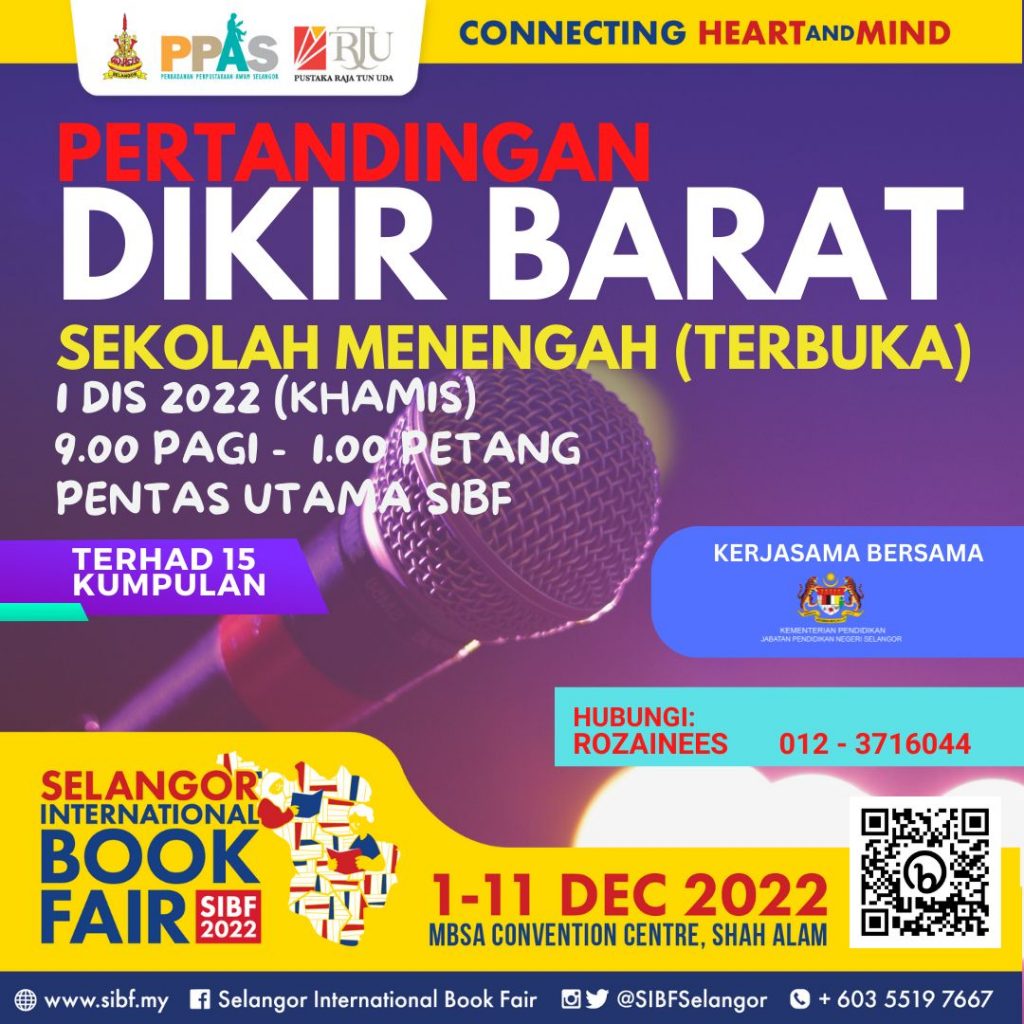 Time: 9:00 AM until 1:00 PM
Venue: Main Stage SIBF
2nd December 2022 (Day 2)
1. Story Telling For Primary School In Petaling District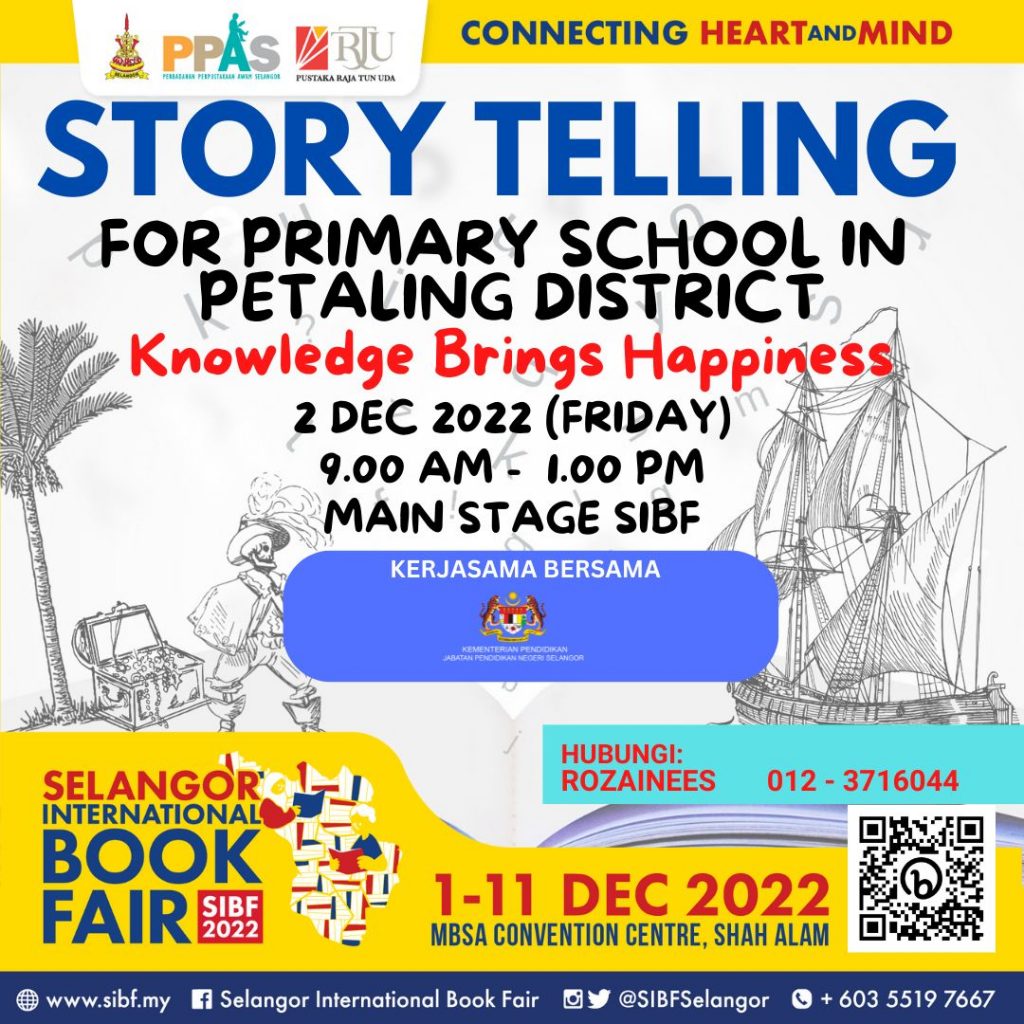 Time: 9:00 AM until 1:00 PM
Venue: Main Stage SIBF
5th December 2022 (Day 5)
1. Pertandingan Rekacipta Bahan Terbuang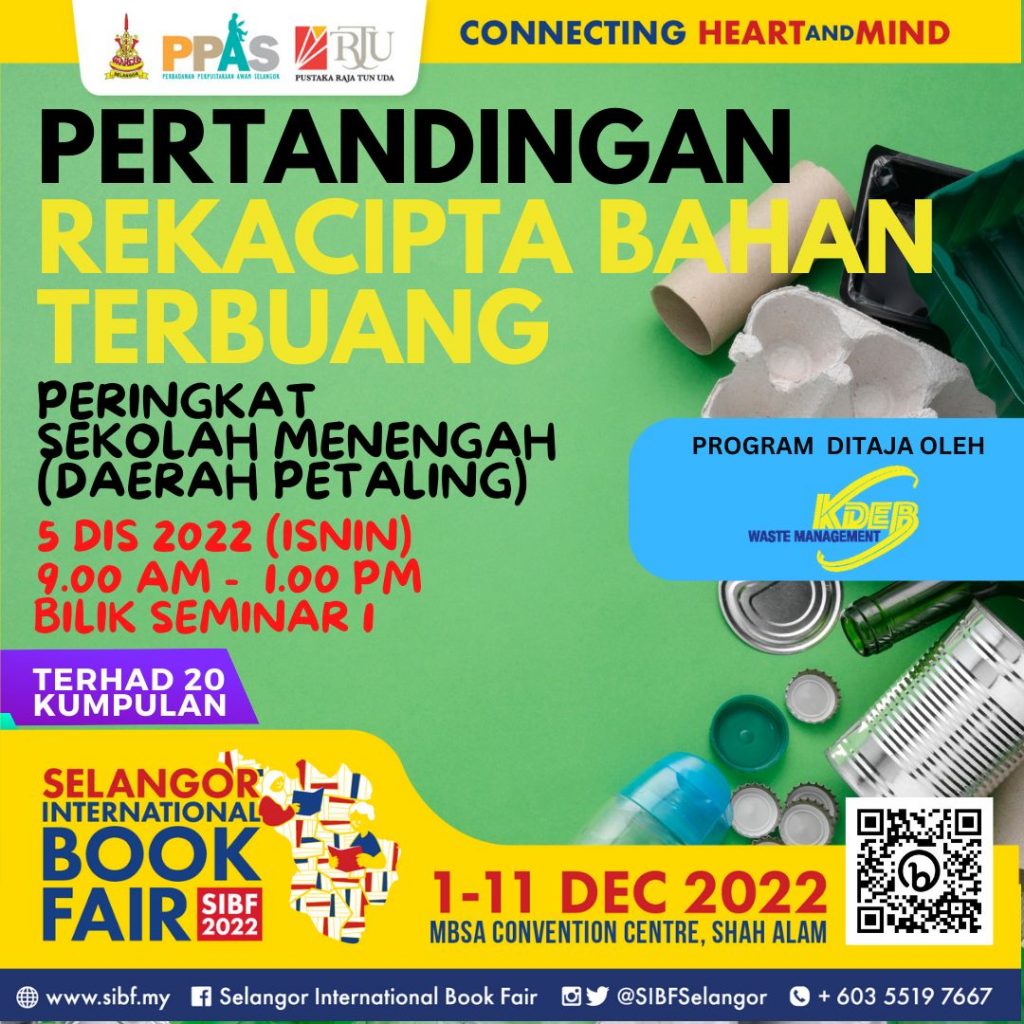 Time: 9:00 AM until 1:00 PM
Venue: Seminar Room 1
2. Librarians' Jam With Dr Ghaz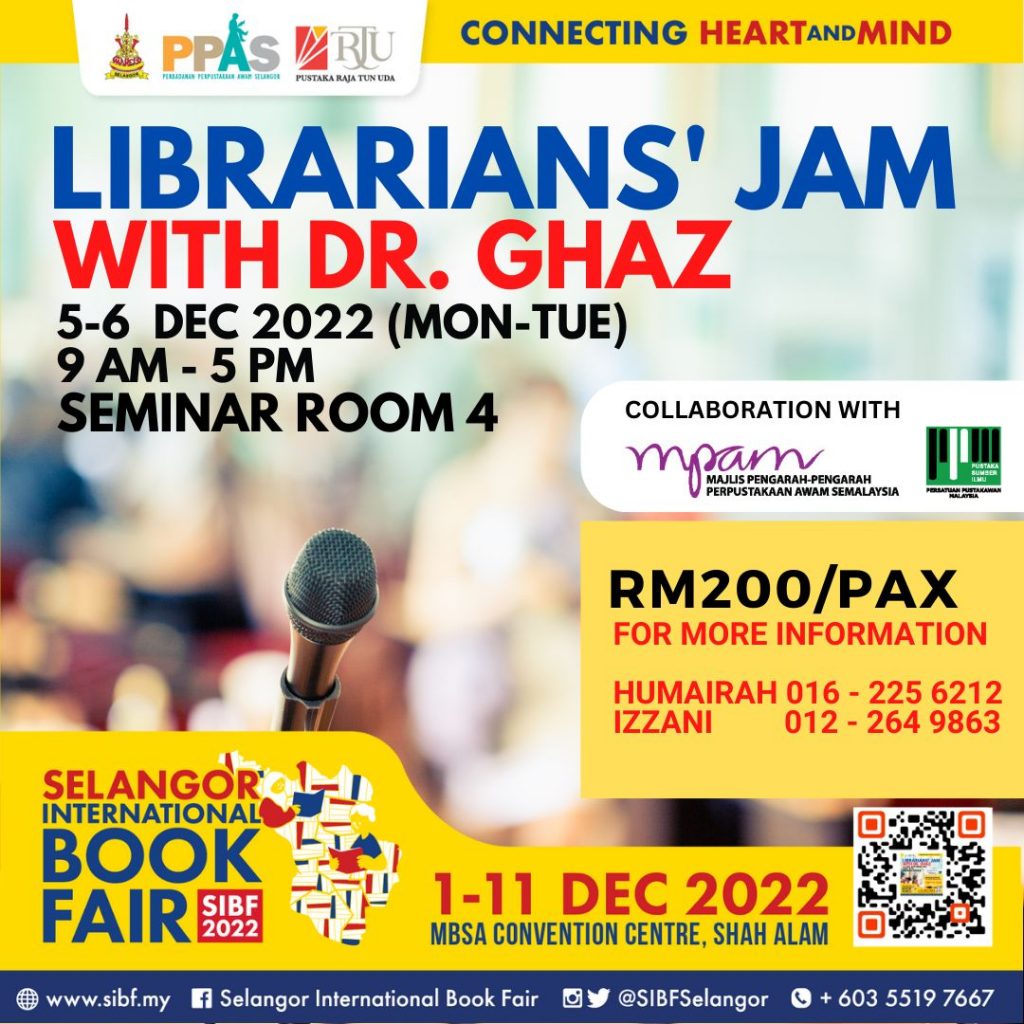 Time: 9:00 AM until 5:00 PM
Venue: Seminar Room 4
6th December 2022 (Day 6)
1. Pertandingan Sajak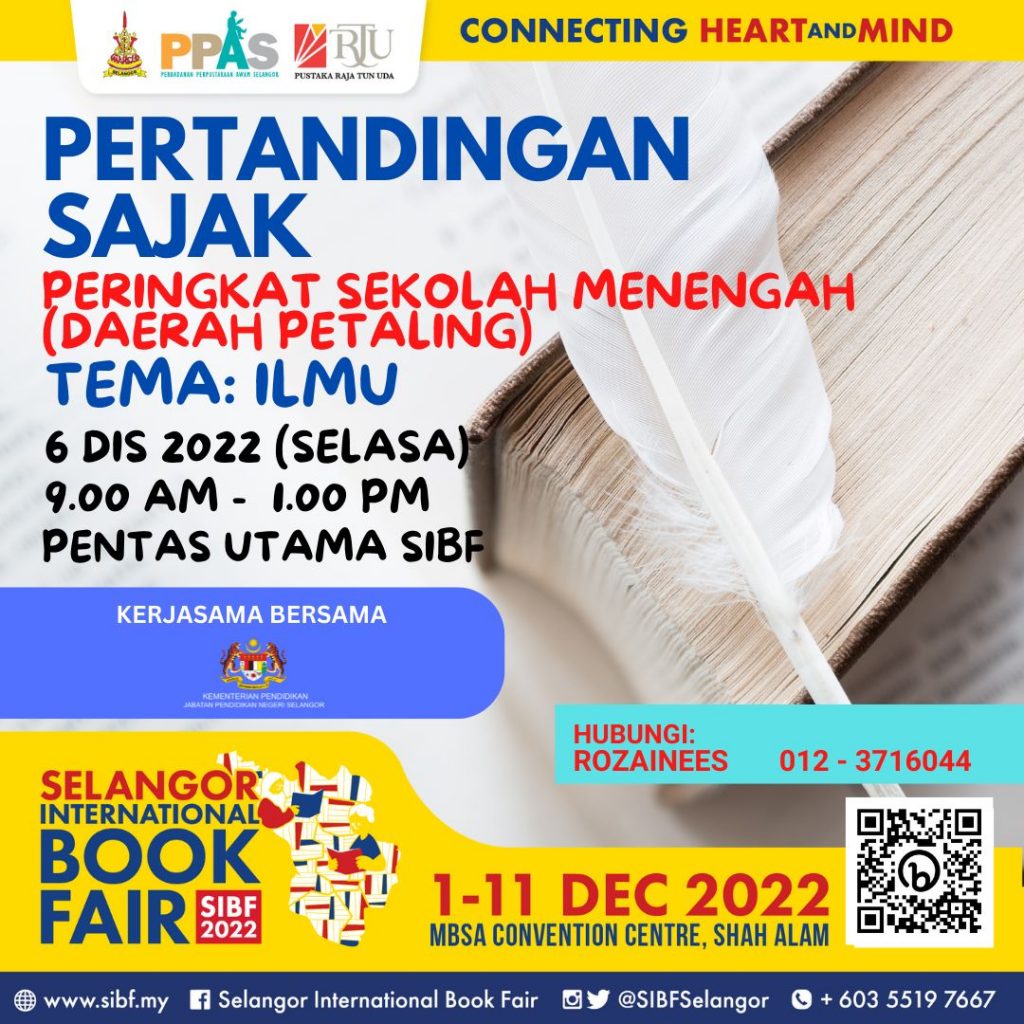 Time: 9:00 AM until 1:00 PM
Venue: Main Stage SIBF
2. Pertandingan Pantomin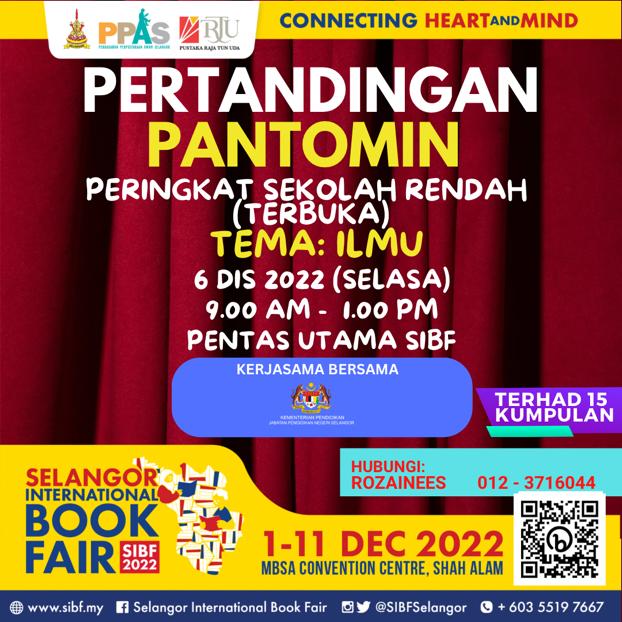 Time: 9:00 AM until 1:00 PM
Venue: Main Stage SIBF
3. Librarians' Jam With Dr Ghaz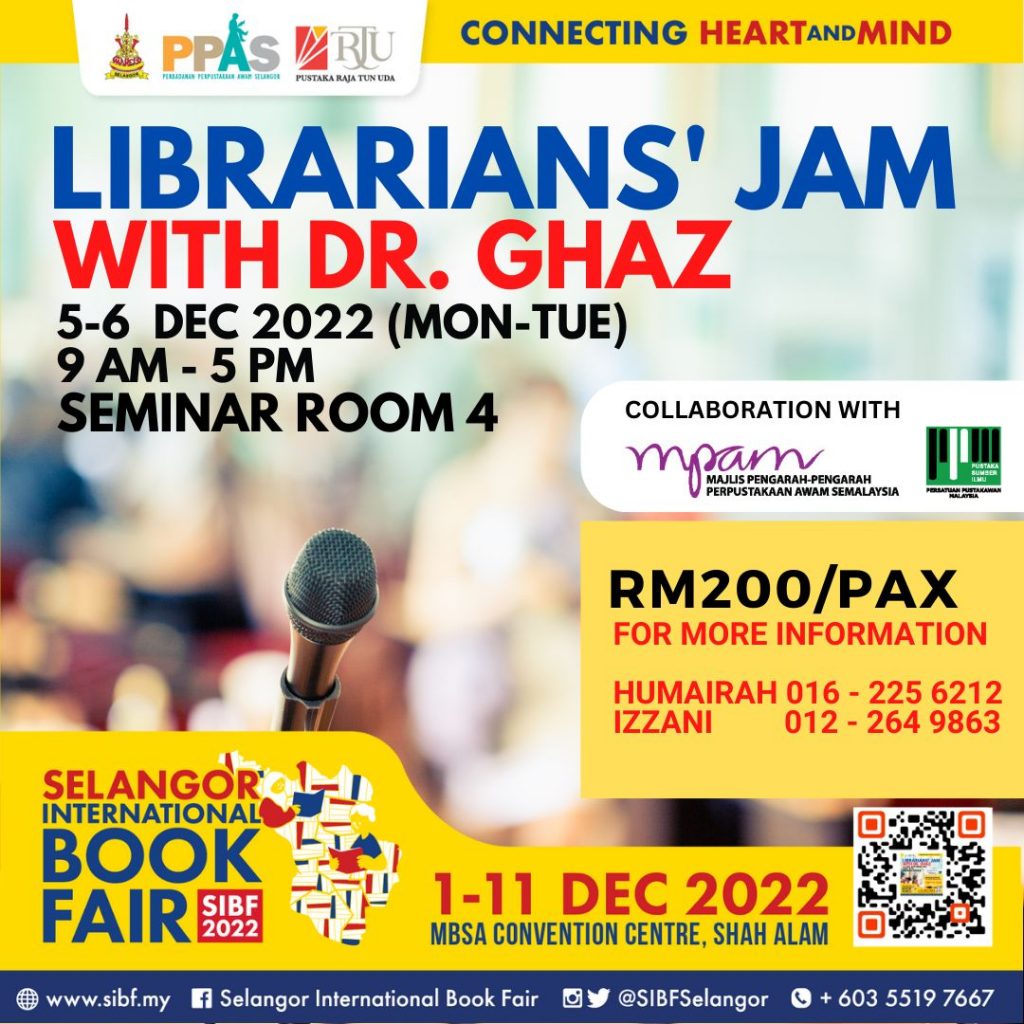 Time: 9:00 AM until 5:00 PM
Venue: Seminar Room 4
7th December 2022 (Day 7)
1. Chess Open Tournament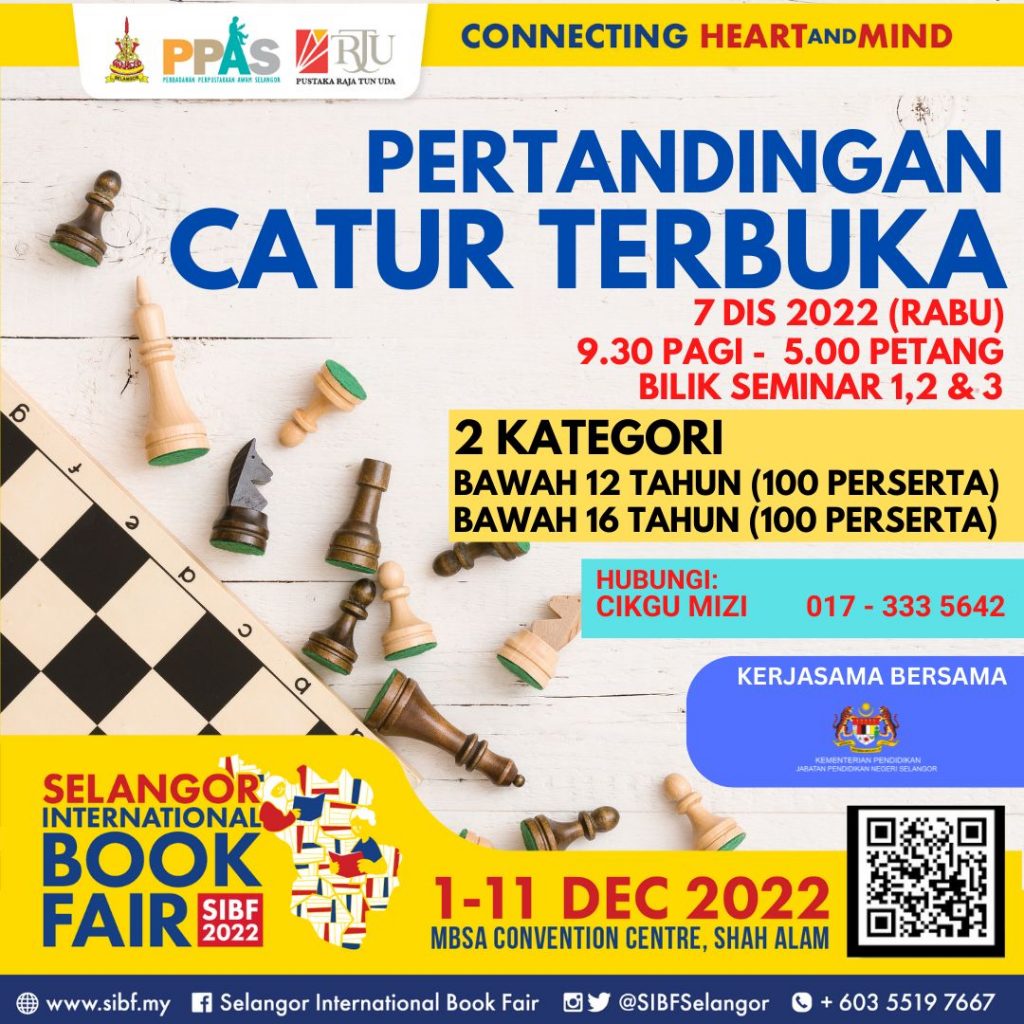 Time: 9:00 AM until 5:00 PM
Venue: Seminar Room 1, 2, and 3
List Of Exhibitors For SIBF 2022
For this event, SIBF 2022 brought 297 exhibitors for visitors to have a wonderful time and enjoy varieties of food, book publications and many more.
Ground Floor Area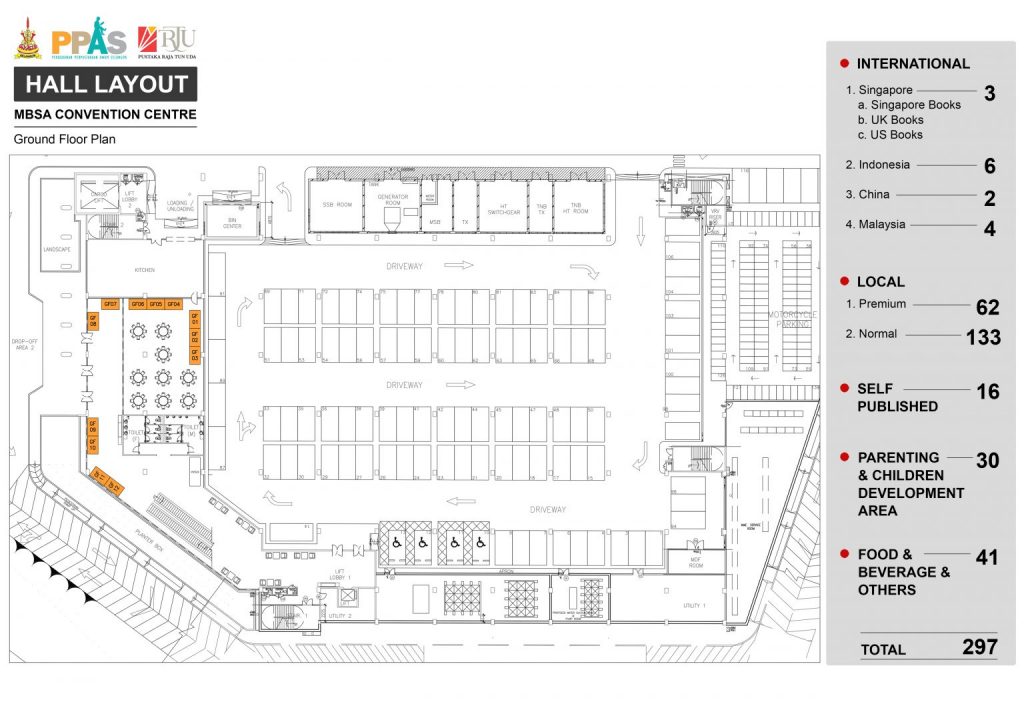 Exhibitors
Air Balang, Kopi Safroj, Ayam Gunting, Dango & Purin, Rice/Dessert/Western,Roti Kukus & Kebab, Scoop Valet Ice Cream, Takoyaki, D Qaseh Street
1st Floor Area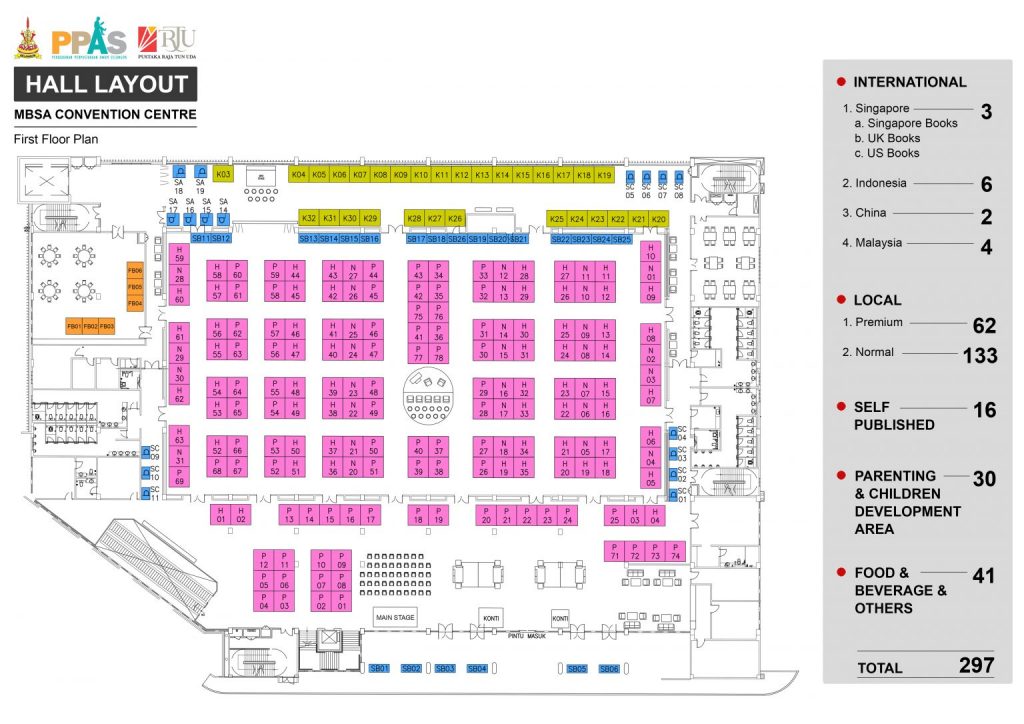 1st Floor Main Hall (Pink Area)
Exhibitors
Faralie C&D Enterprise, Blindspot Studio, Provision Art, Artquestz Republic, Misz Products, FarmFresh, Innowawasan Sdn Bhd, Ally Distribooks, Aliran Ilmu Resources, Gemilang Bookshop, Raihan Rainbow, Jendela Informasi Sdn Bhd, Kualiti Books Sdn Bhd, Poppet's World PTE LTD, Dzul Iman, Book Racks, Lemonjar Software Media Sdn Bhd, Al Ameen/ Awal, Mommy Happy Group Sdn Bhd, Wasapower Group Sdn Bhd, Penerbitan Prestasi, Al-Aqyas Group, SJ Learning, Buku Karangkraf, Farana Book Resources, Kasi terbit, Kata-Pilar Books, Kedai Buku Ibzanis Sdn Bhd, Kedai Buku Yadim (KBY), Kedai Dr Maszlee, Buku Fixi, Kualiti Bestari Ent, Pustaka Fajar, Santai Ilmu Publication, Shadani Book Sale, Azlin Books, Biblio Bookshop & Press, Big Bear Distributors, Bitara Media, Book Cafe.Com.My, Buku IBDE, CM Diverse, Dewan Bahasa Dan Pustaka, Easy Step Resources, Edu Resources Enterprise, Kumpulan Rimbunan, Fauzi Enterprise, Fayadhbook.com, Gua Novel Dot Com, Hijanah, Hijjaz Records Sdn Bhd, Hikmah Shares, Ifascreative Solution, Ilham Books, Institut Kefahaman Islam Malaysia(IKIM), Izzat Publication Sdn Bhd, Love Reading Book Centre, Menara Pintar Trading, Must Read Sdn Bhd, Naq Publications, Naseehat Holding, Nijuyon Sdn Bhd, Nuha Books, Nukilan Biruni Books, Nur Innai Bookshop, Nz Sons Trading, Patriots Publishing, Pekan Ilmu Publications Sdn Bhd, Pelita Dhihin, PTS Media Group, Rak Buku She, Rizq Bestari Solutions, RNZ Media Sdn Bhd, Skooltext, Sri Ayu Pub & Distributors, Syarikat Arena Ilmu, Syarikat Muda Osman Sdn Bhd, Teras Business Solution, Tiga Ros Trading Sdn Bhd, Titian Gemilang, Waridah, Whitecoat, Tenaga Sunnah Trading, Areesh Education, Ashe Enterprise Sdn Bhd, Beeston Knowledge Sdn Bhd, Bookline Services, Cps Ventures Sdn Bhd, Drl Kenyal Sdn Bhd, Kl Book Distributor / World Scientific Publishing, Mph Bookstores Sdn Bhd, Pustaka Darul Warisan / Pen & Sword, Pv Knowledge Sdn Bhd, Ray Theme Sdn Bhd, Swan Distributor, Ypij Books.Com. Sdn Bhd, Abim Press, Aras Mega (M) Sdn Bhd, Darul Syakir Enterprise, Faqih Synergiz, Pustaka Al-Khairy, Tafsir Tok Guru, Tenaga Sunnah Trading, Penerbit Buku China / Guangxi Normal Univ. Press, Penerbit Buku Indonesia / Buku-Buku Indonesia, Penerbit Buku Singapore / Alkem, Sifu Mandarin, Ez Math, Al-Qawwiy/Prolog Media, Fara Farisya Novelis, Kaseh Aries Publication, Love Novel Publishing Sdn Bhd, Manes Wordworks, Ramlee Awang Murshid, www.Mangosteeen.Com, Idealicon Resources Sdn Bhd, Iqi Realty, Iman Shoppe Bookstore, Jiwa & Jejak Tarbiah, Karya Publika Sdn Bhd, Onde Orkid Trading, Exploria, Fantasy Toys, Mynanku Educational, SPM Syarikat Permainan (Malaysia) Sdn Bhd, Awaris- Alkahfi Consultant
1st Floor (Green Area)
Exhibitors
Maybank, Ezkitz, Me Books, Al-Kauthar Edukids, Tadika, Sepintas, PTPTN, Sri Saujana Marketing, Cahaya Ilmu Sdn Bhd,
Wq Park, Minuman Minda, Hasil Suri, ANIS, Makerspace @Prtu, Artec Malaysia, Tech Up Kids Learning,
Mynanku Edu Toys, Awaris-Alkahfi Consultant
1st Floor (Blue & Orange Area)
Exhibitors
Haos Ek, D&J Chocolate, 2 Darjat, Triple Power Leaning, Frbiz Resources, Artquest Republic, Fielacreative Enterprise,
Apam Balik, Jejari Food Croffle, Evira Trading, Gemilang, Beausiti Ctdk, Pusaka Teras,
Kasha Homemade Delight (M) Sdn Bhd, Mim Jaya Enterprise
2nd Floor Area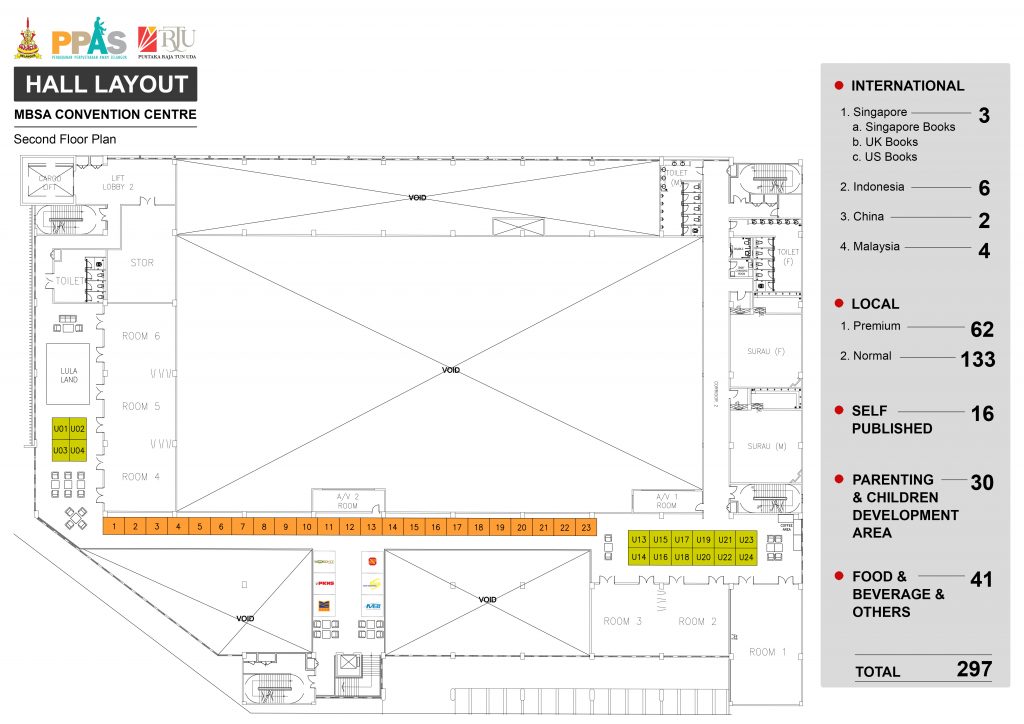 Exhibitors
Naurah Care, Pustaka Tok Kenali, Famous Four Sdn Bhd, Cereka, E-Sentral, Learn English With Noddy,
Pusat Tuisyen Aster (M) Sdn Bhd, Rina Enterprise Sdn Bhd, Bravo Publication, Hebat Publishing, Ilham Focus Network,
Latip & Keluarga Enterprise, Media Inspirasi Nusantara, Myceo Publishing / Tadabbur Centre, MZ Edu Publication,
Penerbit Mahir Sdn Bhd, Penerbitan Hayrat, Rabak Lit, RBK Niaga, Tertib Publishing, Wahara Atlantik, Hikayat Fandom,
Grup Sasbadi, Ibr-Historysophy, Onexox Telco
Set Your Calendars For SIBF 2022!
SIBF 2022 will be happening for 11 days which is from 1st December to 11th December 2022. For the first time, the SIBF will take place at MBSA Convention Centre Shah Alam and it will open from 10 am until 10 pm. So, book lovers, you don't have to worry about missing your chances to get your hands on the book you have been aiming for so long.
Interested to know more about Selangor International Book Fair 2022, kindly visit their Official Website, Instagram, and Facebook.
Don't forget to mark your calendars and see you soon at SIBF 2022 this week. If you don't come, you might miss one-time sales and discounts that are exclusively for SIBF 2022 visitors.
Articles related you might be interested in: