Do you have a pair of good old running shoes that you no longer wear? Instead of letting the dust occupy them, donating them is what you can do. Project Love Sneaker, a shoe-donation drive organised by Running Lab Malaysia will be happening from 1 April 2022 – 30 April 2022, where you can donate your retired running shoes for a better cause.
Running Lab Shoe Donation Drive: Project Love Sneaker
Whether you are a seasoned marathon runner or a social runner, there comes a point when your running shoes reach the end of the road. No shoe lasts forever and according to experts, the average mileage of running shoes is about 400 miles or about 644 kilometres.
Although your retired running shoes may no longer be good for running in, they can be turned into business opportunities for people in developing countries, such as Honduras, Haiti and even Transnistria, by helping them launch and sustain their own small businesses selling donated shoes.
Project Love Sneaker is organised by Running Lab Malaysia to serve the running community's desire to recycle their "retired" running shoes that are still in good condition, for a good cause. Started in 2010 in Singapore, Project Love Sneaker has increasingly gained traction and interest. Running Lab is more committed than ever to reaching out to a wider audience to spread the meaningful notion behind this campaign and this year is no different.
Donate and receive vouchers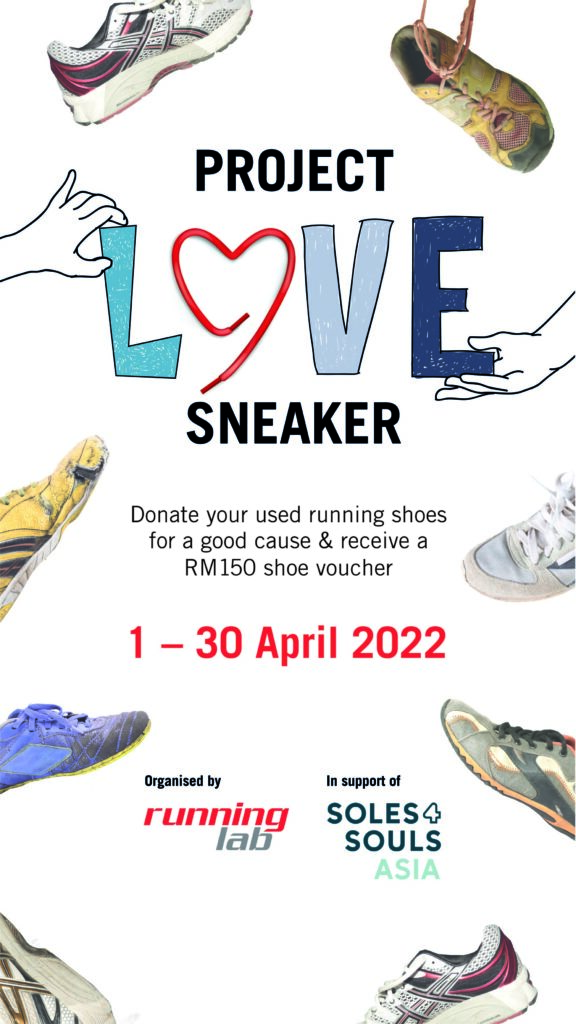 As it is never easy to let go of your favourite pair of running shoes, Running Lab will be rewarding you a RM150 Running Lab shoe voucher for every pair of preloved running shoes you donate in good condition.
Conditions for donation:
Running shoes in clean & re-usable condition will be accepted.
All parts of the shoe must be intact.
There should be no holes on the outsole or upper of the shoe.
The outsole should not be fully worn out.
Lifestyle shoes that look like running shoes and children's shoes are also acceptable as long as they are in good re-usable condition. However, spike shoes and canvas shoes like Converse or Vans are not acceptable.
Drop your running shoes at any Running Lab stores now!
Do your part this April with Running Lab and Soles4Souls – simply drop off your preloved running shoes at any Running Lab store from 1 to 30 April 2022.
Running Lab stores is available at:
Pavilion, Lot 5.102.02, Level 5, Pavilion Elite
The Gardens Mall, Lot No. T-227, 3rd Floor, The Gardens Mall
For more information on Running Lab, please visit their Facebook page.