As we are now well within the second half of 2022, travel has been on everyone's minds. With the restrictions on travel easing since the COVID-19 pandemic, some may be aiming for the end of this year to begin their much-needed holiday! And, especially for those planning to travel overseas, avoiding the rush to renew your Malaysian passport is a must!
Hence, for your convenience, here is our guide on 3 easy steps to renew your Malaysian passport online with all the additional tips to make sure you pass on the first try!
Note: The steps and tips specified below are applicable to Malaysian citizens only.
3 Easy Steps to Renew Malaysian Passport Online
1. Enter the Official Portal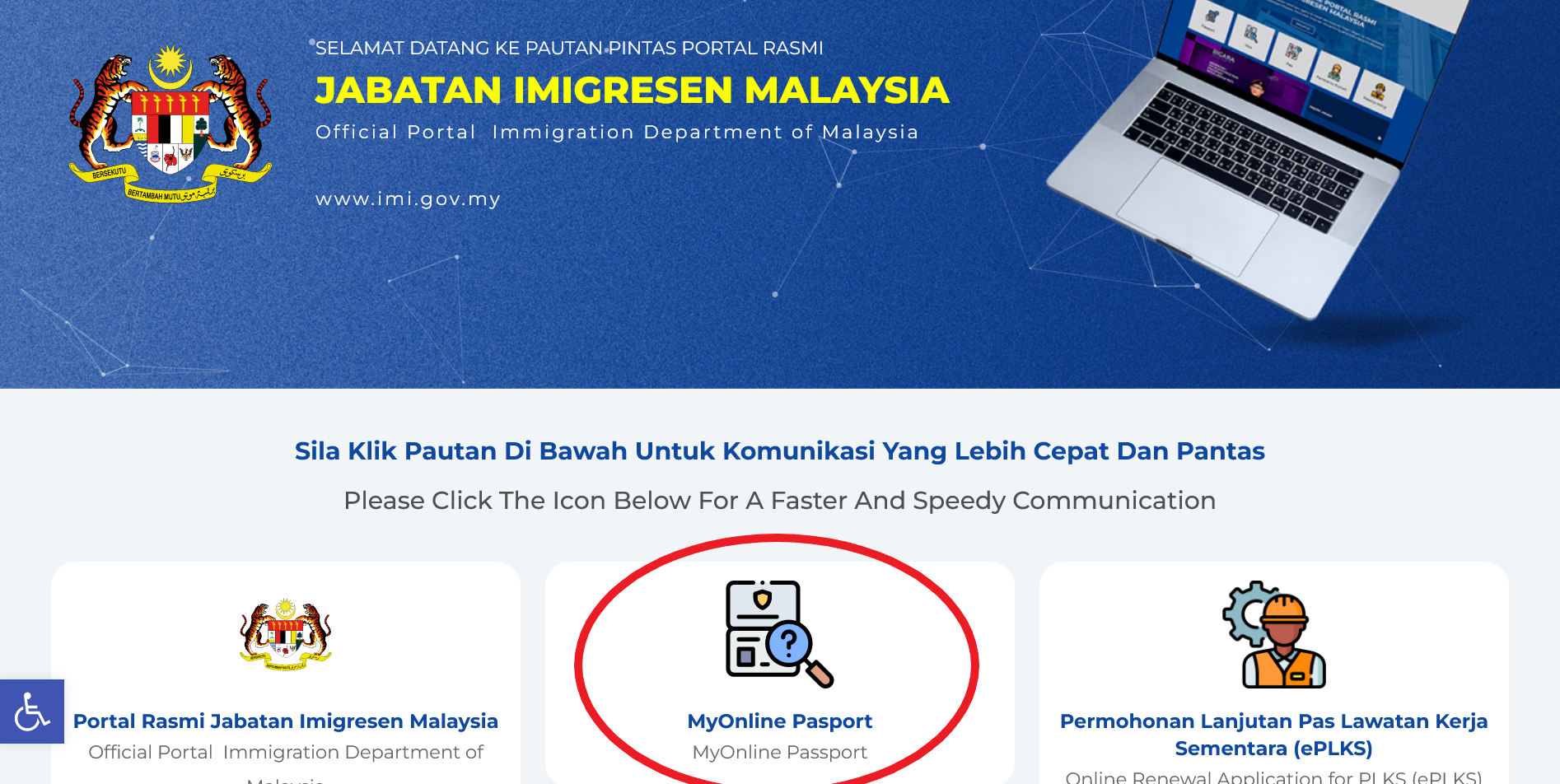 First, you can visit Jabatan Imigresen Malaysia's Website and then click on 'MyOnline Pasport' which will automatically take you to the International Malaysian Passport Application (Permohonan Pasport Malaysia Antarabangsa [PMA]).
However, you can also access the PMA through Jabatan Imigresen Malaysia's MyIMMS – EServices page. You can then scroll down to the MyOnlinePassport section and click 'Passport Application (Permohonan Pasport) – Application for the renewal of passport' which will direct you to the same Application.
2. Fill Out The Application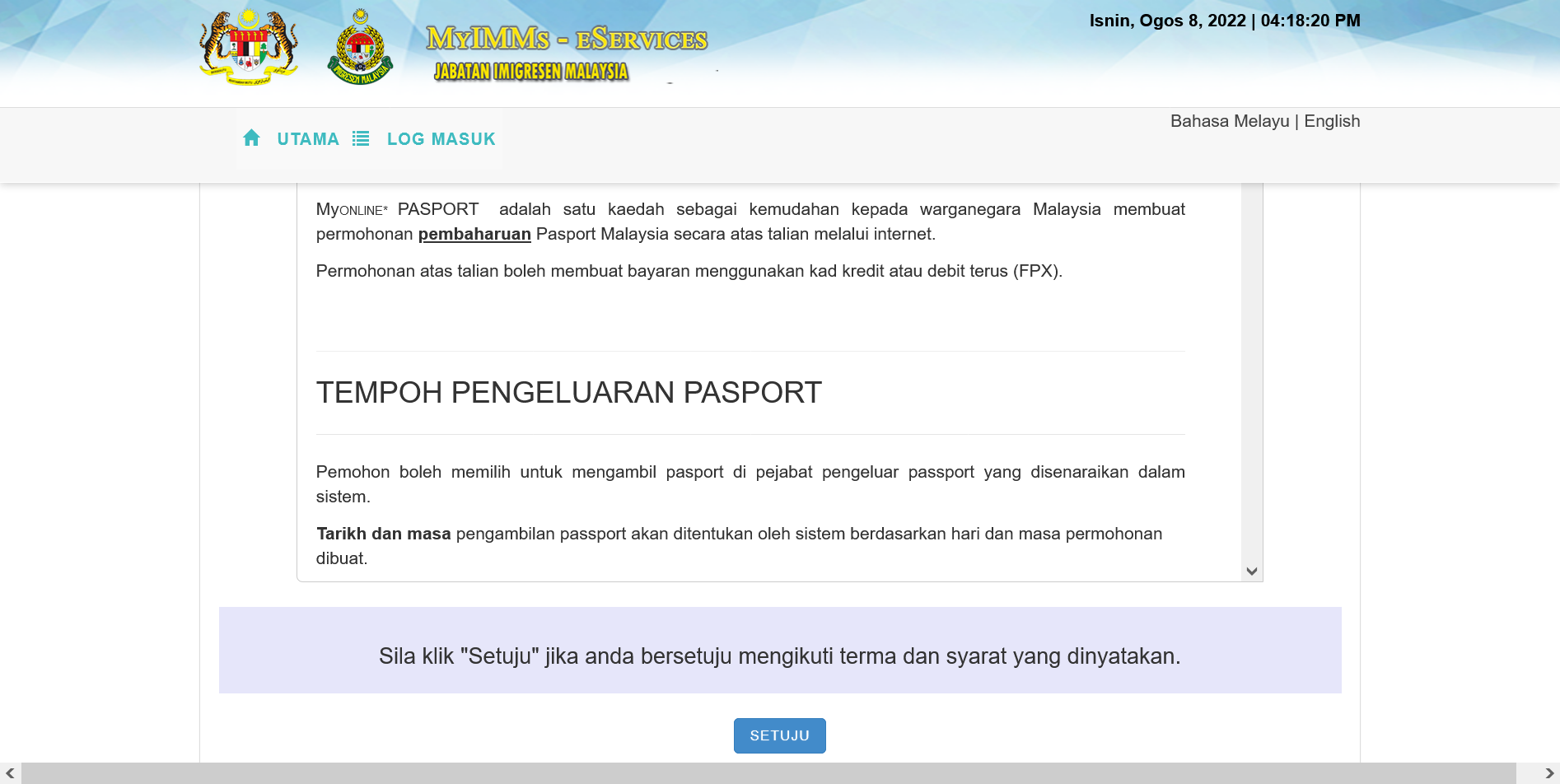 Do make sure to read through the terms and conditions before clicking 'Setuju/Agree'.
After that, in summary, all you need to do with the application is:
Fill in the required particulars.
Upload and crop an image of yourself.
Submit the application. (And wait for the notification, 'PERMOHONAN ANDA TELAH DITERIMA'.)
Make the necessary payments (via credit card or direct debit [FPX]).
Yes, it's that simple!
It is also highly recommended to print two copies of the receipt: one for your reference and one for the next step.
3. Collect Your New Passport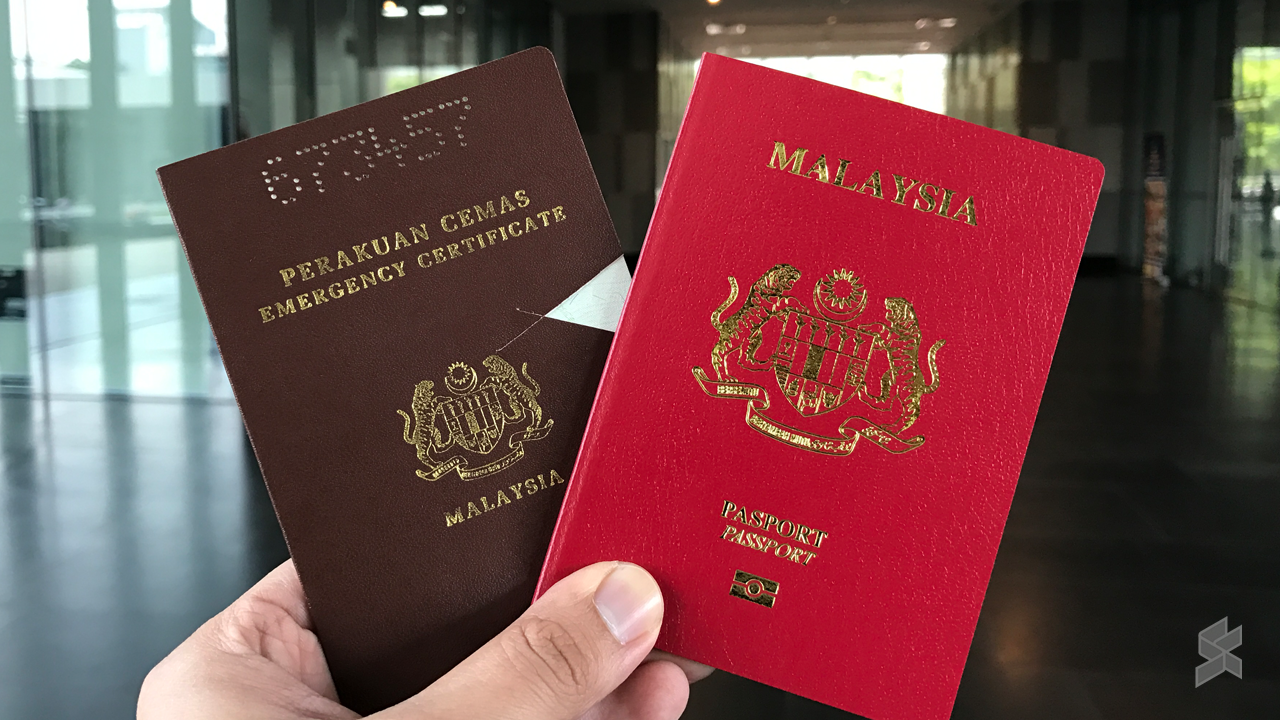 In your receipt, the date and time will be specified on when you can head to the Jabatan Imigresen Malaysia's official office to collect your new passport. You may also receive an email for passport collection approval within 3 working days.
In the meantime, while you wait, your application status can be checked at the same link where you filled the Application (MyOnline Pasport). If any issues arise, please do not hesitate to contact the office at 03-8000 8000.
Applications made before 3 PM on a working day can be collected the same day while applications after can be collected after 10 AM the following day.
On the day of your collection, other than the receipt, you will also need to bring your old passport for invalidation, your IC/MyKad, and yourself – no representatives allowed. But, once your new passport is in your hands after that, you are officially done!
Additional Tips to Renew Malaysian Passport Online
Unfortunately, of course, there are some catches to the total process – but not to worry! We have all the tips you need below.
Passport Fees
For those aged between 13-59 years old, RM200 will need to be paid for your application. Only RM100 will need to be paid for the application for seniors 60 years old and above.
Passport Photo Specifications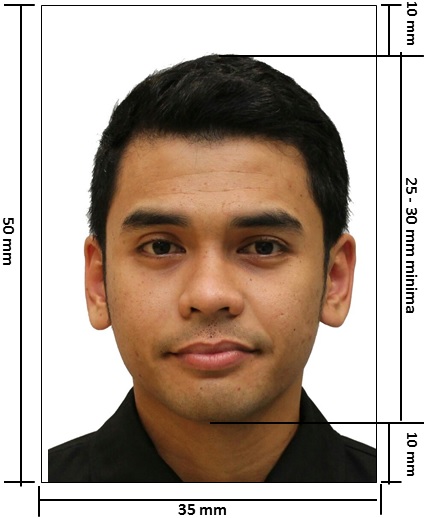 Photo is recent
White background with no shadows
Dark colored clothing and/or headscarf/hijab that covers shoulders and chest – the headscarf/hijab must not cover the face
No glasses, colored contact lenses, or head accessories
Photos must be in softcopy and taken by a professional photo shop
Measurements:

35 mm total width
50 mm total length
Head size but occupy at least 25-30 mm in the center of the photo
In-Person Visits: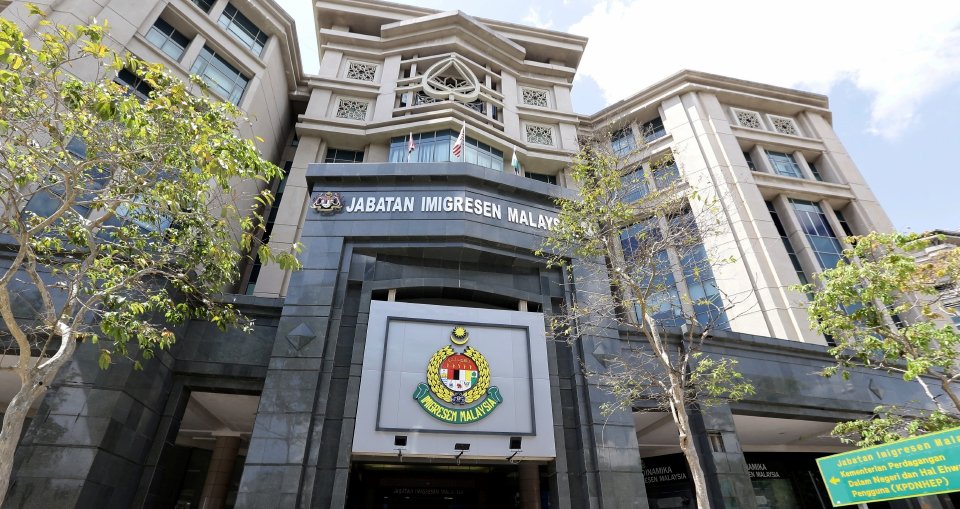 You will need to head directly to the office if you are:
First-time applicants
People with disabilities (OKU)
Children aged 13 and below
Those who have lost their passport
Students continuing their studies in Malaysia
Hajj pilgrims
Any applicants under 18 years old must bring their birth certificate, their IC/MyKid, and a legal guardian – who has given permission to undergo the passport application process – to the office when collecting their new passport.
Errors
If your uploaded photo still does not meet the required specifications, you can have one taken at the Passport Recipient and Issuance Office on the day you collect your new passport.
If you receive the error message 'Kindly contact the Immigration Department of Malaysia' when submitting your online application, it is unsuccessful for the following reasons:
Your fingerprint file is either damaged or deleted. A new fingerprint will have to be taken at the immigration office.
Your application does not meet the specifications listed on MyOnlinePassport.
Your information in your application is inaccurate and contradicts the system's information.
Thus, please make sure all data is up to date before applying and that all requirements are met during the application process.
Good luck and happy travels!
Related to Passports: