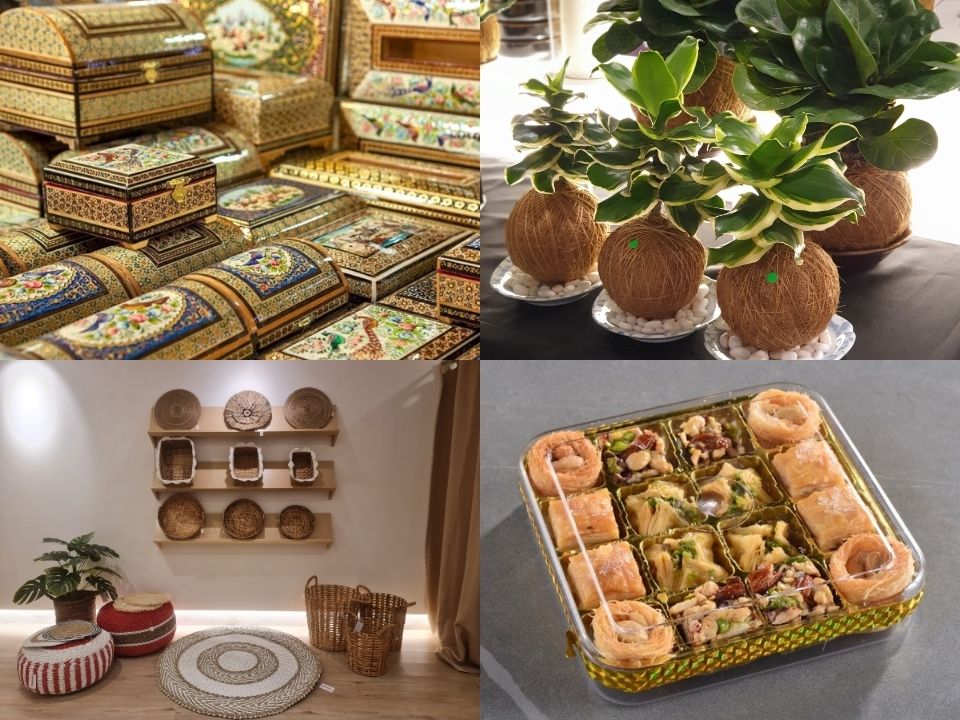 Raya is in the air, 'balik kampung' is on the agenda, and you can almost smell the Raya open house feasts that await!
But wait… no new Baju Raya? Or maybe your home needs a little sprucing up for the festive season? Don't fret, there are plenty of shopping opportunities at Pavilion Kuala Lumpur and Intermark Mall for you to get Raya-ready! 
Our last-minute Raya shopping guide to decor, fashion, beauty, and other delicacies will provide you with some Aidilfitri-inspo and help ramp up your celebrations!
Home Decor Upgrade For Aidilfitri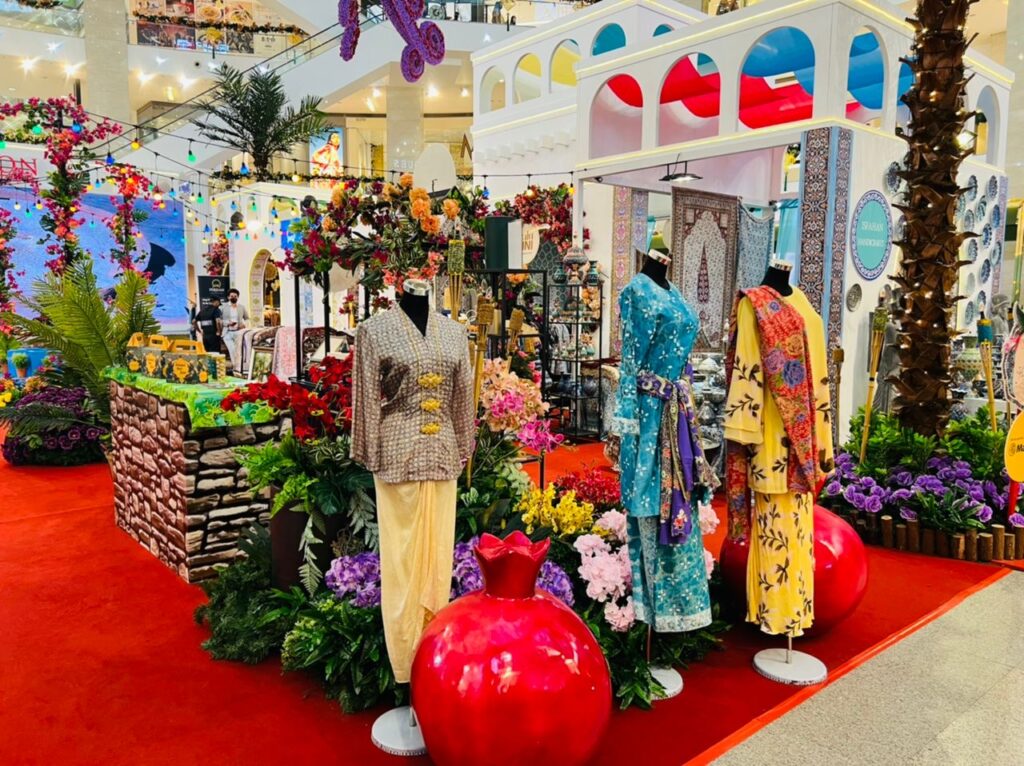 After two years of quiet Raya celebrations with no visiting guests, we can finally celebrate the festivities with our nearest and dearest. It is the perfect opportunity for you to spruce up your home and make an impression with beautiful one-of-a-kind handicrafts!
Location: 'Eid In Harmony' Marketplace, Level 2, Pavilion KL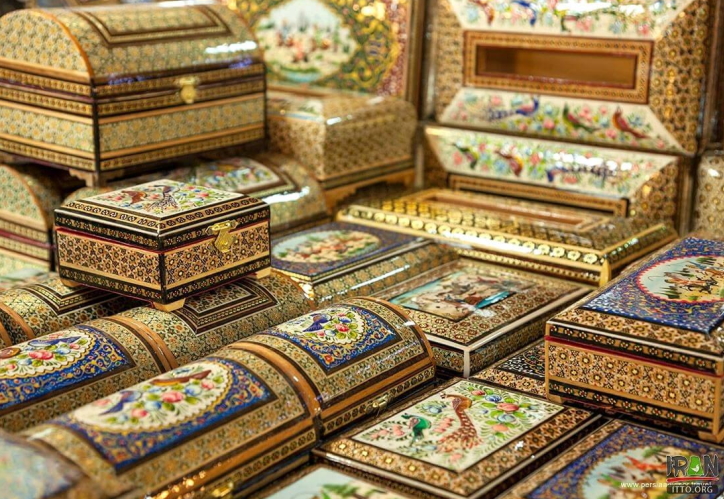 Pavilion KL's exclusive 'Eid In Harmony' Marketplace has all you need to bring that magical touch to your home! Turn your home into a palace with royalty-worthy Persian Carpets at Persian Collections, get your hands on beautiful Persian handicrafts at Rooz Gallery, grab sought-after copper engraving and enameling art at Isfahan Handicraft, or buy artwork by gilding artist Maedeh Hosseini. 
Location: Artisan Pop-Up by Living Circles Concept, Ground Floor, Intermark Mall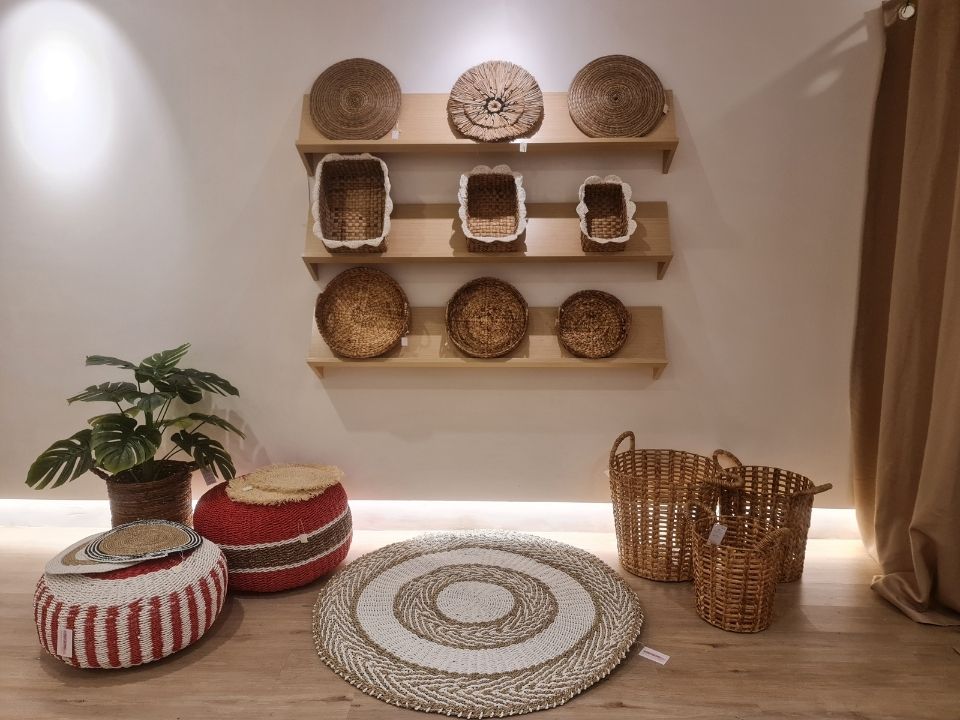 Bring a touch of kampung nostalgia to your home with stylish rattan baskets and other decorative items at Intermark Mall's Artisan Pop-Up by Living Circles Concept. If you're looking for a way to brighten up your home with some greenery, check out the pop-up's selection of indoor plants! A collection of curated bags, accessories, and clothing is perfect for putting together that head-turning Raya outfit!
Get Your New Baju Raya
Location: Bacarat, Meriah Raya Pop-Up, Ground Atrium, Intermark Mall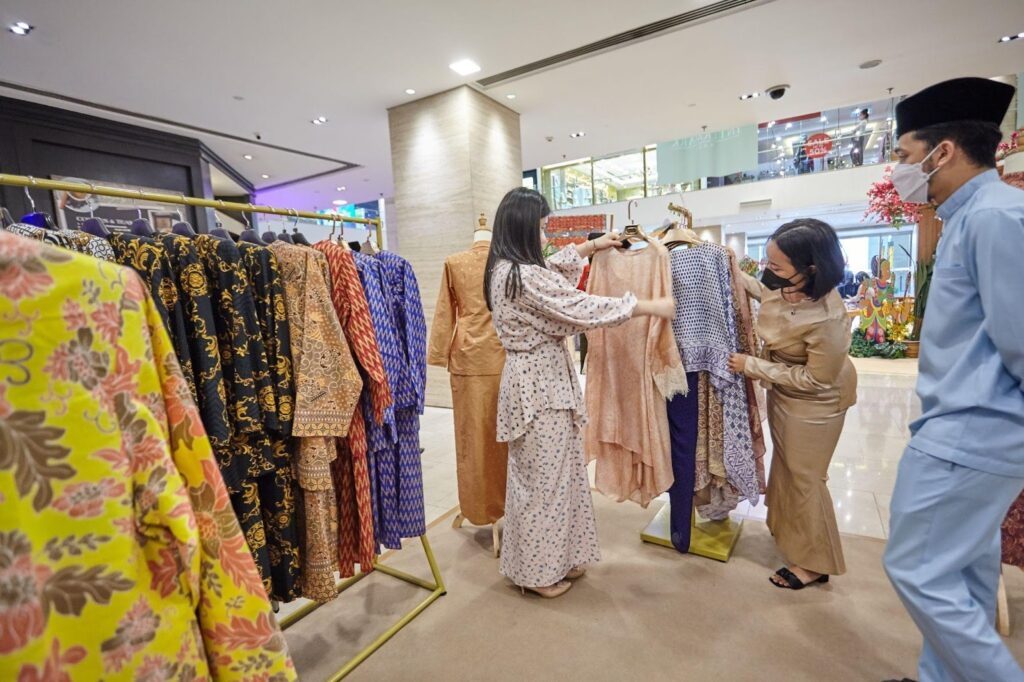 Celebrate the first day of Aidilfitri in style with modern Baju Raya from Bacarat. Each piece is uniquely designed with a unique modern element, from asymmetrical draping to baju kurung made from sari cloth for a touch of sophistication.
Location: Traditional Crafts Pop-Up By Karyaneka, Meriah Raya Pop-Up, Ground Atrium, Intermark Mall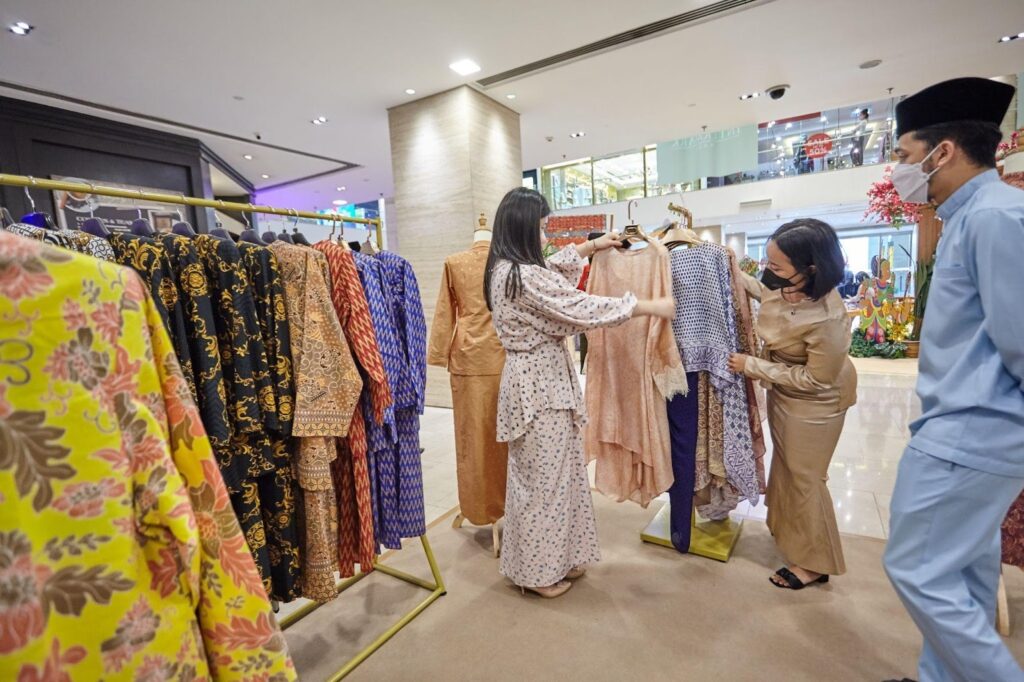 Shop local with a delightful variety of traditional fashion pieces and handmade bags specially curated by Karyaneka. From batik hailing from Terengganu to woven bags from Sarawak. 
Location: Farah Khan, Level 3, Pavilion KL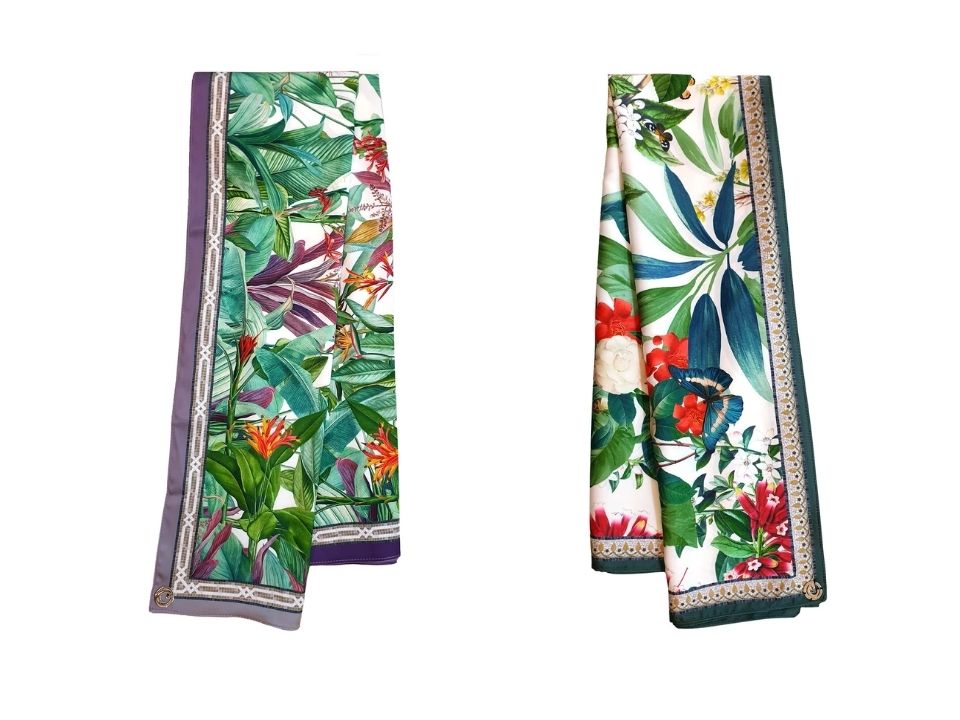 Get the exclusive Caramel x FK By Farah Khan Limited Edition Scarf this festive season by Datuk Seri Farah Khan, Malaysia's first lady of fashion!
Add a touch of color to your Raya outfit with Farah Khan's collection of prints that depict vibrant flora and fauna from landscaped gardens worldwide. The versatile scarf can be worn as a headscarf, styled around the neck, worn as a hair accessory, or even styled as a belt!

Mani And Pedi For Raya Look
Location: BMIC Nail Spa Salon, Level 7, Pavilion KL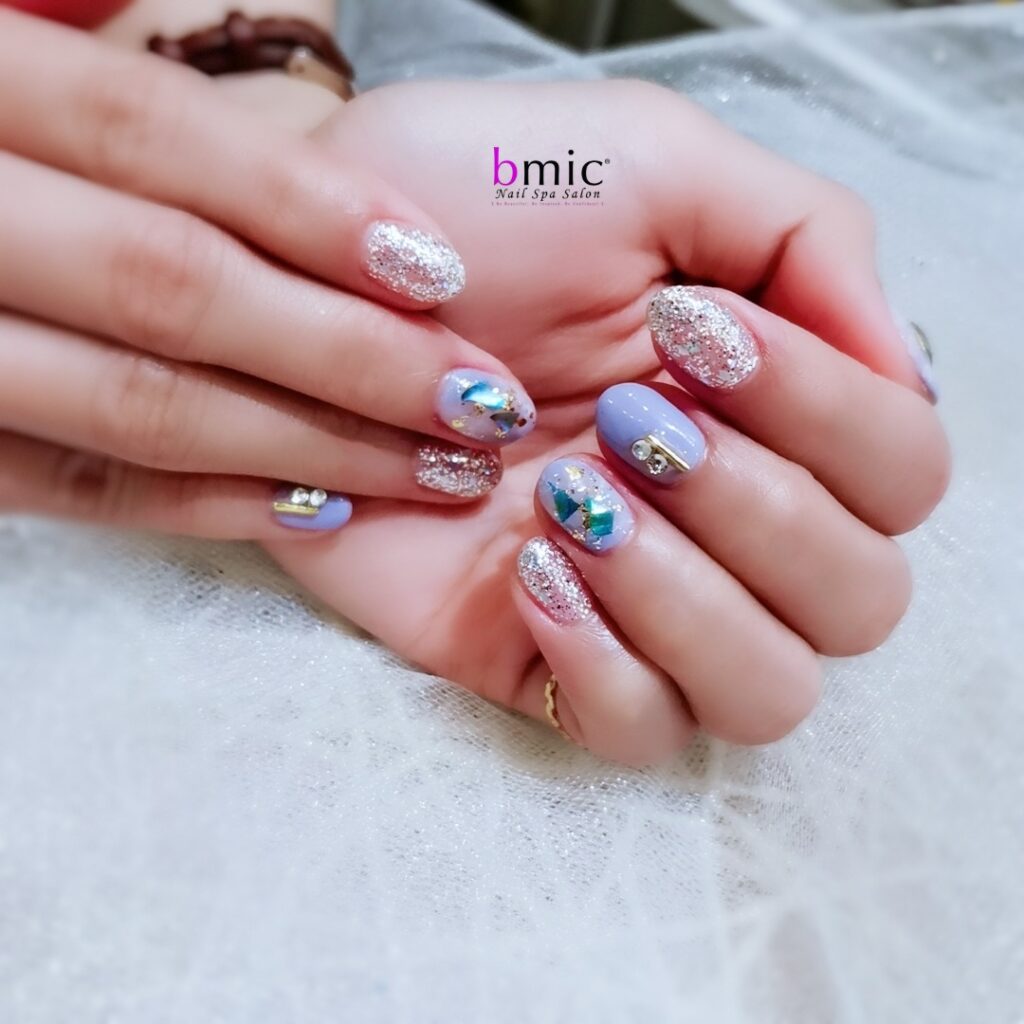 Get buffed and polished for the Raya celebrations with a free upgrade to Halal Nail Polish when you purchase a Fruity or Organic Hand or Foot Spa at BMIC Nail Spa Salon! While you're there, why not get on-point brows, ultra-smooth arms and legs, and a tamed upper lip with BMIC's waxing services? Customers can also get their lashes lifted for a refreshed look this Raya! 
Get Your Raya Hair Done
Location: Groom Artistry, 2nd Floor, Intermark Mall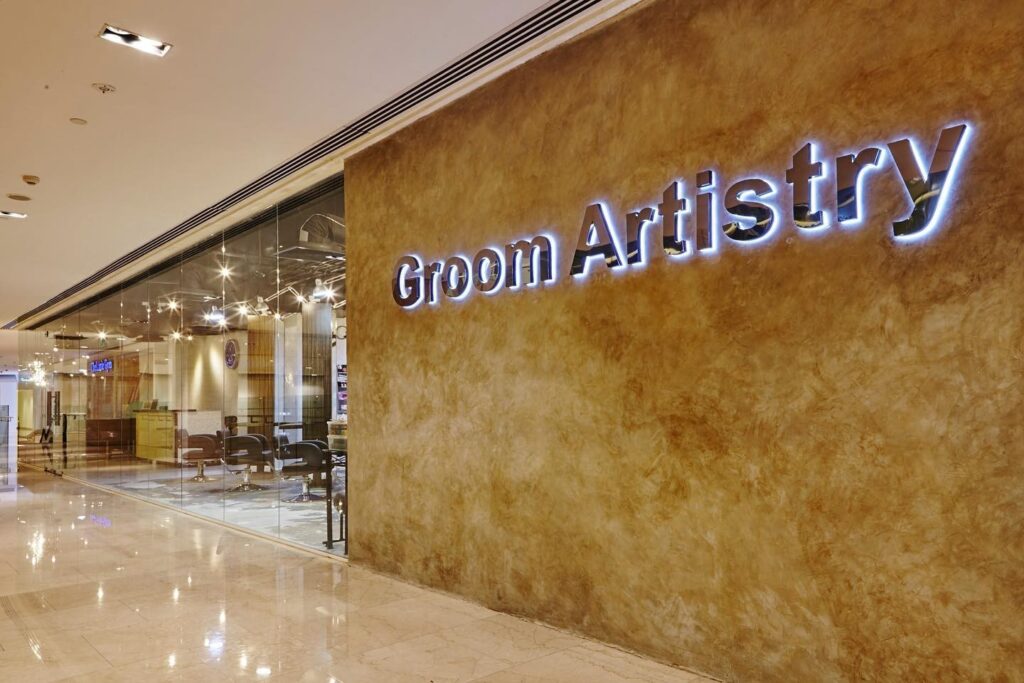 Treat yourself to a new hairdo this Raya! From moisturizing hair treatments and professional coloring to expert styling, Groom Artistry (dubbed the Hair Doctor) is the perfect place to add an extra bounce and shine to your hair! 
Beauty tip: Groom Artistry has a private room for Muslim customers

Assorted Sweets For You And The Guests
Location: Mahnaz Food, 'Eid In Harmony' Marketplace, Level 2, Pavilion KL
Looking for some snacks for your guests to munch on while catching up with your loved ones this Raya? Fruits and nuts are not only nutritious snacks but also delicious ones. From Ramadan staples like dates, roasted nuts, and dried fruit, Mahnaz Food has it all! 
Location: Dunkin' Donuts, Concourse Floor, Intermark Mall
Can't decide what good dessert to bring for Iftar or Raya open house potluck with friends and family? Grab yourself a Dunkin' Donuts Ramadan Raya Bersama box with their Kurma Choco Cake, Almond London, and Pineapple Tart – now, that tastes like Raya!
Location: Dubai, Food Republic, Level 1, Pavilion KL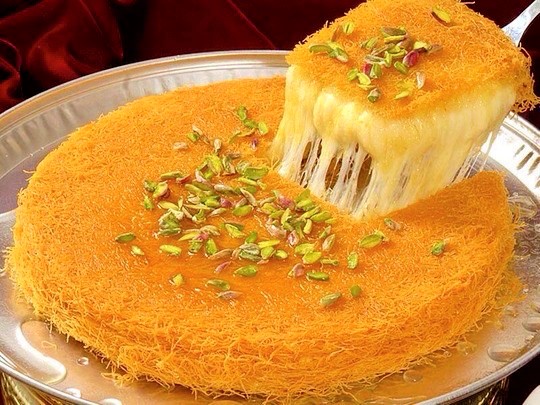 Need something a little more indulgent? Head over to the highly raved Dubai stall for some of the cheesiest Konafa and Bakhlava you can get your hands on! Soaked in a sweet, sugar-based syrup called attar and layered with cheese and pistachio, this is a definite must-try, and it will surely make a 'grate' cheesy Raya dessert!
Fill Your Tummy Yummy
Location: Grandmama's, Level 6, Pavilion KL / Grandmama's, Ground Floor, Intermark Mall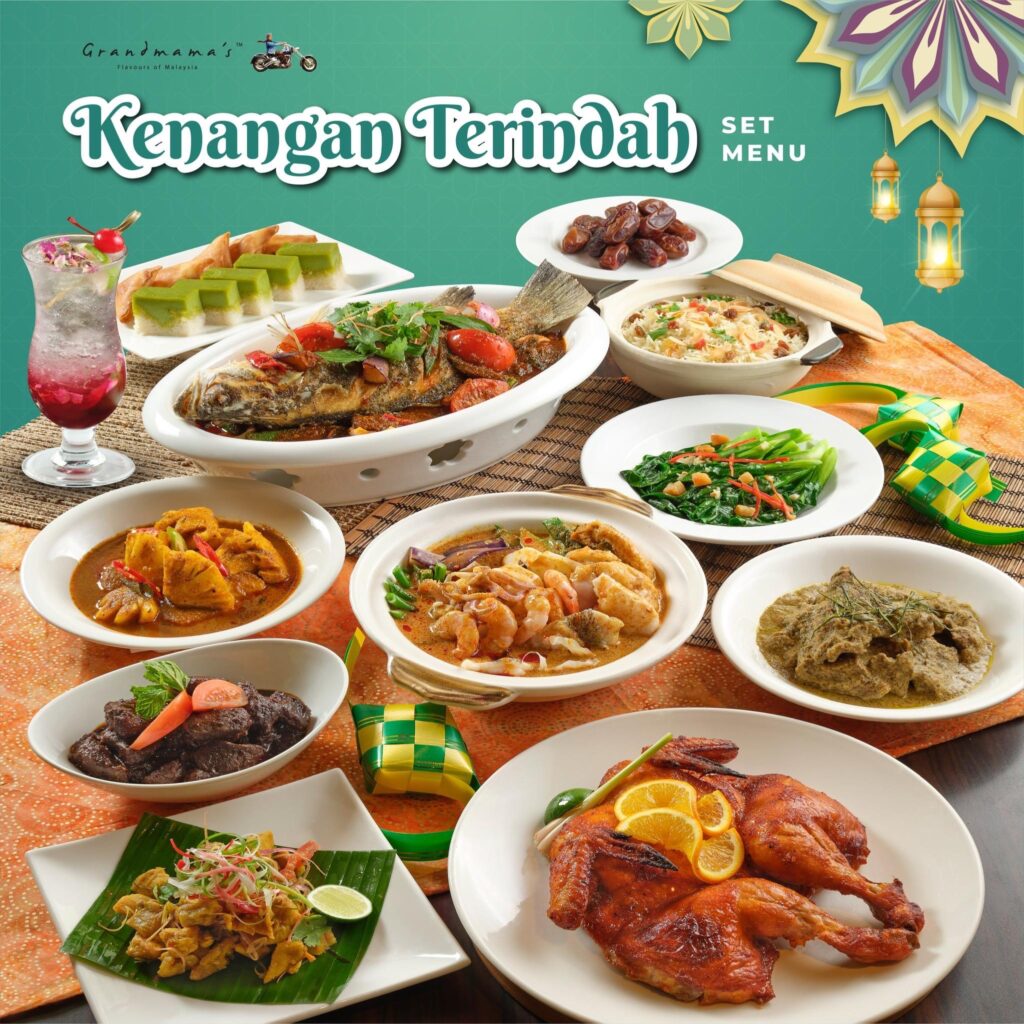 Don't fancy cooking this Raya? Why not have a kampung style feast with Grandmama's limited-time "Kenangan Terindah" menu! Each dish is made to encapsulate the taste of Aidilfitri celebrations at home right in the heart of Kuala Lumpur by veteran chef Mohd Dahar Abdullah.
Tik tok tik tok.. It's seven days left before Hari Raya! Have you prepared all of your Raya essentials yet? Baju Raya? Or Kuih Raya for the guests? If not, head up to Pavilion KL and Intermark Mall to grab all the essentials before it's too late!