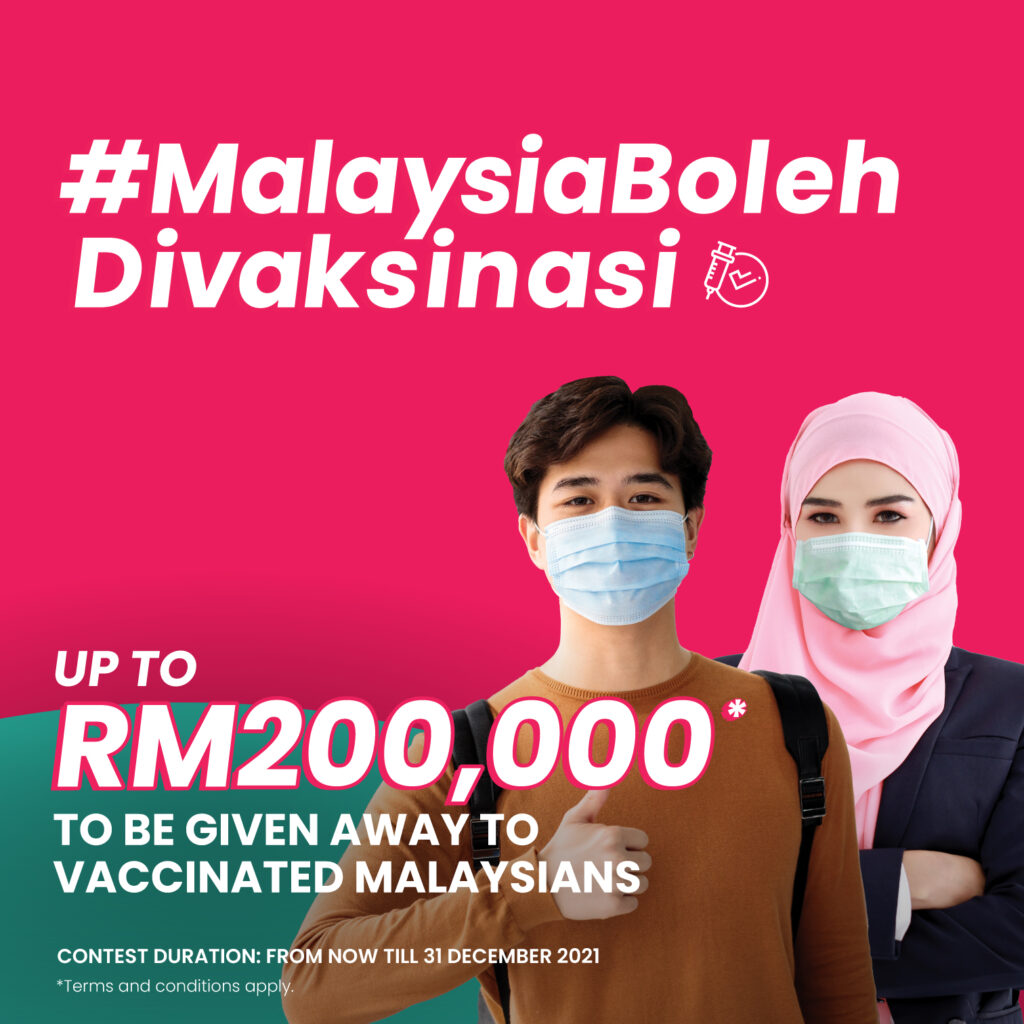 Since the launch of the government's Lindungi Diri, Lindungi Semua vaccination programme in March 2021, Malaysia has successfully achieved more than 75% total population vaccination rate with 95% vaccination rates among adults. To reward Malaysians who played their part to get the nation protected against COVID-19, innovative insurer, Prudential Assurance Malaysia Berhad (PAMB) and Prudential BSN Takaful Berhad (PruBSN), collectively referred to as Prudential Malaysia has launched the "Malaysia Boleh Divaksinasi Contest" via its AI-powered health and wellness mobile app, Pulse by Prudential (Pulse).
The contest is giving away up to RM200,000 worth of prizes to reward COVID-19 vaccinated Malaysians.
Prudential Malaysia – Malaysia Boleh Divaksinasi Contest
Participants of the contest will stand a chance to walk away with Shopee vouchers ranging from RM50 to RM2,000.
Most importantly, the higher the number of registrations, the bigger the prize pool and number of winners.
Tier
Total number of Malaysians participation
Total Prize
Shopee Voucher
Number of Winners
1st
100,000 & below
RM50,000
RM1,000
RM500
RM50
5
10
800
2nd
(Double winners)
100,000 – 199,999
RM100,000
RM1,000
RM500
RM50
10
20
1600
3rd
(Double prize money)
200,000 or more
RM200,000
RM2,000
RM1,000
RM100
10
20
160
Participate with 3 simple steps:
First, download the Pulse app from App Store or Google Play.
Then, tap the "Malaysia Boleh Divaksinasi" carousel tile on the Pulse Home screen.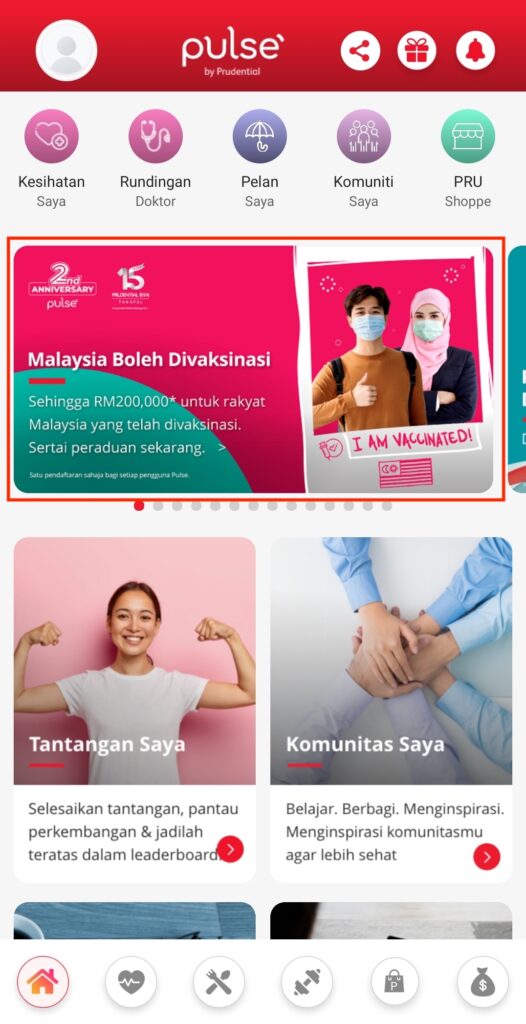 Lastly, fill in the form to complete your registration and you are all set.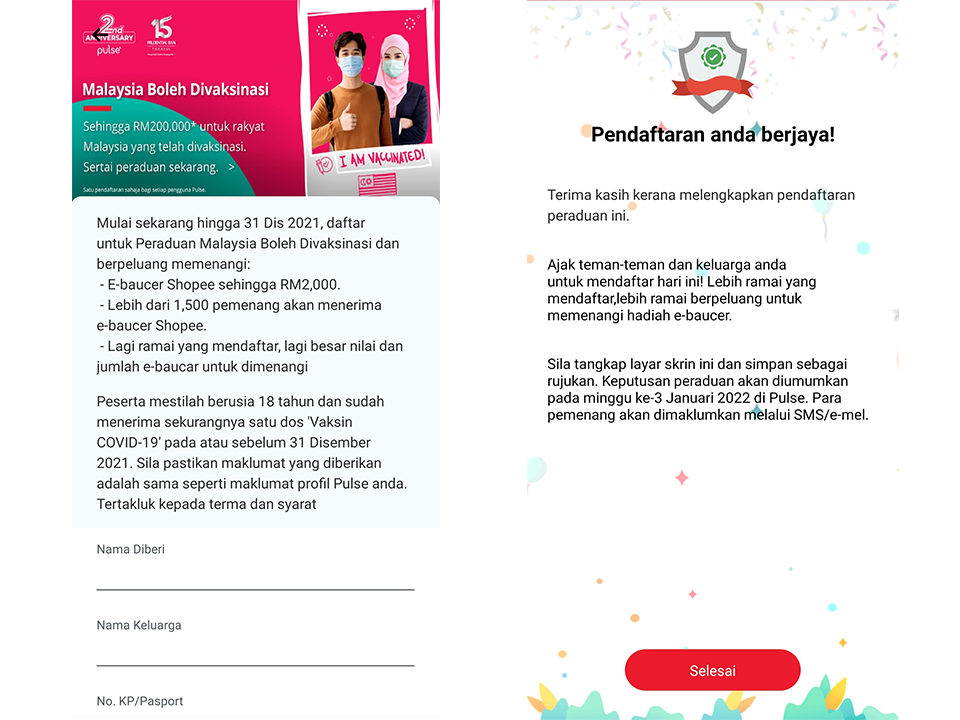 Eligibility
Malaysian citizens (with NRIC/Passport) currently residing in Malaysia and have reached the age of 18 on or before 31 December 2021
Received at least one dose of the COVID-19 vaccine on or before 31 December 2021
Make BIG Money with Dr Jason Leong
To further encourage participation, Prudential Malaysia has also collaborated with local comedian, Dr Jason Leong, to call attention to the importance and benefits of vaccination.
Chief Executive Officer of PAMB, Lim Eng Seong said that the company wants to thank all Malaysians who have protected themselves against COVID-19 by getting vaccinated.
Prudential wants the best for Malaysians, and a healthy nation begins with every individual playing their role in making healthy choices.

Lim Eng Seong, Chief Executive Officer of PAMB
Meanwhile, Chief Executive Officer of PruBSN, Wan Saifulrizal Wan Ismail said the contest is aligned with PruBSN's 15th-anniversary celebration this year and establishing societal impact by helping Malaysians achieve their health aspirations is one of the company's goals.
By registering to enter the contest in Pulse, Malaysians can also access a kaleidoscope of health and wellness features such as health assessment, symptom checker, online doctor consultation, health information and fitness challenges.

Wan Saifulrizal Wan Ismail, Chief Executive Officer of PruBSN
For more information on this contest, please visit Prudential Assurance Malaysia Berhad or Prudential BSN Takaful Berhad website.