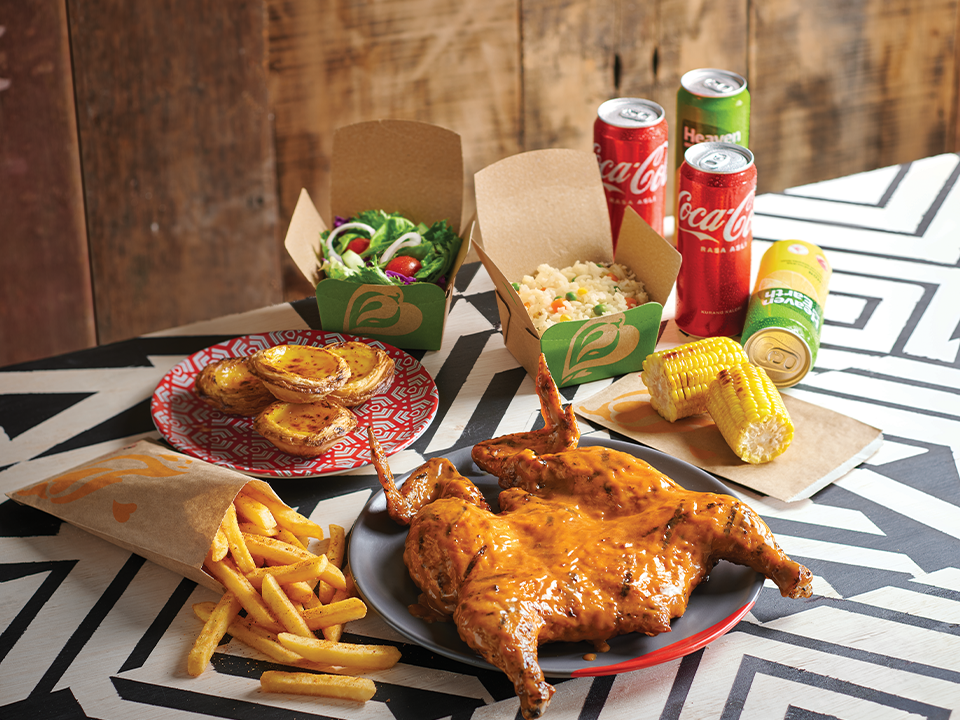 Celebrating the fusion of Malaysian and South African taste, Nando's Malaysia now presents the all-new Soy PERi-PERi flavour formulated with Malaysians favourite sauce in mind!
Made with feelings for Malaysians
The Soy PERi-PERi flavour is Nando's first-ever Asian-inspired PERi-PERi flavour made with Malaysia's very own favourite condiment: the kicap! Nando's combines their iconic PERi-PERi sauce with the staple ingredient that you can find in every kitchen in Malaysia to return the love it has been receiving from Malaysians since 1998.
The dark aromatic sauce has a prominent spot in all traditional Malaysian cooking, in recipes passed down from generation to generation, similar to PERi-PERi in South African cuisine.
Linking the similarities between both culture's, the Soy PERi-PERi is made with so much feeling and flavour!
Flavours on the grill
Nando's has always been an innovative brand, putting unique flavours on the grill and yet still infused with the signature PERi-PERi taste. The restaurant has previously released unique flavours in the past like Mango & Lime PERi-PERi, and even a special Coconut Saucy Bowl. However, this is the very first flavour dedicated to Malaysians.
Nando's have always been well-loved by Malaysians, with over 70 stores serving flame-grilled PERi-PERi chicken throughout Malaysia to date. The idea of crafting a PERi-PERi flavour specially for the Malaysian palate has always been on our minds, so when the chance arrived, the team put their all into it to serve a PERi-PERi dish that is something different than usual, and yet very familiar. With Malaysia getting back up on its feet, we felt that it was the perfect time to cheer up Malaysians with something made just for them, the Soy PERi-PERi!

Mac Chung Lynn, Group CEO, Nando's Malaysia and Singapore.
Nando's Soy PERi-PERi flavour
Nando's new Soy PERi-PERi is a delicious blend of the zesty PERi-PERi Sauce with the familiar taste of Malaysia's Soy Sauce. If you are not good with spicy food, worry not because the spiciness is kept at a mild level. Nando's wants to ensure everyone can enjoy the new yet familiar flavour, just like our grandmother's cooking.
With the tagline #MadeWithFeeling, Nando's delivers deliciousness and nostalgia all on a bite of chicken grilled with love and care.
Pro Tip: Enjoy the new flavour to the fullest with the chicken liver dish on Nando's snacks & shareable menu, where the 'kicap' flavour really shines through with every bite.
Nando's Meal deals!
In line with the launch of the exclusive new flavour, Nando's is also offering attractive meal deals for you to enjoy!
1. Nando's Soy PERi-PERi Party Platter for 4
Enjoy a party platter with your friends and family at less than RM24 per person when you dine in at any Nando's outlet.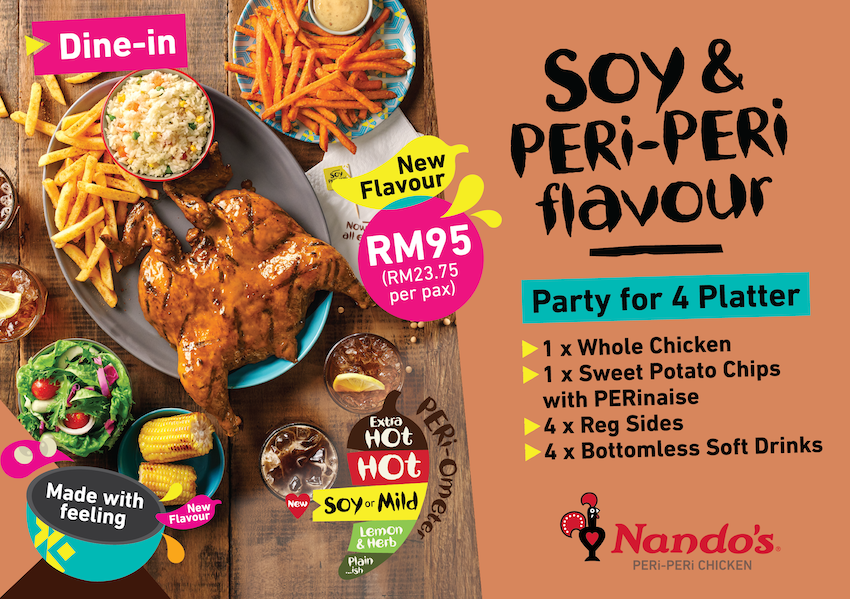 The Party Platter includes:
1x Whole Chicken
1x Sweet Potato Chips with PERinaise
4x Reg Sides
4x Bottomless Soft drink
Price: RM95 (RM23.75 per pax)
2. Nando's Soy PERi-PERi Tapau Platter for 4
The Tapau Platter is perfect for you if you don't feel like dining in. Just tapau and pick it up from one of the Nando's branches, or order the Family Platter from delivery platforms.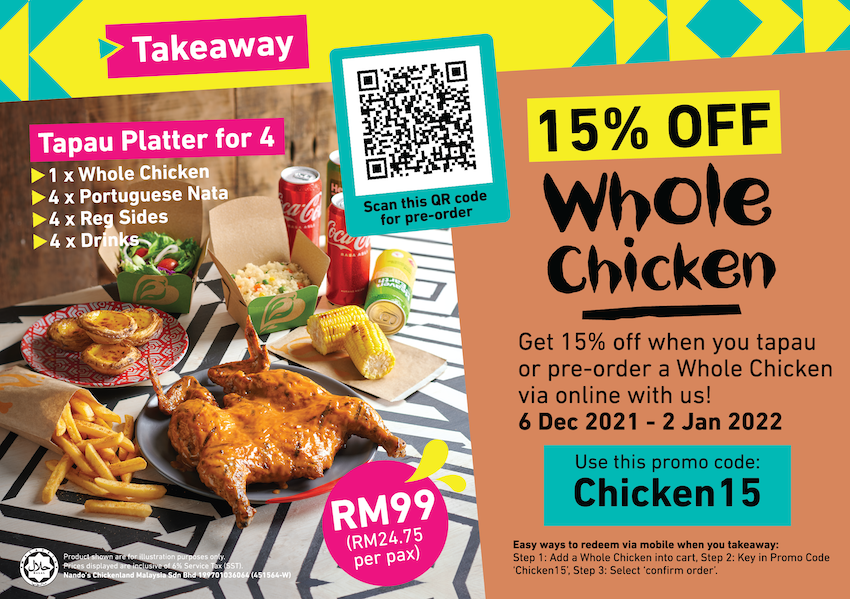 The Tapau Platter include:
1x Whole Chicken
4x Portuguese Nata
4x Reg Sides
4x Drinks
Price: RM99 (RM24.75 per pax)
3. "Chicken15" Promo Code for 15% Off
Get 15% off when you takeaway or pre-order a Whole Chicken online by using the promo code "Chicken15".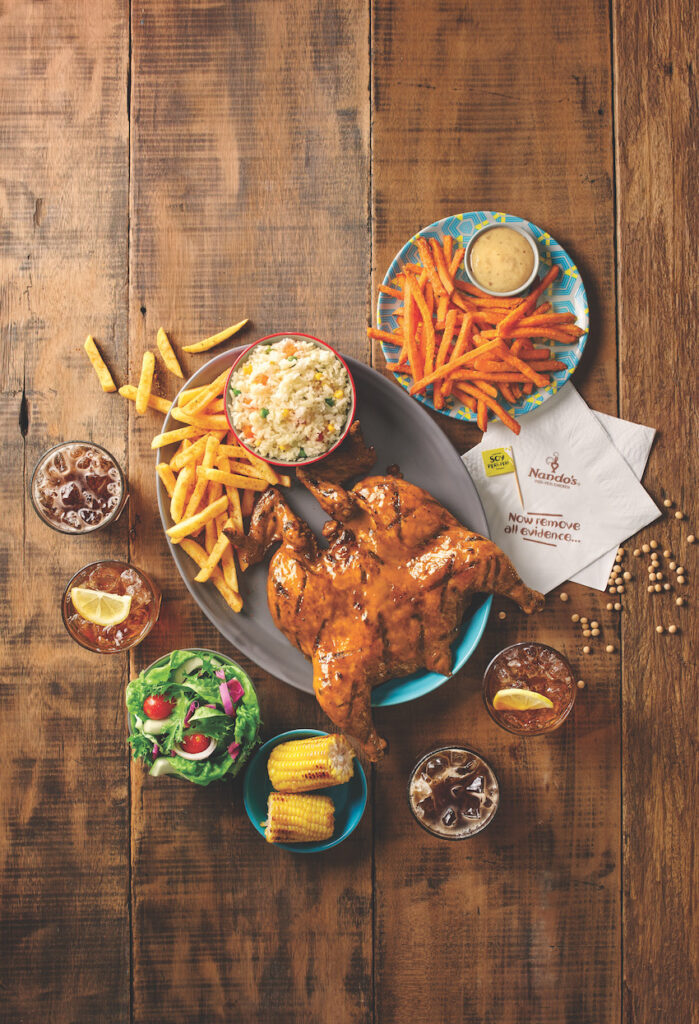 Promo Code: Chicken15
Price: RM44.97 (Normal Price RM52.90)
Limited time only
Nando's Soy PERi-PERi flavour is now available in Nando's outlets nationwide for a limited time only from now until 27 February 2022.
For more information, kindly visit or follow Nando's Malaysia official website or Facebook page.
Don't miss out on this special PERi-PERi flavour with a Malaysian twist!