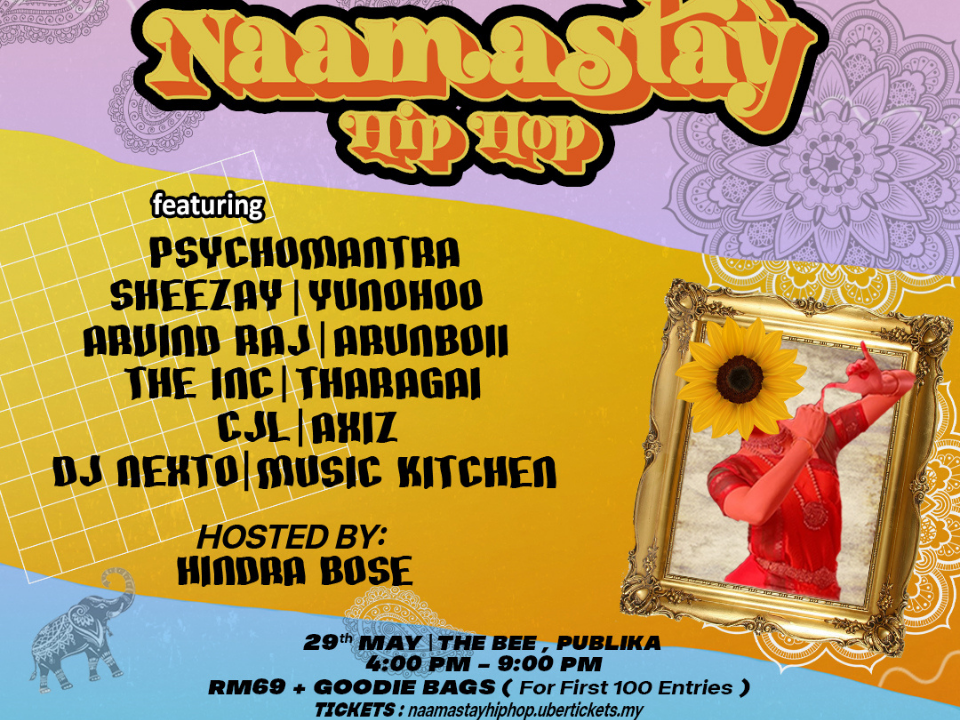 Naamastay Hip Hop is a music event involving the participation of Hip Hop artists from the Malaysian Indian/Tamil Hip Hop scene. It is the very first time that an event of this stature and concept is going to be held in Malaysia.
Reason for Naamastay Hip Hop
In Malaysia's thriving industry, there has been a scarcity in terms of opportunity and exposure for Malaysian Indian/Tamil Hip Hop artists to showcase their artwork. Thus, the idea to promote this event arises and FourOne6 is working to present an epic musical event of the year for the Indian/Tamil Hip Hop music industry. This is a 3 series event and the finale would be an indoor Hip Hop festival to continue the effort in grooming and providing a platform for upcoming budding talent from the Indian/Tamil Hip Hop scene to thrive.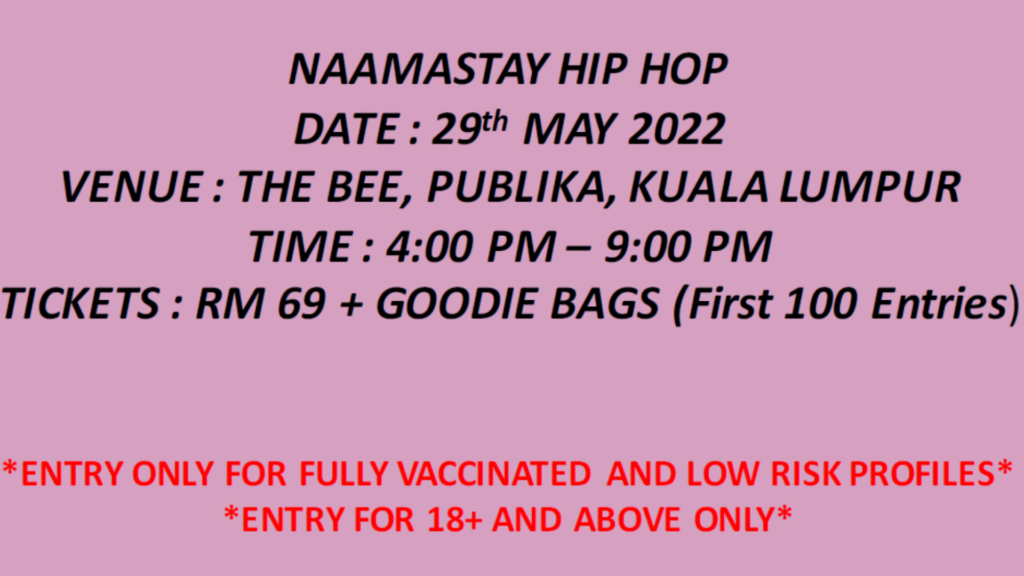 Performing Artists for Naamastay Hip Hop
Performing Artists
Axiz
Axiz, whose real name is Aakaash, hailing from Seremban, Negeri Sembilan has been working on the scene since he was 11. His debut on Future Fresh with the title track "Mudinja Pudichiko", features his own crafted unique flair.
The INC
Real and Raw! Straight outta Rawang, Selangor, The INC has been active since 2010. The trio Manneesh, Mavindblaze and Vrisnaan have been on various tracks featuring multiple local artists and has recently released a killer track titled "Minnal".
Yunohoo
Yunohoo, who was previously known as Rubba Bend, the one famed for Stylish Tamilachi song will also be performing on the stage. She has worked with legendary producers such as Yuvan Shankar Raja, Rabbit Mac, and Roshan Jamrock and she's made her debut in the Kollywood scene. You know who she is when she starts to spit verses like fire!
Arunboii
Klang Town native, Arunboii outshined the Tamil Hip Hop Scene in Malaysia with his debut single "Enge Port". The lyricist is well known for his characteristics, eccentric rap style, as a substantial lyricist and an individual that puts hard work into his career and also had a big win at Malaysia's Anugerah Lagu Indie 2021.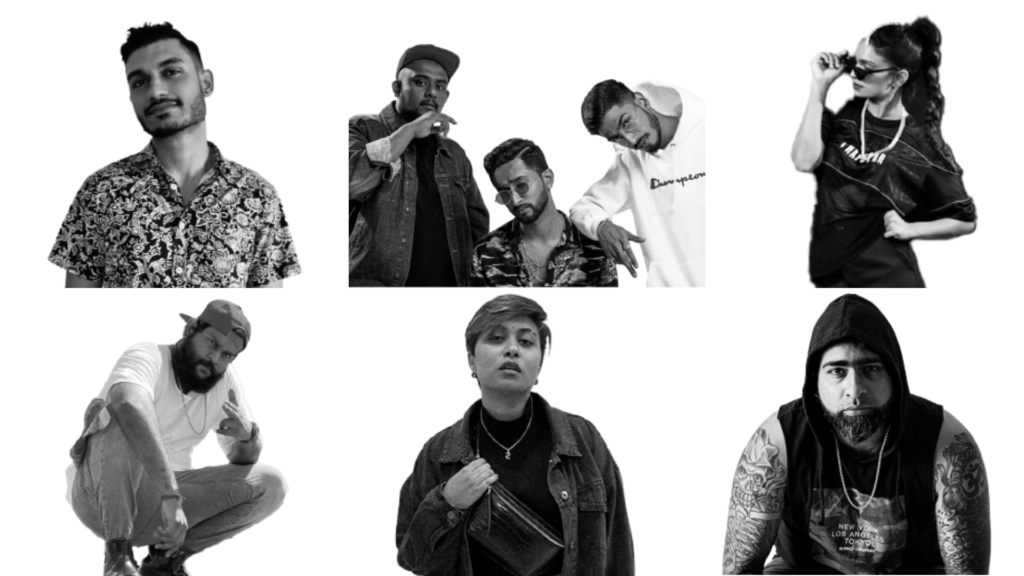 Tharagai
PJ-clan, Tharagai has created a buzz for herself via Rap Porkalam Season 1 and Future Fresh (Episode – Vaanavil). She co-writes, writes songs and does production for most of the releases that come out of Pridemachi Entertainment. Tharagai's rapping and lyrical style is heavily influenced by the Solisai Thalaivan DR Burn and Ratty Adhiththan of Oru Nation Ent.
Sheezay
The OG is present too! Rockaboy Sheezay has been a major name in the local and international Tamil music scene with over a decade of rapping, writing, performing and working with various local and Kollywood artists.
CJL
Rap Porkalam primo supremo CJL, discovered his interest in this unusual profession thanks to his parents. This fueled his love of music and helped him hone his rhyming qualities. The Johorean was the Season 1 champion of Rap Porkalam and created a successful track with Santesh that has over 1.6 million views on Youtube. CJL is now working on his second song, which will be released shortly and has been produced by Navin 'Navigator' Kumar.
Arvind Raj
Arvind Raj, a rapper, singer and producer hailing from Setapak, KL, has carved a name for himself in the global Tamil rap scene. Moreover, he also comes from a musically-inclined family. His originals and covers have earned him a loyal fanbase. Arvind Raj is also a member of Good Fellas Entertainment, a well-known Malaysian musical company. His lively rap flows and appealing rhymes have made him famous.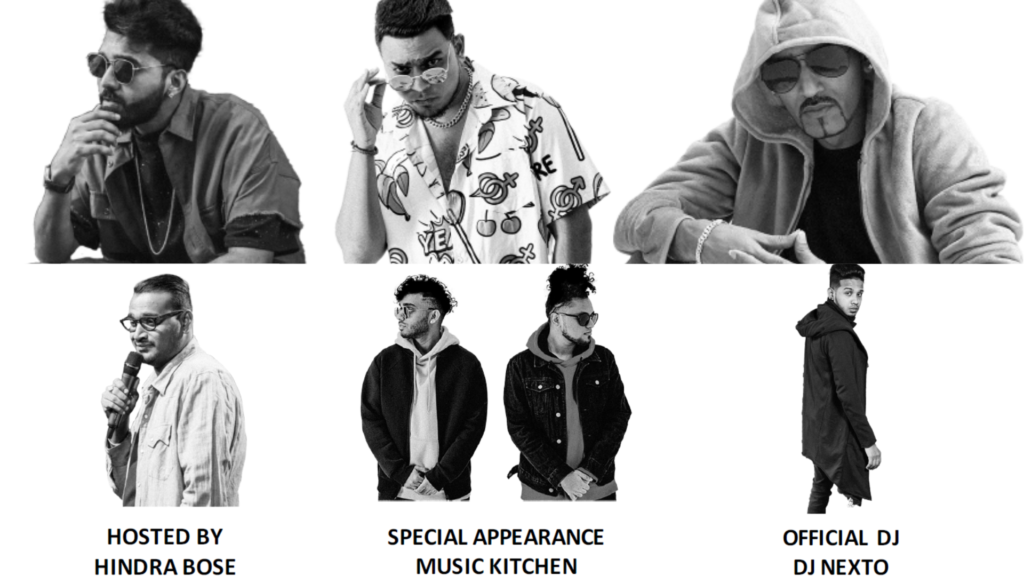 Psychomantra
Since 2007, this OG has been a part of the Malaysian Indian/Tamil Hip Hop industry, releasing popular tracks like Yenna Solla Pogirai, Ennaveley, Cheers, Dhrogam, and many others. Krishna Kumar, a.k.a. Psychomantra, has built his own style by merging Hip Hop, R&B, and Pop, and is noted for his snappy lyrics, beautiful rhymes, and lively rap style.
Objectives of the Event
The main aim of Naamastay Hip Hop is to provide an annual musical event for Malaysian Hip Hop artists to showcase their talent. The event also aims to produce a stronger yet prosperous future for the Malaysian Indian/Tamil Hip Hop scene, encourage the development and performance of original music, and promote music awareness by increasing the public's awareness of and access to independent music. Plus, it is also to celebrate the thriving of the Malaysian Indian/Tamil Hip Hop scene and promote unity within the community.