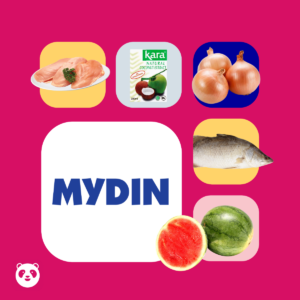 Foodpanda Malaysia announced the expansion of MYDIN outlets on their foodpanda shop platform on July 14. Consumers across Malaysia can now enjoy more choices of groceries and necessities with the 36 MYDIN outlets available nationwide.
The Managing Director of foodpanda, Sayantan Das said the announcement was timely. This is because there is an increasing number of Malaysians placing orders for goods while staying indoors.
"Here at MYDIN, we are always pushing boundaries to satisfy customer needs. Today, customers have changed the way they shop and are often looking for safer options to purchase their necessities. This partnership with foodpanda will not only be convenient for our loyal customers but will address the safety concerns of those who require frequent grocery runs," said Datuk Wira (Dr.) Hj Ameer Ali Mydin, Managing Director of MYDIN, quoted by Malay News.
MYDIN is Malaysia's biggest homegrown halal retail chain and hypermarket. There are 67 MYDIN outlets nationwide to date and consumers can find 37 of them on the foodpanda platform now. Enjoy a variety of categories including frozen food, meats and seafood, fresh produce, rice, specialty and more at MYDIN on foodpanda and have it delivered to your doorstep within the hour.
To place an order, please browse for your nearest MYDIN on foodpanda.