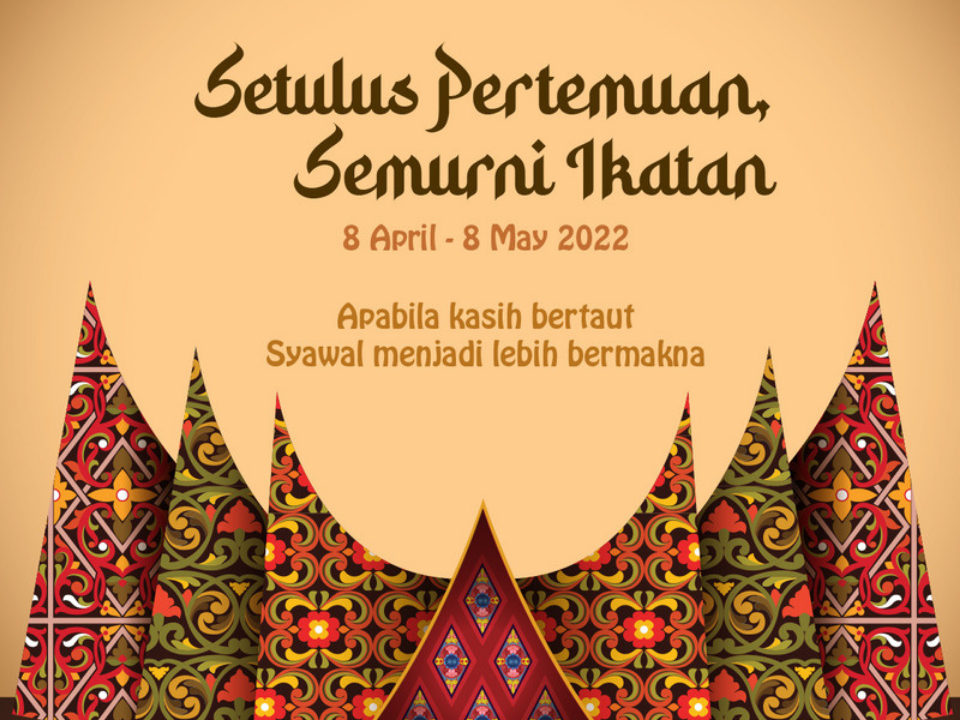 In anticipation of the arrival of Syawal and Aidilfitri festivities, 1 Utama Shopping Centre is welcoming shoppers to experience the rich heritage of traditional Minangkabau houses and culture together with entertaining performances throughout its 'Setulus Pertemuan, Semurni Ikatan' Raya celebrations from 8 April to 8 May 2022.
Don't Miss These Festive Decorations and Performances!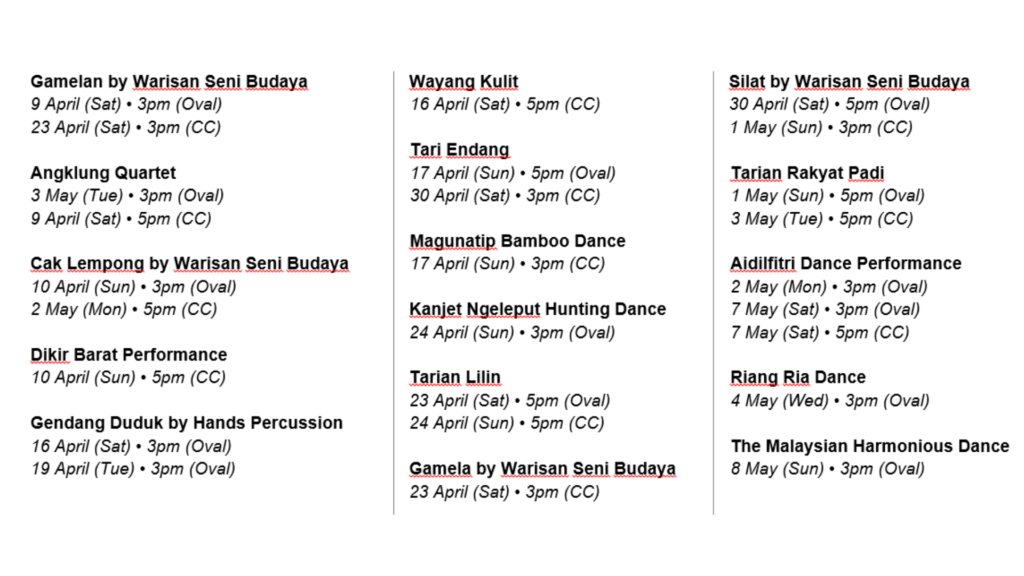 To showcase the beauty of Negeri Sembilan's performing arts and traditions, a variety of stage shows, music and dances such as the gamelan, tarian endang, silat, dikir barat, tarian lilin, cak lempong and tarian rakyat padi will surely enliven the festive mood and lend a true-to-life traditional Raya ambience at 1 Utama. Remember to catch these exciting performances at Lower Ground Oval and Ground Floor Centre Court (CC) concourses at 1 Utama.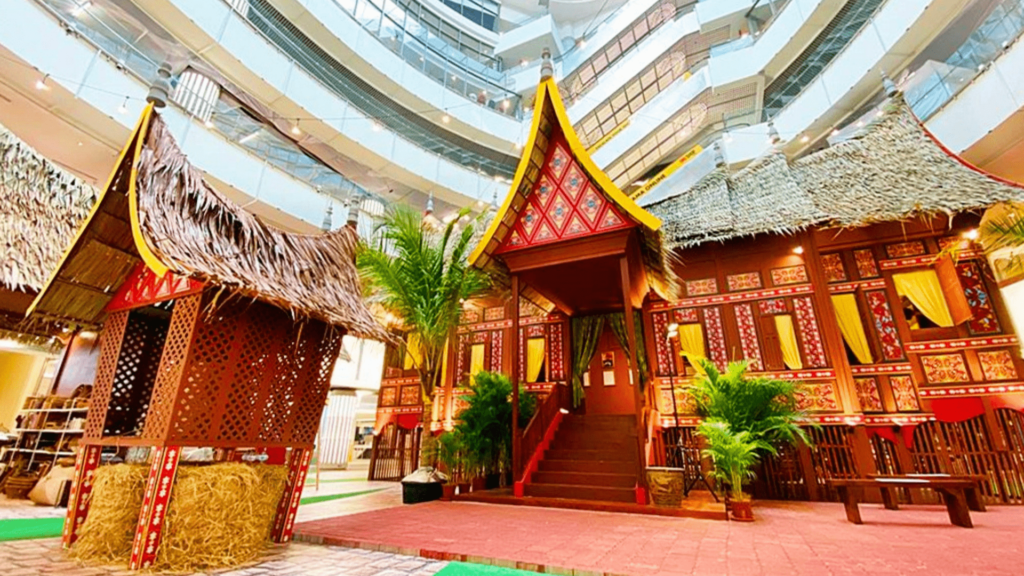 What's more, taking inspiration from ethnic Minangkabau tribes in Negeri Sembilan and West Sumatra, a 41-feet-high Rumah Gadang (communal big house) with its prominent signature upswept curved roof reminiscent of buffalo horns, intricate floral carvings and vibrant painted designs has been recreated at 1 Utama's Oval concourse flanked by swaying palm trees in a nostalgic kampung-like setting.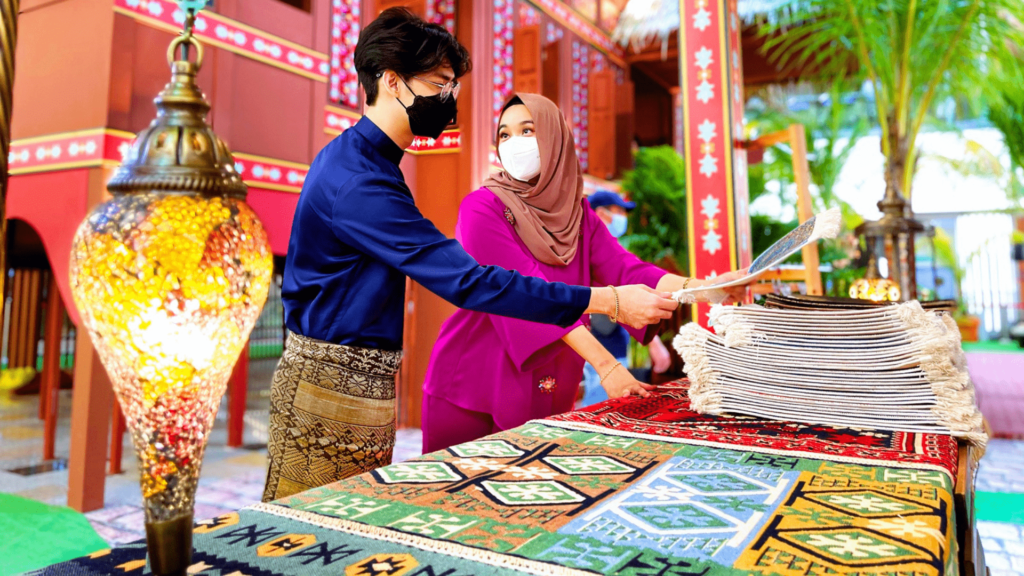 Carved from timber with a bamboo ceiling interior, step inside the lavishly embellished wooden house on stilts for a full interactive Insta-worthy experience that will definitely catch everyone's attention. Explore picturesque views from the Serambi porch, inner vintage bedroom in Rumah Ibu, a dapur with kitchen utensils and even traditional wedding regalia and musical instruments exhibited at the Pangkal.
Plus, don't forget to check out the olden-day barn and lesung kaki tool to pound rice as another camera spot for selfies. Over at Centre Court concourse, friends and family will have the opportunity to sit inside a life-sized kereta lambai (bullock cart) to snap more photos.
Reward Yourself With These Treats From 1 Utama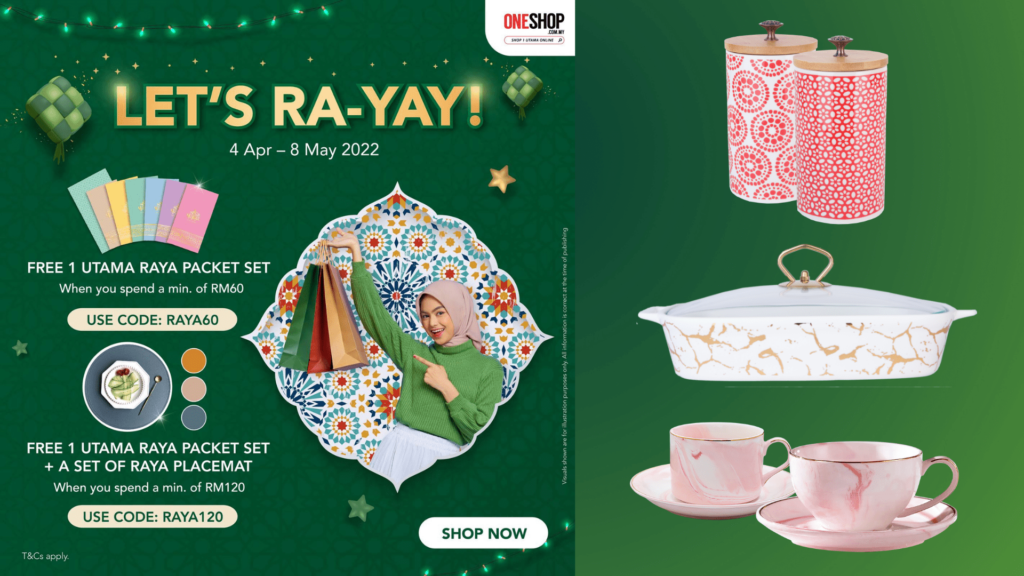 Be delighted and get rewarded with 1 Utama's Raya treats while you shop:
Raya Packets Set with a pair of Cups & Saucers (RM400 spend / RM550 for non-ONECARD members)
Raya Packets Set with a Serving Dish (RM1,000 spend / RM1,200 for non-ONECARD members)
Exclusively for HSBC Credit Cardholders: Receive a ONECARD Gift Card worth RM20 with min spend of RM350 or a Porcelain Jar with min spend of RM800.
Jom Shopping Raya at 1 Utama With ONECARD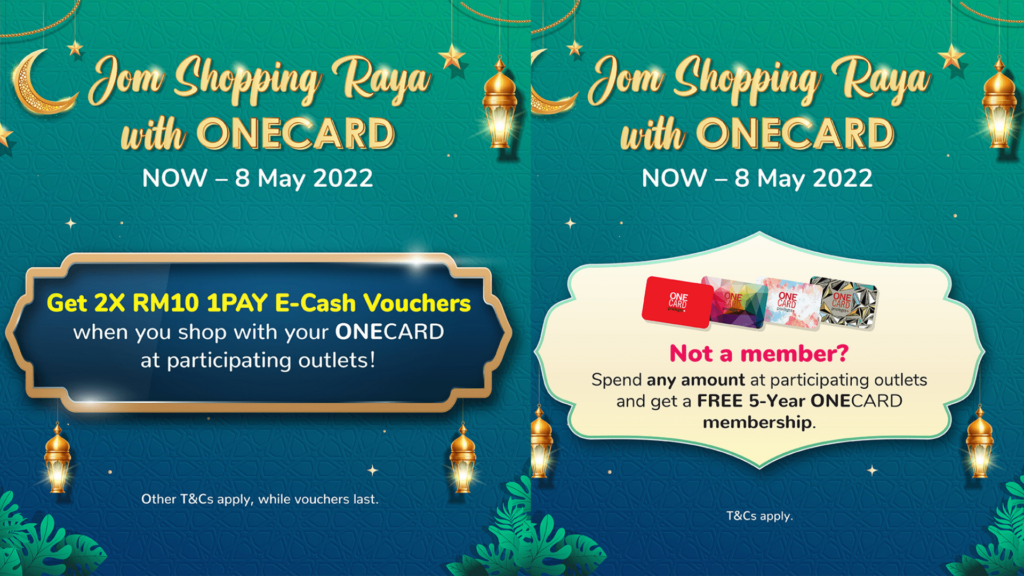 Enrich your shopping list with ONECARD and enjoy 2 x RM10 1PAY E-Cash Vouchers when shopping at Bath & Body Works, Christy Ng, Dirs, Locka, Ms Read, Naelofar, Siti Khatijah and dining at Johnny's Restaurant, Seoul Garden, Siti Khatijah and The Manhattan Fish Market. Not a ONECARD member yet? Get a free 5-year ONECARD membership by spending any amount at participating outlets with a special promo code!
Enjoy Raya Specials With ONESHOP.com.my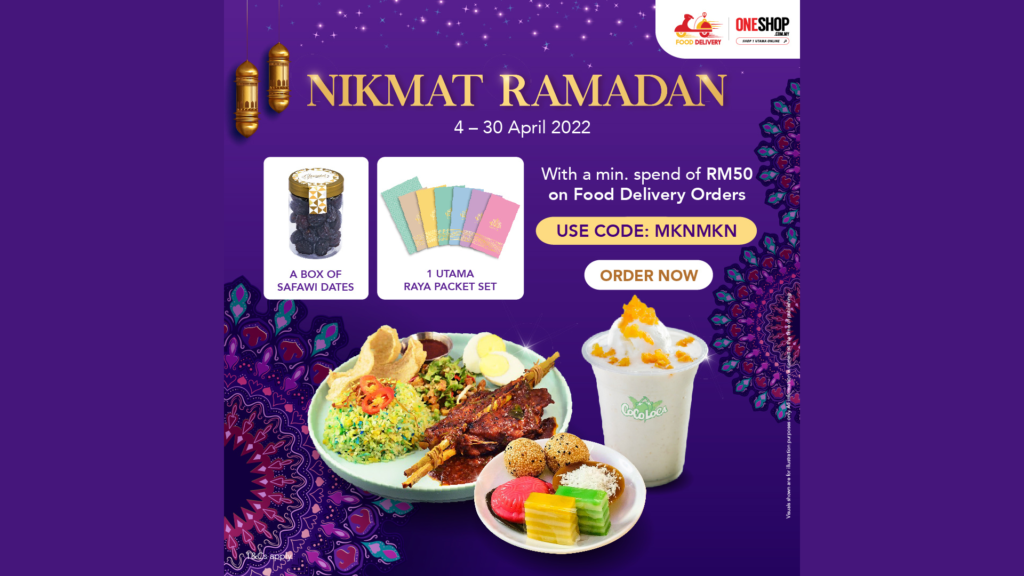 It's an "add to cart" season so start loading up on ONESHOP purchases online and receive a Raya Packet Set with min spend of RM60 (promo code: RAYA60) or a Raya Placemat Set with min spend of RM120 (promo code: RAYA120). This offer is valid from 4 April 2022 until 8 May 2022. Plus, enjoy a pleasant iftar experience. Place orders from 1 Utama's eateries delivered right to your doorstep. Click here and score a free box of Safawi Dates and Raya Packet set with min spend of RM50 on food delivery orders (promo code: MKNMKN).
For more details on the Hari Raya events and promotions at 1 Utama Shopping Centre, contact the Customer Service Centre at Tel: 03-7710 8118 or check updates on 1 Utama's FB & IG pages.