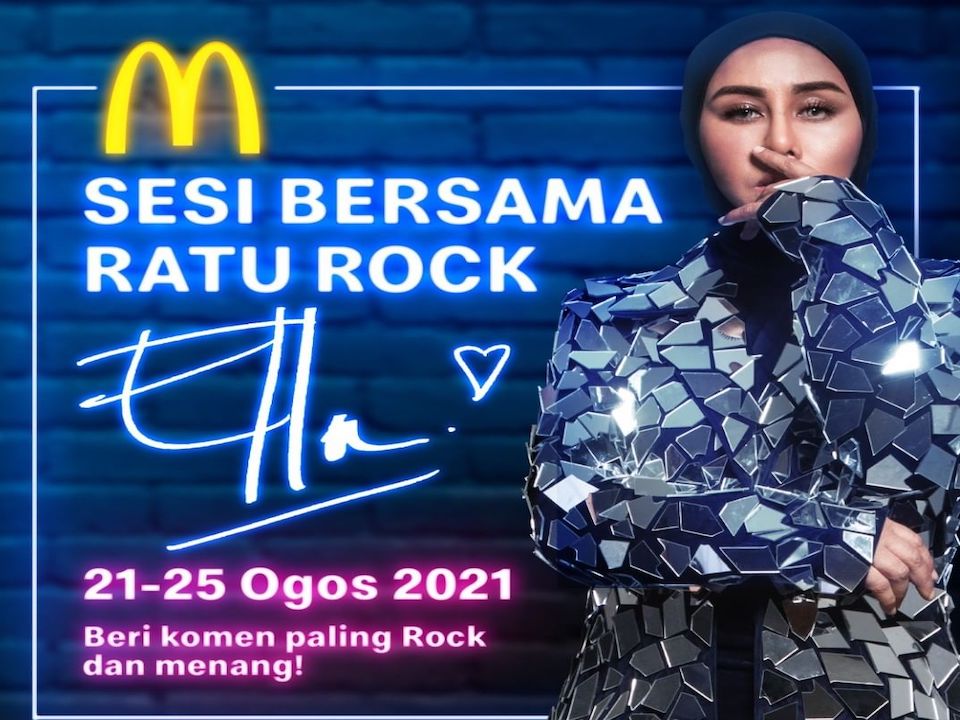 McDonald's has come together with Malaysia's rock queen Ella to bring everyone some rocking meals!
Recently, 'ratu rock' Ella or Norzila Aminuddin has been invited to sing the McDonald's latest commercial jingles. This McDonald's collaboration comes after a big hit collaboration with world star BTS. The collaboration with the ratu rock features the endorsement of three new limited-edition burgers in the fast food outlet menu.
Ratu Rock's Rockin' Burgers are available at McD's restaurants nationwide 
The three new burgers include the Rockin' BBQ, Double Rockin' BBQ and Triple Rockin' BBQ. The meals are available in chicken or beef, served with French Fries and a beverage in medium size.
According to McDonald's Malaysia, the rock singer will make a special appearance in Astro Gempak's Rock On virtual concert on 28 August. If you are a fan of rock queen Ella, good news for you because they are giving you a chance to win an exclusive virtual lunch with her along with some limited-edition merchandise!
The Rockin' Hunt contest
You can also join 'The Rockin' Hunt' contest by finding hidden 'rock' signs in the McDonald's app to win some perks. Be the first 100 participants and you will stand a chance to redeem a free upgrade to a Double BBQ Burger.
Meanwhile, in an Instagram Post by Ella, the rock queen shares her excitement for this collaboration with McDonald's.
"Ella loves the sweet BBQ & Smoky sauce which rocks the taste buds. Ella approves. Do not forget to try Ella's taste!"
Time to try the burgers!
Watch Ella the ratu rock sings the McDonald's jingles with a rocking voice here.