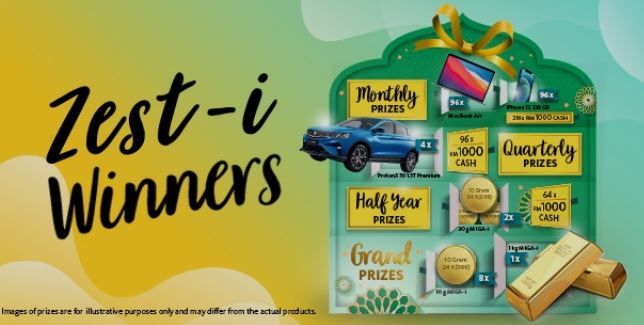 Maybank Islamic Bhd recently introduced an online solution for customers who want to open a new Zest-i investment account. You can now open the account through the Maybank2U digital platform without going to the bank.
The initiative is committed to improve the banking experience and provide convenience for customers, especially during the pandemic.
Attractive benefits and value of Maybank Islamic Zest-i
The process of opening a Zest-i account through the Maybank2u online platform is easier, smoother and faster now. This is in line with Maybank Group's mission to humanize financial services by providing banking facilities accessible to all customers.
The Zest-i account also features an all-year prize draw – Zest-i Draw, providing more benefits and value to customers. This year, Zest-i customers can win prizes with a total value of around RM2 million.
Meanwhile, there will be giveaways running throughout the year and customers stand a chance to win attractive prizes like the MacBook Air, iPhone 12, Proton X50, cash rewards, 10 grams and 30 grams of gold investment and 1kg gold investment through Maybank Islamic Gold Account.
Eligibility:
Individuals below 18 years old under Trust Accounts
Individuals above 18 years old with Individual Account or Joint Accounts
Permanent Malaysian Residents
Foreigners with valid working or student permit
Early Bird Prize & Extra Entries
Maybank Islamic is also running an early bird campaign from 1 august to 31 October 2021. Customers can earn double rewards if they open a Zest-I account online and maintain the Month End Balance during the campaign period.
More attractive prize:
Win an RM50 MAE e-wallet prize.
How to:
Be one of the first 50 customers to open and activate the Zest-i online every month
Main a Month End Balance of RM200.
Win Extra 10 Entries for monthly Zest-i Draw.
How to:
Open a Zest-i account online
Activate and maintain a minimum Month End Balance of RM3,500
Grow a minimum Average Daily Balance of RM3,500
For more information, please visit Maybank2u.