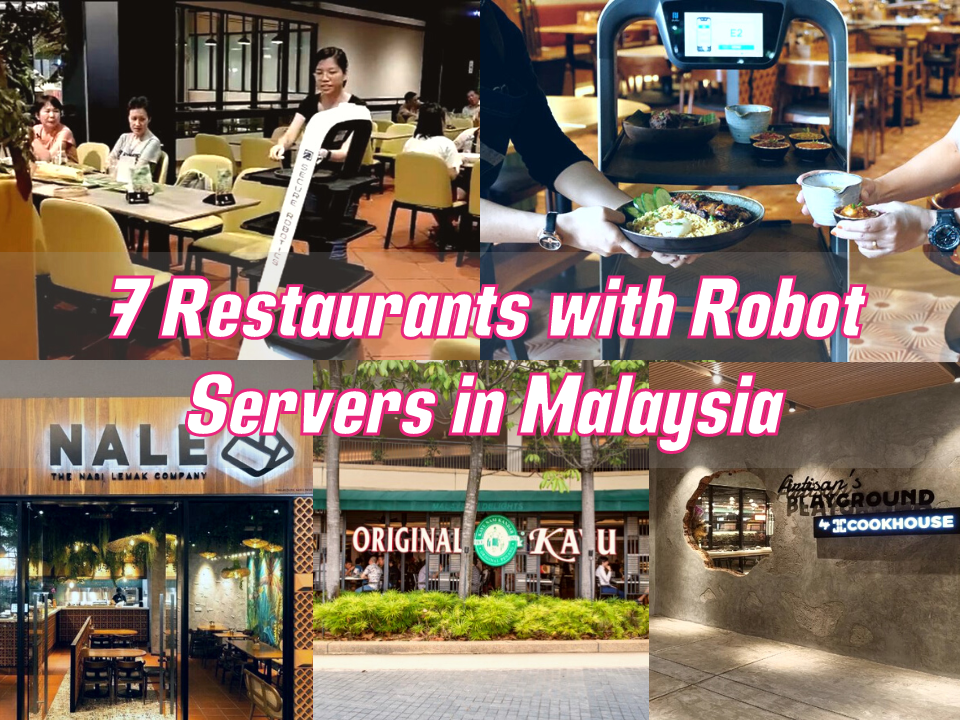 In this modern world, technology is moving faster and more advanced. Therefore, researchers and scientists have developed beneficial technologies that can provide convenience to daily lives. Some examples are robot vacuums, pet cameras, smart doorbells, and more.
Besides being utilized at home, these technologies also bring profit to the food and beverage industry. Hence, the article depicted some Malaysian restaurants that supported and utilized robot waiters and waitresses to deliver their customers' foods.
7 Malaysian Restaurants that Featured Robot Waiters and Waitresses
1. NALE – The Nasi Lemak Company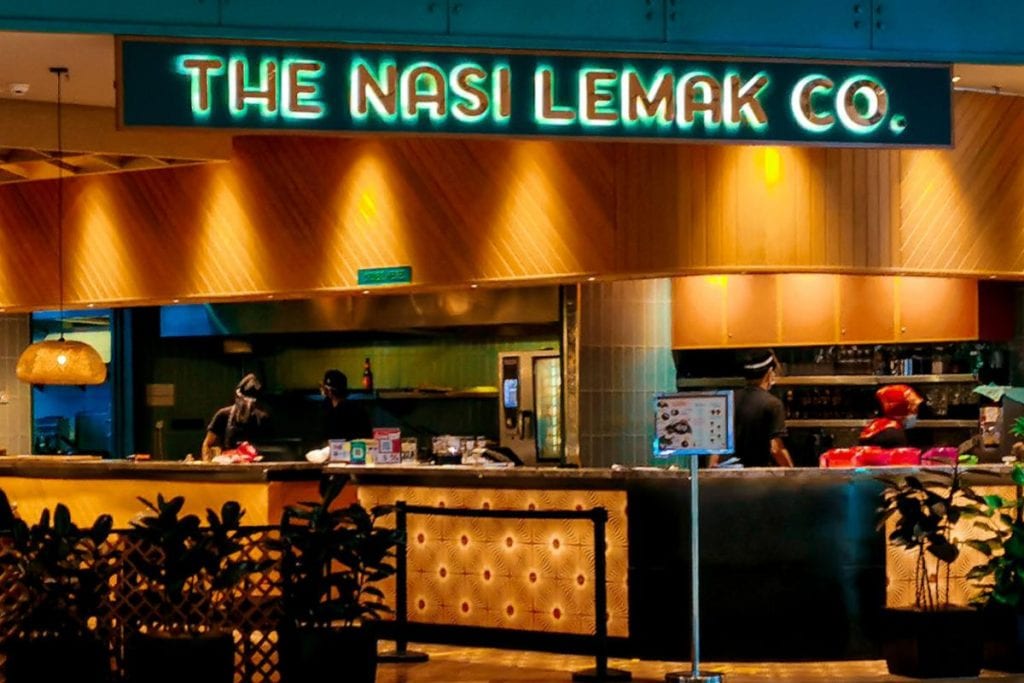 Have you been to NALE – The Nasi Lemak Company, a restaurant that serves delicious nasi lemak at the Central i-City Shopping Centre, Shah Alam, Selangor?
If yes, you will probably notice that the restaurant utilized robot servers to bring the ordered meal to your seats accordingly. Furthermore, these robots know all the table numbers. Also, when you press the button after receiving your meal, it will display a smiling face on the screen.
Furthermore, utilizing robot servers is the restaurant's new initiative to adhere to the Standard Operating Procedure (SOP) and encourage social distancing between servers and customers. More importantly, it also relieves the issue of workforce shortages caused by the COVID-19 pandemic.
The most surprising feature is that it can randomly alter its facial expressions! Therefore, if you are curious about this robot restaurant in Malaysia, visit NALE – The Nasi Lemak Company this weekend!
Location: LG 34-B, Central i-City, No. 1 Persiaran Multimedia i-City, Seksyen 7, 40000 Shah Alam, Selangor
Opening hours: 10.00am – 10.00pm (Daily)
Social media platforms: Facebook, Instagram, Official website
2. Artisan's Playground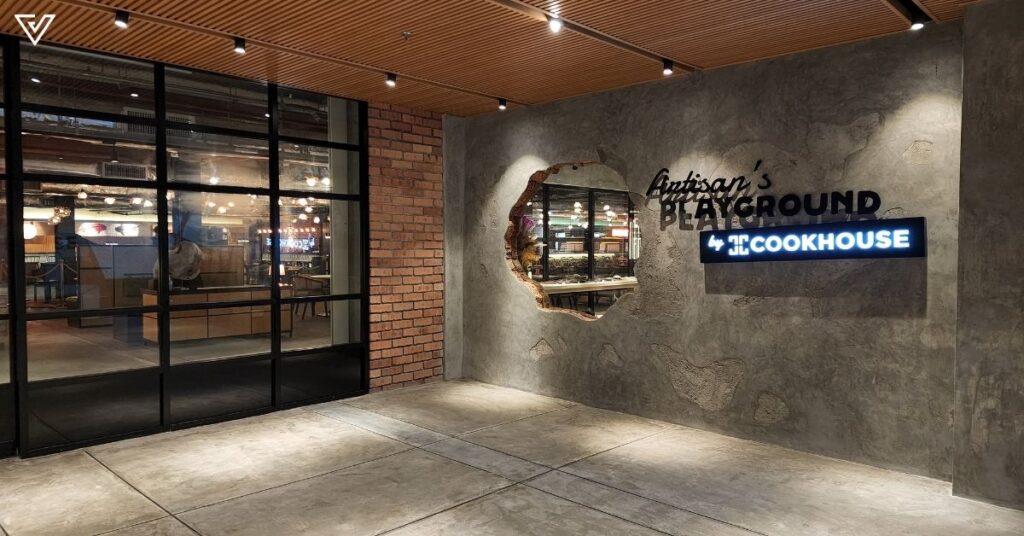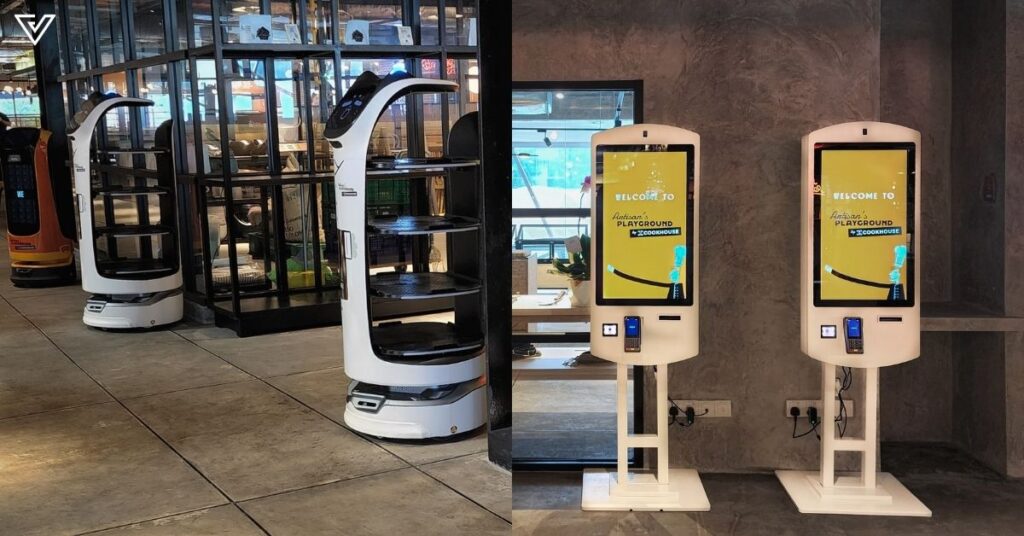 Artisan's Playground by COOKHOUSE, located in Kuala Lumpur, is best described as a classy restaurant with relaxing interiors. It bears the idea of allowing food entrepreneurs to rent the kitchen area to sustain their enterprises by providing high-quality culinary equipment. The idea is popular among startups because it does not require heavy capital investment.
Similarly, the restaurant utilizes BellaBots, more commonly known as delivery robots with adorable cat faces. The robots are manufactured by Pudu Robotics and handled by Toshiba Tec Malaysia. The mouthwatering foods can be ordered by phone or the self-ordering kiosks at the restaurant, then served by the cute robots.
If you require assistance from waiters and waitresses, they are friendly and always ready to help. Their objective is to communicate with customers and produce a pleasant atmosphere at the restaurant.
Location: No. 1, Jalan Selvadurai, Block H, 1st Floor Rivercity Plaza, Jalan Ipoh, 51200 Kuala Lumpur
Opening hours: 9.30am – 10.00pm (Daily)
Social media platforms: Facebook, Instagram, Official Website
3. Original Penang Kayu Nasi Kandar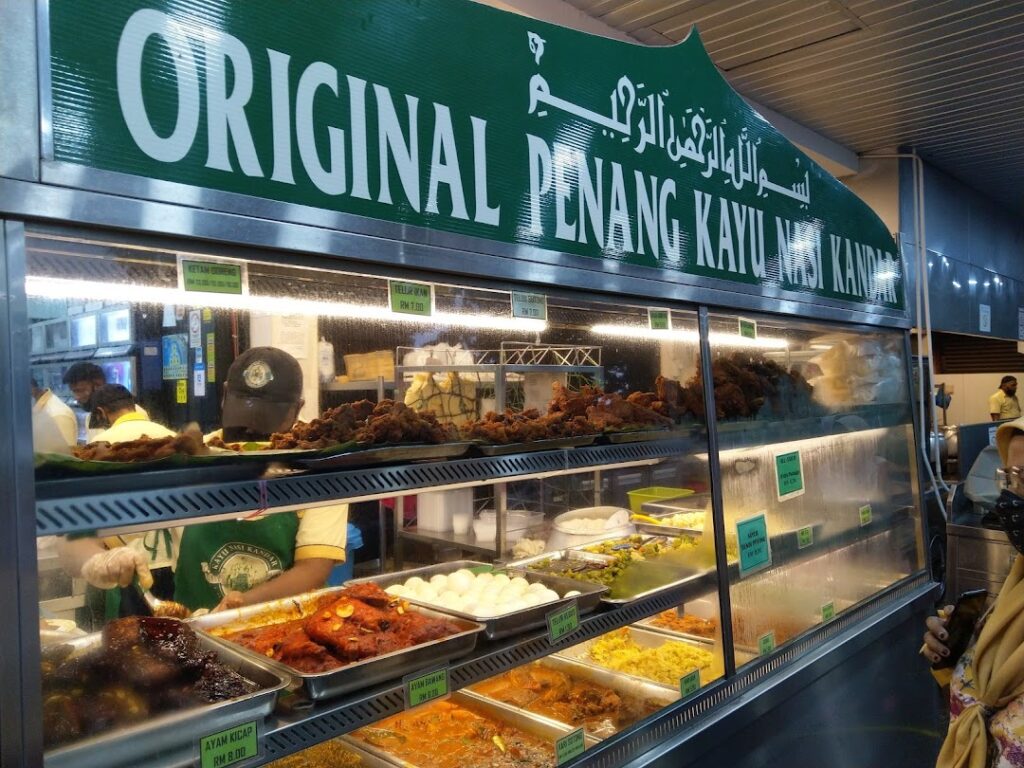 Original Penang Kayu Nasi Kandar, situated in Penang, was the first in the state to employ robot servers to provide a better customer experience. The restaurant uses robots in every outlet around Malaysia to deliver food and beverages to customers.
Additionally, the utilization of robot servers in March 2021 is a part of the contactless services promoted by the restaurant due to the COVID-19 pandemic. After being used in a few outlets, the robots have increased the efficiency in serving foods and beverages.
These programmed robots will deliver the food to three tables at once. Each round, the robot will wheel itself steadily to the designated table. Then, the customers will be responsible for collecting their orders and pushing the "Go to the next table" button on the screen before the robot goes to the following table.
Location: 15, Lebuh Nipah 6, Bukit Jambul, 11950 Bayan Lepas, Pulau Pinang
Opening hours: Open 24 hours (Daily)
Social media platform: Facebook
4. CH Premier Restaurant (马来西亚第一锅)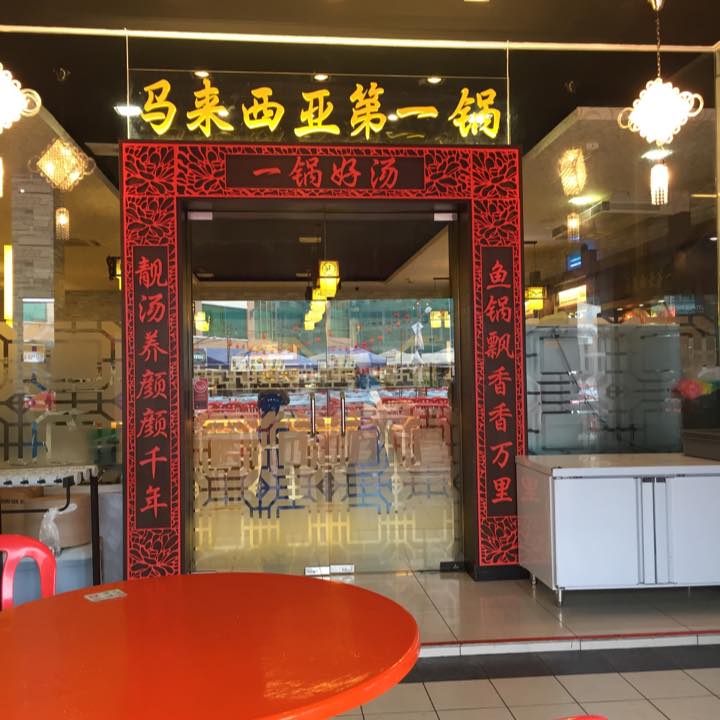 Craving for steaming and delicious steamboats? Visit CH Premier Restaurant in Kuching, Sarawak, at Premier 101 Commercial Centre! It is the first Chinese restaurant in Malaysia with robotic servers and even entered the Malaysian Book of Records.
The restaurant, which serves a variety of steamboat and Chinese dishes, has Goddess 1, Goddess 2, Goddess 3, and the adorable Loli as the four robot waitresses. Besides, to meet the demands of consumers, the robot servers are now programmed in two languages: English and Mandarin.
The robots, produced in Kunshan, China, are programmed to bring meals from the kitchen to customers' tables. Interestingly, magnetic lines have been constructed on the restaurant floor to prevent any disturbance in the movement of robot servers. Also, the robot servers comprise a sensor that enables them to keep a safe distance from any obstacles.
In short, steamboat enthusiasts should visit CH Premier Restaurant, a robot restaurant in Malaysia, if they plan a trip to Kuching soon!
Location: No. 103, Ground Floor, Premier 101 Commercial Centre Tun Jugah, 93350 Kuching, Sarawak
Opening hours: 11.00am – 12.00am (Daily)
Social media platform: Facebook
5. Q Bistro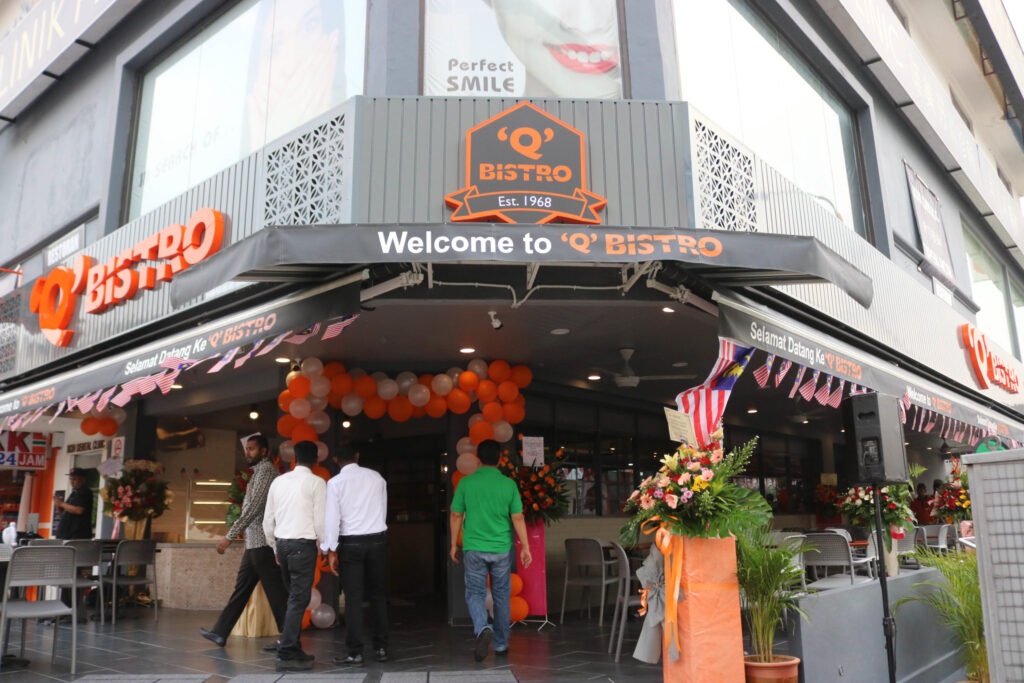 Concerned about the health of its customers and employees during the COVID-19 pandemic, the Nasi Kandar restaurant chain, Q Bistro in Selangor, opted to use food delivery robots to limit the risk of transmission of COVID-19 disease.
The robot servers will automatically carry meals to the client, and the consumer must pick up their orders from the tray provided by the robot. Amazingly, the robot servers could fulfill orders from four dining tables in the restaurant.
Frankly, the usage of this new invention also minimizes the workload of staff, particularly during peak periods, while also assisting in speeding up and simplifying the food delivery process. Although robot servers are a temporary solution to employment issues of the restaurant, they can reduce operating costs and increase profit in the long run.
Location: Jalan Telawi 2, Bangsar, 51900 Kuala Lumpur, Wilayah Persekutuan Kuala Lumpur
Opening hours: 7.00am – 1.00am (Daily)
Social media platforms: Facebook, Instagram, Official website
6. JBorn Cafe & Bistro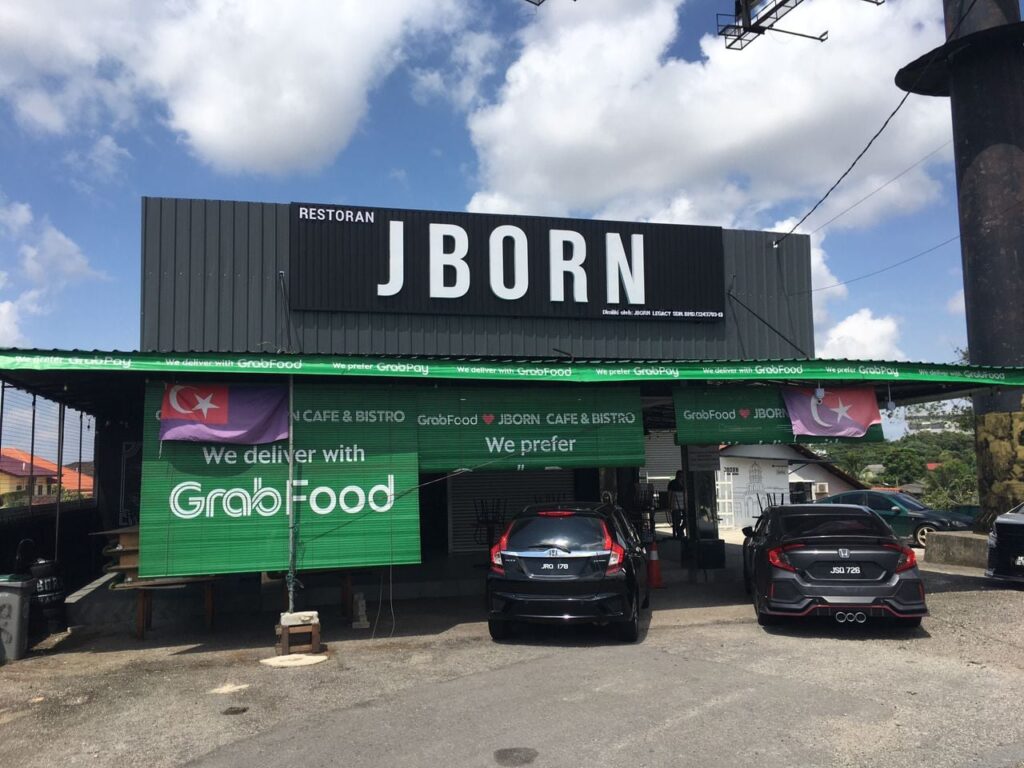 Do you know JBorn Cafe & Bistro – Kampung Melayu was the first business in Johor Bahru, Johor, that implemented automated services? Each time, Kiki, the robot server at the restaurant, shows a smiling face as it serves food and beverages to customers.
This Muslim-owned restaurant is well-known for its western and Asian cuisines and has long been prominent among the Johor community. Moreover, it's surprising that such a simple eatery provides AI services.
Hence, it demonstrates a perfect combination of incorporating cutting-edge technologies into the food and beverage industries. The meals at JBorn are unquestionably delicious, so sate your hunger by visiting them and greet Kiki if you see it wandering at the restaurant with warm foods in its belly!
Location: 150, Jalan Tebrau Lama, Kampung Melayu Majidee, 81100 Johor Bahru, Johor
Opening hours: 4.00pm – 11.30pm (Mondays, Tuesdays, Thursdays to Sundays); closed on Wednesdays
Social media platforms: Facebook, Instagram
7. Ah Kor Kopitiam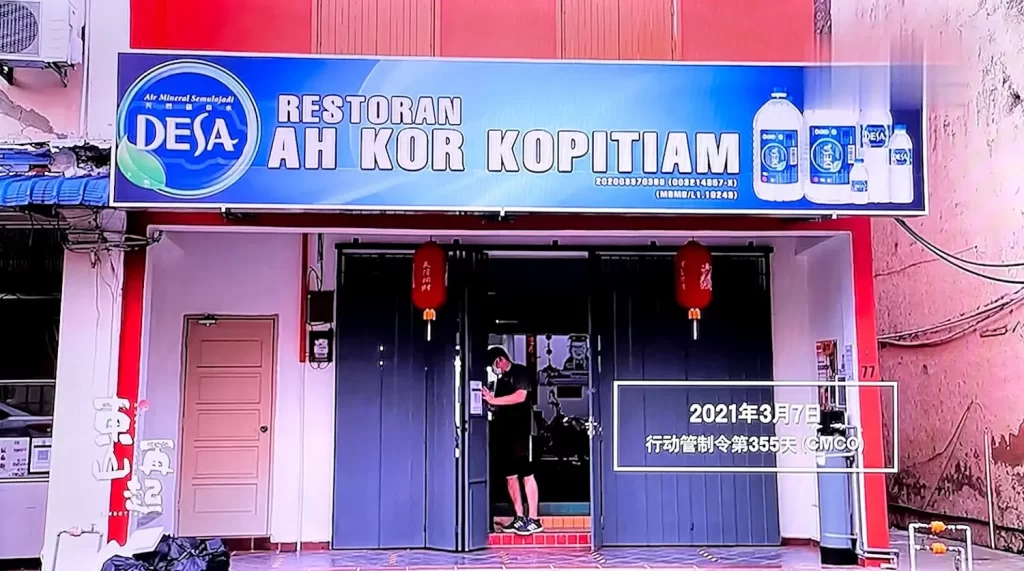 Do you favor prawn noodles and laksa in Malacca? Try out Ah Kor Kopitiam, a modest Malacca coffee shop launched during the COVID-19 pandemic in January 2021! The shop specialized in providing delectable Hainanese foods to the customers.
More fascinatingly, one of the proprietors of Ah Kor Kopitiam, Mr. Alex Fun Guo Xuan, is a pilot. He collaborated with his brother as the original creators of the famed Peringgit Prawn Mee and laksa, one of the star dishes of the coffee shop.
In the case of food delivery, a typical kind of robot, 'Pudubot,' was employed to distinguish the coffee shop from other businesses. According to the proprietors, they were pleased as they received positive comments from customers, particularly the elderly, as they employ robot servers to perform contactless services.
Location: 77, Jalan Tengkera, Taman Kota Laksamana, 75200 Melaka
Opening hours: 8.30am – 3.00pm (Tuesdays to Sundays); closed on Mondays
Social media platforms: Facebook, Instagram, Official website
In short, numerous restaurants throughout the world, including Malaysia, have chosen to replace human staff with robot waiters and waitresses recently. The robot restaurant in Malaysia was widely used for food delivery purposes.
Therefore, are you curious about the robot restaurant in Malaysia? Now is the time to visit these 7 Malaysian restaurants!