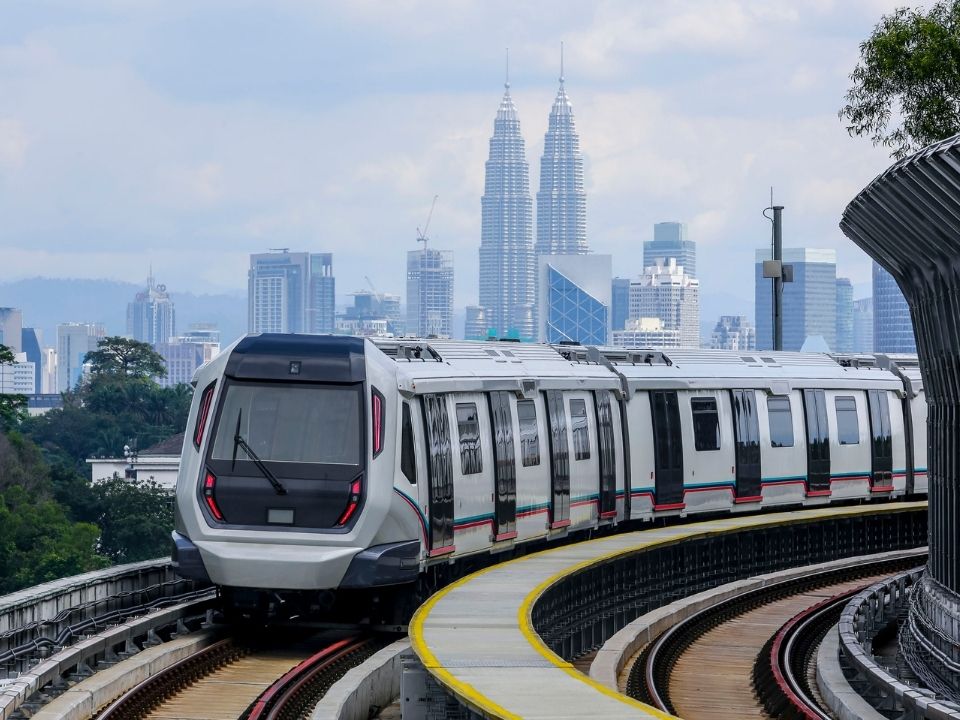 In Malaysia, there are quite a number of rail-based public transportation that have been built by the government for the people. Public transportation is very important for the citizen to commute from one place to another place, especially for people who don't have their own transportation facilities like cars or motorcycles. Using public transportation is actually a good decision to make, as you're contributing in reducing traffic jams and air pollution. In fact, you also can save money and time.
Here we presented Malaysia's rail-based public transportations and its routes.
Malaysia's Rail-Based Public Transportations
1. Light Rail Transit (LRT)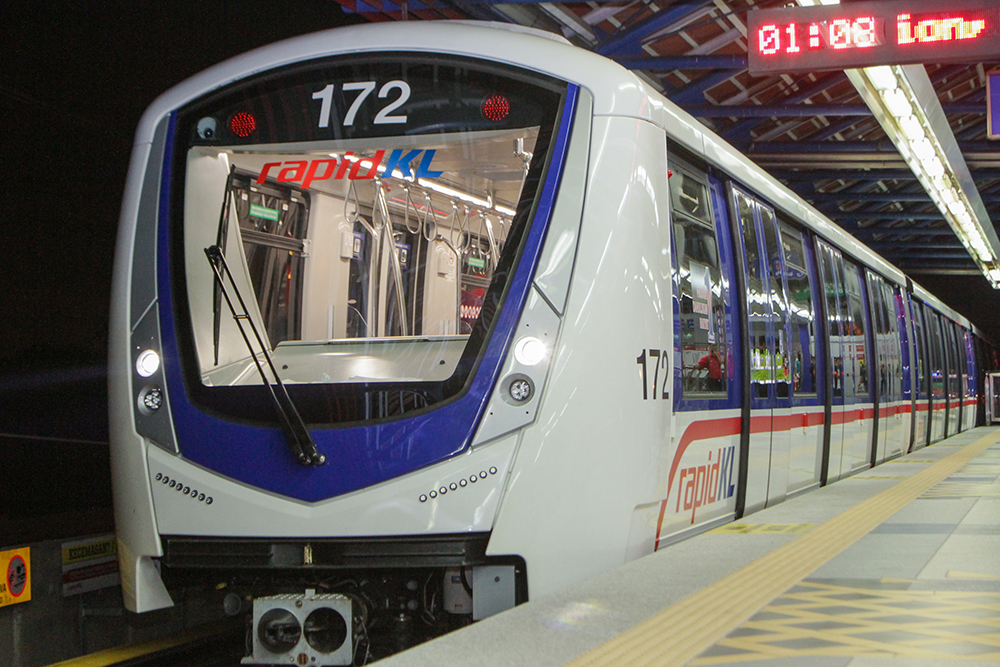 This LRT system provides three main lines which are the Kelana Jaya Line, the Ampang line, and the Sri Petaling line. All of these three Malaysia public transportation lines have their different routes which head to different places.
Kelana Jaya Line
This LRT line was formerly known as PUTRA LRT, it is the first automatic rail system that's available in Malaysia. Available with 37 stations starting from Gombak to Putra Heights. Following is the route map for Kelana Jaya Line:

Ampang Line
Ampang Line LRT used a semi-auto drive and it consists of 18 stations starting from Ampang to Sentul Timur. Here is the route map for Ampang Line, refer to yellow color:

Sri Petaling Line
The route of this LRT line is combined together with Ampang Line's route, but it is only until Chan Sow Lin station. After that, the route is further heading to Putra heights, which is the last station for Sri Petaling Line. Consists of 29 stations starting from Sentul Timur until Putra Heights. Check this route map for reference, refer to brown line:

2. Mass Rapid Transit (MRT)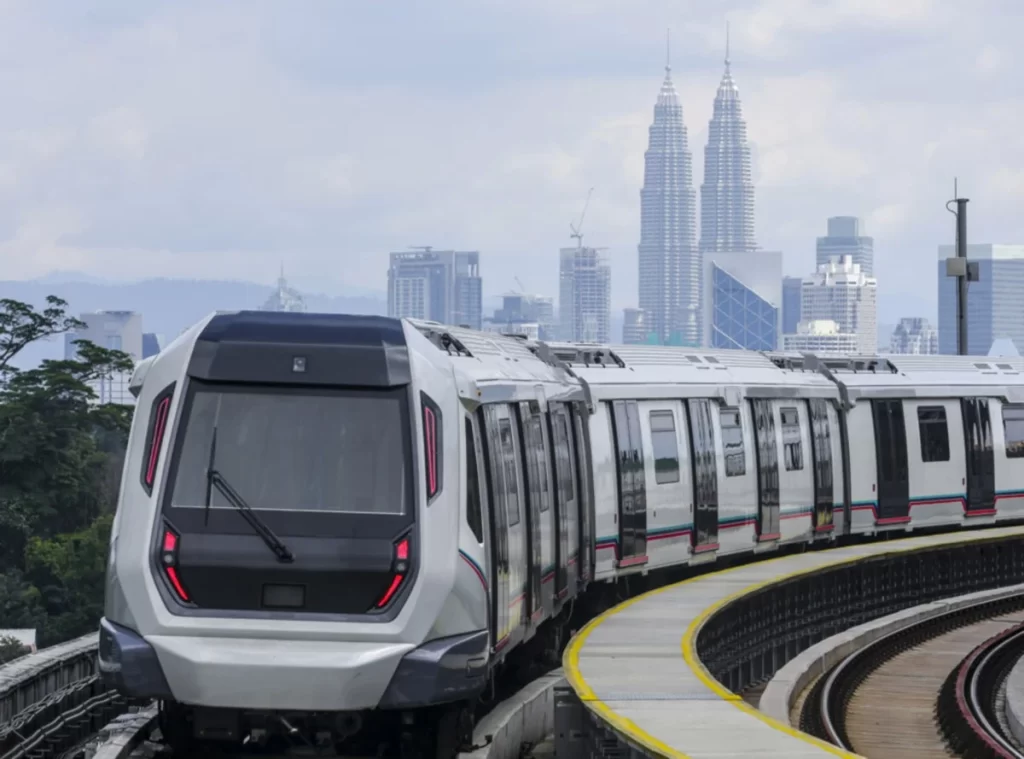 The newest rail-based public transportation built in Malaysia, MRT offers a smooth journey for the public with better amenities. Available with 31 stations, starting from Kajang and ending at Sungai Buloh. Here is the route map for MRT Sungai Buloh – Kajang Line:
3. KL Monorail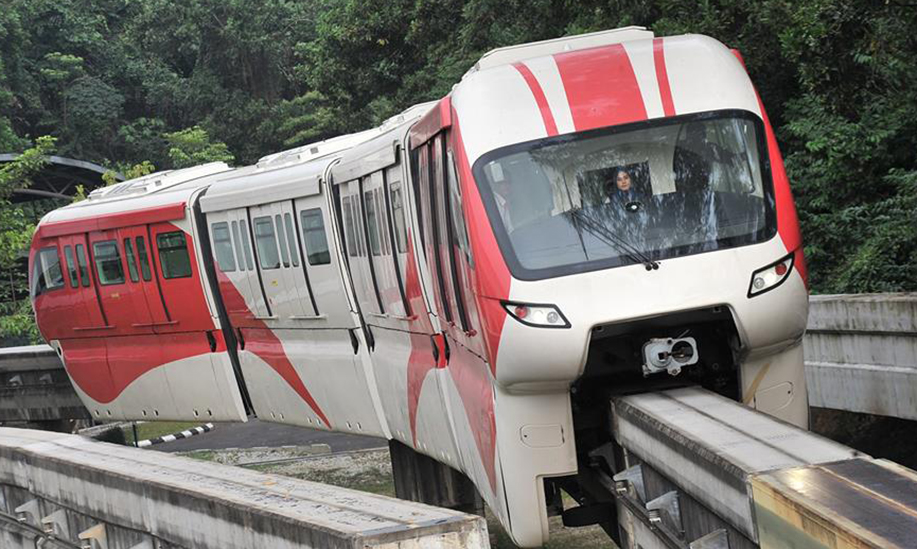 The only rail that is driven by a human, the KL Monorail is running from Titiwangsa station to KL Sentral station. This rail only consists of 11 stations. Following is the route map for Monorail: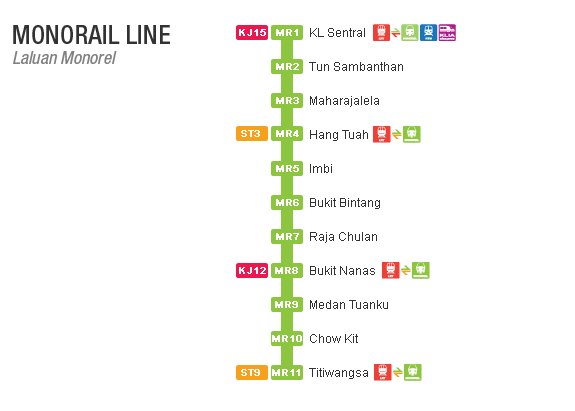 4. Keretapi Tanah Melayu Berhad (KTMB)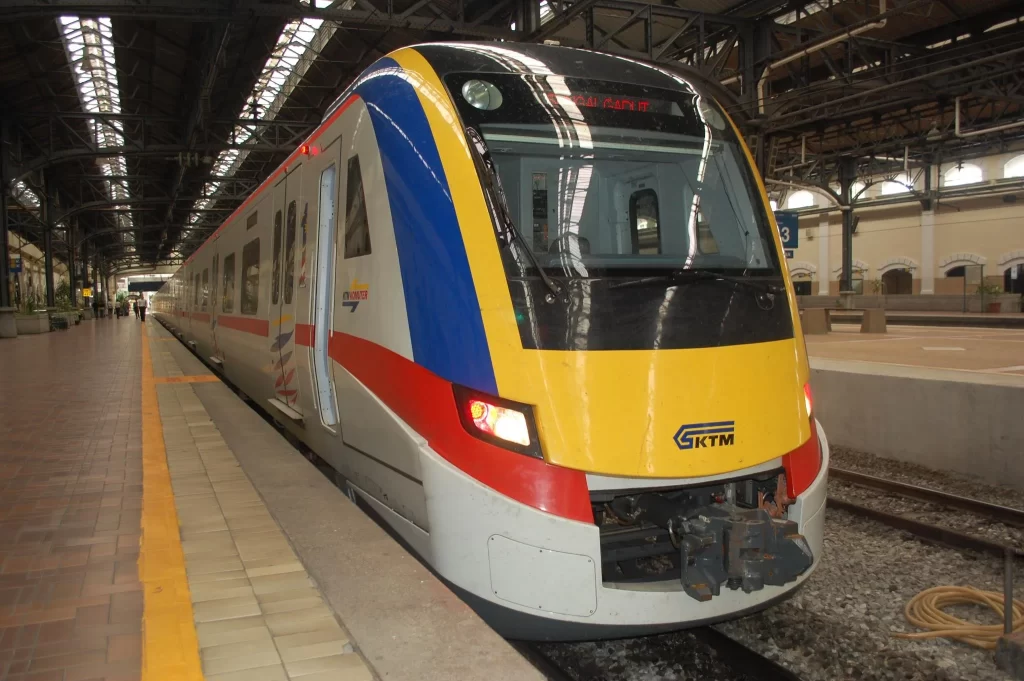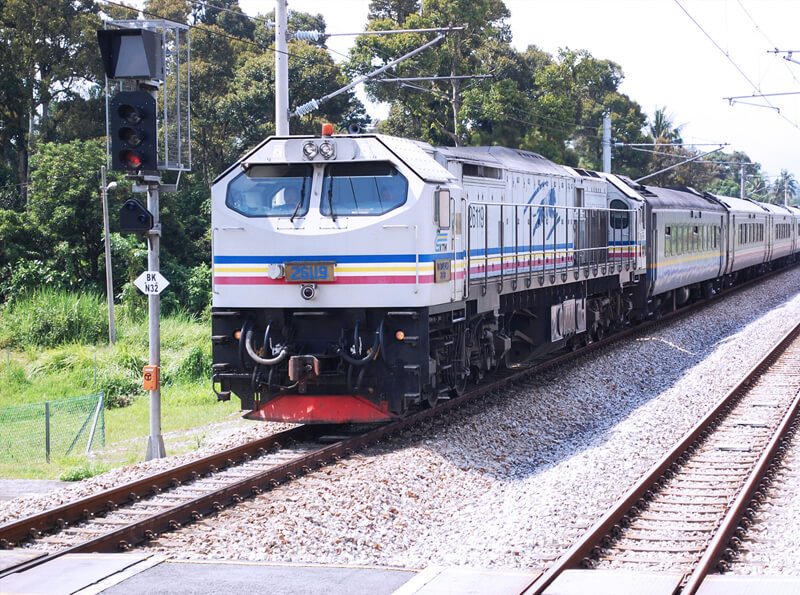 KTMB is the only public transportation in Malaysia with rail-based that offers a journey outside of Kuala Lumpur. There are four different train services provided by KTMB which are KTM Komuter, KTM Intercity, ETS, and Skypark Link.
KTM Komuter
This rail comprises two different routes which are Batu Caves – Tampin route and Tanjung Malim – Pelabuhan Klang route. KTM Komuter Route: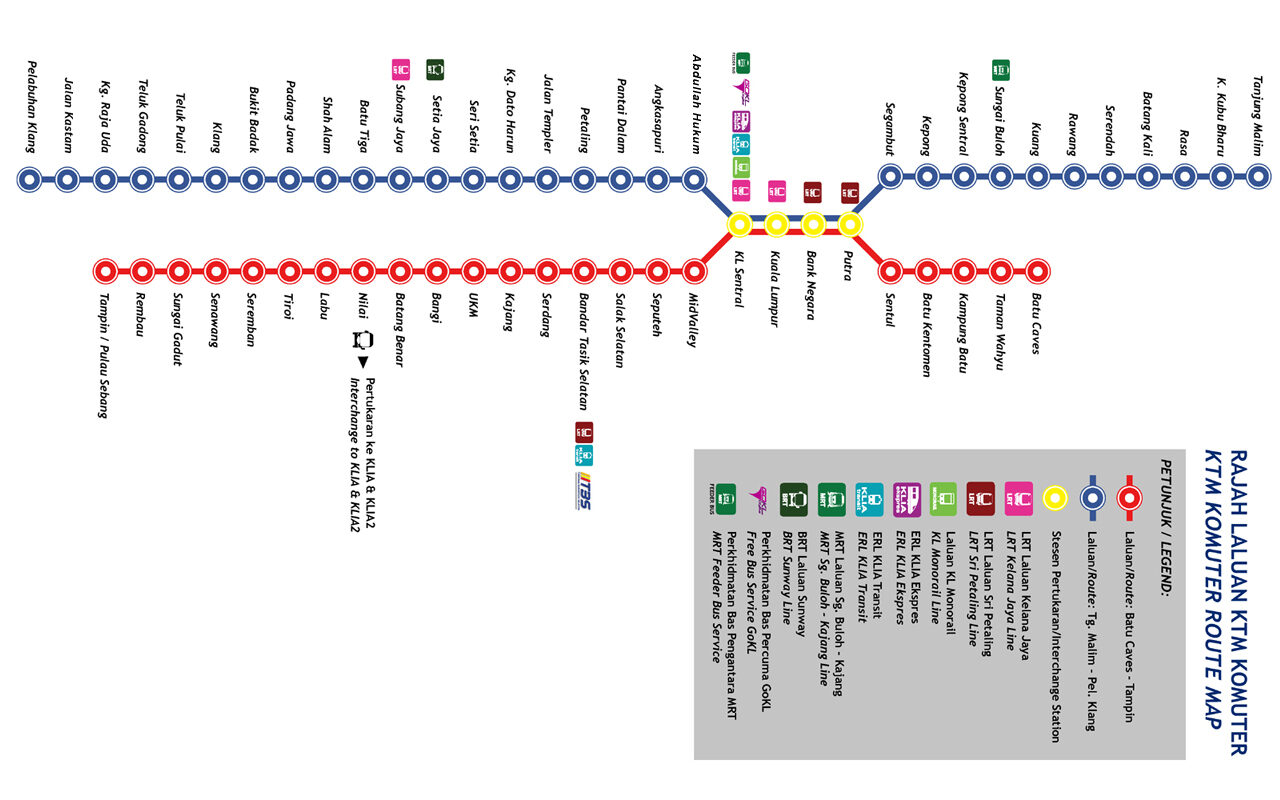 KTM Intercity
As of today, KTM Intercity is the only rail that provides a service for passengers to commute from Tumpat to Johor Bahru Sentral. Check this route map for reference: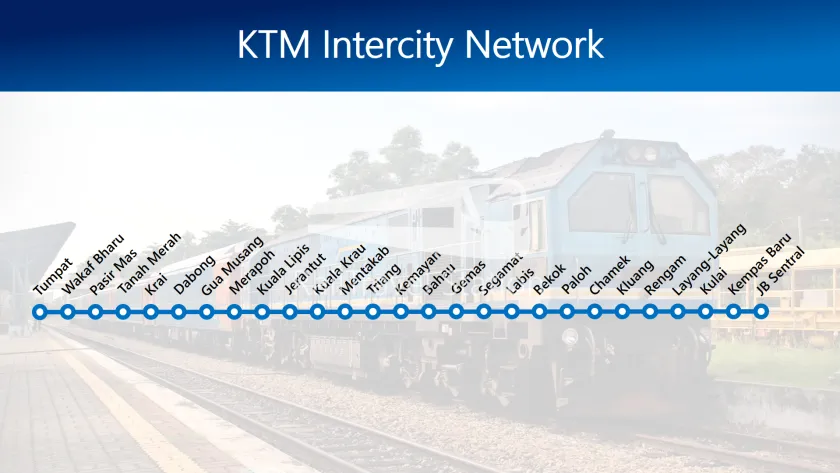 ETS
ETS, a short form for Electric Train Service, it is an intercity electric rail service. ETS is currently the fastest interstate train available in Malaysia. The route starts from Gemas, Negeri Sembilan to Padang Besar, Perlis. ETS route: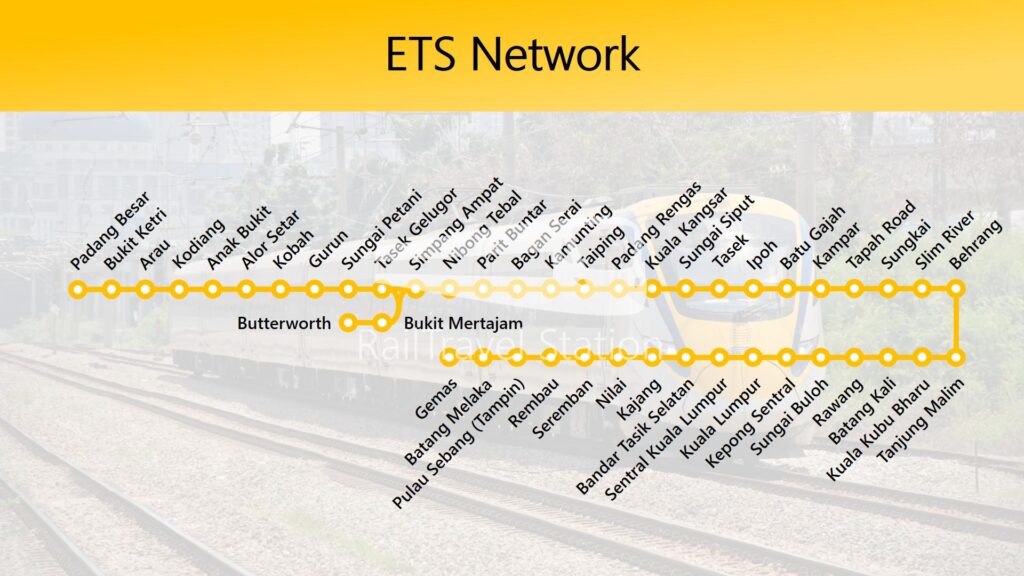 Skypark Link
This rail service provides an express train service for passengers from KL Sentral to the Subang Airport. The Skypark Link route map currently includes a total of 3 main stations which are KL Sentral, Subang Jaya, and Terminal Skypark with two reserve stations along the tracks. Skypark Link route map and boarding schedule: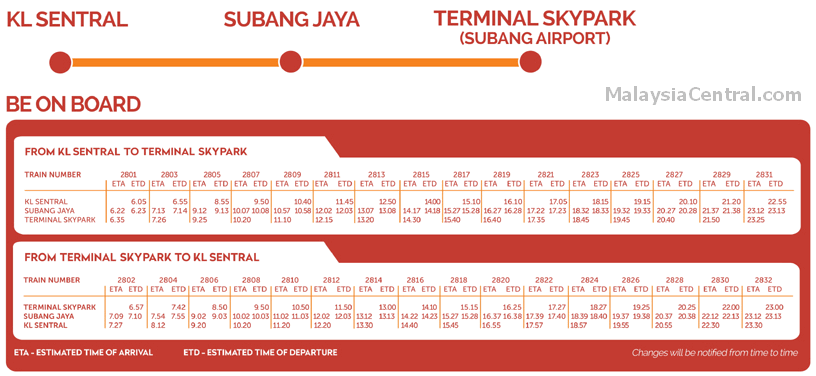 5. Express Rail Link (ERL)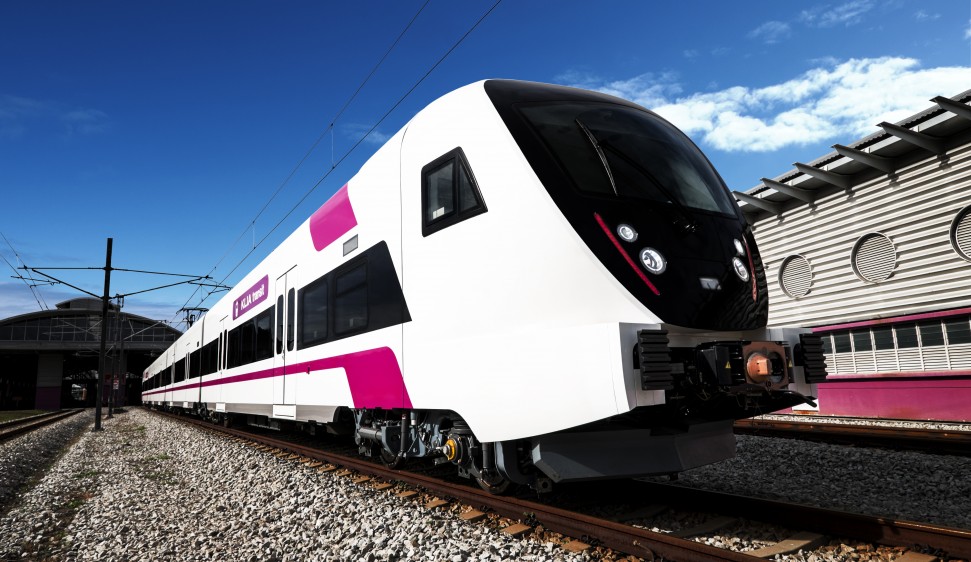 ERL, a public transportation in Malaysia that connects the passengers who wanted to go to Kuala Lumpur International Airport (KLIA) from KL Sentral. There are two train services offered by ERL which are KLIA Express and KLIA Transit.
KLIA Express
This rail service runs a direct non-stop express service between KL Sentral and KLIA and KLIA2.
KLIA Transit
Similar to KLIA Express, KLIA Transit also uses the same route but it stops at all the stations along the line. Following is the route map for KLIA Transit: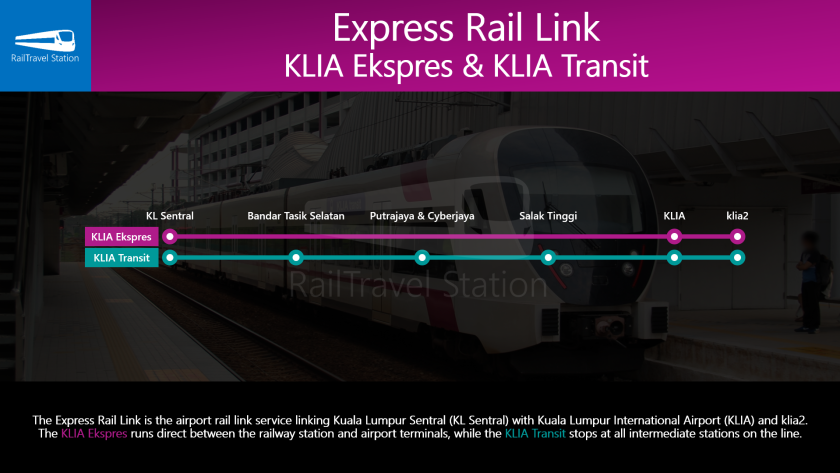 It is undeniable that Malaysia public transportation provides convenience to its citizen. Thus, as Malaysians, we should make the best use of the public transportation facilities provided by the government. Together, we can reduce carbon emissions and create a healthier environment! To know more information about the fares and schedules, kindly visit: